Looking for a car show?
---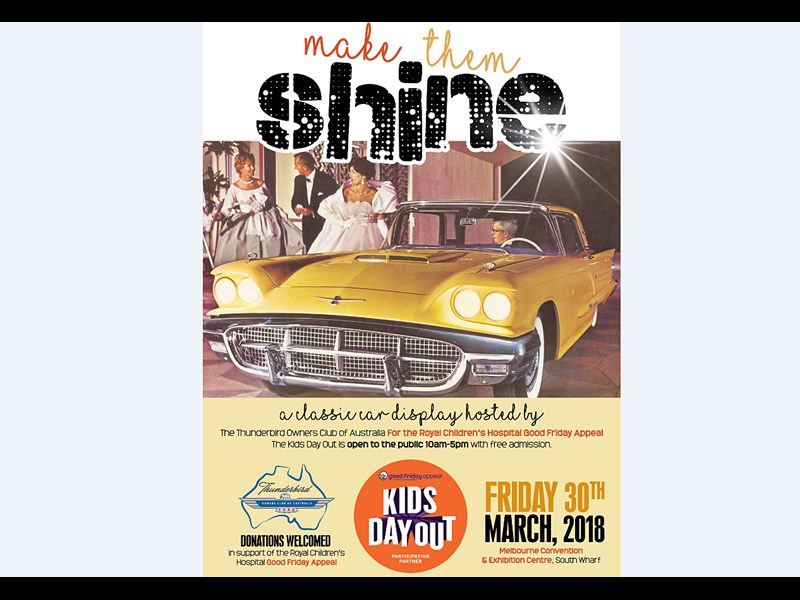 Thunderbird owners Easter show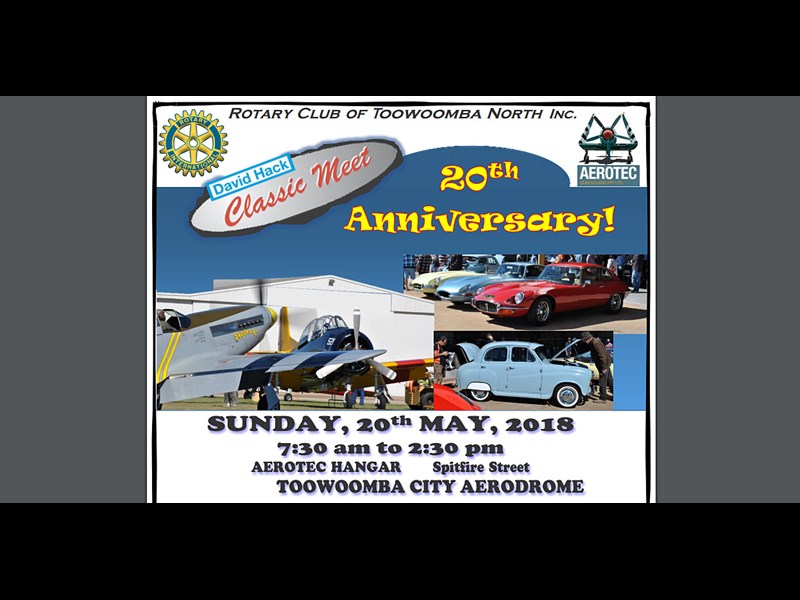 Rotary Club 20th anniversary David Hack show

Check out our events update and add your own
Did you know Unique Cars mag runs a free events calendar in print, online and on social media? Get your event to us pronto via email at uniquecars@bauertrader.com.au
Below is our latest calendar and there are two events we'd like to highlight:
1. The Thunderbird Owners Make Them Shine show at the Melbourne Exhibition & Convention Centre on March 30, in aid of the Children's Hospital;
2. The 20th Annual David Hack classic at Toowoomba aerodrome on May 20. Unique Cars will be there (but don't let that put you off!).
See what's coming up...
MARCH 
VIC 
30 March
Make Them Shine
Thunderbird Owners Australia annual Royal Children's Hospital Appeal. Melbourne Convention & Exhibition Centre South Wharf. Open 10-5, free admission but donations encouraged.
Contact:
toca.net.au/victoria 
30 March
Kruze 4 Kids Car Show
The 7th annual Kruze 4 Kids Car Show is being held on Good Friday 30th March 2018 at Langama Park in Sunbury. All vehicles welcome.
Contact:
kruze4kids.com 
ACT
30 March - 1 April
KFE-FC Holden Nationals
Alvio Tourist Park, 20 Kunzea St, O'Connor
9:00 AM - 10:00 PM
The 17th FE FC Nationals will be held in Canberra hosted by the FE-HR Holden Owners Club of the ACT Inc.
Headquarters for the Nationals will be at Alivio Tourist Park, 20 Kunzea Street, O'Connor ACT. Entrants will gather at Alivio to drive to the various events happening on Friday, Saturday and Sunday.
Friday optional run to a picnic lunch venue. Saturday is the big day of the Nationals – the Show'n'Shine. The public are invited to come along for the chance to see an array of FE and FC Holdens in the heart of the Parliamentary Triangle. The Show'n'Shine will bring together top show cars from across the country, together with unrestored cars that show the signs of 60 or so years existence.
Saturday night dinner and Sunday morning drive around some of the areas outside the Canberra city limits. Sunday night is the presentation dinner. Trophies are presented during the evening to the owners of those cars found by our judges to be the best of the best from around the nation
Contact: Facebook 
QLD
30 March - 2 April
Millmerran Hot Rod Run
Millmerran Showgrounds Ccil Plains Road
10:00 AM - 4:00 PM
Rods Inc's Millmerran Easter 2018 Hot Rod Run is being held on the 30th March to the 2nd April 2018. All hot rods, classic car s, trucks and bikes are welcome to come along for a fun weekend.
Camping available at the showgrounds or stay at the Motels or cabins in Millmerran, please join us for a different type of Millmerran weekend. Saturday static display held in Campbell Street 9am till noon. Saturday night dinner and dance at the showgrounds. Sunday car themed "a day at the races" with grass events.
Contact: KerryMoreton
0435 398 708. moreton@aapt.net.au 
WA
30 March - 3 April
Mustang Nationals
The Mustang Nationals are being held from Friday March 30th to Wednesday April 3rd 2018 in Perth. International on the Water Hotel is the host venue for all our evening events.
Friday evening we welcome you to the 2018 Mustang Nationals. Enjoy pre dinner drinks followed by a BBQ on the Sun Deck at International on the Water Hotel. Saturday night enjoy a buffet dinner in the hotel's "Grand Ballroom". Be entertained and come dressed in a "Day at the Races" theme. Sunday night's presentation dinner requires gents in lounge suits and ladies in cocktail wear with a "Black & Gold" theme.
The Concourse judging will be conducted on Saturday in the McInerney Ford dealership workshop. Concourse cars will also be required to be displayed on Sunday. The big Show 'n' Shine event will be held at Gloucester Park trotting complex, an approximate 8 minute drive from the hotel.
Contact: mustang.org.au/wa 
APRIL 
WA
1 April
Outta The Shed Inc. Car and Bike Show
4th Bi-annual Car and Bike Show. Peoples Choice Awards for car and bike. We encourage all vehicles of interest – not just the chrome and bling. Works in Progress are encouraged.Come and soak up the relaxed atmosphere and join us for a trip down memory lane. Or you may be inspired to take on another project. Esperance is a beautiful coastal town with much to see so come and make a weekend of it.
Contact:
outtatheshed.com 
15 April
Kwinana Rotary Club Show and Shine
The Kwinana Rotary Club Show and Shine is being held on Sunday the 15th of April 2018 at the Perth Motorplex. Open to all motoring enthusiasts.
Contact:
kwinanasas.com.au 
SA
7-8 April
Power of the Past
The Adelaide Hills Motor Restorers Club, presents Power of the Past at Mt Barker Oval on Alexandrina Road. Event features all machinery, engines, tractors, cars and trucks that used to be made in Australia. Aviation museum – Merlin engine operating. Children's attractions. All exhibitors welcome. Swap meet Sunday morning. Camping available on site.
Contact: (08) 8398 0837 
12-20 April
Jaguar National Rally
The 2018 Jaguar National Rally is being held in South Australia. It's been 10 years since the last National Rally in SA and once again we will do it differently, but do it right. There is something for everyone, with 8 days of Jaguar fun and entertainment.
Contact:
jaguarnationalrally2018.com 
QLD
8 April
Cooloola Coast Cars 'n' Coffee
A chance for owners of vintage, veteran, classics, muscle cars, modern muscle and specialty vehicles to get together at the Woolworths carpark and show them off and swap stories, shoot the breeze and enjoy each other's company and meet new friends.
Contact:
facebook 
14 April
Dubs by the Abbey
Wheels of Wamboin is being held on Saturday 15th April 2018 in conjunction with Home Produce Markets at the Wamboin Community Hall in Bingley Way, off Norton Road. Our highlight is the huge variety on the day.
Contact:
facebook 
21 April
Prenzlau Pride's Car & Music Show 2018
Lowood Show Grounds.
10am – 3pm  $10 show car entry*Gold coin entry for spectators. Live Music
Market Stalls, Kids Activities
Food, Drinks & Cake Stalls
Car show entry from 8am via Lindeman's Road
Categories - Best Vintage, Best 1940's, Best 1950's, Best 1960's, Best 1970's, Best 1980's, Best Modern, Best Hot Rod/Kit Car, Best Race Car/Replica, Best Holden, Best Ford, Best Mopar, Best Import, Best Club Display and Overall Car of the Show
Contact: VVTE.com.au 
VIC
14 April
Echuca swap meet
Run by Echuca & District Historic Vehicle Club. Show & shine plus swap meet.
Contact:
15 April
Sandford Swap Meet
The Friends of the Community Victoria Inc. invites you all to our Sanford Swap Meet. Our Swap Meet will be for motorcycles and cars. So, if you're into looking at and buying all things related to motorcycles and cars, this is the place to be. You may even see an old paddock bomb, that you might love to own and do up!
Contact:
03 5582 0191 
22 April
Maffra Motor
Museum Swap Meet
Focusing on car and motorbike parts, collectibles, garage paraphernalia, mancave items and much more.
Contact:
gippslandvehiclecollection.org.au
27-30 April
National Rove
Annual Rover shindig will be held in Shepparton this year.
Lots of events involved, including a tour of the Shepparton  Motor Museum.
Contact:
roverownersclub.com.au 
NSW
30 March - 2 April
Hot Rods at the Q
Hot Rods at the Q is an ACT State Hot Rod Run organised by the Canberra Hot Rod Association and being held at the Queanbeyan Showground on 30th March to 2nd April 2018.
Contact:
chra.org.au 
21 April
Wheels of Wamboin
A show and shine for all things automotive. The Wheels of Wamboin features a huge variety from all marques in a truly country atmosphere just a short drive from Canberra.  Located at the Wamboin Community Hall, Bingley Way, Wamboin from 9.00 am 'til 1.00 pm. Last year over 125 automotive dreams made the day. Display entry is a gold coin donation and swap tables (provided) are $5 (there is no EFTPOS available). Wamboin Home Produce markets are also open on the day.
Contact:
peter.evans
@wamboincommunity.asn.au 
MAY 
VIC
5-6 May
Drive Back in Time
Beechworth – Tractor run, Street cruise, Show n Shine. BBQ,, all vehicles over 25 years welcome
Contact:
beechworthholdcranksclub.com 
12 May
Geelong Bay City Swap Meet
Geelong Showgrounds Breakwater Rd Geelong. 7am Entry. $5 per person, outdoor sites $10 plus admission. No Booking for outdoor sites. Overnight camping available on sites.
Food available Friday night.
Contact:  Facebook
26 - 27 May
42nd Historic Winton
Historic Winton – Australia's longest running, all-historic motor race meeting presents two big days of non-stop racing on Saturday 26 and Sunday 27 May. Once again, the event will feature over 400 historic racing cars and motorbikes from the 1920s to the 1980s plus a huge heritage display of veteran and vintage vehicles.
Contact:
historicwinton.org 
NSW
4-7 May
DubVegas Torana Cruise 2018
The 2nd Annual Dubbo Torana Cruise kicks off at Bathurst 10am for a lap around the Mountain following a convoy of Toranas to Dubbo. The weekend is as busy or relaxing as you like. With events including: Meet and Greet new/old friends, Bodangora Drags, Dubbo at a Glance, Cars and Coffee Display, Sunday Mystery Cruise. Non-for-profit event, proceeds going to the Make A Wish Foundation.
Contact: Facebook 
5-6 May
20th Annual Vintage Machinery and Swap Meet
The Rural Heritage hosts this annual celebration of tractors and engines, steam engines, cars, and motorbikes. There is a display, Blacksmiths shop, lots of stalls and the miniature railway runs all weekend.
Contact: Facebook 
QLD
12 May
Powercruise 1
Day Powerplay 28
Welcome to Powercruise 1 Day Powerplay #28 at Queensland Raceway, Saturday 12th May 2018. The favourite event for all when we do it all in just 1 day. What better place to rip up the straights than Queensland Raceway so make sure you get the old faithful cruiser ready for 1 Day of pure madness.
Contact:  
powercruise.com 
20 May
20th Annual David Hack Show
Planes, bikes and cars is the general theme for this petrol-head fest, which happens at the Toowoomba aerodrome on Spitfire Street. Highly recommended and Unique Cars mag will be there.
Contact:
facebook.com/davidhackclassic/
20 May
Fine Iron Hot Rod Classic Car and Bike Show Swap Meet
The Fine Iron Rod & Custom Club of Ipswich is holding its 25th annual Hot Rod Classic Car & Bike Show Swap Meet on Sunday 20th May 2018 at the Ebbw Vale Soccer Grounds.
Contact:  0487 042 189 
MAY 27
Mac's Bridge Car Sports & Classic Car Festival
The 2018 Mac's Bridge Sports & Classic Car Festival will be held at the Qld Rifle Assoc Belmont Range 1485 Old Cleveland Road, Belmont, from 7.30 am to 1.00 pm. All types of Sports and Classic cars will be on display. Proudly supporting Orange Sky.
Contact
macleansbridge.com
or call Geoff Johnson 0413 734 977. 
SA
5-6 May
Naracoorte Swap Meet and Show n Shine
The Naracoorte Swap Meet and Show n Shine is hosted by the Naracoorte Historic Vehicle Club on the 5-6 May 2018 at the Showgrounds in Smith Street.
Contact:  0408854658 
TAS
20 May
Picnic at Ross
Picnic At Ross is being held on May 20th at the Ross Recreation Ground. A day's outing for classic cars and motor bikes from veteran to 1994 including a display in Ross. Organised by the Post Vintage Car Club of Tasmania Inc.
JUNE 
NSW
2-4 June
Wintersun
Wintersun 2.0 will see happy punters gather to see the best cars and bikes, eat finest gourmet street food, see hand selected genuine retro stalls, auto memorabilia, car items, fantastic music and dancing. Join in the fun at the Murwillumbah Showground.
Contact: wintersun2.com.au
5-6 May
Gosford Swap Meet
WCentral Coasr Historic Car club Swap Meet at the Gosford Showgrounds.
$15 Site fee $4 Admission
Contact: Jim 0413 921 020
WA
2-3 June
Albany Classic
The Albany Classic Motor Event is run through the heart of Albany's CBD, overlooking the ANZAC Peace Park and Princess Royal Harbour. This spectacle of historic motor sport covers cars from vintage wire wheels, post-vintage and classics with open wheel racers and big cube muscle cars.
Contact:
albanyclassic.com 
QLD
6-10 June
Beachfest
Break out the Brylcreem and Bobby-Sox for five days of the planet's coolest Retro Car Festival, celebrating hot rod and classic car lifestyles. This festival delivers it all.
Contact:
beachfestdownunder.com
VIC
8-10 June
HD HR Holden Nationals
Host venue – Bendigo's All Seasons Hotel. Bendigo CBD is a block away with access to toilets, cafés and shop's. Friday: Meet and greet from 6pm. Saturday: Show and Shine – 9am till 3pm. Presentation dinner and trophies for judged vehicles in the evening. Sunday run with lunch provided.
Contact: 0418 148 591.
JULY
QLD
1 July
Muscle On The
Mountain Show n Shine
Muscle On The Mountain Show and Shine Day Maleny is being held on Sunday 1st July 2018 from 9am to 1:30pm. Gates will be open from 7am for setup. Holden, HSV, Ford, FPV, muscle cars, street machines, hotrods, vintage, classic cars and motorcycles. All clubs welcome.
Contact: Facebook 
8 July
Grand Display of French Cars
Annual display of French vehicles of all makes and models and condition hosted by the Peugeot, Citroen, Renault and Simca Car Clubs. Special 50th Anniversary of the Peugeot 504 - bring your 504 to join in the celebrations!
Murarrie Recreation Reserve, Wynnum Rd, Cannon Hill.  Food and drink vendors on site.Free public entry, $10 per vehicle for display entries. Event starts at 8.00am.
Contact:
peugeotclubqld.org.au 
14 July
Rockin Jimmy's Car Show
Rockin Jimmy's Car Show and rock n roll event is being held at the Jimboomba Anglican Parish from 8am till 1pm.Bring your ride, bring the club, bring the family too. There will be food, fun and dancing for everyone.
Contact: Facebook 
20-22 July
Ingham Autofest
Autofest Performance Car Festivals are pleased to announce the addition of an All New Autofest event that will taking place in Far North Queensland. Autofest events include, Go To Whoa, Spear A Spud, Dyno Shootout, Show N Shine, Autokhana and everyone's favorite, the Mighty Burnout Comp.
Contact:
autofest.com.au 
28-30 July
Sunshine Coast Antique
Car Club's 30th Annual Nambour Swap
Open sites $25.00 , undercover sites $35.00, entry per person $5.00. At Nambour Showgrounds, Coronation Ave, Nambour from Saturday 6.00am. Catering rights reserved.
Contact: nambour.swap@gmail.com
NSW
13-15 July
Back to Brunswick
The tenth anniversary of the Back to Brunswick hot rod run is being held on the 13th to the 15th July 2018 in Brunswick Heads on the NSW north coast.On Friday meet in the park at 11.30am opposite Hotel Brunswick and cruise to lunch. Registration open from 4pm - 6pm at the Hotel Brunswick, 4 Mullumbimbi St, Brunswick Heads.
Contact: 0418 762 576
15 July
Coffs Harbour Swap Meet and Classic Vehicle Display
Hosted by the Coffs Harbour Veteran and Vintage Car Club and supporting Pacific City Lions Club and Waratah Respite Services. Car & Bike Parts (new and used), collectables, bric-a-brac, memorabilia, tools and books.
Contact: Facebook
18 August
Glenwood Swap Meet & Show
Glenwood Swap Meet & Car & Bike Show Glenwood Park , Cnr Arborten & Pepper Roads, Glenwood, Qld.
Sites $15.00 (includes 2 persons) Entry $5.00, Children under 12 Free
Site holders welcome Friday from 1pm and Saturday from 4am Gates open 6.30am Saturday for the public.
Swap Sites and Car & Bike Show bookings essential
Sell car and bike parts, crafts and collectables,
memorabilia, jewellery, china, model cars, toys etc
Hot & Cold Food & Drinks available Friday night and Saturday No dogs allowed
Contact:
Bernie on 07 54857191 or 0408 458 303
glenwoodswap@westnet.com.au
Unique Cars magazine Value Guides
Sell your car for free right here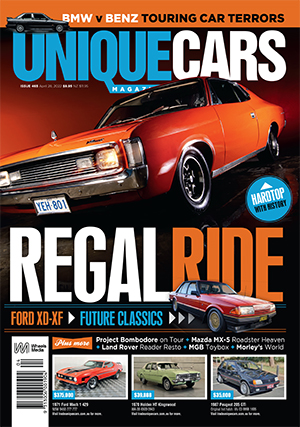 SUBSCRIBE TO UNIQUE CARS MAGAZINE
Get your monthly fix of news, reviews and stories on the greatest cars and minds in the automotive world.
Subscribe