Flying W Wolseley hits the track
---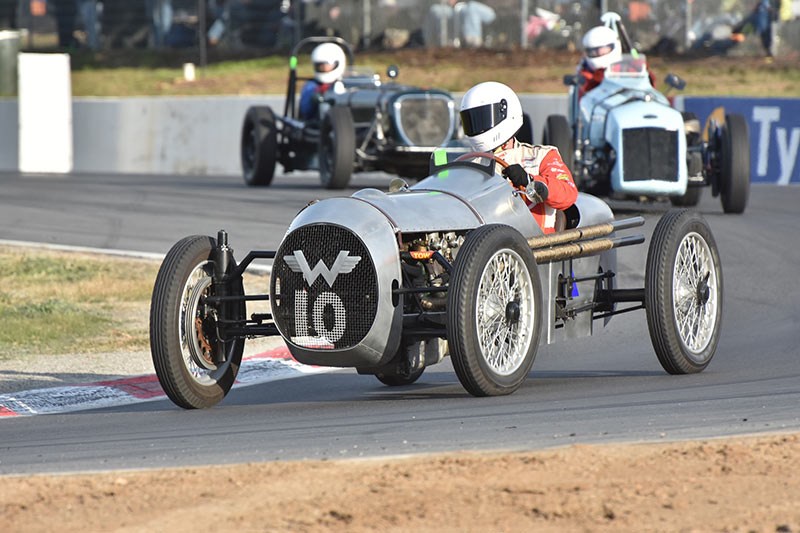 Flying W Special Number 10 taking part at Historic Winton in May
Echunga South Australia -based historic racer Eric Cossich is tackling his fourth Historic Winton this May, adding colour to the event with his Flying W Wolseley Special Number 10.
Growing up on cattle and sheep stations, Eric Cossich became obsessed with cars from a young age and his early experiences and love for cars led him to take on rebuilding the 1955 Flying W.
Eric is passionate about historic car racing not only for himself but the generations to follow.
"We need more young people involved and behind the historic car scene now more than ever, so that it continues," he said.
"I believe you have not lived until you've driven an historic race car – as a guy once said to me – "two ways you differ from Fangio: 1 - you have fireproof underwear. 2 - there's skidmarks in them!"
The rebuild was completed four years ago and Eric said, "The car performs incredibly well and is very reliable with no mechanical issues. It's a credit to the Fechner Bros and Henderson who built/designed the original car."
The Flying W story begins in 1945 at the end of WWII. After watching their first car race at Brisbane's Strathpine Airstrip, brothers Rob & Brian Fechner and their friend Len Henderson, began a life-long love of cars.
At the 1954 Brisbane EKKA show the trio spotted a 6/80 Wolseley motor mounted on a stand. Admiring it they wondered how they could beat local race aces, Glyn Scott and Wal Anderson in their new Holden-powered specials.
By July 1954, plans for a new car had been drawn and work began.
A model T Ford chassis was the base, married to a Lancia Lambda front end and differential, mounted via 1⁄4 elliptic springs and their own design suspension arms. Next the Singer 9 gearbox was installed.
Len heard about a Wolseley 6/80 engine for sale at a Salisbury firm. The story goes a loco engine was dropped on the Wolseley and the engine was salvaged from the wreckage. Although it was new, it was missing the distributor, manifold, fan and clutch but could be bought for 50 pounds. The three couldn't hand over their money fast enough.
The Flying W's body was made of 3⁄4" x 1/8" flat steel, hammered to shape, onto which sheet aluminium was riveted. As the body was fitted and the grille bolted in place it was suggested a W for Wolseley should adorn the front. Then a friend suggested turning the winged 'M' on his Matchless motorcycle upside down. A variation of the 'M' was created and the 'Flying W' of the Wolseley Special Number 10 was born.
It took seven months and 250 pounds to make.
In 1955 it competed successfully at several events and in May 1956 it took the starter's flag for the last time, at the Burleigh Hill Climb with Len Henderson in the driver's seat, claiming the second fastest time in the Unlimited Racing Car Class and beating the likes of MG, Jaguar and Alfa Romeo.
After retiring from competition, the Flying W was cut up and the back end used for a watering pump.
Over 10 years ago Eric contacted the Wolseley Car Club who put him in touch with Queenslander Bill Martin who had the original engine. Eric then applied to CAMS for an Application in Principle to rebuild the car. Eric accumulated all the pieces for the tribute, rebuilt the engine, using the original Wolseley dash gauges, (small rectangular cream face), and 16-inch brake drums, believed to have come from the original Maybach.
The Historic Winton meeting runs over the weekend of May 26-28 and will feature a display of more than 2000 rare and restored vehicles.
Unique Cars magazine Value Guides
Sell your car for free right here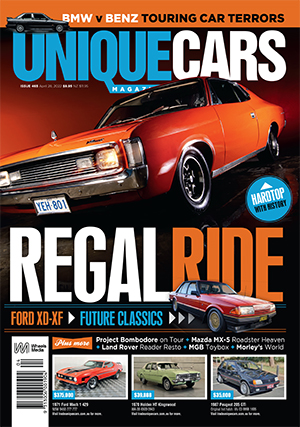 SUBSCRIBE TO UNIQUE CARS MAGAZINE
Get your monthly fix of news, reviews and stories on the greatest cars and minds in the automotive world.
Subscribe