USA pre-import asbestos inspections
---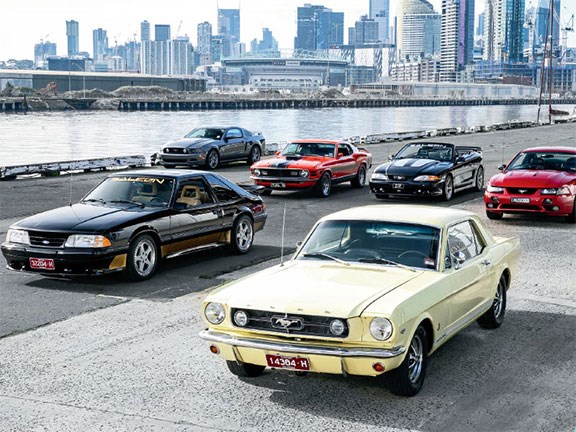 Reducing the risk of asbestos inspections facing USA imports
IN ISSUE 401 (May 2017) we reported on the unprecedented individual penalties up to $180,000 and $900,000 for a company if caught importing goods containing asbestos, under new Federal regulations that came into effect March 2017.
These penalties plus horror stories of lengthy red-tape delays, examination costs up to $15,000, plus thousands of dollars damage to vehicles during inspection have spooked the classic car market.
For many, this has spelt the end of buying their dream car from overseas and, for some caught up in the process, a costly nightmare.
It's not just complete cars being targeted but components like fibreglass panels, windscreen seals, gaskets, clutch and brake linings.
This saga began when a large quantity of building materials containing asbestos was imported and used, despite a ban on the material being in place since 2003.
While the new Border Force application of the regulations were suddenly more stringent than ever, it's not all doom and gloom.
Queensland-based Dazmac, a car and boat shipping specialist provides logistic and quarantine solutions for USA imported vehicles. Managing Director Daryl McIntyre told Unique Cars his business suffered a dramatic downturn when Border Force applied a hard-line approach to car imports, including classics.
"Our business stopped for three months and we decided we had to get into it and sort it out," he said.
To combat the loss of business Dazmac has been in talks with Border Force to find a solution and believes it has succeeded, by the establishment of new protocols and processes at its Los Angeles depot.
The process includes the thorough cleaning of cars, removing their wheels and inspecting the brakes for any traces of asbestos, Border Force's primary concern.
All components suspected of containing the illegal material are removed.
All other components are dealt with on a car-by-car basis.
For example, if gaskets need replacing, qualified mechanics are hired to do the job before the car departs the US.
According to McIntyre, the most common suspected item is rear drum brakes. "We have also removed and replaced engine gaskets and removed hood liners, at customer cost," said McIntyre.
Once the work is complete, the vehicle is given a detailed inspection and when it passes it receives a NATA (National Association of Testing Authorities) certificate, which meets Australian Border Force requirement.
Another company Unique Cars spoke with is USA-based but Australian-owned Bosskraft, that also specialises in the removal of asbestos from vehicles bound for Australia.
Owned by retired NSW Police Highway Patrol officer Sean McDonagh, Bosskraft has bases in California and Arizona and before moving stateside, Sean imported many Mustangs to Australia.
He is a Mustang Club of America Gold Card Judge and Shelby American Automobile Club Judge. Before leaving Australia, he was VP of the Mustang Club of NSW and one of the head judges of the Concours judging panel.
"Living here in the States, I became aware of the asbestos issues by my long time customs broker, Greg Selsby of Selsby Solutions", said Sean.
"Greg said that this halted his automotive imports, and he was looking for a solution, so we worked out that I'd need to become asbestos abatement qualified here in the USA," 
"It made complete sense that as an Australian, an enthusiast, and long-time importer into Australia, that you'd want someone working on that inspection and removal process on your car, knowing that they'll take care of your car."
Bosskraft handles the entire process from the initial inspection and sampling of asbestos-containing materials and the NATA approved testing of them.
This involves, removing the identified items and on clearance, being issued a certificate to satisfy the Australian Border Force.
According to McDonagh, "Everybody assumes that brakes are the big ticket item and they can be, but on average, we find that brakes are only positive for asbestos about 50 per cent of the time, though we sample them every time.
"The item that really stands out as being asbestos positive all the time, is underbody sound deadeners," 
"My advice to Australians buying cars here in the USA, is to avoid at all cost vehicles with any underbody sound deadeners on them. It is also commonly found inside quarter panels and under front guards and it's all the same stuff. It's hard as nails and very tough to remove, which proves cost prohibitive," 
"We often find that some brush on sealers contain it, gaskets and materials around the car, but in comparison to underbody spray on sealers, they're easy to remove and at far less cost."
Having a NATA certificate shows the owner has done everything within their power to alleviate the issue and the experiences so far suggests a NATA certificate is acknowledged and accepted by the Border Force.
For a single car import requiring no corrective work, containerised transportation depot-to-depot from Los Angeles to Brisbane or Sydney, Dazmac quote $3300.
This fee is inclusive of export clearance and vehicle title clearance, stowage for 30-days at port of origin, NATA approved asbestos testing, two-hours of cleaning, approved quarantine inspection, loading and unloading, all port charges, container drayage, up to $30,000 insurance per consignment, gate in and gate out photo surveillance, customs clearance, dunnage and three-days storage at the destination depot.
What Dazmac and Bosskraft appear to have created is a solution to kick-start an industry and make importing a vehicle from the USA viable once more.
The vehicle may still be inspected at this end, but the chances of it creating an issue are greatly reduced.
Dazmac also ships between Australia and the UK and Japan and is working on solutions for those routes.
Both providers warn that this process greatly lowers the risk of a car being pulled up on the docks, but does not entirely remove it.
For more information visit:
Unique Cars magazine Value Guides
Sell your car for free right here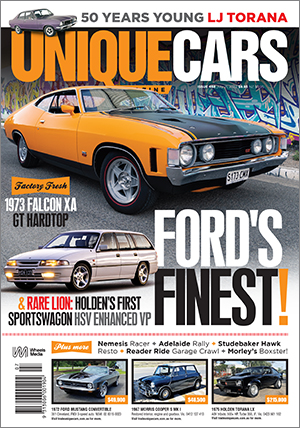 SUBSCRIBE TO UNIQUE CARS MAGAZINE
Get your monthly fix of news, reviews and stories on the greatest cars and minds in the automotive world.
Subscribe