Crayon to CAD - designing local cars
---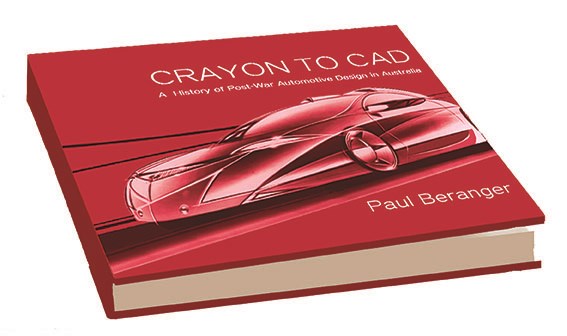 Crayon to CAD promises a unique insight into local car manaufacture.

An industry insight from over four decades in the game
With the demise of much of the local car industry - certainly the big players in the manufacuring side - there's plenty of sentimentality surrounding the local product.
While a lot of us have a fair idea of the architecture of a car, how much do we really know about getting it from concept through to reality?
If anyone can answer that question, it's local identity Paul Beranger, who rejoices in over 40 years of experience in the design side.
He's authored a recently-released book, which we reckon would be a must-have for any enthusiast of local automotive product.
It costs $120 or $85 (depending on the version ordered) in Australia for a very substantial tome. Postage is an extra $20 and it can be ordered online.
Here is what the publisher sent us, which sums up what it's all about:
About the book
Written by Paul Beranger, an Australian automotive designer, planner and marketer with over 45 years' industry experience, Crayon to CAD: A History of Post-War Automotive Design in Australia, is a unique book about cars and people, places and technologies.
In engaging, non-technical language, this 336-page limited edition hardback coffee table book takes the reader through the high security design studio doors, tracking the progress of automotive design in Australia, from early drawing board and crayon to sophisticated computer technologies (CAD).
A highlight of Crayon to CAD is the inclusion of 'insider' material, drawn from the author's extensive experience and published for the first time. Archival black-and-white photographs and illustrations are included, as well as lavish full-page colour images, many with in-depth captions, sourced from previously-unreleased corporate and private archives.
Crayon to CAD features biographical chronicles of over 20 industry luminaries, all with wide-ranging backgrounds and experiences.
While the bookses on Australian mass-volume manufacturers - Ford, Holden, Chrysler/Mitsubishi, Toyota, Nissan and BMC/Leyland - it also showcases low-volume niche manufacturers such as Bolwell, Giocattolo and Buckle.
Crayon to CAD provides valuable information for any automotive enthusiastic seeking to understand more about how Australian cars have been designed over the last 70 years, and is an acknowledgment to Australian automotive designers, recognising their significant contribution to iconic Australian cars and motoring history.
For more information regarding ordering your copy of Crayon to CAD visit c2cpublishing.com.au
About the author
Paul Beranger has spent his 45-year professional life creating things automotive.
Having commenced as a cadet designer at GMH in 1968, before moving to Nissan, he has experienced both Japanese and western business practices and design cultures first-hand.
His establishment of a local design capability at Nissan came at a time of extensive model rationalisation under the
Nissan also provided him with the opportunity to establish the company's Special Vehicles Division. Its success culminated in the localisation of the GT-R, linking production projects to the company's Group A motorsport programs.
Following Nissan in 1992, he spent an extensive period as Design Manager with independent studio Millard Design Australia, developing a diverse range of international and local customer programs, as far afield as China, Indonesia, Korea, Russia, South Africa and the USA.
In 1998, as a Director of aXcessaustralia his design team worked in collaboration with over 130 Australian component companies, achieving this countryambitious and successful overseas automotive marketing campaign.
Paul joined Toyota Motor Corporation Australia in 2002 in the newly-created role of Manager, Design and Development. He then recruited a team of designers, CAD engineers and technicians, and established a world-class design complex in Melbourne, supporting Toyota
He retired in 2012 and has consulted since then, as well as exercising his passion for restoring classic cars.
Unique Cars magazine Value Guides
Sell your car for free right here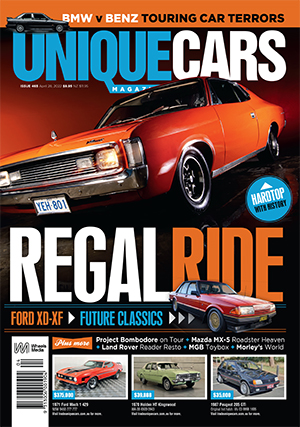 SUBSCRIBE TO UNIQUE CARS MAGAZINE
Get your monthly fix of news, reviews and stories on the greatest cars and minds in the automotive world.
Subscribe