Tribute Cars + Classic Car Restos + More - Readers' Letters 406
---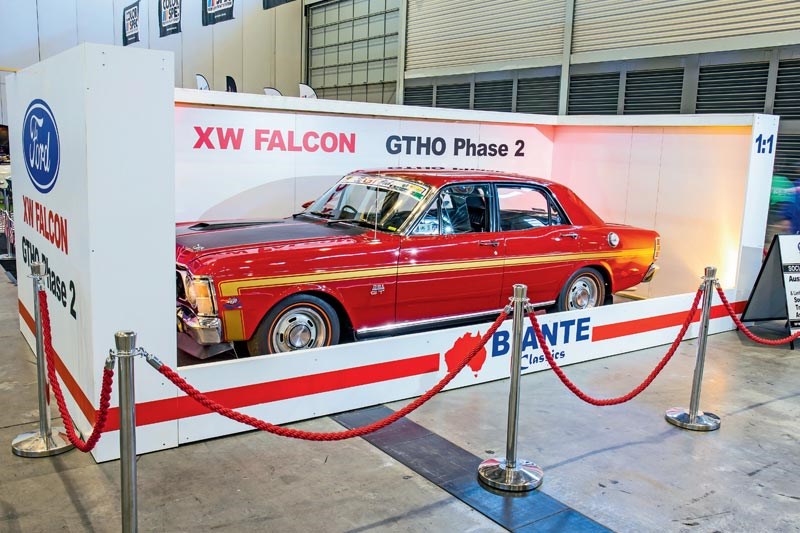 Nothing wrong with a tribute, you reckon
Is that a car or an investment?
It's easy to empathise with Lewis Flynn's email from Unique Cars 405. Sometimes cars stop being cars!
As much as I enjoy seeing 'real Aussie iron' (one could argue we merely rented a car industry back from the Yanks after selling out rather than having a truly home grown/owned car manufacturing industry) at car shows and the like, it's hard not to wonder how many of them are really not much more than garage queens and investments first and cars a distant second. I think you could replace most of the references to cars in Lewis's email with references to houses without much of an impact on the point he's making.
Cars are for driving and enjoying and houses are for living in and enjoying but their attractiveness as investments has complicated matters in recent years.
However, back to cars, as desirable as 1970s Aussie muscle cars have become, for pure driving pleasure the modern alternatives that Lewis refers to are likely to provide much more enjoyment for the money and that's a great and fortunate thing.
Also, thanks to skyrocketing input costs (land, rents, electricity, professional services, regulatory compliance etc) the cost of resto-mods has also gone through the roof in recent times.
However, the wages many people earn to buy the cars they want have remained stagnant for decades. If Lewis wants to understand more about why that's occurred in Australia, I can recommend a book called Game of Mates by Cameron K Murray, a great read.
John Smith
Email
Rabbit holes & collectors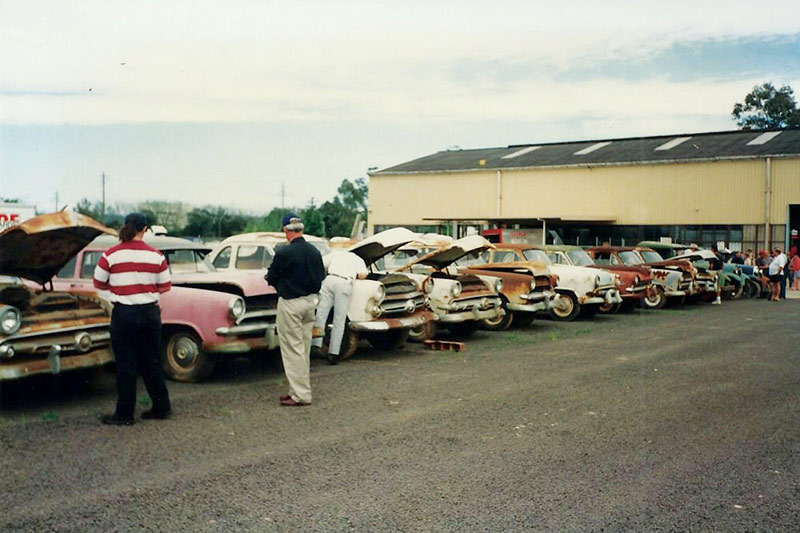 In response to your Editorial from a Unique Cars 405: Maybe it is rabbit holes said collectors go down, but in some twisted way I can relate to what they do.
Attached are a couple of pics from a massive auction of Ford vehicles held at Castlereagh near Penrith back in 1996. All of these were from the one vendor. I have some other pics of the trucks but strictly speaking your mag is about cars.
There were numerous side valve V8 and V12 engines on pallets, some already reconditioned. I had never seen anything like it before. And there were two of the 59 Skyliner Fords, both red/white.
Eric Waples
Albion Park, NSW
Happy Daffy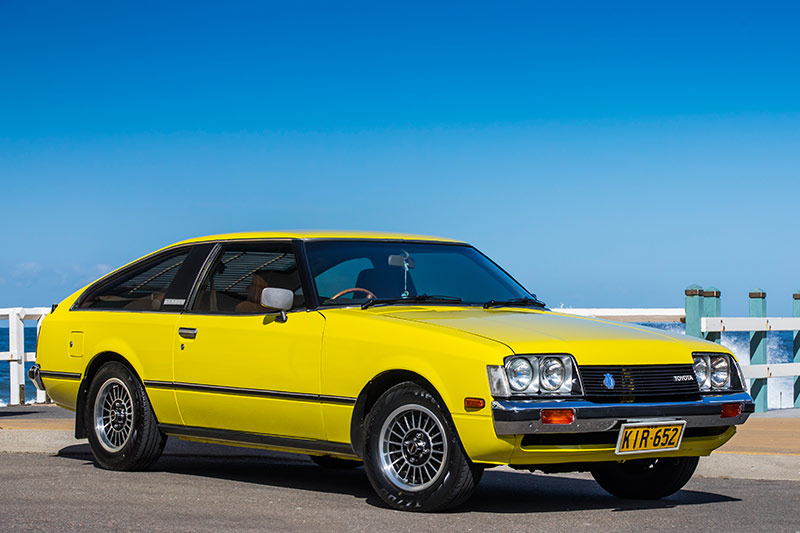 What an inspiring article in issue 405 entitled Dreaming of Daffy, the story about restoring a bright yellow 1979 Toyota Celica by Brandon James and his girlfriend Tegan.
I think this is the answer to Lewis Flynn who wrote the letter of the month entitled Loony Prices.
If Aussie performance cars are your thing and they are out of financial reach, go for something that is within reach.
My experience is that you can have just as much fun buying something in your budget, and Daffy is proof of this.
Peter Riggall
Riverside, Tas
A Tribute for me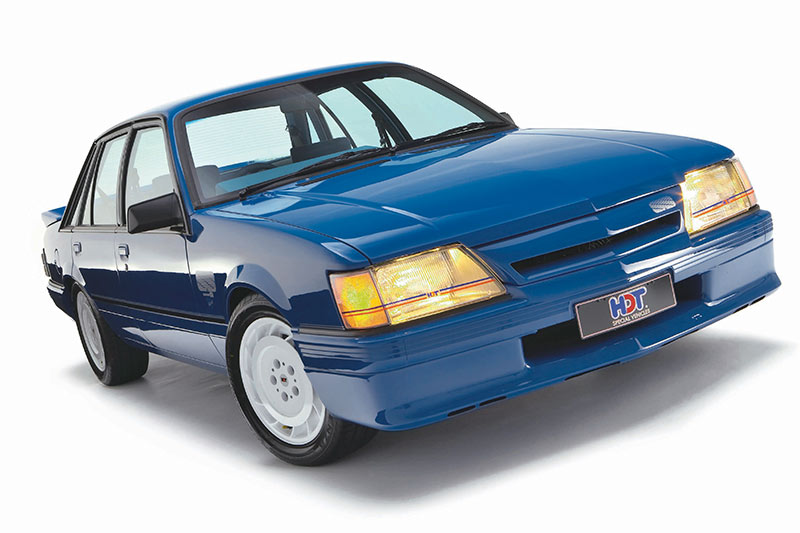 I refer to Cliff Chambers article, Is it cool to own a Tribute in issue 404.
Not being well-heeled enough to be fanatical about authenticity and being a country boy for the last sixty and some years, the idea of a replica is very appealing.
I have a love for Vettes Cobras and Aussie muscle from the seventies. The cost of the genuine item is scary to the point where if I did fork out for the genuine item I would feel obliged to be super cautious about where, when and why it is on the road and not in the shed appreciating in value.
A replica on the other hand can be obtained at a price that is far more realistic and, given that, if I owned a replica I would have very little reservation about being on the long, wide, black strip, letting the car do what it was built for!
Kim Edmeades
Narembeen, WA
Great Show
Just want to bring to your esteemed readership the best car show I've been to, the Sydney Classic held at Sydney Motorsport Park on Sunday 13 Aug.
There was everything from Willys vintage, humble EH and humpy FJs, through to double-decker buses that lapped the creek in a cool 3.5 mins. Yes for a gold coin you could experience the thrill of V-terminal about 50km/h and every window, nut and bolt rattling!
Ex NSW police pursuit cars, big 50s and 60s land yachts (read Dodge Phoenix). Paint jobs from concours to finest patina. Plenty of automobilia in the pit garages.
Two and four wheel vehicles aplenty and it was perfect weather. A big thank you to the CMC, Shannons and the ARDC for organising and running this fantastic event. I highly recommend it for Sydneysiders interested (or not!) in classic cars.
Re your response to No permits out West (Issue 403), it gave me a warm feeling reading about the interest ramping up for events such as these. I think there's exciting times ahead for owners and wannabe owners of said classics with regard to cheaper registration for older vehicles. Hopefully the pollies will agree.
Keep the updates re Glenn Torrens' VN Calais coming. It's good to read about the km they swallow up at little cost as they tractor along at 1500 rpm! I got one I paid $1500 for and it truly is the best car.
So, you better hold onto your sagging roof VN for a little while yet!
Send your letters to Unique Cars Mailbag, Locked Bag 12, Oakleigh, Victoria, 3166 or email uniquecars@bauertrader.com.au or Facebook us! 300 words max please!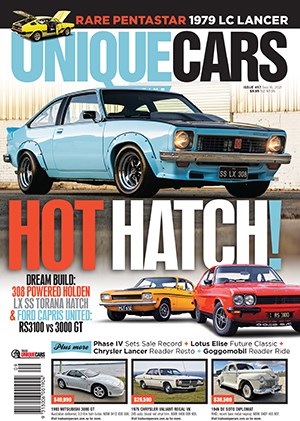 Subscribe to Unique Cars Magazine and save up to 42%
Australia's classic and muscle car bible. With stunning features, advice, market intelligence and hundreds of cars for sale.
Subscribe