1965 Chevrolet Impala + 1964 VW Type 3 + 1983 BMW 520 - Phil's Picks 406 Part 2
---
Phil's loves two things in this world: Cars… and searching the classifieds for more cars. So, if he didn't already have an overflowing garage, these are the wheels that'd well and truly be on his radar.
1965 Chevrolet Impala - $52,000

I really do love a good old Yank tank, preferably with lots of chrome, a big thumping V8 and the proportions of a one-bedroom apartment. These Impalas are also quite a rarity down under, and if you wanted to stand out from the crowd, I don't think there are many better cars. This one has got a rebuilt 350 in its snout and the seller also adds that the body is super straight and the paint is exceptional. You know that expression 'a lot of car for the money'? Well that adage is quite literally true of the Chev.
1964 Volkswagen Type 3 - $29,900

Now here's something a bit different, and I'm not talking about the car, I'm talking about the running gear that lies beneath. Let me clarify. The VW 1600 Type 3 has always been a cool car in my book, but powerful it was not, actually I think I've been in faster horse-drawn carriages. The owner of this Type 3 obviously felt the same way, because gone is the factory 1.5-litre powerplant from the notchback flanks, and in its place lies a Subaru boxer engine and a Subaru gearbox. The owner reckons this new-found shove has revitalised the old girl, and I tell you what, I'd love to have a steer of it. 

1983 BMW 520 - $10,800

As some of you may know, I've got a bit of a penchant for large, Germanic saloon cars. Actually I think I've owned more than half a dozen now, so it's entirely possible I may have a bit of a problem. Anyway, this lovely E28 520i genuinely looks like it's just rolled off the production line in Germany, and it's only got 44,123 kilometres on the clock from new! That's less than 1300km a year! It's also a one-owner vehicle and I don't think it'd take much to have this show ready. What a car.
1967 Ford Mustang - $POA
What do you think is the best car film of the last two decades? Is it The Fast and the Furious: Tokyo Drift? Or maybe you think its Ronin? What about The Italian Job? Nah, I reckon hands down it has to be Gone in 60 Seconds, it had everything; Angelina Jolie, a plethora of uber desirable muscle and super cars…and Angelina Jolie. Seriously though, while there may have been a multitude of awesome metal in this film, the hero car for the entire movie undoubtedly had to be the Shelby GT500, or as it was known in the film, Eleanor. Well, you can now buy a replica Eleanor, and I want it, badly.  
Unique Cars magazine Value Guides
Sell your car for free right here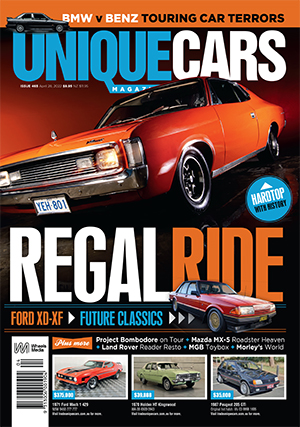 SUBSCRIBE TO UNIQUE CARS MAGAZINE
Get your monthly fix of news, reviews and stories on the greatest cars and minds in the automotive world.
Subscribe