Unique Cars events calendar update
---
Looking for a car event? Check this out.
Event organisers
Want some free publicity? Send us the following:
Date
Location
Title of event
A brief description
Contact (email or web preferred)
Send it to: UniqueCars@bauertrader.com.au
Events
JULY
QLD
23 July
Mopar Sunday
Mopar Sunday 2017 will now be held July 23rd and will feature a Show n Shine, Dyno shootout, drag racing and swap meet. Once you have paid your spectator entry fee, its free to have you car displayed and judged in the 'Show and Shine'. We would love to have as many Mopars parked together for the 'Show n Shine'. So park your chariot (show quality or not) with the others adjacent to the start line on the grassed area.
Contact: @moparsunday
23 July
Original Gold Coast Swap
The 2017 Original Gold Coast Swap will be held on Sunday 23rd July at the Mudgeerada Showgrounds. Veteran, vintage, classic cars and parts, automobilia, memorabilia, model cars, antiques, collectables, Australiana.
Contact:
swap.gcaac@gmail.com
29 July
Nambour Swap
Saturday only - set up Friday after 11.00am. Camping available The Club has been in existence for more than 50 years to cater for car enthusiasts on the Sunshine Coast. This is our 29th event.
Contact: scacc.org.au
VIC
30 July
Ford Flathead Festival, VIC
The Early Ford V8 Club of Victoria Inc. are holding their Ford Flathead Festival on Sunday July 30 at the Caribbean Gardens in Scoresby.
Contact: earlyfordv8vic.org
NSW
9 July
Independence Day
American Car Show, Guildford, Sydney
15-16 July
Wentworth Junction Rally
The Vintage Machinery Society of Sunraysia and The Rivers and Riverboat Historical and Preservation Society are holding the Wentworth Junction Rally on Saturday 15 and Sunday 16 July 2017 at Junction Park in Cadell Street.
Contact: junctionrally.com
29 July
Ford Super Swap Meet
The Combined Ford Clubs of N.S.W. brings you the Ford Super Swap Meet to be held on the Saturday prior to the All Ford Day. Gates open to Vendors/Swappers from 7.00am.
Contact: allforddaynsw.com/swap_meet
WA
8 July
Community Days Show N Shine Car Show
The Community Days Show N Shine Car Show welcomes all makes, models, and years and is being held on Saturday July in the Main Street in Goldendale.
Contact: goldendalemotorsports.org/community-days-show-n-shine.php
NT
16 July
Darwin to the Doo
Darwin to the Doo is being held on Sunday July 16 from 9am to 1pm and Darwin cars and bikes can meet at the Qantas hangar in Parap at 8.30am for a departure time of 9am to travel to Taminmin Library, Challoner Circuit in Humpty Doo.
Contact: 08 8988 1200
AUGUST
QLD
5 August
Revving the Reef
Revving the Reef is part of the Whitsunday Reef Festival and is being held on Saturday August 5 along the foreshore of Airlie Beach.
Contact: whitsundayreef
festival.com.au
6 August
Gatton Car, Ute and Bike Show
The Gatton Hospital Auxiliary are holding a Car, Ute and Bike Show at Gatton Showgrounds in Spencer Street on Sunday August 6.
Contact: 0407 624 445
12-13 August
Gold Coast Car Show
The 8th Annual Gold Coast Car Show kicks off Saturday 12 August 3pm-8pm and Sunday 13 August 7am-3pm. Hundreds of cars, motorbikes and trucks will converge on the grounds for a great day to inspire, admire and excite car enthusiasts and spectators of all ages.Public admission Saturday evening $10, kids under 12 free. Show car entry Saturday $10 includes passengers and judging. Special trophies awarded on this night for retro vehicles - kombis, bugs, panel vans and hot rods.
Contact: 0439 170 882
27 August
Kustoms of Australia
Its on again! It was Huge for our 1st one, well over 100 stalls, our 2nd Swap Meet will be event bigger. Kustoms of Australia 2nd Annual Swap Meet will be held again at the Yatala Drive-In which is located at 100 Stapylton-Jacobs Well Rd, Stapylton Queensland, only 30 minutes drive south of Brisbane or 30 minutes drive north from Surfers Paradise.
Contact:
kustomsofaustralia.com
NSW
6 August
All Holden Day Vehicle Display
The NSW All Holden Day is supported by dozens of NSW Holden Clubs which cater for all Holden enthusiasts and every Holden ever produced and is being held at the Hawkesbury Showground in Clarendon NSW on Sunday August 6. The NSW All Holden Day entry is open to all Holden badged vehicles when new.
Contact:
allholdenday.com.au
13 August
Shannons Sydney Classic
Over 1900 Veteran & Classic vehicles from over 150 clubs on display and on parade, including cars, motorbikes, scooters and military vehicles, police vehicles, ambulances & fire engines. And it's on rain, hail or shine. There's plenty to see and do indoors. All at Sydney Motorsport Park. Run by the Council of Motor Clubs (NSW).
Contact: sydneymotorsportpark.com.au
12-13 August
Killer Rides 2
Killer Rides #2 live show will be held August 12/13 inside the Illawarra Indoor Hockey Centre at Unanderra (south of Wollongong). Previously known as the Hot Car Titles, Killer Rides Live will showcase a selection of show cars, tough street cars and competition cars - all with one common theme, they are all killer rides. As entry into the show is by invitation only, you can rest assured that the cars on display aren't the cars you'll see on a regular basis. There will also be a huge array of traders offering show specials along with a fully stocked canteen for when you feel like a bite to eat or a drink - without breaking the budget.
Contact: killerrides.com.au
12-13 August
Newcastle Swap Meet
Run by the Newcastle District Vintage Cars club – claims 1000-plus sites.
Contact: 0457 083 789
27 August
All British Day
Come along and enjoy a huge day out with over 1500 British cars in the grounds of the Kings School and run in conjunction with The Kings School Art Show. For participants and car clubs gates open at 7am with entry via Masons Drive and
the show runs from
10am till 4pm.
Contact:
allbritishdaysydney.asn.au
VIC
4-6 August
Rainbow Desert Enduro
Round 3 of the CAMS Australian Off Road Championship and Victorian Off Road Championship. Fantastic spectator locations and camping available. For more information checkout Facebook Rainbow-Desert-Enduro.
Contact: competition@vorra.org.au
5-6 August
Winton Festival of Speed
The Winton Festival of Speed features retro touring car racing, celebrating classic eras of Australian motorsport and is being held on the August 5-6.
Contact: vhrr.com
19 August
FE FC Holden Car
Club Annual Auction,
Swap Meet and Pie Night
The FE-FC Holden Car Club of Victoria Inc. presents their annual auction, swap meet and pie night on August 19.
Contact:vic.fefcholden.org.au/Auction
20 August
Central Victorian All Holden Day
Poyser Holden Central Victorian All Holden Day is hosted by Bendigo Sandhurst Holden Club and is being held on Sunday August 20 at the Bendigo Showgrounds in Holmes Road, North Bendigo.
Contact: bendigosandhurst.wordpress.com/all-holden-day/
27 August
German Auto Show
VWCV presents the second annual German Auto Show. Calling all pre 1990 German vehicles to display at the beautiful Deaf Children Australia grounds on St Kilda Road.
Contact: vwclub.com.au/german-auto-show-2017.html
NT
19 August
Gazzanats Darwin
Gazzanats Darwin is being held on the 19th August 2017 at the Hidden Valley Raceway in Darwin and kicks off a day of non stop action. Burnout competitions, super skids, show n shine, go to whoa, cruise the track, dash 4 cash, race your mates drop flag and drift demos. No BYO, no glass at event, bar open on site.
Contact: @GazzanatsDarwinNT
SA
20 August
Willunga Swap Meet
The Willunga Swap Meet is organised by the Lions Club of Willunga & Districts and will be held at Centenary Park in Willunga on the August 20. Centenary Park is on the corner of Binney and Strout Roads and is an idyllic location situated on 1.6 hectares of land surrounded by vineyards offering views of the hills and sea.
Contact: willungalions.com.au/SWAP-MEET/
TAS
19 August
All Japanese Car
and Bike Show
The All Japanese Car and Bike Show is being held on Saturday August 19 at Princes Wharf 1 Forecourt on Castray Esplanade in Hobart.
Contact: 0408 314 309
WA
13 August
Shannons Classics on the Park
You are invited to be part of this motoring spectacular and display your classic car on Langley Park at the Shannons Classics on the Park on Sunday August 13. All classic car owners and car clubs are invited to display their cars.
Contact: targawest.com.au/shannons-classics-park/
ACT
19-20 August
Big Boys Toys Expo
Big Boys Toys Expo Canberra is being held on August 19 and 20. It is an interactive event to see, touch and experience and also gives patrons the chance to buy all the toys, tools, gizmos and gadgets enthusiasts always dream of.
Contact: bigboystoys
canberra.com.au/
SEPTEMBER
QLD
3 September
All Aussie Fathers Day
The All Aussie Father's Day is a family friendly event aimed at celebrating all things Australian, including our love for great cars and what better date then Father's Day!
Contact:
qldraceways.com.au/
9 September
Gympie Swap Meet
& Car Show
This is their 47th swap meet. Gympie Showgrounds, Exhibition Road, Southside, Gympie, Qld.
Contact: gympiehistor icautoclub.com.au
10 September
The Mustang Owners Club of Australia (Qld) Inc (www.qld.mustang.org.au) will be holding its annual Concours and Car Show at Logan River Parklands.
Qld.mustang.org.au
17 September
HQ Holden Run
The 6th Annual HQ Holden Run is being held on Sunday  September 17 and we're calling for all HQ Holden owners to fire up their sedans, coupes, wagons, utes, tonners, SS and GTS and come cruising with like minded enthusiasts.
Contact: hqholdenrun.com
22-25 September
National Chevrolet Festival 
The 41st. National Chevrolet Festival will be held in Warwick, the 'Horsepower Capital' of SE Queensland from 22nd - 25th September 2017. Proudly brought to you by the Queensland Chevrolet Car Club Inc and the 55-56-57 Shoebox Club of Queensland Inc.
Contact: 0417 791 595
SA
10 September
Gawler Swap Meet
Organised by the Gawler Veteran Vintage and Classic Vehicles Club the Gawler Swap Meet is back for our 33rd event at Princes Park, also known as Gawler Sport & Community Centre.
Contact: gawlercarclub.com
17 September
All Ford Day
The 2017 All Ford Day is being held on Sunday September 17 at Bonython Park, Adelaide. Open to owners and enthusiasts of motor vehicles produced by the Ford Motor Company.
Contact: allfordday.net.au
29 September
MR2 Nationals
The MR2 Nationals is a bi-annual event to brings together MR2s and their owners from all over Australia for one huge weekend of motoring pleasure. The MR2 Nationals 2017 in Adelaide, S.A. follows the first one in Goulburn 2003, Canberra in 2007, Bathurst 2009, Bright 2011, Hobart 2013 and Brisbane in 2015. This year's event includes cruises, dinners and presentations.
Contact: nationals@mr2club.com.au
NSW
3-10 September
Rockabilly Retro Rally
Bring your vintage cars, caravans, kombis, longboards and dancing shoes! a week of great music, food dancing and fun featuring Frankie J Holden and other live bands, show n shine, rock n roll trivia night, movie theme night and more.
Contact: Facebook
9-10 September
North-West Car & Bike Show
At Gunnedah Showground, Gunnedah NSW. Swap meet Saturday- 7.00am. Swap meet and car show Sunday - 8.00am
Gunnedah Vintage Vehicle Club & Namoi Valley Antique Vehicle Club.
Contact: nvavceditor@gmail.com
15-17 September
Toranafest
Big celebration of 50 years of Torana at sunny Maitland.
Contact: Toranafest.com.au
24 September
Falcon GT Owners Club of NSW Concours Day
The Falcon GT Owners Club of NSW are holding their annual Concours Day on Sunday September 24 at the Fiddler in Rouse Hill.
Contact: falcongtclubnsw.com
VIC
3 September
Fathers Day Car Show
Every year Old Gippstown is the scenic backdrop for the Father's Day Car Show, featuring an abundance of hot rods, classics and muscle cars.
Contact: Facebook
September 10
Shepparton Swap
Shepparton Showgrounds, High St (Midland Hwy) Shepparton. Run by the Goulburn Valley Motor Vehicle Drivers Club Inc. Over 600 sites for veteran, vintage, classic car and motor cycle parts, collectables and bric-a-brac. Gates open 7.30 a.m. for the public. For inquiries: phone Kris Healey on 0438 294 351.
23-24 September
Wings and Wheels
Maryborough Wings and Wheels is the premier vehicle and aircraft event being held on the September 23 in Maryborough, Victoria.
Contact: wingsandwheels.net.au
23-24 September
Melbourne to Maffra Run
This run is open to all vehicles over 15 years of age (as of the start of the run.)
It is a gathering of a group of like-minded motoring enthusiasts that want to enjoy their toys. It is not a competition, rather a leisurely drive/ride through some of West and Central Gippsland's most picturesque countryside. It is a 2 day run from Berwick to Maffra and return.
Contact: gippslandvehiclecollection.org.au
TAS
22-24 September
Baskerville Historics
Baskerville Historics is run annually and is a great weekend with both historic cars and bikes and this year it's being held on the 22 - 24 of September.
Contact: motorsportstas.com.au/event/baskerville-historics
ACT
24 September
ACT Holden Day
The ACT Holden Day will be held on Sunday, Spetember 24 at Hall Showgrounds in Gladstone Street. Hosted by all Canberra-based Holden Car Clubs, it is sure to have a record turnout.
Contact: Facebook
WA
24 September
Southern Cross Car and Bike Show
The Yilgarn Motoring Enthusiasts are hosting the Southern Cross Car and Bike Show which is being held on Sunday the 23 of September at Southern Cross Oval.
Contact: yilgarnmotoring
enthusiasts.com
OCTOBER
NSW
27-29 October
Chromefest  
Join us at The Entrance on the Central Coast NSW for Chromefest which is now in its 10th exciting year. Chromefest is a 3 day event.
Contact: chromefest.org
22 October
Northern Beaches Muscle Cars Annual Show
Northern Beaches Muscle Cars annual show for 2017 is shaping up to be an absolute corker thanks to a raft of excellent vintage Aussie and American muscle on display as well as some iconic cars from the silver screen.
Contact: northernbeache smusclecars.com.au
SA
29 October
Auto Italia Adelaide
Show n Shine
Auto Italia is the largest gathering and display of Italian motor vehicles held in South Australia and is an annual event that has become one of the major automotive displays held in SA. Last years Auto Italia Adelaide had over 200 vehicles attending.
Contact:autoitali aadelaide.com
VIC
13-15 October
Motorclassica Concours d'Elegance
Undeniably one of the best events on the motoring-enthusiast calendar every year, with a wide variety of some of the best cars ever made.
Contact:
motorclassica.com.au
TAS
15 October
Britain to Bunna Car Show
The Triabunna Village and Rover Car Club of Australia (Tasmanian Register) would like to invite any owner of British cars to come and display their cars.
Contact: Facebook
NOVEMBER
WA
5 November
All Ford Day
The All Ford Day Show is being held on the 5th November 2017 at Bassendean Oval and entry will be from the east via Old Perth Road only. The show is open to only Ford Motor vehicles running Ford mechanicals. Entrants drive in from Geraldton, Kalgoorlie, Albany, Bunbury and other country areas just to put their cars on show for the West Aussie public to enjoy.
Contact: afd.asn.au
VIC
10-12 November
Historic Sandown
Hundreds of classic cars on display and special on-track parades of racing cars. Historic Sandown is supporting the Wesley Mission and the meeting is presented by the Victorian Historic Racing Register and is assisted by the MG Car Club of Victoria.
Contact: vhrr.com/wp/sandown
24-26 November
Geelong Revival Motoring Festival
This action packed motoring festival, held on Geelong's picturesque waterfront, is an event not to be missed! Watch over 400 classic and exotic cars and motorcycles sprint down Ritchie Boulevard at full throttle in the historic quarter-mile sprint.
Contact:
geelongrevival.com.au
NSW
10-12 November
Hardtop Anniversary
The Hardtop Anniversary 2017 will take place at the spiritual home of the Falcon Coupe in Bathurst N.S.W. It will be celebrating the 40th anniversary of the legendary 1–2 at Mount Panorama in 1977.
Contact: fordcoupe.club/hardtopanniversary
25-26 November
Shannon's South Coast Nationals Car Bike and Truck Show
Shannon's South Coast National's Car Bike & Truck Spectacular is being held on November 25 and 26 at the Moruya High School, a huge venue with heaps of level grassed and cement areas.
Contact: fordcoupe.club/hardtopanniversary
SA
10-11 November
Adelaide Auto Expo
The show covers the Extreme Auto Expo, Adelaide Hot Rod Show, Traders Alley, a Dyno Comp, a Bikini Comp, the Zippel Cruise, Show N Shine and the Aussie Muscle Car Cruise on the Friday night.
Contact:
adelaideautoexpo.com.au
QLD
11-12 November
Noosa Hill Climb Summer Challenge
The Noosa Hill Climb Summer Challenge is held on Gyndier Drive Tewantin and consists of a track with 14 corners winding through State Forest. This event caters for grass roots motor sport and keeps spectators entertained with thrills and spills of close competition.
Contact:
noosacarclub.com.au
24-26 November
Rollingstone Rocks
A weekend full of great music from local bands, food, drink and NQ'S hottest Pool party. Dress up in your best 50's and 60's gear to be in the chance to will a great prize. Show n shine and super park cruise on Saturday.
Contact: 07 4770 7277
Event organisers
Want some free publicity? Send us the following:
Date
Location
Title of event
A brief description
Contact (email or web preferred)
Send it to: UniqueCars@bauertrader.com.au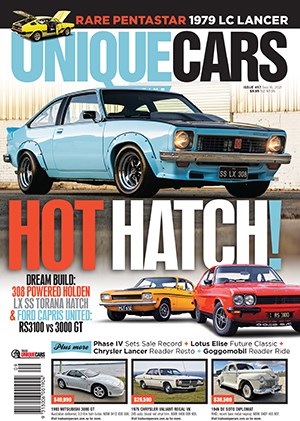 Subscribe to Unique Cars Magazine and save up to 42%
Australia's classic and muscle car bible. With stunning features, advice, market intelligence and hundreds of cars for sale.
Subscribe