Alfa Romeo 105-Series + Toyota 2000GT + Jaguar E-Type - The Ones That Gotaway 401
---
Uncle Cliff takes us for a ride through our old classifieds...
See the next Lloyds classic auction
Alfa Romeo Giulia Sprint GT - February 2001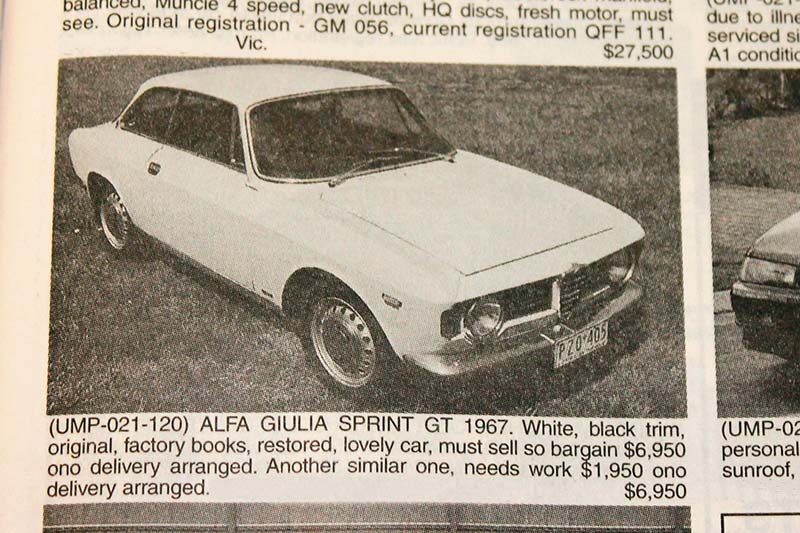 It's hard to find a better-proportioned car than Bertone's Giulia GT, yet until a few years ago these evocative Alfas were relatively cheap.  The first 105-Series GTs arrived here in 1964 and very few of the earliest cars seem to remain. This one with its correct drilled wheels and hubcaps is a later GTV version, identified by little green cloverleaf badges ('quadrifoglio') on the rear pillars. GTVs were made famous by very nearly beating Ford's V8 Falcons to the Bathurst 500 flag in 1967.
SINCE THEN:  It took a long time but 1960s Alfa coupes have finally started making decent money for their patient owners. Excellent 1600GTs are hard to find locally but represent value at under $50,000.
Then: $6950. Now: $40-45,000
 | John Bowe Review: Alfa Romeo GTV 1750

 
Toyota 2000GT - January 2001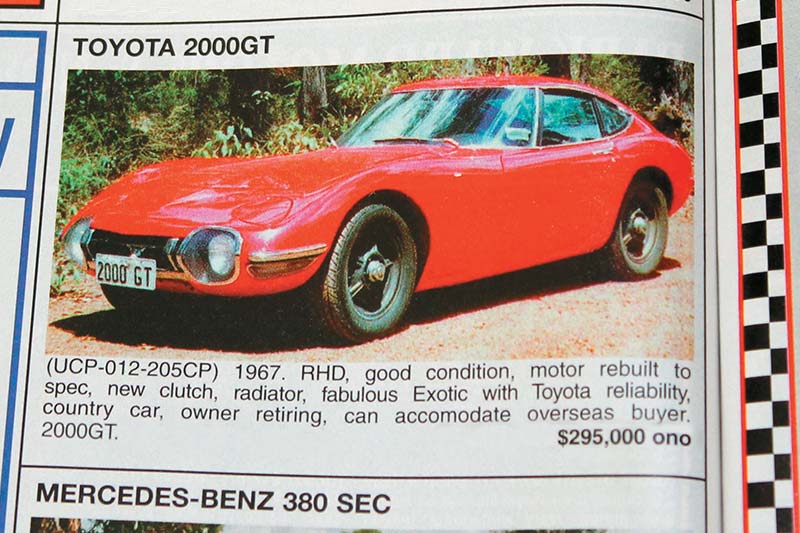 Japan's dominant car-maker should have by now developed a string of evocative sports cars but this remains as the only truly spectacular Toyota. It was unashamedly an answer to the Jaguar E-Type but sat on a Lotus-style chassis. Its engine was half the size of the Jag's but the GT was just as fast. Sales during the past decade have been strong but nothing until recently had cracked the $1 million mark – US$1.15 million to be exact. Australia once was home to several 2000GTs but they seem to now be gone.
SINCE THEN: It is four years since the record US$1.15M price for a 2000GT was set but we suspect Japan's most significant collector car is just resting before taking the next big step towards collectible greatness.
Then: $295,000. Now: $1.2-1.4M
Jaguar E-Type Roadster - June 1997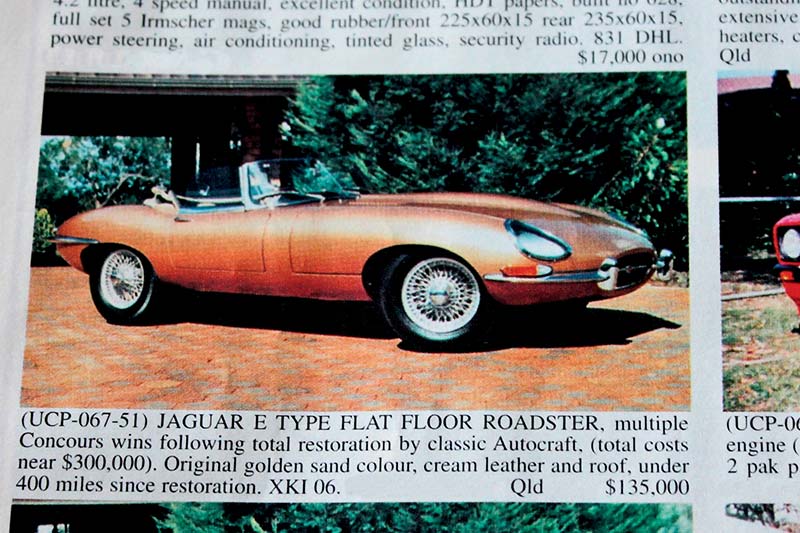 Yes folks, $135,000 in 1997 was a huge amount of money for an E-Type. Even in today's market it is more than a typical Roadster will generate but this is no ordinary 3.8-litre Drophead. A very early 'flat-floor' version, this car was restored for a once-wealthy Gold Coast property developer – a genuine 'cost no object' exercise undertaken by one of the country's most prominent Jaguar specialists. Your columnist was fortunate to judge it at one event where it took the top award and the its standard of presentation was extraordinary.
SINCE THEN:  Cars of this standard command special prices and for comparisons we need to look at sales of exceptional early E-Types that can exceed US$250,000 when auctioned overseas.
Then: $135,000. Now: $320-350,000
Reader's gotaway - 1957 Ford Skyliner
Micky Bossno - Warrandyte, Vic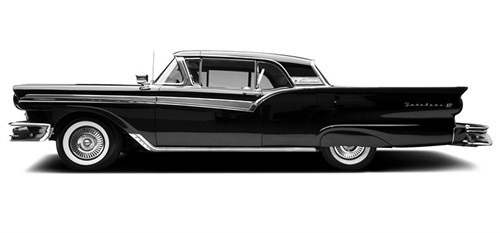 I never have been a fan of soft top US convertibles but back in the '80s I struck across a 1957 Skyliner in rural Victoria for $7k! She was a decent driver in black and gold original paint and that huge roof worked. Why did I let it get away from me?
Unique Cars magazine Value Guides
Sell your car for free right here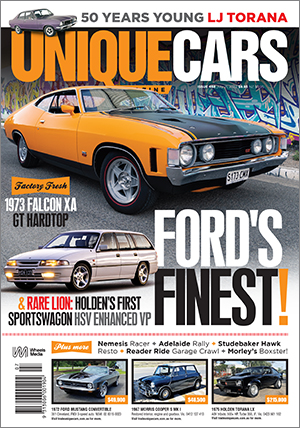 SUBSCRIBE TO UNIQUE CARS MAGAZINE
Get your monthly fix of news, reviews and stories on the greatest cars and minds in the automotive world.
Subscribe