XY GT Falcon gets big bucks at Shannons auction
---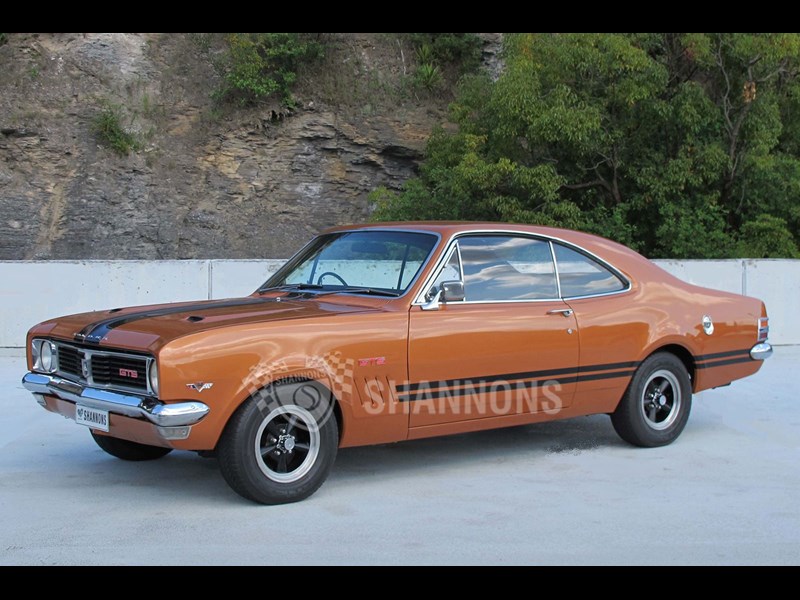 1969 Holden HT Monaro GTS 350 'Bathurst' Coupe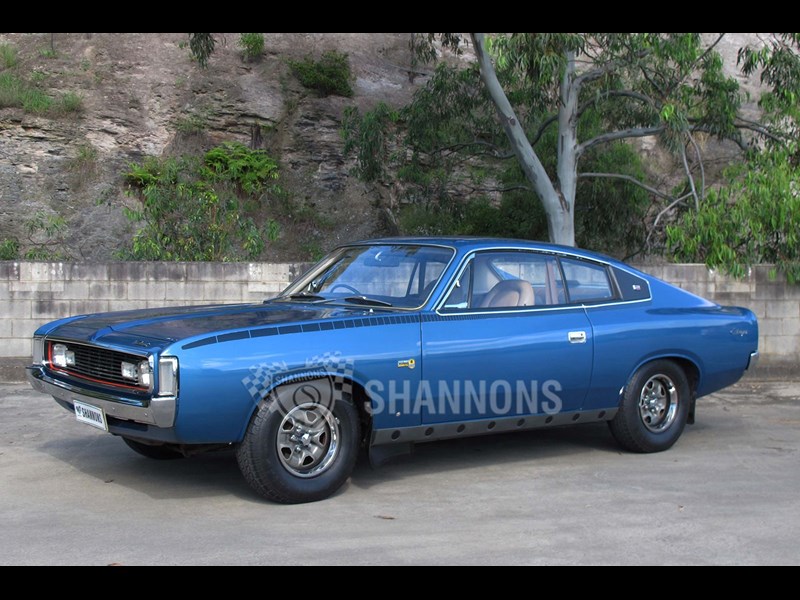 1971 Chrysler VH Valiant Charger 770 (E37) Coupe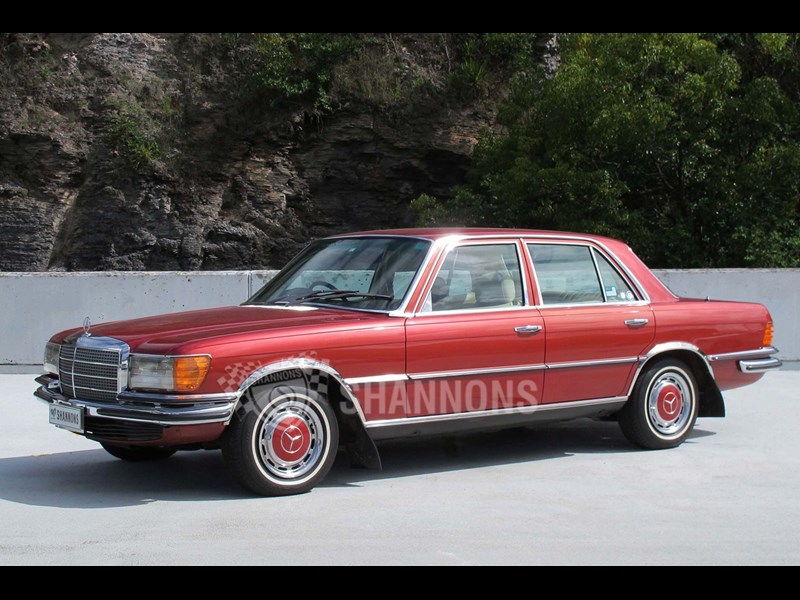 1974 Mercedes-Benz 350SE Sedan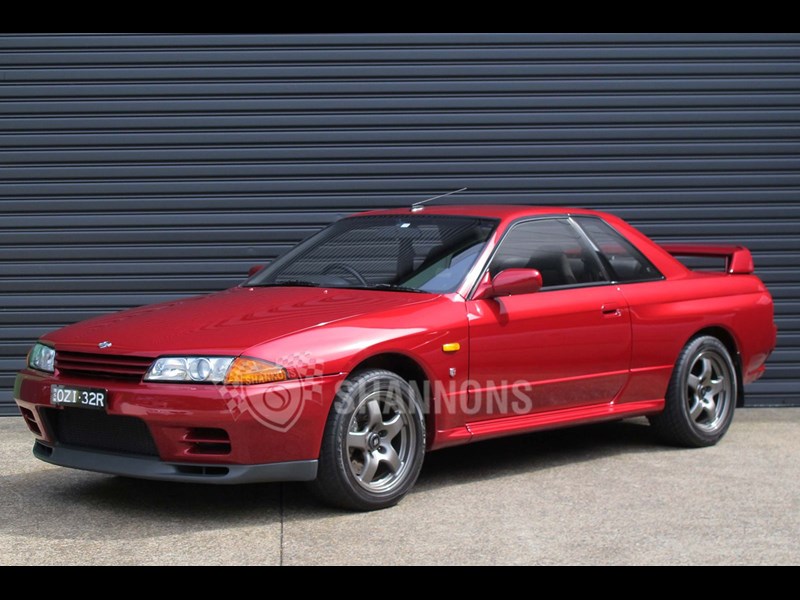 1991 Nissan Skyline R32 GT-R Coupe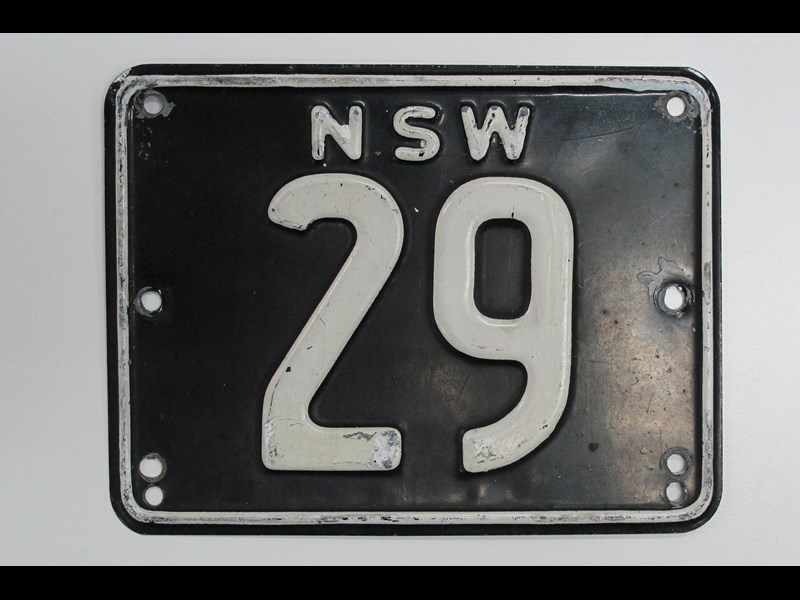 NSW heritage plate '29'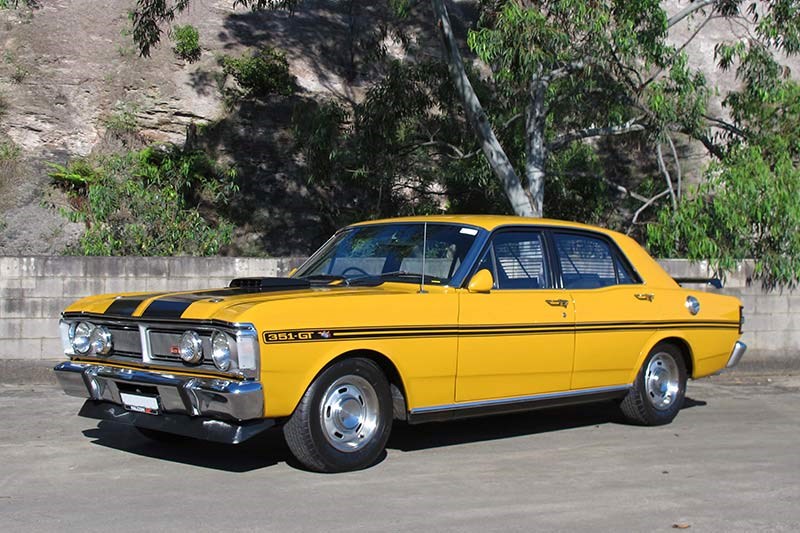 Aussie delivered GT-R and Valiant Charger also go sky high
Shannons' Sydney autumn auction was always going to command some high prices with the excellent calibre of metal on offer. However, there were still some results that will have your eyebrows shooting halfway up your forehead.
Chief among these eyebrow raisers and highest price scorer for a car on the evening was the 1970 Ford Falcon XY GT Sedan. A gorgeous matching numbers car, the XY was one of just six ever produced in its colour, trim, engine and transmission combination. Shannons estimated that the Falcon would go for $110,000-$135,000, however someone really wanted the XY and, as a result, the winning bid ended up being $180,000. This price further solidifies that even the non-HO GTs are now scoring big money, just last year a very similar XY sold at Shannons for $176,000.
Another car to smash Shannons' estimates was the Aussie delivered 1991 R32 Nissan Skyline GT-R. The auction house reckoned that the maroon twin-turbo beast was good for $65,000-$75,000, however someone really wanted to score one of the limited run Godzilla's and subsequently the GT-R went for $91,000, which isn't too far off what they were brand new back in '91.
The other coupe that bagged a big bid for the evening was the 1971 Chrysler VH Valiant Charger. The E37 'Street Six Pack' was in absolutely immaculate and original condition and the 3-speed manual, close ratio box meant it was an enthusiasts dream. Shannons had the estimate set at $85,000-$100,000 and they were on the money as the Charger sold for $100,000.
Rather surprisingly, the 1969 Holden HT Monaro GTS 350 'Bathurst' Coupe sold for a measly $70,000, far lower than Shannons' estimate of $85,000-$100,000. One can only speculate as to the reason why the coupe went for so little, but to whoever bought it, you've definitely scored yourself an absolute bargain!
Best buy of the day had to go to the 1974 Mercedes-Benz 350SE, which Shannons reckoned would go for around $15,000-$20,000. However, because the Merc' was up for grabs with no reserve it went for a mere $11,000, which is a total steal!
It's probably also worth mentioning that the NSW heritage number plate '29' sold for a staggering $745,000! Needless to say that the daunting price, which would probably buy you an un-renovated studio apartment in Glebe, was a record for the most expensive heritage number plate ever sold in Australia.
Below are the results for all the cars at Shannons' Sydney Autumn Auction:
1968 Holden HK Utility - $12,000
1974 Chevrolet Corvette Stingray 454ci Targa Coupe - $29,000
1949 Holden '48-215' FX Sedan -$46,000
1984 Cadillac Eldorado Biarritz Convertible - $25,000
1977 Pontiac Firebird Trans Am Coupe - $50,000
1974 Mercedes-Benz 350SE Sedan - $11,000
1970 BMW 2002 Coupe - $22,000
1968 Chrysler Imperial Crown Coupe - $16,000
1967 Holden HR Premier Sedan - $24,000
1982 Holden HDT Commodore VH SS Group 3 Sedan - $45,000
1949 MGTD Roadster - $24,000
1973 Volvo P1800 ES Sports Wagon - $29,500
1962 MGA 1600 Mk2 Roadster - $52,000
1954 Mercedes-Benz 300B Saloon - $50,000
1960 Cadillac Series 62 Convertible - $55,000
1971 Morris Mini Cooper S Mk2 Hatch - $38,000
1968 Jensen Interceptor Mk 1 Coupe - $54,000
1982 Mercedes-Benz 380SL Convertible - $ 67,000
1988 Porsche 930 Turbo Cabriolet - $101,000
1938 Cadillac V16 Series 38-90 Convertible Coupe – Passed in
1970 Chrysler VG Valiant Regal Hardtop Coupe - $21,000
1991 Nissan Skyline R32 GT-R Coupe - $91,000
1971 Chrysler VH Valiant Charger 770 (E37)Coupe - $100,000
1969 Holden HT Monaro GTS 350 'Bathurst' Coupe - $70,000
1964 Porsche 356C Coupe - $137,000
1970 Ford Falcon XY GT Sedan - $180,000
Unique Cars magazine Value Guides
Sell your car for free right here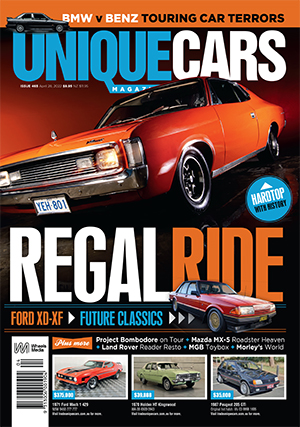 SUBSCRIBE TO UNIQUE CARS MAGAZINE
Get your monthly fix of news, reviews and stories on the greatest cars and minds in the automotive world.
Subscribe