National Car Events - get out there & enjoy!
---
Looking for something to do over the coming weekends? Have a gander at our car club events calendar.
To submit an event:
Featured event
Aces by the Bay
From the Smokin Aces gang in Melbourne: We are excited to announce our new and improved annual show & shine family festival. Aces By The Bay 2016 has been scheduled for Sunday the 20th of November. Still at the picturesque Seaworks Precinct Williamstown Victoria.
A lot of new items this year with more children's activities, larger range of vendor stands, Resto My Ride unveiling, two live bands (Itchy Fingers and Rosie & The Mighty Kings), Miss Aces Pinup and Little Miss Aces Pinup competition, and  more car spaces. This is just to name a few.
Click on below to download the 2016 pre register form. This year is pre 1978 cars only. Ensure you fill out the appropriate categories and register your spot, unfortunately we cannot cater for everyone so we encourage all to pre register. Limited spots apply for indoors too.
This year we have a huge range of support from our business partners both financial and product, so please support these guys who do great things for this event. Remembering this event is to support our charity "Challenge Supporting Kids With Cancer". Hope to see you all there !
Pre 1978 cars allowed only!
Oct-Nov 2016
NSW
21 - 23 October
Chromefest
California Cruisin Inc presents Chromefest; a tribute to classic American autos, hot rods and rock & roll. This event has retro market stalls, Saturday afternoon cruising, Sunday Show 'n' Shine with trophies and dancing all weekend. The event is held from 9am at Memorial Park, The Entrance.
Contact: chromefest.org
23 October
Albatross Show 'n' Shine
The 5th annual Albatross Show 'n' Shine will be held at the Fleet Air Arm Museum, Albatross Road, Nowra Hill. 
Contact: 0410 577 296
5 November
Legends of HDT
Muscle, Classic and Performance Car Club of NSW is holding a Legends of HDT event at 116-118 James Ruse Drive, Paramatta. John Harvey, Joe Felice and Stephen McIver will be our special guests for the night and the following day they will all be attending a car cruise with us and handing out trophies.
Contact: 0424 345 885 
5 November
Classic Yass
The Yass Antique Motor Club's 11th Classic Yass gives you the best of the good old days in an idyllic setting at Banjo Paterson & River Bank Parks, Yass. Cars from the early 1900s through to the 70s, vintage fashion and memorabillia, live music, markets and more – something for everyone at this free event.
Contact: classicyass.com
6 November
Global Village Motorfest & Fair
Come down to the Muswellbrook Showground on the 6th of November to see magnificent motoring exhibits, 20 show & shine categories, trade & market stalls, helicopter joy flights and much more.  
Contact: 0407 247 998
6 November
Rover Owners Display Day
The 2016 Rover Owners Club Annual Display Day is this year to be based at the St Ives Showground as a Grand Day for ROC members, families, Rover owners and of course, their cars.
Contact: clubcaptain@roverownersclub.com.au
6 November
Hunter Elvis Festival
Elvis didn't care what was on the badge of a car - if he liked the look of it, he bought it. So in that spirit, come down to Speers Point Park on the 6th of November and celebrate The King.
Contact:
9-19 November
Southern Cross Gold Anniversary Rally
2016 will see the 50th anniversary of the first Southern Cross Rally held in 1966. To celebrate this important milestone, this event will allow both past participants, and those who missed the opportunity to compete in this great rally, to enjoy a competitive event as part of the celebrations.The event will start in Albury on November 9 and proceed through Gippsland in Victoria to Canberra and Sydney, then on to Port Macquarie and finishing in Coffs Harbour on November 19. The finish will coincide with the running of Rally Australia, the final round of the 2016 FIA World Rally Championship. Competitors in the Southern Cross Gold Anniversary Rally have been invited to compete over some of the Rally Australia special stages ahead of the world rally championship cars. This will be a special and exciting finale to what will be an exceptional even
Contact: southerncrossanniversaryrally.com.au
VIC
20 -23 October
Camperdown Cruise Rockabilly Festival
The Camperdown Cruise Rockabilly Festival is Victoria's premiere rockabilly event. Held annually in Camperdown's Manifold Street, the event features hot rods and custom cars, amazing music, vintage markets and more.
Contact: camperdowncruise.com.au
21-23 October
Motorclassica
Massive show, auction and concours, with numerous side events, based at the Royal Exhibition Buildings, Carlton.
Contact: motorclassica.com.au
23 October
Mustang Round-Up
Victorian branch of the Mustang Owners Club of Australia State Concours incorporating the Shelby Nationals. We are anticipating approximately 450 cars. Three judged classes on the day.Unfortunately all judged classes are only open to the MOCA Vic club members as various entry conditions apply. However non club members are more than welcome to come along and place their pony on display on the day. Trade stands and food on site at the Moorabbin air museum.
Contact: vic.mustang.org.au
4-6 November
Historic Sandown
Twenty five Years of Thunder will be celebrated when the Victorian Historic Racing Register presents the 2016 Historic Sandown meeting. Widely regarded as one of Australias most important Historic race meetings, Historic Sandown attracts competitors from all corners of Australia as well as from overseas. 2016 will be no exception, and this year a strong contingent of internationals is expected to take part.
Contact: 0402 224 133
6 November
Mazvember
Mazda Car Club of Australia is proud to present Melbourne's Biggest Mazda Car Show, back again for another year! The event will be held on the 6th of November at 1 Banfield Court Truganina. $10 entry pre car which includes raffle tickets.
Contact: 0407 247 998
12 - 13 November
Bendigo National Swap Meet
Over 20,000 people from across Australia and overseas are expected to arrive at the Bendigo Showgrounds for the swap meet that showcases exquisite collectible cars, and the rare and coveted parts that keep them moving on 12-13th November.
Contact: bendigoswap.com.au
13 November
Car & Bike Show
Head on down to Penola Catholic College, 29 Gibson St, Broadmeadows, and join us at the car & bike show. The event will showcase fantastic cars and bikes, and will provide a sausage sizzle, drinks, music, kids entertainment and a raffle. General admission is $5, kids under 12 enter for free. Car entry $20, bike entry $10.
Contact: 0409 383 354
13 November
Tread Cemetery
Tread Cemetery is the World Championship of Team Burnouts and held with Cruise for Charity at Lardner Park on November 13. With the last Golden Ticket on offer this side of Summernats 30 you can bet your last dollar it'll be a scramble to try and grab it!
Contact: treadcemetery.com
13 November
MotorEx Cruise for Charity
In it's 13th year, MotorEx Cruise for Charity has raised over $1.3million for deserving charities thanks to the generosity of the modified car community. Attracting over 5,000 cars nation-wide, it's the biggest car event of it's kind and only getting bigger! The Victorian leg of MotorEx Cruise for Charity is set for the 13th of November with the destination being Tread Cemetery at Lardner Park. Entry is $40 per car, children under 16 are free.
Contact: @CruiseforCharity
13 November
Off Roaders Display Day
The Off Roaders Display Day will be held at the Gippsland Vehicle Collection on Sunday, 13 November. See a fantastic display of off road vehicles inside the GVC, and all attendees can contribute to the display in the grounds. Gold coin entry to the grounds and $8 discounted entry price on the day. Kids under 15 free.
Contact: admin@gippslandvehiclecollection.org.au
20 November
Rotary Festival of Wheels
The Festival of Wheels will host 'a magnificent display of classic and collectable cars and motorcycles', November 20 at Moorabbin Airport's Air Museum with all proceeds donated to Sandringham Hospital and Australian Rotary Health.
Contact: 0413 843 310
19 - 20 November
Castlemaine Rotary Annual Truck & Music Show
This hilarious combination of trucks and music for those who naturally marry these two loves, or for those who don't but want to see the alchemy of the two cultures coming together. Show off your pride and joy at Campbells Creek Recreation Reserve on November 19. Contact:
truck.rotarycastlemaine.org.au
20 November
Cancer Council Car Show
This is a family friendly show and shine held by Pitruzellos Estate, Sharp Exhaust and Suspension and myself (Catherine Greenaway) for the Cancer Council.
Located at 25 Deverall Road, Sunbury, the event starts at 11am. (Early arrival will be allowed and discussed closer to the date for certain vehicles. Clubs ect)
$10 entry per vehicle!
Contact: 5428 3055
20 November
Melbourne Datsun Day
If you love the cars under Nissan's heritage umbrella, and have a respectful attitude towards enjoying your car, you are invited to attend the 2016 Melbourne Datsun day! The event will be held at Yarra Glen recreation reserve, gates open 8am onwards.
Contact: contact@datsunday.net
20 November
Jaguar Concours
D'Elegance & Display
The Jaguar Car Club of Victoria's annual Concours and Display Day will be on the Wesley College oval, Glen Waverley.
Contact: jagvic.org.au
25 - 27 November
Geelong Revival
The 2016 Geelong Revival at Geelong's picturesque waterfront, is not to be missed! It's all things vintage, from big factory cars  to backyard builders. Take pole position for the historic quarter-mile sprints, as over 400 classics sprint down Ritichie Boulevard. And there's a second track, bringing a hillclimb to the Geelong Waterfront for the first time.
Contact: geelongrevival.com.au
25 - 27 November
Shepparton Springnats
The 24th Anniversary celebrations of the Shepparton Springnats are making a welcome return to the Shepparton Showgrounds on the traditional last weekend of November. This year promises to be bigger than ever for the famous Shepparton event with many inclusions to mark this milestone show.
Contact:  autofest.com.au
ACT
21-23 October
Classic Small Ford Muster
Rydges, Capitol Hill. The ACT Small Ford Owners Club. Friday meet and greet at the Olm's bar located at the Mecure in Braddon from 6.30pm. Canapés will be provided and drinks available for purchase from the bar. Saturday observation run from 10am, lunch followed by the Show & Shine. Dinner and trivia night at the Mecure, Braddon.
Contact:  actsmallfordowners.org
SA
28 - 30 October
Skyline Nationals
It's the 'biggest Skyline meet in the Southern Hemisphere' – Classic Skylines Australia hosts its 5th biennial Shannons Insurance Skyline Nationals. Show your Skyline at the Show & Shine or run it thru its paces at the Track Day at Mallala Motor Sport Park.
Contact: skylinenats.com
4-6 November
Legend of the Lakes Hillclimb
Come on down to the beautiful Valley Lakes are of Mount Gambier for three days of fun. Cars of all vintages will challenge the clock as they race up the hill.
Contact: www.seacsa.com
6 November
Minis at the Mill
Minis at the Mill is an annual 'show and shine' event held at the National Motor Museum (better known as the Birdwood Mill) on the 1st Sunday in November.The event aims to celebrate the 'small car with a big heart' - Minis, Mokes or BMW Minis.The event has been running since 1993 and is organised by the Modified Mini Car Club of S.A.Come along for a great day out!
Contact: See Facebook
6 November
Auto Italia
Auto Italia Adelaide is here again on the 6th of November and will host SAs largest display of Italian Cars, bikes and scooters, Italian food, coffee and wine! The event will be held from 10:30am onwards at the Campbelltown City Soccer Club.
Contact: autoitaliaadelaide.com
13 November
Gumeracha Show & Shine
The Lions Gumeracha Show & Shine was created to assist the children in need of medical assistance from defence force families. In 2014 we introduced the Shannons Memorial Cruise which shared top billing with Lions. The show will be held at Adelaide Hills, Gumeracha on the 13th of November.
Contact: gumerachashowandshine.org
18-19 November
Classic Adelaide Rally
In 2016, the Classic Adelaide Rally returns as as major component of the Adelaide Motorsport Festival, recreating the iconic and world renowned tarmac rally of SA that was held between 1996 and 2009.
Contact: classicadelaide.com.au
19-20 November
Victoria Park Sprint
Part of the Adelaide Motor Sport Festival, the Victoria Park Sprint is held on a section of the historic Adelaide GP Circuit, featuring historic touring cars, sports cars and displays of some of the world's greatest classic cars.
Contact: adelaidemotorsportfestival.com.au
WA
22 October
French Car Festival
Come and enjoy WA's largest display of French automobiles. Covering all era's from the early 1900s through to new vehicle releases. The show will be held on the 22nd of October at the Ozone Reserve, Perth CBD.
Contact: 0439 935 369
22-23 October
Shannons Perth Classic
The Shannon's Perth Classic will see the largest group of Formula 5000 single seater V8 race cars from Australia and New Zealand ever assembled at Barbagallo Raceway. The event will showcase the first round of the Australian leg of the Formula Junior Diamond Jubilee World Tour, the Formula Vee Nationals as welll as a massive field of Historic Touring Cars. Block out Oct 22-23 in your 2016 calendar now!
Contact: 0439 935 369
30 October
Jaguar Show
This year is the 50th Anniversary of the Jaguar Car Club of Western Australia and to celebrate this milestone there will be a display of about 200 Jaguars, both classic and modern. This is to be held at Sir James Mitchell Park in South Perth on Sunday October 30 from 10am.
Contact: jaguarcarclubofwa.com.au
18 - 20 November
Narrogin Revheads Weekend
The 24th annual Norrogin Revheads will be held at the Thomas Hogg Oval in Narrogin. The event promises a full weekend of non-stop automotive action with burnout comps, show 'n' shines, live music and more.
Contact: narroginrevheads.com.au
TAS
7 November
Ulverstone Car Show
Run by the Forth Valley Lions Club, and held at the Ulverstone Show Grounds, this car and motorcycle show is open to all makes, models and eras.
Contact: 0408 251 551
13 November
Cars on the Coast
The Cars on the Coast event will be held at the Treiabunna Sports Oval Complex, Triabunna, and will be host to a display of classic cars and bikes of all kinds. All proceeds will support local organisations.
Contact: 0419 519 682
Dec 2016
VIC
4 December
Northern Gal's Sunday Afternoon at the Vinyeard
Another great day out with food, music, wine & animals for the kids.Rosie & the Mighty Kings will be playing their awesome tunes for us again.
All Classic, Muscle, Chrome, Rat, Rod, Custom Cars and Bikes are welcome to attend.
Entry is free.
Contact: northerngalevents@hotmail.com
4 December
Car Show & Swap
Show Us Ya Wheels presents this year's car show and family fun day. The event will be held on Tunnock Rd, Numurkah, and will provide tons of free entertainment for the kids, lawn mower races, dyno shoot-out and stacks of great food stalls. On top of all that there will be the usual attractions, including the static car show with trophies featuring over 600 Hot Rods, Street Cars, Custom cars, Vintage Cars, Muscle cars, Trucks, Buses, Tractors, Motor Bikes, push bikes, WW2 Mustang airplane and aerobatic helicopter flyovers and more. All for only $5 adults, $2 kids.
Vehicle entry is $10 and includes entry for one person.
All funds raised from the event will be donated back to local charity organisations. 
Contact: 0487 369 737
4 December
Classic Japan
Classic Japan is an annual Car & Bike show open to vehicles from all Japanese manufacturers that are at least 25 years old. What began as a small idea in 2011 has grown to one of the largest gatherings of nostalgic j-tin in the southern hemisphere with 600 cars & bikes displaying the proud design and engineering heritage that Japan has offered the world. You won't find any egos or trophies here, just enthusiasts sharing our passion with respect. This year's event will be held at Como Park North, South Yarra, gates open from 9am onwards.  
Contact: classicjapan.org.au
28-31 December
FX-FJ Holden National Titles
The Rare Spares & Shannons 23rd FX-FJ Holden National Titles will be hosted by the Early Model Holden Club of Victoria Inc. The National Titles will be held in Mansfield over four days from 28 December. Pre-Entry is required for this event and only members of Australian Early Holden Federation affiliated clubs are eligible to enter their vehicles.
Contact: fxfjnats.com.au
QLD
4 December
Cars, Coffee & Bikes
Shannons invites you to Cars, Coffee & Bikes. The event will be held at 305 Montague Rd, West End. Gates open at 7am. Get in early, the first 50 coffees are on us.  
Contact: shannons.com.au
NSW
2-4 December
Sydney Auto Show
The Sydney Auto Show is on display at the Coates Hire Sydney 500 at Sydney Olympic Park on December 2nd to the 4th 2016. The show is open to quality exhibits only from clubs, groups, motorsport and motorcycles. Private exhibitors welcome. All vehicles must be superbly presented. This show is a judged event and 20 awards will be presented at midday Sunday Dec 4
Contact: 0417 620 792
4 December
Dream Ride
Dream Ride 2016 is a daylong event bringing motoring enthusiasts together with people with an intellectual disability to raise funds for Special Olympics Australia.
1,000 bikes will ride from around NSW to Sydney Motorsports Park, Eastern Creek for this first ride of its kind in Australia. All funds raised from Dream Ride 2016 will help Special Olympics Australia provide sporting opportunities for people with an intellectual disability within our community. 
Contact: dreamride.com.au
11 December
Maddie Hill Show & Shine
Raising funds for the National Breast Cancer Foundation.Open to All Makes & Models; Hot Rods, Classics, Utes, Vans, Muscle Cars, Street Machines, Cruisers, Chrome Bumpers, Lowriders, Vintage, Veteran, Exotic, Euro, JDM, British. Trophies on Offer. Entry Fee: $10 per Vehicle/Bike. Public: Gold Coin Donation. Activities for All Ages, Food & Drinks, Stalls
Contact: 0418 427 937
TAS
11 December
Classic Car Charity Run
Shannons Classic Car Charity run is held during December each year in support of the Salvation Army Christmas Appeal. A fun day with xmas music by the Salvation Army Band, food and drinks at the kiosk and numerous spot prizes, Car clubs and non car club enthusiasts more than welcome to attend (car clubs to arrive in convoy if possible). The concept is to bring non-preishable food items in leiu of toys which are donated to the Salvation Army for distribution statewide on Christmas Day.   
Contact: 0408 314 309
SA
4 December
Uraidla Hot Rods & Classics
This event is aimed at owners and enthusiasts of hot rods & customs, More than 400 vehicles and over 4000 people are expected to attend. The event will include the traditional morning cruise leaving from Morphettville Junction at 9am, with cars arriving at Uraidla at around 10am 
Contact: 0418 845 254
Unique Cars magazine Value Guides
Sell your car for free right here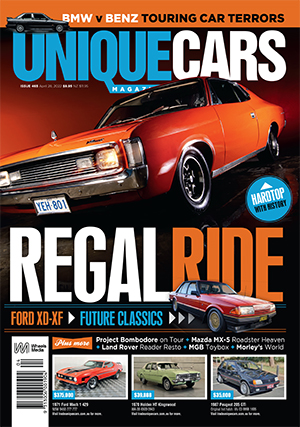 SUBSCRIBE TO UNIQUE CARS MAGAZINE
Get your monthly fix of news, reviews and stories on the greatest cars and minds in the automotive world.
Subscribe