Spud farmer's Marina ute wins dunger games
---
Festival of the Unexceptional car show springs the world's least desirable vehicle as a winner
THINK of it as the anti-Pebble Beach.  Hagerty's Festival of the Unexceptional celebrates the uncelebrated, the cars that slipped through the cracks of automotive history. Run annually in the UK, it's the opportunity for owners to dust off their waifs and strays and let them enjoy their moment in the sun.
Not too many of the cars on display were found in any great number here in Australia, but we can certainly see how an event like this could take off here. Even diesel Gemini owners need something to live for. One new aspect of the 2016 festival was the Picnic of the Unexceptional, where period-correct food such as prawn cocktails, cheese and pineapple on sticks, Battenberg cake, Twiglets and a few crates of Babycham.
After the judges had tallied their votes, the winner on the day was a Morris Marina Pick-Up that had worked on the same family spud farm 1981. Jonathan Papworth remembered "going with my uncle Doug to the dealer when I was 11 and I inherited the Morris earlier this year. This is my first ever car show and I cannot believe the attention the Marina has received".
Other non-notables included a Renault 6, a Datsun WP312 Bluebird Estate, a  Zastava Yugo Van, a Talbot-badged Avenger and the very rare and very square Vauxhall Cavalier Calibre which, according to owner Kevin Birchall, was "one of only two on the road."
Anthony Goodwin somewhat missed the point of the event, bringing a wholly exceptional vehicle – his Peugeot 504 that had driven across the Sahara, South America, India, Pakistan and Iran. Everywhere you looked there were cars that you'd forgotten ever existed. The most unexceptional European car of the Year, the Talbot Horizon. There was also the Matra Rancho, a first lifestyle SUV without all-wheel drive, filling a niche that didn't exist in 1979. Citroen's dumpy GS was there, still looking like a hall of mirrors CX, and some cars that sold in huge numbers but have since virtually vanished – Vauxhall Cavaliers and early Astras as well as Ford Sierras and Cortinas.
Chevettes, Pandas, Acclaims, Solaras, Allegros and Maxis were all buffed to within an inch of their lives and rolled out for the crowd's delectation at the Whittlebury Park, Northants. Judging was carried out by a very experienced panel, including Danny Hopkins, editor of Practical Classics magazine, and Nigel Matthews, previously a Pebble Beach concours judge.
Hagerty's MD, Angus Forsyth, said, "We all had another superb day at the Unexceptional. There is such a friendly atmosphere here, and people love sharing the stories of their cars. Unlike some other shows, all the cars here have a cultural link to the visitors: they are the cars their families used to own. Every year, we hear: 'my dad had one of those'!"
What links many of these once everyday vehicles is the fact that they're now rarer than many supercars. It's a great celebration for backers of the underdog. If Hagerty's would like to run an Australian event, we'd love to hear of their plans.
ENDANGERED UNEXCEPTIONALS

MODEL

NUMBER BUILT IN TOTAL

NUMBER AVAILABLE IN 2005

NUMBER AVAILABLE IN 2015

% LOST IN TOTAL

Morris   Ital (1980-1984)

175,276

185

35

99.98

Austin   Maxi (1969-1981)

472,098

318

140

99.97

Austin   Allegro (1973-1982)

642,340

543

170

99.97

Vauxhall   Chevette (1975-1984)

416,058

765

202

99.95

Hillman   Avenger (1970-1981)

638,631

291

215

99.97

Morris   Marina (1971-1980)

809,612

550

273

99.97

Austin   Metro (1980-1991)

1,518,932

8395

464

99.97

Vauxhall   Victor (1961-1978)

827,159

1050

828

99.9

Ford   Sierra (1982-1993)

3,470,524

67817

3350

99.9

Ford   Cortina (1962-1982)

4,154,902

4967

3580

99.91

 

Source: www.howmanyleft.co.uk 

 
 
 
Unique Cars magazine Value Guides
Sell your car for free right here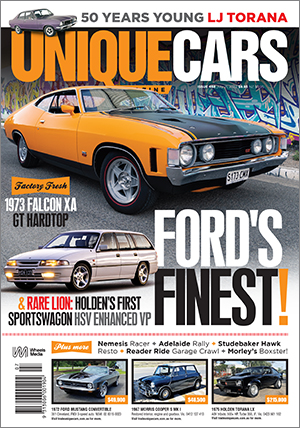 SUBSCRIBE TO UNIQUE CARS MAGAZINE
Get your monthly fix of news, reviews and stories on the greatest cars and minds in the automotive world.
Subscribe