Falcon Farewell - Unique Cars mag
---
As Australian Ford Falcon production shuts down, Unique Cars magazine previews a tribute to a series that's part of our local history. See issue 393, on sale September 29, 2016.
Here's what the owners had to say...
Dwayne Overbury - 1962 XL Armstrong 500 Tribute
Given Falcon's early reliability issues, getting a win in a major endurance race was hugely important for Ford.
So it entered two XLs in the 1962 Armstrong 500 at Phillip Island (the Bathurst 1000's predecessor). Privateer teams also entered Falcons. The car driven by Bob Jane and Harry Firth was first across the line, narrowly beating a Studebaker Lark, ahead of a second Falcon.
Dwayne Overbury, a long-time friend of Bob Jane, readily agreed when Melbourne builder Miles Johnson of Thunder Road suggested building a tribute car. "We did a little bit of homework," he explains, "I spent half a day with Harry going through some old photographs and looking at what needed to be done, plus time with Ian Tait, who was the mechanic back in the day and with Bob."
"It's been a joy and a privilege. We had it at Eastern Creek for the 2012 Muscle Car Masters, in the parade, with Sir Jack Brabham in the car.
"I got to take Bob for a bit of a fang and he wanted me to keep the foot down and drive it lock-to-lock like they did in the day. It was a bit of a laugh watching him sliding around on the bench seat in the front, having a great time."
And what does he reckon about the closure of local manufacturing? "It's disappointing. I've had a number of them (Falcons) and have an anniversary turbo that I love."
(Our thanks to the Shepparton Motor Museum for its assistance.)
Phil Grant - 1967 XR GT
Phil admits to being a long-term Falcon tragic. He's been heavily involved with the Falcon scene over the years and did much of the legwork to gather up the gang of cars and owners you see on the feature pages of issue 393 of Unique Cars magazine.
For him, it's one generation in particular that has lasting appeal – the XR – and he has three of them. In addition to the GT you see here, the Falcon 500 in the main group is his, along with a track car that's 'between engines at the moment'.
And this gold beauty? "I wanted an XR GT for years and looked for 15. This one came up through a phone call from a friend. I changed a few little things to make it the way I wanted it.
"The guy I bought it off said it was his uncle's car, he made it driveable, with better shockers and XY disc brakes.
"It's been painted but all the original parts went back on.
"Nothing's been done to the engine. It got reconditioned and that was it. There were no horsepower gains, it still runs original manifolds.
"The prices have gone through the roof in the last couple of years and the thing is next year they'll be 50 years old. A lot of people are running around trying to get them, they're pretty hard to come by and don't last long in the market."
Does the local shut-down affect him? "I've got all the cars I want – I have three of these, so I'm not too worried."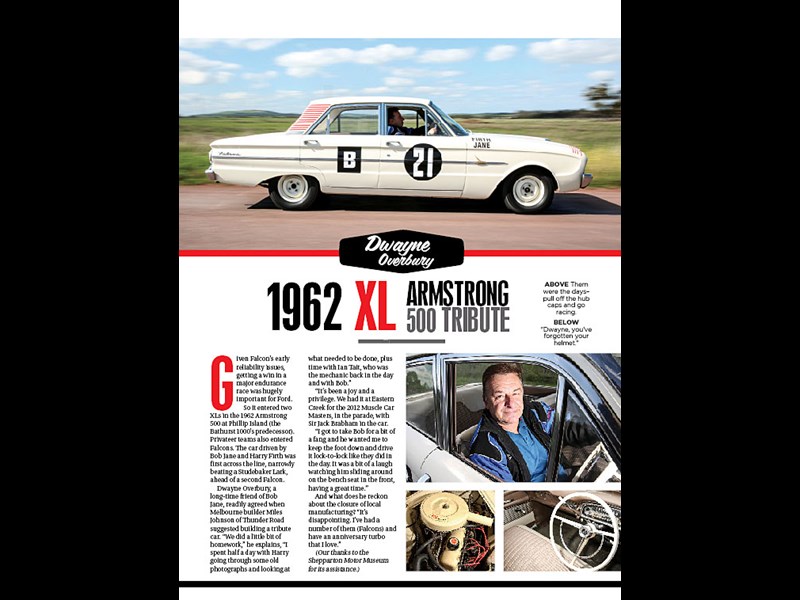 Dwayne Overbury - XT Armstrong 500 replica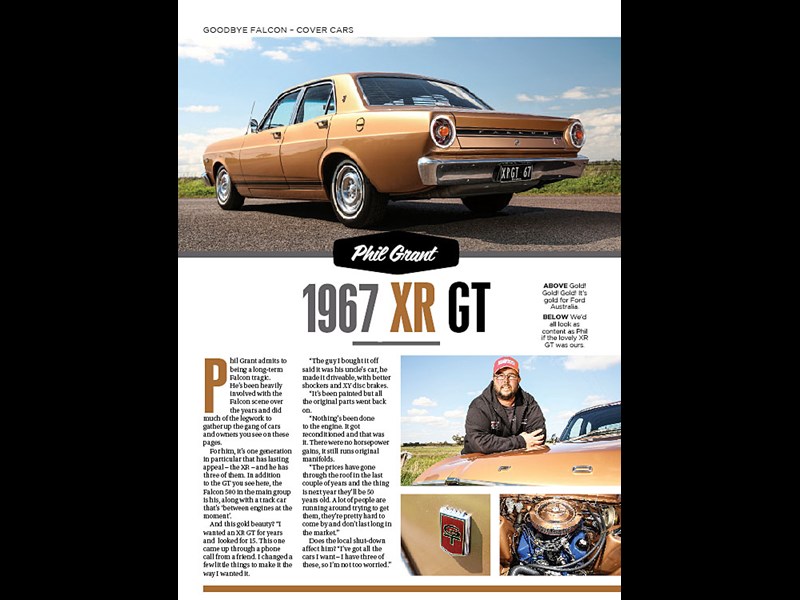 Phil Grant - XR GT

Unique Cars magazine Value Guides
Sell your car for free right here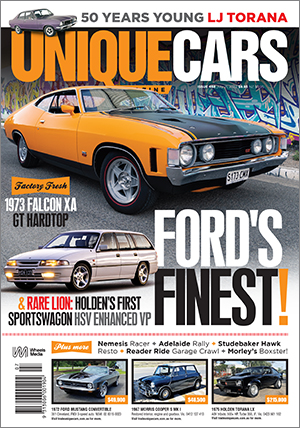 SUBSCRIBE TO UNIQUE CARS MAGAZINE
Get your monthly fix of news, reviews and stories on the greatest cars and minds in the automotive world.
Subscribe