Shannons 2015 Melbourne Late Summer Classic Auction
---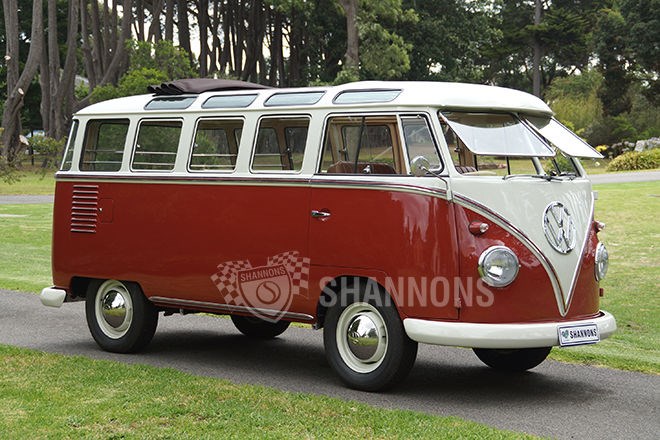 Almost 70 lots of classic cars, motoring memorabilia and motorcycles are set to go under the hammer in tonight's Shannons Melb Late Summer Auction. Topping the expected bidding range is a 23-window VW Kombi.
Shannons 2015 Melbourne Late Summer Auction
LOTS TO WATCH
If you're itching for a cheap classic, all you newbies better tune in to Shannons' Classic Auction tonight. It's a case of bargains galore and plenty more if you can spare it…
Tonight's Shannons Classic Auction (Feb 23) has a number of cars going under the gavel that will be key signifiers of what the classic car market is doing at the moment. Firstly, cars without a reserve price seem to go – everyone's tempted by something cheap with a silver lining – are a great opportunity for the youngsters out there ready to try their hand at a classic. Enter the world of the classic car market: one man's trash is a unicorn to another.
Here are some of the cars we're curious to watch, starting at the start, with the 1969 Honda N360 Scamp. Put simply, these little rodents are hard to find and offer a perfect entry into the classic car game for next to nothing. What'll make this Scamp a chip to fight for among the gulls is the N600 motor it's been fitted with, so it'll be a spritely little thing given the donk's only done 96,000 clicks. Forget your muscle car, young uni buck, this little cutie will definitely pull the ladies.
Next up is the Leyland Mini with a 'roundnose' conversion, giving it the classic shape we know so well. It's an Aussie-built model with twin 1 ½-inch SU carbies bolted up to the 1275cc hot pocket, also a recipient of a new crankshaft, roller rockers, bored valves and a stage two HiFlow manifold with a four-cog 'box to blaze through downtown Melbourne with a boot filled with gold bullion (don't actually attempt to re-create The Italian Job, you're not Mark Walberg).
A beautiful Renault 4 wagon is also up for grabs and while it's got an $8,000-$12,000 reserve, this is still great money for something quite unique. It's got just 58,000kms on the clock, has a fresh new interior and is a trophy-winning survivor. If 2CVs are a bit too French for you, try the R4. Don't panic however, those aren't space-savers.
Next up we're talking utilitarian and we're talking Aussie-delivered, also for next-to-nothing. It's an unrestored ex-military Land Rover army 109 in long-wheelbase form with mighty 2286cc petrol power, and beefed-up suspension and extra cooling to lord over your pathetic civilian version. Despite this description the Landy has patina, as well as a new steering box, brake master cylinder (so they actually work) and an untouched body. Imagine rocking up to your deb in this bad boy.
Anybody under the age of 25 who doesn't quite understand their parents will be further baffled when they see what this 23-window Samba bus goes for. It's called nostalgia, kids. It's something that reminds your mum and dad of all those fun times they had touring the country when they'd had enough of their parents and wanted to be cool, hip and "try other things". Chances are they did it in one of these.
Well this 1960 Samba's got some mumbo. It's believed to be one of three Aussie-delivered units, and the result of a five-year restoration, to the tune of being an award winner. It's got the folding 'Golde' roof, the 1634cc flat-four engine out the back and presents better than it did 55 years ago.
Lastly, we've picked the Cameo Beige EK Holden, priced at $20-$28,000 with no reserve, because it's hard to tell if it'll make the high twenties. It may have a rare NASCO picnic shelf in the back seat and 6000 miles on it…but it's 'only' and EK. But we've been wrong before.
QUICK CLASSICS:
1986 Porsche 928S
For: five-litre V8, it's a Porsche
Against: purists hate you, 4spd auto
1962 Chrysler Valiant S
For: Batmobile, front discs
Against: hot/cold style, ugly wheels
1955 FJ Holden
For: restored, everybody loves 'Humpy'
Against: drums, check for rust
Visit the website for this auction catalogue and more upcoming auctions: http://www.shannons.com.au
Unique Cars magazine Value Guides
Sell your car for free right here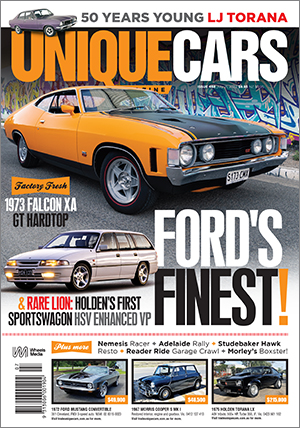 SUBSCRIBE TO UNIQUE CARS MAGAZINE
Get your monthly fix of news, reviews and stories on the greatest cars and minds in the automotive world.
Subscribe