WRC Australia 2012: Rally on
---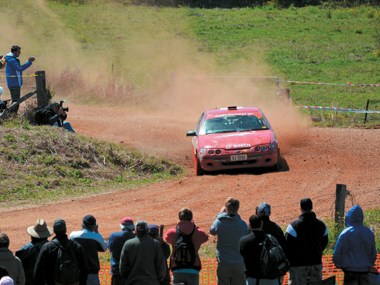 WRC Australia 2012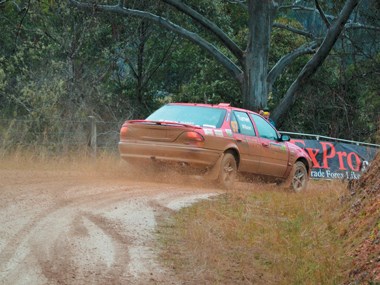 WRC Australia 2012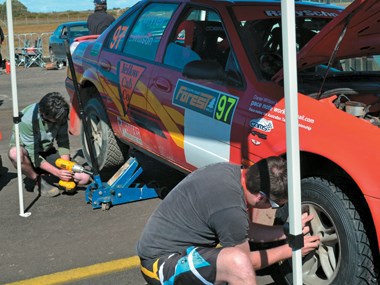 WRC Australia 2012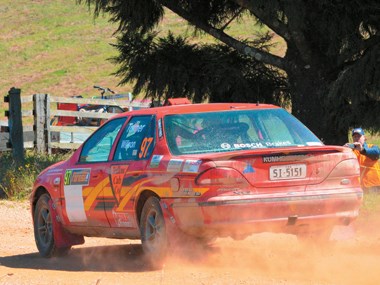 WRC Australia 2012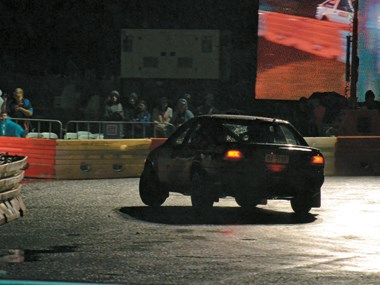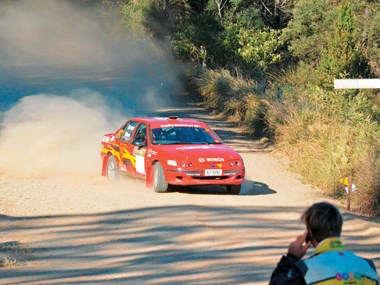 WRC Australia 2012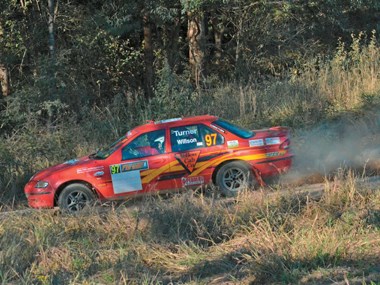 WRC Australia 2012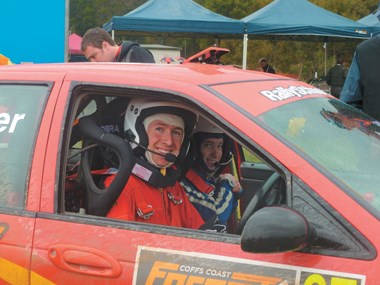 WRC Australia 2012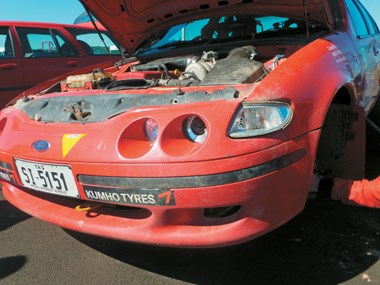 WRC Australia 2012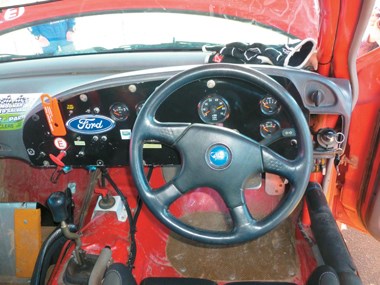 WRC Australia 2012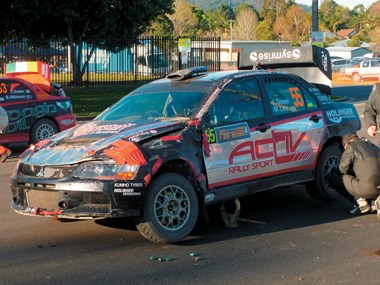 WRC Australia 2012
Two young Tasmanians in a fast Falcon ruffle a few feathers at Australia's premier rally event.
WRC Australia 2012
Lightning splits the sky like a scene from a B-grade horror movie – WRC Australia has begun dramatically before a car has turned a wheel. Unfortunately, the light show also brings rain. It seems that no matter how tropical the locale, rallying and rain are synonymous – that annoying type of rain that dribbles down your neck.

The miserable weather has turned the opening stage – a 2.0km night-time loop run twice around the Coffs Harbour foreshore – into a gravel-strewn ice-skating rink. Dozens of brightly-coloured Mitsubishi Evo and Subaru Impreza Group N (production) cars slither around the course before the World Rally Cars astonish the crowd with their speed and accuracy.

Meanwhile, back at the start line, Steve Turner, a 26-year-old electrician from Hobart, edges his EF Falcon XR6 forward, one car at a time, waiting for his chance to perform at rallying's highest level. Turner and co-driver Daniel Willson are entered in  the Junior Australian Rally Championship (JARC), piggybacking off the World Championship event. The idea is to find Australia's best under-28-year-old rally driver, the prize being a fully-paid drive in a Subaru WRX at the season-ending Rally Victoria courtesy of RallySchool.

To qualify for this Coffs Harbour event, each crew had to finish top three in the JARC class at one of the qualification rounds: Rally Western Australia, Rally Queensland or Rally South Australia. Turner did better than that. Having dragged the XR6 2500km up Australia's east coast, he won JARC QLD. But the victory did not come easily. Steve had to contend with no power steering on day one and only first, second and fourth gears on day two. "I'm looking forward to using all five this time," laughs Steve.

It's approaching 10pm by the time the JARC competitors start. With one chance to shine, most seemed to have adopted a win-it-or-bin-it approach. Cars enter corners backwards and nudge barriers as they're driven on the ragged edge. In contrast, Turner is neat, tidy, and fast, and the third-quickest two-wheel drive.

"I was a bit conservative on the first run, but the second run was good," says Steve. He's lost 26 seconds to leader Will Orders in two stages but the reality is that barring mishap, Orders – a hugely experienced driver in a very fast Nissan Silvia – is unlikely to be beaten.

Next morning, Turner's crew – Steve's dad Gilbert and friends Ben, Hamish and yours truly – gather at the Coffs Harbour Airport service park. The regulations require cars be parked exactly as they finished the stage the night before. The XR6 only needs new tyres and the bulky light-pod removed, but a few metres away, another JARC car is frantically being hammered back into shape in the allotted 15 minutes.

Steve and Daniel depart and Ben, Hamish and I begin the hour-long trek to the refuelling point at Ulong. Only one stage, the 29km 'Shipmans', has been completed but there are plenty of ashen faces among the competitors. Heavy overnight rain has made the roads almost undrivable and more tow trucks have been called from Coffs due to the number of binned cars. It's a nervous wait until the Falcon arrives – muddy, but unmarked.

Co-driver Daniel sums up the experience: "Man that was a ride and a half! Steve had a bit going on." And from Steve, "Absolutely no grip and it's really unpredictable as well." Car topped up, they head to the next stage and we head back to the service park. By the time we return, most of the top competitors have completed the morning stages. Or not. The service area looks like a wrecking yard – Subaru and Mitsubishi parts dealers are having a field day.

Team Falcon reaches the lunchtime service unscathed and second in class. Orders' Silvia is almost a minute and a half ahead, but Steve and Daniel are 30 seconds up on the third-placed Nissan Bluebird of Ross Allan. "The Falcon doesn't really like the wet, slippery conditions," says Daniel, "but as it dries out I think we'll go quicker."

True to his word the boys take another 15 seconds out of the Bluebird on the second run through Shipmans before the next two stages are cancelled. "It seems the permits ran out," explains Steve. "It's a disappointment. We came here to race!" Two more runs through the night-time Super Special Stage gives the Falcon a 56-second buffer over the Bluebird at day's end, while Orders' Silvia is almost three minutes up.

The third and final day dawns crisp and sunny and Steve has his race face on. "We've got six tyres available, so we can push really hard." The service crew again set off for the day's refuelling point, 75 minutes south of Coffs in Bowraville.

When we next see the Falcon, Steve is looking as thunderous as the opening night's weather and the XR6 is sporting smashed headlights. What the hell happened? Steve fills us in while refuelling. "We caught the car in front of us and were stuck behind him for about 12 kilometres. Done a bit of superficial damage to the car."

The car in question, the Toyota Sprinter of Michael Busby, now has a sizeable dent, with incriminating red streaks, in its right-hand side. Steve's speedway background came to the fore as he dived down the inside into a right-hander, only for Busby to slam the door shut. "In his defence it was that dusty out there, unless I hit him, he was never going to know I'm there," shrugs Steve. "It's all good, we spoke about it." The Falcon is undamaged; the headlights were smashed by rocks while following the Sprinter. Built Aussie tough!

The time lost has spurred Steve on to drive even faster, so I catch up with Daniel at the lunch service. "Steve drives like he's possessed," he grins. "It was a bit scary so I just put my head in the pace notes." High praise from a man who has state rally championships, top 10 Targa Tasmania finishes and a Mount Buller Sprint win on his navigating CV.

With almost two minutes to the Bluebird, it should be a simple run to the finish but Steve is increasingly anxious as the dry conditions are destroying the car's tyres. In addition, fast-fading light and the Falcon's last-on-road position means they tackle the final forest stage in the dark. With smashed headlights and having chosen not to fit the light-pod, Steve can see virtually nothing. The Bluebird makes up 42 seconds, but it's not enough. Steve's earlier flat-out approach means that after two final runs of the Super Special Stage, they claim second by almost two minutes.

Orders and co-driver Rian Calder win – they were always going to – but the pace of the unknown Tasmanians in the flying red EF Falcon has raised eyebrows and Steve knows he did his best. "I'm absolutely rapt. We couldn't expect any more with the car we had, it was as fast as it would go." He wins a poster for his efforts.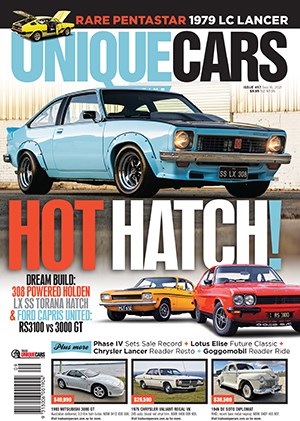 Subscribe to Unique Cars Magazine and save up to 42%
Australia's classic and muscle car bible. With stunning features, advice, market intelligence and hundreds of cars for sale.
Subscribe