Paul Newman Corvette up for auction
---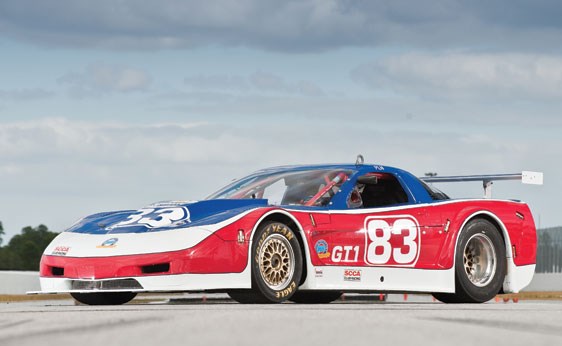 Paul Newman Corvette up for auction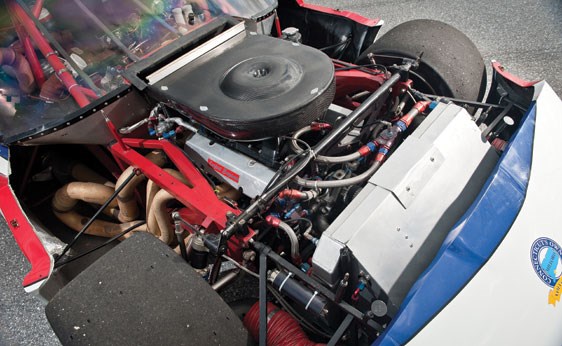 Paul Newman Corvette up for auction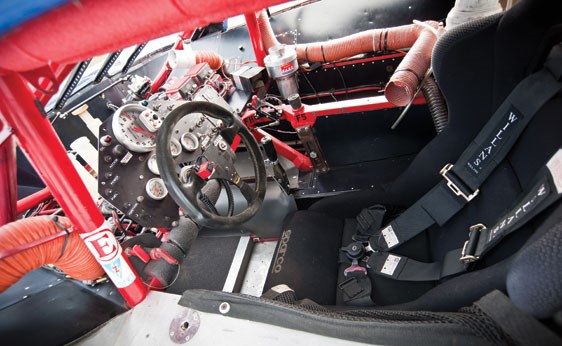 Paul Newman Corvette up for auction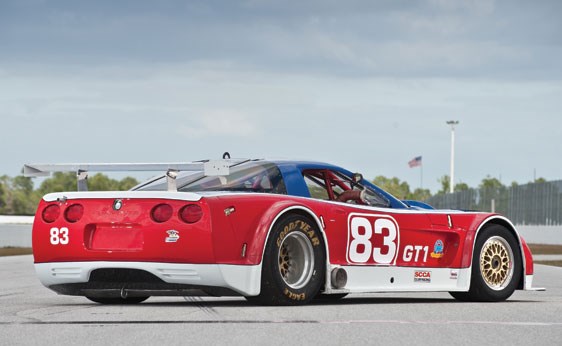 Paul Newman Corvette up for auction

Screen legend's last win was behind the wheel of this one
Paul Newman Corvette up for auction
RM Auctions in the USA has released its catalogue for a big March 10 auction, which includes this Corvette SCCA race car, a machine used by the late Paul Newman to score his last race win.
Actor Newman came to race driving late in life, but made up for it with boundless enthusiasm.
This restored machine is listed with an estimate of US$250-350,000.
Here is what the auction house has to say about it:
700 hp, 346 cu. in. V-8 engine, with electronic fuel injection, six-speed manual transmission, four-wheel independent racing suspension, four-wheel disc brakes. Wheelbase: 104.5"

• The late Paul Newman's 2003-2007 SCCA racer, in which he won his last race
• Brand new rebuild, re-bodied and repainted, numbered 83 for Newman's age
• Originally built by Riley & Scott for Tom Gloy's 2002 Trans Am season
• Three T/A wins, five poles, eight top fives and nine top 10s with Butch Leitzinger driving

There were two Kings of Cool in Hollywood in the '50s, '60s and '70s. Paul Newman and Steve McQueen were friends and rivals for 30 years, and both were rebellious icons in the movie industry. The two might have even headlined Butch Cassidy and the Sundance Kid in 1969.

Newman and McQueen were also single-minded racers, whose exploits won the admiration of their competitors as well as their fans. In 1970, McQueen and Peter Revson placed second in the 12 Hours of Sebring, driving a Porsche 908/02, only 23 seconds behind the winner, and in 1979, Newman, Rolf Stommelen and Dick Barbour placed second in the 24 Hours of Le Mans in Barbour's Porsche 935. They were only seven laps behind the winner after 2590 miles, and 1st in the IMSA class.

Paul Newman didn't become interested in driving until he was 43 and made Winning in 1969, a film about an Indy 500 racer. Then he got to know Bobby Unser, Dan Gurney, Tony Hulman and Mario Andretti, who became a lifelong friend. "It was the first thing I found I ever had any grace in," Newman would say later.

In 1970 Paul Newman introduced the Annual Ontario Motor Speedway's Celebrity ProAm Race for Charity, which paired drivers like Mario Andretti, Mark Donohue, Bobby Unser, Parnelli Jones, Dan Gurney and Roger Ward with actors and sportsmen. He was getting his taste of racing, though he wouldn't drive for a couple more years. In 1971 Newman agreed to star in and host his first television special, Once Upon a Wheel, on the history of motor racing, which won awards as the Best International Sports Documentary.

Paul Newman actually started racing in 1972, when he drove a Lotus Elan in Thompson, Connecticut. Some reports say he won, but in any case he was hooked. Newman would drive Datsuns for the Bob Sharp Racing Team from the mid-1970s to the 1990s, winning four SCCA national titles, starting in 1976 with D-Production. He won C-Production in 1979 and was GT-1 Champion in 1985-86. He also finished fifth in the 1977 24 Hours of Daytona and was second at the 24 Hours of Le Mans in 1979. His first professional Trans Am win was at Brainerd, Minnesota in 1982, and he won again at Lime Rock in 1986.

At the age of 70 years and 8 days, Paul Newman was the oldest driver to be part of a team in a major sanctioned race, winning his class at the 1995 24 Hours of Daytona. He also ran the Baja 1000 in 2004 and the 24 Hours of Daytona in 2005. Paul Newman won his last SCCA race at Lime Rock almost exactly a year before he passed away on September 28, 2008.

In addition to racing himself, Paul Newman owned his own Can-Am racing team as well as co-founded a Champ Car team with Carl Haas in 1983. The latter team would go on to become a tremendously successful Champ Car team, winning 97 races and seven titles. The team was second in Champ Car history with 100 pole positions and the only team in the series to win five titles with five different drivers, in 1984, 1991, 1993, 2002 and 2004-6. Newman Haas finished 1-2 in season standings in 2004 and 2005 and won at least one event on 23 of 24 seasons.

He fit all this around a career which would total 65 movies, from the 1954 turkey The Silver Chalice to narrating 2007's Dale, the documentary about legendary NASCAR racer Dale Earnhardt, which was his final performance. In between, his movies included Cat on a Hot Tin Roof (1958), The Hustler (1961), Hud (1963), Cool Hand Luke (1967), Butch Cassidy and the Sundance Kid (1969), The Sting (1973), The Verdict (1982), The Color of Money (1986), Nobody's Fool (1994), Road to Perdition (2002) and Cars (2006).

In all, Paul Newman was nominated for more than 55 mainstream acting awards, winning an Academy Award for best actor in 1986's The Color of Money, where he reprised his role of Fast Eddie Felson from his 1961 movie The Hustler. He also won three Golden Globe Awards, a BAFTA award, a Screen Actors Guild Award, a Cannes Film Festival Award and an Emmy. Newman was nominated for awards in 21 of his 65 movies. By percentages, his race track record was probably better.

Paul Newman was married to actress Joanne Woodward for 50 years. They lived far away from the movie industry in Westport, Connecticut. He's almost as well-known for his "Newman's Own" food company, from which he donated all post-tax profits and royalties to charity. As of July 2011 those donations exceeded $300 million.

The car on offer is Paul's last race car. Between 2003-2007, he was hard to beat in SCCA Nationals at Atlanta, Lime Rock and Watkins Glen. His business partner and co-racer Michael Brockman recalls, "We bought the car in 2003, ran it five times, with two firsts and three seconds, ran it five times in 2004, two firsts and three seconds. I don't ever recall Paul coming in lower than that…well maybe there was one third. We only ran it about five times a year, but Paul won, or he was second, every time he went out. The last race he ran at was Lime Rock—a year to the day before he died. He and I were first and second that day, I ran the old Camaro we had."

Brockman, who raced with Paul Newman since 1977, said the pair ran most often at Lime Rock "because it was in our back yard. In summer they'd have test-and-tune Tuesdays, we'd go out there 10 Tuesdays out of the summer, running two cars. It was open practice: run half an hour, park an hour and a half. We ran SCCA Nationals and Regionals, but that's the real reason we had the car."

Paul Newman's Corvette has illustrious origins even before him. It's a Riley & Scott chassis Trans Am Corvette, originally built for Tom Gloy in 2002. Butch Leitzinger drove it in 2002, scoring five poles, three wins, eight top-five finishes and nine top-10 finishes, running as yellow #88 with Tommy Bahama sponsorship. Newman and Brockman bought the Corvette in 2003 and immediately painted it red, white and blue.

"We liked the Trans Am class and had an old Trans Am Camaro," Brockman recalled. "Then they started bringing over Jaguars from the Trans Am Pro Series and Paul didn't like those because they were so stiff, with 1,300 lb rear springs and 800 lb front springs. Tom Gloy said we should come and drive his Corvette, and it was just wonderful. It was the only car that was able to beat the Jaguars with any regularity, when Butch Leitzinger was driving it.

"The funniest part was that one driver kept protesting the car. He was sure it had traction control, because it got out of the hole so fast," said Brockman. "It wasn't that, we had 650 lb rear springs, and the car was just compliant. But after one race, this guy got a court order and they took Butch into a tent with a sheriff and a nurse to cavity search him because this driver was sure he had an electronic switch hidden on him. That's a true story."

Brockman describes the Newman Corvette as a top-line Trans Am race winner that was maintained to the highest quality. "It has 700 horsepower and it weighs only 2,680 pounds, so it has a good power-to-weight ratio," he said.

"In 2007 we rebuilt it and re-bodied it—it's all fresh—and we went through it stem to stern. Then we put #83 on it, because Paul always ran his age. We only did one test after we re-bodied it. Paul decided he didn't want to race, he just didn't feel well enough. Paul did the 24 Hours of Daytona in 2005 and the Baja 1000 the year before. He was tough, until the last year, when he got sick. He'd be in the gym every day for an hour and a half. He pushed himself hard."

Paul Newman's Corvette is now offered complete with its SCCA logbook. It is a terrific testament to his extraordinary racing career and eye for competitiveness and perfection. Finished in its #83 livery, it is not only a fitting tribute to a Hollywood legend but quite simply a superb racing car.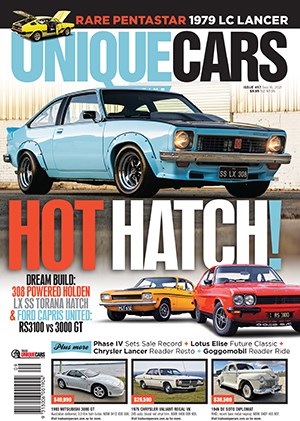 Subscribe to Unique Cars Magazine and save up to 42%
Australia's classic and muscle car bible. With stunning features, advice, market intelligence and hundreds of cars for sale.
Subscribe