Ferrari 333SP: Past blast
---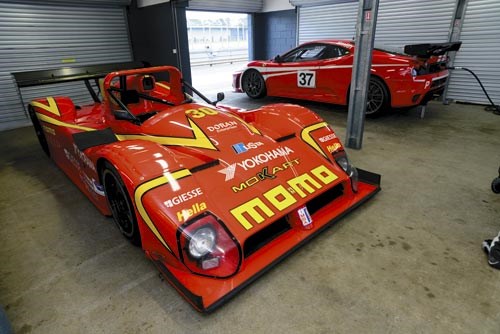 Ferrari 333SP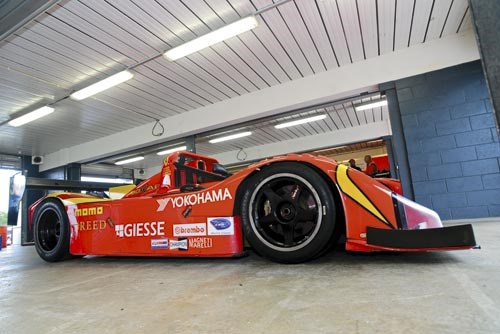 Ferrari 333SP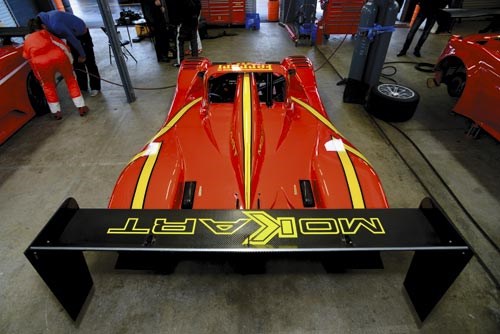 Ferrari 333SP

Ferrari 333SP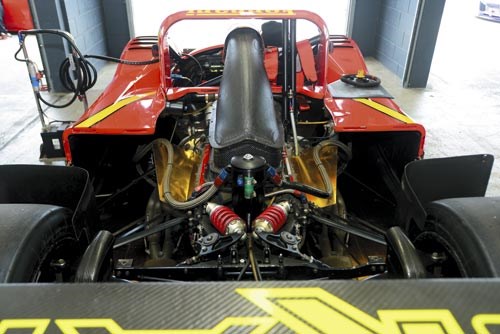 Ferrari 333SP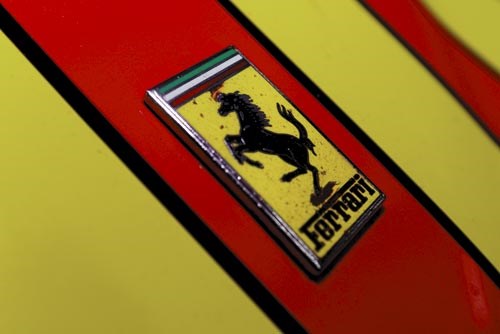 Ferrari 333SP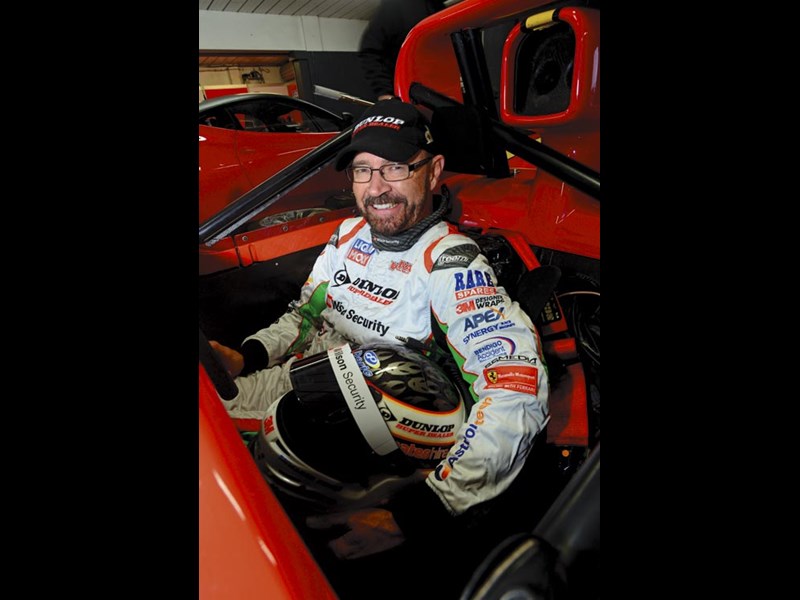 Ferrari 333SP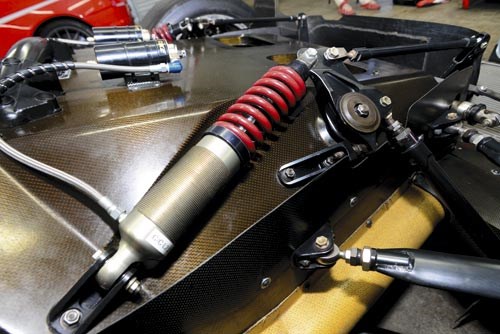 Ferrari 333SP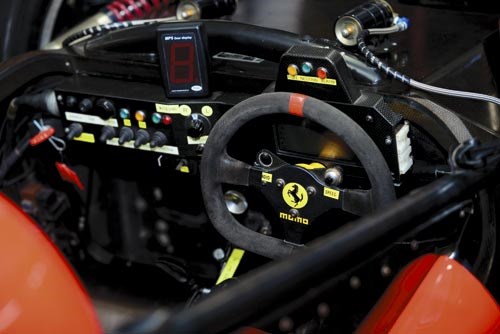 Ferrari 333SP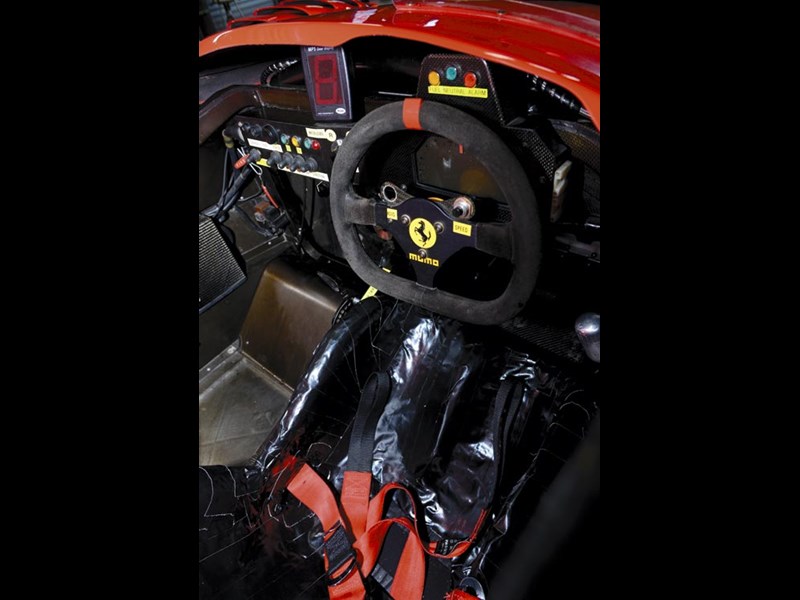 Ferrari 333SP

Any chance that JB was becoming a bit blase about driving Ferraris was blown away with this one, the awesome 333SP
Ferrari 333SP
MARANELLO MAGIC

This one is pretty special. I've driven a few Ferraries for Past Blast to try and give you an idea of what it is like to spend time in these wonderful machines - and what a pleasure that has been - but in the hallowed world of collectable Ferraris, this model is right up there. It's a Ferrari 333SP, a purpose-built racing car built to meet a particular set of 'prototype' regulations for the IMSA (International Motor Sport Association) series that was, like many American things, not really international at all!
But no matter what, everything about this car is special. The IMSA prototype rules state that the engine must be derived from a production car design. What Ferrari effectively did was take the then-current Formula One engine and play with it, on the pretext that it was to be used in their F50 road car. Clever. The F1 V12 engine was 3.5 litres and in the F50 it was 4.7-litres but the ImSA capacity limit was 4.0 so by playing with the bore and stroke - and keeping the engine's basic architecture - they got the 333 through the rulebook. By the way, the 333 comes from each cylinder's individual capacity.
The rest of the car is pretty special too. Its two-seat carbon body - the second seat was another IMSA class requirement - is seriously aerodynamic and sits on serious suspension. The gearbox is a sequential job with Hewland internals in a Ferrari case. The F1 cars of the time were moving to paddle shifts but this one is sequential. It raced against a lot of home-grown American cars in the US and even now, 20 years after it was conceived, you'd regard it as quite advanced but beautiful as it is, in racing terms, it's not new enough to be competitive nor old enough to be classic.
This car was assembled by Michelotto, a specialist motorsport manufacturer. Most of the components (and of course the design) are Ferrari, which over-sees the production, but it's more sensible from a logistics point of view that cars like this are built in a specialist facility. It's bit like Karmann doing special-build convertibles, Pro Drive building Aston Martin race cars or – closer to home – FPV and HSV doing the special higher-performance road cars based on the four-door range. A lot of this contract assembly goes on in the racing and production car world. The GT3 458 I drive with Peter Edwards in the GT Championship has a similar heritage – it's also built by Michelotto.
This car is one of two originally owned by MOMO founder Giampiero Moretti who was one of the brains behind the conception of the 333SP for racing. These days it lives in Australia in the stables of Maranello Motorsport in Melbourne.
Owning a special car such as this can be especially rewarding. And it can be especially challenging. For instance, this car was off the road for 18 months while waiting for some gearbox parts to arrive; a part broke when they first ran it here. It was a part made for Ferrari by Hewland.
Hopefully I can share with you what it's like to drive an almost pure-bred million-dollar racing beast such as this. I had a chance at Philip Island. Obviously we can't actually race the car but doing some track work in this – a maintenance run, to make sure everything works and to keep everything healthy – is a pleasure… or it would have been, if it hadn't rained! But with Stuart Grant swinging from his cameras, we did the photos at The Island and I got my chance to actually drive it later at Sydney Motorsport Park.
The chassis is carbon-fibre and of course it is beautifully made. Twenty years ago this was quite new technology. You step on the side of it, step in and settle down into the cockpit. The cowl and instrument cluster is actually quite high so you feel a little strange – it's a little difficult to see out of. When you're told to, you turn the pumps on and after they unplug the oil heater system you fire it up.
Being a sequential gearbox you push it forward for first gear and then pull back for the others. I was very smooth and gentle driving down pit lane. For racing it would have had tyre warmers before it went out onto the track – we didn't have those. I've seen more than few people give the throttle a tickle coming out onto the Sydney track on cold tyres and veer left into the concrete! So I was being very careful with a million dollar car, with a shedload of power in a chassis that weighed less than 900kg, on cold tyres!
This engine is a V12. It revs to 11,000rpm. The one shift light comes on about 100 revs before redline so you need to concentrate! I was surprised that it didn't have an electronic shift cut so you have to ease the throttle on up-changes.
I did about 20 laps in this very serious car. In its shape, it resembles a big over-grown Radical. With racecar aerodynamics it's nothing like a road car to drive. It sounds like nothing I have ever driven. It sounds simply fabulous. With revs this high, honestly, it is just about the most awesome sound you will ever hear from an engine. It sends a tingle down your spine. It has an incredible wail that just grows and grows.
I built up pace slowly to allow the tyres to warm up and to allow my belief in the car to build up. It has a tiny proper race steering wheel and adjustable electric power steering! You dial-in the assistance level, and therefore the feel, from being like a Fairlane to giving your whole upper body a workout using those fat, sticky tyres. Being a race vehicle designed for various customers, it caters for a range of preferences and abilities.
It had more grip that I would have ever been able to exploit but everything worked together so well, with a really integrated feel between the steering, the engine tractability and output, the handling and the grip. To give you an idea, a V8 Supercar will do 1:31s around here and I was doing 26s, I think, and with a sobering blend of fear and unfamiliarity, I wasn't going too crazy!
It was incredible experience and it gave me an appreciation of the effort and skill involved in racing these really quick cars that we don't often see here in Australia. They accelerate so quickly and they generate such cornering force that it boggles your brain.
I told fellow racer Greg Murphy that I'd had a go in it and he went green with envy! Yep, the lure of driving a prancing horse racer is pretty strong.

SPECIFICATIONS
1995 Ferrari 333SP

Engine: 3997cc all-alloy V12
Power: 478kW at 11000rpm
Torque: 441Nm at 9000rpm
Weight: 862kg
Transmission: Hewland five-speed sequential
Wheels: Speedline 18x12 & 18x14.5-inch
Brakes: Big vented Brembos
0-100km/h: Less than three seconds
Top speed: 368km/h
Value: around $1.4M

*****

More reviews:
> Ferrari 275 GTS/4 NART Spyder

Search used:
>> Search Ferrari cars for sale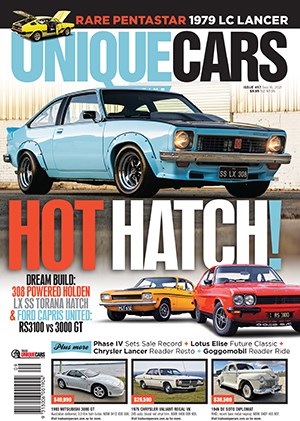 Subscribe to Unique Cars Magazine and save up to 42%
Australia's classic and muscle car bible. With stunning features, advice, market intelligence and hundreds of cars for sale.
Subscribe