1974 March 741 F1: Past Blast
---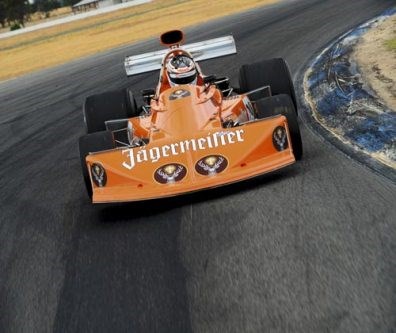 1974 March 741 F1 at Winton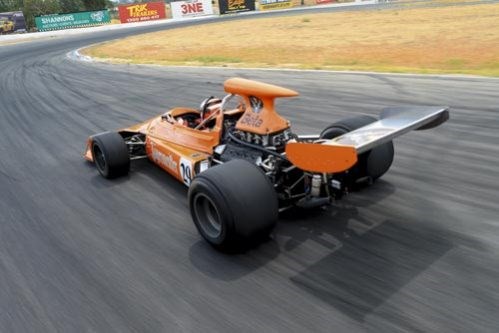 1974 March 741 F1 at Winton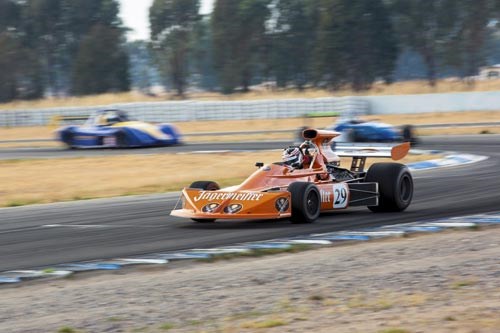 1974 March 741 F1 at Winton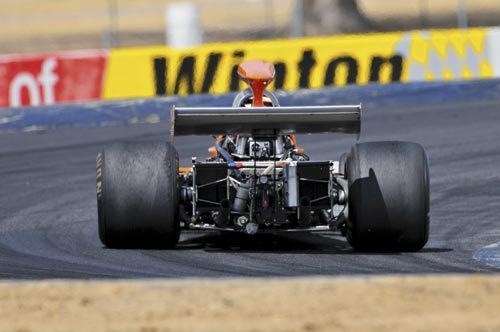 1974 March 741 F1 at Winton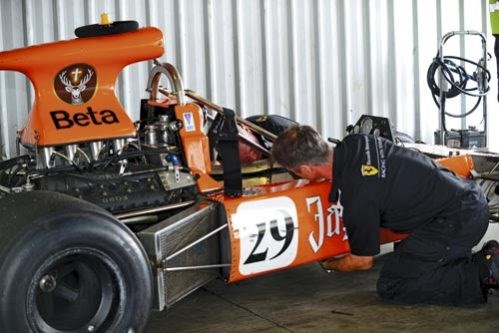 1974 March 741 F1 at Winton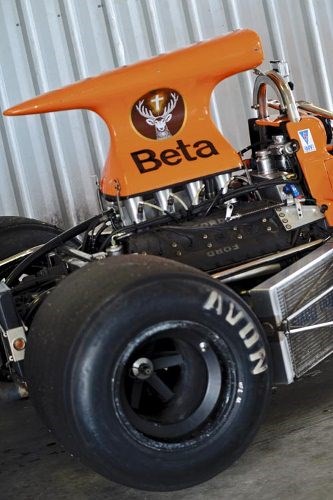 1974 March 741 F1 at Winton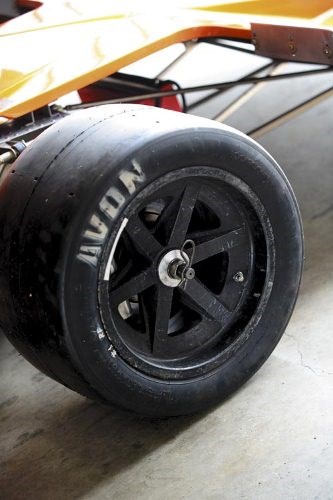 1974 March 741 F1 at Winton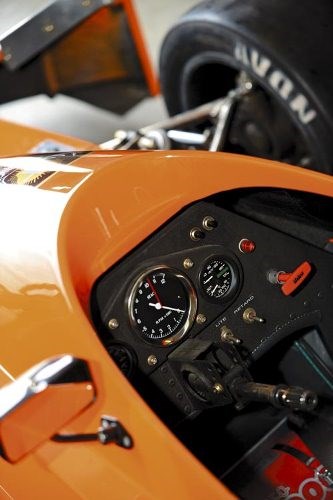 1974 March 741 F1 at Winton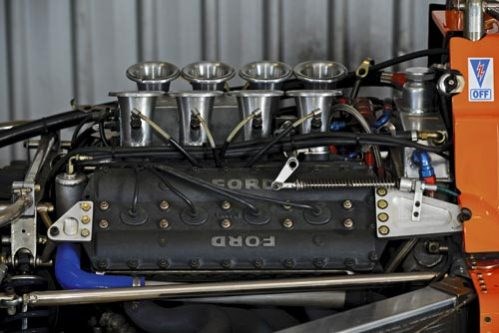 1974 March 741 F1 at Winton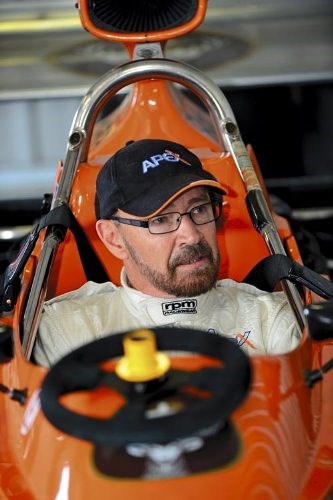 1974 March 741 F1 at Winton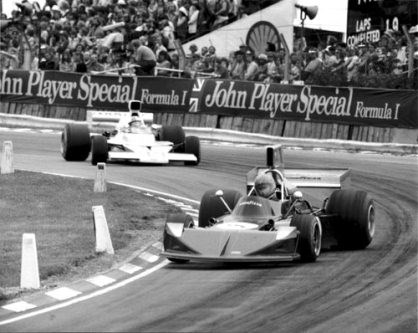 1974 March 741 F1

After nearly 40 years of waiting, Bowe gets his driving gloves on one of his dream cars and discovers it still has teeth, big ones
1974 March 741 F1
March is one of those names that you don't hear much about these days, but for years it was an influential player in the race car world, even if it never won the big prize – a Formula One title. It was an interesting little team – former FIA president, Max Mosley, was one of the founders (and the 'M' in March).
When I was a kid, we used to religiously buy Autosport, which arrived three months late by sea freight. March was always in the news. I always liked the look of its cars, because they had simple, clean lines with that wide nose. And they were orange! All my early race cars were the same colour.
My friend Joe Calleja bought this car, a March 741, I suspect because I prodded him along a bit. It was mostly used by the German driver, Hans-Joachim Stuck Jr., during his debut year in F1. Just two were made in 1974, so it's almost as rare as it gets.
It has good provenance. March had an up-and-down year in '74 with quite a few reliability problems, but Stuck managed fifth at Kyalami in only his third F1 race, fourth in the next race in Spain and seventh at his home race at the fearsome old Nürburgring.
Stuck is probably better known for his sports car racing, having won the Le Mans 24 Hours twice, but he also managed a couple of podiums in F1, so he was a seriously good driver. At 6ft 4in, though, he certainly didn't fit the usual F1 driver build!
Joe bought the car in good nick as it had been well restored in America. When those sorts of things are done, the chassis rigidity is crucial and it's been done properly on this car, so the rivets aren't popping out.
Everything on a Formula One car, even back in the early-'70s, was hand-made. Designed by another of March's founders, Robin Herd (the 'H' in March), the chassis is an aluminium monocoque with bulkheads at the front, middle and rear. The aluminium skin is then wrapped around it and glued and riveted. Every team had its own interpretation. Compared to a latter day Formula One car it's very basic, but it's beautifully made and executed and it has some nice engineering.
It was created back in the day when you and I could have said, "we've won the lottery, let's make a Formula 1 car". You go and buy an engine off Cosworth and a gearbox off Hewland and get some bloke to design it for you on his drawing board. Then you find someone to manufacture the chassis out of aluminium and off you go racing! That's what a lot of people did.
Power comes from a 3.0-litre Cosworth DFV (double four-valve) V8. The DFV originally came out in 1967 and was funded by Ford. It was instantly successful and became the mainstay of F1 cars by 1968, where nearly everyone used it bar Ferrari and BRM. It won well over 200 grands prix and was a pretty amazing engine. They did a long-stroke derivation which raced at Le Mans, and a turbocharged version raced at Indy.
It was revolutionary for the day and remains great fun to drive. Back in the day they used to rev them to 11-11,500rpm, at which point they'd produce over 500hp, but that seriously shortens their life. With the conservative 10,000rpm limit we use it's supposed to do 22 hours between rebuilds, which is quite a lot of driving.
The gearbox is a five-speed Hewland – basically everyone apart from Ferrari and BRM used them. They still make racing gearboxes. It's a transaxle in a pod that bolts on, so it's easy to remove and change the ratios. A very clever and simple design, it set the pattern for F1 gearboxes for a very long time.
The brake discs, clamped by magnesium calipers, look tiny, but the whole car only weighs around 600kg. Huge tyres give it amazing grip. For example, those rear tyres are 16 inches wide on a 13-inch rim – fat little donuts.
We got the guys from Maranello Motorsport to do the preparation – they have some people with very good experience. Gary, who looks after the March, worked for Williams in Formula One. You're as good as the car you drive in motorsport, and when you drive something that's very fast, you need to know that the bloke who did the bolts up actually knows what he's doing.
Suiting up to drive it at Winton is weird. I've now got the opportunity to steer a Formula One car that I actually loved – but it's 40 years too late! It's quite surreal getting your hands on something you've lusted after so long.
Tell you what, it's quick. I drive race cars all the time and I'm not intimidated by the speed, but with 450hp in a tiny package, we were doing 1min 19sec laps. That's about four seconds quicker than a V8 Supercar!
It's also got this beautiful sound. It's an awesome note, halfway between a scream and a growl. It's lovely to sit in and drive, but it's bloody fast – it certainly got my attention.
I really love this little car. We're not going to use it too much because obviously it's a highly-stressed little bit of kit. If you use them all the time you really need a team of five people looking after it. We're taking it to Monterey for a classic race meeting and to Sandown later this year and I can't wait. Wish us luck.

WHAT'S A MARCH?
March engineering was a UK race engineering company founded by Max Mosley, Alan Rees, Graham Coaker and designer Robin Herd.
It debuted with the F1 circus at the South African GP in 1970 and competed in every season through to 1977. From there the race history becomes sporadic, with the name popping up as late as 1992, albeit briefly.
The company dabbled in a huge variety of classes, including F2, F3, CanAM, IndyCar (where it met with a lot of success) and even supplied chassis to Tyrrell for a season.
Several high-profile drivers drove for the team, including Niki Lauda, Jo Siffert, Ronnie Peterson and Chris Amon.

SPECIFICATIONS
1974 March 741
Engine: 2993cc V8, DOHC, 32v
Power: 336kW @10,000rpm
Torque: 380Nm @ 8,000rpm
Weight: 600kg (approx..)
Gearbox: 5-speed manual
Brakes: discs (f/r)
Top Speed: 300km/h*
*dependent on gearing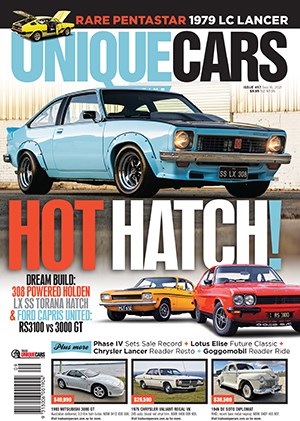 Subscribe to Unique Cars Magazine and save up to 42%
Australia's classic and muscle car bible. With stunning features, advice, market intelligence and hundreds of cars for sale.
Subscribe