1962 Jaguar E-Type: Past Blast
---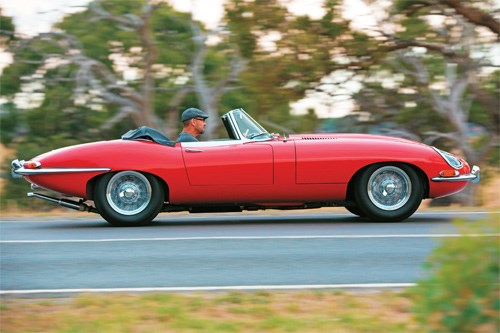 1962 Jaguar E-Type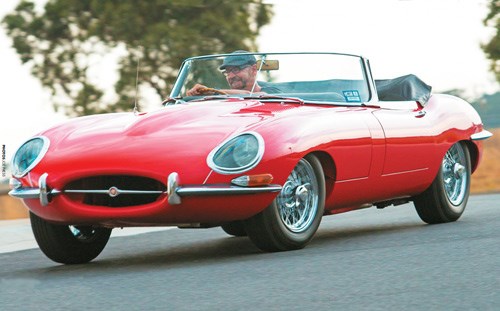 1962 Jaguar E-Type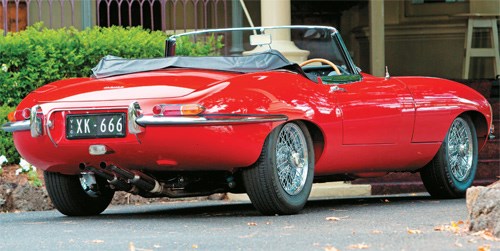 1962 Jaguar E-Type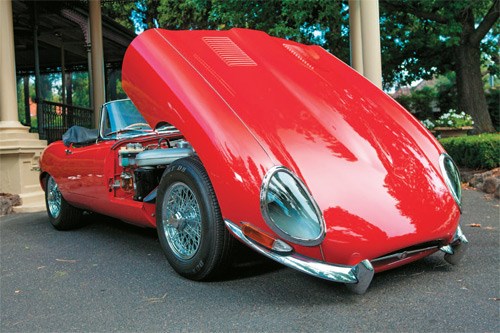 1962 Jaguar E-Type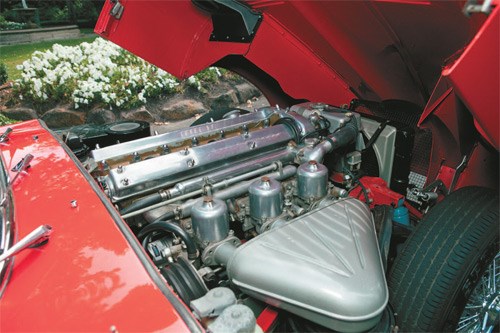 1962 Jaguar E-Type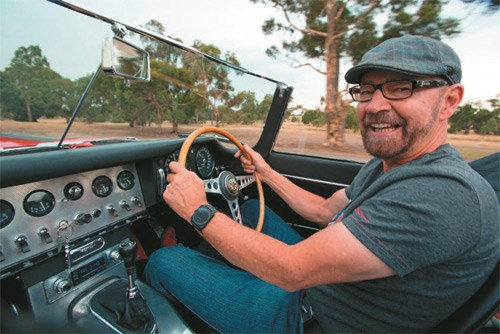 1962 Jaguar E-Type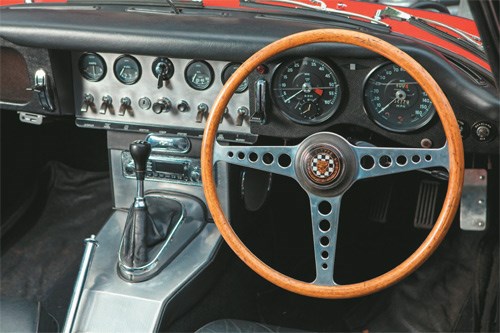 1962 Jaguar E-Type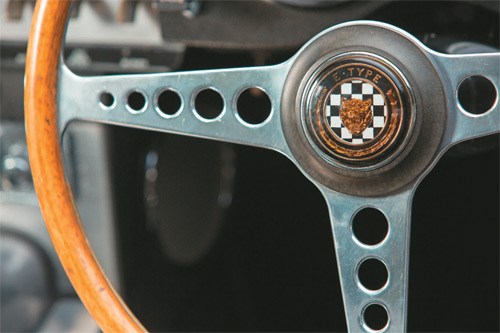 1962 Jaguar E-Type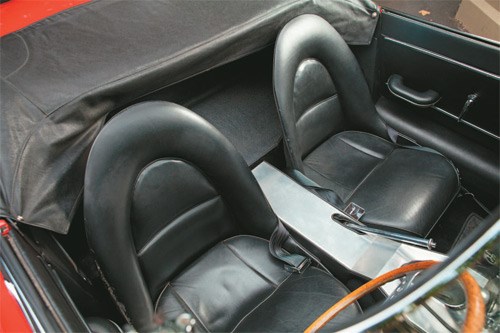 1962 Jaguar E-Type

The iconic E-Type is regarded as the world's most beautiful car, and this gleaming red roadster is very dear to its owner - our own JB!
1962 Jaguar E-Type
One of the first E-Type Jags to come to Tasmania when I was a kid was owned by David Hallam. He raced it back in the time when people raced Triumph TR2s and MG TCs. As good as those sports cars were at the time, you can imagine what us youngsters thought of an E-Type Jaguar: with its long bonnet and incredible curves, it was like something from outer space. We used to see these things in full flight at Longford and Baskerville. Since then I've had a real love for what is probably Jaguar's most iconic design – the E-Type.

I've also heard the horror stories about them – the rust, the crook electrics, the spare parts hassles – and although I've owned a lot of cars (but never actually counted them, can't remember half of them and probably rival John Wright for the number) I'd never owned an E-Type. Until about six years ago. Yes, there's a twist to this tale: this is my own car.

Based on my love for the design that stretches back to my childhood, I bought this one from Alf Barbagallo. That's a story in itself: Alf Barbagallo, among other franchises, is the Jaguar agent in Western Australia and he always provided me a car when I was racing over there. On his showroom floor, for years and years, he had this beautiful E-Type Roadster. I used to always look at it – it was a car you could stare at for ages – and eventually, around 2007, it disappeared from the shop floor. Of course, I asked 'Hey, what happened to that E-Type?' and the lads said 'Oh, it's out in the back shed – we don't have room for it anymore, maybe you should buy it.'

And that's what started it.

I knew at the time the car had been restored; that went a long way to explaining its 'showroom' condition. It had been a two-year process in their own workshop and it had been a no-expense-spared exercise. Since that time in 1991/92 the car had travelled just 800 miles – that's 800 miles in 15 years. I've added 4000 miles in the time I've owned it and enjoyed every single one of them.

So what's one of these classics like to own? It's been great. Mine is a series one with a 3.8 and a Moss gearbox, so it is original specification. A lot of people change the 'boxes to five-speeds to make them more freeway-friendly but that wasn't a priority for me – I was keen to keep everything as authentic as it was in 1962. I've seen some restored cars over the years that have beautiful soft Italian garment leather on the seats, but that's not how they were. These seats are the originals from the early 1960s and I reckon they've aged beautifully. I think that is important for an enthusiasts' car like this, as it is for other classic yet drivable cars like some of our home-grown muscle cars. Originality is not everything, but it is very, very important.

It's undoubtedly an occasional car – not a car for zapping about the city in. It's a beautiful blokey car that's happiest out on the open road blasting along at 90 or 100mph. Of course, that's impossible these days, especially in Victoria. But can you imagine doing that in the 1960s through Europe, top-down with the wind in your hair?

It's delightfully brisk – it really gets along alright. Jaguar later replaced the 3.8 with a 4.2 and the larger engine was more refined and delivered more torque, but the 3.8 is actually the quicker car.

That Moss gearbox is a contrast to the rest of the car with a design that dates before the war. It has no synchromesh on first gear and has that growly whine of many vintage cars. The synchros are slow, so you can't whack through the cogs like you can in an MX-5. But as long as you remember that, the 'box has a solid, positive shift and it's all part of the classic character of the car and something that is lost with a Getrag or T5 conversion.

For its time, the E-Type was a very significant car. It took the world by storm and in some ways it re-defined the sporting car. This was a car that could do 150 miles per hour – so it was reknowned for performance – and yet it was cheaper than a Porsche 356. In fact, you could have bought three or four E-Types for the price of an Aston Martin DB4, a car that offered similar levels of performance.

Technically, it had four-wheel independent suspension and disc brakes all round. Lifting the bonnet reveals those beautiful polished alloy cam covers and SU carburettors. They really are a thing of beauty.

But let's face it, at the end of the day, it is a Jaguar.

It has Lucas electrics and, like all cars of the 1960s that – tactfully said – came from England or Italy, it's certainly not vice-free. My one concession to modern technology has been the tyres. I upgraded to Dunlop SP Sport D8 because the old cross-plies were simply terrifying. The SP Sports are a tyre with modern silica construction but a classic tread pattern. They're made in Germany for Mercedes Benz's Classic division and they really enhance the supple ride that this car is capable of delivering.

I bought this particular car because I loved it, knew the restoration cost house money and that being an Australian restoration by its former owner, there would be no filler or dodgy work. That was 20 years ago and the restoration has stood the test of time. This is the part where I often say 'I'd love to own one of these', except this time I do! I'm really proud of my E-Type and it's one car I'll never sell.
I OWN ONE...
For such an iconic car, E-Type Jaguars are surprisingly affordable to buy and own. Sure, it's not second-hand SS or XR8 money, but often a classic's affordability is due to spare parts problems
or difficult maintenance or servicing procedures. That's simply not true according to JB and fellow Unique Cars contributor and E-Type aficionado, David Morley, who owns a coupe.
"They're surprisingly easy to own," reckons JB. "Keep in mind these things were the equivalent of a supercar in the 1960s. The few problems I've had with mine are more to do with lack of use as it sits around way too long between drives."
Morley agrees. "They're old and they're English. That should be a recipe for disaster – but it's not! For value for money, they make a Porsche 356 look like an overpriced understatement.
They drop a bit of oil, but they're not half as complicated as many mechanics would have you believe."

SPECIFICATIONS
1962 Jaguar E-Type
Engine: 3781cc 6cyl, DOHC, 12v, triple SU carburettors
Power: 198kW @ 5500rpm
Torque: 353Nm @ 4000rpm
Weight: 1225kg
Gearbox: 4-speed manual
Wheels: 15 x 5.5-inch
Brakes: 4-wheel discs
0-97Km/h: 7.1sec (claimed)
Top speed: 240km/h(claimed)
Value: around $150,000
*****
Search used:
>> Search Jaguar cars for sale
Unique Cars magazine Value Guides
Sell your car for free right here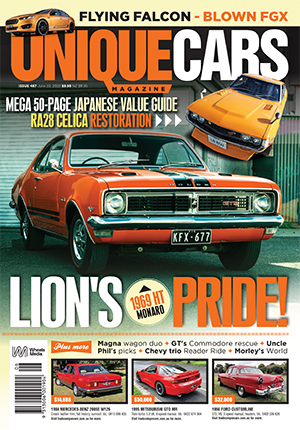 SUBSCRIBE TO UNIQUE CARS MAGAZINE
Get your monthly fix of news, reviews and stories on the greatest cars and minds in the automotive world.
Subscribe