Lamborghini Espada (1970) Review
---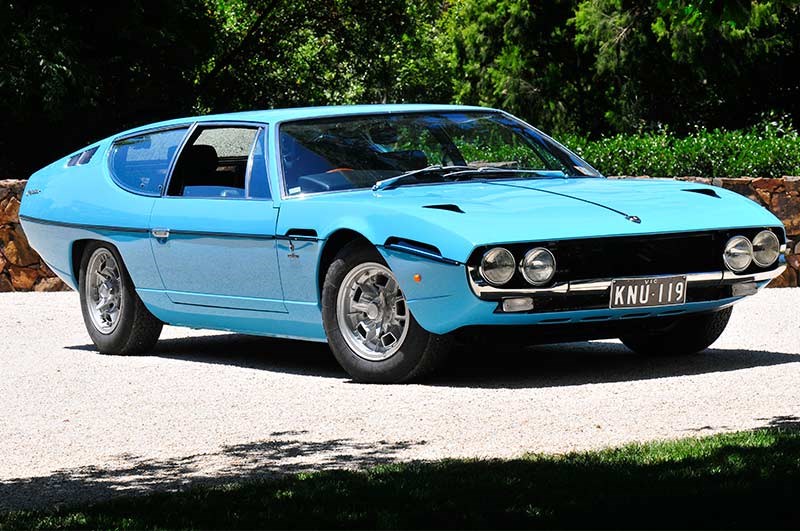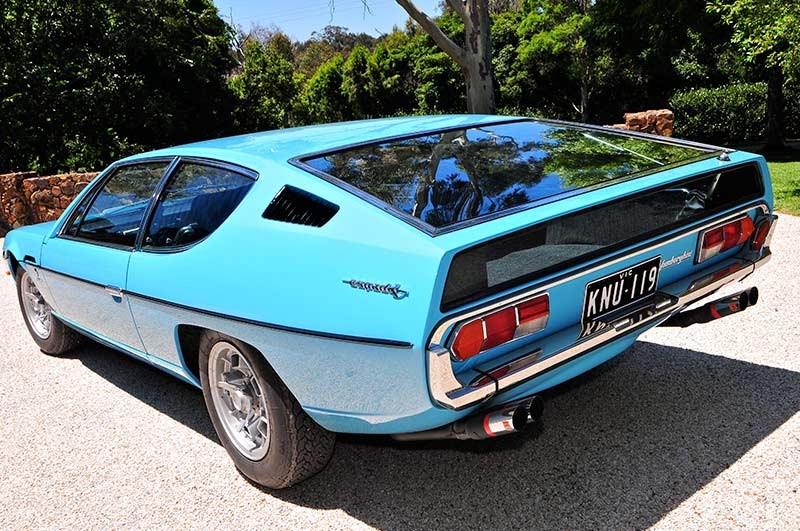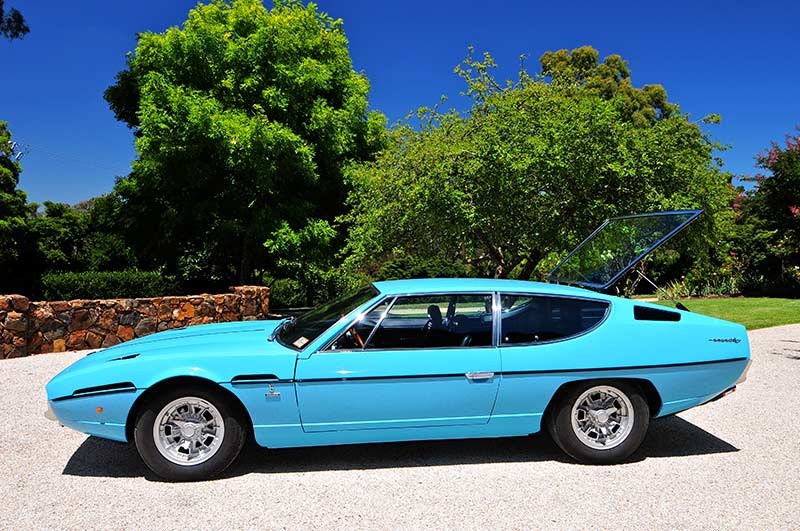 Past blast: Lamborghini Espada. JB was like a raging bull at a gate when he got a chance to drive a grand tourer from Italy's 'other' supercar maker.
1970 Lamborghini Espada
Ferruccio Lamborghini made road cars that went head-to-head with Ferrari in the marketplace but he did it without any motor racing heritage. Ferrari has always been involved in racing (its road car division was originally set up to fund its racing program) and its image and marketing is based around its racing heritage.

Lamborghini didn't have that - he was a tractor manufacturer! As the story goes, he'd had such a bad run with a Ferrari he owned that he vowed to build a better car. It was a raised-middle-finger gesture to Enzo Ferrari!

The result was the V12-powered 350 GT launched in 1964, but it was the Miura in 1966 that really put Lamborghini on the map. Two years later came the Espada, so with three distinct models in around five years, it's easy to see Lamborghini was serious about success.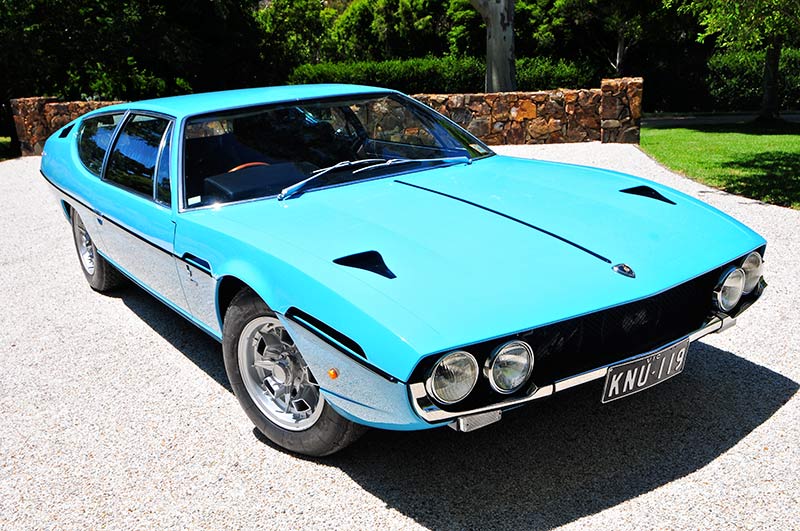 Lamborghini produced three series of Espadas between 1968-78 and this particular Espada is a series two model. It belongs to Peter Edwards, a mate of mine who I'm driving in the Bathurst 12-Hour with. He's a great car nut and this one has been in his family since new! It was his grandfather's car and it's covered just 67,000km so it's as tight as a drum. I'm very privileged to be able to drive it.

It's in striking duck egg blue with dark blue leather and has had fresh paint over the years but apart from that it's as original as can be. Everything is beautiful; it has a lovely patina about it that makes a statement about how it's been cared for. It's just had a new set of Michelin XWX tyres fitted, which would have been available back in the day, and it's great you can still source these classic tyres as some older high-performance cars are very sensitive to tyres and lose some of their finesse on more modern rubber. This Espada is as close to showroom as you can get!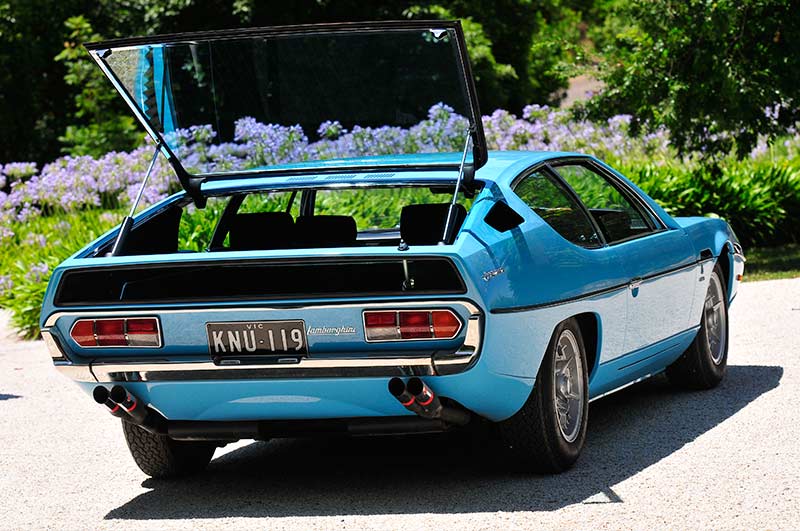 Like most Italian cars of that era, it's a very charismatic car. Styling-wise, Espadas were fairly groundbreaking, actually. Take a look at it - it's long, it's low, it's sleek. Lamborghinis are better known for  having mid-rear engines - like the iconic Countach, Diablo and Murcielago - but the Espada carries its V12 engine in the front and instead of downdraft carburettors, it has six dual-throat sidedraft 40DCOE Webers, which help get the bonnet line so low. A five-speed manual sits behind it - rather than a rear-mounted transaxle - and an automatic was also available.

The hatchback concept was a pretty new idea back then, too - especially with the innovative glass panel that opens up the cabin and allows you to see behind. Well, that was the idea. The reality is, when you look in the mirror all you can see are reflections. But as much as 1960s or '70s Italian cars can be temperamental, this one is really practical. It's a 2+2 and there's actually something approaching space in the rear for people. It's quite long, too, and there's heaps of space in the rear for luggage.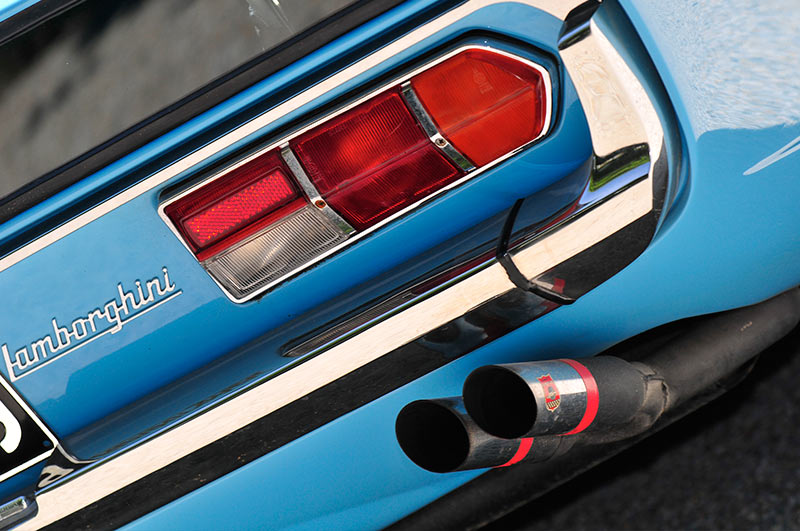 I drove this one from Richmond in East Melbourne where I collected it, through traffic out to where we did these pics. In traffic, it's easy enough to manage. There's no power-assist but the steering's not too heavy. At parking speeds, it needs a little bit of exertion but as soon as it's above walking speed it's fine. And boy, does it get some looks! I guess that has something to do with the colour…

The V12 is civilised and has a beautiful sound - it's not thrashy or metallic like some other V12s. It's the same basic engine as the Miura's but it's not as snarly and was designed by ex-Ferrari engineer Giotto Bizzarrini. They would have played with the cams and stuff to make it more of a grand-touring powerplant. In contrast to the classic metallic open-gate gearshift of a Ferrari, this has a leather gate and quite long throws. It's not a knife-through-butter 'box - it requires some 'driving' and you've got to get your timing right - but I regard that as part of its charm.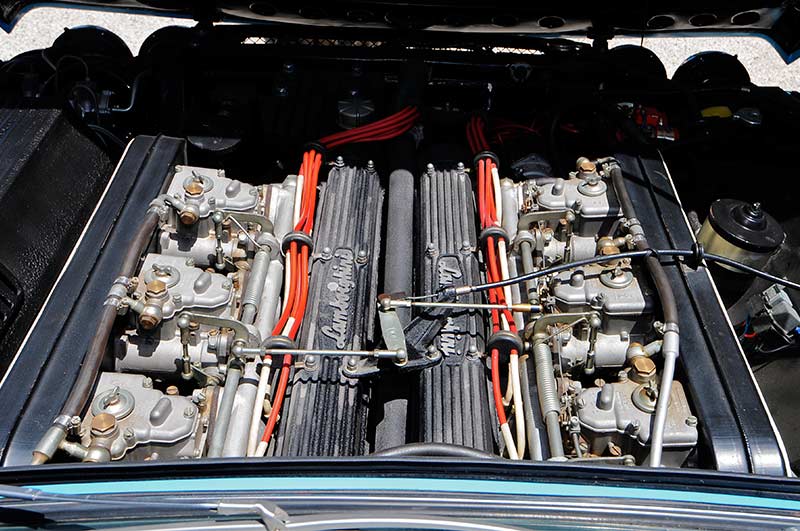 On-road, the car is very composed and capable, which suits its intended grand touring role. The brakes have great feel and the ride is terrific. But the Espada has that typically atrocious Italian arms-out, legs-back, gorilla driving position! Your arms are outstretched and your knees are up at your neck! When I was younger, I had Alfas and Fiats and they were the same, but you tend to forgive that because the pedals are laid out for good heel-toeing. I wore special Italian driving shoes I've had for years which helped get me in the mood for some driving fun.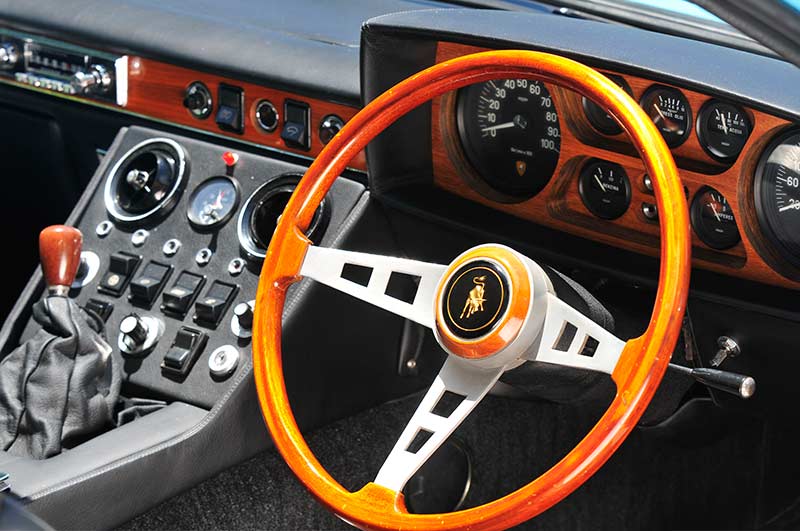 There's a wide centre console with Jaeger gauges scattered across the dash, typical of cars of the era. Not that they're accurate; I put my GPS in it and it confirmed the speedo is wildly optimistic! 

I really enjoyed the Espada but the drive was edged with frustration. I can imagine driving it on European autostrada and back roads where they don't have the draconian speed limits we have here. In Australia, the car feels stifled. Eventually, we got through the traffic and onto the freeway and - like these cars always do - it came alive with more speed. It wants to be driven over 110km/h and you can feel it settling down and the steering coming alive. It'd be great to drive somewhere there isn't a speed camera on every overpass…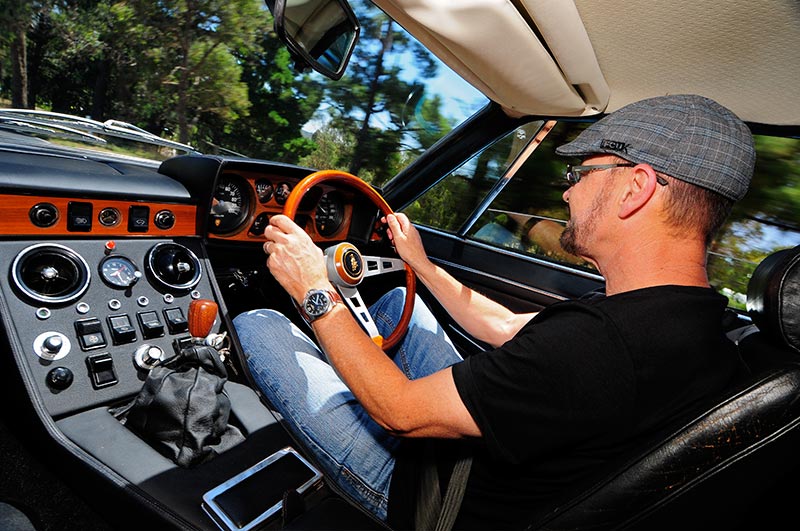 Rightly or wrongly, Italian cars have a flawed reputation - unreliable, temperamental, fairly average quality, rusty - but I love them. You can never accuse them of not having character! In its day, this would have been a rock-star car. I didn't think I'd like the Espada as much as I did, it was just lovely. I don't think Espadas are mega money, either - certainly nowhere near the money commanded by similarly exotic Ferraris and Aston Martins of the era.

Even Uncle Phil was impressed. After driving for a while he said, "Gee, I like this car!" and he usually doesn't like Italian cars! 
SPECIFICATIONS
1970 Lamborghini Espada
ENGINE: 3929cc V12, DOHC, 24v, six Weber carburettors
POWER: 261kW @ 7500rpm
TORQUE: 393Nm @ 5500rpm
WEIGHT: 1635kg
GEARBOX: 5-speed manual
0-97KM/H: 6.6sec*
0-400m: 15.5sec*
TOP SPEED: 260km/h (claimed)
PRICE NEW: $27,300
*Wheels April 1972
Unique Cars magazine Value Guides
Sell your car for free right here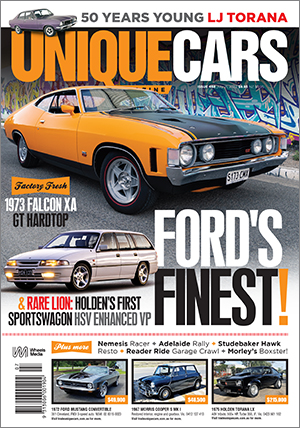 SUBSCRIBE TO UNIQUE CARS MAGAZINE
Get your monthly fix of news, reviews and stories on the greatest cars and minds in the automotive world.
Subscribe