Beechey's hot Hudson - Blackbourn 463
---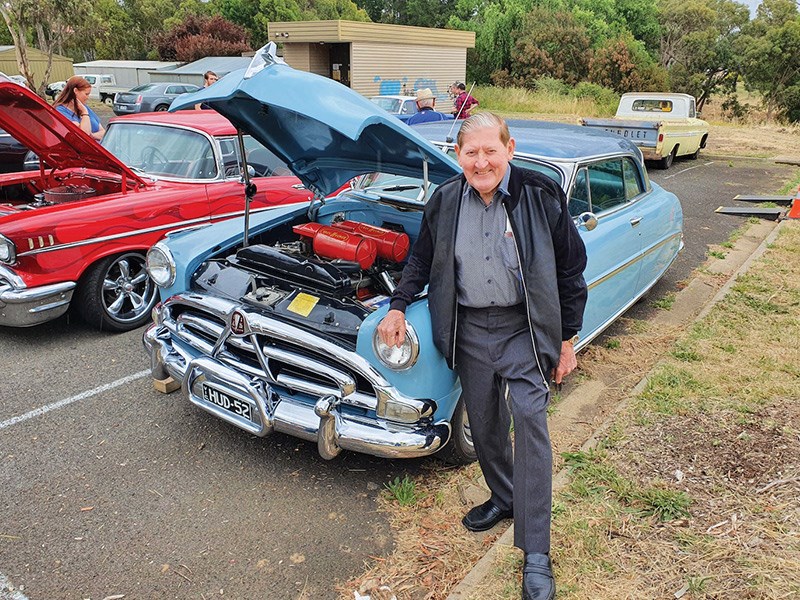 Beechey's classic-style cruiser

Norm Beechey in a Hudson? No way! Actually, it's true
If the Monty Pythons could say, "Nobody expects the Spanish Inquisition," I reckon it's fair to say that nobody expects Stormin' Norman Beechey to turn up in a Hudson Hornet. Well, not me anyway… But that's exactly what Norm did at a recent hot rod and classic car gathering in central Victoria. Not in either of his legendary PK-rego Holdens or either of his mighty Monaros or any of his hairy-chested Chevs or Fords – Norm Beechey actually cruised into town in an immaculate 1952 Hudson Hornet…
For readers who might be a bit hazy about tin-top racing action prior to the Moffat/Brock era it's worth noting that Norm Beechey more or less set the stage for Australia's enduring love affair with V8 touring car competition. Beechey's exuberant punting of a V8 Ford Customline in the 1950s began to build his fan base. In 1965, Beechey, along with Bob Jane, went on to introduce Ford Mustangs to Australian motorsport – very emphatically in Beechey's case, using his new 'Pony Car' to win his first Touring Car Championship.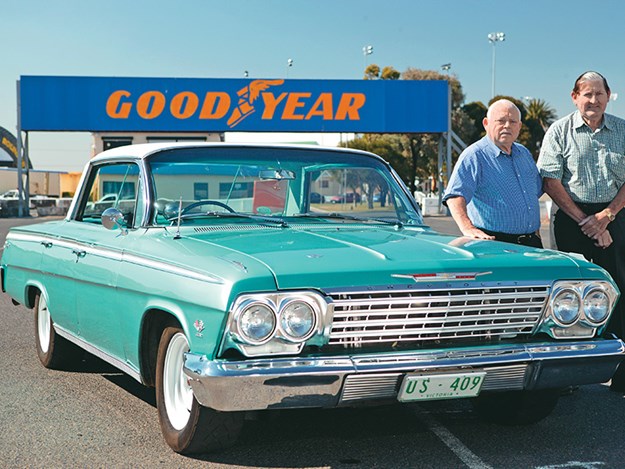 Old foes chewing the fat
He was very ecumenical in regard to factories though, competing in numerous marques during his 16-plus years of competition. Prior to his Mustang adventures (and post-Customline) he had been the Holden tribe's first superhero, initially in his 'Humpy' PK 752 followed by his EH S4 PK 751(cars often competed wearing number plates then and many were driven to and from circuits). He was back with GM when he won his second Touring Car Championship in 1970 with his mighty GTS 350 Monaro.
Beechey retired from racing in 1972 to concentrate on his business activities. He was inducted into the Supercars Hall of Fame in 2000.
Talking to Beechey about his classic Hornet, I admitted that I only recently became aware that the early-1950s Hudson Hornets were proper US muscle cars given their dominance of early NASCAR racing. Not so for Beechey. "Well I knew about them. I've always liked them," he said. "This actually isn't my first Hornet. I bought my first when I was 19. It was a right-hand-drive car that was brought into Australia from Malaya. I bought it locally in Melbourne from a jockey."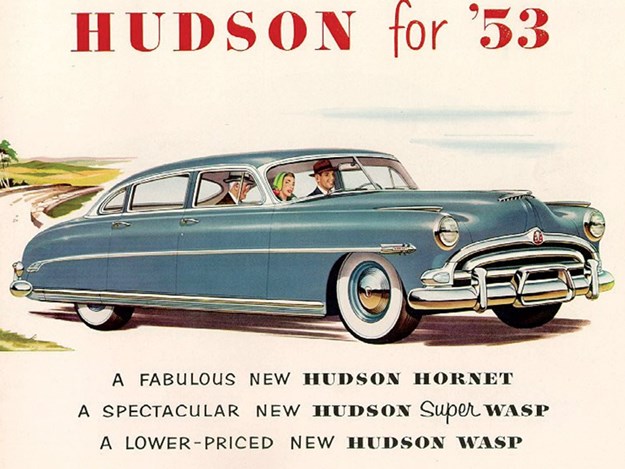 To understand how a Brunswick boy of 19 could be flush enough to stump up the money a Hornet was worth it helps to know something of Beechey's background as a trader. Throughout his racing career as he delighted fans with his flamboyant race-winning style, Beechey was running a number of car and truck businesses. However it wasn't widely appreciated that he began trading in cars before he started shaving. He revealed to me that he was only 13 when he bought his first car, a Swift. He quickly moved it on, more than doubling his money in the process. He built on that profitable-trading template throughout his teenage years, enabling him to contribute to the family budget while establishing his bona fides as a successful businessman. Buying that first Hornet at age 19 was one mark of that success.
Back in real time again, Beechey is genuinely enthusiastic about this latest Hornet: "I bought this one in the USA a few years back after a bit of a search. I like its open pillarless styling and it's a surprisingly lively performer – it's quite light for its size because of its advanced chassis design for the time, with plenty of torque from the big 'Twin H-Power' 308."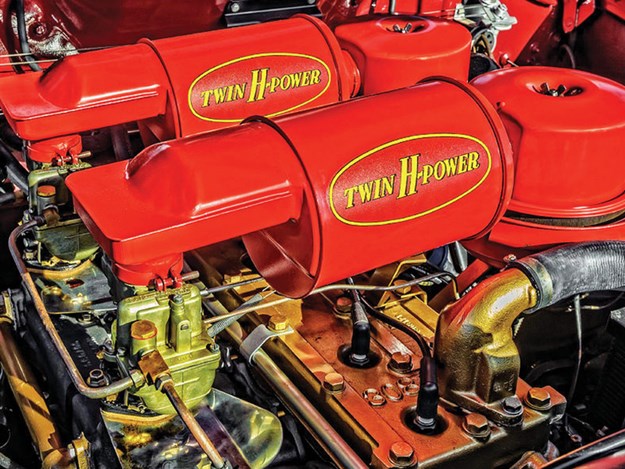 Five-litre flatheadTOP Wearing hats wasn't compulsory
In its day the muscular 160hp from the big twin-carb 308ci (5-litre) flathead six made the Hornet super competitive in NASCAR competition. The ace up its sleeve was its combination of superior aerodynamics and handling, both due to its "step-down", semi-unitary chassis design that reduced the car's height and weight, while also lowering its centre-of-gravity.
Like me, Aussie "Stock Car" fans of the early-1950s were pretty much oblivious to the exploits of Hudson Hornets in early NASCAR Stock Car racing where professionally prepared current-model cars competed for high stakes on well set-up mile and half-mile oval tracks. Our early-1950s "Stock Cars" were mainly backyard-modified 1930s Fords, stripped and barred-out on shoe-string budgets to engage in "crash 'n' bash" laps around small dirt tracks often shared with motorcycle speedway events. They managed to weave their own kind of magic though, with lovely second-gear sideways-action, rooster-tails of dirt and the amazing sound of multiple flathead V8s with open exhausts going for broke.
From Unique Cars #463, March 2022
Unique Cars magazine Value Guides
Sell your car for free right here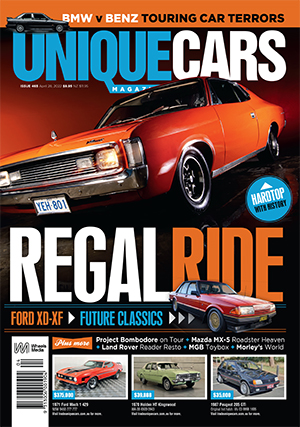 SUBSCRIBE TO UNIQUE CARS MAGAZINE
Get your monthly fix of news, reviews and stories on the greatest cars and minds in the automotive world.
Subscribe