Squaring Timber - Faine 459
---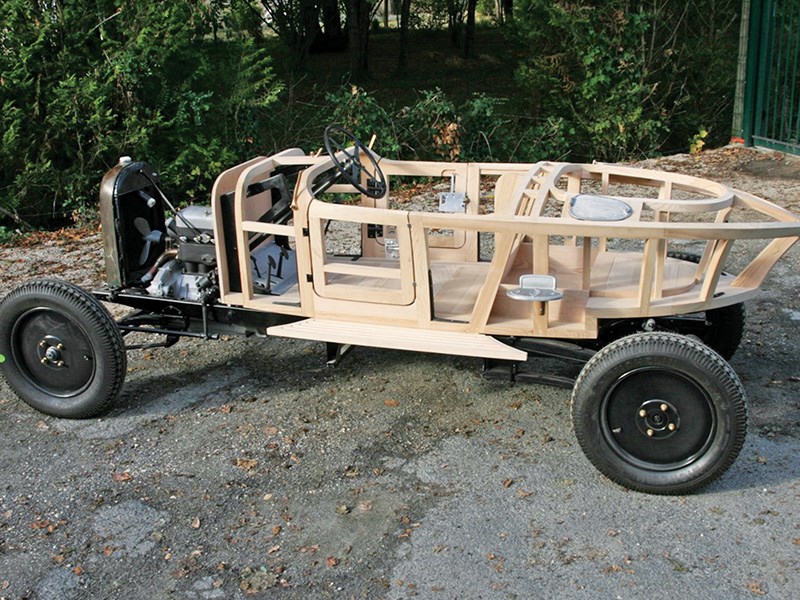 The enormity of what I have done already is not in any way properly recorded
The wood has arrived. I have bought fancy glue, sharpened my chisels and honed the blade on my hand-me-down ancient but excellent Stanley plane, and in a celebratory splurge, rashly tossed out my garage sale ancient and bent set square and lashed out on a new one. Coachbuilding is, at last, under way on the 1926 Citroen B2 'Caddy' boat-tail.
It has been several years of toil – slowly and tediously stripping down the old chassis, sanding and scraping everything back, making a temporary spray booth from plastic drop sheets stapled onto the ceiling and then doing whatever was needed to force the new paint to stick to the rust-proofed old steel.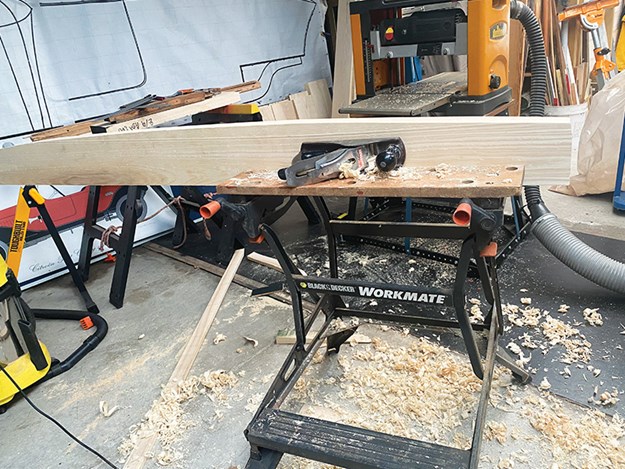 Then the running gear was also degreased, stripped, wire-wheeled, painted and pimped before going back onto the axles. Next the chassis, reassembled, was re-introduced to the wonderfully powder-coated wheels on brand new tyres. The re-cored radiator has been married up to the motor/gearbox assembly and if I bolted a magneto on, we could use my newly fabricated shiny lathe turned crank handle to crank start the near-centenarian and take it for a spin. Soon. Still need to attach the exhaust – I suspect the neighbours would have something to say if that was missing.
It seems sacrilegious to condense several years of sweat and swearing into a few quickly digested paragraphs like that. The enormity of what I have done already is not in any way properly recorded there. It is like Vietnam – if you weren't there you will never understand.
The next phase of the project now begins – fabricating the timber frame which will eventually be skinned in either aluminium (light but I can't weld aluminium) or thin steel (heavier but easier to work on, and I can't weld steel either… well, I can, but it's not pretty). I have not got blueprints nor proper plans but have made various scale drawings and templates from the MDF buck that has featured in earlier editions of this most excellent magazine.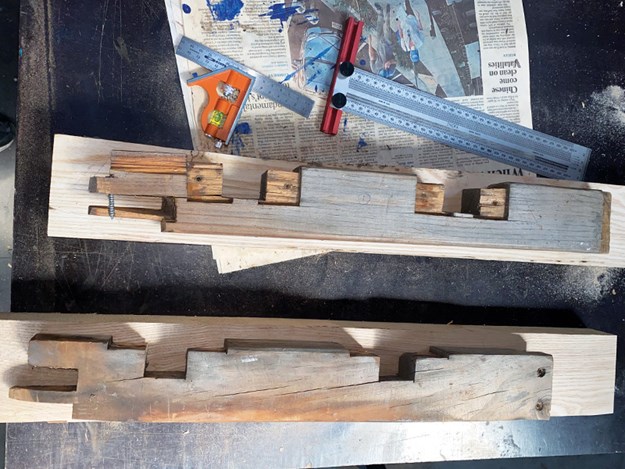 A set square makes its debut
Finding the right timber was harder than I thought. My original plan was to scavenge stuff from skips and house demolitions, and trim it to size. I found some superb Oregon beams, four metres long and plenty wide, thick as my thigh and superb grain patterns. Rich red in colour – and I thought I was home and hosed. De-nailed and cleaned up they were gorgeous.
Every professional I spoke to told me not to use it – too heavy, too bendy, too prone to splitting. So there go countless wasted hours and I have a shed roof full of the most beautiful planks I now no longer have any use for. We might have to renovate the kitchen just so that I feel it has not all been a waste of time.
A delivery of American Ash was arranged, 55mm thick and mostly 200mm wide. My frame will be made from pieces 45mm thick , and the only two wide timbers are the 1.6m side-rails. The rest has been chopped up into what I hope are the right size elements of what will be the frame. Everything has gone through my second hand electric thicknesser to gradually size it down to 45mm thick and every edge has been squared.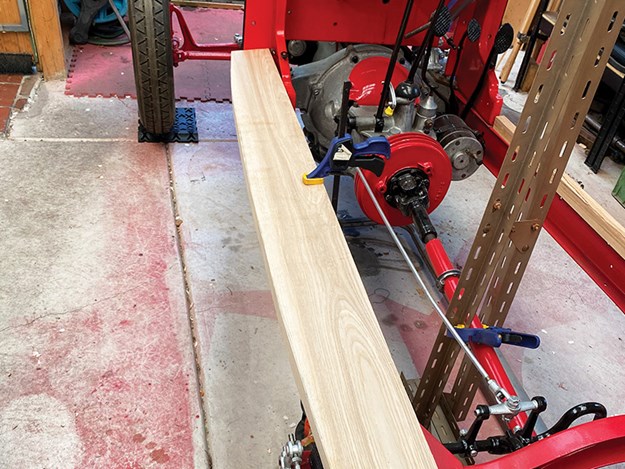 Trying to 'square' timber planks
Who knew it was so hard to get a plank of timber square? The first one took half a day, and a lot of cursing. I have also discovered the vital role of the dust collector and although wearing masks everywhere has become 'de rigeur' of late, in my shed while creating huge piles of shavings and spraying timber dust everywhere it is non-negotiable. Tip for others, passed on to me by the pharmacist when I was buying industrial quantities of hay-fever tablets and nasal spray; buy a Vaseline container and before starting dusty work insert finger in Vaseline and line the nostril membranes with a thin prophylactic layer of Vaseline. Nasal secretions stopped in their tracks – sorry, I know it is a family magazine.
I am now doing practice mortice and tenon joints and finger-jointing on soft pine to try to make my mistakes on off-cuts and sacrificial bits before charging into the real stuff. Needless to say, it is harder than it looks on You Tube or in the books I have been consulting. Getting a cut that is accurate enough to promise a tight fit is much more challenging than anything Mr Rippon taught us in woodwork class in Form 2.
Carving out the two bottom rails will be followed by the A pillars, for which I have the originals although they are rotten, split, have the wrong curvature (having come off a tourer body not a boat-tail) but are better than nothing as a starting point. And then…it will all just fall into place, won't it?
From Unique Cars #459, Nov 2021
Unique Cars magazine Value Guides
Sell your car for free right here
Unique Cars magazine Value Guides
Sell your car for free right here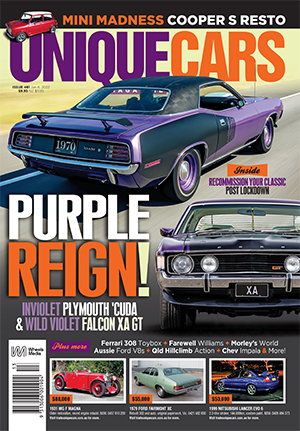 SUBSCRIBE TO UNIQUE CARS MAGAZINE
Get your monthly fix of news, reviews and stories on the greatest cars and minds in the automotive world.
Subscribe