Legend status: GT-HO Phase III - Morley's World 455
---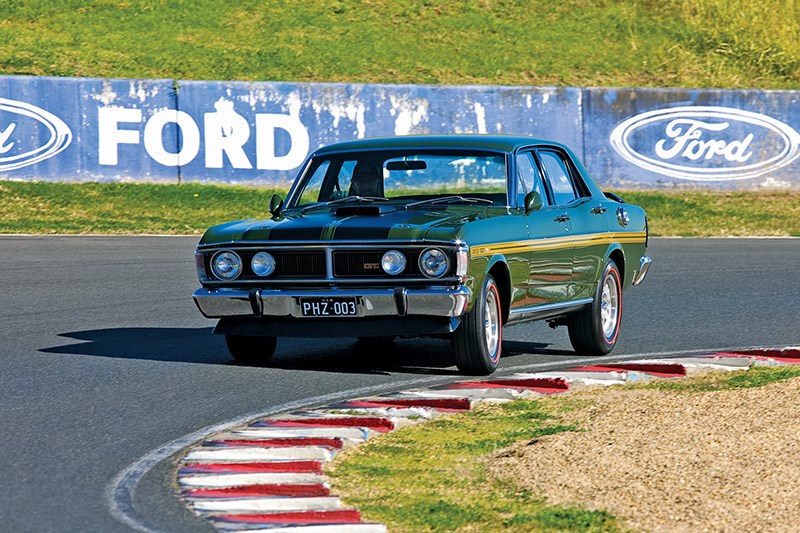 The greatest Aussie car ever?
Is the GT-HO Phase III really five decades old? When the hell did that happen? Mind you, that probably says more about me than the Phase III. Sorry, Mighty Phase III. See, that's the thing; the Phase III is – and always was, for that matter – a dead-set, card-carrying, bona-fide legend. Thing with that is, sometimes the legends we love to create aren't always rooted in fact.
There have been times when reality falls short of the legend. Lots of times. Two burly horses being whipped along in opposite directions, for instance, will in fact tear a pair of Levis jeans to bits. Dolly Parton, regardless of what you've heard (or calculated thanks to freeze-frame technology) cannot hold her breath for two hours.
So where does that leave the Phase – dammit, Mighty – Phase III?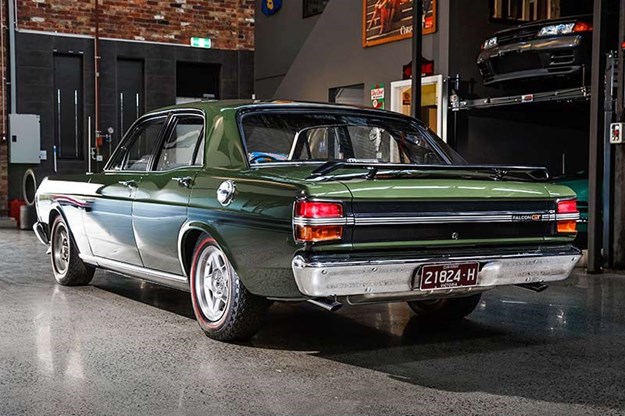 Well, unlike the vast majority of other Aussie cars that have now achieved legend status in the last few years – many of them for no other reason than local car production went paff about four years ago – the Phase III was, as far back as I can remember, talked about reverentially. I can remember working on magazines when the Phase III was still too young to vote, yet it was nevertheless already being hailed as a modern classic and, perhaps, the greatest Aussie four-door ever. Maybe the greatest Aussie car ever. Yeah, definitely. No rose-coloured Ray Bans here.
| Read next: Ford Phase history
Where some cars need a bit of nostalgia to kick-start their collectability, the Phase III had no such requirement. Unlike a lot of cars we now fall over to look at in the street, the Ford never got to the stage where it was worth nothing; it was always a show-stopper. Always admired. Always respected.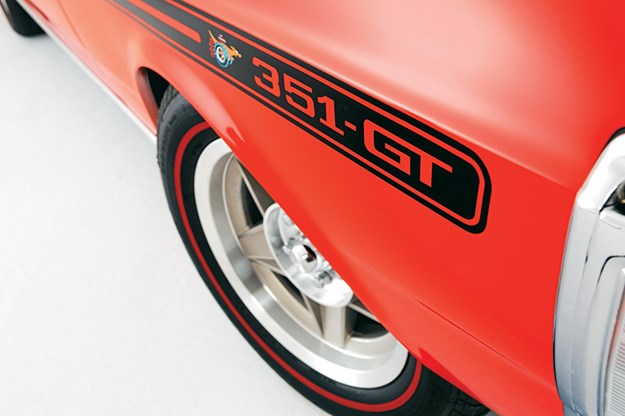 Neither can you ignore the hard facts. The GT-HO Phase III was a hard-core performance sedan that was so Australian, it would automatically brake for koalas. It was among the very fastest four-doors produced anywhere in the world, and, whichever way you cut the deck, it was a serious piece of hardware with a loopy camshaft, big carb and a fuel tank that accounted for all that. But mainly, this car was a Bathurst winner at a time when that was a meaningful claim. Not only that, but it was destined to become the last of the real hard-man Falcon GTs with Ford dropping the HO option for the XA model (but that's another story altogether). Okay, so maybe some of that stuff was a coincidence, but it all really did happen. Unlike Dolly's double-D scuba tanks.
| Read next: Falcon GT-HO values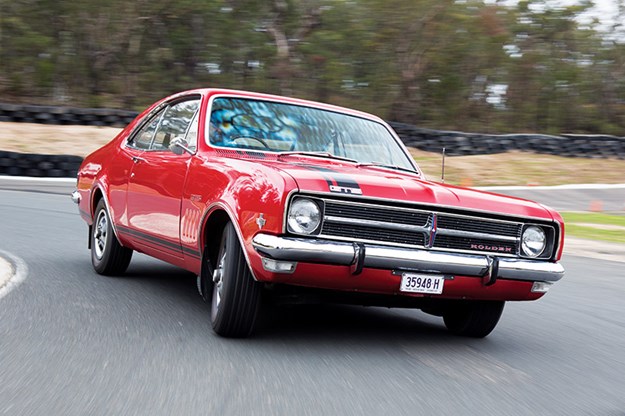 So, having established the Mighty Phase III as the real deal legend, does it still stack up as the pick of a pretty extroverted bunch that included the GTS Monaro and E38 Charger? Well, I can't speak for an E38, because I've never had the pleasure, but I have had the rare privilege to sample both a HK GTS 327 Munna and no less than two – count 'em – Phase IIIs. And, at the distinct risk of upsetting a whole bunch of Holden nutters (and I'm one of them) there's just no contest. Where the Holden felt clumsy and fairly sketchy at speed with loose steering and loads of body roll, the Phase III was a different story altogether. And yes, I know that an HG GTS 350 is a closer match to a Phase III, but I can only go on what I know.
In any case, I reckon that even if you hadn't been lucky enough to drive an HK GTS 327, or an HG 350, the minute you fire up a Phase III, drag the Toploader into first and ease out the clutch, you'll begin to see what the hell the fuss was all about. Yes, the steering wheel is too thin, there's still plenty of roll, the cam can make the V8 feel a bit grumpy and the thing will always, but always, be able to overpower its tyres, but overall the Phase III is a born leader. It's got a together feel that the Monaro can't match and a real presence that instantly lets you know that it's a serious piece of hardware.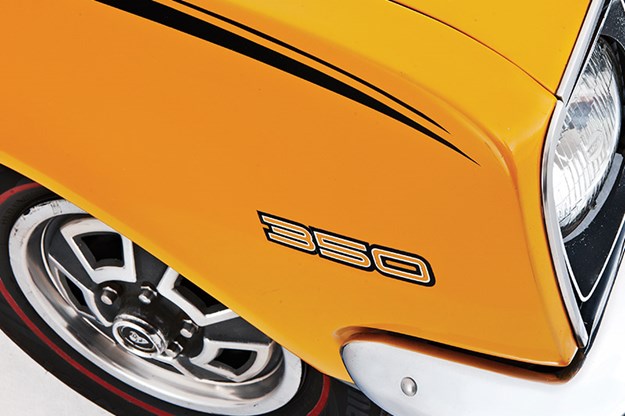 The two Phase IIIs I somehow lucked into the driver's chair of started with a fully restored True Blue example (one of five built in that colour, I'm told) that was so factory fresh it was uncanny. The owner had done everything to retain the right look, smell and feel, right down to painting it in two-pack but adding a flatting agent to make the modern water-based two-pack True Blue look like the old-school enamel the car would originally have been painted in. And even though the road was wet and this was back in the day when a good Phase III was nudging a million clams, the owner was still willing to hand over the helm to turn yours truly into a true believer. Bless him.
My second HO sample-bag came in the form of an unrestored example which was so original, the majority of its Ultra White paint was still the stuff they blew on at Broadmeadows in 1971. The car had been driven, no doubt about that, but it had also been respected along the way, so while it had never been out of circulation, it was still minty inside and out. And, for a glorious couple of hours between Sydney and Goulburn, it was all mine.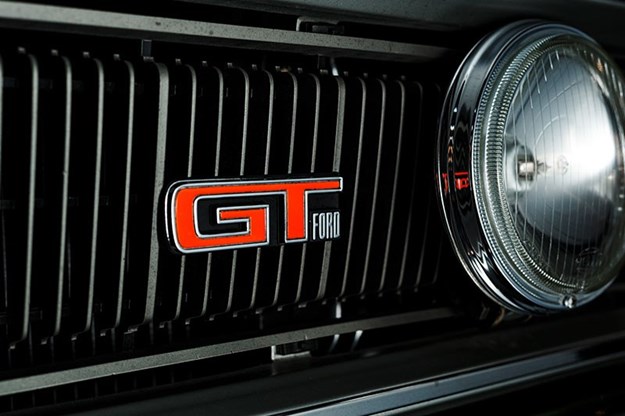 Now, a run down the Hume mightn't sound like the most epic adventure to have in a Phase III, but let's not forget that the most famous magazine story surrounding the GT-HO– and one that helped establish that legend – did, indeed, deal with just such a journey (read about it elsewhere in this issue). And let us also not forget that even in the day, the road-going Phase III was a muscle car, not a sporty little thing to be thrashed around a go-kart track.
Also, unleashing the big fella on a nice piece of hotmix showed up precisely why it was such a big deal in the day. The ride is surprisingly good (after that GTS Monaro, anyway) and while the steering has a pretty lazy ratio, it's not too far from where it should be given the rest of the specification. My biggest gripe would be the gearing which saw the Clevo's tacho needle nudging 3000rpm for most of the time (and, no, we weren't in any danger of going to prison that day). With a different set of diff gears or – dare I say it – a five-speed box with a proper overdrive, the Phase III would have been even closer to perfection. (And, as values start to head for seven figures again, the idea of a HO replica with that very gearbox makes even more sense to this bloke.)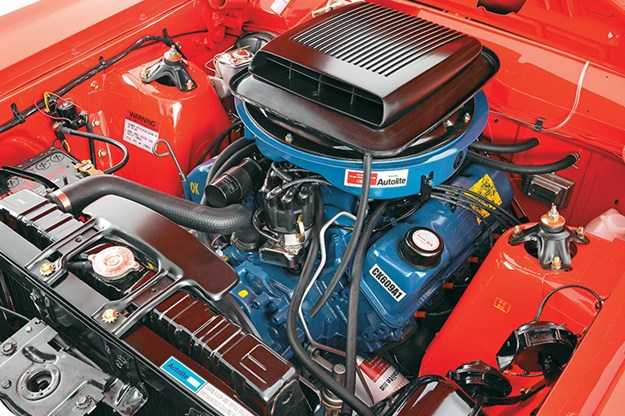 But that engine! It might be cammy enough to need a vacuum tank to power the brakes and it might be a fuel guzzler, but in 1971, that 351 must have been a force of nature. Even today, when a hot hatch can easily have 250 horsepower or more, it's vanilla idle and Dyson soundtrack will never match the Cleveland for theatre. Or roll-on thrust because, thanks to that gearing I guess, the GT-HO has about the ballsiest overtaking chops in the game.
So yeah, the Mighty Phase III is a legend and a deserving one. The real tragedy is that nobody these days is likely to be as lucky as I was back then and be thrown the keys to a HO. As collector-car values continue to head north at a rate we couldn't have imagined just a few years ago, the scarcity and value of a car that is already on the endangered list means that most Phase IIIs are destined for an early shower, rather than playing the full 80 minutes.
So, back to old Dolly Parton videos, then.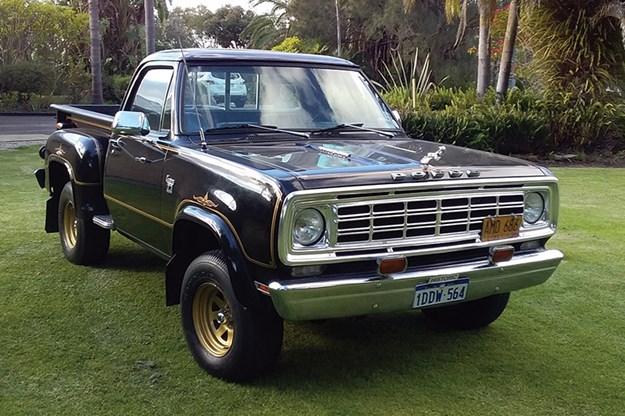 On a completely different topic: Dodge Warlock. Heard of it? It was a limited run of Dodge utes sold in the USA in the 1970s, alongside the rather more well-known L'il Red Express range of factory customs. Since so few were made, and almost none were exported, it's pretty rare to see a Warlock in the flesh these days (or back then). And if you did, it would almost certainly have been in the south 48.
The glamour version was the 440 cubic-inch mutha, but only a few hundred of those were made. Even so, this version I stumbled across in WA recently is still an interesting specimen, and the possession of Peter Collins, a retired truckie who loves his machinery and was the bloke whose Commer Knocker engine I tripped over a few weeks back. Pete's a true Dodge nut and when he saw this four-wheel-drive, 360-cube version was about to be chopped up by an east-coast hot-rodder, he knew he had to step in to save it.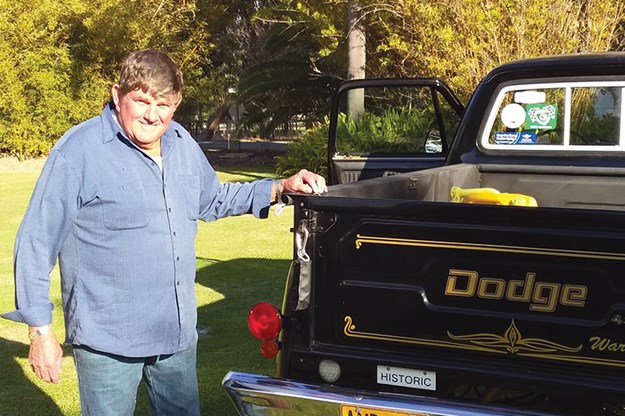 The details are amazing, including that wild factory pinstriped interior, gold wheels and genuine oak tub-bed. My favourite thing about the Warlock is that it was marketed by Dodge back in the 1970s as a member of its – and I'm not making this up – Adult Toys line-up that included L'il Red and the Midnite Express. I also love the fact that these trucks were not sold in all 50 states (California, you listenin'?) thanks to the racket the factory exhaust made.
And let's not forget, that this was a short-wheelbase, factory custom pick-up designed to grab the attention of younger buyers. Now take a look out the window and count the dozens of Navara Warriors, Ranger Wildtraks and HiLux Ruggeds and tell me Dodge wasn't 40 years ahead of the game with the Warlock.
From Unique Cars #455, July 2021
Unique Cars magazine Value Guides
Sell your car for free right here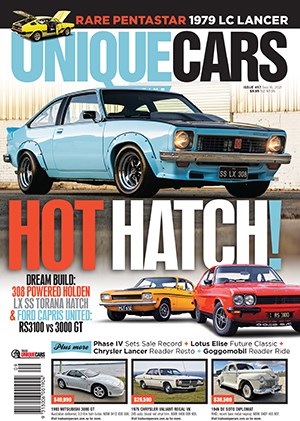 Subscribe to Unique Cars Magazine and save up to 42%
Australia's classic and muscle car bible. With stunning features, advice, market intelligence and hundreds of cars for sale.
Subscribe