Legends: John Goss
---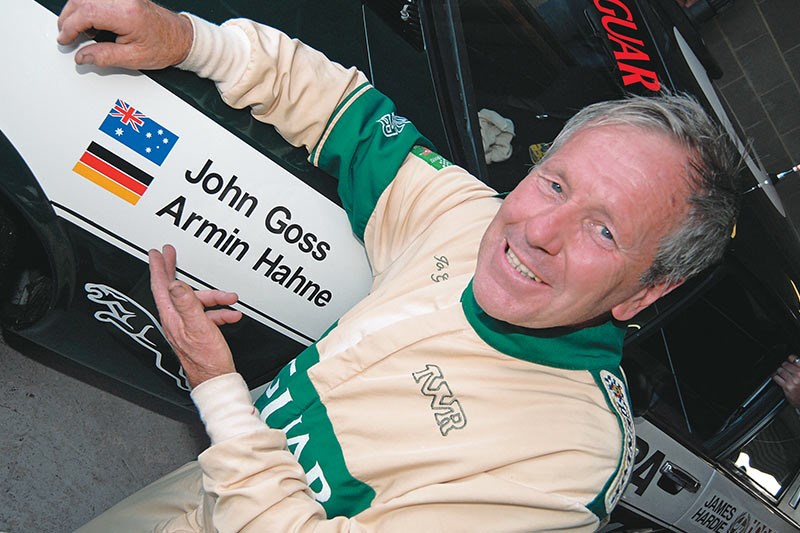 His competition days may be behind him but the two-time Bathurst champ is still all business when he steps into a racecar
From the archives: First published in Unique Cars issue 294, Jan-Feb, 2009
Profile: John Goss
Dressed in his trademark red neckerchief it's hard to miss John Goss milling around at the many historic motorsport events he attends these days.
When Unique Cars caught up with him a while back at Tasmania's Power from the Past, he had just finished a couple of fast demo runs around the famously quick Symmons Plains circuit in his Group A Jaguar.
It brought home a point. John Goss is still fast and serious about his motorsport. When he demonstrates his cars he does so with the single-minded commitment that made him a two-time Bathurst champion and the only person to win on The Mountain and at the Australian Grand Prix – a feat that looks unlikely to be repeated.
His commitment to excellence remains the same when he is speaking in public and giving interviews. He is razor sharp and keen to make a good impression.
| Review: 1975 Ford Falcon XB John Goss Special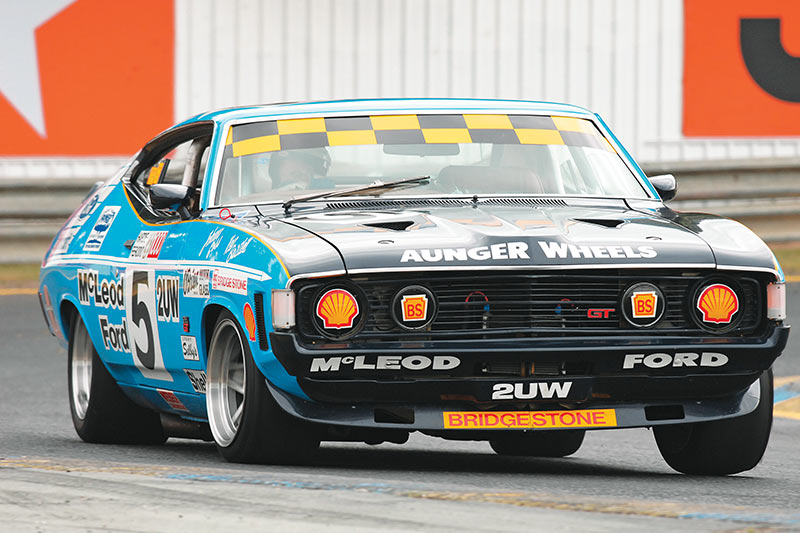 Without a lot of factory help, Goss helped make the Falcon hardtop one of the great icons of the local car scene, after winning '74 Bathurst
Born in Glen Iris, Victoria, Goss was brought up and educated in Tasmania. His father was a development engineer at General Motors before WWII. After demobbing he returned to GM, but as his mother was Tasmanian and he was a keen sailor, Goss' father moved the family to the Apple Isle.
"I had a good education but I hankered to get out and do something mechanical," begins Goss. "I was a keen aero-modeler and my father instinctively saw that and, rather than compel me to go on to university, he obtained an apprenticeship for me at the Ford dealership in Tasmania."
Embracing all the main disciplines; welding, machining and servicing, Goss remained there for five years. Twelve months after completing his apprenticeship he began working for himself and has done so ever since.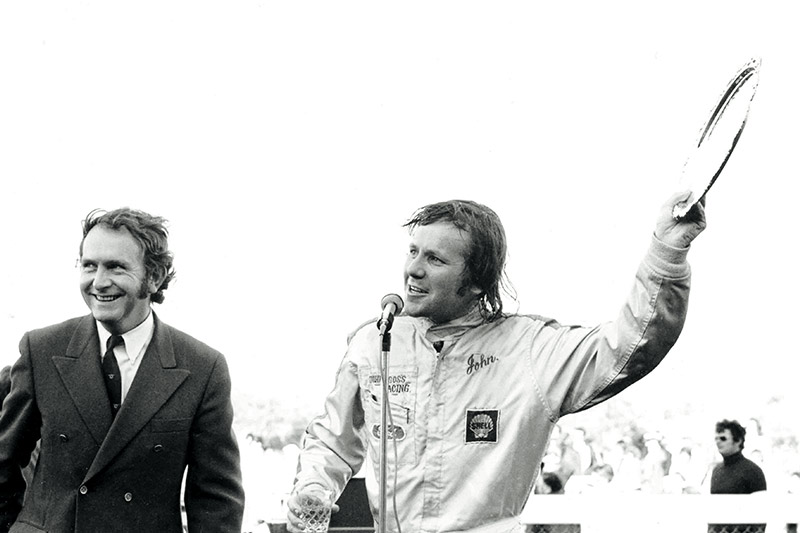 "Those days in Tasmania were important because my father was keen on motorsport and he took me to the Longford international meeting where I saw the great Europeans of the day.
"In the late-1950s, when I was still at school and being taken to that event, there were many of the classic front-engined cars including the 250F Maseratis. I remember seeing (Stan) Jones win the AGP in one of those cars, so I have great memories of motor racing at a proper level right from the early days."
While Goss was attending a supporting function to the Longford event at the Warratah Hotel in Hobart one year and "drinking a fair bit of beer as we did as young Tasmanians", he met Brian Higgins who persuaded him to race at Longford.
"(Brian) said he had also taken the precaution of obtaining a late entry for me for Baskerville the next weekend. So we flew into action – we had a lot of work to do on this beautifully-restored early Holden. We took it to Baskerville and I found that I actually had a skill for it. I finished mid-field with a few dents. The only experience I'd had before that was a bit of fairground racing at the Royal Agricultural Show at Hobart, where we would rush around on the grass in our street Holdens.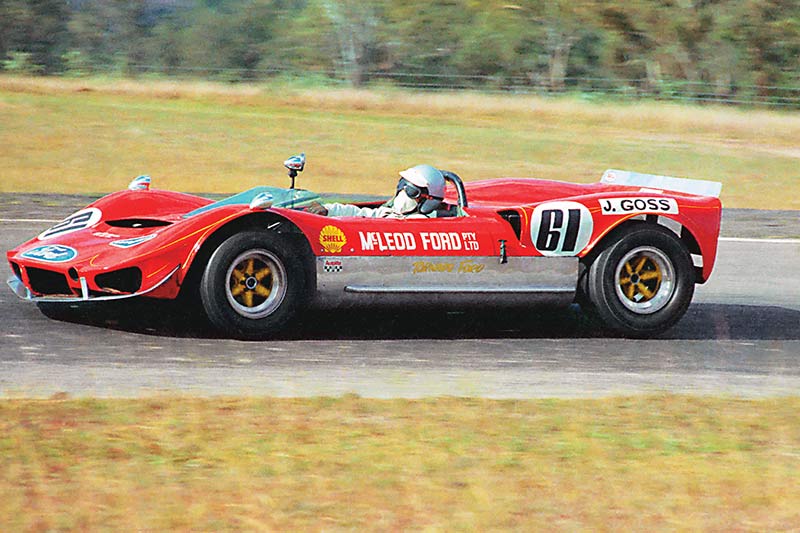 "(So) I was launched into racing; it was somebody else's decision and it was just amazing. We went to that first meeting at Longford. I remember we worked three days and nights without leaving my little workshop in Hobart's northern suburbs. We left at midday on Friday to drive to Longford, a distance of a couple of hours, and my mechanic, Adrian Jones, was so exhausted he slept all the way and I managed to keep myself awake.
"We had a mixed result over the weekend. We had some damage to the car but I pressed on and went to Symmons Plains a few weeks later and after a while it became routine. I prepared a special FJ Holden for racing, but I found I really couldn't compete with the guys who had a lot of money for development engines in Appendix J. So I developed a Ford Customline and that gave me a horsepower advantage at modest cost. I had a lot of success with that car – 131mph (211km/h) on the straight at Longford and I was barely a teenager."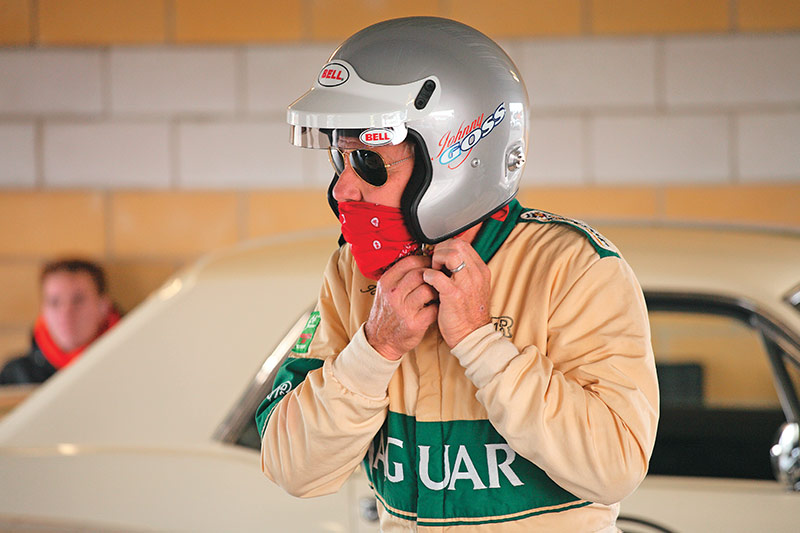 Goss gets suited up with his trademark open-face helmet and red scarf
Goss eventually discovered that he was not competitive against the imported Mustangs and Cooper S Minis his competitors were campaigning, so he designed and built a 2.8-litre Tornado Ford prototype sportscar and raced it at Winton in Victoria. That launched his career on the mainland.
"I saw it as a journey to Europe but I never made it there at that time in my life. (Oran Park promoter) Allan Horsley invited me to Sydney and I met (Ford dealer) Max McLeod by accident. That developed into a 10-year association through Max's interests in my efforts with the Ford Motor Company and anchored me to a Touring Car program.
"I had 27 years of commitment to Australian Touring Car racing, specifically as a NSW-based team, Bathurst and other events, because we couldn't really muster the financial backing to do the entire Touring Car Championship."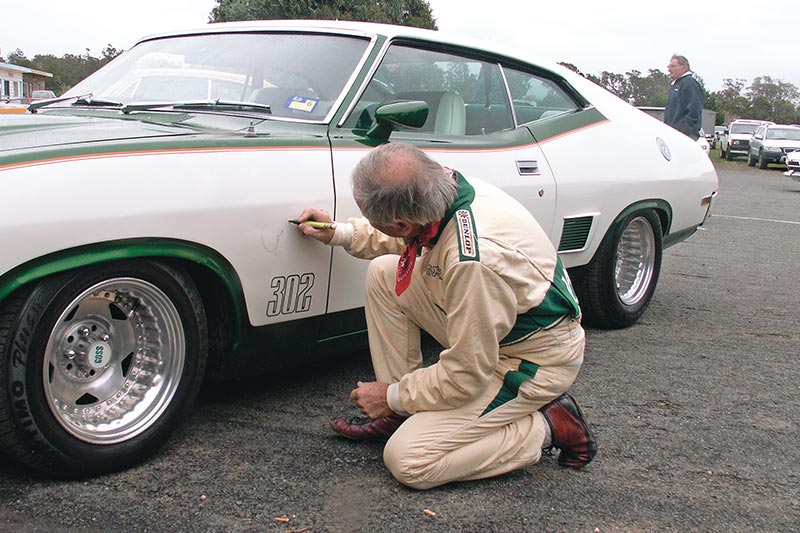 Goss may not have competed against the open-wheelers in Europe as he wished, but he had a successful Touring Car racing career. He debuted at Bathurst in 1969 and went on to win the 1972 South Pacific Touring Car Championship run in conjunction with the Australian Tasman Rounds, and Sandown the same year in a GTHO Falcon.
He was always fast and had some near misses on The Mountain, like in 1973 when he and Kevin Bartlett started from pole and dominated the race before expiring within sight of victory. But Goss was always dogged and eventually conquered Bathurst in 1974 sharing a Goss Blue XA Hardtop with KB.
"That was very satisfying in a unique way," says Goss. "On paper I shouldn't have won that. Ford did give me support but I was always further down the food chain than guys like Moffat, who had their complete backing. I developed that XA in my spare time after hours so it became a very special car to me. I guess that win proved to people what I could do because I did it without a lot of resources and on sheer ability and mechanical skill."
Snapshot
Name: John Goss
Born: Victoria, May 2, 1943
Claim to fame: The only driver to win Bathurst (twice in 1974 and 1985) and the Australian Grand Prix (1976)
Career highlights: Two Bathurst victories
Career lowlight: Failing to start in the '84 Bathurst race after co-driver Tom Walkinshaw was rammed on the starting grid
Current occupation: Marine engineering
Inspiration or idols: My father, Frank Matich and Mario Andretti
Favourite quote: "The long way is the short way."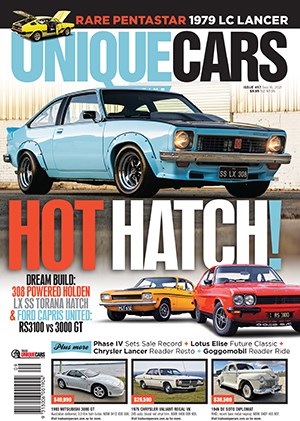 Subscribe to Unique Cars Magazine and save up to 42%
Australia's classic and muscle car bible. With stunning features, advice, market intelligence and hundreds of cars for sale.
Subscribe