The Untold Story of the Holden car
---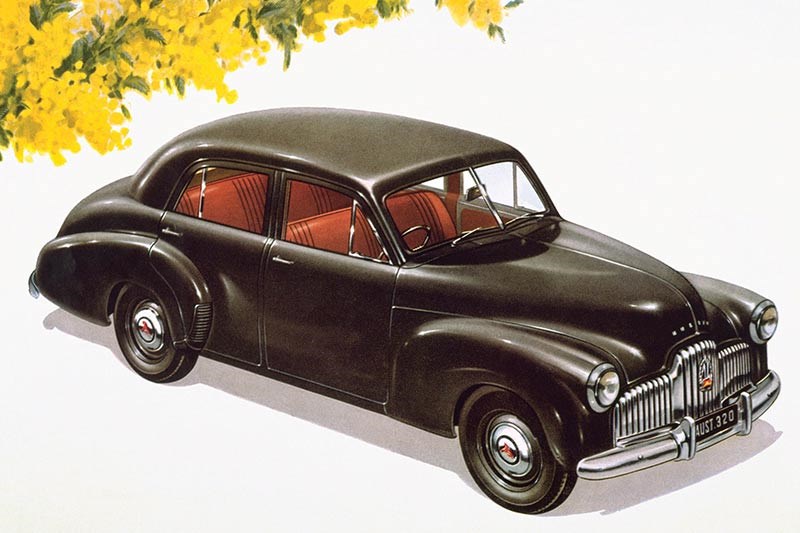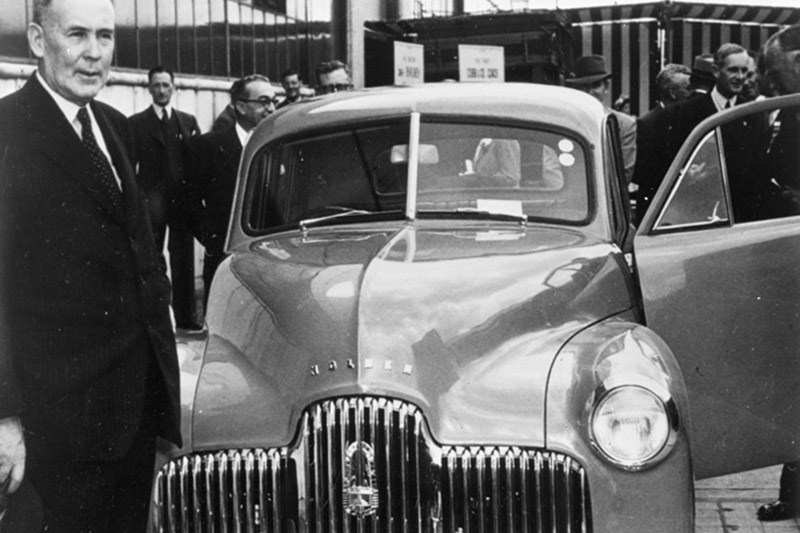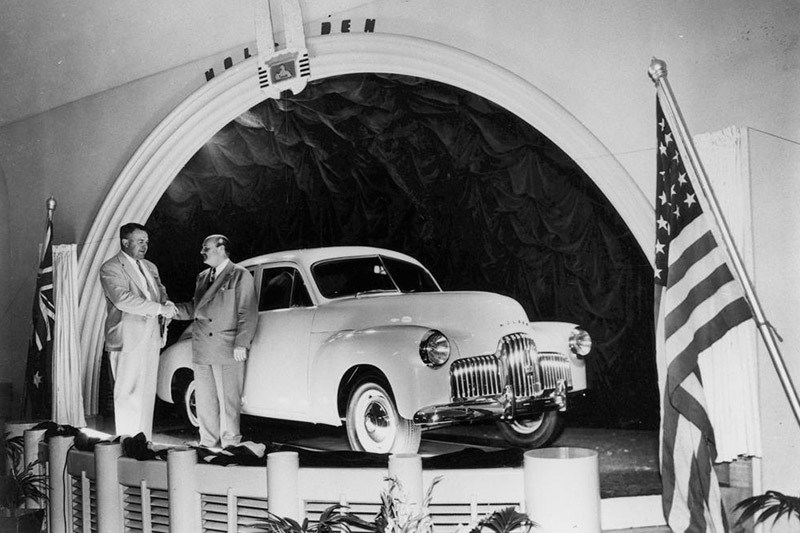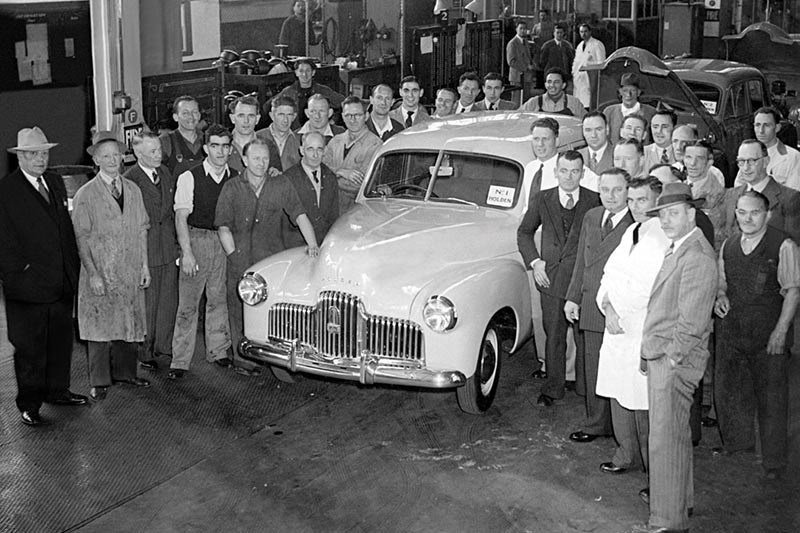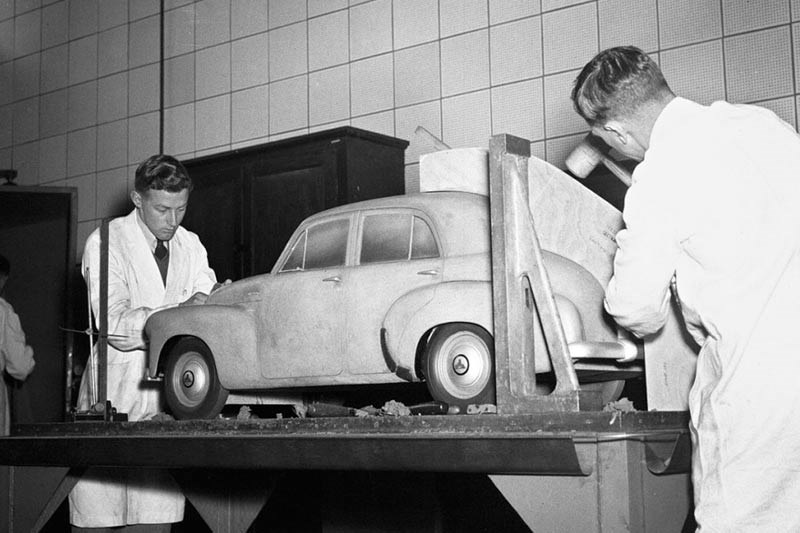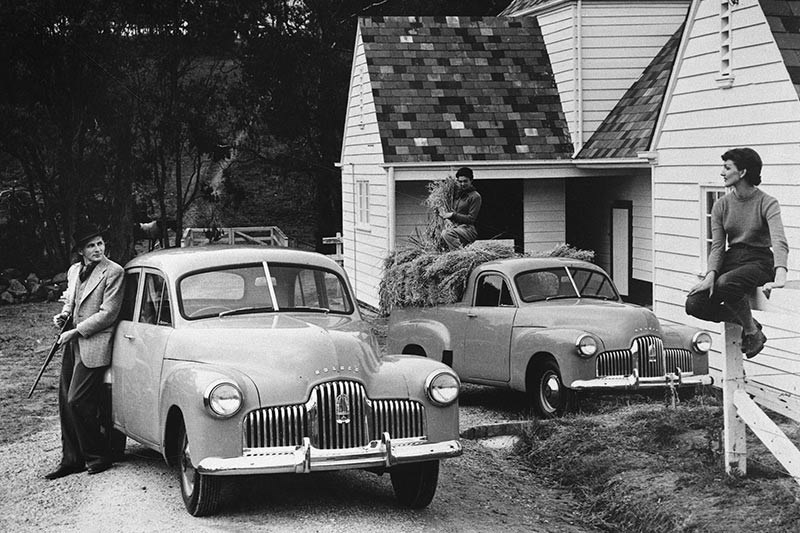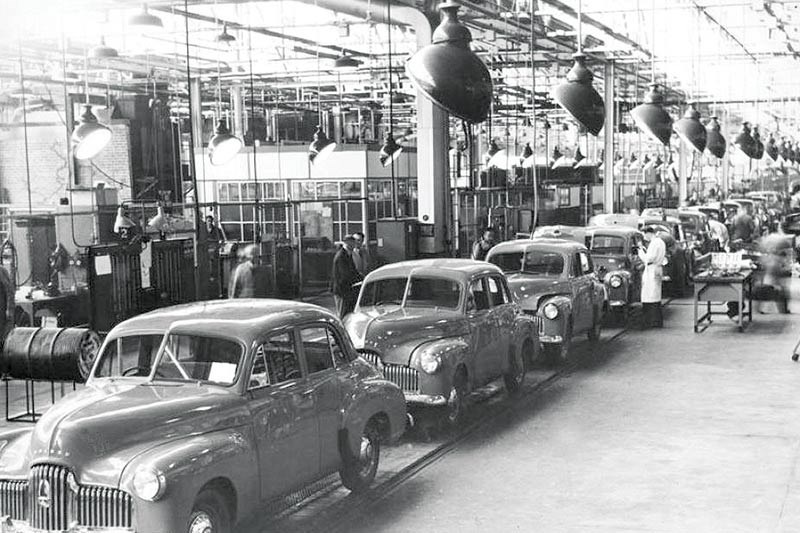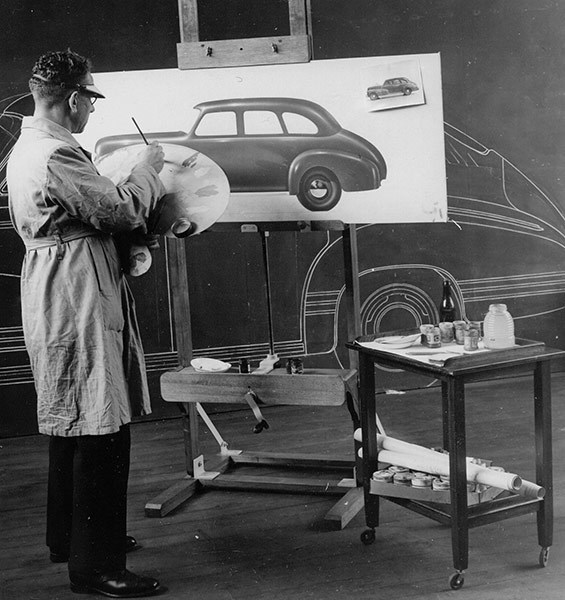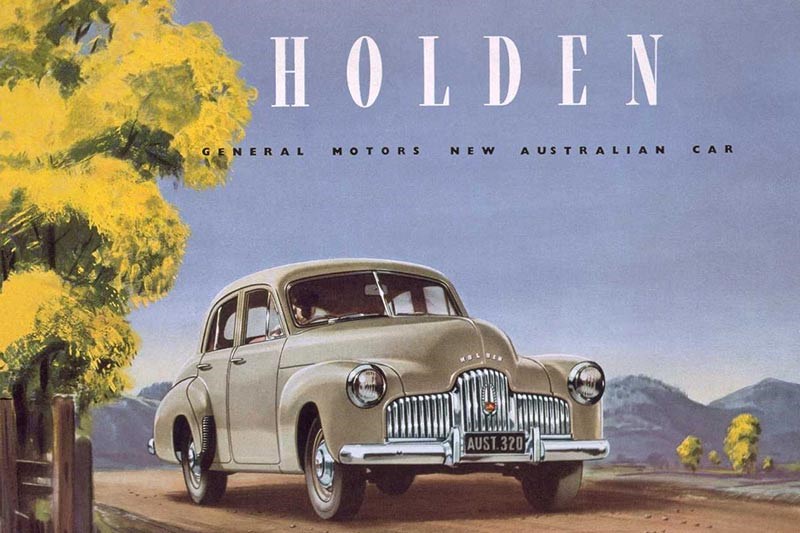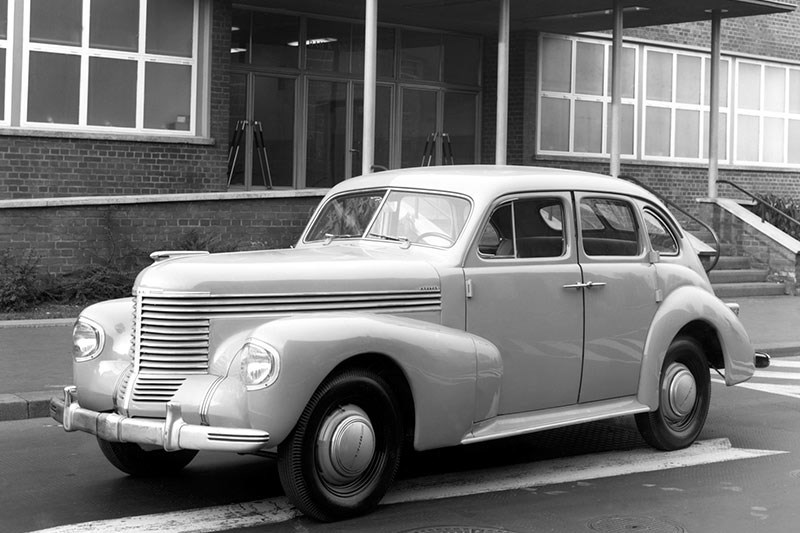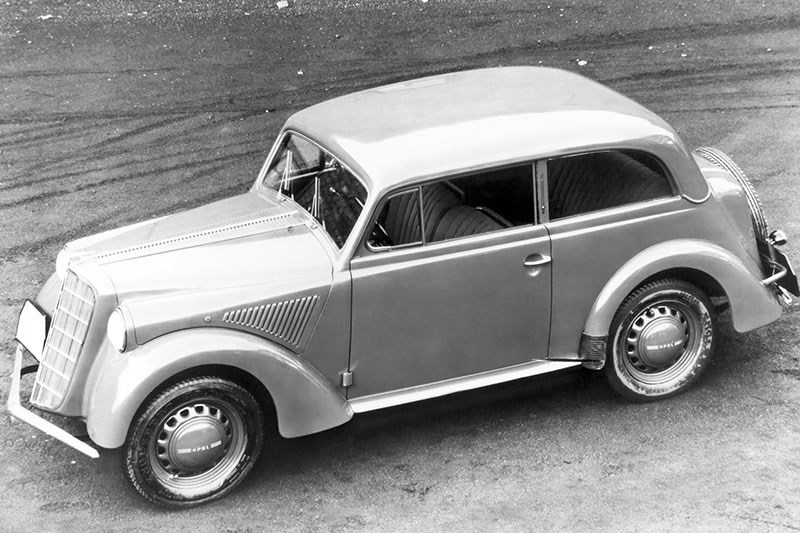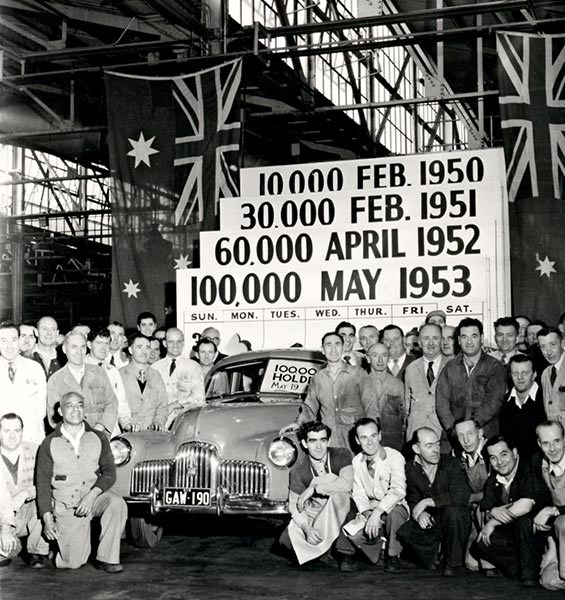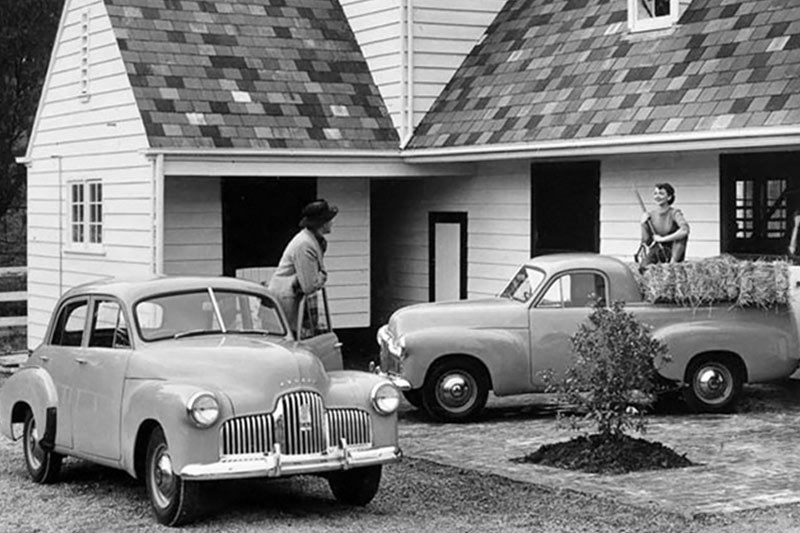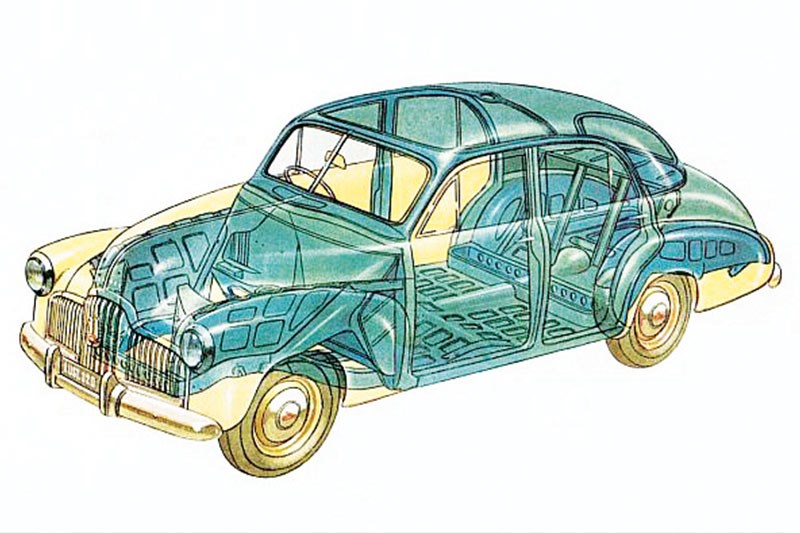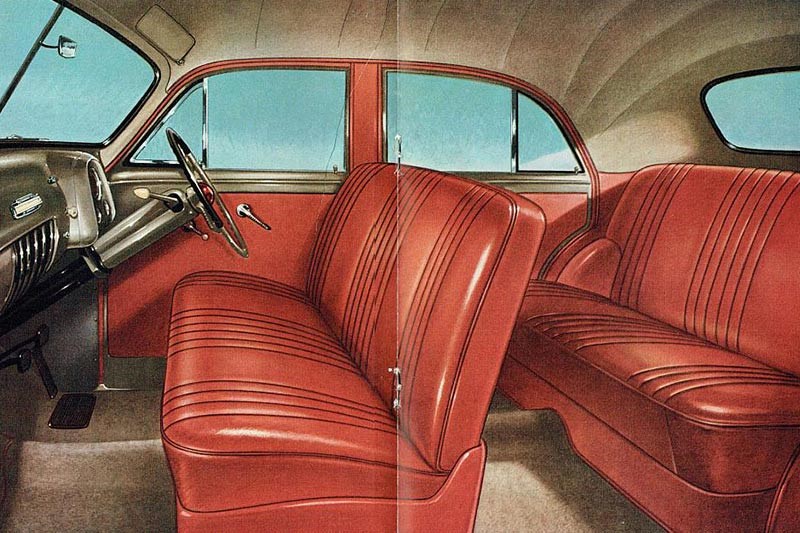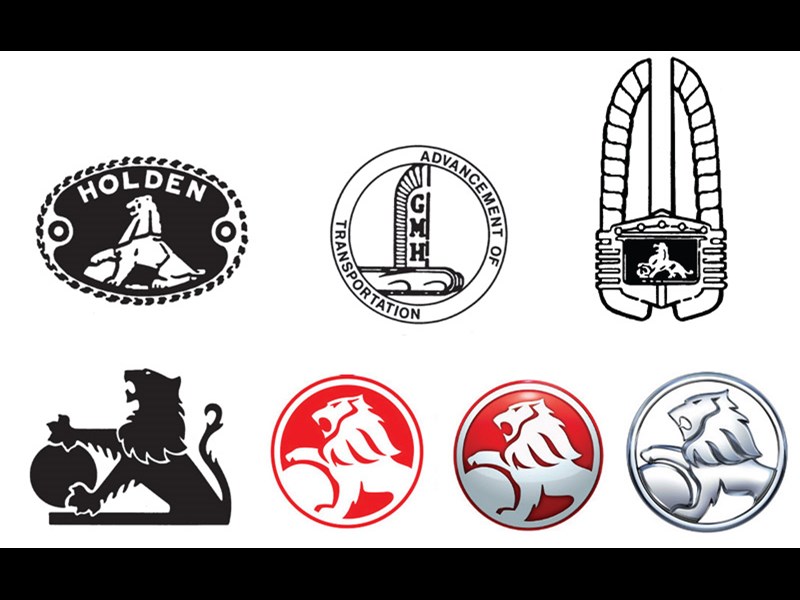 Harness and saddlery, a trio of wars and Hitler's new zero sales tax were all part of the genesis of 'Australia's Own'
'Australia's Own' Holden
My PhD, which became the book Special: the untold story of Australia's Holden, unpacks the genealogy of the Holden car. It was a story previously untold, despite the many accounts that have been written. Arguably, no other car in history has been so carefully conceived for a unique set of circumstances as the Holden 48-215 was. First, it had to suit the very demanding – essentially pioneering – conditions imposed by Australia. Second, it had to showcase General Motors' international knowhow to the watching postwar world.
Three major wars – the Boer War (1899-1902), World War One (1914-18) and World War Two (1939-45) shaped the Australian automotive industry. In the Boer War, the partnership of (James Alexander) Holden & (Henry Adolph) Frost supplied military equipment such as harnesses to the government. By the end of the Boer War, Holden & Frost was the government's biggest supplier of harnesses and saddlery.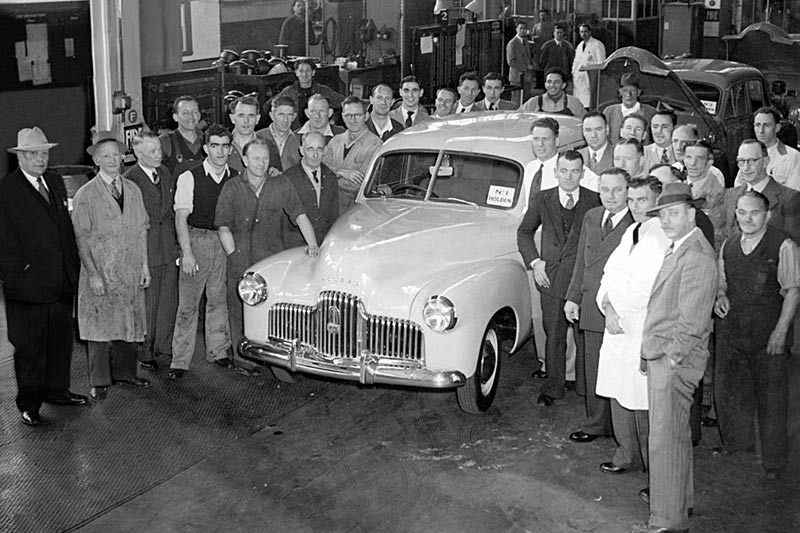 The Great War provided the catalyst which turned the motor body-building business from a sideline in to a major secondary industry. In 1917, with German U-boat activity making ocean transport treacherous and cargo space at a premium, the government banned the import of beer, furs and car bodies under the curiously named 'Luxury Restrictions' tax. Car bodies would have to be made here for all imported chassis. Holden & Frost had built its first custom body in 1916 for a Hotchkiss motor car owned by an Adelaide publican. Other orders followed.
But under the new imperative, Holden Motor Body Builders (HMBB) was formed in 1919. By May 1923 HMBB was producing 340 bodies per week.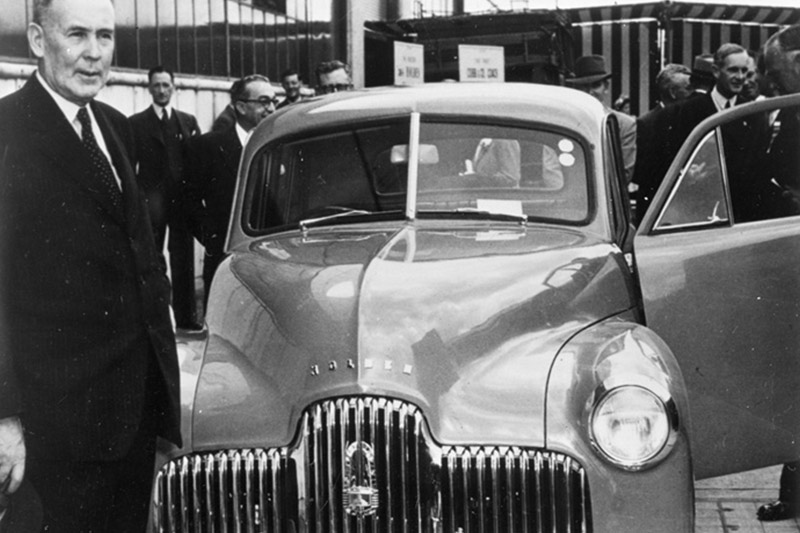 Prime Minister Ben Chifley sees 'Job #1' 48-215 officially off-line in 1948
Holden's main client was General Motors Export Company (GMEC), anxious to secure a guaranteed supply of high quality bodies. By then the company was exporting 9500 chassis per year to Australia, about 17 per cent of the market. Two GMEC executives visited Australia in 1923 and recommended setting up a joint venture with HMBB.
GMEC would fund a new plant in Woodville exclusively to produce bodies for GM cars, while HMBB could continue making bodies for other makes in its existing plant in King William Street. With Woodville at capacity, GM's share of the Australian market climbed from 16.9 per cent in 1923 to 31.4 per cent by 1925.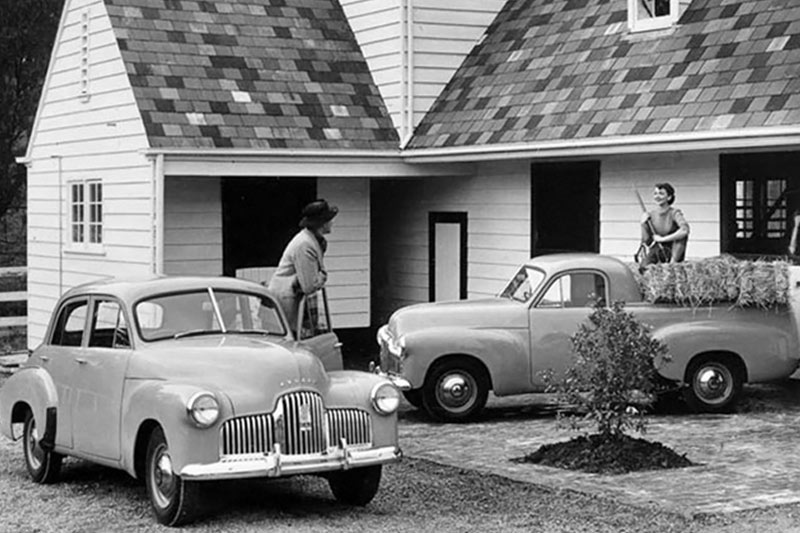 Then the Great Depression arrived with full force in 1930. On 14 February the directors of HMBB agreed to a GM takeover. January 1931 saw just 762 bodies being built but in March 1928 HMBB had produced 5897.
Englishman Laurence J. ('Larry') Hartnett took over as managing director of the new company, General Motors-Holden's in 1934. From early on, Hartnett was keen to build the entire car in Australia. His bosses at GM, under the entrepreneurial genius Alfred P. Sloan, Jr, were on the same page, even though Sloan took quite a dislike to the cocky Englishman.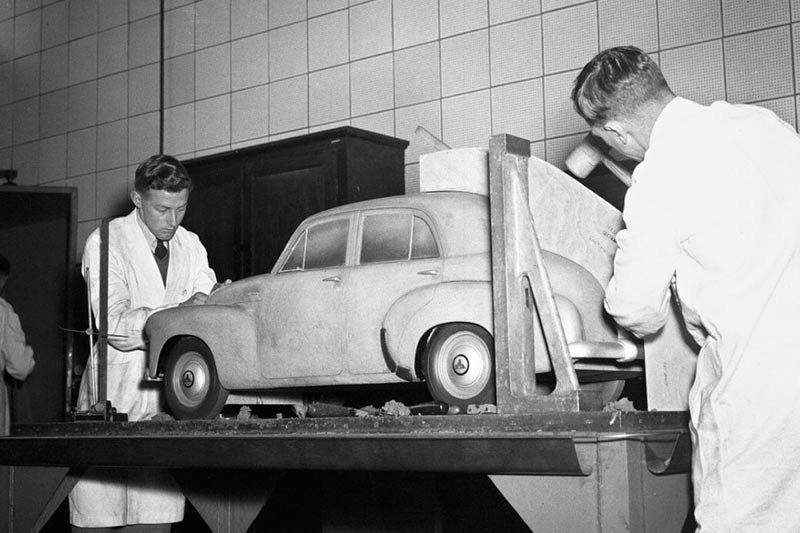 World War Two then changes the equation. From 1940 GM-H manufactured the machinery of war, which included internal combustion engines. This was a major step towards being able to manufacture the complete car.
Extraordinarily, the other huge element came out of General Motors' experience in Nazi Germany. Hitler came to power on 30 January 1933, largely on a promise to restore Germany as a great power. But there was little chance of him achieving his ultimate goal of world dominance without first reviving the domestic economy.
Less than a fortnight later, Hitler's first important public role was to open the Berlin Motor Show. His speech focused on the need for a brilliant roads network, a People's Car and the demonstration of German technological dominance through international motorsport.
Volume production at GM-H is a far cry from the Holden company's humbler earlier efforts
General Motors' German subsidiary Opel headed the German car sales charts. When Hitler announced the removal of sales tax on all new cars, Opel was the greatest beneficiary.
Unprecedented economies of scale driven by a dramatic increase in sales allowed Opel to develop radical new technology. American engineer Russell S Begg, an industry veteran and expert on all-steel bodies, was sent to Germany in 1934.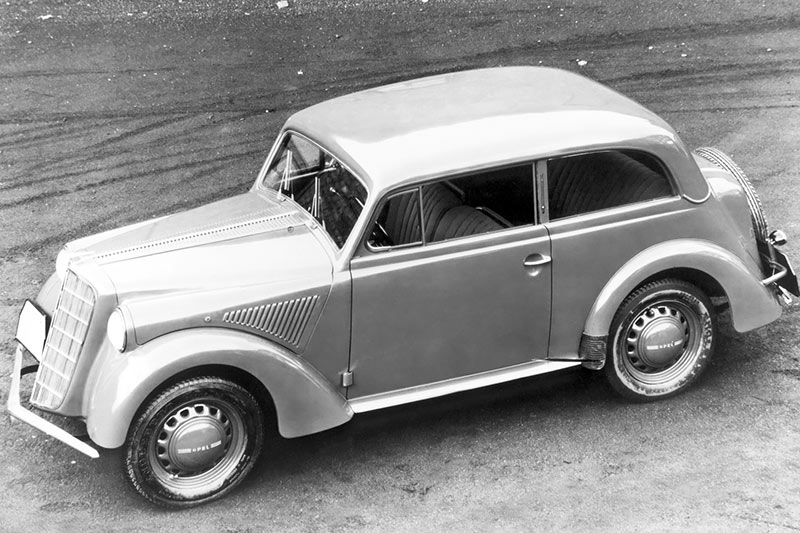 Russell Begg's four-cylinder Opel Olympia pioneers the monocoque approach
Begg introduced monocoque construction to Opel. First came the Olympia, displayed at the Berlin show in 1936 and named for Hitler's Olympic Games of that year. Here was the world's first mass-production monocoque, a car both lighter and stronger than its rivals. The Olympia was immediately successful in Germany and other European markets.   Equally significant for the story of the Holden is the luxurious 1938 Opel Kapitän, the first GM car to combine a six-cylinder engine with monocoque construction.
These two Opels set the template for mass-produced small and medium cars in the postwar era, rendering body-on-frame construction no longer viable, except for larger vehicles.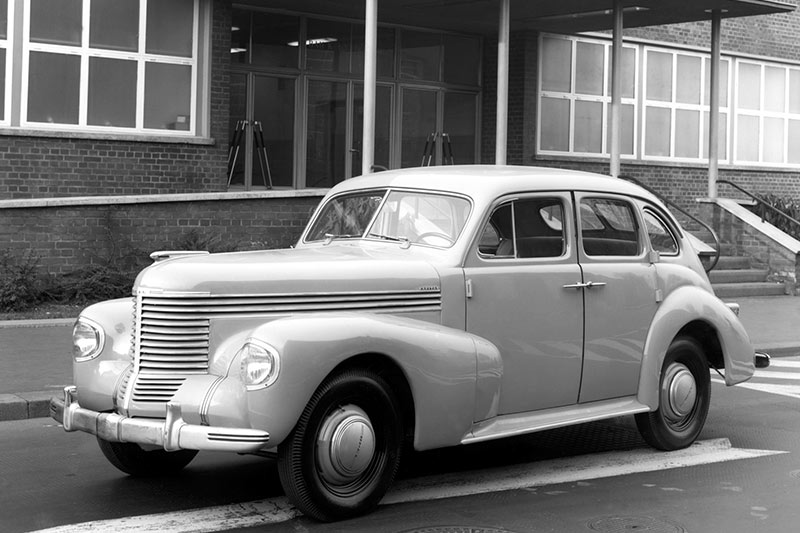 The six-cylinder Opel Kapitan proves monocoque is also a winner for lareger, Holden-size cars
The Kapitän may be seen as the true predecessor of the Holden 48-215. But another car needs to be mentioned, Project 195-Y-15. This uncharismatically named experimental vehicle was one of a pair, the other being 195-Y-13. The experiment was conducted under Begg's charge in Germany when the Kapitän program was in its final stages, the idea being to determine whether a four-cylinder or six-cylinder engine worked better in a car of around 2000 pounds weight (908 kg). The six, which brought the car to a total of 945 kg, won decisively; it cost little more to build, used barely more fuel and imposed less strain on its three-speed gearbox. Both vehicles were shipped to the US immediately before the outbreak of war; GM's German investment looked to be imperilled. In 1942 Opel became a one-off tax loss.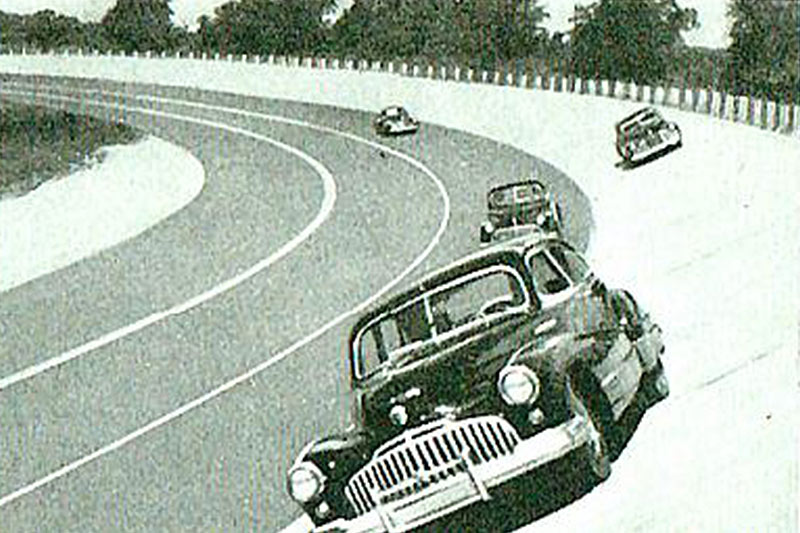 In October 1944 the GM Board agreed to the manufacture of an Australian car but required GM-H to fund it. Prime Minister Ben Chifley persuaded the banks to supply the funds at commercial rates of interest, the loans to be repaid by GM-H.
Russ Begg was appointed chief engineer of the just approved Australian Car Program (195Y25, no hyphens), reporting to Walter Appel, chief engineer of General Motors Overseas Operations (GMOO). He took 195-Y-15 as the starting point, while doubtless conscious of his Kapitän, which was very successful.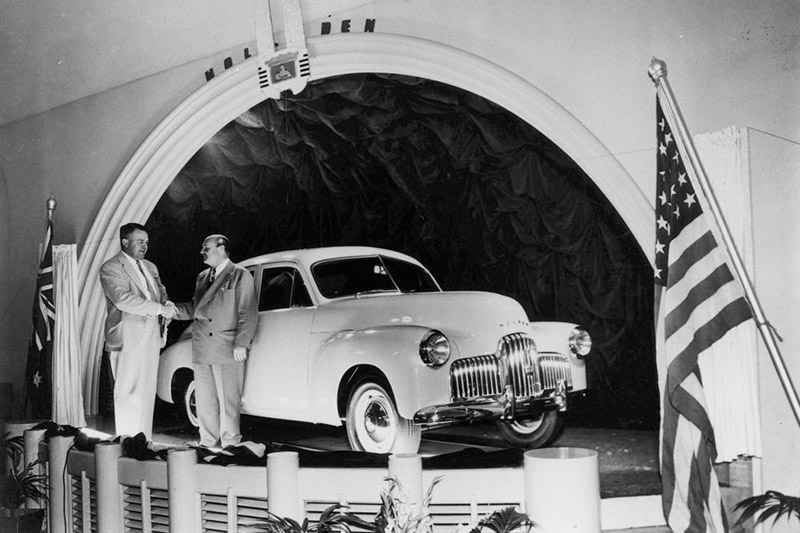 Begg and Appel had differences about the suitability of 195-Y-15 as the basis for the new Australian car, but Begg always prevailed. Appel thought 195Y25 should be heavier, while Begg was determined to keep the weight down. Nevertheless, he was caught between Appel's scepticism at higher executive level and the pressures from within his own engineering team to incorporate this or that weight-adding feature. And Russ Begg had yet to meet GM-H managing director, Larry Hartnett, who would continue to try to influence the design direction of 195Y25 – mostly to little effect.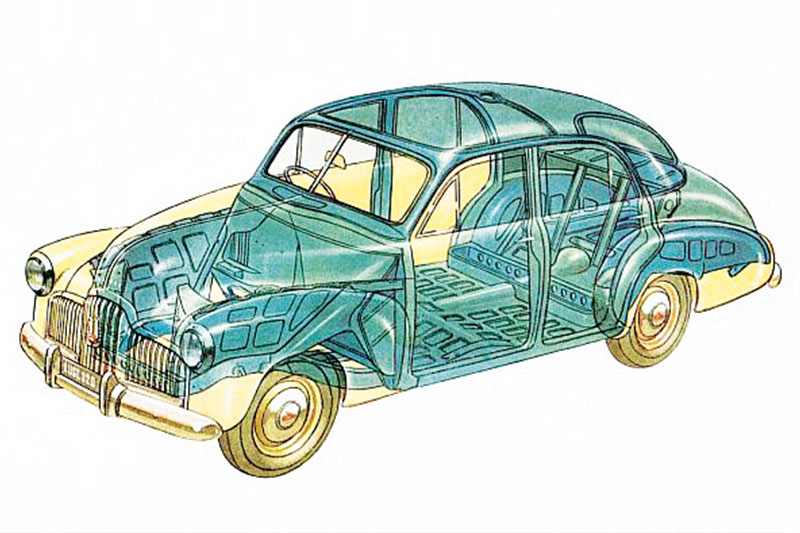 On 7 August 1945, the boss of GMOO, Edward C Riley, wrote to Harnett: I am not willing… to plonk down our blue chips on the production of this, our first car, on the basis of such design… I just cannot put our money on your crowd for this first job. While Begg knew the prototype would require great finessing, he was developing his own unique philosophy about the interrelationship between performance, economy, durability and weight. His thinking is made clear in a fascinating letter from GM-H's technical liaison officer in Detroit, George Quarry, to Hartnett:
Russ, Kuip [G.C.R. Kuiper, chief experimental engineer under Begg] and I were out in the Kapitän sedan which, while weighing 2676lb [1214kg] curb, with a 150.9 cubic motor on a 106.1"

[2695mm] wheelbase, has very similar internal space and performance factor as our job (actually 90.3 compared with our 90.1). I told Russ that I felt that Australia would have accepted a somewhat reduced performance factor, especially if it had a beneficial effect on weight and cost; his reply was that such a move is quite in the other direction, as any substantially lower performance factor means a different and heavier transmission to handle the greatly increased second gear work.
By October 1946 any thoughts of a less powerful engine had vanished. Begg had set maximum of 60 horsepower which would deliver a top speed identical to that of the Autobahn-storming Kapitän – 80 miles per hour (128 km/h). The Holden 48-215 was emerging from a very long tunnel!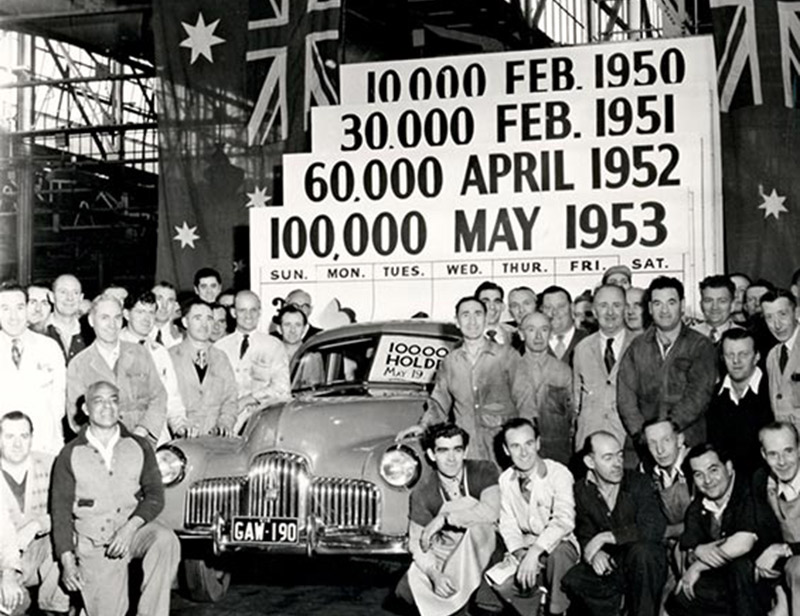 Under Begg, there was never any prospect of the Holden's having a four-cylinder engine. But interestingly, GM's British subsidiary Vauxhall offered its Holden-size E-Class as a four-cylinder Wyvern and six-cylinder Velox, while Ford of Britain did the same with its Consul and Zephyr – truly, 195-Y-13 and 195-Y-15 had reached Europe!
The merits of the 48-215 have been written about seemingly endlessly. But with its combination of great torque for easy overtaking, fuel economy of 30 miles per gallon, simplicity of design, ease of repair, ubiquity of spare parts, room for five adults and their luggage, top speed of 80 miles per hour, low purchase price, great durability and high ground clearance, 'Australia's Own Car' out of GMOO was unique in the late 1940s.
As for the imperative for an Australian car, the mood changed between late 1944 and 29 November 1948 when the Holden was launched. The Cold War was escalating; during his speech, Chifley spoke much more about the imminent war than he did about the car – 'a beauty', he called it.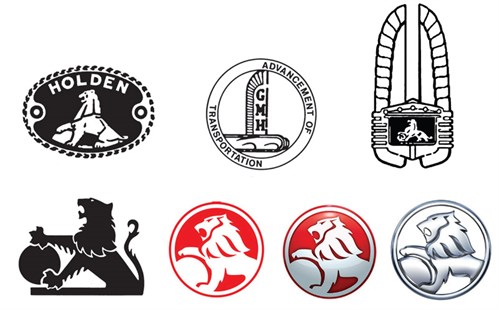 1857
Holden originally a family business which opened its doors as J. A. (James Alexander) Holden, specialising in saddlery 1885 HOLDEN & FROST formed. The company did leatherwork and ironmongery, Henry Adolph Frost was an upholsterer
1899
Major supplier of harnesses and saddlery during the Boer War
1908
Repairs to car upholstery, manufacture of hoods and side-curtains, two years later Holdfast Trimmings. GM Company organised in US
1913
Motorcycle sidecar body builder
1914
World War one
1919
Holden Motor Body Builders – a consequence of 'Luxury Restrictions'
1923
J.D. Mooney and E.C. Riley of GM Export Company meet HMBB to arrange for supply of car bodies to be made in Woodville - by next year sole GM supplier
1924
GM Milford Proving Ground established – first overseas assembly of GM car in Denmark
1926
GM (Australia) Pty Ltd with assembly plants in Melbourne, Sydney, Brisbane, Adelaide and Perth
1928
Rayner Hof designs Holden's lion and stone emblem
1931
GM-H Formed
1935
OPEL Olympia with monocoque body – its engineer, Russell Begg, will be the chief engineer of the Holden
1935
Sloper (forerunner to hatchback) – Holden builds its first all-steel body (Plymouth chassis).
1936
Fishermans (then Fishermen's) Bend new headquarters for GM-H 
1940
Wartime production for Australian automotive plants and also in Germany – putting GM's Opel investment at perilous risk
1942
GM Claims investment in Opel as tax write-off
1946
GM Team in Detroit works on 195Y25 with seconded Australian engineers
1948
Names including ANZAC and GMH rejected in favour of Holden – Holden 48-215 sedan launched 29 November
1950
Introduction of 50-215 Utility
1953
FJ Facelift introduces 'Special' variant, also panel van
1956
250,000TH Holden. Holdens exported to NZ, Thailand, Malaya and North Borneo – FE Holden launch
1957
Introduction of Station Sedan; Lang Lang Proving Ground opens; Woodville builds millionth body
1958
500,000 Holdens, 47.4 per cent total, ute – 49.6 per cent light commercial market
1960
Exports - Hawaii first
1962
Elizabeth Plant opens replaceing Woodville as Adelaide focal point
1962
Launch of Holden EJ range with luxury Premier variant. 1,000,000th Holden is a Euroa Gold Premier
1964
Technical Centre opens at Fisherman's Bend
1965
1.5 Millionth Holden: Exponential growth - 14 years for first million, three years for the next 500,000
1967
Holden introduces Torana HA - exports total 100,000 (many more markets than 1956)
1968
HK range offers optional Chevrolet V8s; Monaro and Brougham models added later; first GM-H Bathurst victory for McPhee/Mulholland in Warwick Yellow Monaro GTS327
1969
Australian V8s - 253 V8 'White Hot Holden' promotion special - HB Torana range introduced with six-cylinder variants. Monaro GTS350 wins Bathurst
1970
Australian Tri-matic transmission introduced
1971
HQ Range introduces long-wheelbase Statesman and One-Tonner Truck
1974
LH Torana launched - with an almost Kingswood price, proving GM President Alfred P. Sloan, Jr's maxim that a big car costing barely more than a small car to produce makes a higher profit
1976
Holden begins to introduce 'Radial Tuned Suspension' upgrade across the entire product range
1978
Introduction of the Holden Commodore
1979
Huge $300 million expansion includes new engine plant - Camira engines widely exported
1980
Peter Brock's HDT Special Vehicle operation builds first car, the VC HDT (based on premium SL/E variant)
1985
Button Plan with progressive tariff reductions, leads to merger proposal with Toyota (which fortunately didn't occur!)
1986
MD Chapman reports that company no longer viable as manufacturer. Bailout brings demise of GM-H - two new companies: GMHA and Holden Engine Company formed
1988
VN Commodore promoted with 'Like it? I love it' campaign as the 'big new V6 Commodore'
1997
VT Commodore ushers in new era of Holden dominance over Ford Australia, never to be broken except perhaps twice in different months around the turn of the century
2006
VE Commodore launch amounts to a mis-reading of the changing market trends - smaller Torana TT36 Show Car from 2004 Sydney would have been a better bet!
2014
Holden announces end of local manufacture
2017
(20 October) - final Commodore to go down Elizabeth production line
Unique Cars magazine Value Guides
Sell your car for free right here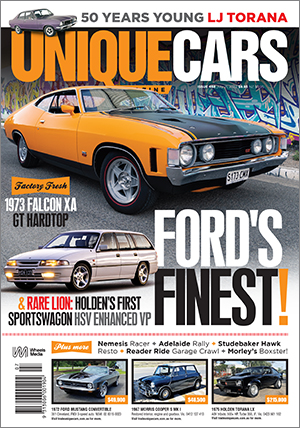 SUBSCRIBE TO UNIQUE CARS MAGAZINE
Get your monthly fix of news, reviews and stories on the greatest cars and minds in the automotive world.
Subscribe