Aston Martin Factory Tour
---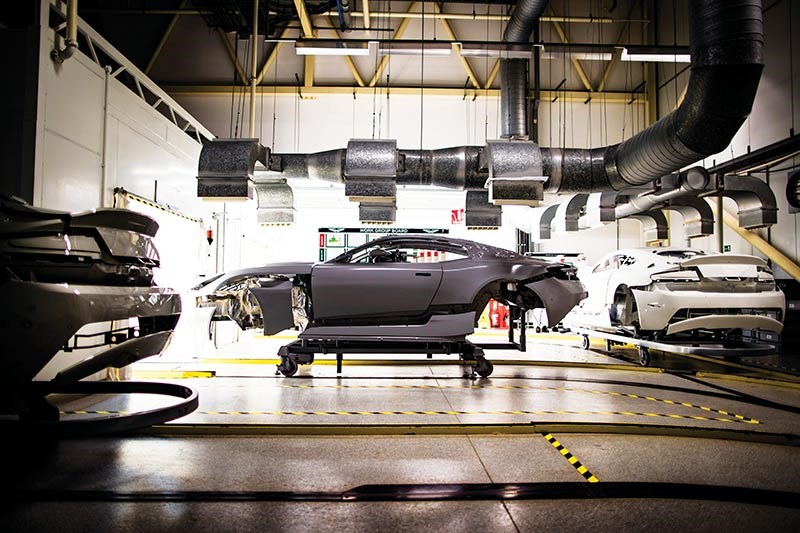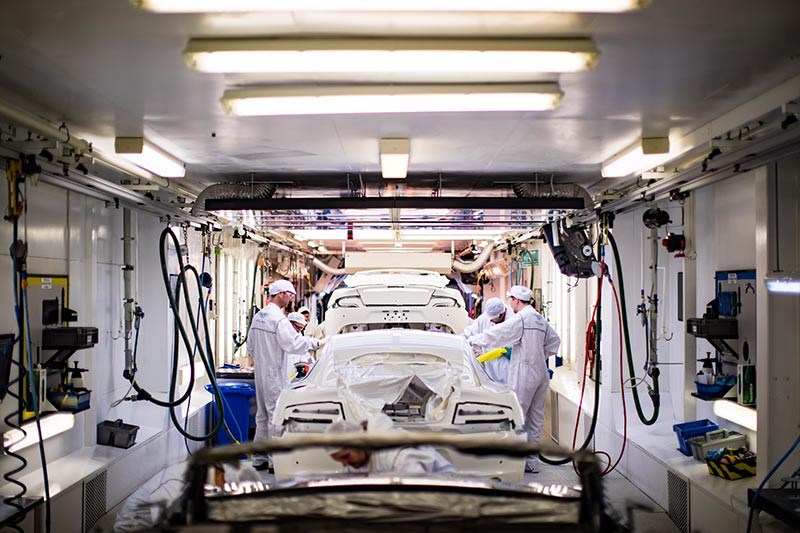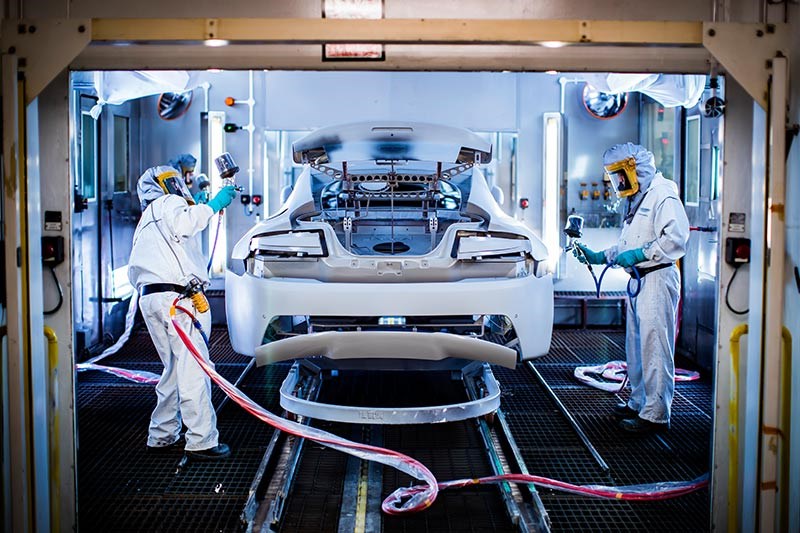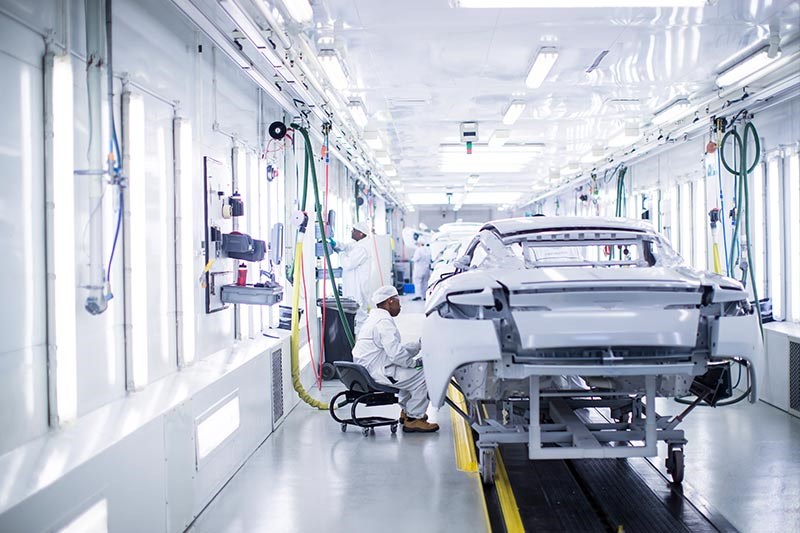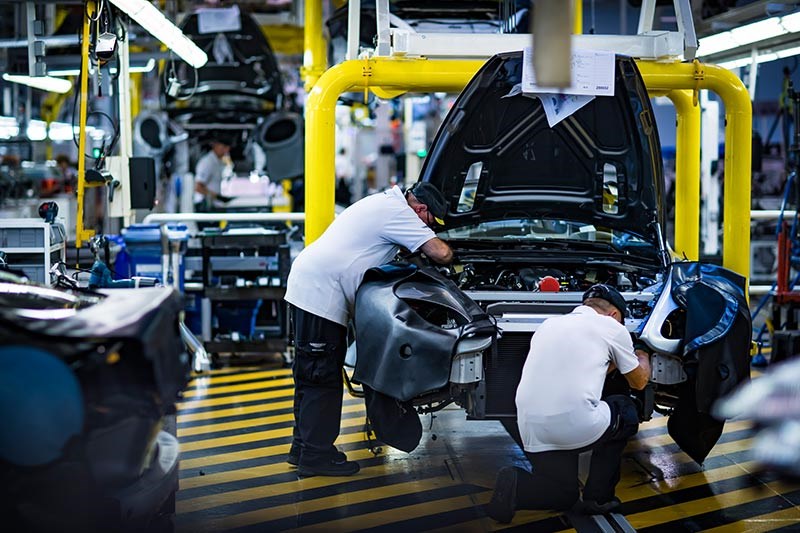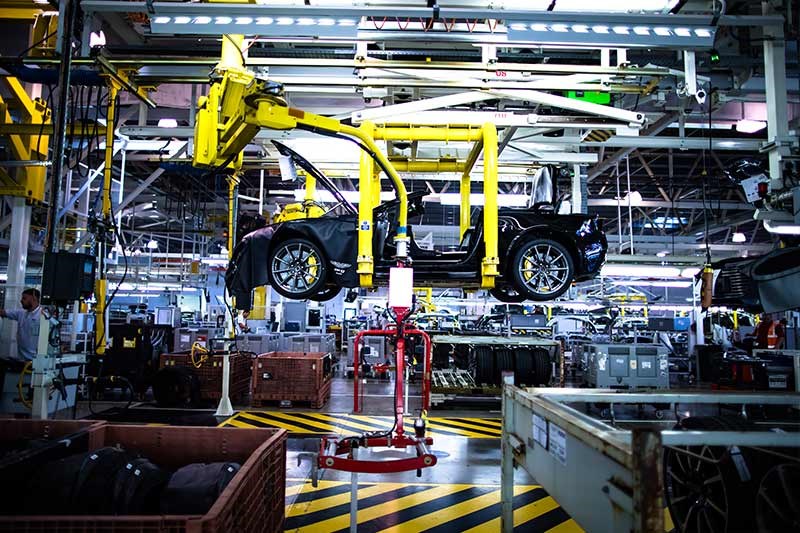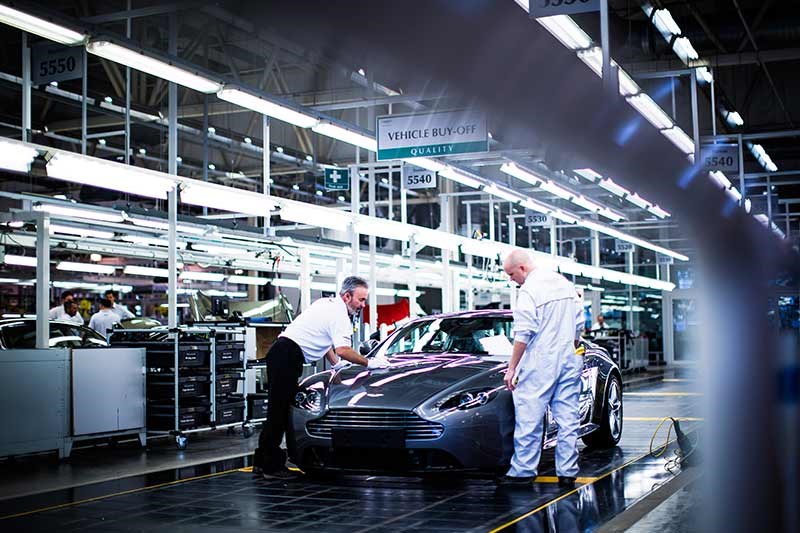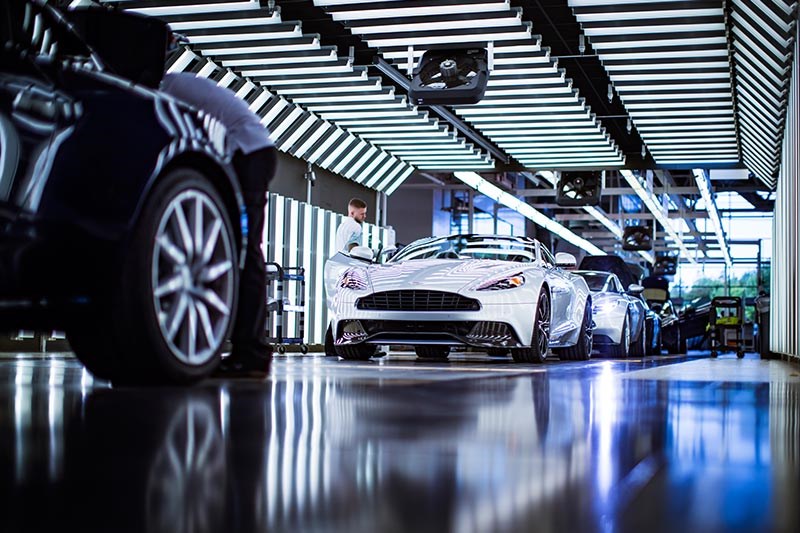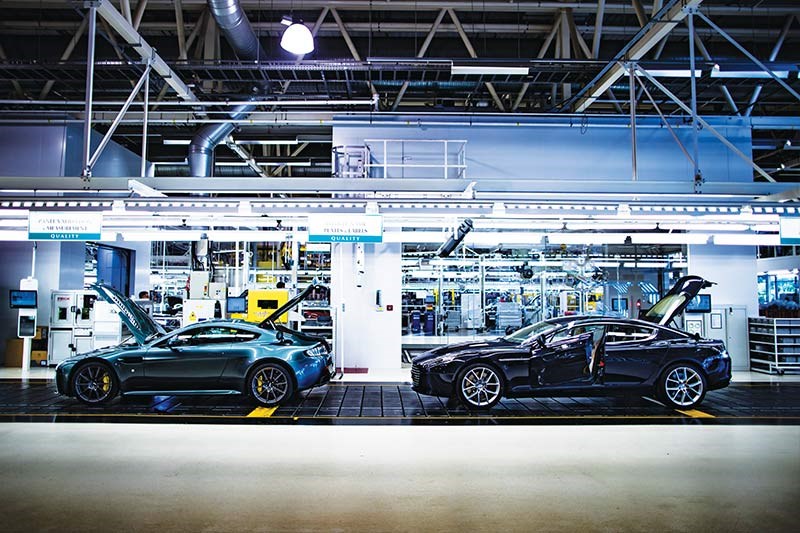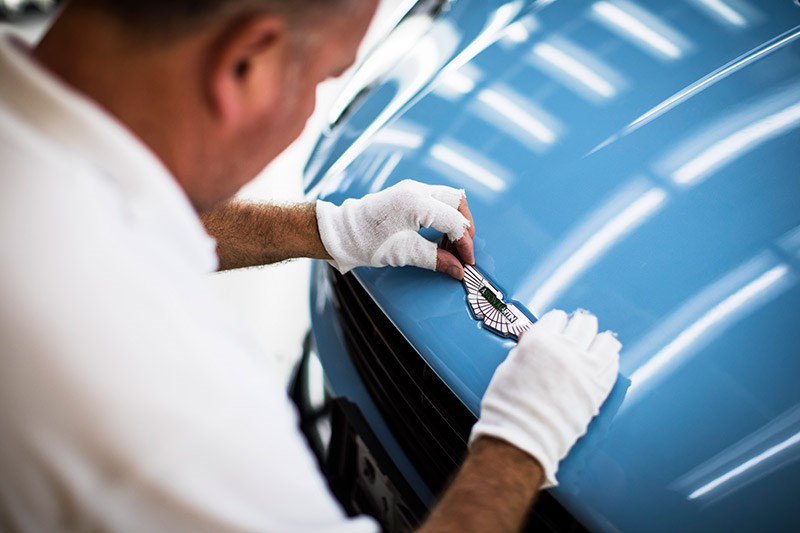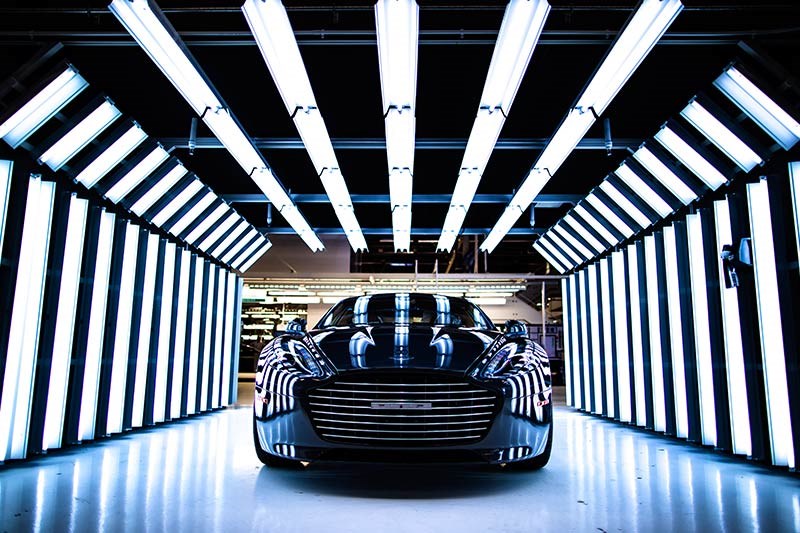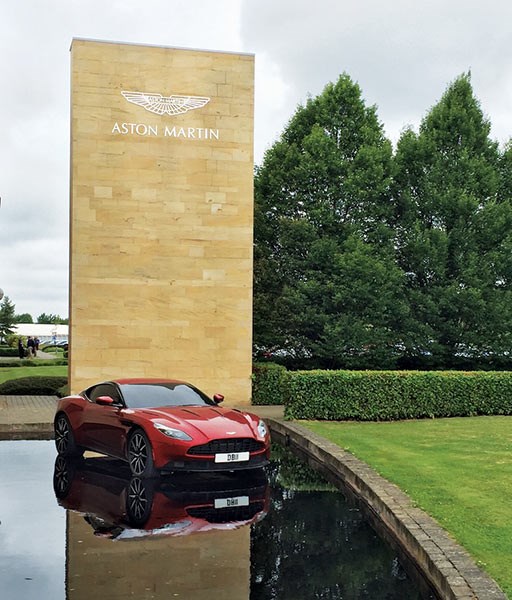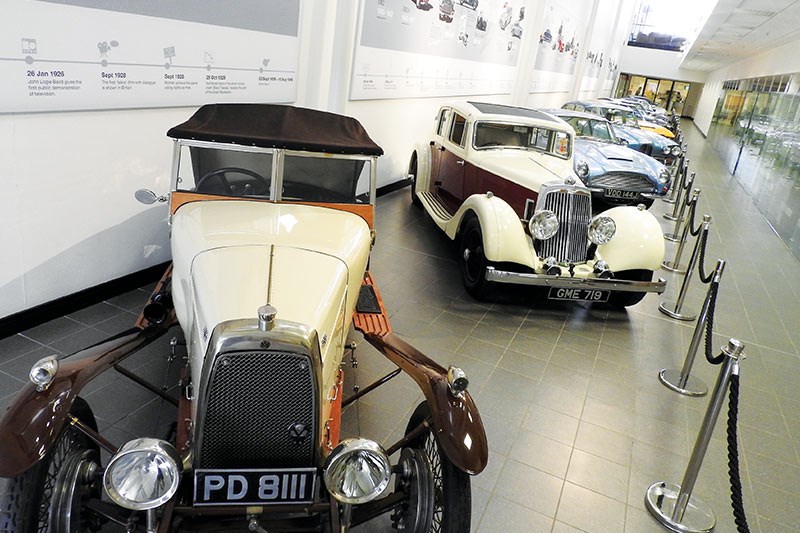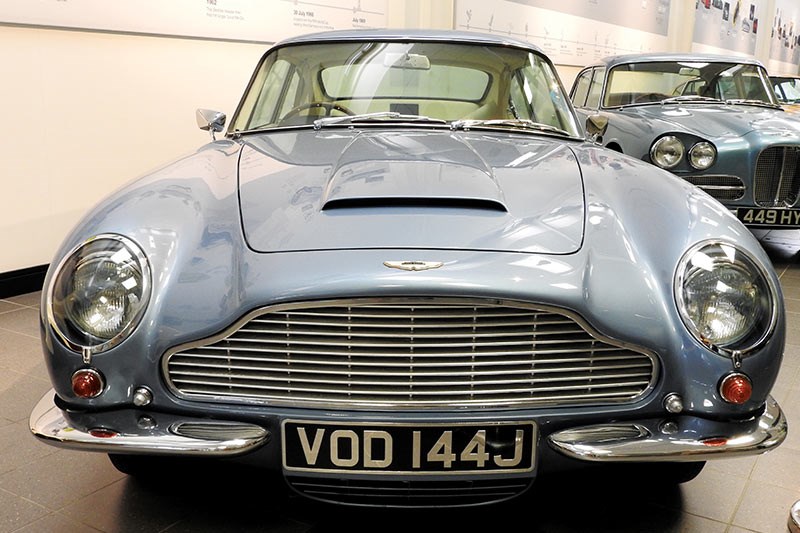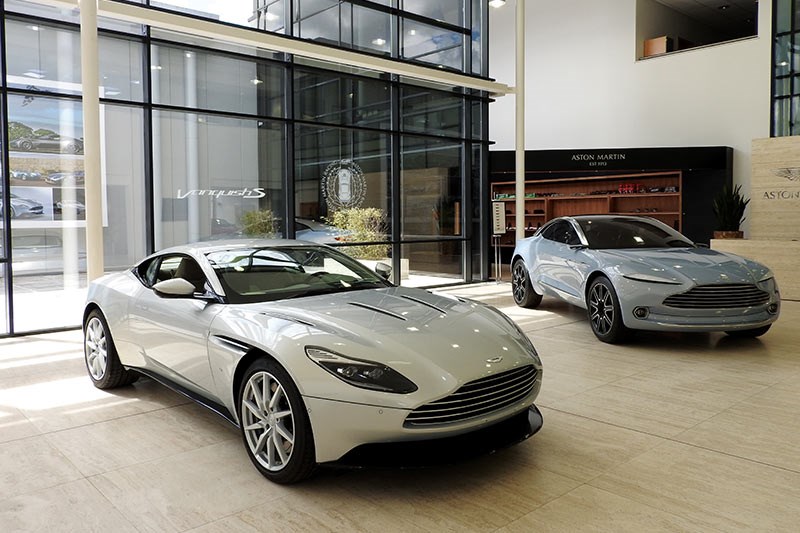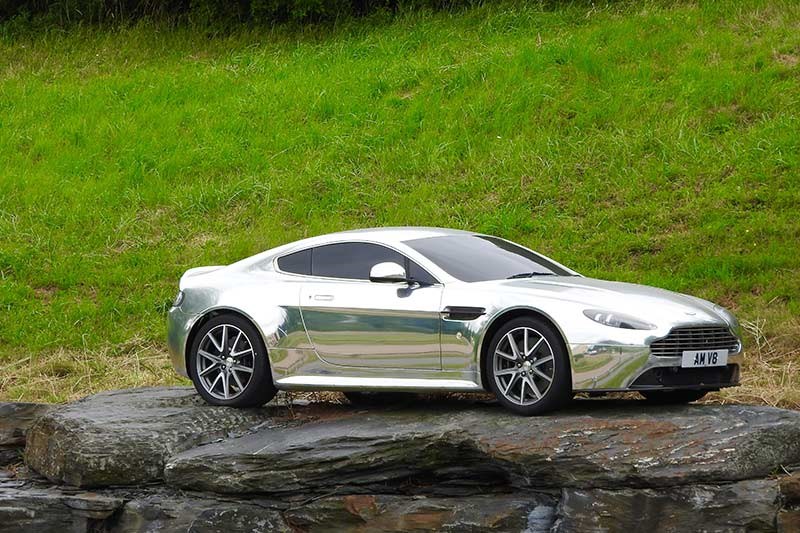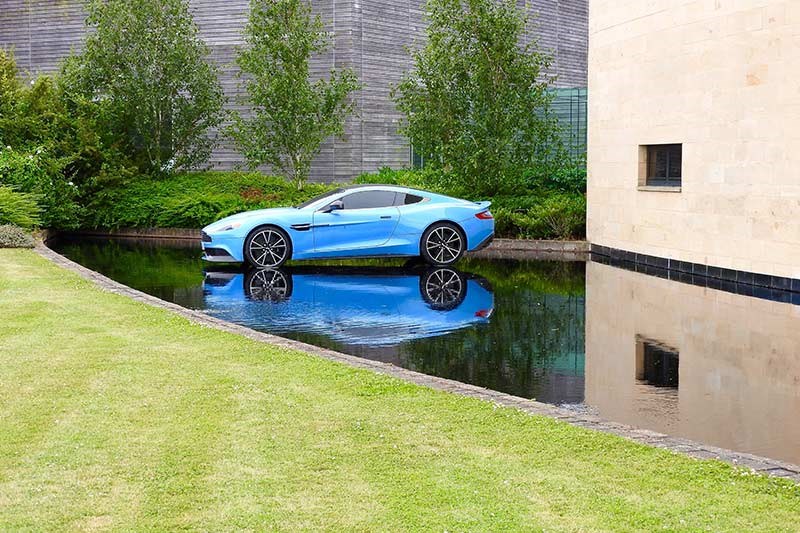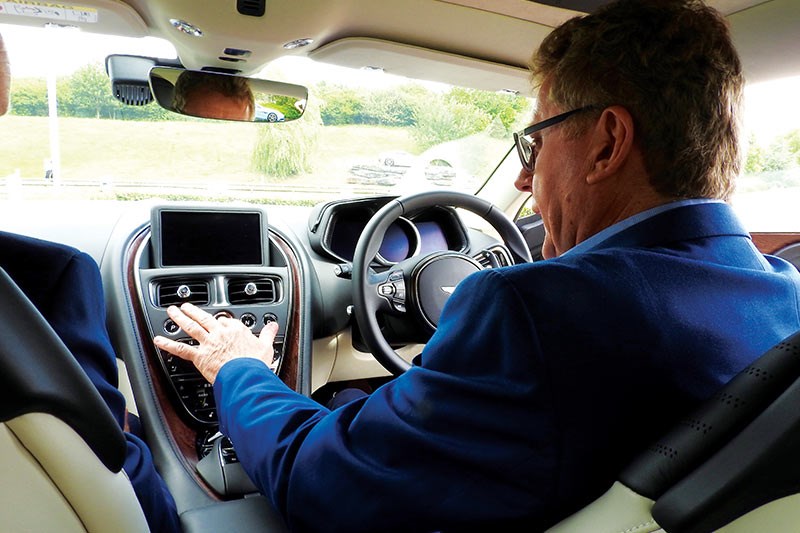 Higgins dug deep, spoke to the right people, even mastered the secret handshake, to get access to Aston's inner sanctum
Over the years I have seen the inside of many car factories, but none that could claim James Bond as a customer.
Fittingly a former RAF bomber base in Gaydon, north of Oxford is the home of Aston Martin.
Peeling off the M40 and following the sign that read Aston Martin and Jaguar Land Rover – the two are neighbours – I drove along a rather innocuous road for a couple of miles following the directional signs until arriving at a roundabout.
'Exit One Aston Martin – Exit Two Jaguar Land Rover'.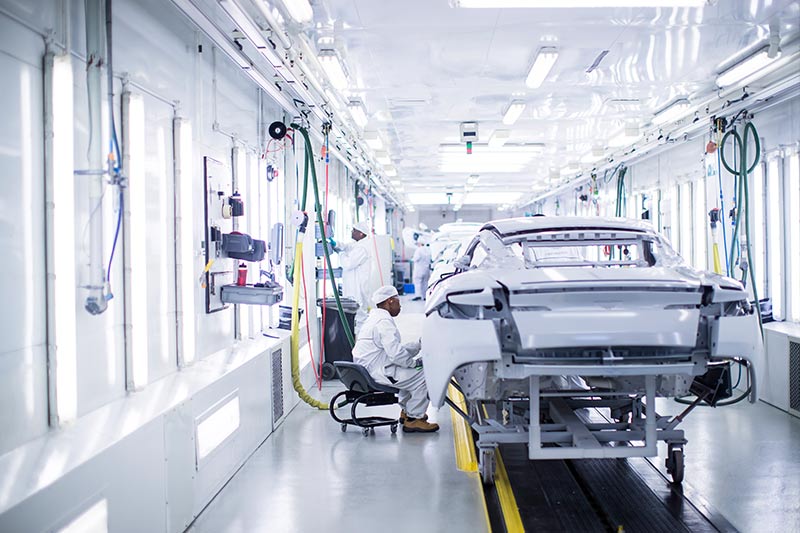 "We've arrived at the Gates of Heaven," exclaimed my Aston-loving partner, who could barely keep her excitement in check.
Alongside us was an immaculate, Swiss-registered 1970s Aston Martin V8 Vantage, the same as driven in Bond flick, The Living Daylights and by Roger Moore in The Persuaders.
We were greeted by an impeccably dressed gentleman who welcomed us to the home of Aston Martin.
After being signed in and given directions where to park, the large gate glided back to allow me to enter the inner sanctum.
2017 Aston Martin DB11 review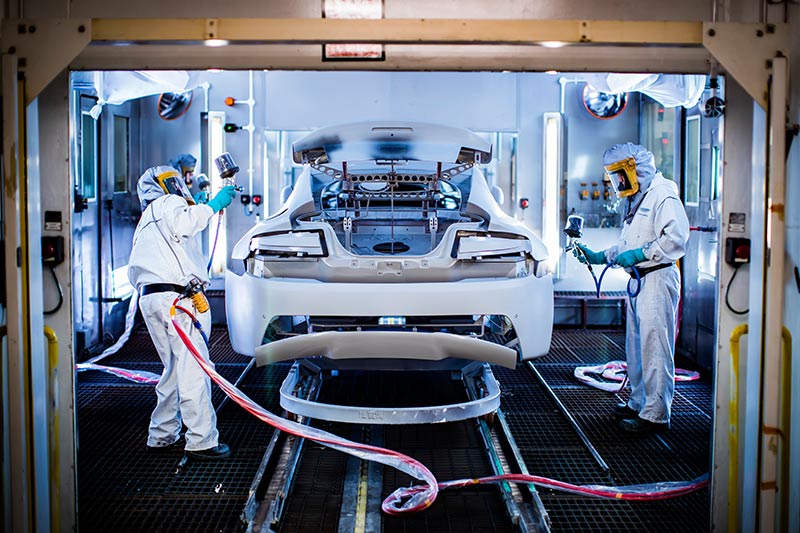 Every Aston spends 75 hours in the paint shop
As I crested the small hill and my first glimpse of the facility, which commenced operation in 2003, in front of me was a chromed Aston Martin Vantage, mounted on a large boulder. I just stopped and stared at this glorious automotive sculpture.
I swung into the car park, noting the sign stating 'Aston Martin Parking Only' and parked my car in the VIP Guest area with the 'other' brands.
A large stone facade building, with huge timber doors located beyond manicured lawns across a small bridge over a moat awaited our entry. At one end of the moat, seemingly floating was a DB11; at the other was a stunning blue Vanquish.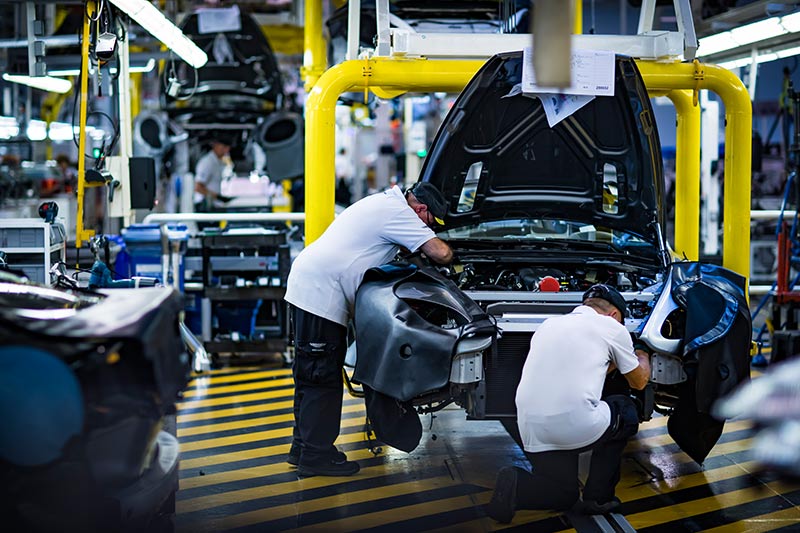 It already felt very special to be here.
The foyer contained a concept of the forthcoming Aston Martin SUV, the DBX, a first for the brand as well as a Red Bull Aston Martin coupe.
Once again we were welcomed. This time by Jackie Irwin, our beautifully groomed hostess with a beaming smile, bubbly personality and encyclopaedic knowledge of all-things Aston Martin.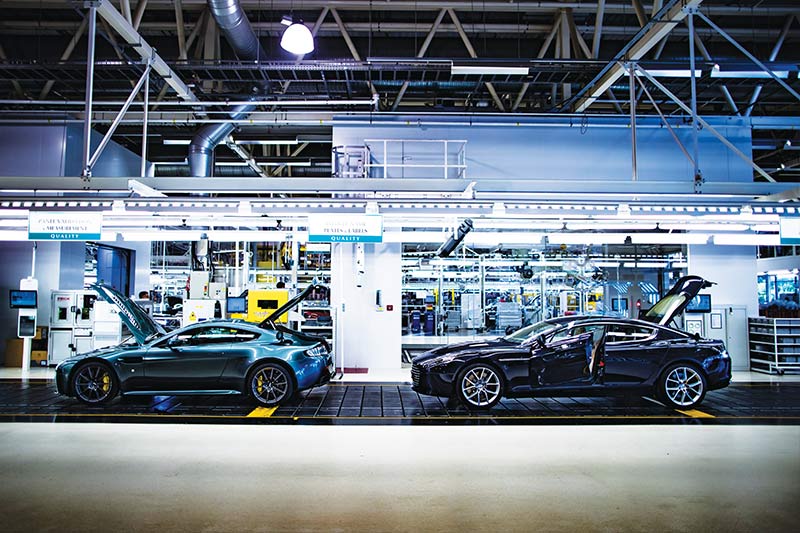 Now before we go any further, I must mention that tours of the Aston Martin facility are freely available, providing you are an owner or customer. So, it was a huge privilege for Unique Cars to get an inside look at the home of this iconic automotive brand.
After a coffee and introductory chit chat we set off along a row of significant Astons including the DB10 from the last Bond movie Spectre, and the company timeline greeted us on the way to the sealed factory door.
Once inside, I immediately noticed a few things. It was very quiet, it was laboratory clean, it was smaller than I expected and best of all, it was full of people, not robots. Utopia!
While an Aston's build is managed by a high-tech barcode system which can be viewed anytime by its owner anywhere in the world, the cars are still essentially hand-made by 650 dedicated craftsmen and women.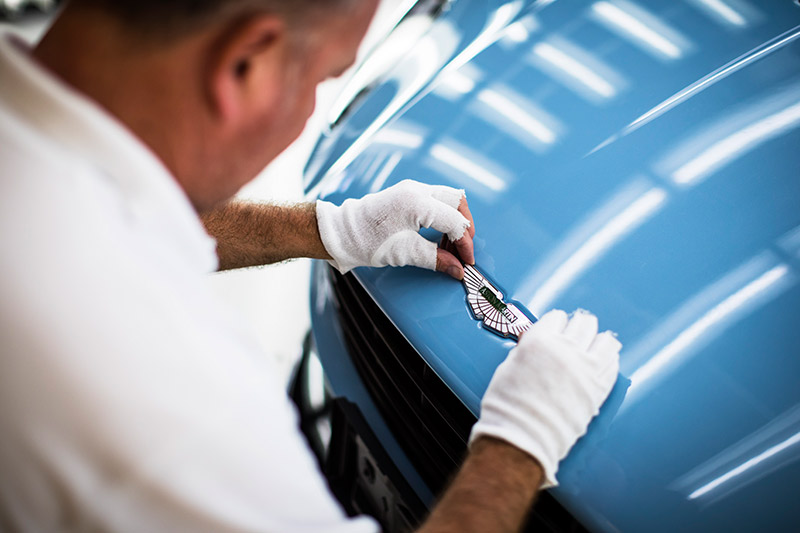 And to ensure the timeless skills aren't lost, Aston Martin works closely with the regional tech schools where the trades vital to the continuation of Aston are taught and jobs for the future created. A win-win for all.
Like Savile row suits, very few Aston Martins are bought off the rack; each one is tailor made with customers personalising in detail the features of their cars. From the pattern and colour of the stitching to the other end of the spectrum, a one-off, exclusively designed car, the only limiting factors are imagination and budget.
On average, it takes 200 man hours to build an Aston Martin and to put that into perspective, Neil Armstrong took just 109 to land on the moon in 1969.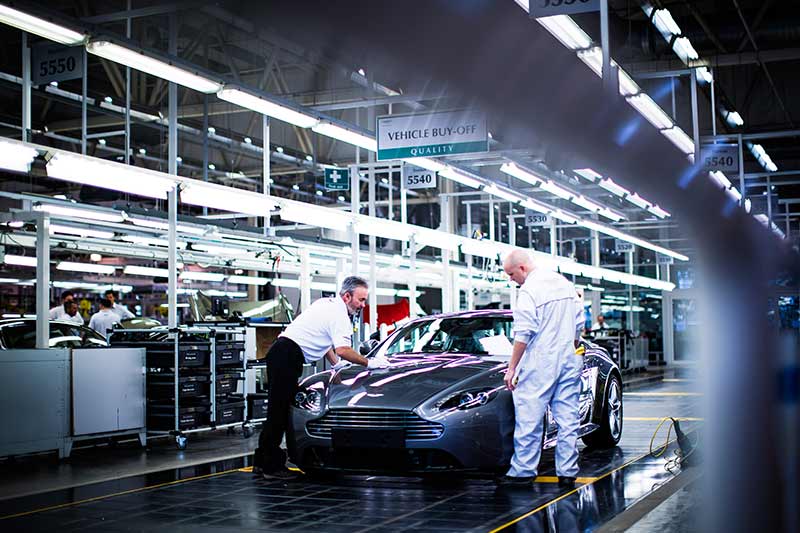 The chassis and bodies are a marriage of steel, aluminum, magnesium and other exotics including carbon fibre. Robots bond the panels together, though some welding is still undertaken.
Each interior takes 70-hours to complete and while some buyers are selecting Alcantara trim these days, most stick with leather sourced from Scotland. It was fascinating to watch the leather being moulded into place on the seat frames while enjoying the expensive aroma of the soft leather.
All hides are graded by zones one through four, depending where they were on the animal. One is the softest and four is the coarsest. Aston Martin only use zone one leathers with up to nine hides needed to complete an Aston Martin Rapide interior.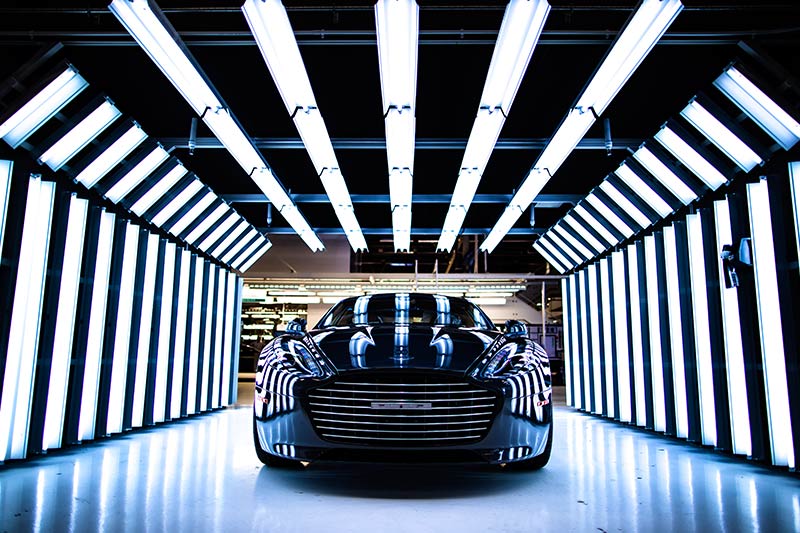 Easily the most laborious element of production is in the paint shop which totals 75-hours, of which 25 is reserved for hand polishing each car. The end of the painting process involves a two-hour inspection.
A partnership of automation and human input installs the driveline, suspension, brakes, electronics, wiring looms, interior, glass, with rigorous inspections and microscopic quality checks conducted throughout the process.
Every seventh car is subjected to inspection through the CCM machine, where nodes and probes dart all over it to make sure it is within strict and tight tolerances.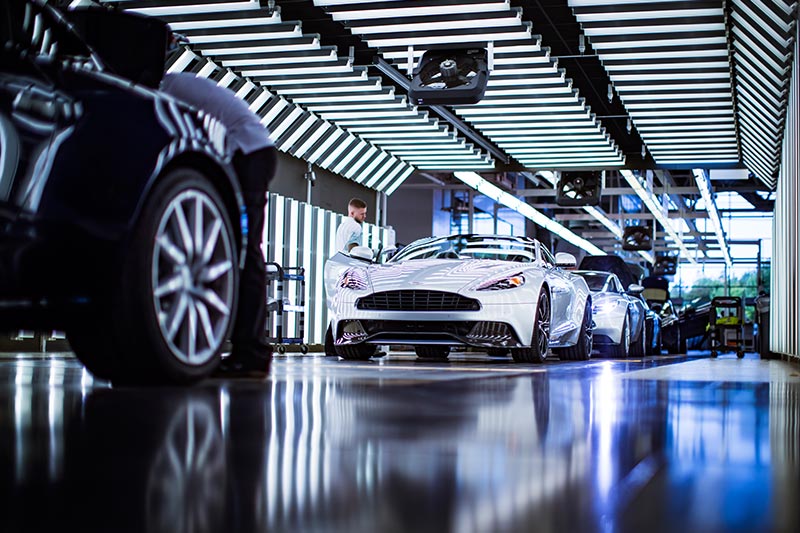 Before its final sign off by an inspector and the almost ceremonial placing of the Aston Martin moniker on the front – made by Vaughtons, a Birmingham jeweller using a complex 21-stage process – every car is subjected to a rolling road test which replicates anything that can be done on the road, in an environment where the cars don't risk stone chips or other damage. And it's done in a way that can be regulated and controlled.
Production at the Gaydon factory, where all models are built, is capped at 7000 units annually to maintain the exclusivity of the brand, which is why it took until 2009 to sell its 50,000th vehicle after starting way back in 1913.
A second production facility at St Athans in Wales will open soon where the DBX SUV will be produced.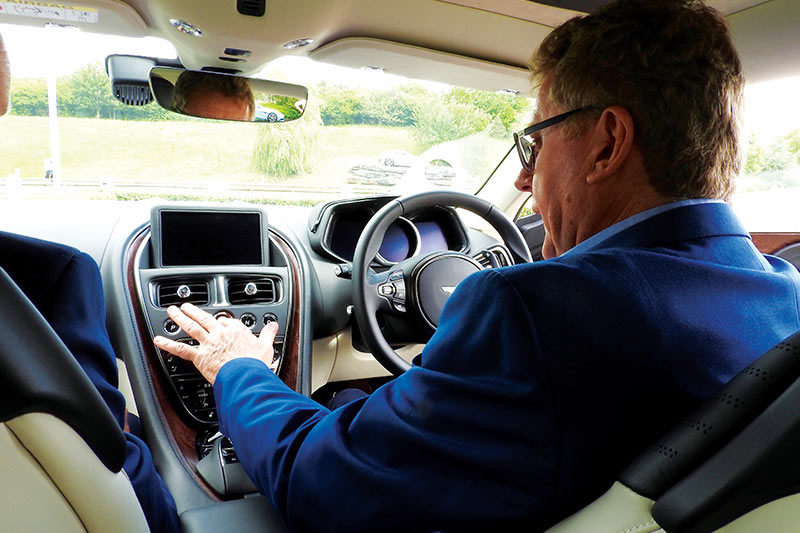 Although it sits on an old RAF Airforce base – they recently named one model the Vulcan, after the bomber aircraft – there is no test track at Gaydon. Aston uses test facilities throughout Europe and the UK to develop each model and as with its manufacturing, the process is rigorous, costly and time consuming. Aston wouldn't have it any other way.
Just as our tour ended, the lunch bell sounded and in an orderly manner the staff downed their tools, turned off the sewing machines, shut down the trolleys and forklifts and the factory fell silent. Even the robots took a well-earned break.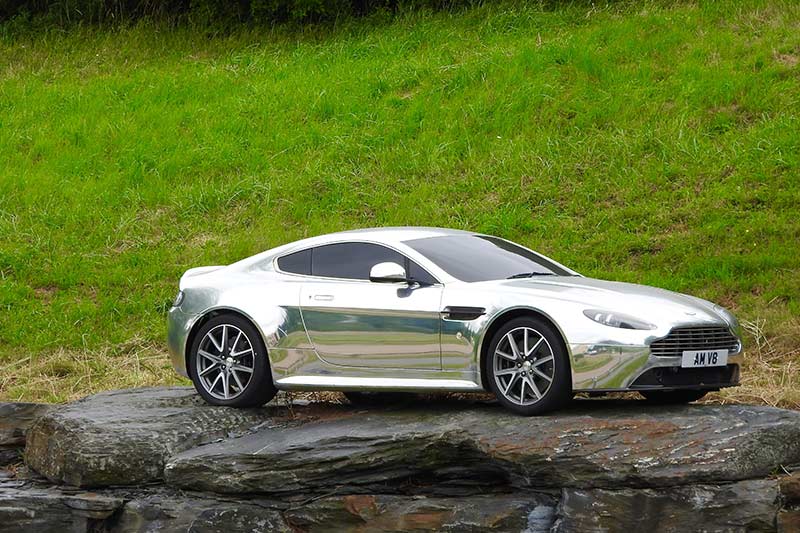 BOOM AND BUST 
Aston Martin was founded in 1913 by Lionel Martin and Robert Bamford who joined forces as Bamford & Martin to sell Singer cars in London.
Martin raced specials at Aston Hill and when they created their own vehicle it was named an Aston Martin to honour his racing achievements. But before they could get established in 1915 the demands of the first World War 1 saw all their machinery sold to the Sopwith Aviation Company, makers of the Sopwith Camel aircraft.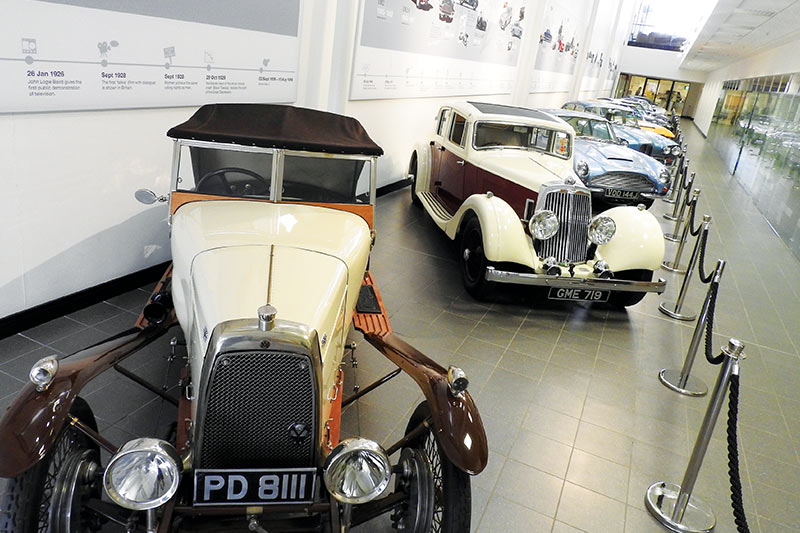 Aston Martin's history has been far from a rosy one going bankrupt on seven occasions as the brand passed though many owners' hands.
Production finally commenced in 1922 with financial aid from Count Louis Zborowski, but by now Bamford had left and a total of 55 cars were built before going bust in 1924.
Aston was rescued by Lady Charnwood who put her son in charge only for it to fall over again in 1925, with Martin leaving in 1926.
New investors were found and the brand resurrected for a further six years before hitting the skids again in 1932 and once again another saviour arrived to keep things going.
Then in 1936, Aston Martin decided to stop competing in motorsport and concentrate on road cars, producing just 700 until the outbreak of the Second World War when production shifted to aircraft components.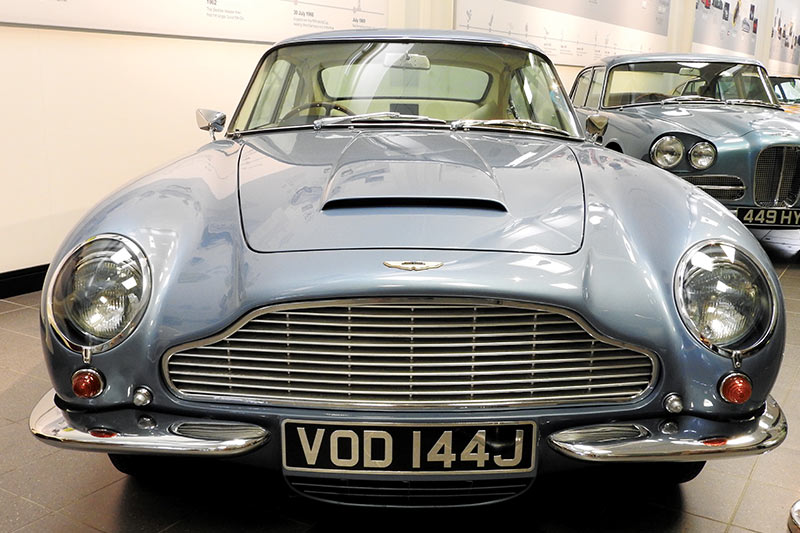 David Brown secured the business in 1947 for £20,000 after spotting an ad in the London Times.
Brown added it to his successful tractor business and it remained under his ownership until the mid 70s when it was sold owing to financial difficulties.
In his time, he created the legendary 'DB' Aston Martins including the Atom, DB1, 2, 3, 4, and 5 (that appeared in James Bond's Goldfinger), and the DB6 and DBS.
Ironically, Brown's road car was a Series 1 XJ Jaguar.
Ford acquired Aston Martin in 1987 and on-sold it for £475m to a consortium led by Prodrive Chairman David Richards, which included American bankers and Kuwaiti investment firms. Ford also kept a stake in Aston Martin valued at £40m (US$70m).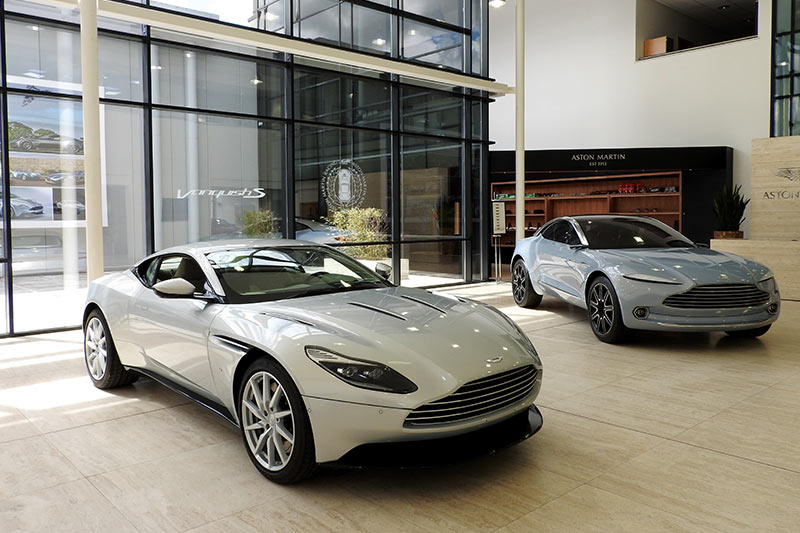 Visitors are greeted by Astons new and old
Shortly after acquiring the business and to demonstrate and promote the durability of Aston Martin to the rapidly motorizing Chinese, an east-west crossing of the Asian Highway was undertaken, with the V8 Vantage travelling from Tokyo to Istanbul and on to London. It was so successful Aston Martin opened dealerships in Shanghai and Beijing within three months.
In 2013 Aston Martin announced a technical partnership that would see Mercedes electronic architecture, switchgear and engines in future models. The DB11 was the first recipient. In 2017, thanks to the global success of the all-new DB11, Aston Martin turned a handsome profit and is looking forward to a successful future and new products.
They also won their class at Le Mans this year and have a tie-in with Red Bull F1, for whom Aussie Daniel Ricciardo drives.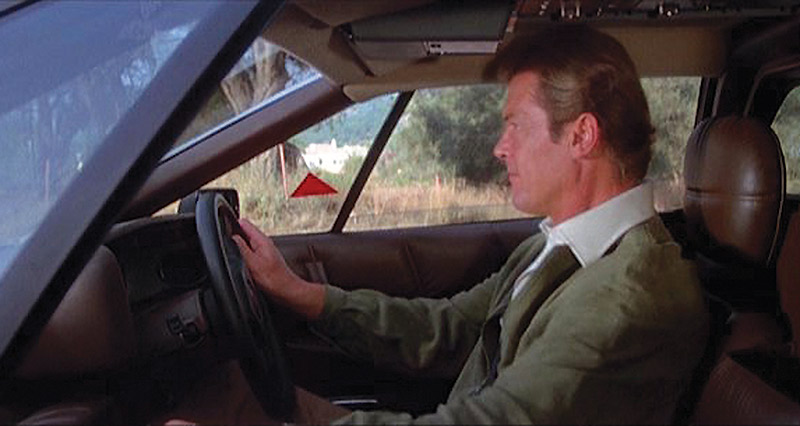 ONE FOR THE TRIVIA NIGHT 
Roger Moore, who starred as James Bond on seven occasions, more than any other actor, never drove an Aston Martin.
As Bond in Live and Let Die, The Man with the Golden Gun, The Spy Who Loved Me, Moonraker, For Your Eyes Only, Octopussy and A View to a Kill he drove a Citroen 2CV, an amphibious Lotus Espirit, a Lotus spirit Turbo, a Renault 1, AMC Hornet and an Alfa Romeo.
Other Bonds – Sean Connery, George Lazenby, Timothy Dalton, Pierce Brosnan and Daniel Craig all sampled the delights of Britain's most iconic luxury sports car.
ABOVE Floats like a butterfly and stings like a bee. Aston Martin Vanquish.
right Visitors are greeted by Astons new and old.
top Every Aston spends 75 hours in the paint shop.
left The placing of the badge means it is ready for delivery.
Unique Cars magazine Value Guides
Sell your car for free right here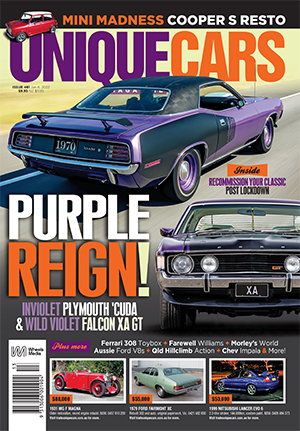 SUBSCRIBE TO UNIQUE CARS MAGAZINE
Get your monthly fix of news, reviews and stories on the greatest cars and minds in the automotive world.
Subscribe