Legends: Parnelli Jones
---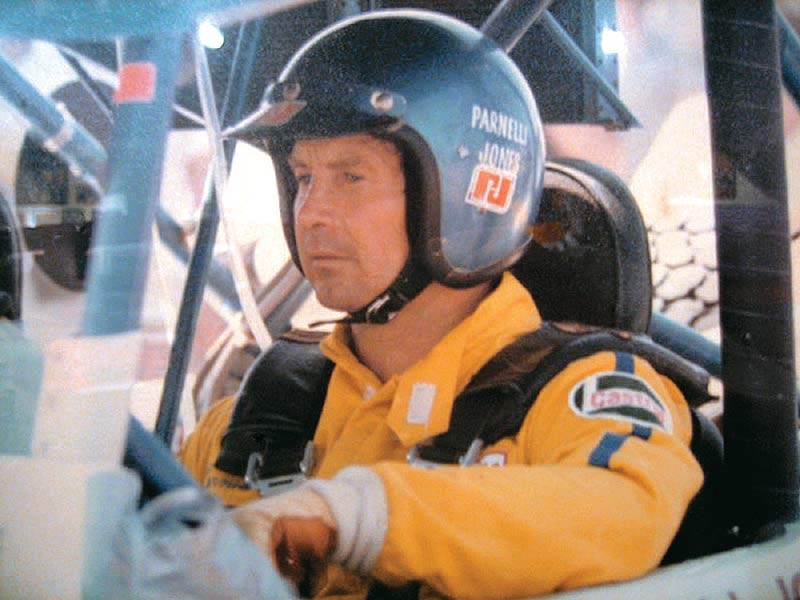 America's Parnelli Jones has done it all - jalopy king, Indy 500 champ, team owner, successful businessman
From Unique Cars #289, August 2008 
Parnelli Jones
Parnelli Jones won the Indy 500 in 1963. Almost won it again in '67 in that crazy-fast STP gas turbine car. And he dominated American sprint-car racing in the early-'60s, winning no fewer than three championships. In midget cars, he was simply unbeatable.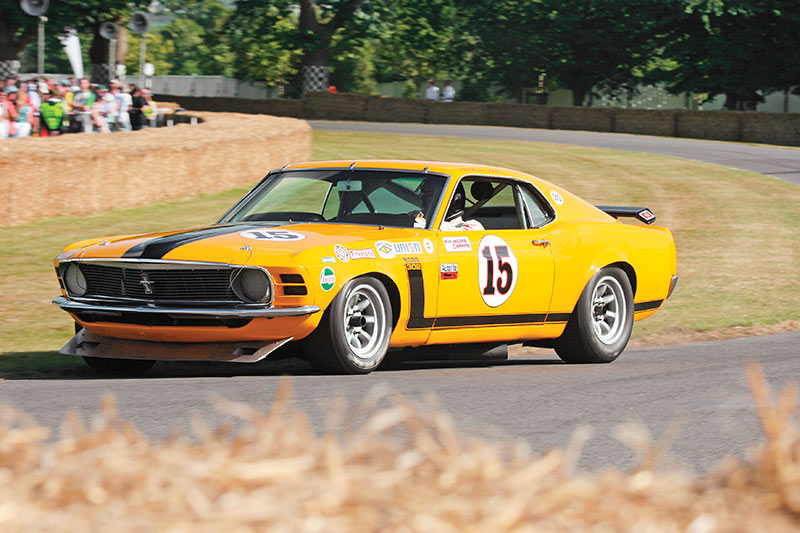 While desert racers, super-saloons, sprint cars, speedway and open-wheelers all feature on Parnelli's list of winning race-cars, it's his Trans-Am Boss 302 Mustang (above) that most fans remember best
And when he switched to Baja-style off-road racing in 1968, man-handling a thundering Ford Bronco across the desert, he won pretty much everything there was to win, too.
But arguably the one image of Rufus Parnell 'Parnelli' Jones that sticks in most people's grey-matter, is of him behind the wheel of that earth-shaking 'grabber' orange 1970 Trans-Am Boss 302 Mustang.
To get an insight into what drove the kid from Texarkana, Arkansas to victory circle in virtually every racecar he climbed into, it's worth talking to sportscar legend Sam Posey about driving against Parnelli in the Trans-Am race at Riverside, California way back in 1970.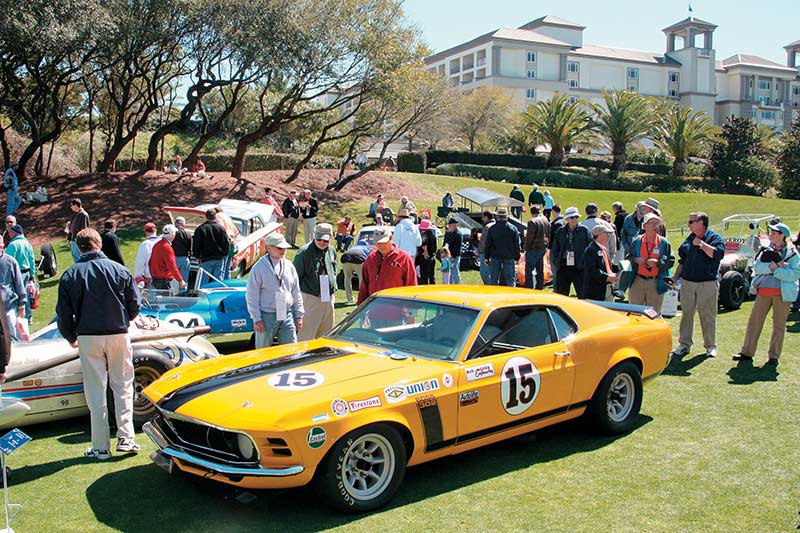 Jones had already clinched the Trans-Am title, so when a backmarker he was lapping knocked him off the track and sent him into the tyre wall, he could have easily called it quits.
"The Mustang was all banged up. There was damage to one of the fenders, it was smoking, and it just looked like it was about to fall apart at any moment," explains Posey.
"Any other driver might have said 'I'm scared of this thing. It won't steer, it won't handle, and what if it breaks?' But Parnelli simply said to himself 'I'm going to make up 40 seconds (George) Follmer and win'.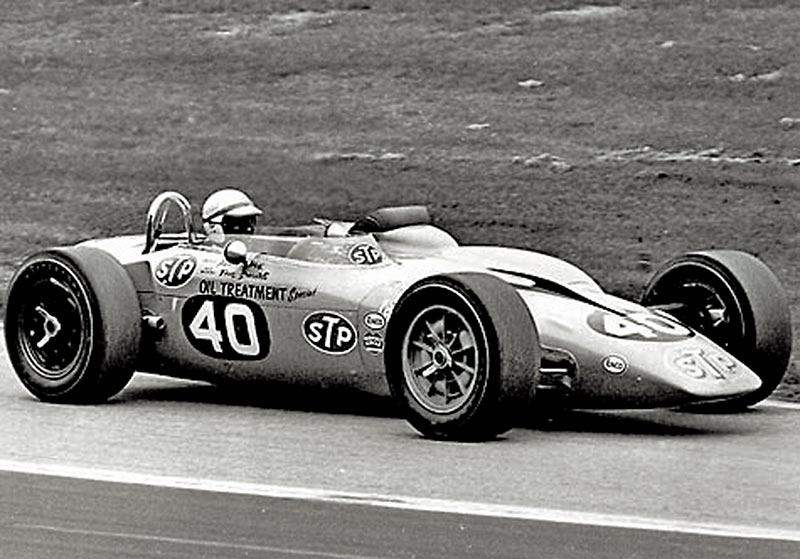 "And that's exactly what he did. He just dug in and drove that piece of junk around faster than it could be driven, made up the 40 seconds, passed George and won the race. It was one of the moments you just never forget."
Parnelli remembers the race well: "After I got knocked off, the only way I could get the car to turn into Turn Two was to hit the kerb hard and get the right side up in the air. But it worked and I eventually caught and passed George."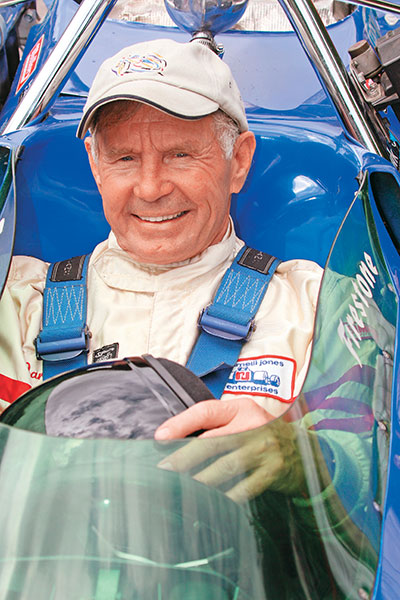 The determination to win has been with Parnelli since the day he got behind the wheel of a beaten-up Ford jalopy at the age of 17 at Carroll Speedway dirt track in Gardena, California.
With more raw enthusiasm than skill, he drove hard and wrecked harder. Few of those early races were completed without his cobbled-together jalopy having bits knocked off.
"I had all this desire and not much talent," says Parnelli. "I couldn't hardly make it through the first turn without clobbering somebody or something. The announcers used to call me 'the Wildman.'"
This was the James Dean Rebel-Without-A-Cause tough guy era and Parnelli lived that image. He was young, hard and cocky and anyone who messed with him on the dirt track usually saw the business end of his fist. He'd tell anyone who asked his strategy for winning races: "All it takes is guts, and I'm the bravest bastard in the whole damn world."
But it was that gung-ho spirit that got him noticed. First by Ford dealer and future business partner, Vel Miletich, who hired Parnelli to drive his stock car; then by race promoter J.C. Agajanian, who would sponsor Jones for his move into single-seaters and eventually the Indy 500.
His first crack at the 500 came in 1961. Parnelli was on fire that year, dominating the USAC National Sprint Car Championship, America's equivalent of Formula One back then.
During his first few laps of practice for the big race, Parnelli quickly discovered that it was possible to actually slide his car through the corners. To the delight of the crowds in the grandstands, Jones became the king of the four-wheel drift.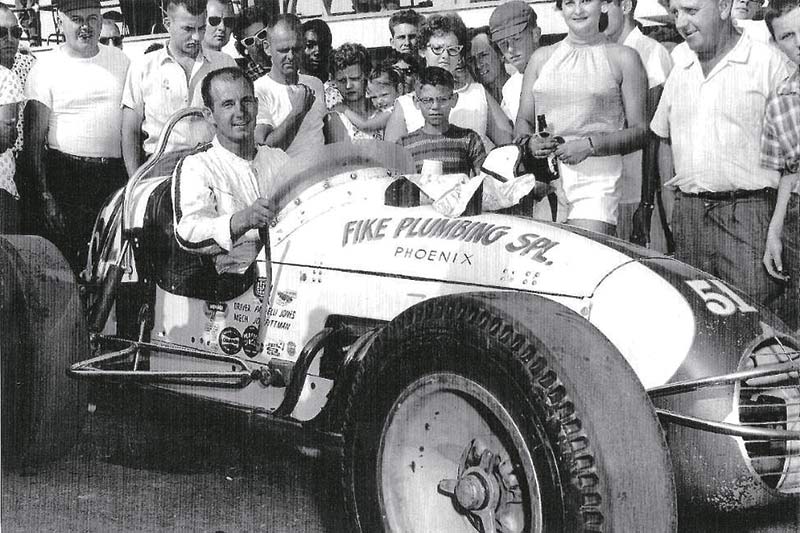 He'd qualified fifth for the big race and after the flag dropped, quickly took the lead. That was until magneto problems dropped him to 12th.
It was remarkable that he even finished at all, as he crossed the line with his goggles filled with blood after getting whacked on the forehead with a chunk of metal that got thrown up off the track.
The following year he was back, winning the pole with a speed of 150.370mph (241.95km/h) making him the first driver ever to qualify for the 500 at over 150mph. Again, he was leading when a brake line burst putting him back to seventh at the finish.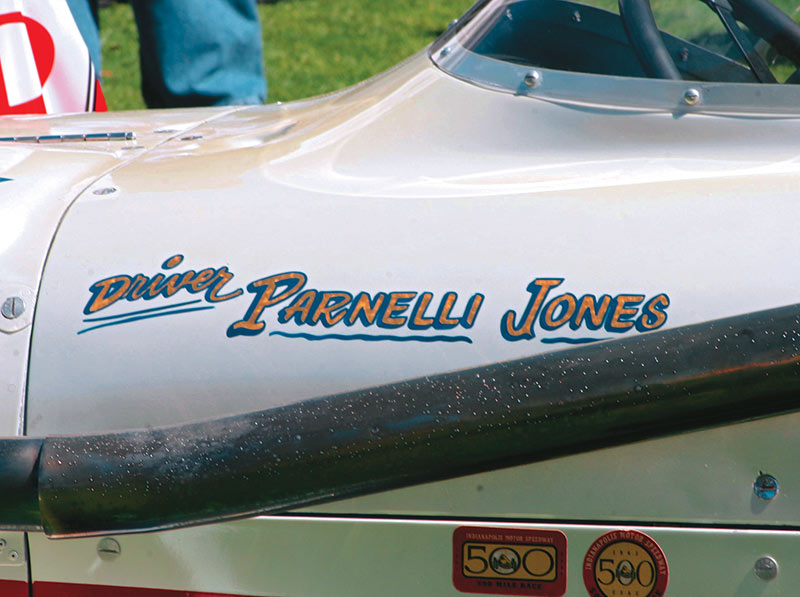 Of course, Parnelli being Parnelli, when he lost his brakes he just kept going. And when he had to stop for fuel, he simply crashed into a pile of tyres his pit crew had laid out.
The car he'd driven in both the '61 and '62 races was a front-engined, solid-axle, Offenhauser-powered monster Parnelli nicked-named 'Ol' Calhoun'. Its official name was the Agajanian Willard Battery Special, but that was too much of a mouthful for Jones.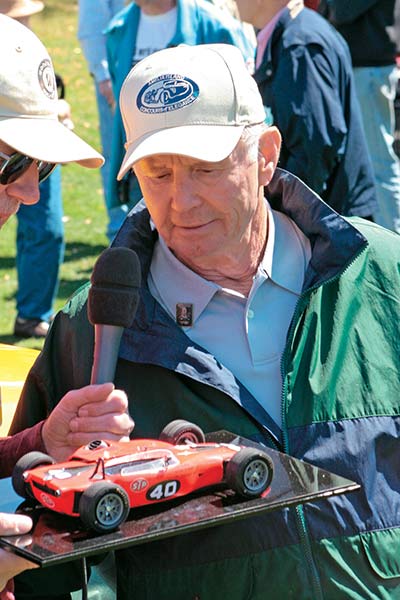 Parnelli and Ol' Calhoun were back at Indy in '63 and again the gremlins were up to their usual tricks. Parnelli was leading when the car's oil tank split and started laying down an oily trail. Lotus team owner Colin Chapman, who had entered Jimmy Clark in the fancy new rear-engined Lotus-Ford, demanded the car be black-flagged. Jones' team owner, J.C. Agajanian, counter-argued just long enough for the oil level in the tank to drop below the crack and the leak stop.
Parnelli fended off Clark's repeated challenges – and overcame the fact that Ol' Calhoun needed four pit stops for the Lotus' one – to win his first Indy 500.
While his win would put his face on the Indy 500 winners' famous trophy, it was Parnelli's drive in the highly controversial four-wheel drive STP turbine car in 1967 that is arguably his most remembered.
The fat, whale-like machine, with the driver's cockpit pushed over to the right alongside the engine, was powered by a 540hp Pratt & Whitney gas turbine that was so whisper-quiet the car had to be fitted with a horn.
Parnelli qualified sixth for the race, but after the flag dropped, the bright red wonder had taken the lead within half a lap. "I remember passing Mario (Andretti) and him giving me the finger," says Jones.
Parnelli lead for 18 laps until rain stopped the race. The next day racing resumed and again the turbine car whooshed away from the field. With less than four laps to go, Jones was a full lap ahead of second-placed A.J. Foyt and was getting ready to celebrate his second Brickyard win. Then the unthinkable happened; a $6 bearing in the transmission failed putting Parnelli out of the race. It was to be his last drive at Indy.
Right through his Indy 500 years, Parnelli was happy to try his hand at other kinds of racing, as long as there was a pay cheque and a chance to win.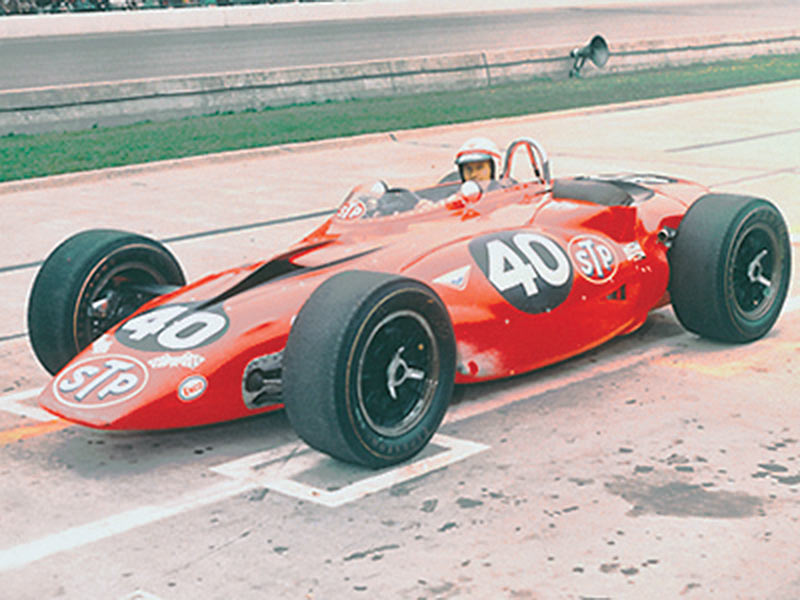 Back in 1964, Carroll Shelby signed him up to drive his big-fendered King Cobra sports car in the Los Angeles Times Grand Prix at Riverside, California. He would be up against the likes of Jim Clark, Dan Gurney and Bruce McLaren.
In practice, Parnelli fried the Cobra's clutch, missing qualifying. So in the heat races he started in the back row with his clutchless Cobra's rear wheels raised up on a jack with the transmission in gear. As the flag dropped, the crew jerked the jack away and the car blasted off.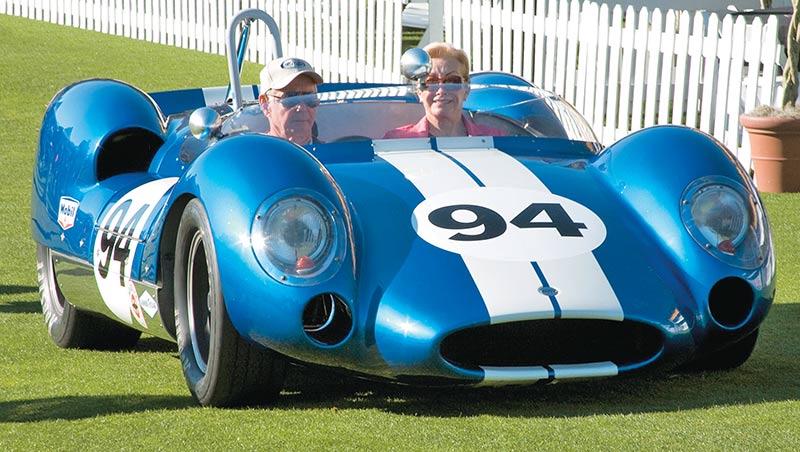 For the main race, the crew had a new clutch installed, but Parnelli still managed to fry it. Nevertheless, he won by 35 seconds ahead of Roger Penske.
At the end of the race, the Cobra's brake pedal was bent forwards from Parnelli's right foot. When interviewed he deadpanned: "They make them sports cars kinda fragile, don't they."
Post Indy, Parnelli continued to race, and win. He took the Sports Car Club of America Trans-Am championship in 1970 in that beast of a Boss Mustang. He won twice at Pike's Peak. And won the Baja 1000 and Baja 500 races twice.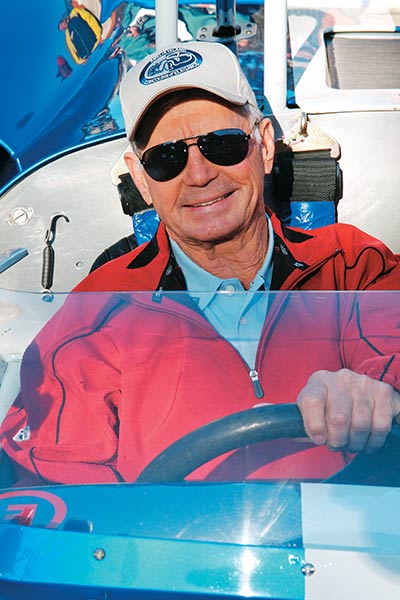 He was a formidable team owner too, forming Vel's Parnelli Jones Racing with business partner Vel Miletich. He returned to the Brickyard as an owner in 1969 and made history the following year when Al Unser drove a VJR car to victory. It made Jones the first to win the Indy 500 both as a driver and a team owner.
Less successful was his venture into Formula One. His Lotus 72-inspired racer with Mario Andretti at the wheel, competed in 16 races. But when Parnelli's main sponsor, Firestone, pulled out of racing in 1974, he couldn't find new sponsorship so pulled the plug.
 
And that was part of Jones' brilliance – he always saw the big picture. While other young drivers were blowing their winnings, Parnelli was investing in a Ford dealership. He then bought a Firestone tyre franchise and built a network of 47 Parnelli Jones Tire Centres.
These days, he's a fit and feisty 73-year-old who has been married to the same woman, Judy, for more than four decades. He still has his business ventures, though he spends most of his time 'hanging out' at his office building in Torrance, California, which has an entire floor dedicated to his remarkable collection of race cars, trophies, and memorabilia.
One of his recent business projects was partnering with Saleen to build 500 high-performance Mustangs to commemorate his Trans-Am-winning 1970 Boss 302. They sold out instantly.
"When one talks about versatile racing car drivers, the name Parnelli Jones is right there at the very top of the list." Just some of the vast array of cars he's raced over the last half a century, and meeting the fans at an historic car event this year (below).
SNAPSHOT
Name: Rufus Parnell Jones
Born: August 12, 1933
Claim to fame: American racing 'great'
Career highlight: 1963 Indy 500 winner
Career lowlight: 1967 Indy 500 when his STP turbine car broke four laps from certain victory
Inspiration: Former business partner Vel Miletech
Favourite quote: "I'm not through yet"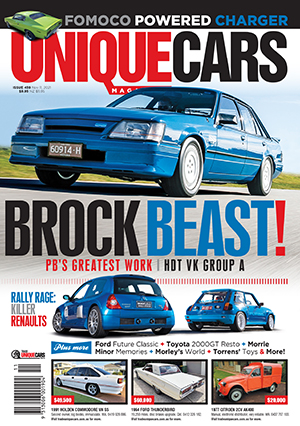 BLACK FRIDAY SALE ON NOW: Save 50% on a Unique Cars magazine subscription
Australia's classic and muscle car bible. With stunning features, advice, market intelligence and hundreds of cars for sale.
Subscribe