Ford 427 Cammer V8 Engine Feature
---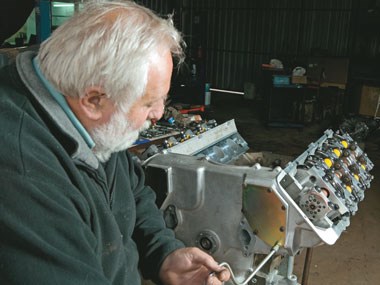 427 Cammer V8 Engine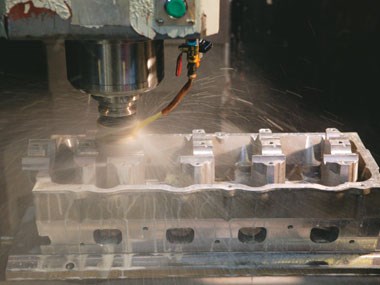 427 Cammer V8 Engine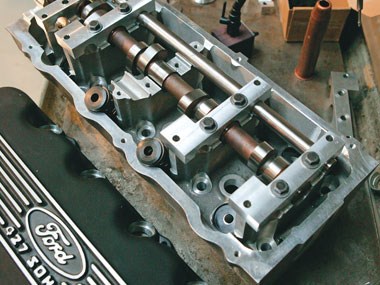 427 Cammer V8 Engine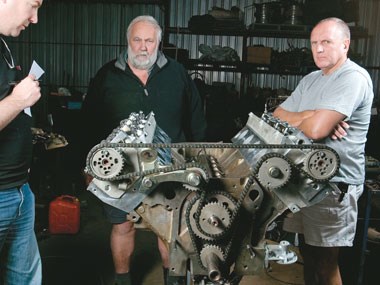 427 Cammer V8 Engine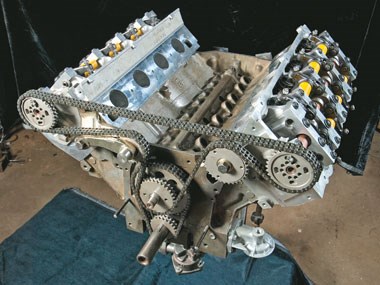 427 Cammer V8 Engine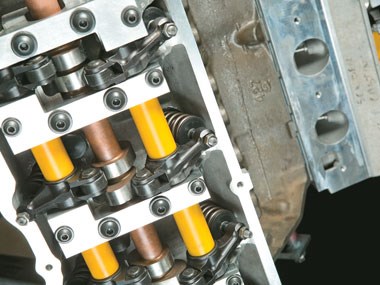 427 Cammer V8 Engine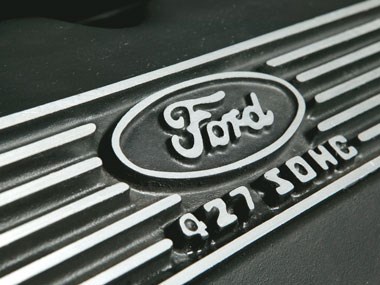 427 Cammer V8 Engine

Cammer blow: Legendary 427 Cammer V8. Some of the world's most desirable engines have come out of a tin shed in country NSW.
Ford 427 Cammer V8 Engine
Dotted around the globe are several places where motoring magic comes to life. But in reality the geography often doesn't scale the heady heights of the legend. Maranello, home of Ferrari, for example is a little village that you'd happily pass by if it wasn't for the Prancing Horse. While Aston Martin's foggy home in Gaydon is little more than some country highways and an annoying bunch of round-a-bouts.

And so it is when entering Paul Munro's property in Koraleigh, southern NSW. Paul who, you may ask? Well, more on him later but believe me when I say that something truly special is leaping out of his backyard shed; that and a bunch of old parts, weeds… and snakes.

"Don't call it junk," barks Munro, as I stumble over a manifold to take a closer look at what appears to be an abandoned and rusting Datsun engine. "It's all good stuff," he insists.

Munro moved to Koraleigh in 1980. "It's the poorest area in NSW," he says almost proudly, and it's certainly not on the tourist map. The little one-horse town is just over the Murray River, not far from Swan Hill. It consists of Birdie's general store and a crooked old sign swinging in the breeze. And that's about it.

Crawling up Munro's dusty gravel driveway a couple of turns off the main drag we are greeted by what movie location scouts might describe as the perfect spot to film Mad Max IV.

The grass would be tickling my nether regions if it wasn't thoroughly trampled on and windswept. There's the hulk of a '68 notch-back Mustang rusting quietly out back and Mr and Mrs Tiger Snake are lying in wait under slabs of abandoned wrought iron ready to strike should I put a foot wrong.

In amongst this desolate scene we enter Munro's dark and dusty shed with some trepidation and are greeted by an engine that is bigger than life itself. Behold the mighty Cammer.

Munro is bringing the legendary Ford 427 Cammer engine back to life over in Koraleigh and there are plenty of cashed-up rev heads willing to pay top dollar to get a slice of the action.

He has developed two engine packages - one for standard carbs and one with a blower manifold with Autronic fuel injection - allowing owners of a Ford 427 short block to turn them into Cammers.

So at some big hot rod show next year in the States, a mega-dollar custom may boast a Cammer that originated from this most unlikely of places.

"I was tossing around the idea (of recreating the Cammer) when I went to the US," Munro explains. "In Tennessee I got talking to an ex-Ford and Holman and Moody guy. He said that I should look at doing a Cammer.

"So I talked to a friend of mine here in Australia and I put an advertisement in a magazine looking for expressions of interest. I took 10 $5000 deposits because that's all the engines for sale (in Australia) and I have built a few for myself. I am also giving one with some reject parts to some local guys who are building a Cortina drag car."

Other lucky local recipients include a couple of Galaxies, a '37 Chev Sloper, a salt flat racer and a '32 Ford hot rod.

The market though is really in the US and seeing that's where the support has come from Munro says all subsequent units will only be available over there.

"Enquiries are strong already," he says. "DSC Motorsport in California and Rick Toombs in Knoxville Tennessee, who builds a lot of big horsepower engines for Scandinavian customers, are handling the components in the US.

"Rick was great; I was over there collecting an intake for an early 427. He and his wife Betty put me up for a week so we could talk ideas. His shed was like an Aladdin's cave; side oiler blocks, medium riser heads and other hard-to-find parts. He had a million bucks sitting there.

"Rick's assistance was invaluable with original contacts at Ford and Holman and Moody. These included the guy who made the original extractors for the 1966 427 GT40 and Earl Wade who was drag racer 'Dyno' Don Nicholson's head mechanic back in the Cammer days. He told me Cammers were made to approach 9000rpm but when they went he just put them on a shovel and dumped them in the trash.

"Ex-drag racer Robert Pond of Robert Pond Motorsport is talking about selling complete turnkey Cammers using Aussie components for US$35,000 and $55,000 for the blown and injected engines.

"A couple of engines are going into original Cobras in the US," Munro says proudly. "Ford in the US are building two 1970 Mustangs; one is having one of my engines put in it."

A massive undertaking like this however is not without its problems. The $50,000 Munro received in deposits was sucked up pretty quickly in what has proven to be a very expensive developmental exercise.

"I started the project in March 2006," he says. "It's swallowing up every penny. The hours are countless; even the phone calls to the US are really taking up lots of my time and I'm clocking up lots of miles travelling between here, Melbourne and Geelong.

"I sold a couple of cars and rounded up $80,000," he continues. "I thought it would be plenty but I wasn't even half way there. Then I got the deposits and that got me started.

"When Joe Pirotta sold his (Cammer-equipped) MkI Cortina drag racer I bought some spare parts including the heads; I couldn't have done it without them. I talked to designers in the US and they told me about the engine's few weaknesses." And so the journey began.
BIRTH OF A LEGEND
The Cammer is legendary. Just like Clint Eastwood did when he pointed his .44 Magnum squarely at a baddy's face, if you get close enough to this beast you can almost hear it snarl "make my day". Why? When new its day never came.

With Chrysler's Hemi dominating NASCAR in 1964 Ford was looking to create a powerplant to snatch the lead back from its cross-town rivals. This was the early days of Ford's 'Total Performance' years and pride was at stake. Henry Ford II demanded an engine to win back the NASCAR crown and he gave his boffins 90 days and an unlimited budget to get the job done.

Ford's engineers based the Cammer on the trusted 427 side oiler. It was a wise move. The FE Series 427 block had proven itself strong and worthy on NASCAR Speedways and on the quarter mile black top. So why reinvent the wheel? What was new however were some monster heads.

The Europeans had used overhead cam engines in their exotic sports cars for years but it was a big shift in American thinking at a time when the simpler but more reliable push rod donks reigned supreme. The overhead cams allowed a freer revving engine and a little less weight because of the fewer moving parts. The 308kg Cammer could rev freely to 7000rpm and max out somewhere around 8000.

The big powerplant was rated at 616bhp (459kW) at 7000rpm with a single four-barrel carby and 657bhp (490kW) at 7500rpm with dual four-barrel carburettors. The sky is the limit from there, depending on the carburettor specification. Blowing the engine was something else again.

It was a mighty engine but concerned about a NASCAR whitewash officials legislated against it; banning it before it started. There was to be no Stock Car glory for Ford but the Cammer became a legend on the drag strip; Mickey Thompson and Don Prudhomme were among its many devotees.

No Cammer-equipped Ford production car ever officially came out of Dearborn. Ford Motor Company sold them separately via the parts counter for around $2350. They were expensive to build and seeing no future in them Ford stopped production at around 950 units making them extremely rare and sought after today. The surplus went to Holman and Moody.

The story could have ended there. But men like Munro won't let it rest. Beginning as an apprentice for Stillwell Ford in the late-'60s, then working in a Swan Hill transmission shop for 10 years, Munro has led an eventful life.

"In between (the mechanics' jobs) I've shot kangaroos and grown tomatoes," he says. "I always liked oddball projects."

Looking around his shed bares this out: big block top loaders and other rare parts litter the breezy galvanised shed. Who knows what goodies are going to end up in the humble gold Falcon 500 that sits silently in the corner?

Reverently standing around the Cammer, talk soon comes around to power. Looking me straight in the eye he asks: "Does it matter? As soon as the rear wheels light up it's all over anyway."

Munro's enthusiasm for the engine knows no bounds.

"This is the thing," he exclaims in his booming baritone voice. "Everything else is second best. It's a man's engine. The first one's going to look pretty good in my two-door 1966 Galaxie."
Unique Cars magazine Value Guides
Sell your car for free right here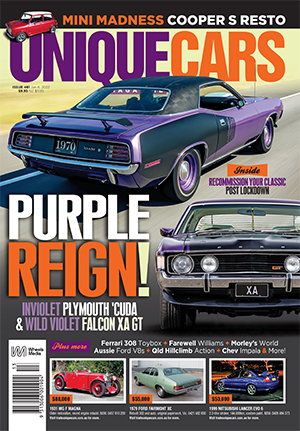 SUBSCRIBE TO UNIQUE CARS MAGAZINE
Get your monthly fix of news, reviews and stories on the greatest cars and minds in the automotive world.
Subscribe