Mercedes-Benz 300SL 'Gullwing' review
---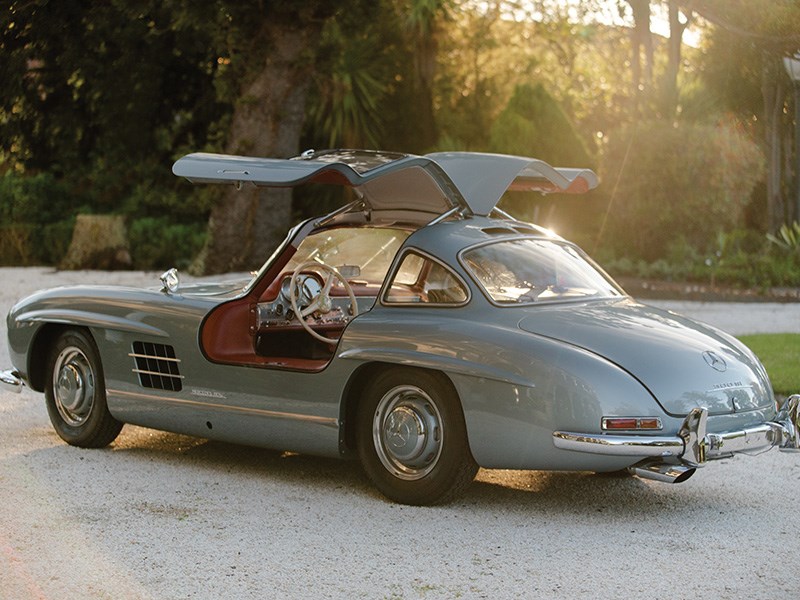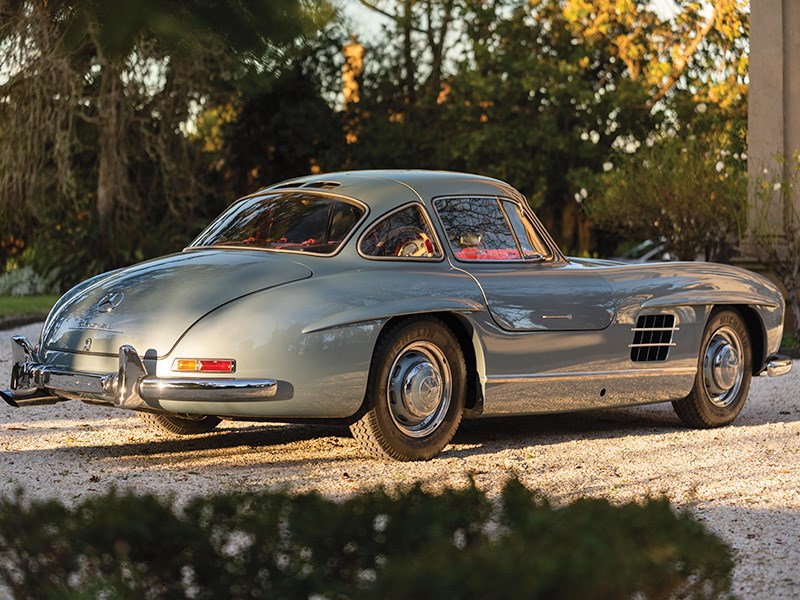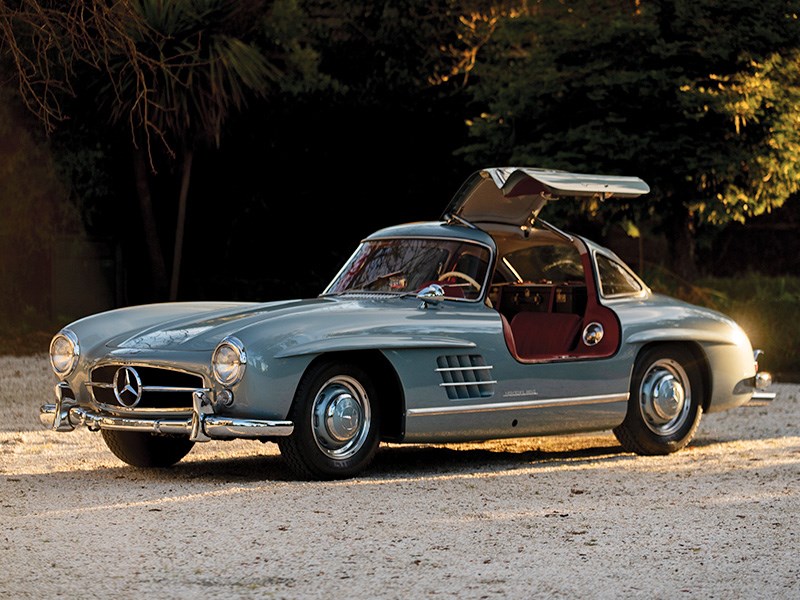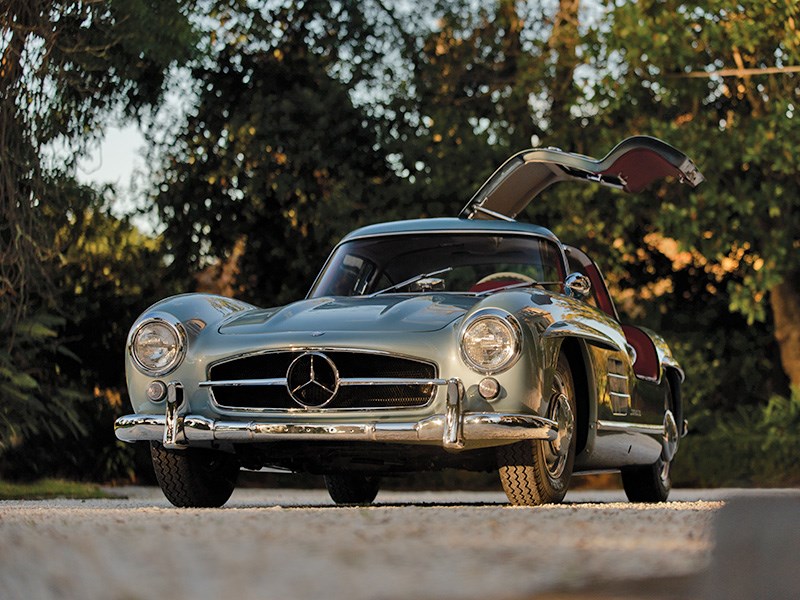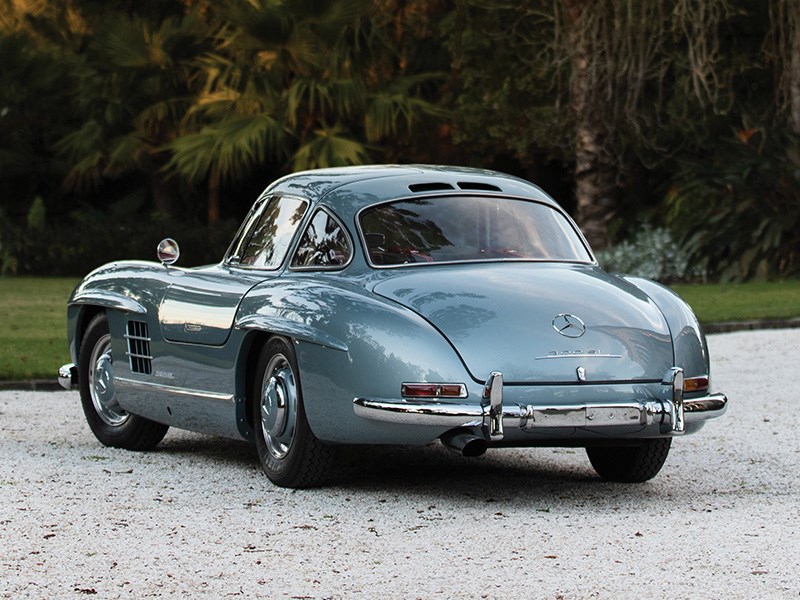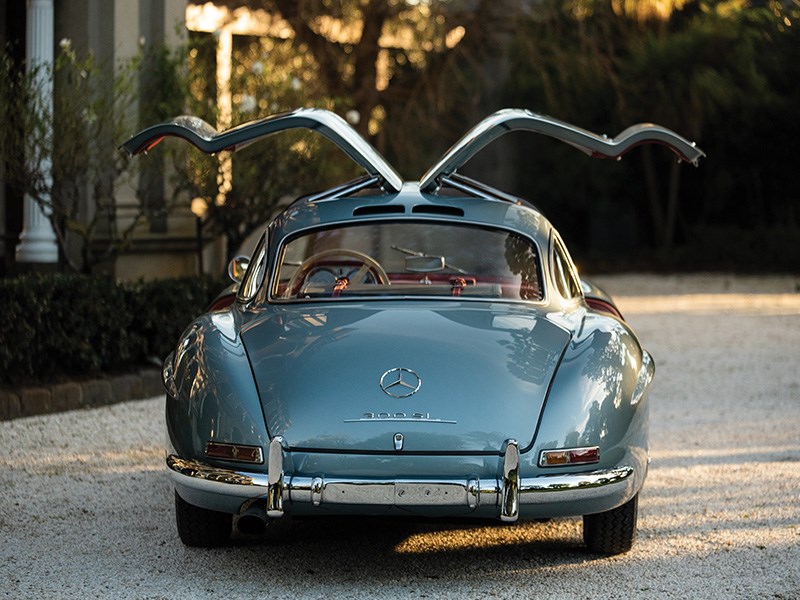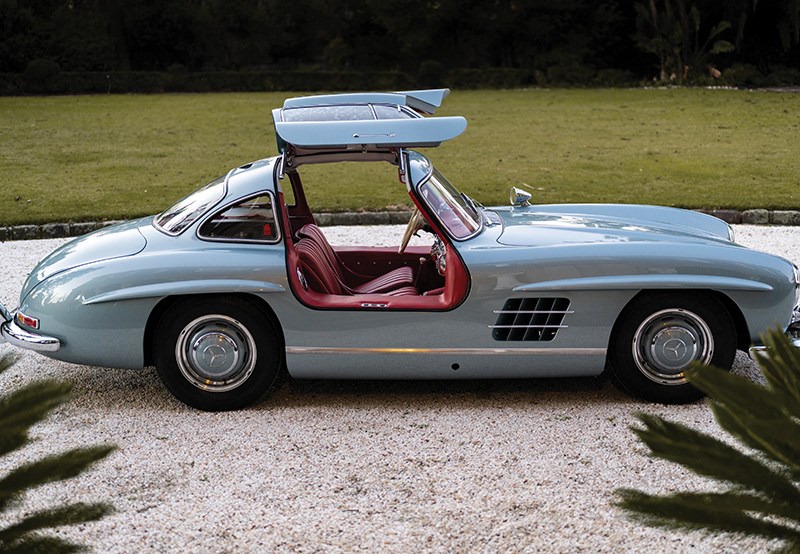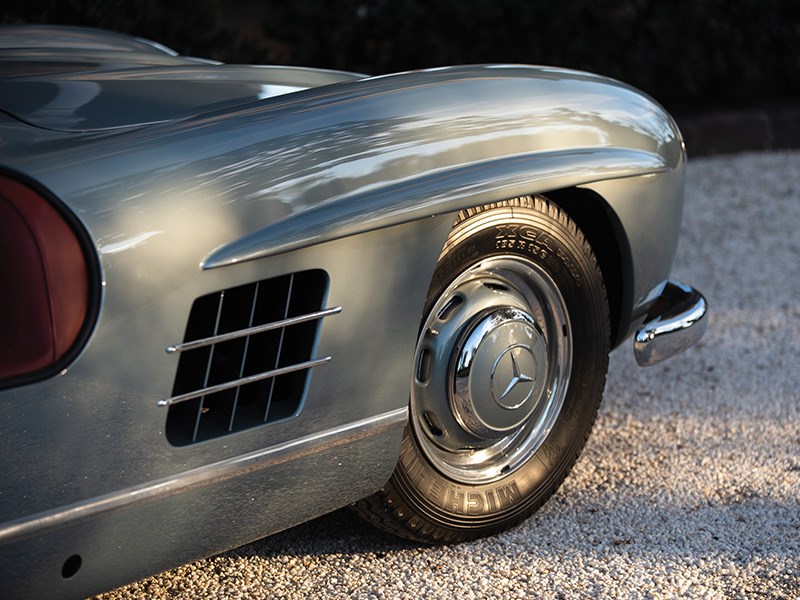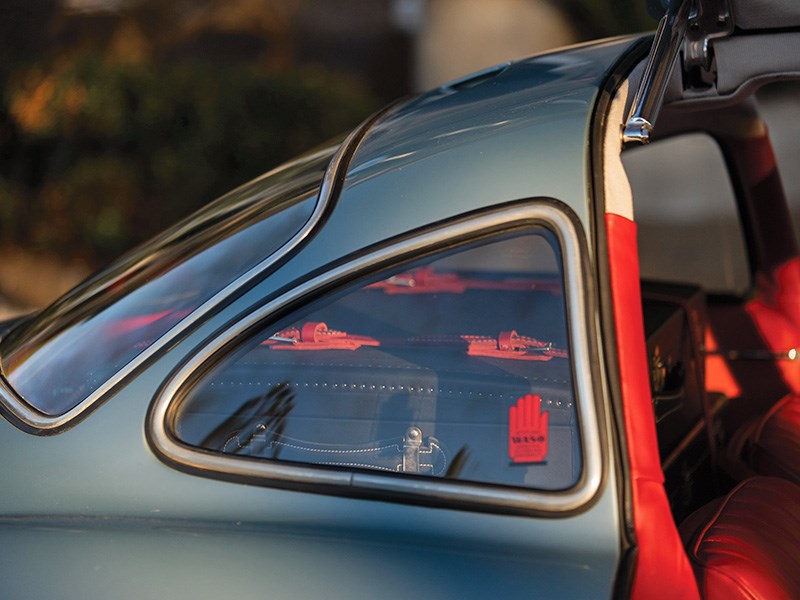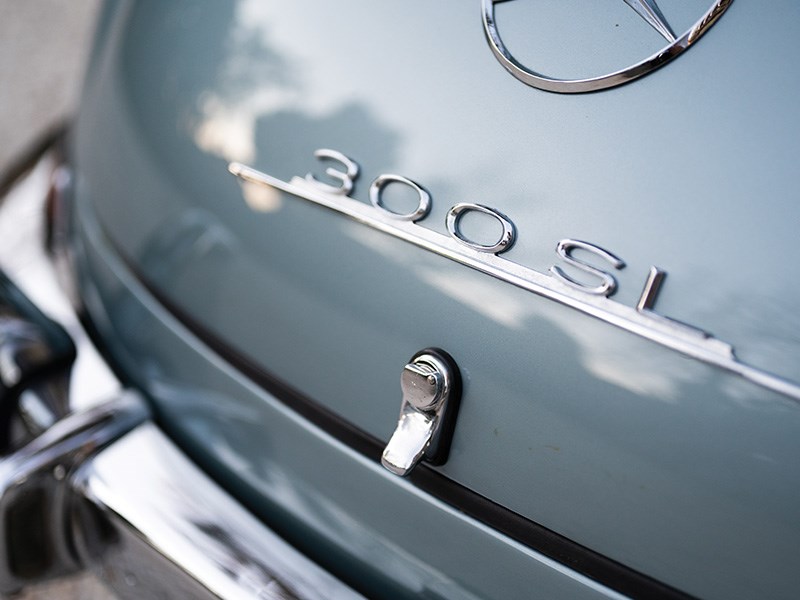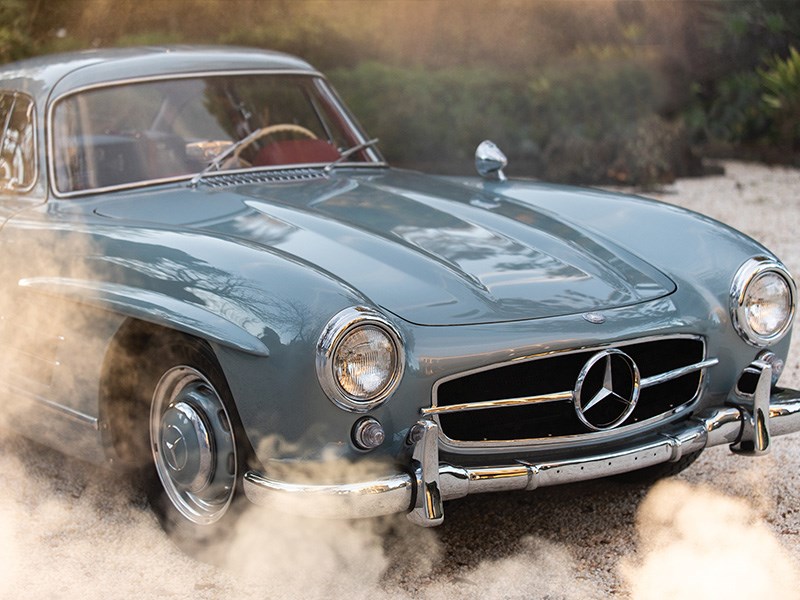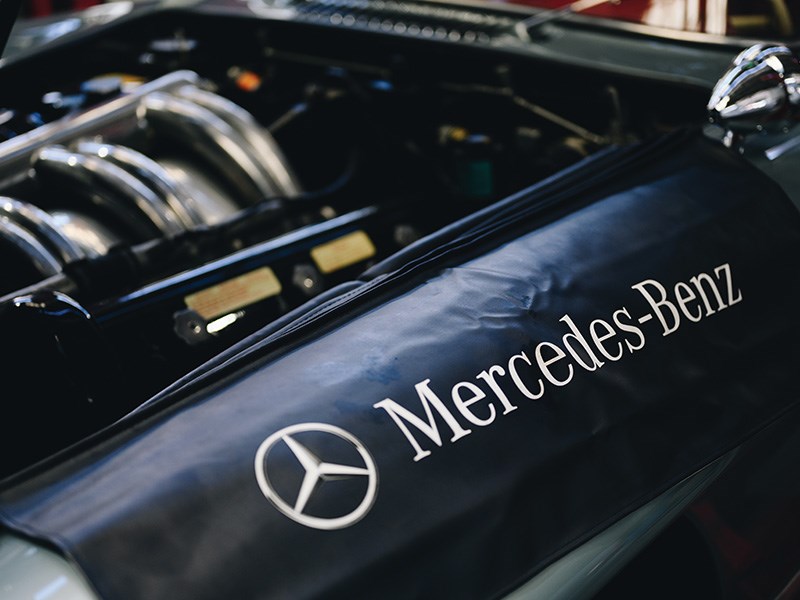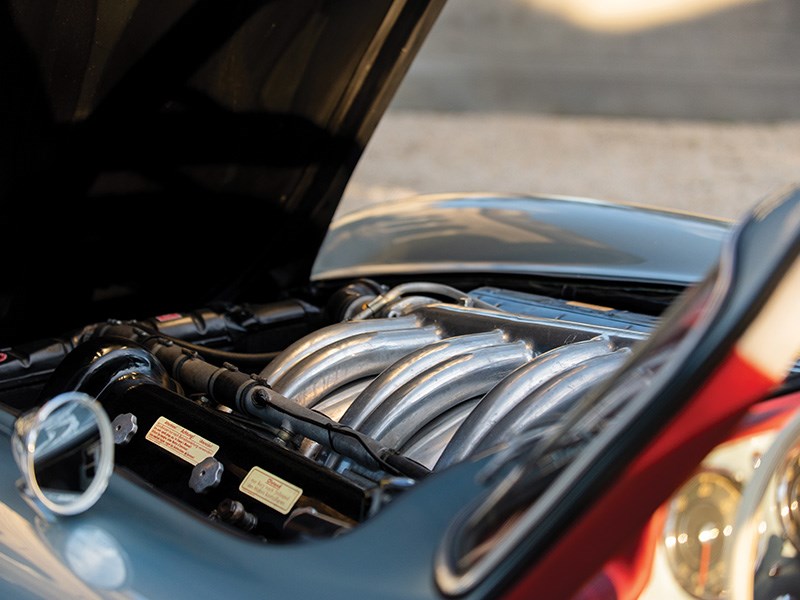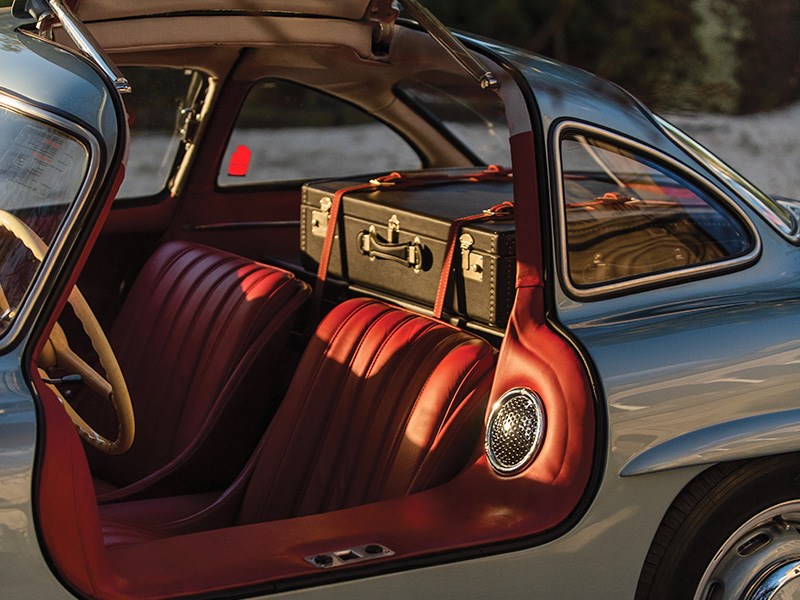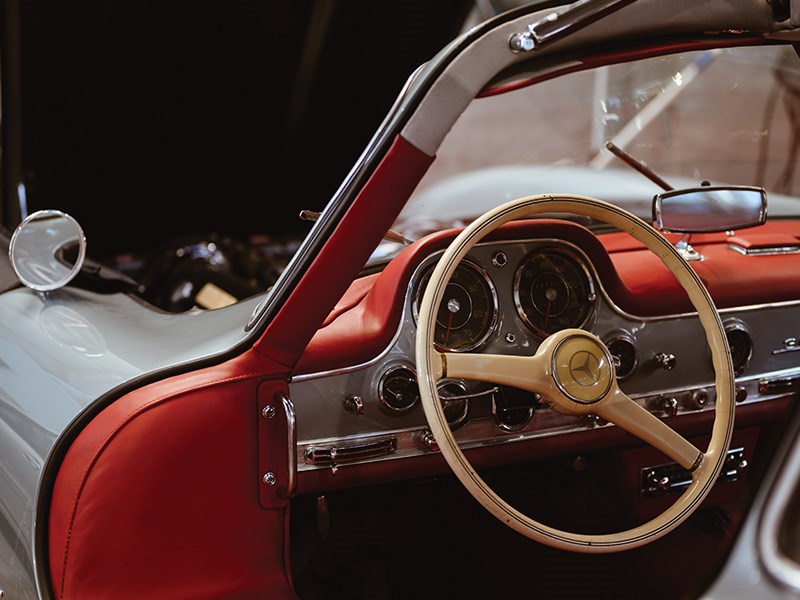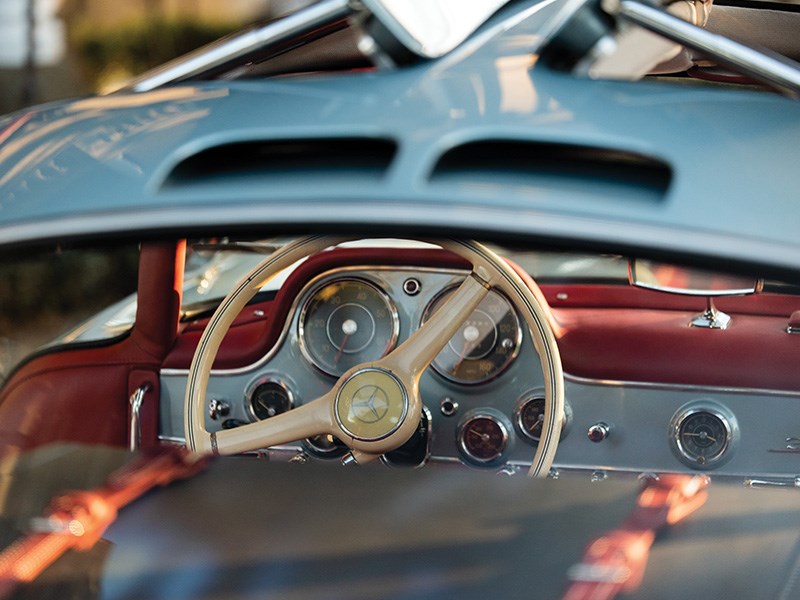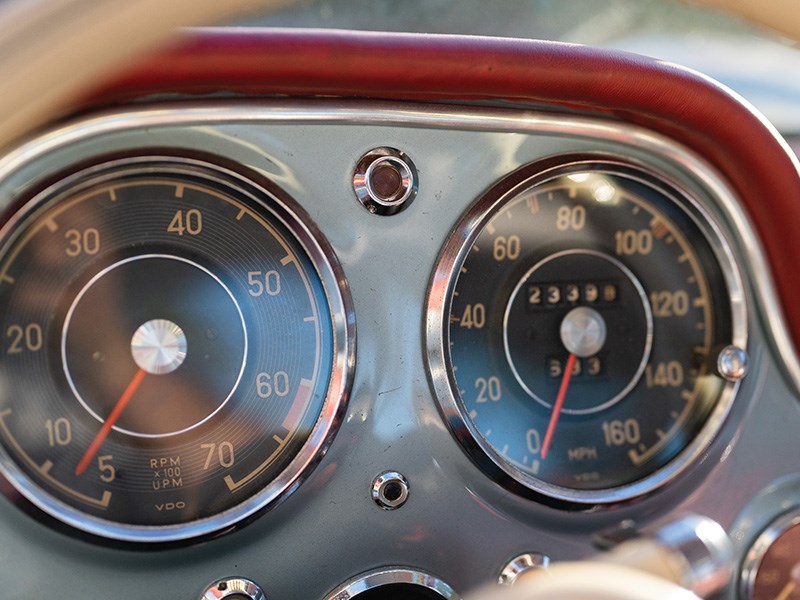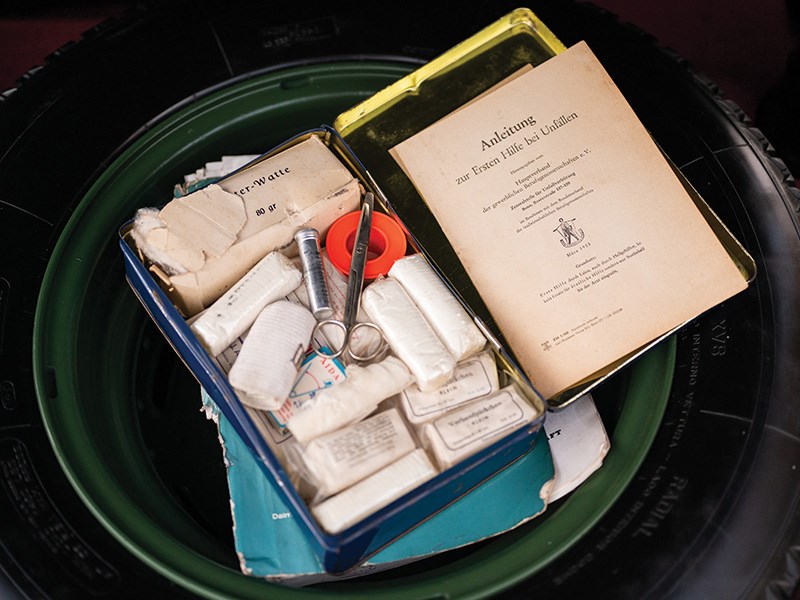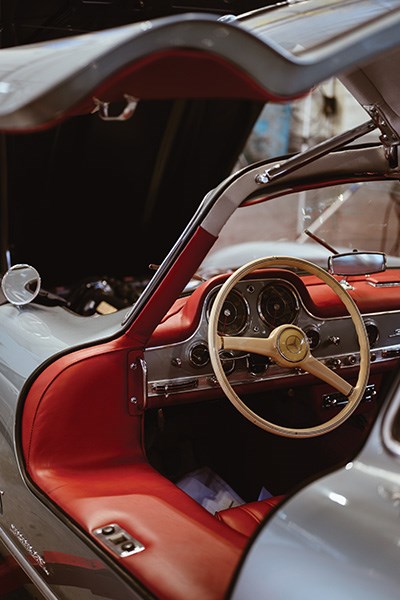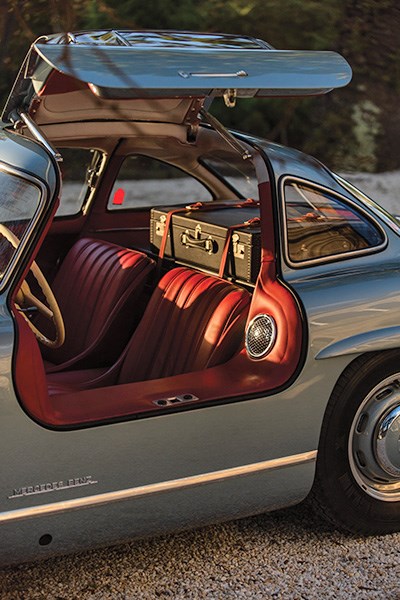 If it wasn't for a keen-eyed, cashed-up and convincing businessman in New York, we wouldn't have the iconic Gullwing
Everybody knows the Mercedes 'Gullwing' for its fabulously famous doors. Some might know it as one of the world's fastest production cars in its day, that its actual name is the 300SL Coupe (there was also a Roadster convertible), or that it now commands a price of seven figures.
But beyond the grand tourer's iconic upward-opening doors, graceful curves and timeless desirability lies a historically and mechanically significant story. The mighty 300SL, or 'Sport Light', was conceived wholly and solely as a thoroughbred racer and never as a road-going production car. Well, had it not been for a keen-eyed, cashed-up and convincing businessman in New York.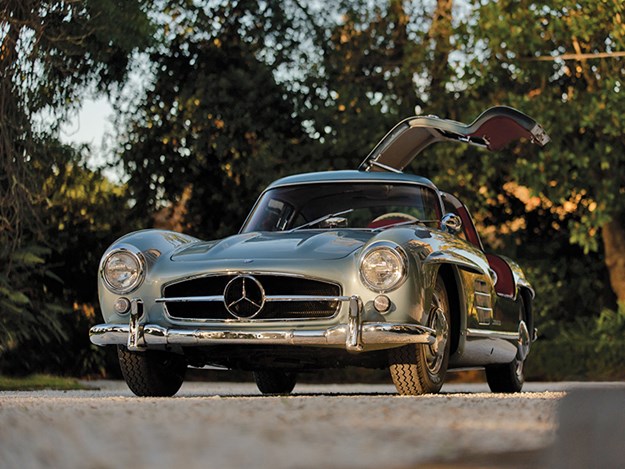 As the world's first production car to feature direct fuel injection and a tubular space frame, the 300SL is a big reason why Mercedes-Benz today enjoys such a strong brand value and engineering ethos – it was built so well.
But first, let's go back a few steps for a better understanding of how the 300SL came to be.
| Reader Ride: 1956 Mercedes-Benz 300SL 'Gullwing'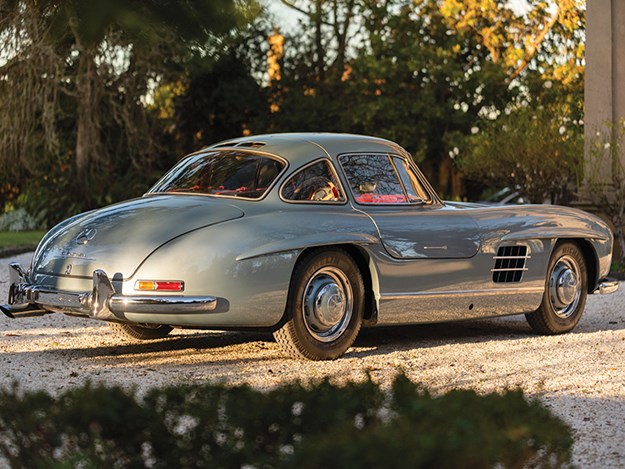 Stunning from every angle
A RETURN TO RACING
In 1951, the Daimler-Benz board wanted to return to international racing and pick up where it left off before World War II with the successful W125 and W154 Grand Prix 'Silver Arrow' cars, for their unpainted aluminium bodywork.
The company again turned to its then head of racing, Rudolf Uhlenhaut, a skilled engineer and racing driver of English and German ancestry, credited for turning the Silver Arrow models into formidable race cars. Uhlenhaut also designed many Mercedes models including the 300 SLR, 230SL 'Pagoda' and later, as head of development for passenger cars, pretty much all model series. Engineer and driver, he was good. Really good.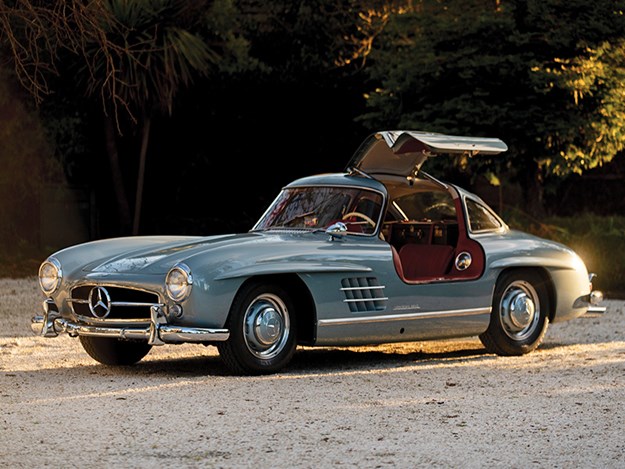 After the war resources were tight and Uhlenhaut didn't have much at his disposal, so he had little choice but to look to existing Mercedes models for parts to build a race car. That included the M186 3.0-litre SOHC straight-six as well as the front and rear axles from the Mercedes-Benz W186 300 flagship sedan, aka the 'Adenauer' (named after the first Chancellor of the Federal Republic of Germany, Konrad Adenauer, who commissioned six custom variants during his seat in office).
Now for a strong and lightweight frame to build around the heavy cast-iron engine. Uhlenhaut had built a small racing car for a friend before the war (a colonel of the British Army no less), so he applied these learnings to the Mercedes project. This included a lattice structure made from steel tubes (25mm external diameter, 1mm thick), which was lightweight and super stiff when well triangulated.
Meanwhile, the exterior designers were tasked with producing a slinky bodyshell for maximum aerodynamic effect to counter the engine's relaxed demeanour.
| Read next: Mercedes-Benz 300SL vs SLS AMG review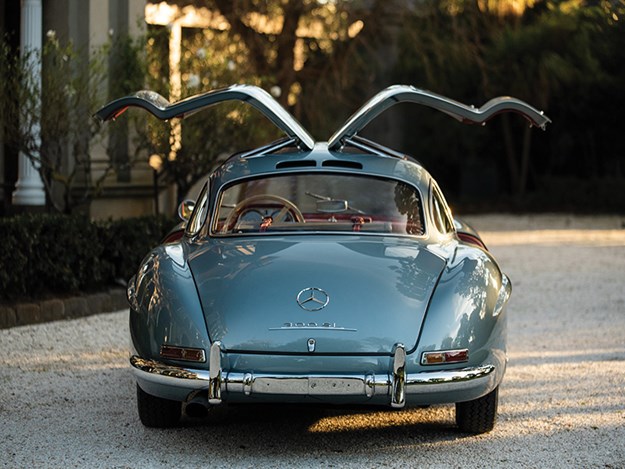 The first obstacle was fitting the tall M186 engine into the low, sleek bonnet, which was solved by canting it 50 degrees to the left and replacing the oil pan with a dry-sump system for better packaging and cooling performance.
The bigger challenge, however, was the need for high torsional rigidity for the spaceframe chassis, which dictated deep truss sections on each side, thus unusually high door sills. So high in fact that the doors of the first three race cars finished at the bottom of the side windows, giving the distinct impression that they were doorless. Chopping into and weakening the frame just to add conventionally hinged doors was out of the question, so the solution led to the 300SL's most famous characteristic: its gullwing doors, hinged along a horizontal line near the centre of the roof. As Mercedes Grand Prix racing manager Alfred Neubauer said of the 1952 Le Mans race rules, "Nowhere is it written that a door must open sideways."
| Read next: Barn-find Mercedes-Benz 300SL convertible sells for AU$1.7M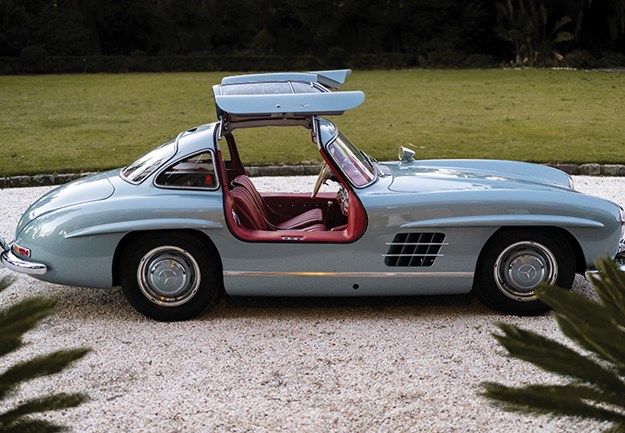 And so in 1952 the 300SL endurance racer, the W194, was born followed by a string of victories at Le Mans, the Nurburgring and the Carrera Panamericana in Mexico to name a few, thanks to some handy drivers by the name of Juan Manuel Fangio and Stirling Moss.
It's easy to digress from here for a deep dive into the company's race program of the era. This includes the 300 SLR at Le Mans in 1955 – the most catastrophic crash in motorsport history, which killed 83 spectators and French driver Pierre Levegh, injured 180 onlookers and ultimately prompted Mercedes-Benz to retire from motor racing for 32 years until 1987.
| Read next: Mercedes-Benz SLS AMG vs 190SL vs 300SL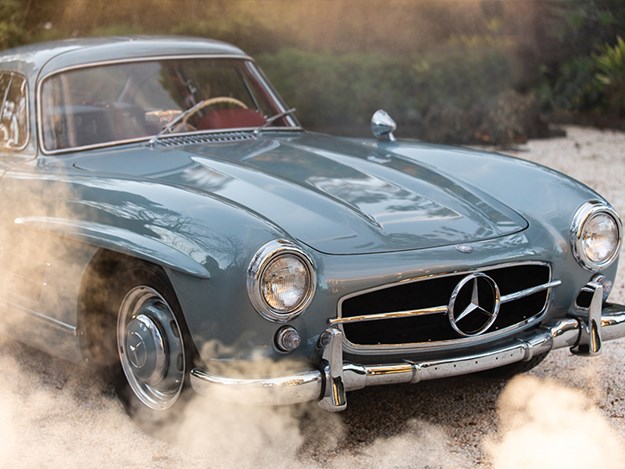 Mercedes apparently built just 10 examples of the W194 300SL racer – all of which but one were raced – and it's not known how many remain in existence today. The one that was denied a race today lives at the Mercedes-Benz Classic Centre, outside Stuttgart, and has an estimated value of more than $US15 million.
It's also worth noting here that, due to the famous running starts of Le Mans, the waist-high door openings of the subsequent seven W194 racers were cut down and enlarged to allow for quicker driver access. This would carry over to the production W198 300SL.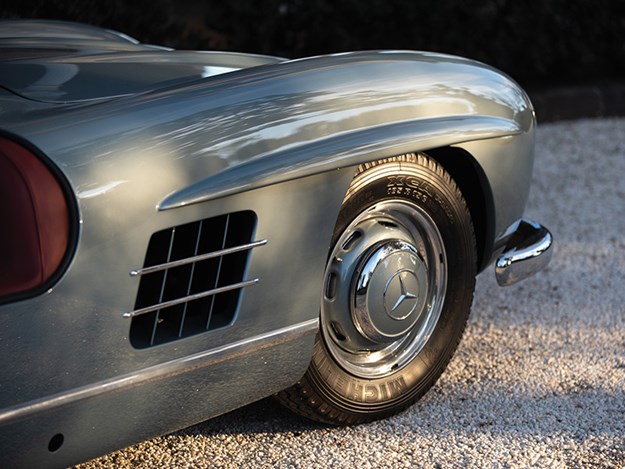 PUT IT IN PRODUCTION
Despite the sizable trophy cabinet and a barrage of dealer enquiries from across the globe, Mercedes-Benz was not interested in producing a 300SL for public use. "Nein."
Enter Maximilian Hoffman, a wealthy New York car dealer and occasional racer (Side note: Hoffmann commissioned America's most famous architect, Frank Lloyd Wright of 'Fallingwater' fame, to design his showroom).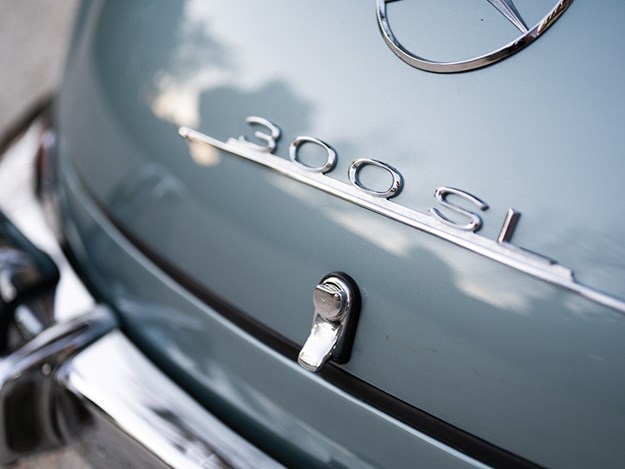 A year after being appointed the US distributor for Mercedes Benz in 1952, Hoffman was invited to attend a Daimler-Benz board of directors meeting in Stuttgart. 'Max' assured the board all current models would sell well in the US, but he was particularly keen on a production version of the 300SL as a hero model for the brand. The engineering members of the committee objected, reasoning the 300SL had been built only to get Mercedes-Benz back into racing thus, as a production car, would be too compromised. But, as the old saying goes, money talks and Max convinced the board by personally financing an order for 1500 units: 500 300SL Coupes, 500 300SL Roadsters and 500 units of an entry-level version with a smaller engine. Before the war, Mercedes allegedly sold a total of just 41 cars in the US, so Hoffmann's offer was too good to refuse.
The engineering naysayers agreed provided they were given time to right what they viewed as the car's wrongs. This included fitting a folding steering wheel to assist with egress and devising purpose-built suitcases behind the bucket seats thanks to all available boot space occupied by the spare wheel and race-derived fuel tank, which was reduced from 170 litres to 'just' 128.7L.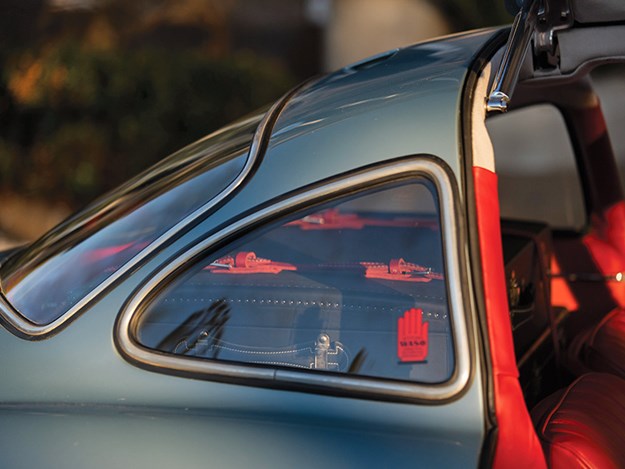 A year later, the production version of the 300SL (W198) and the baby 190SL convertible (albeit in prototype guise) were unveiled at the 1954 International Motor Sports Show in New York to lure wealthy American buyers. And it worked. Max's multi-million dollar gamble paid off as the rich and famous clamoured for a chance to be seen in the new sportscar with unusual (and beautifully counterbalanced) gullwing doors. A top speed of more than 160mph (257km/h) – lightyears ahead of anything else at the time – was another headline attraction.
The W198 300SL had many similarities and differences to its W194 racing predecessor, and in no way was it built as a luxury GT car. There was next to no acoustic or thermal insulation and the production car – despite its lofty $US6800 launch price – didn't even come with a radio as standard, so it was noisy and prone to being uncomfortable on hot days. At least its windows were made of glass, unlike the racecar's clear plastic.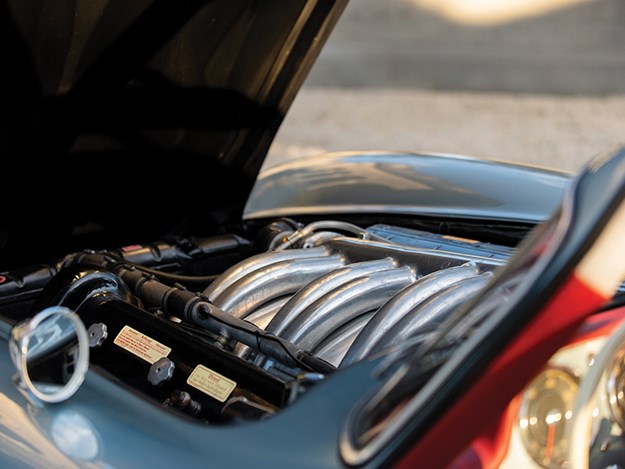 DEVIL'S DETAILS
Perhaps the most significant difference was the switch from a trio of Solex carburettors to a direct-injection system, which raised outputs from 170hp to 217hp for the 1954 model (this was bumped to 225hp in 1956 with the introduction of a different camshaft).
Born out of necessity during WWII, the Bosch mechanical system can be found in aircraft powered by the Daimler-Benz DB 601 inverted V12, such as the Messerschmitt Bf 1095 fighters. The Luftwaffe needed a performance and reliability workaround to Germany's poor-quality fuel at the time: processed coal. The direct injection system, featuring six injector pipes that fire sequentially with the engine's firing order and directly into the cylinders, ensured all cylinders received an identical amount of fuel. It's apparently no easy feat to set up correctly and today requires frequent maintenance with comparatively unusual touches such as fuel diaphragms made from whatever was available at the time such as leather and, ahem, lambskin.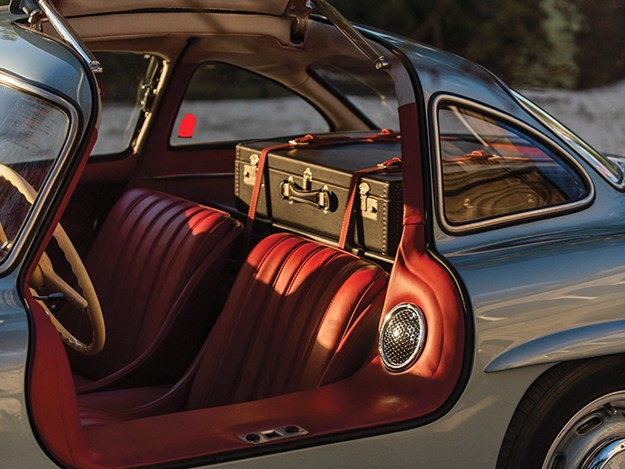 Bespoke luggage
There's also the small task of decarbonising the engine every 30,000km, according to the service schedule, which involves removing the cylinder head and cleaning the carbon build-up. Between that, the front suspension needs greasing every 4000km and, while you're at it, you also need to change the engine oil – all 15 litres of it – to avoid petrol contamination.
ADDING TO THE LEGEND
Despite the initial reluctance for production, Mercedes spent big on R&D to develop the 300SL so, to help recoup costs, many features were relegated to the options list. Firmly at the top of that list were the highly-prized 'Rudge' wheels for the ultimate in exclusivity for a car already costing $US6800 in 1954 (in 1957, the price was increased to $US8905).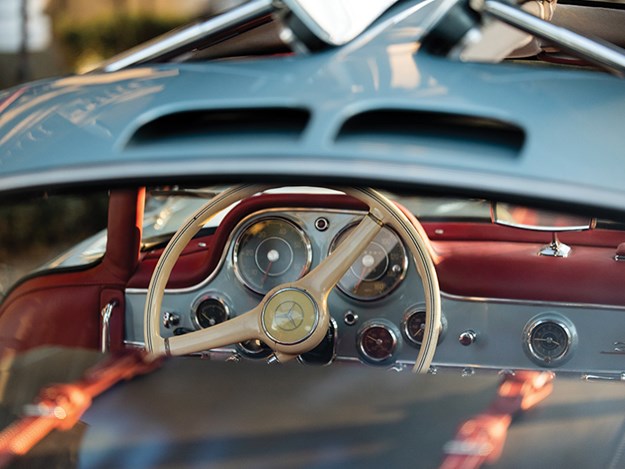 Easy-to-read dash. Note the rear view mirror position and low-slung grab handle, on the left
Named after British wheel, bicycle and motorcycle company Rudge-Whitworth, these wheels use single-spline/two-finned spinners instead of conventional studs for faster wheel changes (Side note: Jaguar owned the licence of Rudge wheels, so Mercedes had to pay a royalty with every 300SL sold with Rudge wheels, to Jaguar. Ditto BMW and Porsche for the 507 and 365 respectively).
All 300SLs were intended to have Rudge wheels (along with their associated knock-off hubs and brake drums) as standard, but the company switched to a conventional five-stud and hubcap arrangement to cut costs. As such, of the 1400 W198 300SLs built between its 1954-57 production run, it's believed between 130 and 135 examples rolled out of the factory on the 11kg-heavier Rudge wheels, and the value of these cars is even higher again.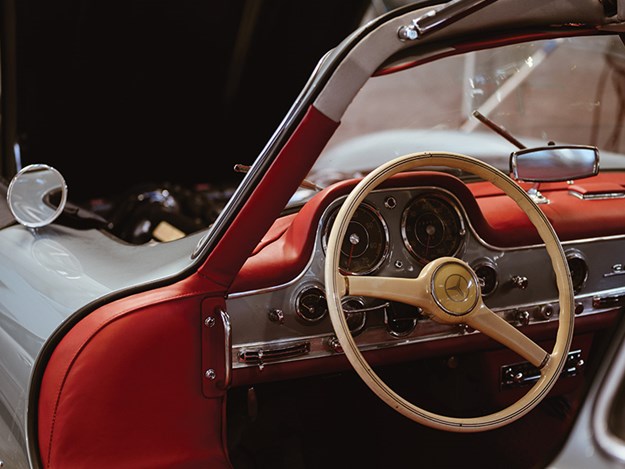 Then there's the topic of body shells. Almost all production 300SLs featured a steel bodyshell and used aluminium everywhere else (including the bonnet, doors, bonnet, firewall, floor pan and belly pan) for a wet weight of around 1295kg.
Further adding to the Gullwing legend, however, in 1955 Mercedes built just 29 all-aluminium examples which, in addition to the body panels, featured an aluminium body shell and plastic windows (excluding the windscreen) for a weight reduction of around 85kg. These cars also received a variety of engine mods, including the hotter camshaft, for more horsepower. Imagine the value of one of these with factory-fitted Rudge wheels today?
If the 300SL can be criticised, it would be its notorious handling. This includes ordinary stopping power from drum brakes when discs were available and, more so, its unforgiving swinging rear-axle suspension, which could easily see you leaving the road backwards if you lifted off the throttle mid-bend – particularly when fitted with steel-belted radial tyres. Mercedes went on to fix this with the 300SL Roadster's rear setup, which received a lower pivot point and a transverse coil spring for better stability under hard cornering.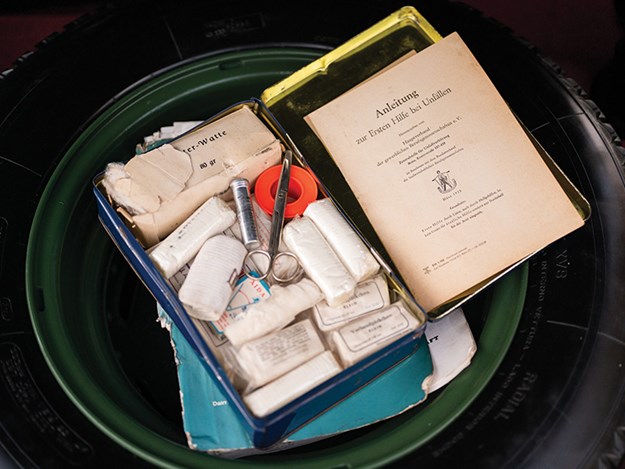 Official records vary as to the total number of 300SL 'Gullwings' produced. In fact, Mercedes itself has quoted three different totals: 1485, 1402 and 1400. Whatever the final number, if it wasn't for Max Hoffman's initial order for 1500 units and his personal wealth to finance the order upfront, it's possible that Mercedes-Benz might not be around today.
The driving engineer
After a 1955 test session at the Nürburgring, world champion driver Juan Manuel Fangio reported that the car was not as well-setup as it should be. So, after an opulent lunch, Mercedes head of racing and, later, head of development for passenger cars Rudolf Uhlenhaut climbed into the car, dressed in a suit and tie, and lapped the circuit three seconds faster than the world champion. Known for his modesty and sense of humour, Uhlenhaut went back to Fangio and recommended he should practice more. Or so the story goes, according to Mercedes.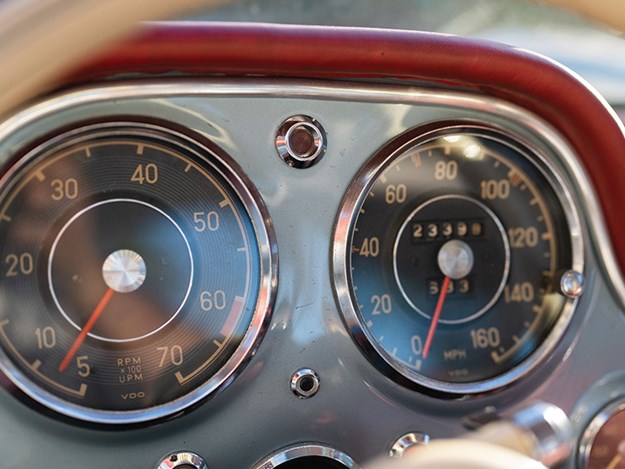 160 mph, 6000 rpm, nice combo
Uhlenhaut was barred from entering races because Mercedes' Board of Management was unwilling to risk losing one of its most valuable members. However, his company car was a gullwinged version of the 300 SLR racecar, dubbed the "Uhlenhaut coupe". Distinguished by its exhaust outlets that exited from the bodywork where a conventional door hinge would be, the 3.0-litre V8-powered 'Uhlenhaut coupe' produced 300hp and had a top speed of 290km/h, making it the fastest road-legal car of its day. Only two units were produced, one of which today resides in the Mercedes-Benz Museum.
Over-engineered
Legend has it that every M198 engine produced was given a meticulous run-in. The initial break-in consisted of 24 hours of operation on a dynamometer, with six of those hours at full load. The engine was then disassembled, checked for wear or damage, reassembled and run for a further eight hours before being trucked to Sindelfingen for installation in a chassis.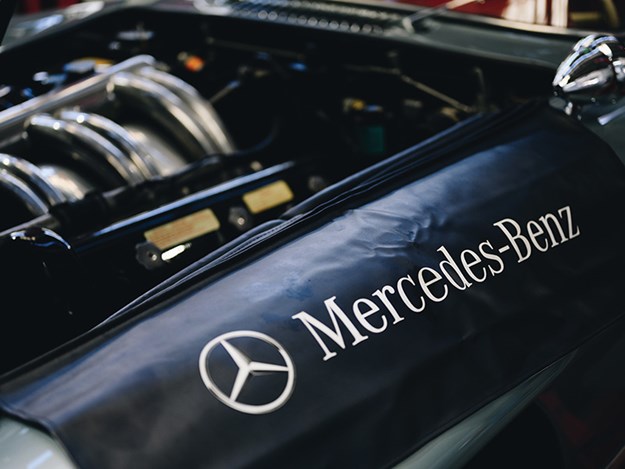 Mercedes-Benz W198 300SL 'Gullwing'
Production: 1400 units (1954-57)
Engine: 2996cc, six-cylinder
Power: 222hp at 5800rpm
Torque: 280Nm at 5000rpm
Transmission: Four-speed manual
0-100km/h: 7.0 seconds
Top speed: 147-163mph (236-257km/h) depending on rear axle ratio
Tank capacity: 128.7L
Price when new: US$6800 in 1954 (A$9331)
Wheelbase: 2400mm
Length: 4520mm
Width: 1778mm
Height: 1302mm
Weight: Approx. 1295kg (wet)
From Unique Cars #458, Oct 2021
Unique Cars magazine Value Guides
Sell your car for free right here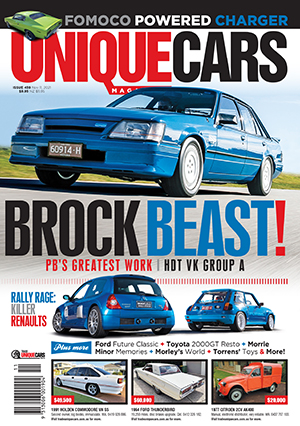 Subscribe to Unique Cars magazine for 12 months and save!
Australia's classic and muscle car bible. With stunning features, advice, market intelligence and hundreds of cars for sale.
Subscribe