50 Years of Phase III - GT-HO values
---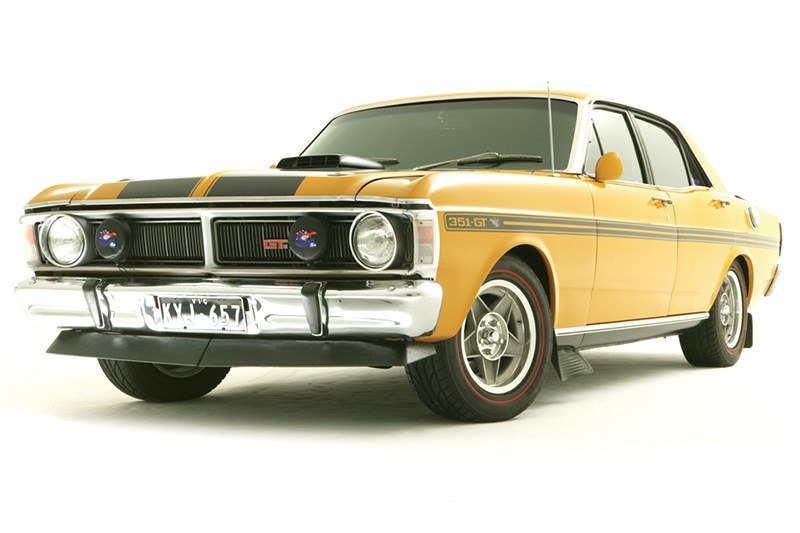 Simply irrepressible - the rise and rise of GT-HO Phase III values
In February of this year, with minimal public recognition or media hoopla, yet another record was set by a car that had been doing just that for very close to half a century.
| Read more: Falcon XY GT-HO sells for $1,150,000 at auction
A few months earlier and with considerable fanfare, an HSV Maloo utility – one of four such vehicles made – set a new benchmark price for the sale of a series production vehicle in Australia.
| Read more: HSV GTS-R W1 Maloo sells for $1.05 million at auction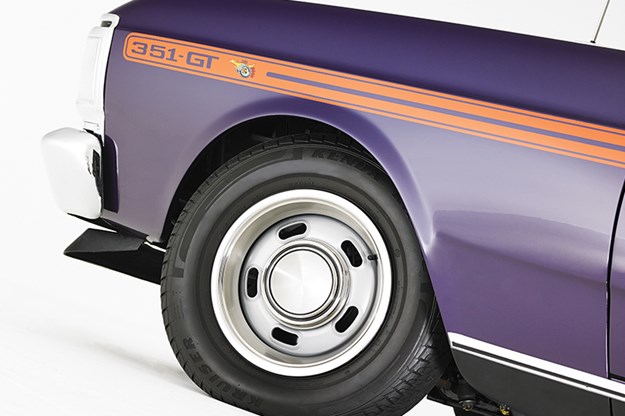 That title had been held previously by a GT-HO Phase III Falcon; one of 300 built and with a famous cricketer among its former owners. Now, or so it seemed, the mantle had passed to a new generation and the grumbly old Fords with their attention-seeking 'shaker' would need to stand aside as models more relevant to younger folk took up the running.
"Hold my beer", said the old Falcon.
On February 16 at the Slattery auction in Perth, another GT-HO Phase III faced the auctioneer and an array of eager bidders. Several tense minutes later and with a final bid of $1.15 million, history was rewritten again. The 'modern' had enjoyed its fleeting moment of glory but the King of Australian Muscle Cars was now ready to resume his reign.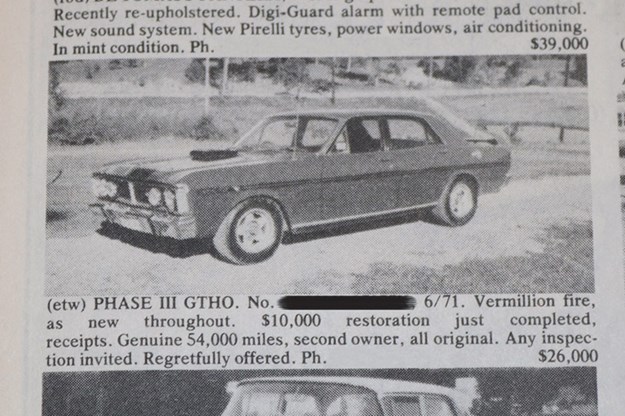 Life had not always been rosy, though, for the car known to millions as 'The Hoey'.
| Read next: Ford Phase history
The GT-HO Phase III was the third in a series of four models created to dominate Australia's most significant motor race. However, it was the last of its kind to compete as a genuine 'production' car.
The XA-based Phase IV which followed in 1972 was spiked due to political pressure and forced Ford during that year into campaigning a car that no longer matched the models in its showrooms.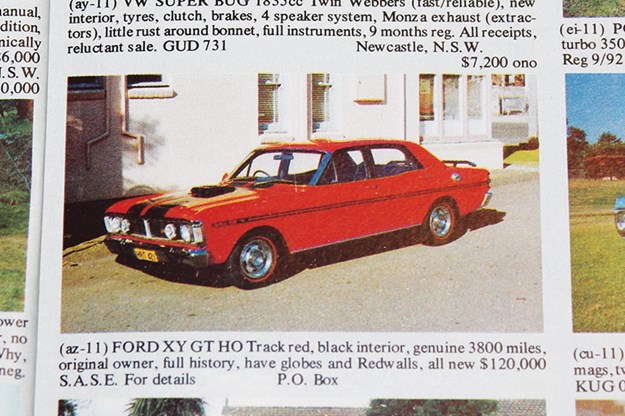 Winning the Bathurst 500 production car race, held each October on the daunting Mount Panorama circuit, was a crucial marketing tool. It mattered little that the car a Ford fanatic drove was a three-speed, six-cylinder base model with bench seats and drum brakes all round. To the owner, it was a race winner.
| Read next: Ford Falcon GT-HO racers
People lucky enough to own actual Phase IIIs sometimes didn't have them for very long. It was often said that theft was a more common reason for the dwindling numbers of genuine cars than crashes on the road or race circuits. One very famous stolen HO – the car depicted in Wheels magazine's controversial '140mph Down The Hume' speedo photograph – has after 50 years reportedly been found in pieces on a farm in western NSW.
| Read next: The true story of HO down the Hume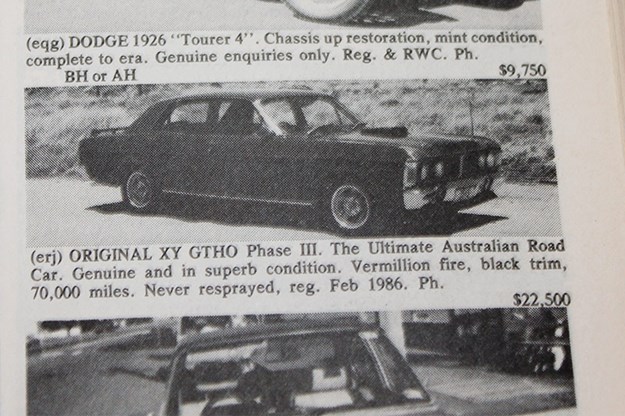 Given the money that has been paid in the past for cars resurrected virtually from death, it would not surprise to see this very significant Phase III stitched back together and being offered for sale in a year or two's time.
Tracking Phase III values back to the 1980s isn't too difficult thanks to research predating the appearance of Making Money From Collectable Cars, my 1988 guide to the local classic market. You can thank its publisher, the redoubtable Pedr Davis, for that memorable title.
Back then it certainly seemed that every sale would bring a new record price and each edition of Unique Cars gained weight as the ranks of available vehicles swelled.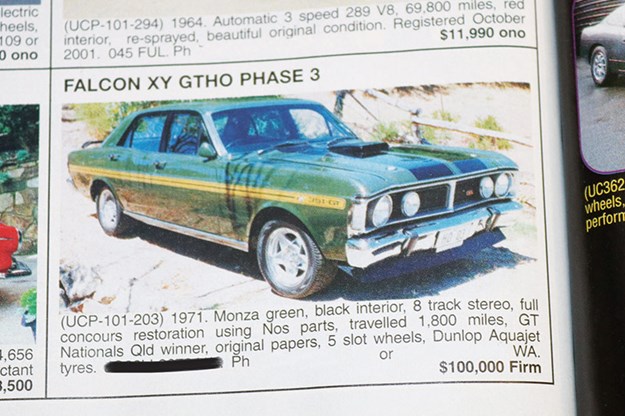 When surveyed in 1982, a typical Phase III would have cost slightly less than $16,000. Three years later that value had climbed past $22,000 and when revisited in 1989 the average had reached $32,570.
Gazing into the future, your fearless scribe predicted that the year of 1992 would see Phase III buyers needing 70 large to fund a top-line car. What the crystal ball didn't register was an impending recession, the worst for several decades, which would flatten demand and hold the average to a subdued $53,000.
Values would from there climb steadily but with no real intent until 2004-05 when demand surged again. In the space of three years, the money being realised by locally built muscle cars in general and GT-HOs in particular would leap dramatically.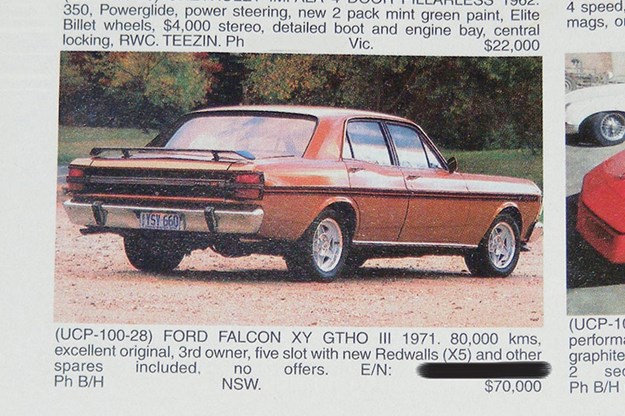 Peak values climbed from around $180,000 during the early days of 2005 to almost $700,000 by late 2006. It was phenomenal but unsustainable growth that saw some cars bought and sold multiple times.
Then in a trice and even before the Global Financial Crisis arrived to finish the job, Australia's Muscle Car 'boom' had gone bust and values diminished again.
Then, like the superheroes that its muscular presence is said to emulate, the Phase III climbed from the canvas and came storming back into contention as one of the world's fastest appreciating investment vehicles.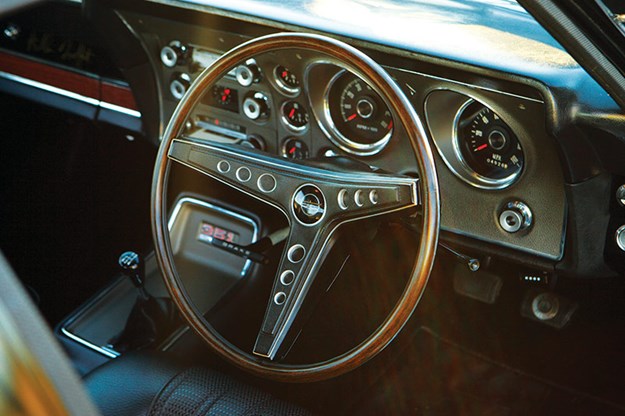 By 2014 the average amount being asked for a Phase III had topped $375,000. Three years later that figure had reached $460,000 and we received confirmation of one exceptional car being sold above $500,000.
| Reader Resto: Home-built Falcon XY GT-HO Phase III tribute
Anyone serious about getting aboard the wildest ride in our automotive market should right then have taken the hint and locked onto the best car that could be bought for the money they had to invest.
Just three years further down the Phase III timeline, values finally reached the pinnacle – or so it seemed – of $1 million.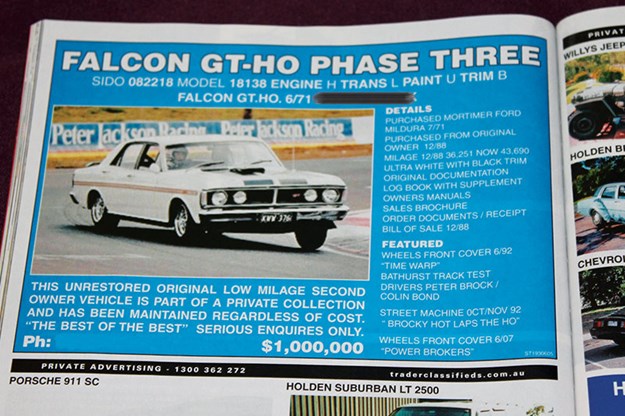 Where Phase IIIs and other high-profile collector cars will head next is anybody's to predict. Ask the people who sell high-end cars and they believe there remains some steam in the old boiler yet, driven by historically low interest rates and unprecedented demand for residential property. Pandemic? What pandemic?
Whatever happens, the people with money to spend on an indulgence will keep on buying the big Fords with their anti-social air intakes. The King will never die.
From Unique Cars #455, July 2021
Unique Cars magazine Value Guides
Sell your car for free right here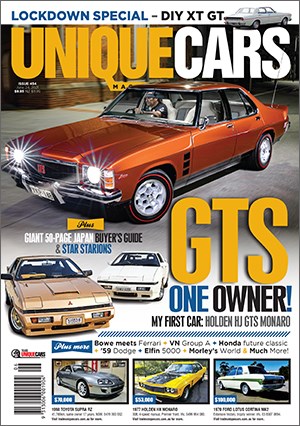 Subscribe to Unique Cars Magazine and save up to 42%
Australia's classic and muscle car bible. With stunning features, advice, market intelligence and hundreds of cars for sale.
Subscribe