Cadillac 1959 Superior Hearse
---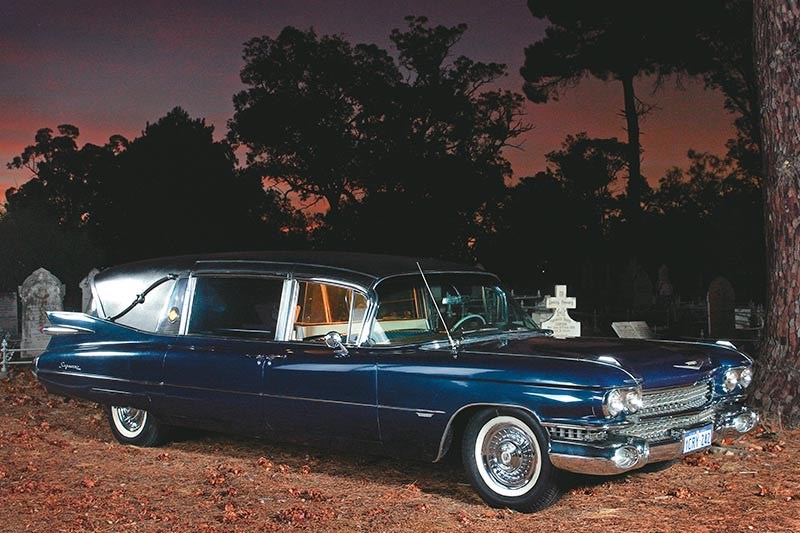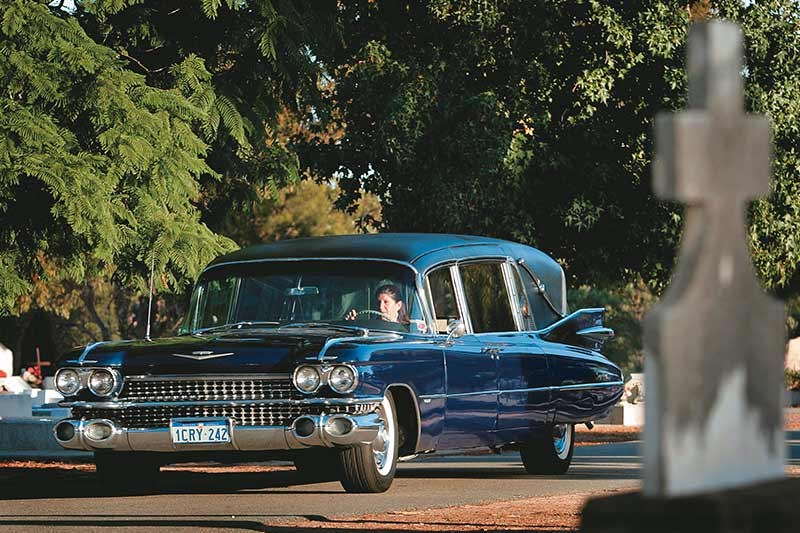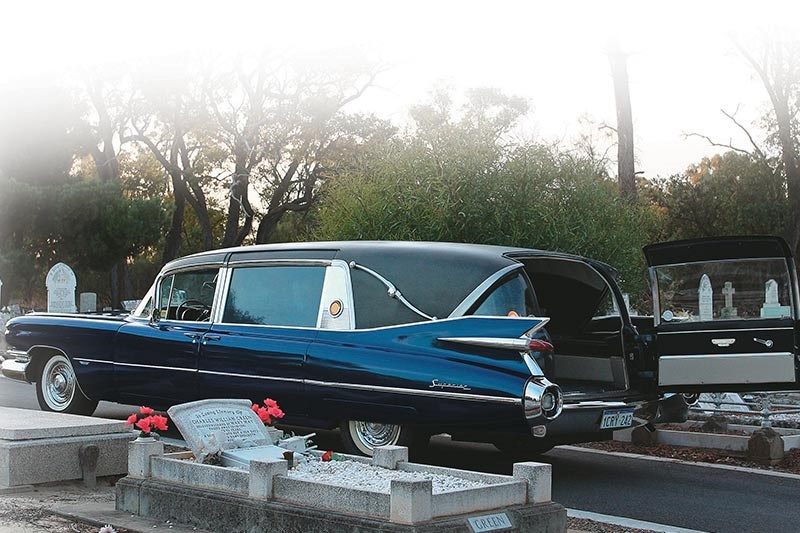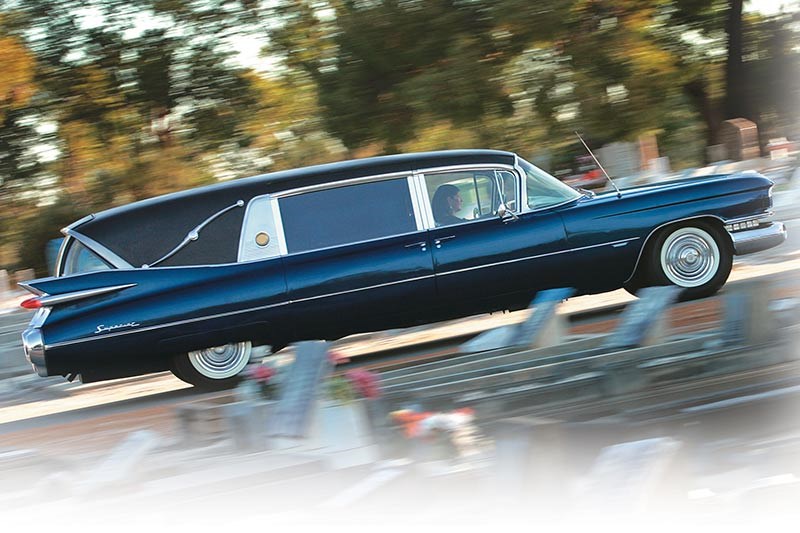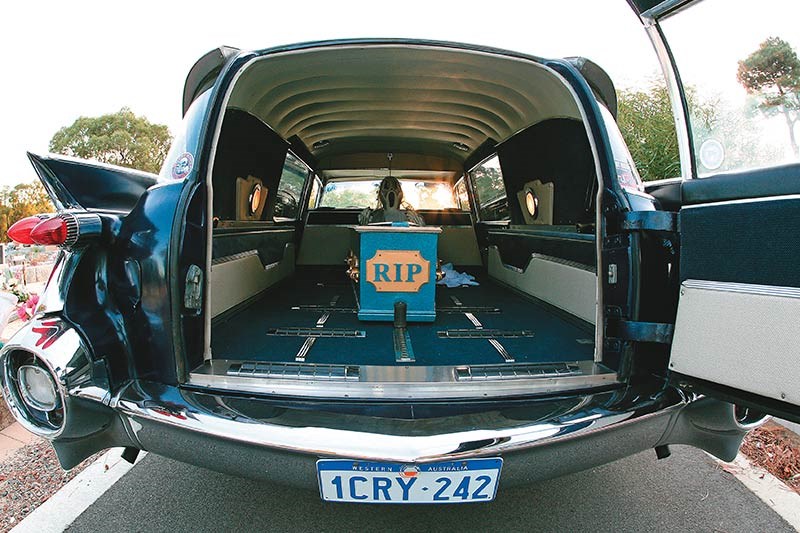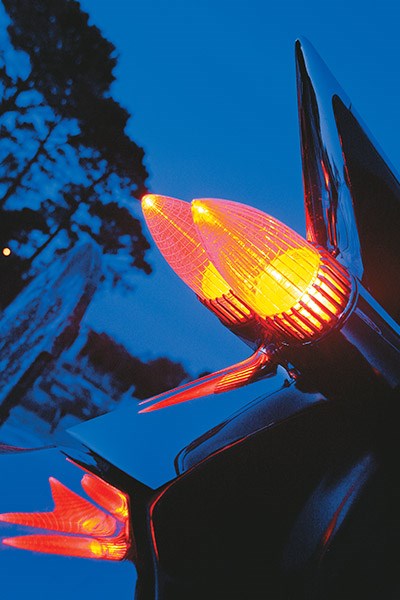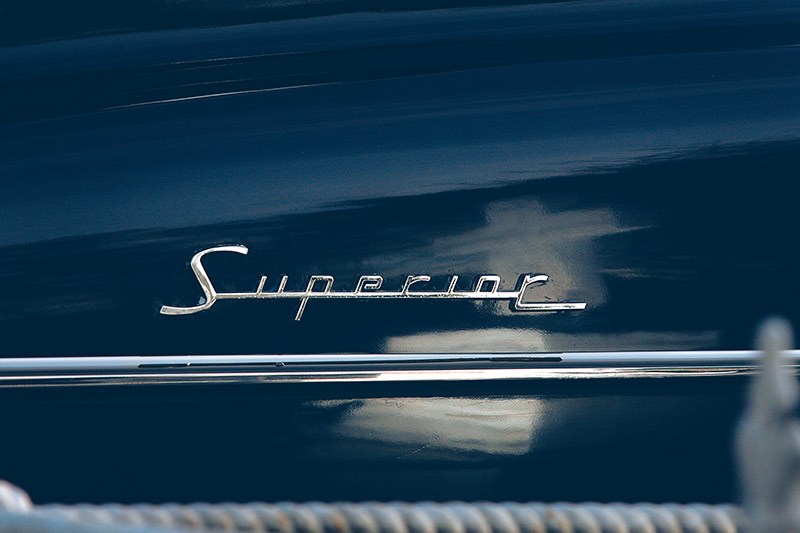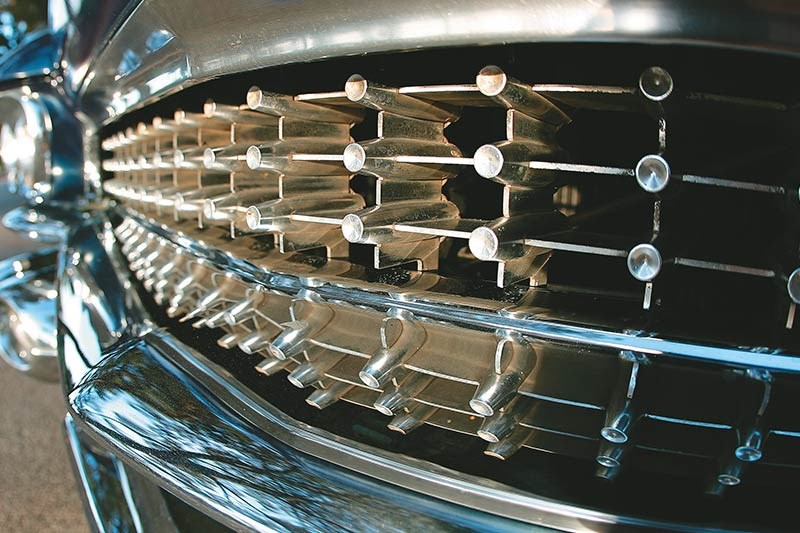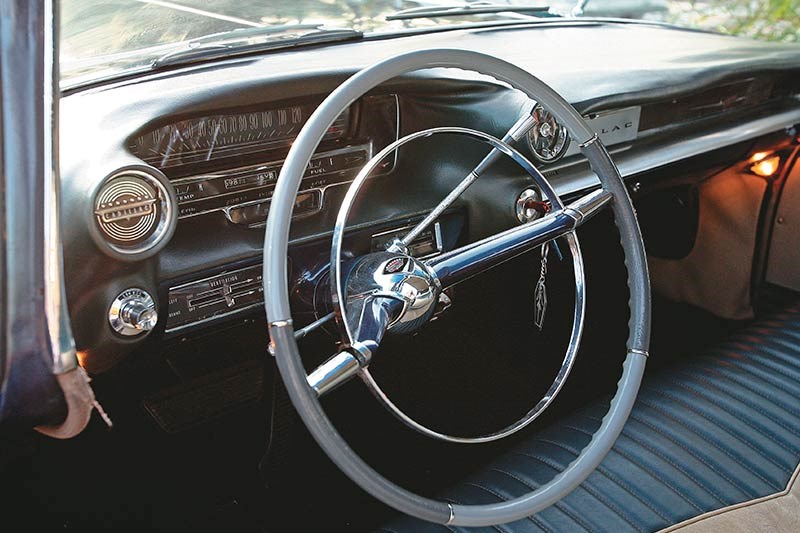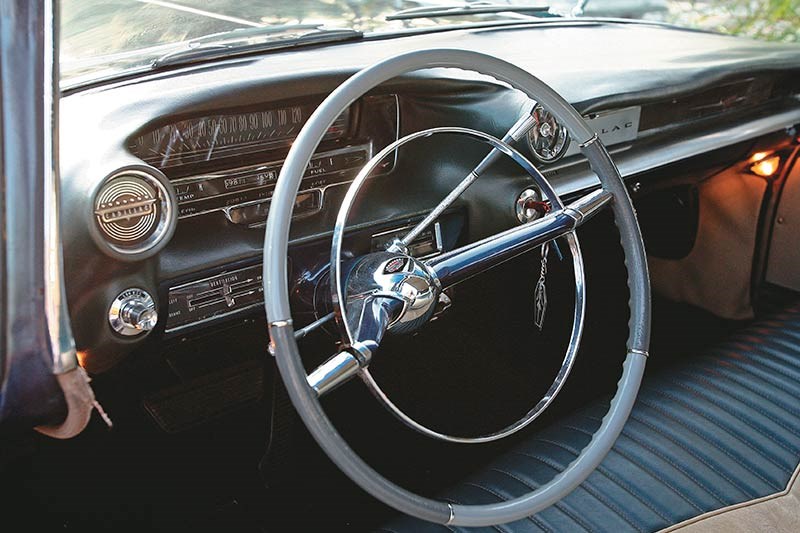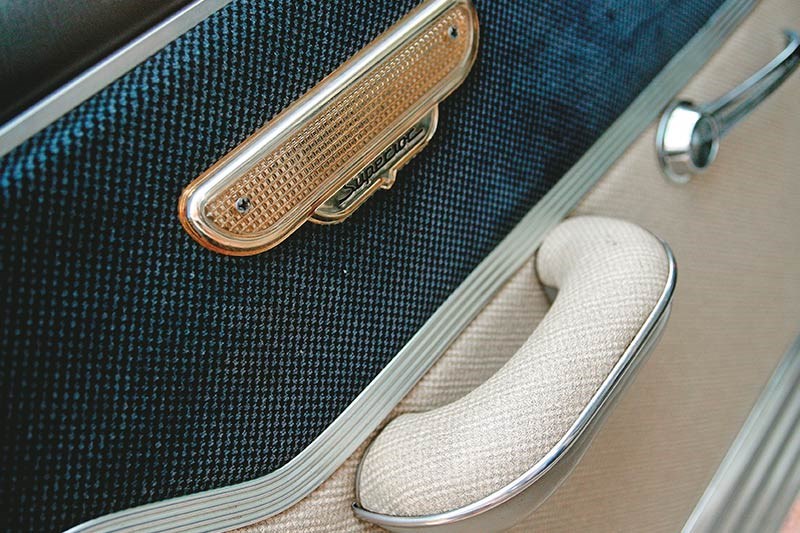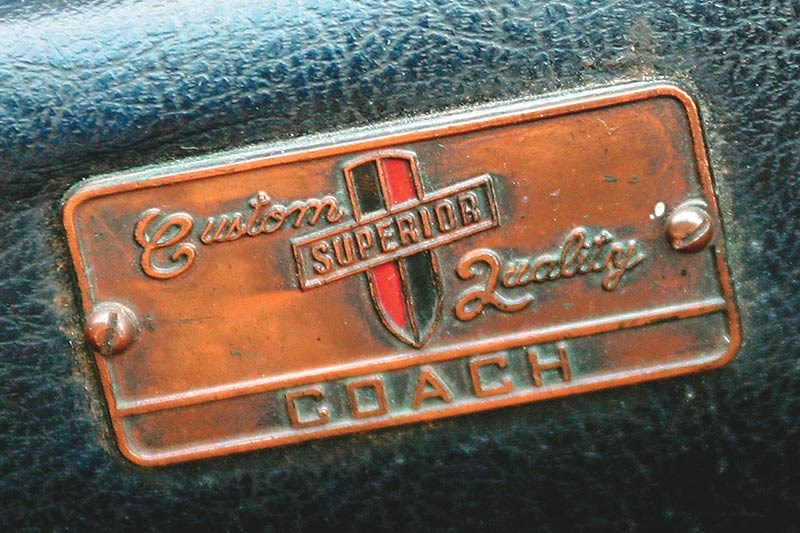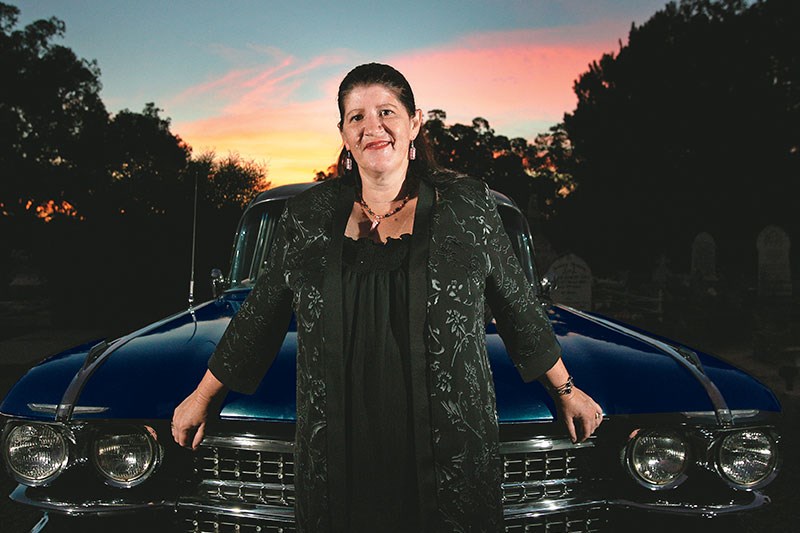 From the archives: Artist Karen Morgan was looking for 'something different' to drive so she chose this Finned American hearse… of course!
Originally published in Unique Cars #285, Apr/May 2008 
Cadillac 1959 Superior Hearse
If you wanted to drive a car which was out of the ordinary, caught people's attention and stuck in everyone's memory, it would be pretty hard to go past this magnificent Cadillac. A '59 Caddy in any configuration makes a big statement but a long wheelbase chassis, wearing Superior hearse coachwork is in another league altogether. Fifty years ago a car like this, while a working vehicle, was seriously impressive – and today it's just about the most attention-grabbing piece of automotive sculpture on the road.
The year 1959 was when General Motors' American ranges reached their zenith in over-the-top styling. The '59 Chevs had the widest fins ever and the Caddies had the tallest. There was enough acreage of chromework on a '59 Cadillac to almost completely cover a Mini (launched in the same year). And today, to many collectors and aficionados of Americana, a 1959 Cadillac is considered the absolute high point from a long gone era.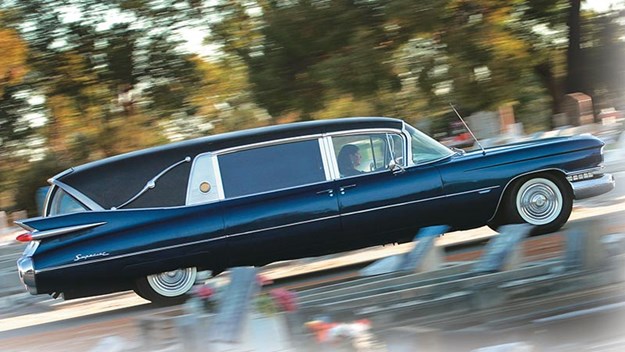 Mourning glory! At a whopping 6600mm longer in wheelbase than the already gargantuan sedan this Caddy makes a statement
Many people make the mistake of thinking these are just flashy-looking cars with mechanicals as sophisticated as a box of crayons. Not so. Cadillac had long been a leader in automotive technology and in the 1950s its cars featured items such as air suspension, alloy wheels, central locking, automatic headlight dipping and the best automatic transmissions in the world. They were smooth, powerful, comfortable cars when many of the world's luxury vehicles were pretty basic machines with much higher price tags.
| Video: 1939 Studebaker hearse
Obviously cars like the flamboyant Cadillacs were made in an era when America was enjoying great economic prosperity. And there was strong demand for special versions of the country's finest prestige cars.
Rocket-inspired flanks give appearance of flight capability but somehow we think the roof's aerodynamics may not be up for 'launch'
Cadillac offered a broad mix of models – two different versions of four-door sedans, plus the two-door Coupe de Ville and its convertible sibling. There were evocatively named De Ville, Seville and Biarritz and Eldorado versions. Then there was the long wheelbase, high roof Fleetwood 75 limousine, available in two versions. And Pininfarina in Italy was commissioned to make the ultra-exclusive Brougham model.
A super-long wheelbase chassis was offered as a Commercial Chassis, on which specialist companies built Professional Vehicles, mainly ambulances and funeral vehicles; remember the '59 ambulance from 1984's Ghost Busters?
There were three main companies building funeral vehicles using the Cadillac chassis; Cadillac supplied the fronts and sides of the bodywork and the coachbuilding companies did the rest to their own taste – or lack of it.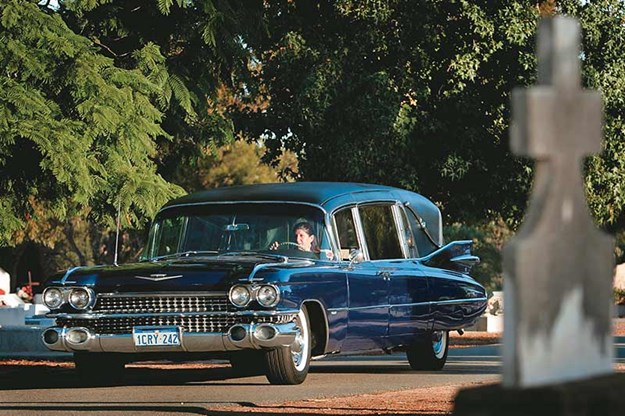 Superior Coach was the company which best captured the essence of the Caddy's flamboyant styling and incorporated it into its designs. The origins of this Ohio-based company reach back to 1915 and it still operates today. Eureka, Miller-Meteor and S&S (Hess & Eisenhardt) were the other prolific Professional Vehicle coachbuilders at the time this car was made, but eventually Superior bought out all their opposition.
Superior offered several Cadillac models in 1959. There was an ambulance version, plus similarly-styled nine- and 12-seater tall glass-roof stationwagon coaches called the Caravelle Skyview. And four versions of the Crown Royale Landaulet hearse were offered.
An interesting offering was the Flower car – the Coupe de Fleur – pretty much like a long wheelbase utility for funeral processions.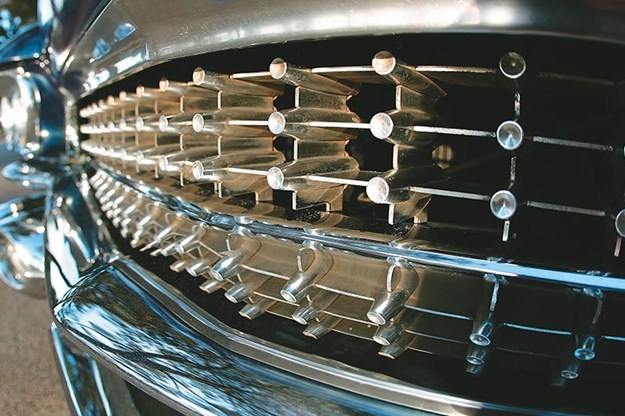 Superior Coach excelled in styling and attention to detail. A look at both the exterior and interior on Karen Morgan's car shows how carefully considered all the design elements were.
Unlike many of the opposition's designs, the styling of the Superior hearses, especially this version, was completely in keeping with the extravagant lines of the base car. Confident swathes of brightwork, with elegant and sculptured wrap-around rear windows complemented the '59 Cadillac so well.
Of course the model had the false hood irons (called Landau bars) on the sides – very much an expectation of the marketplace and one which virtually all hearses with wide back pillars had.
In 1959 US$11,047 bought a Royale Landaulet Combination like our featured car; the most expensive hearse version Superior offered. There were options of 'rear loading' or 'side loading', some with little flip-up seats in the rear and power casket tables. Some were built to double as ambulances and hearses – ideal for small towns, provided they had long parking bays.
Colour schemes were fascinating too. At a time when the traditional Australian market demanded hearses be nothing but black, the Americans enjoyed funeral cars in pastels, strong metallics and other strange combinations. The sales brochure for Miller-Meteor showed a vulgar-looking metallic green and yellow hearse.
The rear interior of this Superior hearse is styled in an Art Deco theme – perhaps because the age group passing away in 1959 were comfortable with that era's style.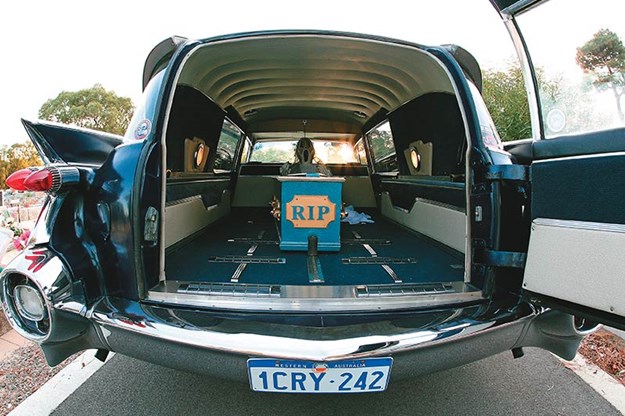 Final ride! Some hearses doubled as ambulances. Floor-mounted rollers amongst standard equipment 
Specially made aluminium trim and contrasting colours add a sophisticated touch and there is lovely detailing, such as the exquisite Superior-branded badges with lights adorning the interior. But a pair of radio speakers has been fitted to the rear compartment – for reasons which are difficult to comprehend...
Much of the interior hardware is made up of Cadillac parts; door handles, locks and other minor parts. Of course many parts such as the floor rollers are specific to the intended use of the car.
The early history of Karen's car is not known as Superior no longer has records. It was imported from the US 10 years ago, landing in Adelaide at Joe's Golden Gasoline, a major importer of classic American vehicles. At that time the car was painted a light metallic blue and in need of a lot of work.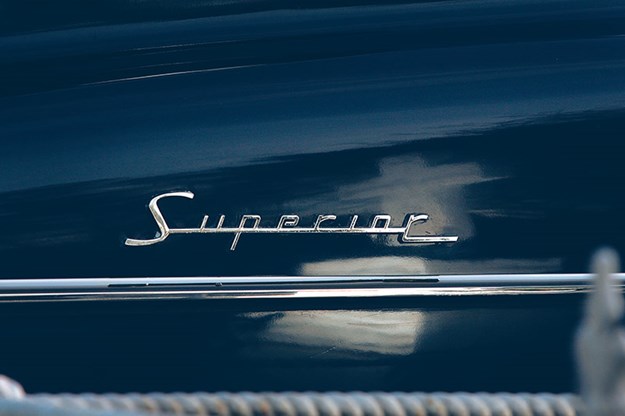 It was advertised in the November 1998 issue of Unique Cars for $16,950. It was sold and then went back to the same dealer about a year later, before finding a new home in NSW.
Last year Perth stained glass and leadlight window specialist Karen Morgan started searching for a car. It had to have space in the back to carry her work, but she wanted something unusual.
"I'd driven all over Australia in a 1937 Chev Coupe that was my everyday car for seven years," Karen explains. She had a classic 'dry spell' for a long while, though she did encourage her husband Ken to buy a Charger a couple of years back.
"I had always liked unusual cars and remembered a 1934 Dodge hearse I'd really liked years ago, so I started searching on eBay. When I did a search for a hearse, I found this car and fell in love straight away."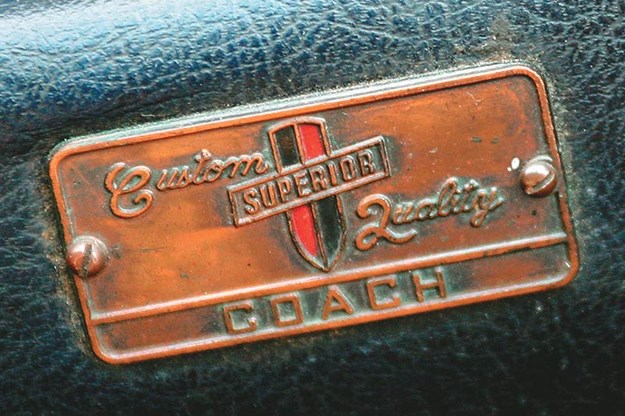 Ken put a bid on the car and after contacting the owner and examining photos and documentation he made the trip to Sydney to put the car on a transporter; a task in itself, requiring two car spaces.
On arrival the hearse passed its licence inspection first time and the Morgans set about getting to know their new acquisition. Initially only Ken drove the car. When Karen took the wheel he was "completely white-knuckled all the way". So one day Karen called Ken while he was at work, saying she'd be taking the car out. "I drove everywhere that day and really got to know her," she said.
It's a pretty easy car to drive in spite of being longer than a bowling alley and left-hand drive. With just 67,000miles on the odometer it drives quite tightly, with sharp steering and decent handling – considering its size.
Front interior remained standard 
The Commercial Chassis included uprated suspension among the specific changes from standard so the ride is extremely good; bumps are soaked up with alacrity, as is perfect for a hearse. All four corners are easily seen from the driver's seat, so provided you find a long enough spot, it isn't difficult to park.
Karen uses the hearse a lot. "It probably goes out three or four days a week," she proudly states. "It's the biggest magnet you could get. People follow for miles, take photos with their phone cameras and want to talk to me at traffic lights. I took the car to Bunnings and it took over an hour to get from the car to the shop's door. Even the staff came out to look at
it."
The car's first event was a hot rod cruise into the Fremantle café strip.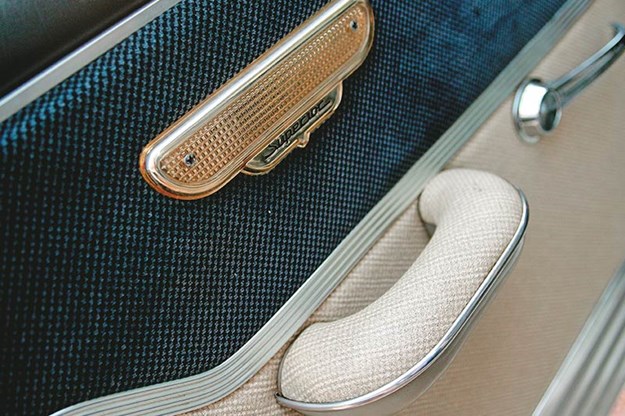 "Everyone ignored all the other cars. One little girl shouted out to her mother 'mum, mum – it's Batman'." Karen says a lot of people do a double take when they see a woman behind the wheel.
"People of all types and ages like it. I thought older people might find the car offensive, but they don't seem to.
Interestingly, a lot of people want a photo of themselves lying in the back."
Karen says she doesn't find it spooky at all, and she's not into ghoulish things herself, even though people think she must be to drive a hearse. "I'll be taking the car to the south-west to the Budgerigar Nationals in a few months and I'll probably sleep in the back." It's much bigger than a double bed in there.
On a practical note Karen has also worked out that the hearse will carry 100 show cages, so the car will be used for transporting budgies at the Nationals.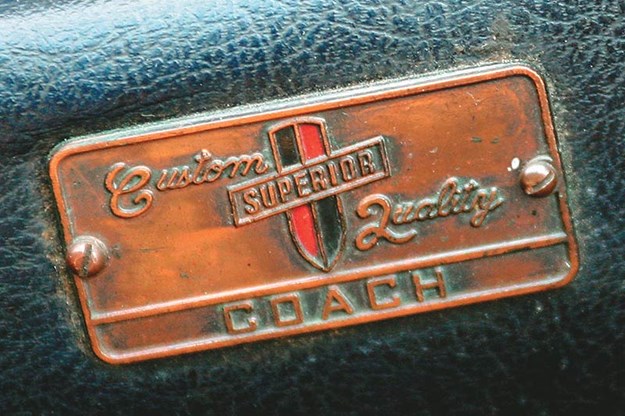 It's certainly a car Karen will keep, and while she builds up her repertoire of clever hearse/death/funeral remarks, the car will benefit from an engine bay detail soon and new paintwork some time in the future, along with a few other minor improvements.
Karen is keen to use the car for promotional purposes and if anyone is interested, for funeral work. When you've got to go, you might as well go in style!
Cadillac by numbers
Becoming part of the General Motors empire in 1909, Cadillac, which began in 1903, manufactured high quality, upmarket cars from its earliest days.
In 1959 Cadillac produced 142,272 cars, of which just 2102 were the Commercial Chassis version. There was no retail price listed for these as they weren't available to the public.
The Commercial Chassis was just over 15cm longer than the limousine wheelbase – already 51cm longer than the standard two-and four-door models. In consideration of their intended special duties they were fitted with an upgraded generator and suspension as standard.
The regular engine was Cadillac's 390ci V8 (6.4-litre) which, for the hearses, put out 325hp (242kW). Options offered included six-way power seats, electric windows (including quarter vents) and a more powerful version of the 390 engine.
It's not known how many hearses Superior built in 1959 – probably a few hundred – but only three are known to be running in the world at present, with several others awaiting refurbishment. There's only one known example in Australia.
From Unique Cars #285, Apr/May 2008 
Unique Cars magazine Value Guides
Sell your car for free right here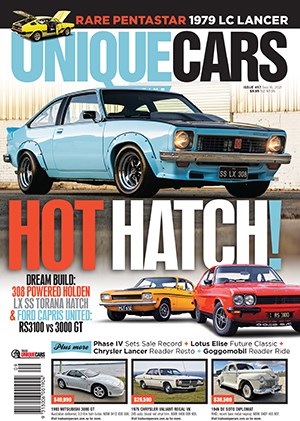 Subscribe to Unique Cars Magazine and save up to 42%
Australia's classic and muscle car bible. With stunning features, advice, market intelligence and hundreds of cars for sale.
Subscribe