Jaguar E-Type Lightweight review
---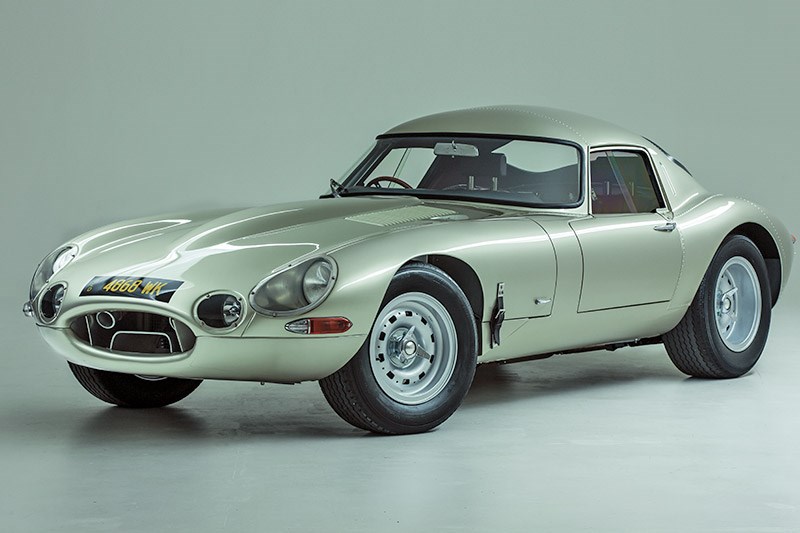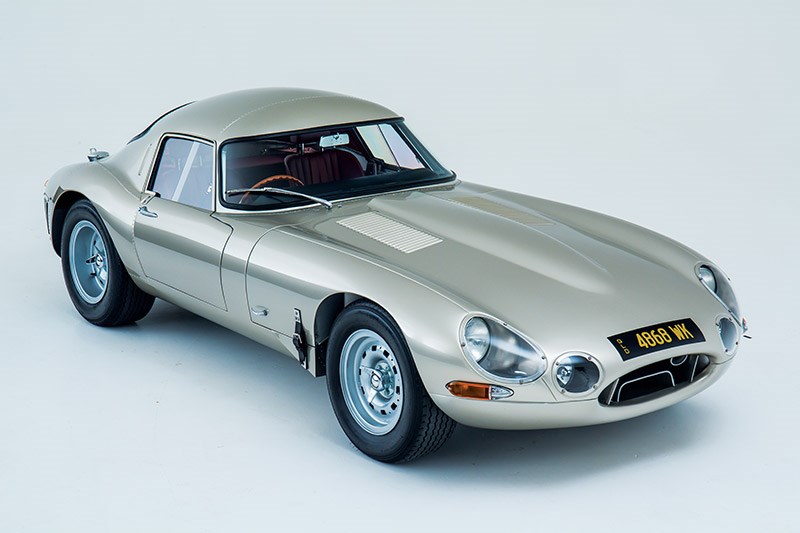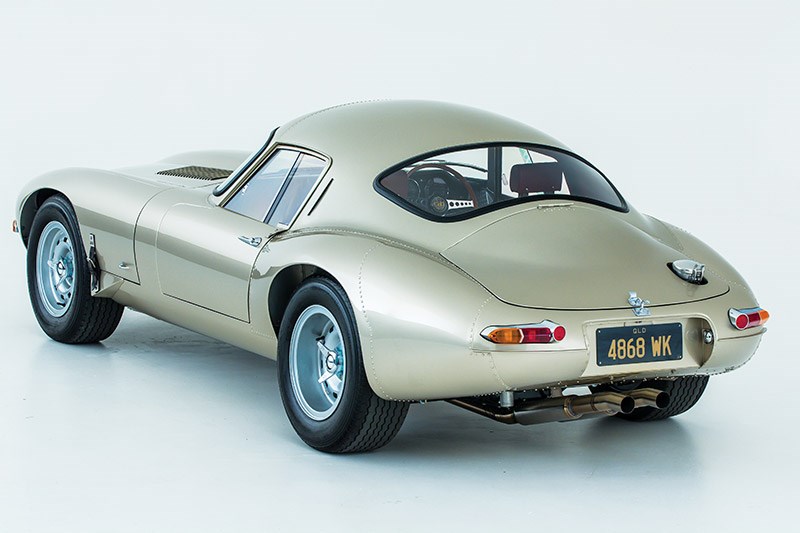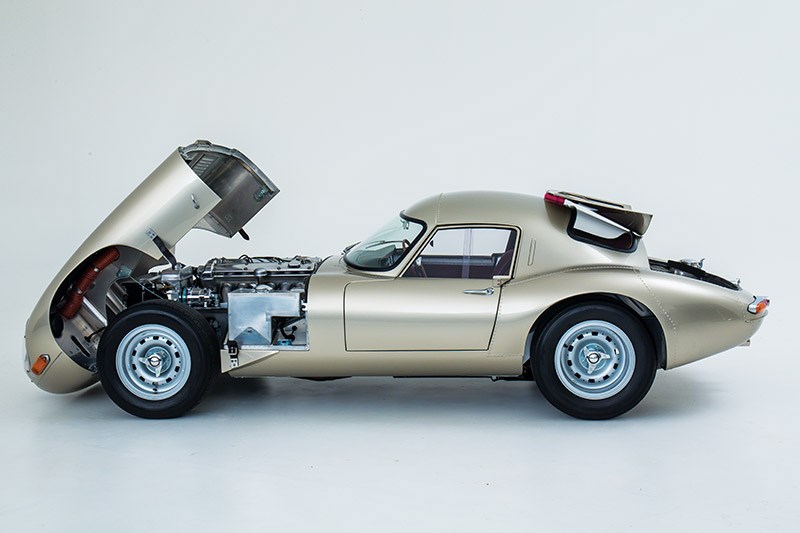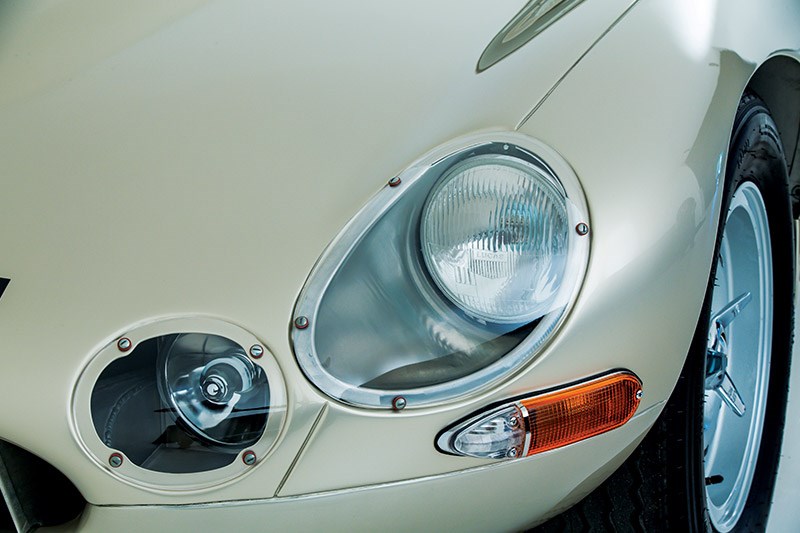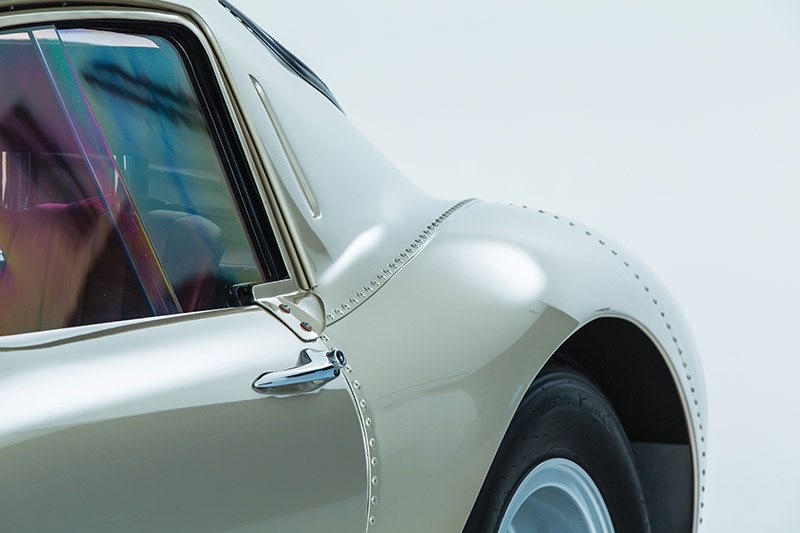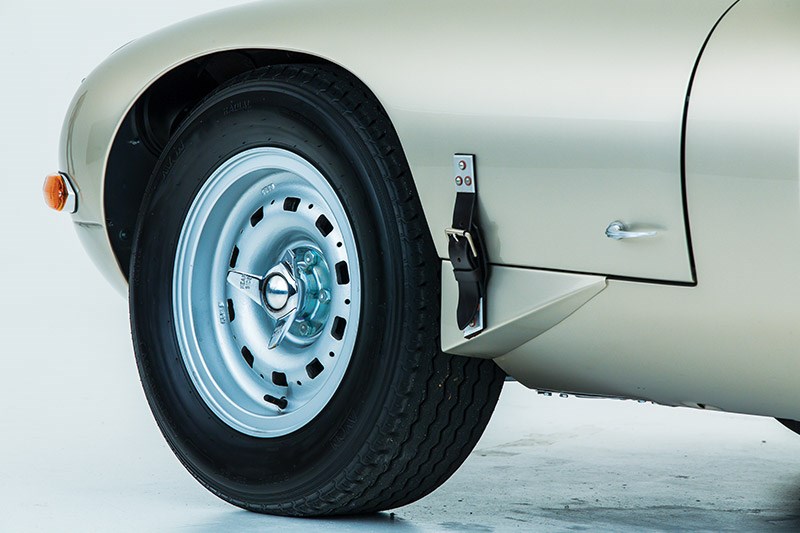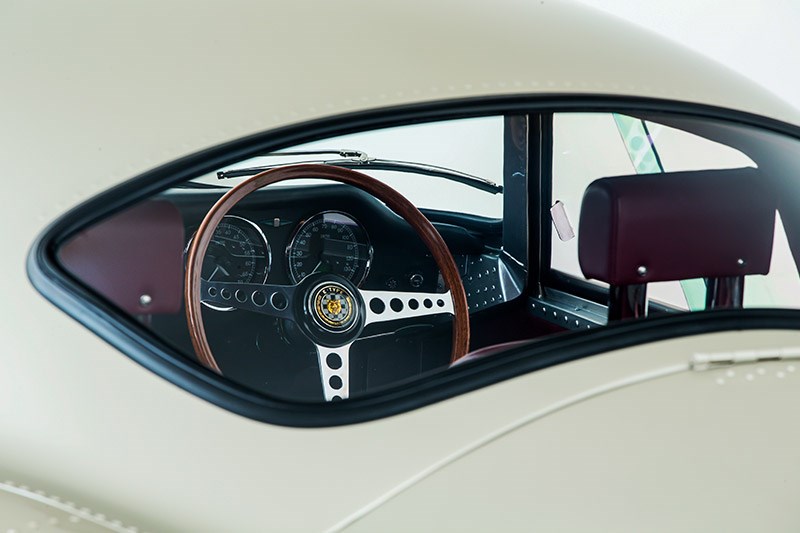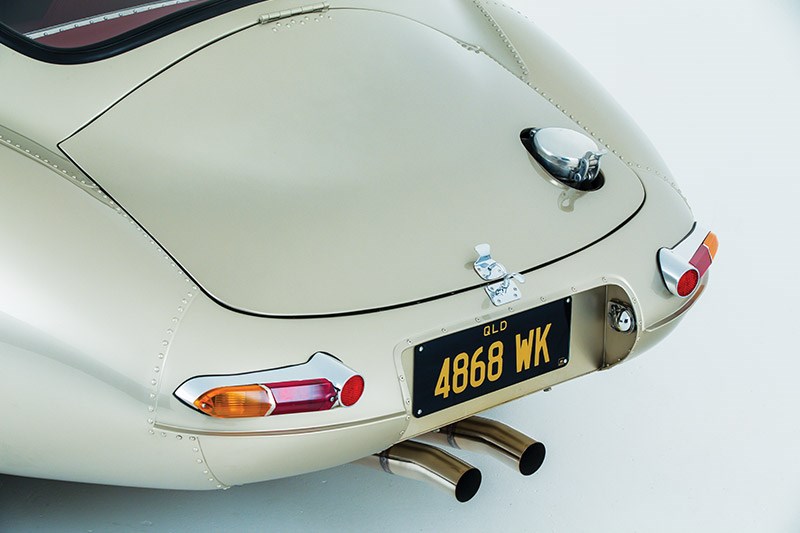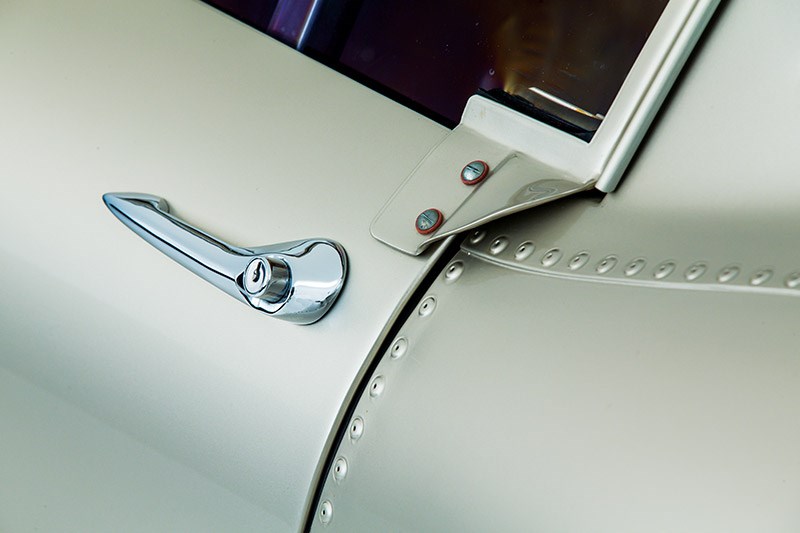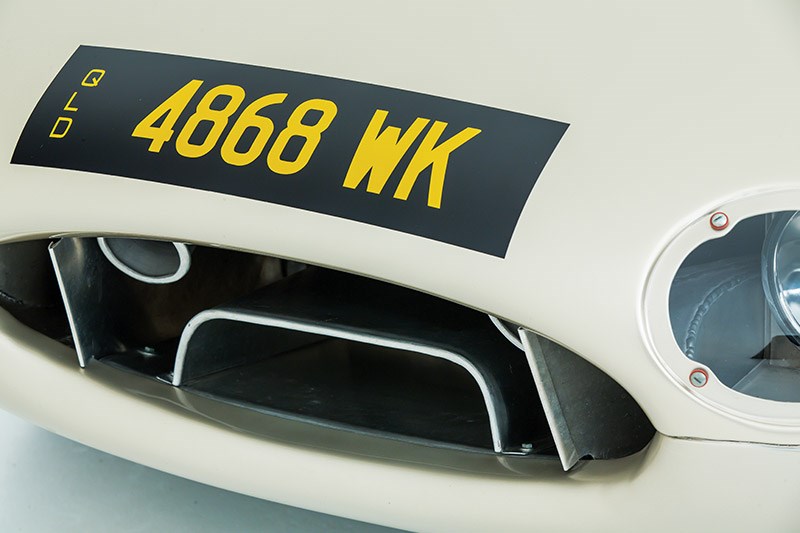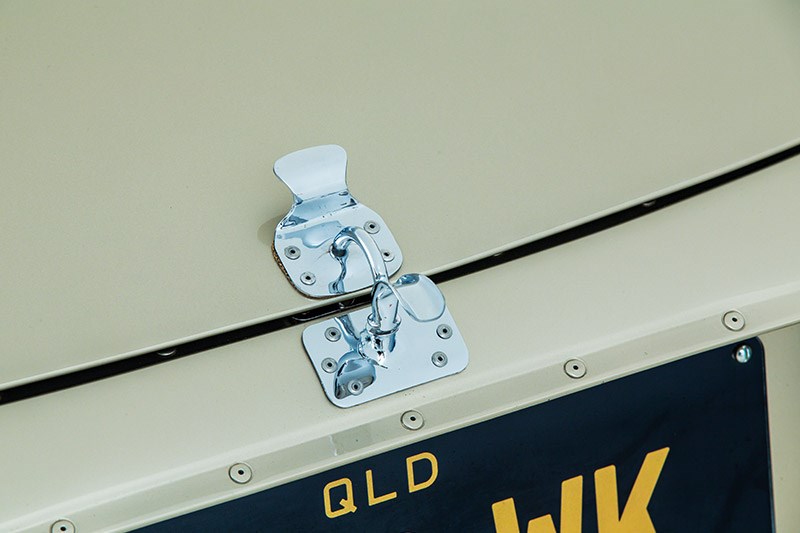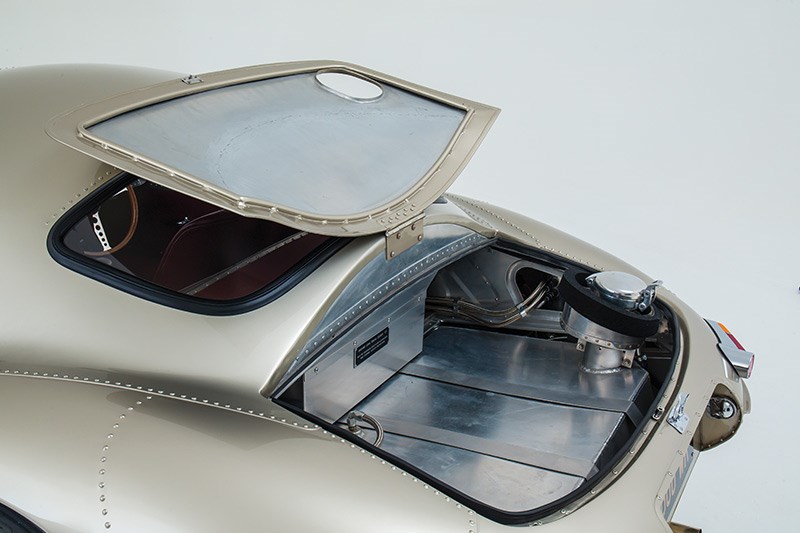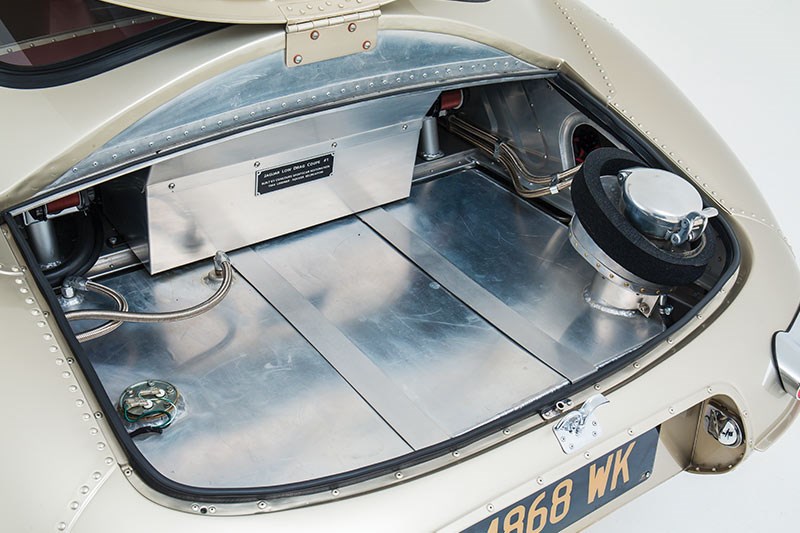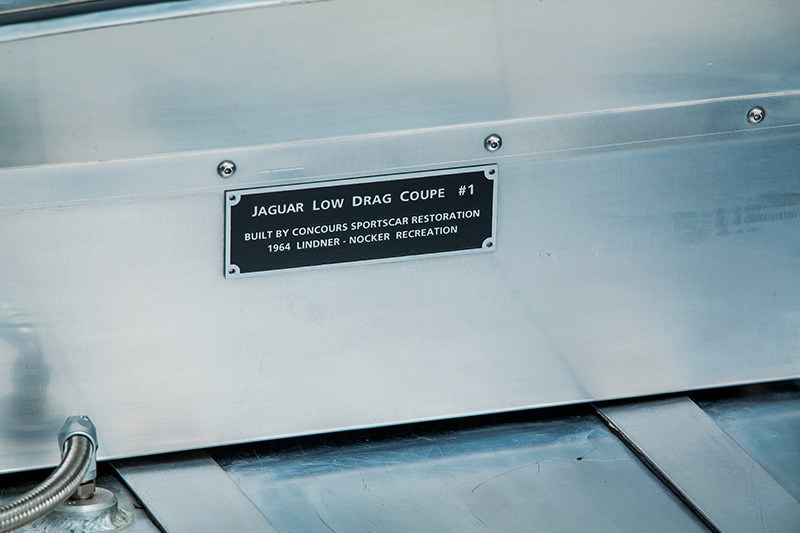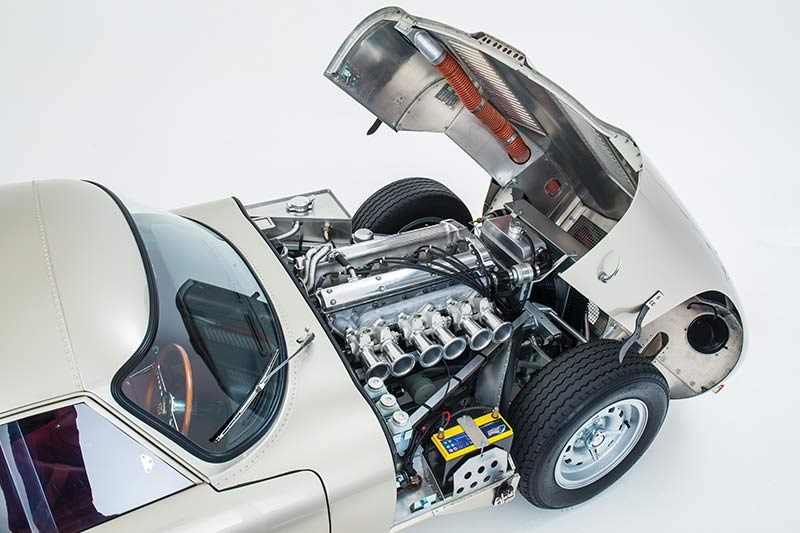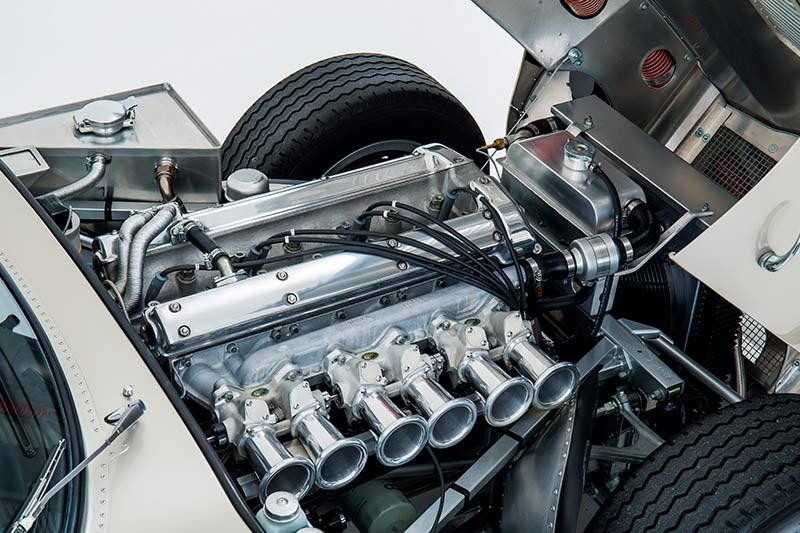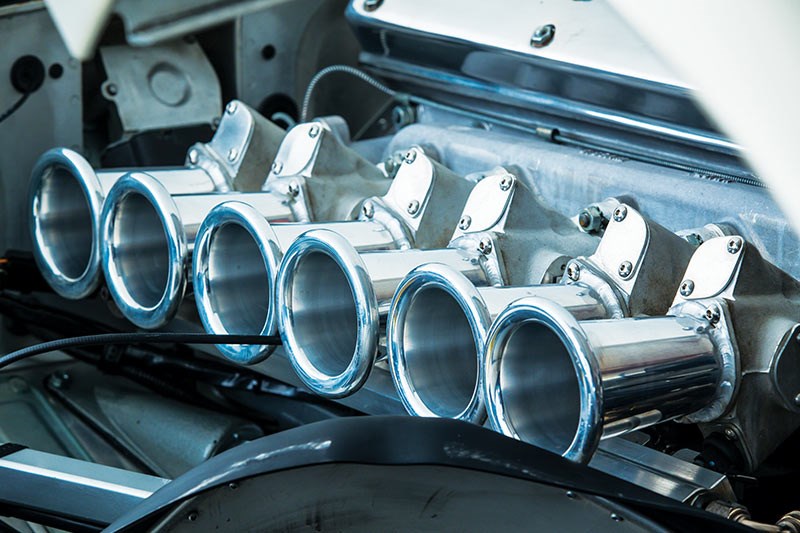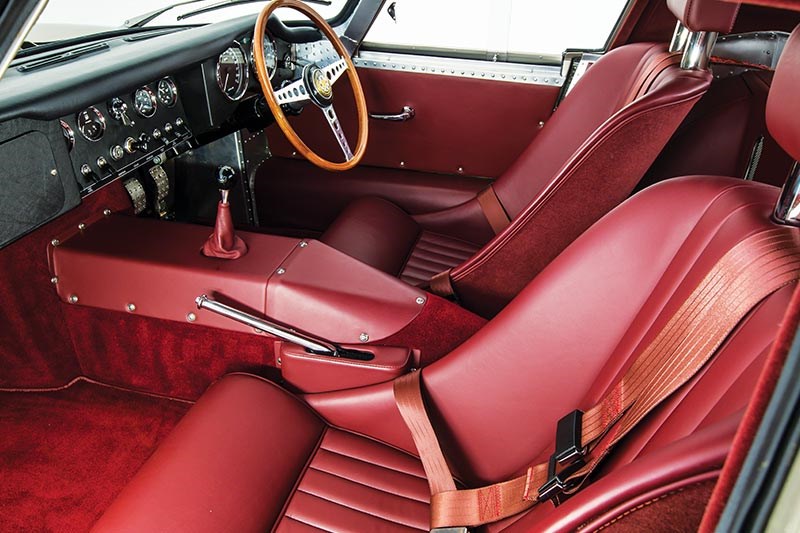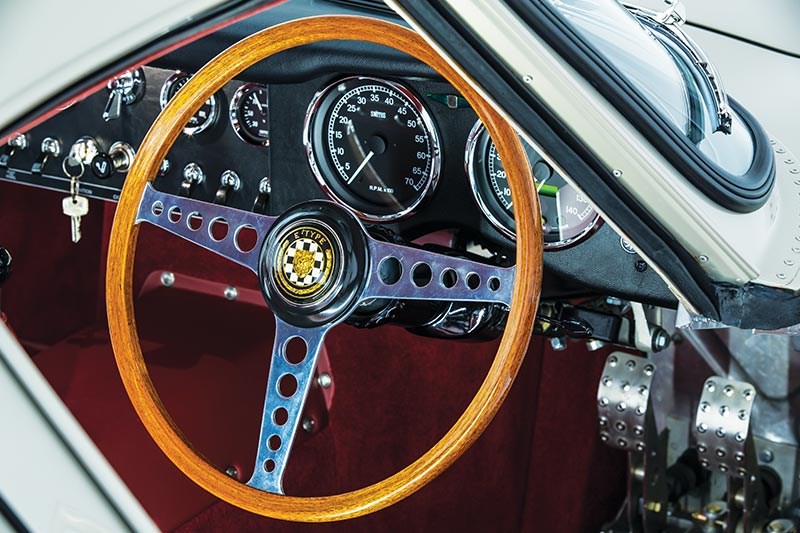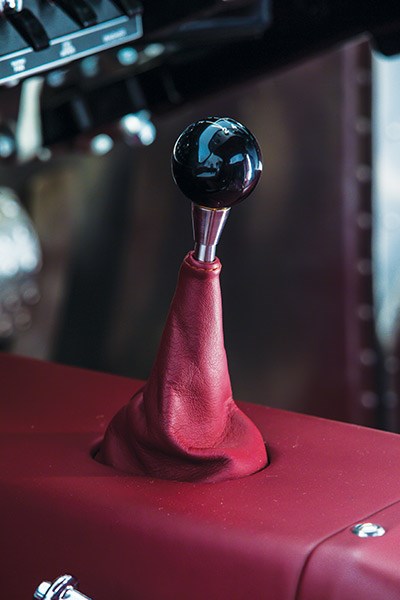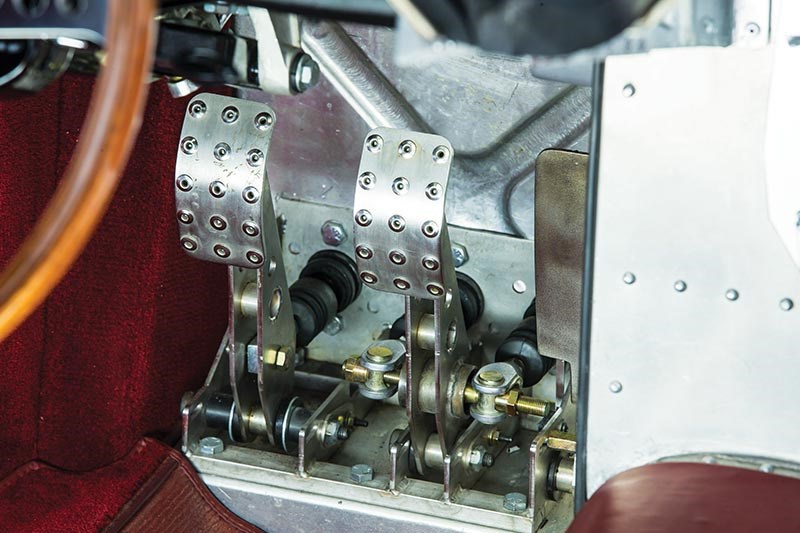 This world-class, Aussie-crafted retro-tech tourer is a tribute to the iconic Jaguar lightweight low drag racers of the 1960s
Stone Chips. They're a nightmare for most restorers, street machiners and other car nuts who have paid the big bucks or spent the big hours required for a superlative paint job. Yet I'm looking up and seeing thousands of stone chips on the curvaceous lower panels of a very special Jaguar, hoisted high during a spanner-check at the premises where it was created, Concours Sportscar Restoration (CSR) at Tuggerah on NSW's sunny Central Coast.
The last time I saw this car, it had just rolled out of a Unique Cars magazine photo shoot for the glorious shots you see here, but now the sills resemble the knees of a kid who has stacked his billy-cart!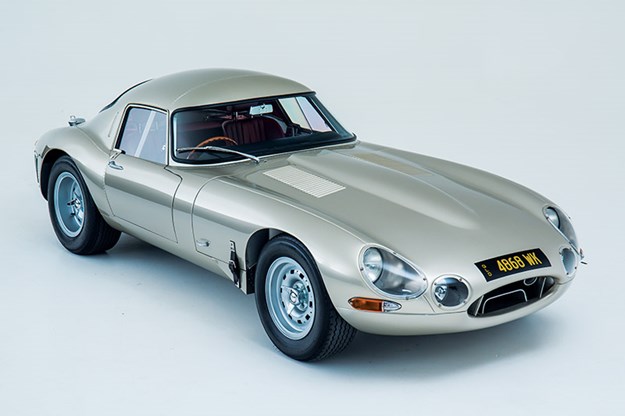 But that doesn't worry the owner of this beautiful recreation of Jaguar's 1960s Lightweight Low Drag Coupe, Phil Smart. Many of the chips arrived during hot laps of NSW's Wakefield Park and Qld's Lakeside circuits soon after the car was built; others are from Phil winding the odometer forward another couple of thousand kays driving his very special car on sunny Sundays and to his work as a company director in Brisbane.
"It's an incurable disease!" chuckles Phil of his enthusiasm for Jaguars… surely one of the more challenging of car marques/brands to own. "My first car was a Jag; a one-owner MkV that I paid $500 for in 1972. It was a 20-year-old car and I was 18."
| Read next: 1965 Jaguar E-type factory special review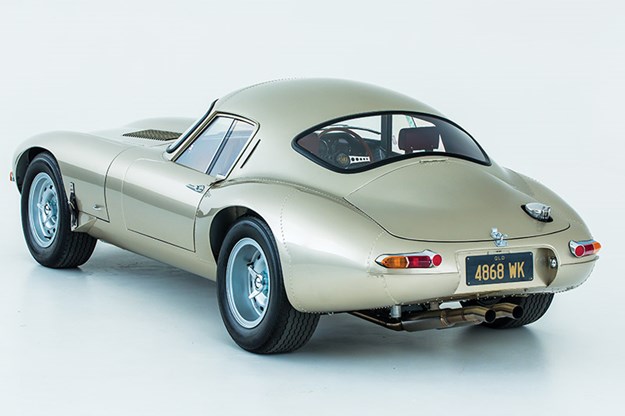 Superbly crafted hand built mufflers are too good to be hidden away
Phil is the foundation president of the Jaguar Drivers' Club of South Australia and has owned several other Jaguars – and several other brands of cars – since his P-plate days. "I went from that MkV to a XK140 fixed-head and then an E-Type. Then I got out of cars for a while – I had business and family commitments – but had some more modern stuff…
| Reader Resto: 1967 Jaguar E-Type I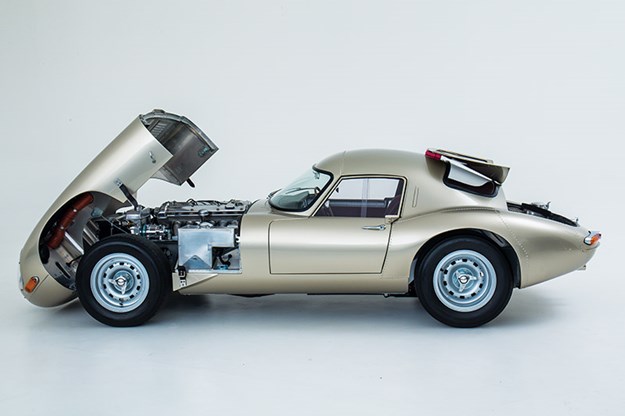 The all-alloy replica body's colour is a personal choice and is drop-dead gorgeous
"But one day I decided I wanted to get something special – the type of car where you open the garage door and it makes you catch your breath; something that's 'whooaa, look at that!'
"And that's what this car is."
| 2019 Market Review: Jaguar sports 1949-1975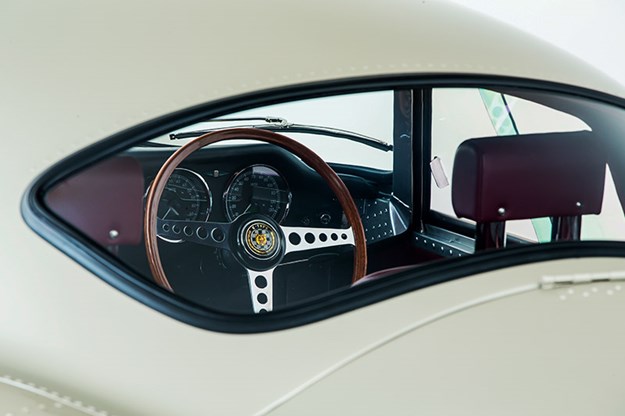 The era-lookalike Smiths gauges are modern electronic
For a hard-core Jag enthusiast, a low-drag E-Type is about as sexy as things get. The Low-Drag was one of Jag's factory-built track specials in the 1960s and this is a keen recreation but with a few additions and enhancements.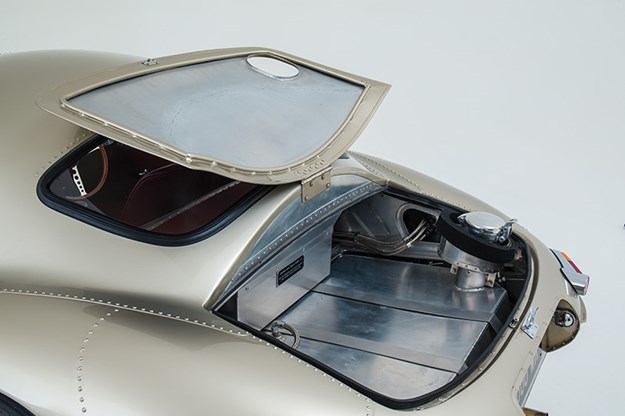 BEHIND THE SCENES
"We started with an E-Type," explains Gavin King of Concours Sportscar Restorations. But of that original E-Type Fixed Head Coupe precious little remains, such is the extent of the work performed to create this special car. The Low Drag replica has been built using a truly international plethora of original and recreation components including, surprisingly, quite a bit of Aussie technology in addition to the exquisite local craftsmanship. The build took six years.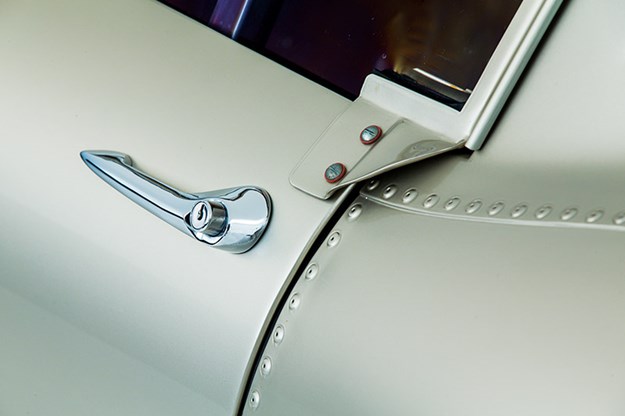 The body is all-aluminium. Jaguar's Low Drag Coupes had different panel shapes to the standard E-Type, thanks to the work of Jaguar in testing the E-Type in a wind tunnel and shaping the body to reduce aerodynamic drag and increase the car's speed. The shape of the air intake in the flip-forward bonnet is the biggest visual difference and clue – it's higher and more oval than the regular E-type and is flanked by two inset driving lights. Other details include a more bulbous turret and the doors' window frames are laid into the car. This recreation follows the form of the factory competition cars perfectly. It's far more than a reskin, too, with the inner rear quarter panels and wheelhouses, plus all the floors being aluminium, as were Jaguar's Lightweight race specials back in the 1960s.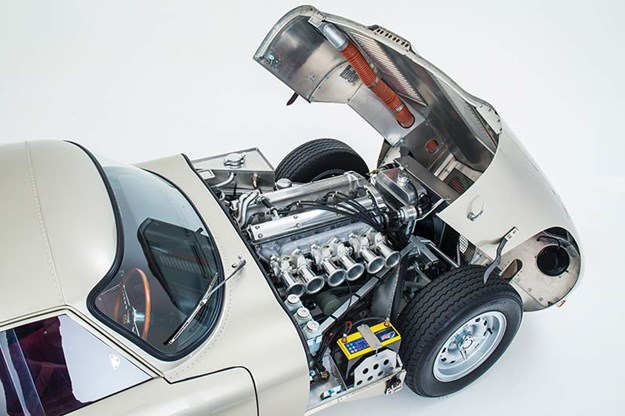 The engine produces 336hp at the wheels with more than 400 flywheel horses
The factory-type DOHC straight six engine in Phil's car is a special, being built by CSR using a gratifying mix of Aussie and imported parts. It's a 4.2-litre cast iron block with a wide angle Crosthwaite and Gardiner (from the UK) alloy head that allows enormous valves and terrific breathing over a stout 11:1 compression ratio. It's injected using international-grade Aussie tech: a Haltech brain and Injection Perfection throttle bodies that resemble the original-style Weber carburettors. Dry sump lubrication is all period Jaguar and no less than four different header and exhaust combinations were made in-house for dyno testing. During its dyno run-in, the long-rod, forged-piston engine spat out 409hp but tweaking of the tune fattened up the torque and road drivability for a 391hp result (at 6000rpm).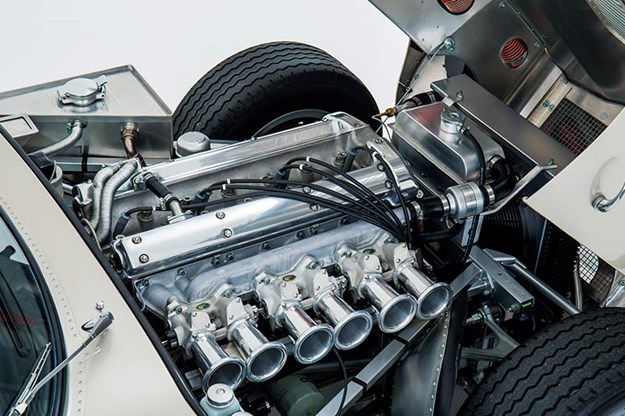 The fuel- injected engine uses Aussie brains and hardware
"It's a spectacular motor," agrees a proud Phil. "It's fuel-injected and has a few other bits and pieces on it. It runs beautifully – with electronic control it starts and behaves like a modern car." 
Behind the big six is an E-Type Fabs (UK) bespoke five-speed gearbox. It cleverly uses Borg-Warner T5 (1990s Commodore/Falcon-type) internals in a Jag-type alloy case, so it appears and bolts-in as per standard but benefits from those tougher internals. Behind that is a Quaife Torsen-type torque-biasing differential in between the upgraded vented inboard disc brakes, and independent rear suspension uprights. The suspension's trailing arms have been upgraded with polyurethane bushes and ride on GAZ adjustable coil-overs.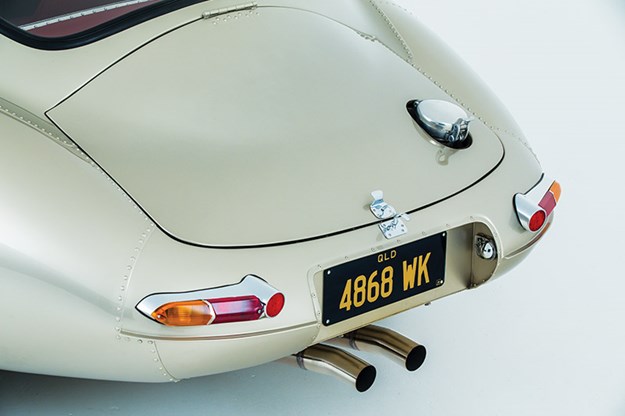 Behind those 15-inch replica magnesium peg-drive wheels, the Jag torsion bar front suspension has also been significantly upgraded. Of course, there are higher rate (fatter) torsion bars and adjustable sway bars. There is adjustable camber and caster to tune-in the angle of attack of the wheels and tyres on the chrome-moly front stub axles. The steering column is Jag, of course rebuilt, and twirling a solid-mounted quick-ratio steering rack. The front disc brakes (and the rears, too) feature beautiful billet calipers and vented discs. It's a shame most of it is hidden… It's all world-class craftsmanship either made in-house at CSR or sourced from fellow Aussie Jag component specialists V&A Spiteri in Melbourne. Another Aussie supplier, Vintage Wiring, provided the wiring harness. With the Jaguars' popularity around the planet, CSR's Gavin King has a whole world of suppliers to choose from. "Wherever possible at all, I use Aussie," he says proudly.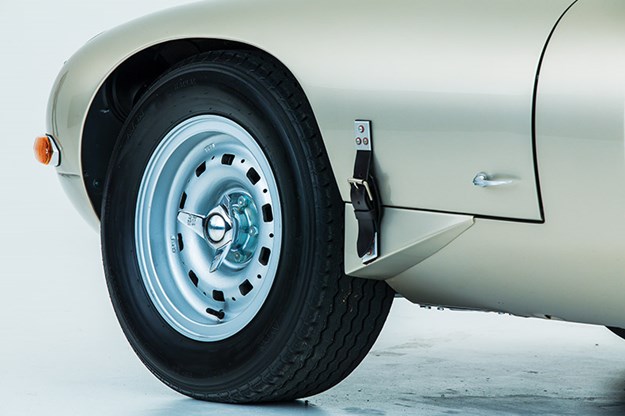 The cabin is another world of discovery. The pedals have been converted from conventional pendulum (top hung) to use a pedal box – also a world-class Aussie component developed in-house at CSR. Turning the pedal actuation upside down from standard not only resulted in a higher-performance system, but freed space in the engine bay for the rear-most throttle body on that fat big six. The instruments are retro-style Smiths but behind the faces they're electronic.
CSR built the seats from alloy to retain the '60s style but incorporate head rests. Phil and a lucky passenger are held in with retractable harnesses. Yes, you read that right.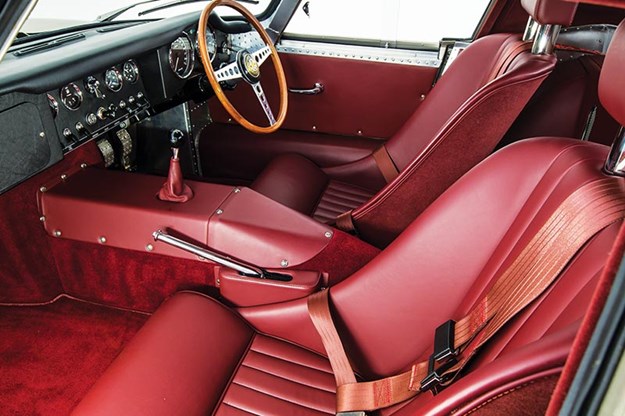 Hand-made alloy seats
Living in Queensland, Phil wanted air-conditioning so Gavin and his crew came up with a system "with parts sourced from all over the place!", with the main components installed in the boot piping the cool air forward as there isn't much space in the engine bay or under the dash.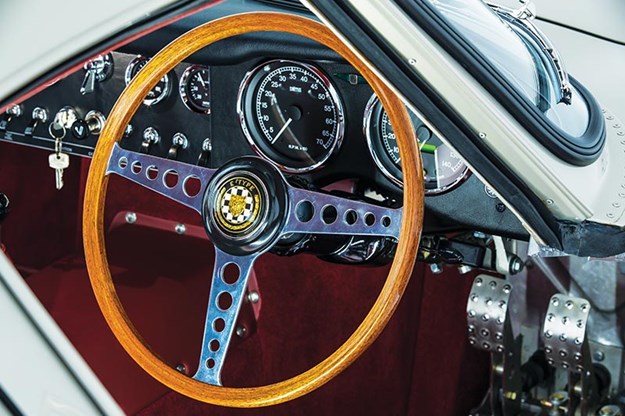 Gorgeous woodrim steering wheel for a perfect finishing touch
"I wanted it as a nice, fast road car," Phil continues of the gorgeous CSR recreation. "I knew it was a bit precious – and what it was costing me! – so I would be too scared to race it. And you get a lot more use from it as a road car. I can take it out and give it a good thrashing, then drive it home with the air-conditioning on. It's no good having trailer queens!
"I drive it once a week. It's a great thing to take to Coffee & Cars type events… I also drive it to work sometimes. I've also run it at a hill-climb: the Ringwood circuit near Newcastle. I ran it up a runway for a speed event, too… there was lots of gravel there," he recalls.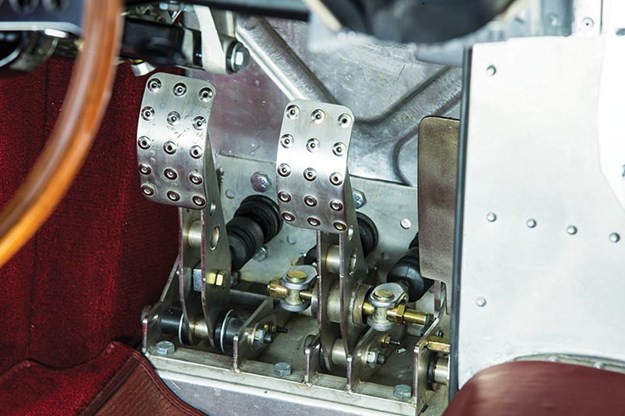 Floor-hinged pedals free up space in the engine bay for the triple Weber-style throttle bodies
But even though he's all for driving his Jag, Phil reckons he might have to get those stone chips fixed. "I didn't think it would be that bad!" he says with a laugh.
Unique Cars magazine Value Guides
Sell your car for free right here
Unique Cars magazine Value Guides
Sell your car for free right here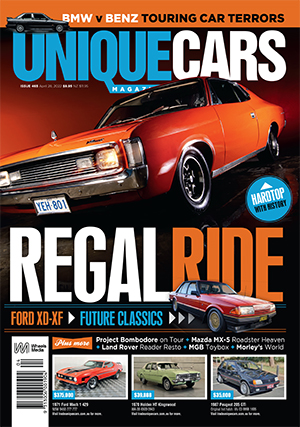 SUBSCRIBE TO UNIQUE CARS MAGAZINE
Get your monthly fix of news, reviews and stories on the greatest cars and minds in the automotive world.
Subscribe