Ford GT40: Beauty and a Beast
---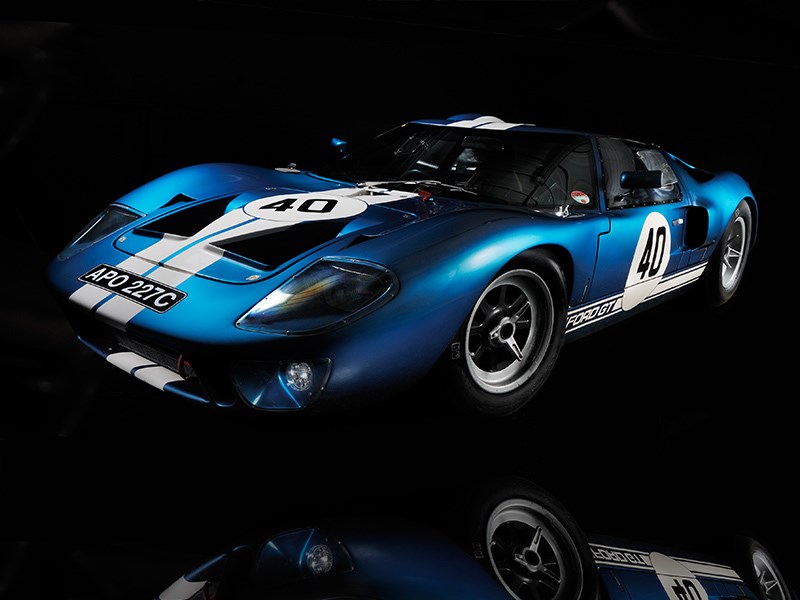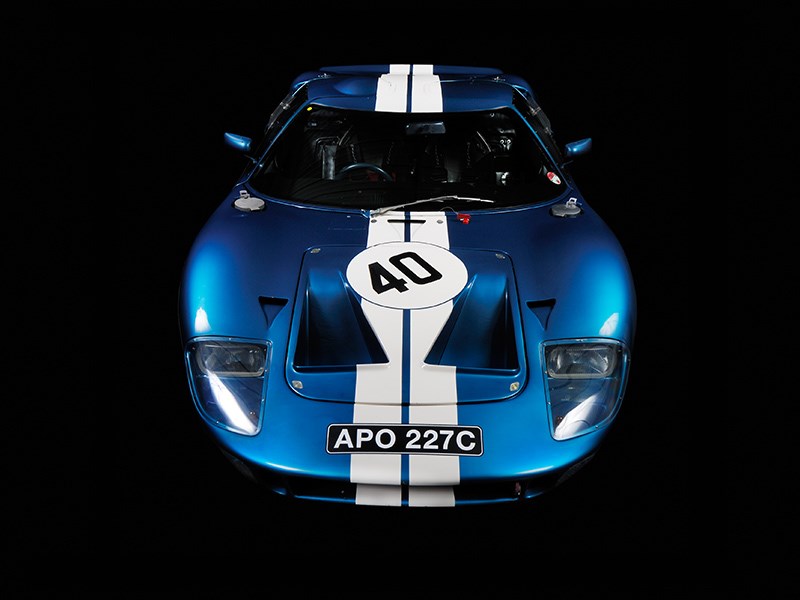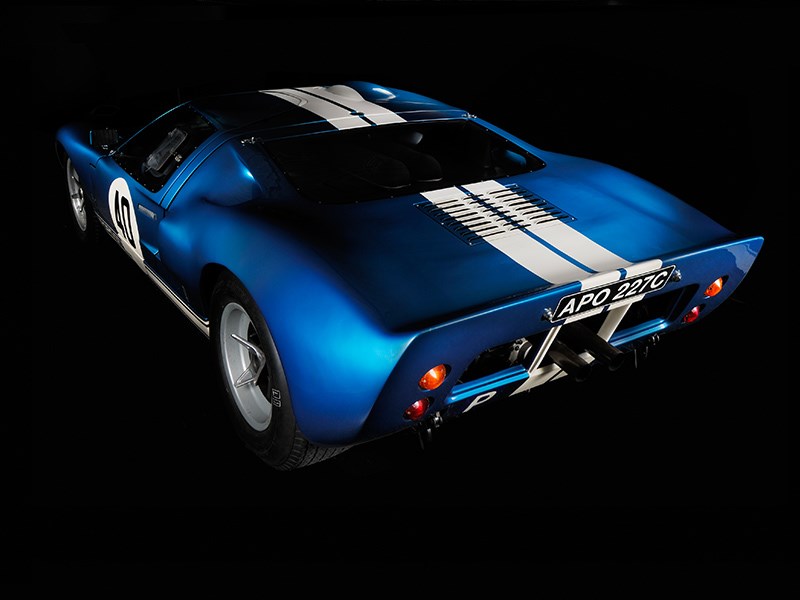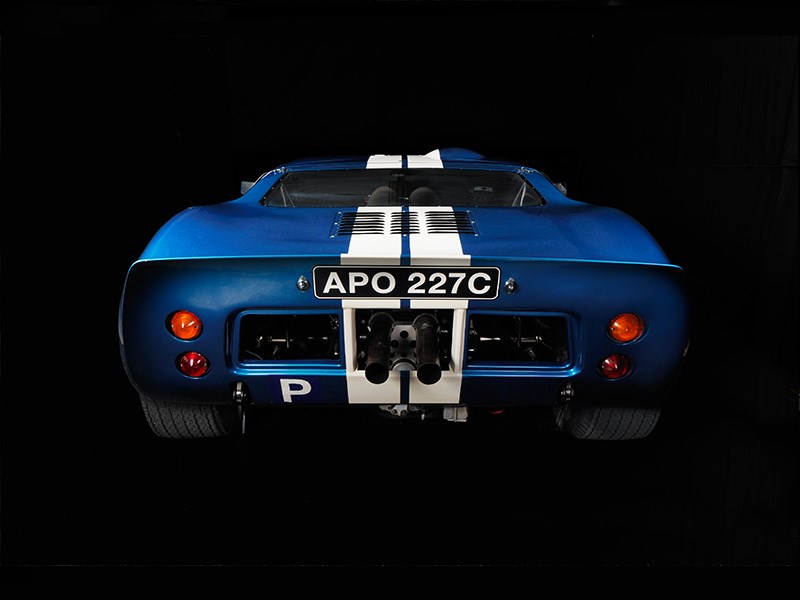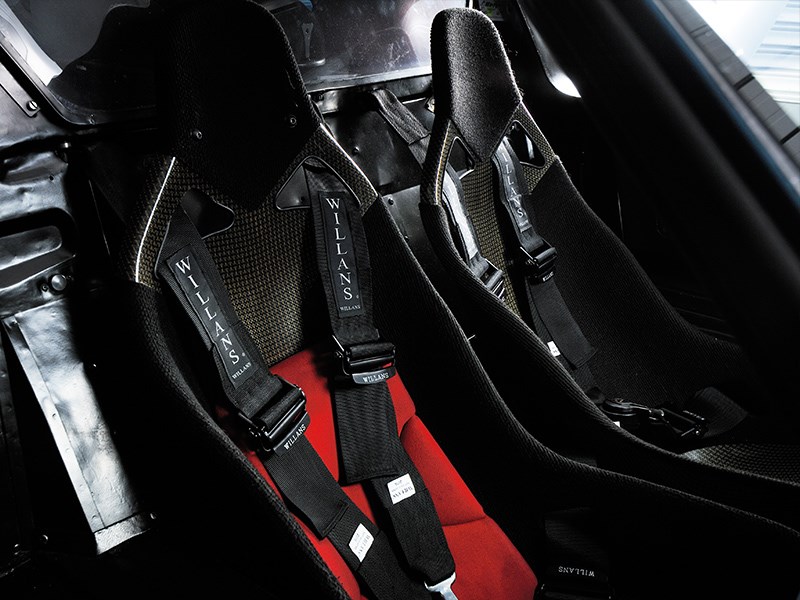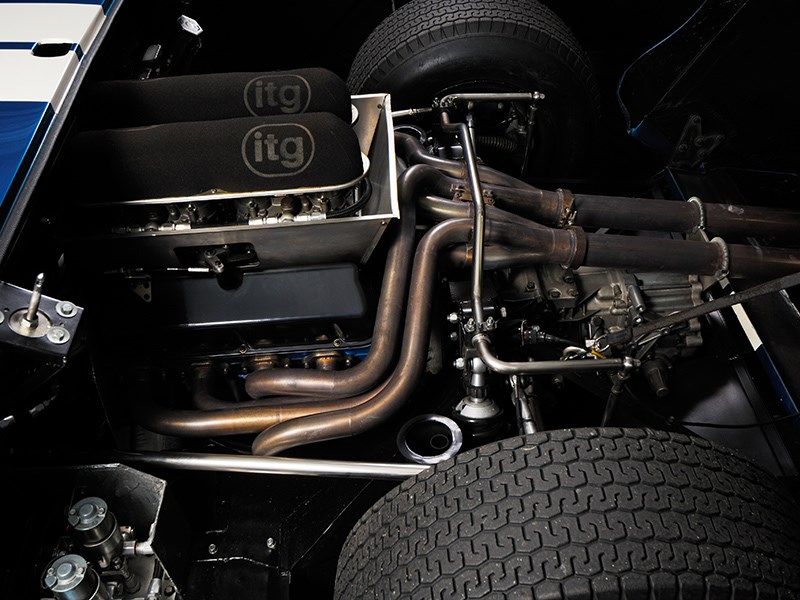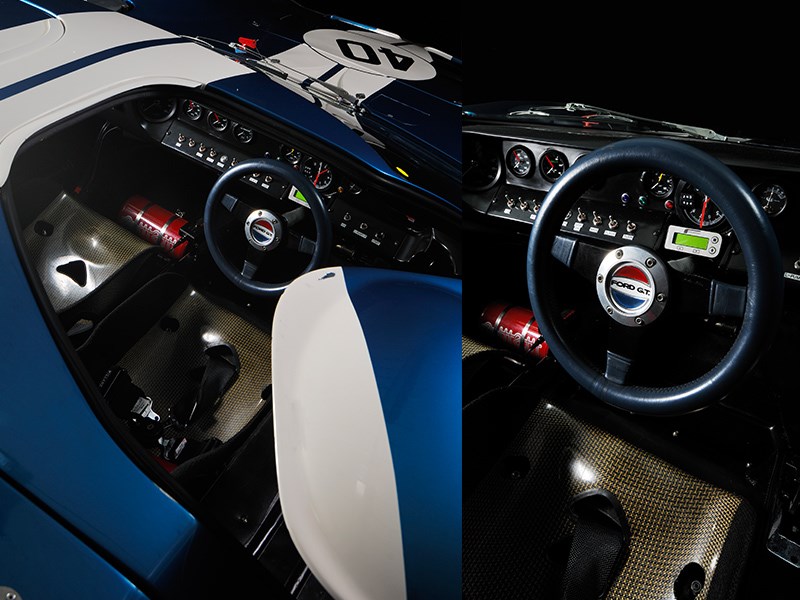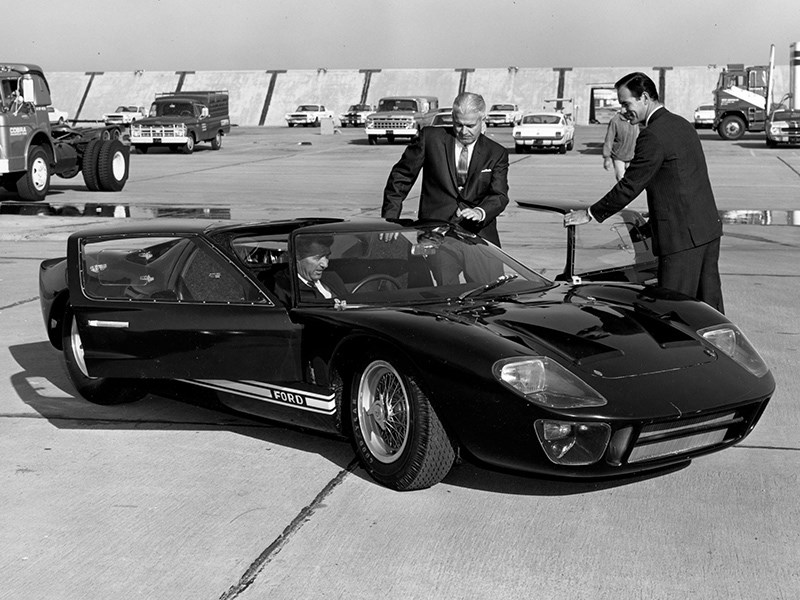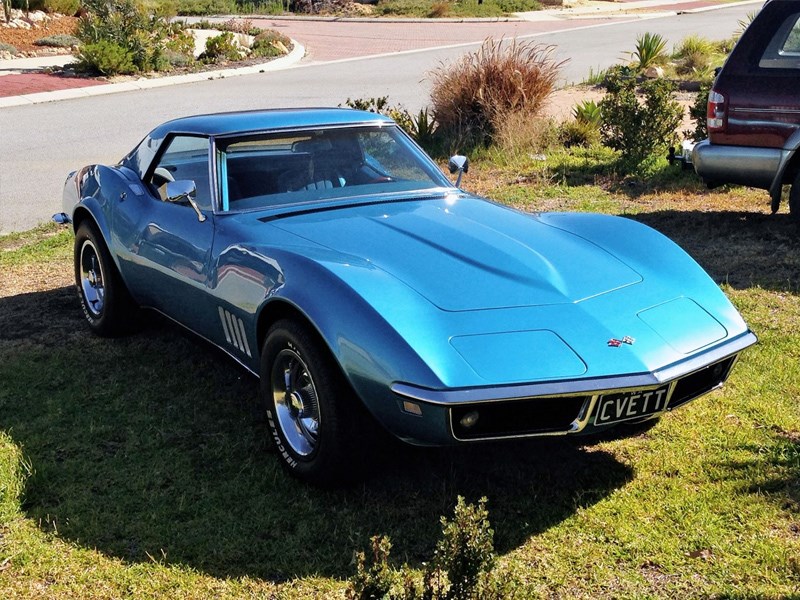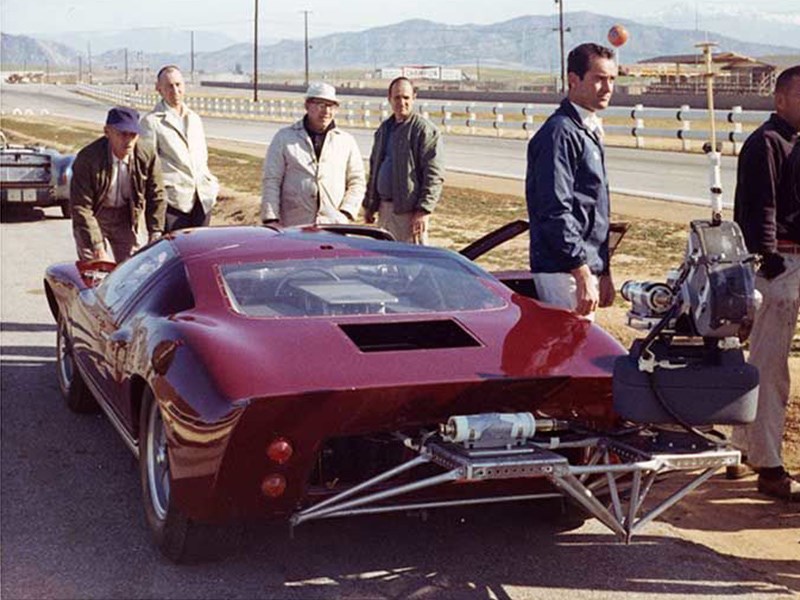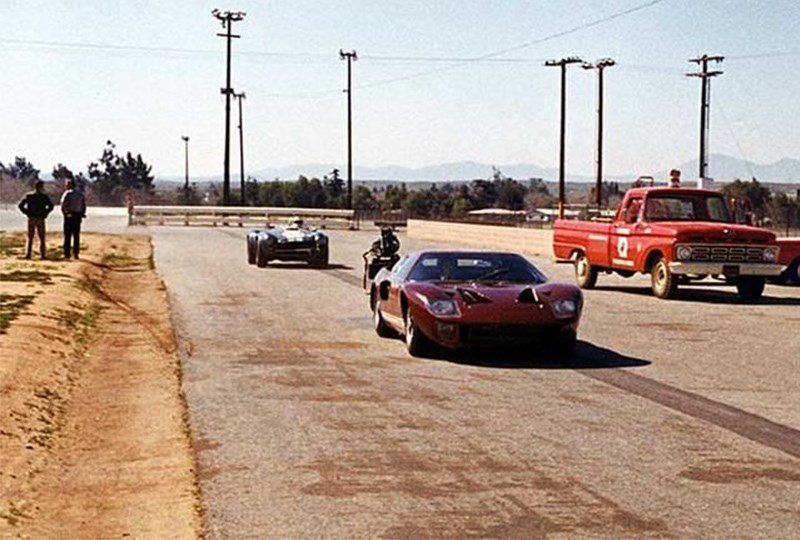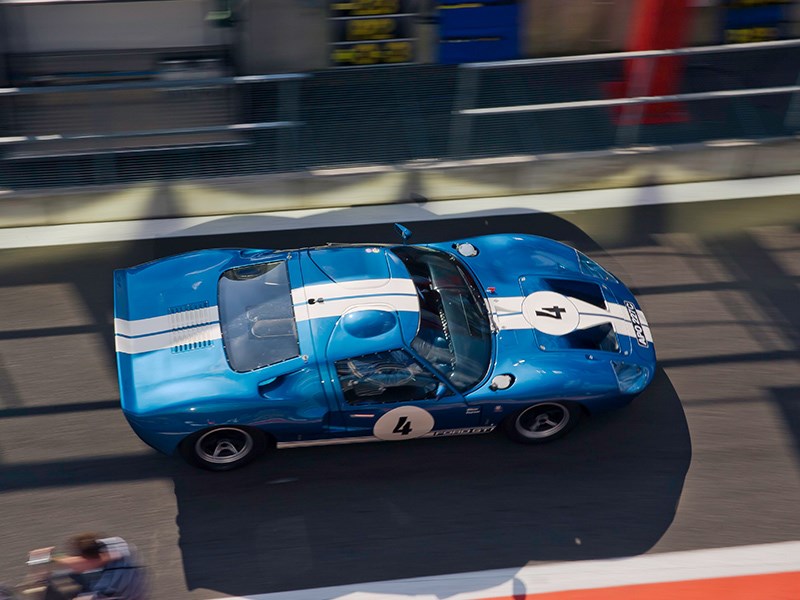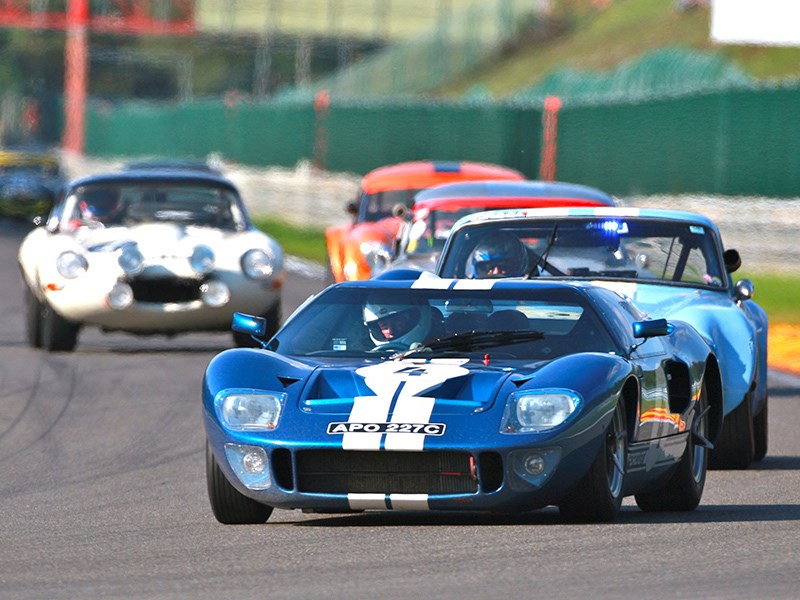 A legend. A pin-up. A failure? Before it conquered sportscar racing, Ford's iconic GT40 had to overcome substantial teething problems.
It was a car born of revenge, built out of spite, that went on to become one of the most successful – and most beautiful – endurance racecars of all time. The Ford GT40 combined catwalk looks with speed that the fastest European sports prototypes of the '60s couldn't match.
This story was originally published in Unique Cars Magazine #338
Chris Wilson's 1965 Mk I escaped the brutal treatment of the racetrack for almost a decade, used instead as a promotional vehicle for Shelby American International. It finally hit the racetrack in 1972 when purchased by British sportscar driver David Piper and has been in regular use ever since. Today, it plays at the pointy end of international-level historic racing in the hands of Wilson.
"I've had it since 2009," he says. "The car lives in England and I run it through Lanzante Motorsport." Wilson's GT40 is in good hands: Lanzante Motorsport won the 1995 Le Mans 24 Hour outright with a McLaren F1 GTR and also take care of the GT40 of Formula One design supremo, Adrian Newey.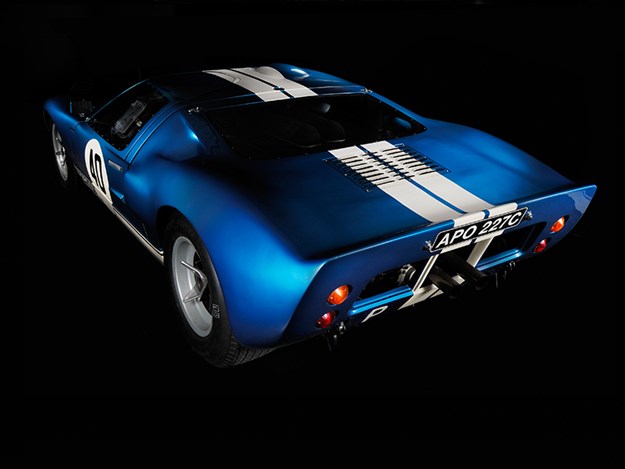 "The first [event] I did was the Phillip Island Classic in 2011," explains Wilson. "I then did the Spa Six Hours in Belgium, partnered with Gary Pearson; that was a lot of fun [and] we're running it at [this year's] Le Mans Classic and then the Goodwood Revival in September."
Wilson's GT40 may not have begun its life as a racer, but it now has a prodigious competition pedigree. "The previous owner to me was [triple World Sportscar Champion] Ray Bellm," says Wilson. "He won the Whitsun Trophy at Goodwood with it; he won 11 out of 13 starts at the Le Mans Classic with it; it's been run at the very top flight for a very long time." If only the GT40's conception was as successful.
In 1963, Ford was keen to become involved in motor racing to enhance its "Total Performance" image, but lacked the resources and expertise to create a car internally. The search for an external partner began and, at the request of Lee Iacocca, Ford investigated purchasing Ferrari. Unbeknown to the Blue Oval top brass, Enzo Ferrari, desperate for funds to support his racing programmes, had already approached Ford about buying his company so was very receptive to the idea.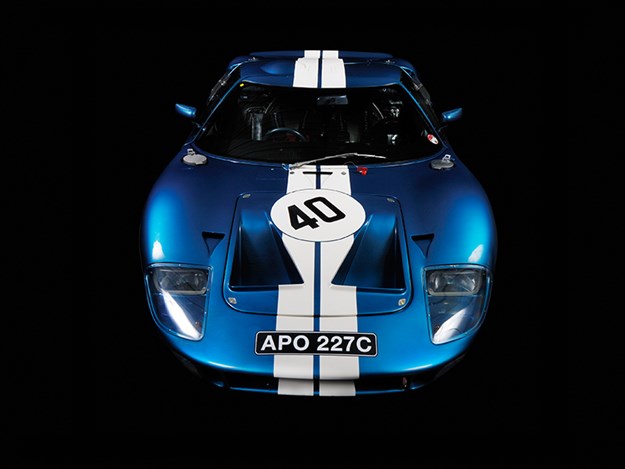 Ford began due diligence, and their accountants valued the Prancing Horse at far less than the US$18million asking price (yes, in 1963 you could've bought the whole company for 60 percent of the current price of a 250 GTO). The intention was for Ford to run the road car division and Ferrari to handle the racing, but when Enzo was told that stipulations would be made on which races he could enter with what cars, he backed out of the deal at the eleventh hour, throwing Ford's grand racing plans into disarray. An incensed Henry Ford II immediately ordered the construction of a car that could beat Ferrari on the grandest stage of all: The Le Mans 24 Hours.
This bold proclamation didn't solve the problem that Ford had no-one to build the car for them. Iacocca contacted Carroll Shelby, a man who knew what it took to win Le Mans, having been a driver with the winning Aston Martin team in 1959, and who's Ford V8-powered AC Cobras had been hassling Ferrari on track. Shelby suggested John Wyer, who had been Aston Martin's team manager, to head the new Ford Advanced Vehicles (FAV) division.
Joining Wyer were Roy Lunn – creator of the 1.7-litre four-cylinder mid-engined 1962 'Mustang I' concept car – and Eric Broadley, the man behind the radical Lola Mk 6 (pictured below). The Mk 6's monocoque chassis, mid-engined V8 layout and fibreglass panels would provide much of the inspiration for the GT40, and two Mk 6s carried out much of the early development work.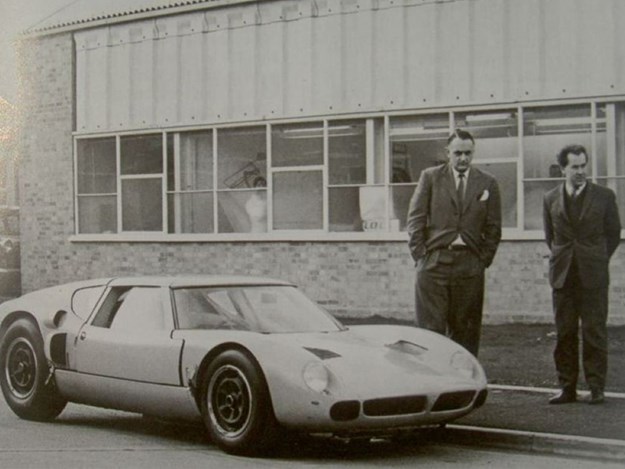 With the 1964 Le Mans 24 Hours as the deadline, the team had little more than 12 months to design and develop their challenger. The UK was chosen as a base due to its significant expertise in motorsport engineering, but the considerable computing power of Ford US was utilised to speed development, particularly in suspension design, and the first Ford GT (the '40' – a reference to the car's height in inches – would not be added until later) was unveiled on 1 April, 1964 in London.
The initial design held promise; it was relatively light and hugely powerful with clever touches designed specifically for endurance racing. The driver's seat was ventilated using cool air ducted from the front of the car and those unique doors that cut into the roof aided entry during the traditional Le Mans running start, in which drivers ran across the track to their cars; a practice that was abandoned in 1970 due to safety concerns.
But there were significant engineering hurdles to overcome. The high-nose, low-tail bodywork generated significant lift at high speed and the sleek lines of the concept car's nose were butchered with a variety of vents to allow enough airflow to the nose-mounted radiator and oil coolers. Ford had commissioned German engineering company ZF to develop a gearbox for the GT, but it would be over a year before it was available. The interim solution, the Colotti Type 37 four-speed non-synchro 'box, proved hopelessly inadequate at transferring the 350hp from Ford's 255ci V8, disintegrating with alarming regularity.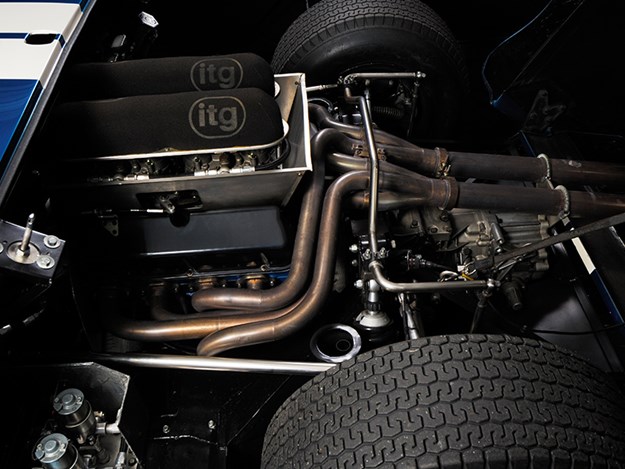 Both GTs entered failed to finish the 1964 Le Mans 24 Hour, while Ferrari secured its sixth victory in seven years – Enzo presumably laughing heartily behind those dark sunglasses back in Maranello at the inept American effort. The first 289ci-engined GT debuted at the Reims 12 Hours just two weeks after Le Mans. An extra 35hp only exacerbated the gearbox problems, and all three GTs entered, having started the race at midnight, failed to reach the dawn.
This was not the image-building race programme that Ford had envisaged and team manager John Wyer was an immediate casualty, being relegated to building road cars, while responsibility for the entire race effort was given to Carroll Shelby's Los Angeles-based Shelby American Incorporated. Chassis built in the UK were sent to Shelby for assembly and race preparation. Wilson's car, chassis 1018, was sold to Shelby American in 1965 and joined the show circuit, changing colour a couple of times, before hitting the racetrack in an unusual role.
"[My car] was leased to MGM studios, to John Frankenheimer, and when they were making the movie Grand Prix – before they sent all their cameras over to Europe – they used [it] as the test car to run the television cameras. It did a lot of testing at Riverside Raceway with Bob Bondurant, who had just won the World Championship driving a GT40." Wilson's car was also called upon when Caroll Shelby was invited to open a section of the Santa Monica Freeway, Shelby the first person to drive down that section in 1018.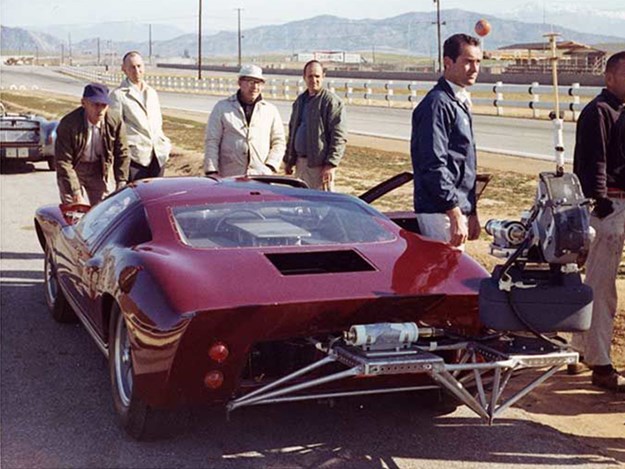 Upon receiving the cars from the UK, Shelby American immediately made subtle, but extensive modifications. The Colloti gearbox was strengthened, and the engine and gearbox oil coolers relocated to the rear of the car, fed by enlarged side air intakes. The space liberated up front allowed the fitment of a larger radiator, which reduced engine temperatures (the 289 struggled with overheating issues) and allowed fitment of a smaller sump, which saved weight. Stronger Halibrand magnesium wheels replaced the original Borrani wires, enabling wider, grippier Goodyear tyres to be used.
Success followed immediately. The 1965 Daytona 2000km was the GT's first race with Shelby American, first race finish and first win. Second outright and first in class at Sebring followed shortly after.  More updates arrived in time for the 1965 Le Mans assault. The stronger ZF gearbox was fitted and further bodywork tweaks made the car, now dubbed GT40, look lower, sleeker and more cohesive. The race, however, was another disaster, with every GT40 failing by lap 89, well short of the 348 achieved by the winning Ferrari 250LM.
More significant for the Mk I GT were the Shelby American cars entered wearing numbers '1' and '2'; the 7.0-litre V8 Mk II GT40 had arrived and in winning pole position and setting the fastest race lap, immediately became Shelby's endurance racing weapon of choice. The big block-powered cars were not significantly faster than the Mk I, but achieved their speed more reliably. The Mk I GT40 would have its moment in the sun, however. Following the banning of the 427-powered GT40s, the Mk I would return and win the 1968 and '69 Le Mans 24 Hours against theoretically superior opposition. But that's a story for another time, as Ford's official involvement through FAV ended at the end of '65. All subsequent entries were by private teams, albeit Ford-supported.
Owner Wilson is one of the lucky few to have experienced a GT40 at full race speed: does the experience live up to the legend? "It's surprisingly easy to drive. It feels quite agricultural, but as a weapon for getting a job done, for going fast for long periods of time without breaking, it's unbelievable. Everything about it is just sensational." That's a yes, then.
But running a near-50-year-old 200mph sports prototype is not easy, or cheap. "[The cost is] frightening when you run it properly," explains Wilson. "Ford parts aren't that expensive, it's more the labour and the preparation. We're running them a lot faster than they ever ran back in the day, so you just don't take second chances. We're running more revs, we're running more modern rubber, better fuel, better brake pad materials, small gains in every single department. You can get way more horsepower out of these things than you used to."
And that's without considering the considerable value of the car itself. With values of Mk I GT40s sitting anywhere between A$2.5-4 million depending on the car's history, surely racing wheel-to-wheel is a nerve-wracking experience? "I'm always asked that question; to be frank it's never crossed my mind," admits Wilson. "Unless you wrap the thing up in a ball and in flames, it's quite hard to do a significant amount of damage compared to the value of the car."
Following a recent test at Donington Park in the UK, the next time Wilson drives the car will be at the iconic Circuit de la Sarthe, the track that built the GT40 legend. "The way I look at it, if you love motor racing, this is your Mount Everest," he enthuses. "I was hitch-hiking to Le Mans when I was 18. I have this mental image of 3am, on the Mulsanne Straight at 200mph, in a GT40, that's what keeps me excited about the whole thing."
Fast Facts
1965 Ford GT40 Mk. I
Engine 4736cc V8, OHV, 16v
Power 287kW @ 7000rpm
Torque 423Nm @ 5000rpm
Weight 910kg (dry weight)
Gearbox 4-speed manual
Brakes discs (f/r)
Top Speed 317km/h
I Own One…
Chris Wilson has been in involved in historic racing for years and was looking for a car of significance to continue to his passion. "It was slightly opportune, it was offered at Bonhams for auction and it didn't sell, so I made the relevant enquiries and we agreed a deal. I also think, in the world of absolutely iconic cars, that they're under-valued."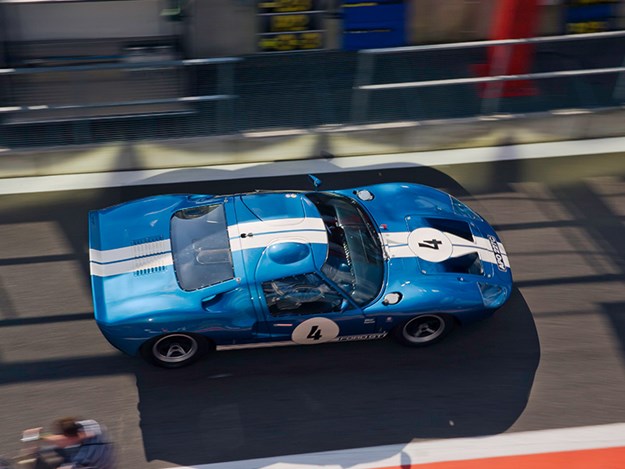 You might think 'well, he would say that', but Wilson's reasoning is sound. "If you look at the Jaguar D-Type and Ferraris that were winning Le Mans before the GT40 came along, and the Porsche 917s that were winning after the GT40's reign finished, the values are just in a different league, and the GT40 is an equally rare car.
"It's the very last of the dual-purpose sports car, you can run them on the road if you want to, it's the last Le Mans-winning car that's so versatile."
Unique Cars magazine Value Guides
Sell your car for free right here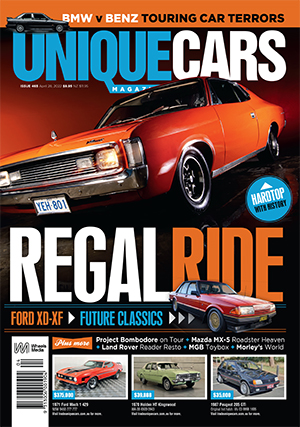 SUBSCRIBE TO UNIQUE CARS MAGAZINE
Get your monthly fix of news, reviews and stories on the greatest cars and minds in the automotive world.
Subscribe