2010 FG FPV GT Boss 335 - V8 Falcons #5
---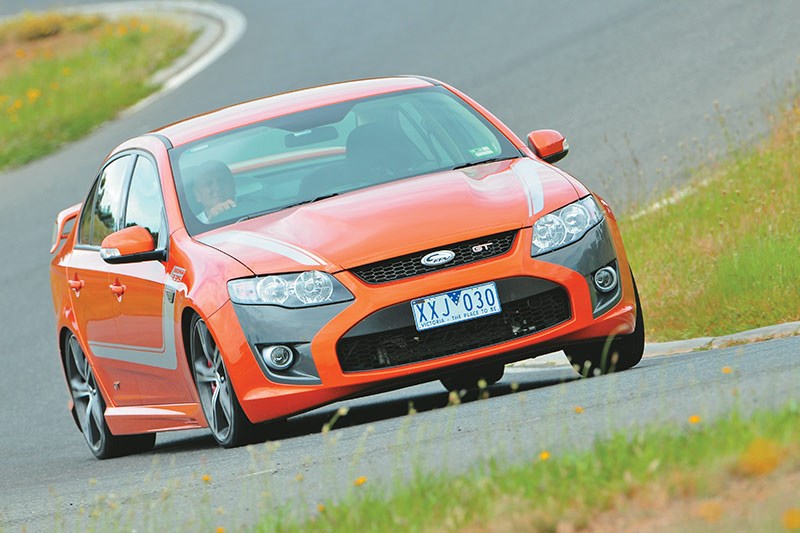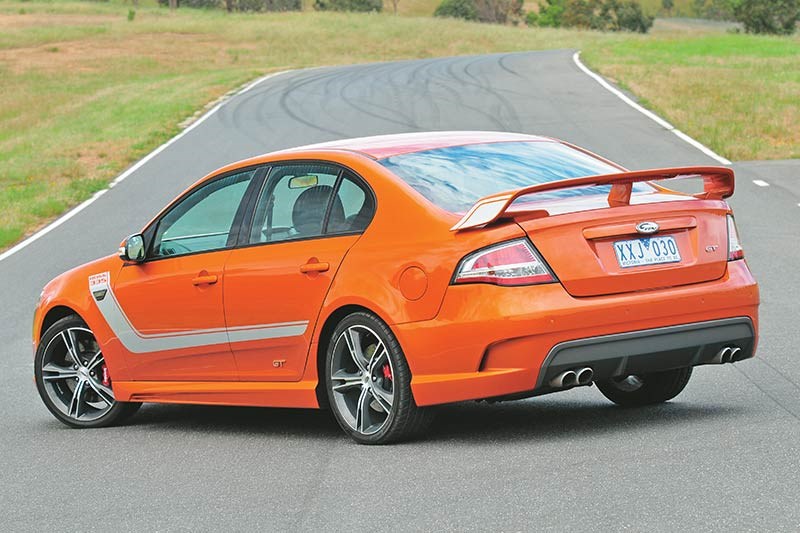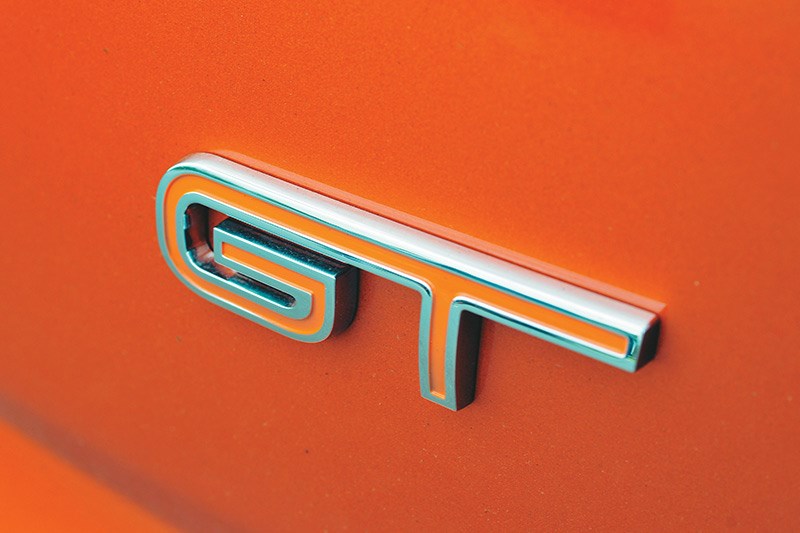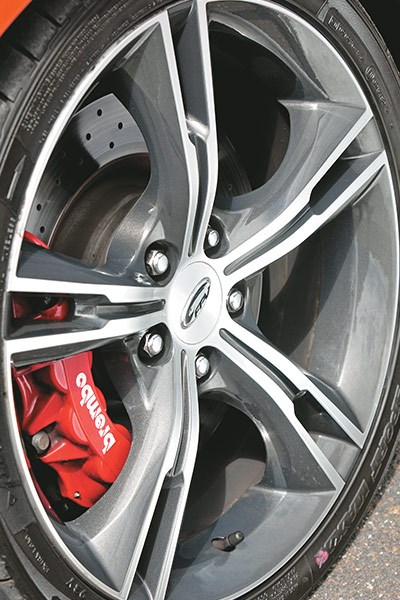 Big 19-inch alloys and sticky Dunlop rubber look the goods, but ferocious engine deserves more grip, especially at the back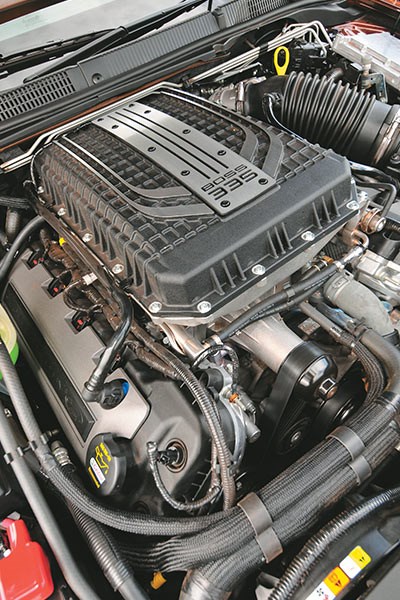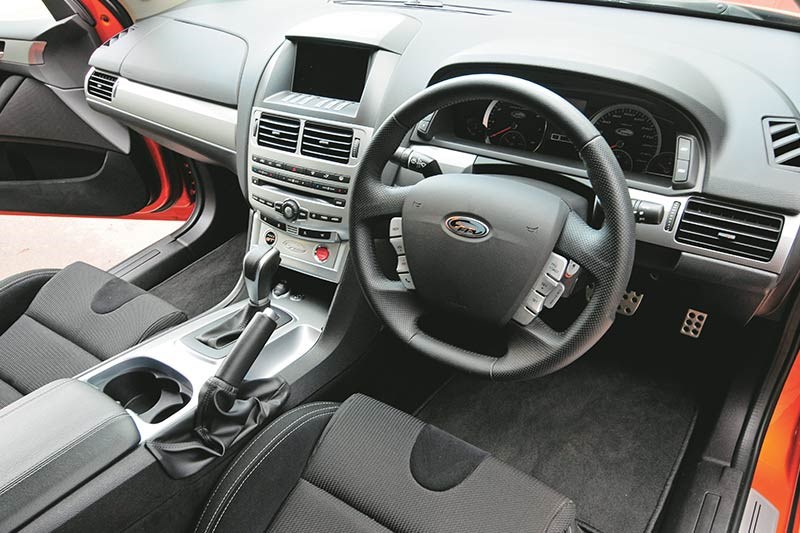 From our Falcon V8 lineup in this series (XT GT, GT-HO Phase III, XA GT, XE ESP), it's a challenge to pick exactly which car the FPV most closely takes its cues from, but the GT-HO is probably it
With almost as many kilowatts as the HO had horsepower, there's no question the supercharged 2010 FPV is its spiritual performance successor. But there's nothing homogation about this latter-day GT.
It's interesting to look at their relative pricing. In 1971, a Falcon 500 cost $2889 compared to $5302 for a Phase III. In 2010, the 500's equivalent, a Falcon G6, costs $43,490 while a top-line FPV GT-P, with big Brembo brakes and top-line winged seats, is $78,740 – meaning a marginal relative price win to the FG.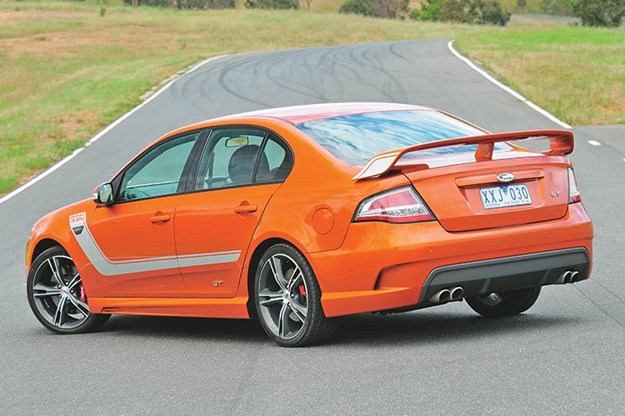 Stripes and badges hark back to Ford's early-70s glory period. Four exhaust pipes bellow a great noise at full throttle
On paper, what the Boss 335 FPV misses out on is the Phase III's attention to mechanical detail. It runs the same blown V8 in GT, GT-P and GT-E guises, manual or auto – no race-ready intake or valvetrain or diff. But it only takes one brief squirt behind the wheel to realise the 335kW blown V8 is one very special engine.
Bespoke donk aside, the Boss 335 GT isn't too far removed from a regular XR6 Turbo. Same suspension tune, albeit with firmer dampers, same transmissions, same tyres, similar interior and equipment, and same intended function – to go hard and corner well without upsetting ride quality.
| Read next: 2011 FPV GT, GT-E and GS review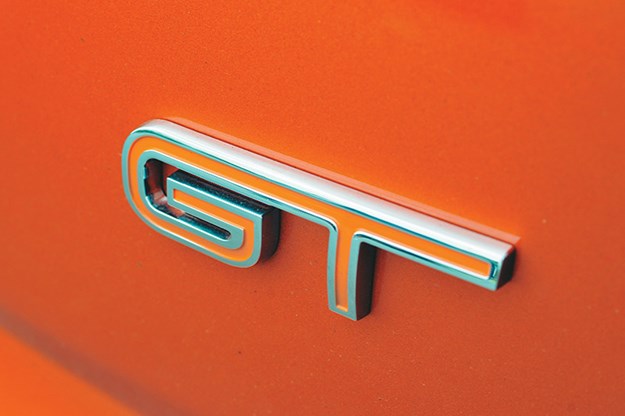 So what it's like behind the wheel compared to the XY? In terms of outright handling and dynamic finesse, we're talking different planets – the FG FPV is a quiet, polished, well-balanced, great-steering performance sedan. But it's the similarities with the Phase III that make the Boss 335 GT an interesting car. Just like its spiritual grandfather, this car is all engine, with the chassis simply trying to keep up.
The new supercharged V8 feels far more responsive, though. It makes max torque of 570Nm all the way from 2200 to 5500rpm, while the Cleveland needed 3400rpm to reach its 515Nm peak.
| Read next: FPV BF GT Cobra & Falcon XC Cobra review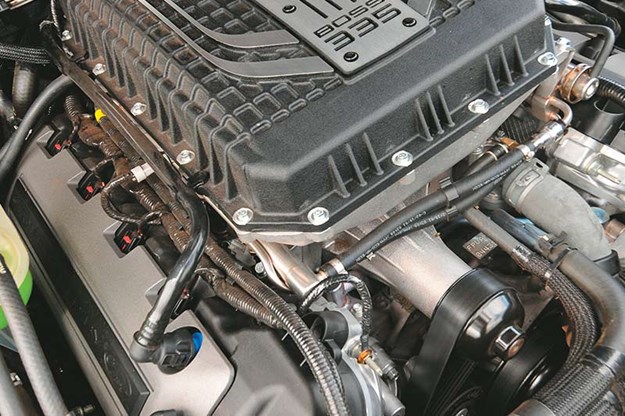 What the Boss 335 GT is all about is its engine – and it's stunning. Sounds tough, pulls like a train and exhaust crackles on overrun. Heaven!
The HO's bellowing exhaust note will appeal to traditionalists, but the FPV's authoritative, multi-tonal rumble makes a great accompaniment to the whine from its supercharger. Pity only the manual crackles on overrun though, making it far more preferable to use than the auto. You can also hold it in gear and surf all that torque.
The FPV is unquestionably the most accomplished handler of this group, but the suspension ultimately favours comfort over tight control and 245 rear tyres simply aren't enough to contain all that grunt.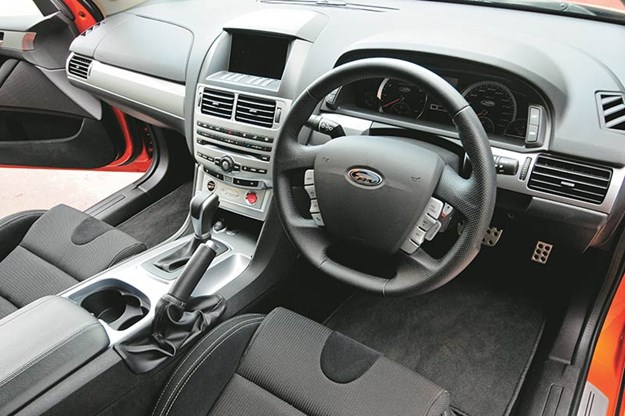 Interior styling is a little down-spec considering the brief
Despite four decades of technical separation, the one thing the HO and Boss 335 GT share is that they can both overpower their respective chassis'.
Thankfully the FG has an ESP safety net, but it wouldn't be a pukka fast Falcon if it didn't have at least a little mongrel in it.
2010 FG FPV GT Boss 335 specs
Engine 4951cc V8, DOHC, 32v, S/C
Power 335kW @ 5750-6000rpm
Torque 570Nm @ 2200-5500rpm
Weight 1855kg
Transmission 6-speed manual wheels 19 x 8.0-inch alloys
Brakes 335mm cross-drilled discs, four-piston Brembo calipers (f); 328mm cross-drilled discs, single-piston calipers (r)
0-100km/h 4.9sec (claimed)
0-400m 13.0sec (estimated)
Top speed 250km/h (limited)
Price $71,290 (2010
Classic Australian Family Car Value Guide home page
Muscle Car Value Guide home page
Japanese Classic Car Value Guide home page
Sell your car for free right here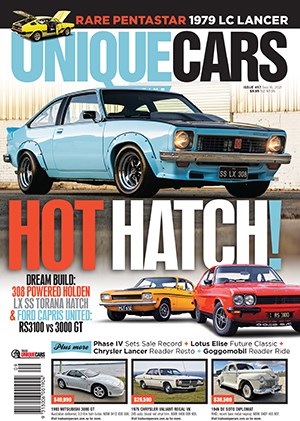 Subscribe to Unique Cars Magazine and save up to 42%
Australia's classic and muscle car bible. With stunning features, advice, market intelligence and hundreds of cars for sale.
Subscribe