Aussie Original: The First Ute
---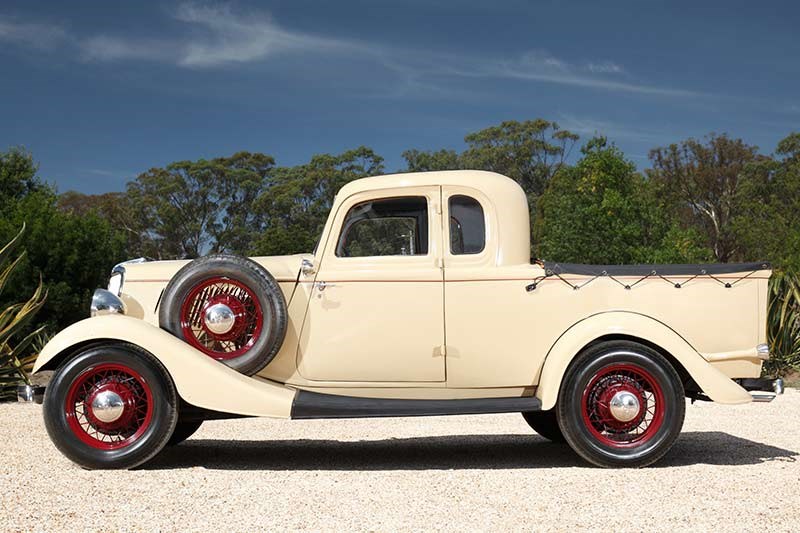 You-beaut utes: Facts and friction
On 18 March 1987, Louis ('Lew') Thornet Bandt, died in a head-on crash with a truck near Bannockburn in south-western Victoria. He was at the wheel of a 1934 Ford utility, a vehicle of which he was especially proud, not only because he had restored it to as-new condition, but because he had designed it himself.
Two contested stories detail – one more thoroughly than the other – the invention of the all-steel coupe utility. There had never been any argument about this being an Australian invention, but the former managing director of General Motors'-Holden (1934-1946), Sir Laurence ('Larry') John Hartnett, claimed in his 1964 memoir Big Wheels and Little Wheels to have come up with the idea himself.
In the chapter of his book entitled 'How the Ute Began', Hartnett writes: "The story of the birth of the coupe utility, or 'ute'…is worth recalling…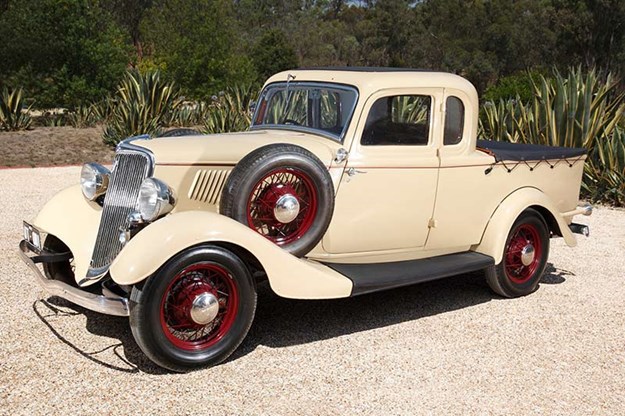 "On a drive to Sydney from Melbourne in November 1934 I stayed overnight in Gundagai… The local GM-H dealer called on me at my hotel, and he was the unhappiest man in town that night…"
A would-be Chevrolet sedan buyer could not secure a loan from his bank to buy a passenger car. This farmer had a mortgage. The bank manager didn't want to lend him money to buy a car to drive his wife around.
| Read next: Salute to the Holden ute - 1951 FX (50-216) to 2017 SS-V Redline
"Next morning, with the dealer, I called on this bank manager… He showed us a document instructing all managers that passenger cars were not to be purchased by farmers working off financial commitments.
"I asked the manager, 'Where do you draw the line between a passenger car and a commercial?'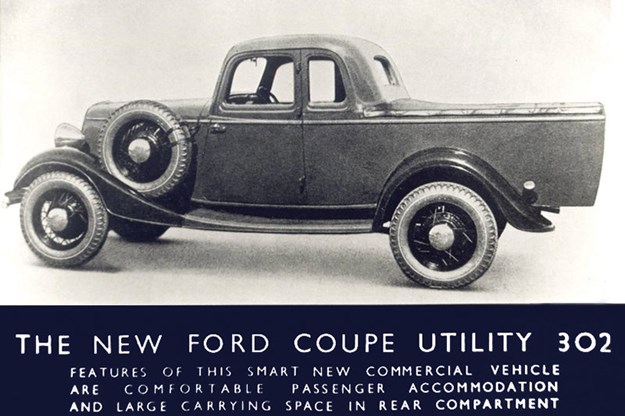 The true pioneer – Ford's 1934 coupe utility
"He said, 'Oh, it has to be a job that will help him with the farm. He must be able to cart things around in it.'
"As we left the bank I said to the dealer, 'What about a roadster utility for this chap?' That was a vehicle with a roadster front end and a tray body at the back. 'They're a bit out of date', the dealer said.
"He was right, of course. Those canvas tops of the roadster were old hat in 1935. I thought about the problem as I drove up to Sydney. I felt there must be an answer to it, one that would satisfy the bank and the farmer. Then I hit it: make a coupe utility, with a snug all-metal cabin and a handy tray body at the back."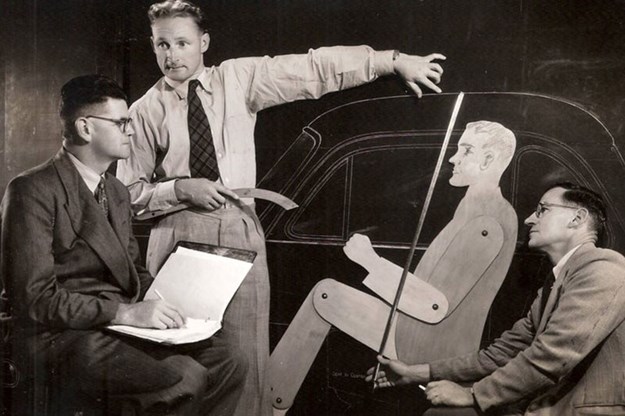 Lew Bandt with his team discussing the ute's interior space
And so, suggests Larry Hartnett, the ute was born and put into production by GM-H: "So the farmer got his new car, and GM-H got a new model. We sent a sample utility to Detroit and they were impressed.
"A year or so later I was in Gundagai again. Our dealer this time was the happiest man in town. He took me to the main street and pointed to all the new vehicles parked with their noses to the kerb. Most of them were coupe utilities."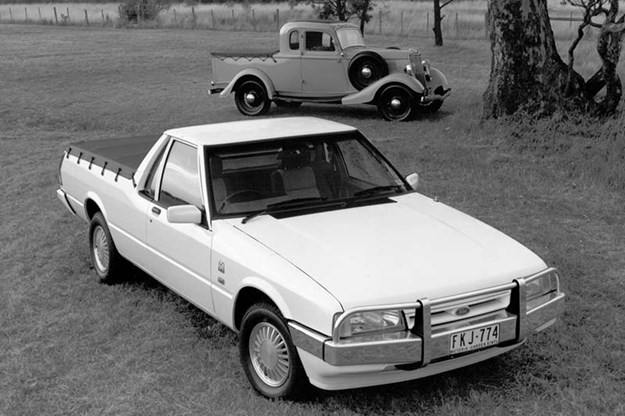 Grandad! The original meets a distant off-spring
It's a tale that makes good reading, but it is missing a key word: 'Ford'. Perhaps the most remarkable thing is that in November 1934 the boss of GM-H could fail to be aware that Ford Australia was already selling precisely such a vehicle. This seems disingenuous because at least one photograph of a Ford ute was taken during the construction of GM-H's new Fishermans Bend headquarters in 1934!
Here is the true story. Some time in 1932 a farmer's wife wrote to Hubert French, managing director of Ford Australia. Now, while GM-H had its head office in an industrial Melbourne suburb, Ford's was in Geelong surrounded by farming country. Interestingly though, the letter came from Gippsland. The woman was upset that when travelling in their open-sided farm truck her clothes got wet.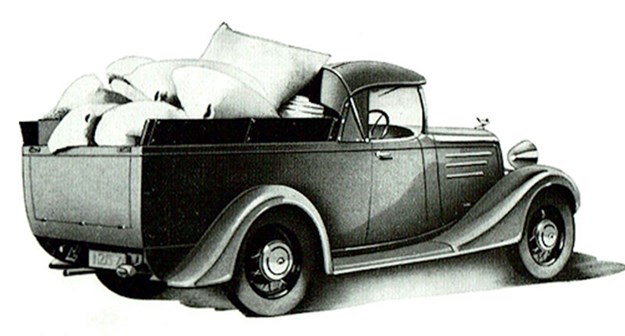 Chevrolet added a coupe ute sibling to complement this 1934 soft-top ute
According to Bandt in an early 1980s interview: "Her letter said, 'Why don't you build people like us a vehicle to go to church in on a Sunday, and which can carry our pigs to market on Mondays?'" French passed the letter to his sales manager Scott Inglis who passed it to the plant superintendent Slim Westman who passed it to his 22-year-old designer Lew Bandt.
"Slim Westman came to me one day and said he wanted the front end of a V8 sedan combined with a utility tray," said Bandt. "He said Australian farmers needed a vehicle with more passenger protection and comfort – a vehicle which would give them all the comfort and economy of a family sedan and still have the carrying capacity of a light truck.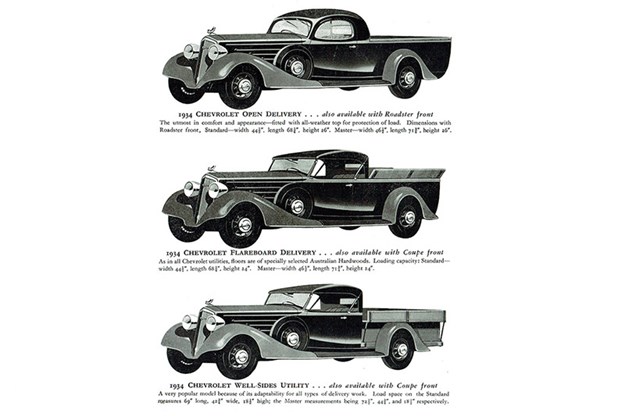 They mightn't have started it, but Holden built the final utes in Australia and this is where they started
"The whole thing had started to germinate. Westman quite rightly reckoned that it we cut down a car and put a tray on the back, the whole thing would tear in half once there was weight in the back.
"I told him that I would design it with a frame that came from the very back pillar, through to the central pillars, near the doors. I would arrange for another pillar to further strengthen that weak point where the cabin and the tray joined. I said, 'Boss, them pigs are going to have a luxury ride around the city of Geelong'."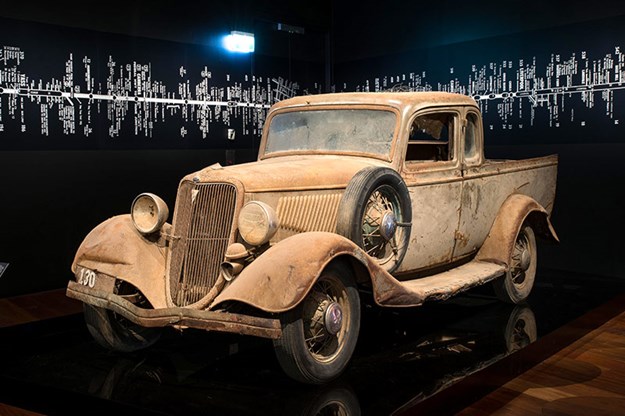 In 2015 the NGV of Victoria featured a barn find '34 as part of its 'Shifting Gear' exhibition celebrating 'Design, Innovation and the Australian Car'
Westman instructed his sole designer to build two prototypes. Inglis ordered a batch of 500. Westman received a budget of £10,000 for tooling.
Ford Australia's production had commenced  years earlier on 1 July 1925 with the Model T. In 1929 new presses were installed in the Dalgety plant. The company had its own tool shop. In 1930 it produced a new Model A, three inches longer than its US counterpart as Australian salesmen had requested greater interior space.
The Model B with the 65 horsepower side-valve Ford V8 engine was released on 25 August 1932, just months after the Sydney Harbour Bridge opened. By now the local content of Geelong-built Fords – vehicles were built in other states, too – was approaching 75 per cent.)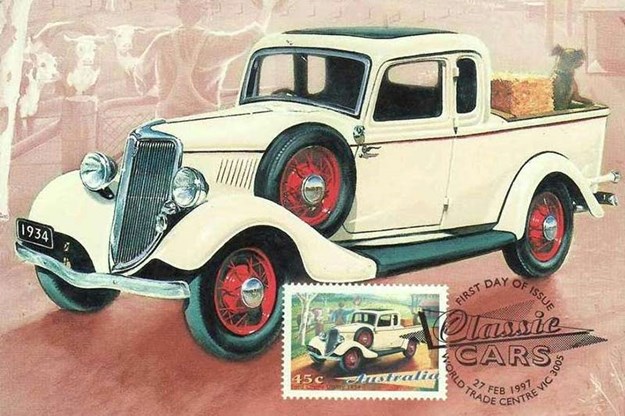 Australia post released a stamp in 1997 celebrating our world first design
Historian Norm Darwin says that Bandt's coupé utility was the first Ford totally developed by the newly formed Design Group. The concept was to take one of the new V8 coupes and add a pick-up bed. The pick-up bed, side panel and cab rear side were one pressing with bolt-on rear mudguards.
This provided much cleaner styling and increased the interior load area as the sides were much wider than the US style pickups. Australian utilities had the wheel arches within the rear section that gave an irregular shaped floor whereas the US versions had a rectangular flat floor inside the arches. The Ford coupé utility reached showrooms in May 1934. Darwin reckons GM-H followed suit and had utes for both Chevrolet and Bedford late the same year. This doesn't gel with Hartnett's dating of his Gundagai trip to November. Perhaps it was some months earlier (he arrived from Britain in March 1934)? Regardless, Hartnett's claim to have developed the concept is completely wrong.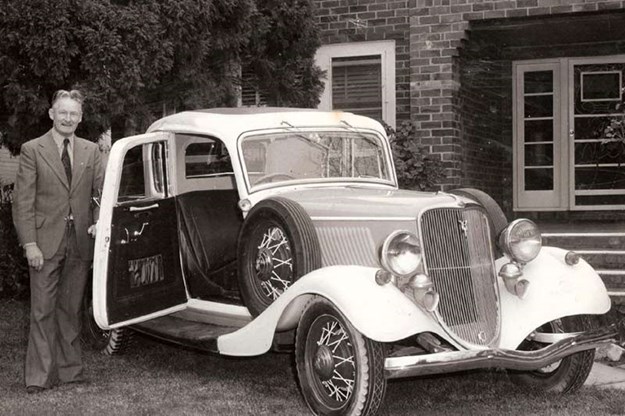 Bandt with his '34, which he restored during his retirement
Later two Geelong-built coupe utilities were despatched to Ford in Dearborn. Lew Bandt accompanied them. Recalling the trip, he said: Mr Ford called in his men from Texas. They took one look at it and asked: 'What's that?' Mr Ford replied: 'it's a kangaroo chaser' and told them he was about to build a model there."
Significantly, when GM-H produced its original Holden, the coupé utility version – the definitive Australian vehicle – soon followed.
Classic Australian Family Car Value Guide home page
Muscle Car Value Guide home page
Japanese Classic Car Value Guide home page
Sell your car for free right here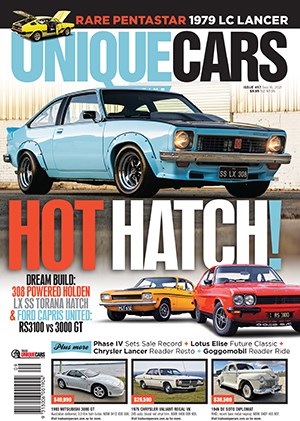 Subscribe to Unique Cars Magazine and save up to 42%
Australia's classic and muscle car bible. With stunning features, advice, market intelligence and hundreds of cars for sale.
Subscribe