2018 Jaguar F-Type SVR -Toybox
---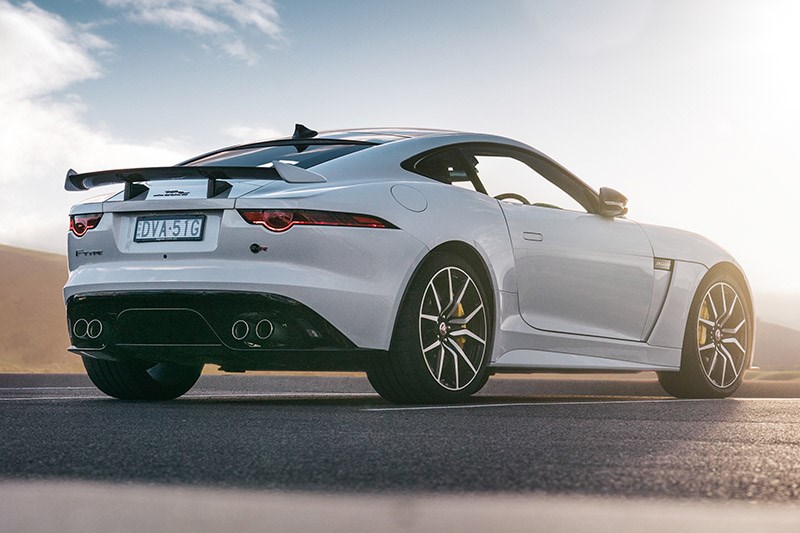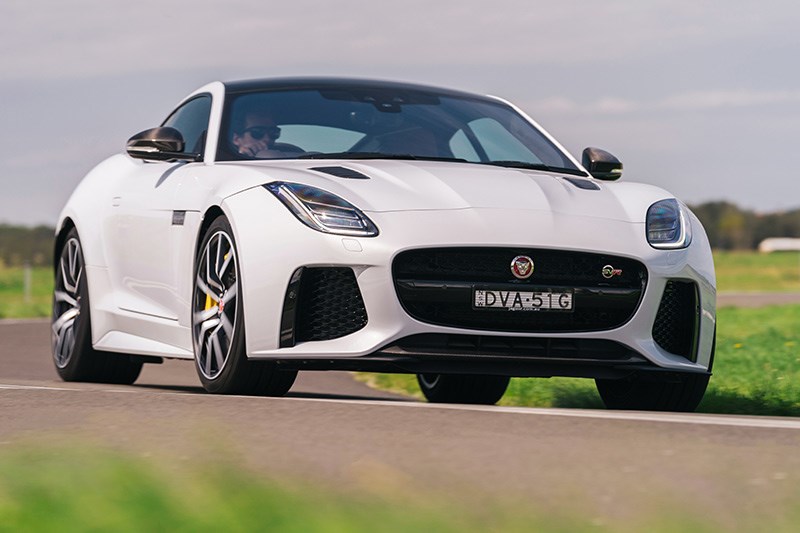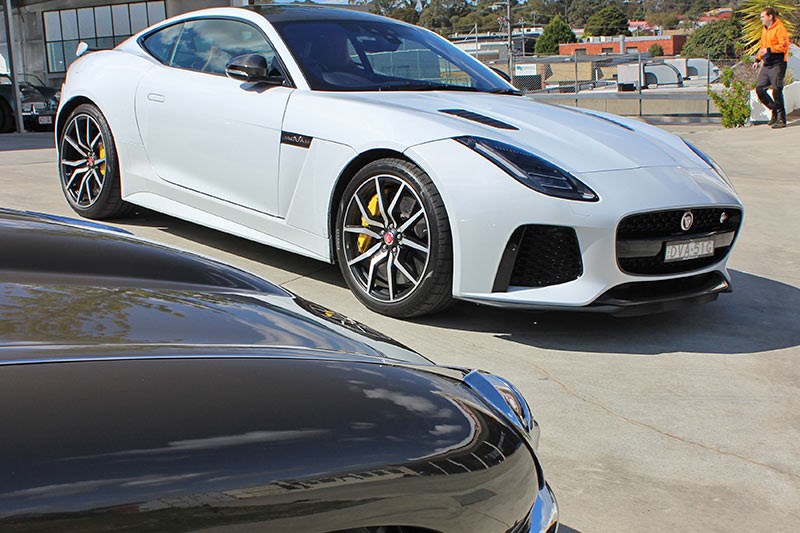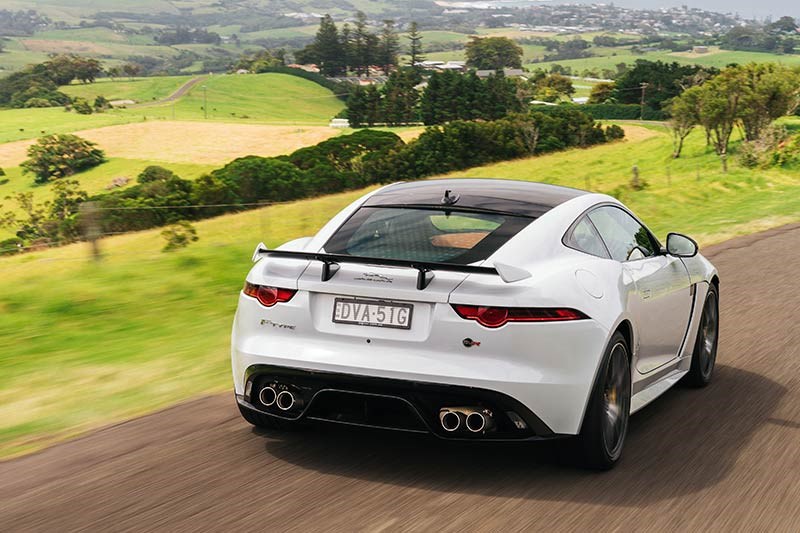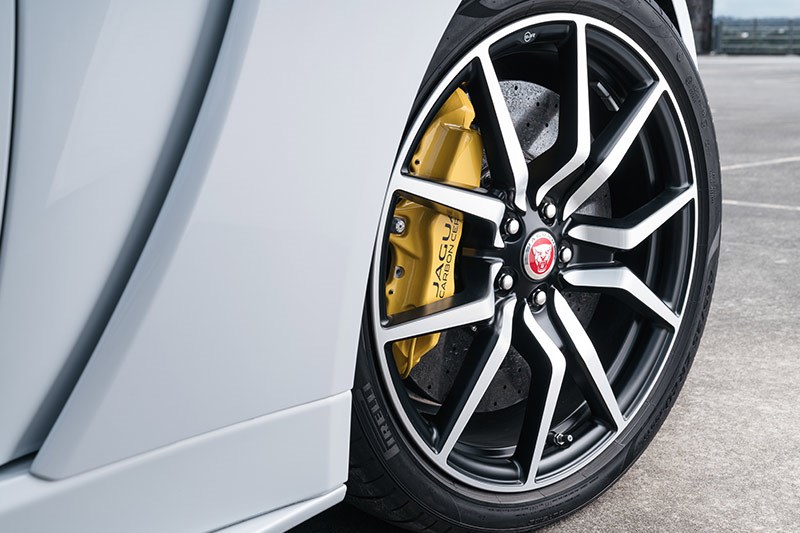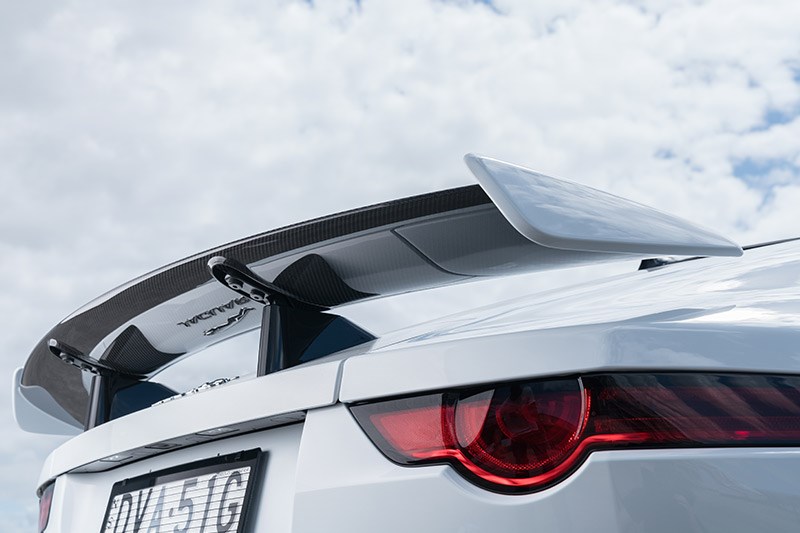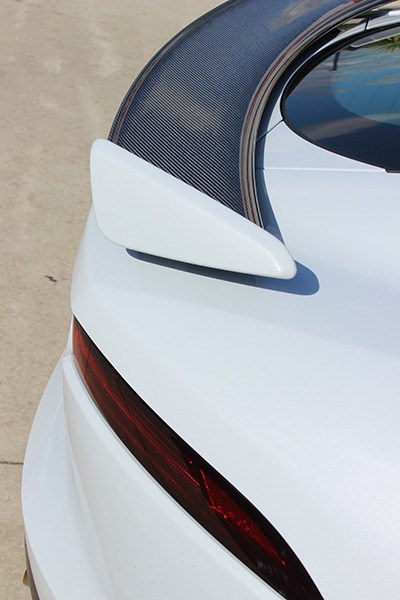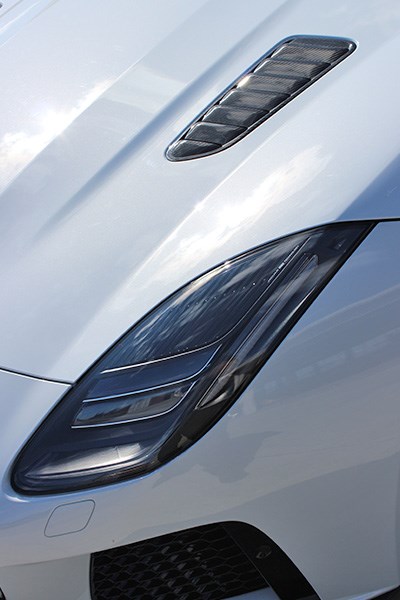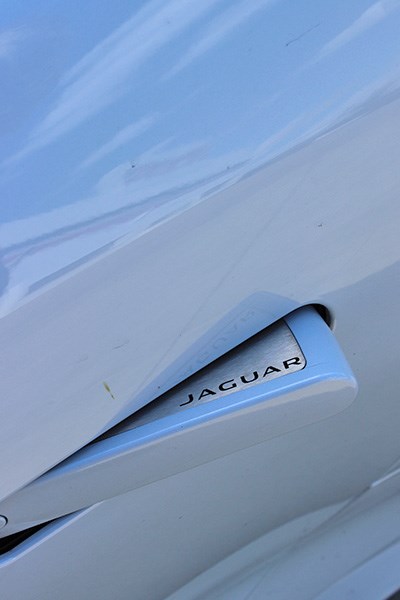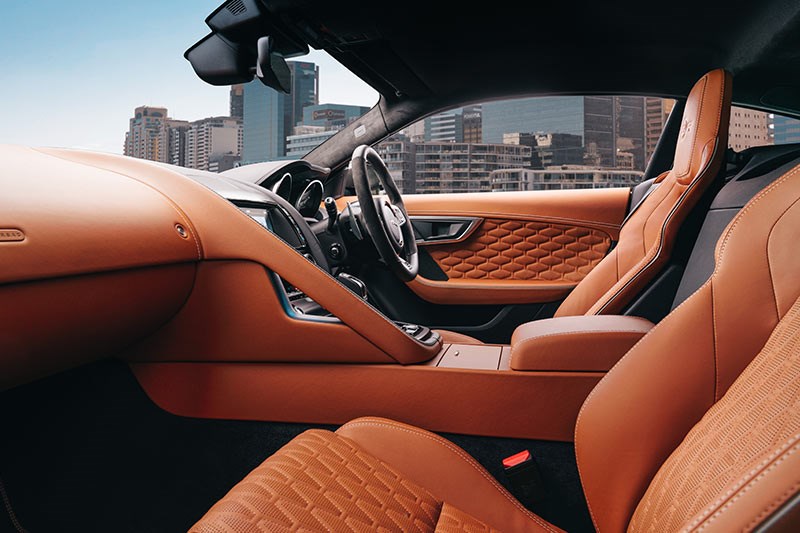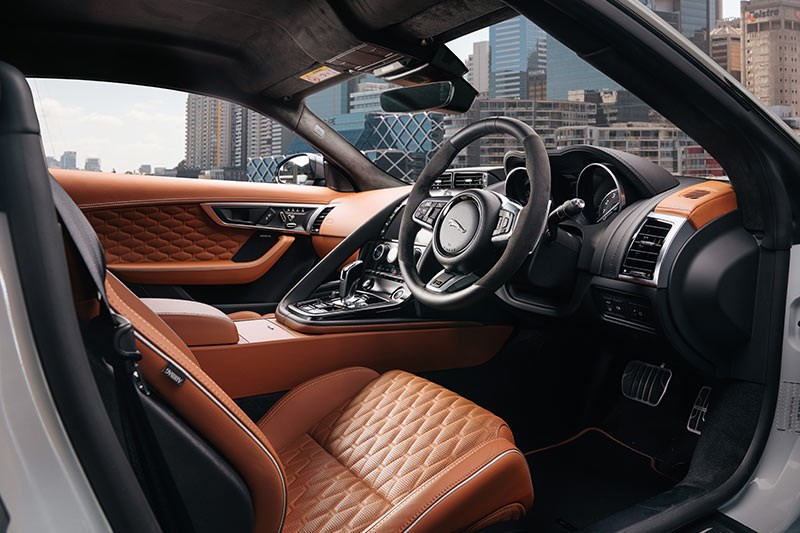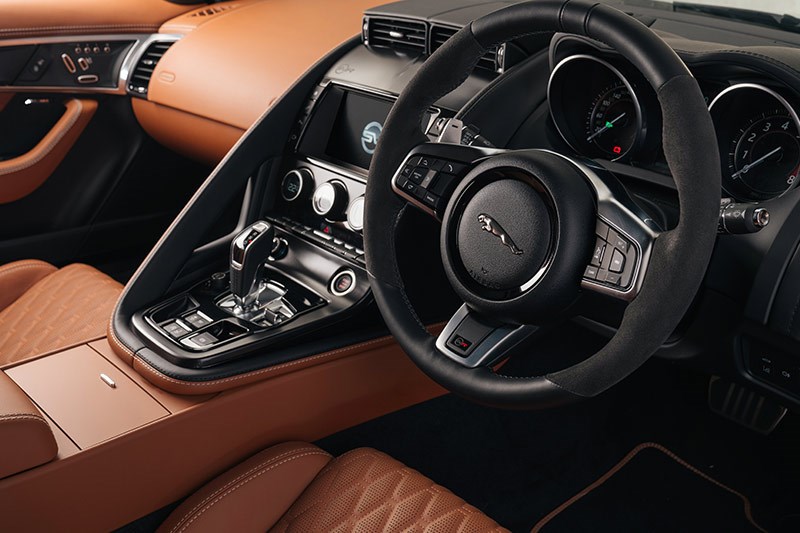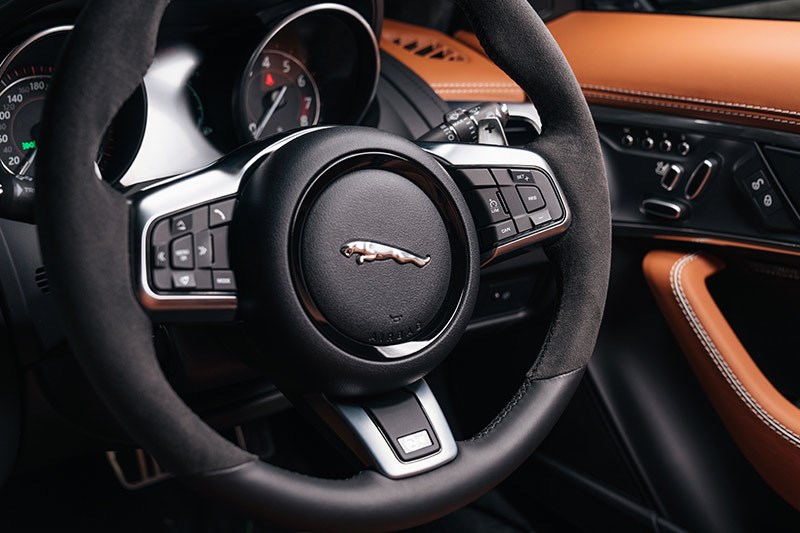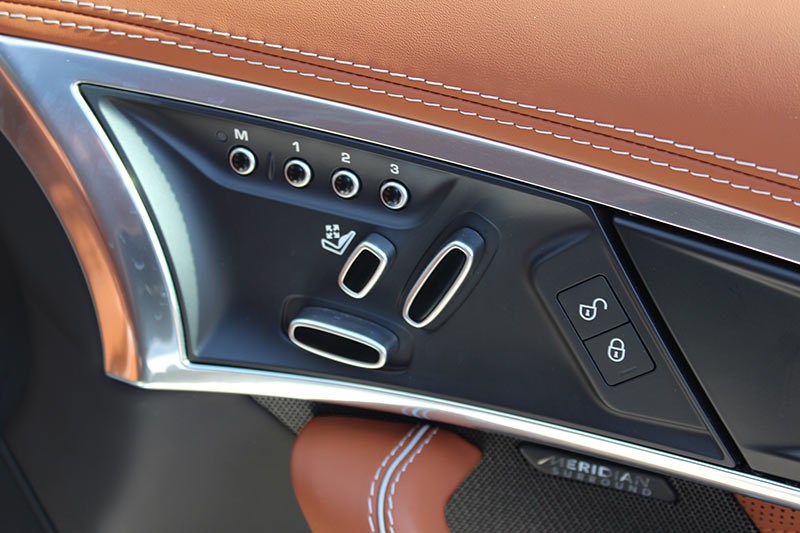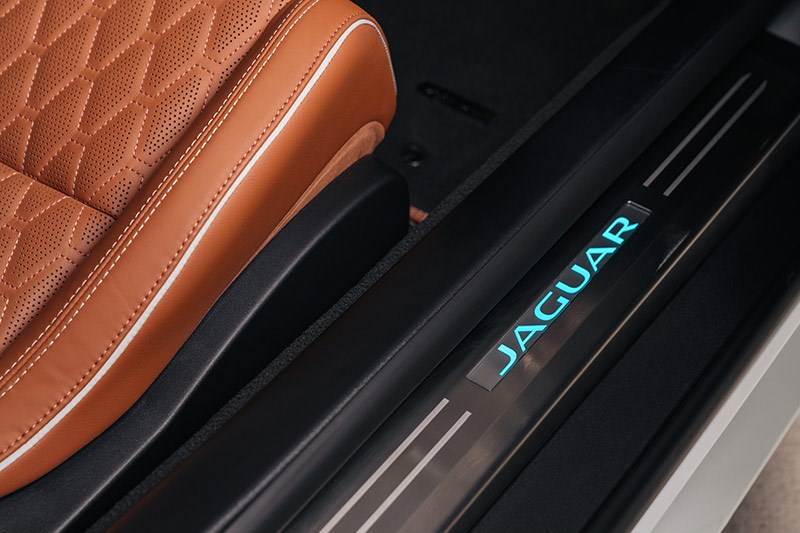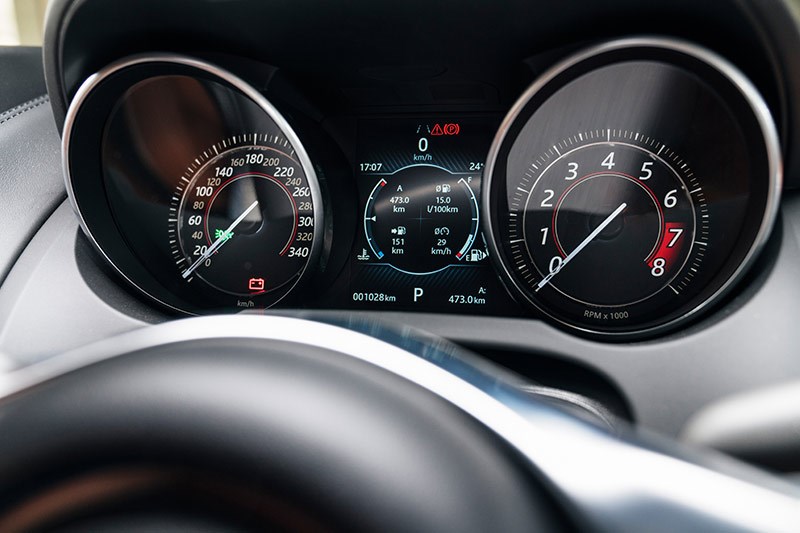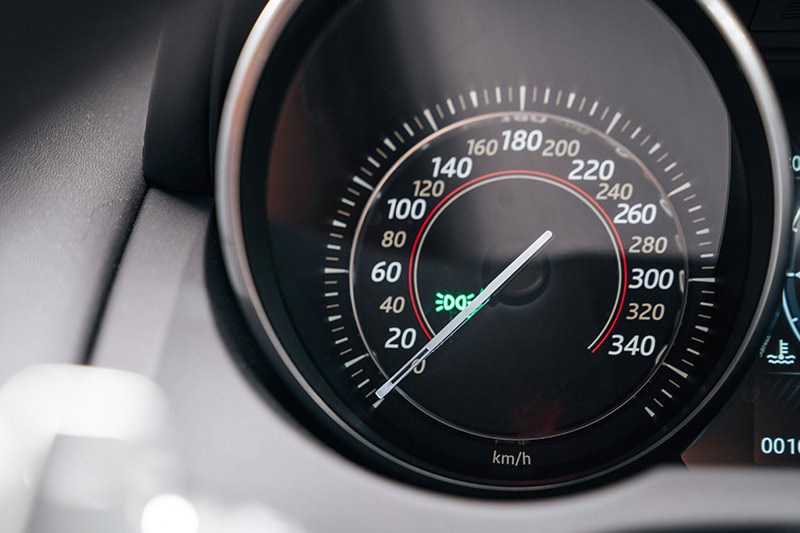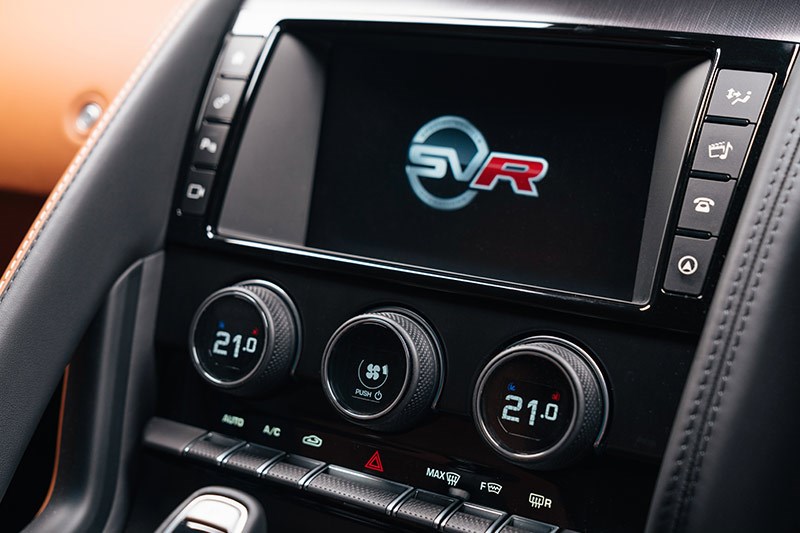 What would it take to dislodge the legendary E-Type from the top step of the Jaguar podium? How about the F-type?
2018 Jaguar F-Type SVR
"It's a moon launch," said Guido, "even when you just tap the accelerator. I haven't nailed it yet." These were comforting words on a damp cloudy day when we met up for a driver change of Jaguar's latest and greatest car since the E-Type of 1961, the F-Type SVR. 
All aluminium, the two-seater F-Type was launched in 2012 and with 160 awards under its tyres Jaguar further honed it in 2017, adding a lighter, sharper, faster version, crafted by their Special Vehicle Operation and christened the SVR.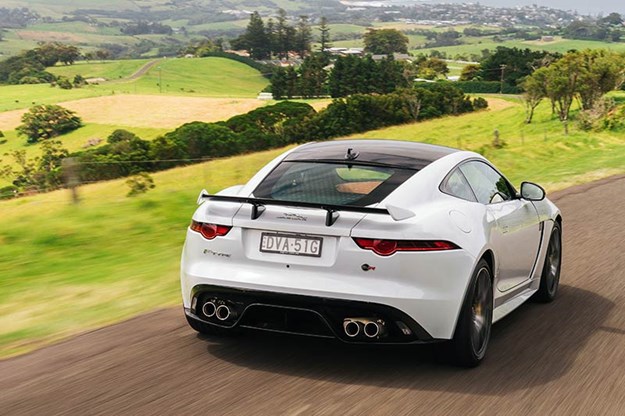 The SVR F-Type is Jaguar's most performance-focused model yet. There was no surprise to discover it was unbelievably capable, but what surprised me was how easy it was to live with as an everyday drive proposition. 
When you combine its supersonic continent-crossing capability and its racetrack prowess it's no surprise this fast feline is the biggest seller in its home market in its segment. And when you think about its competitors, that is one hell of an achievement.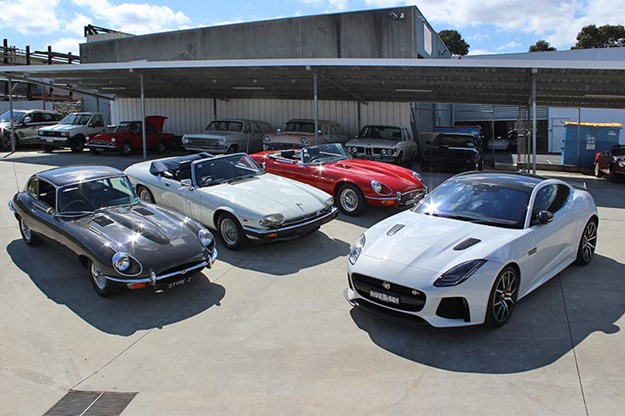 The F-Type pays little homage to traditional Jaguar styling. This incredible line-up was pulled out of the showroom of the Healey Factory in Vic. Many thanks, folks
As soon as I saw the sleek purposeful SVR's styling that flowed from design legend Ian Callum's pen, whose resume includes Aston Martin DB7, B9, Vanquish, Ford RS200 and Jaguars XK, XJ, F-Pace and C-X75 to name a few, I knew I was in for a very special time in a very special car. Even with the key firmly in my grasp I found it impossible not to just stand back and take in its athletic beauty.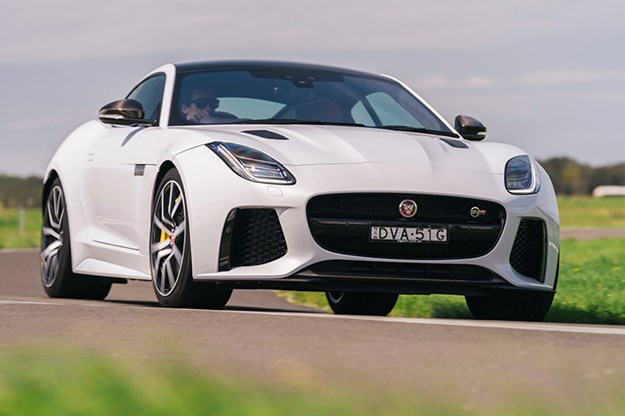 On the road the F-Type delivers the performance its styling and stance promise
Then I dropped down into the sumptuous interior that's like a bathtub of soft leather, Alcantara, technology and expensiveness where sportiness and luxury effortlessly meld to create a consummate ambience.
I pushed the starter button. Geezuz H! The thunder from the four tailpipes would no doubt be sufficient to waken entire cities.
And what a note.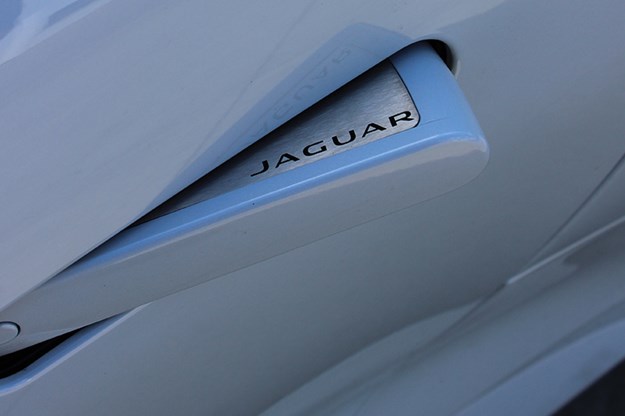 Beethoven never created anything as sweet as the sound made by the supercharged 423kW/600Nm five-litre V8 that's good for zero to 100km/h in 3.7 seconds and shortly after, a top speed of 322km/h. That's genuine 200mph in the old money. Bolted to the Saturn five propulsion device Jaguar calls an engine is a rapid-fire eight-speed auto gearbox that drives all four wheels.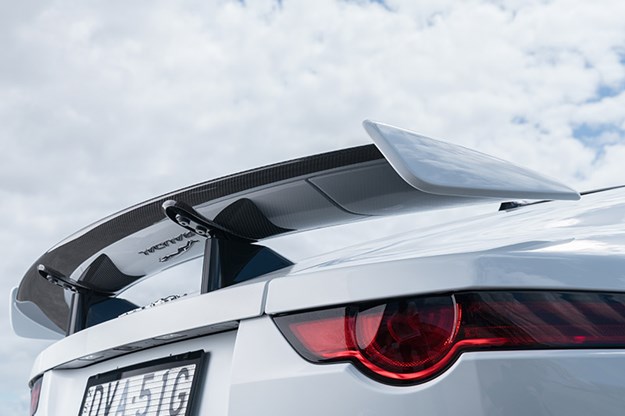 Out of earshot of Chez Guido and on a straight piece of road, I couldn't contain myself any longer and mashed the throttle. And Guido was right. The moon launch occurred with a booming eruption under the long bonnet, the slingshot acceleration slamming me back into the lightweight soft-leather sports seat as all four wheels tore at the road for grip. Exhilarating.
I reckon it only took about 10 minutes before its styling, exquisite interior and brutal performance had me hooked. There was only one issue, entry to this exclusive club starts at $290,800.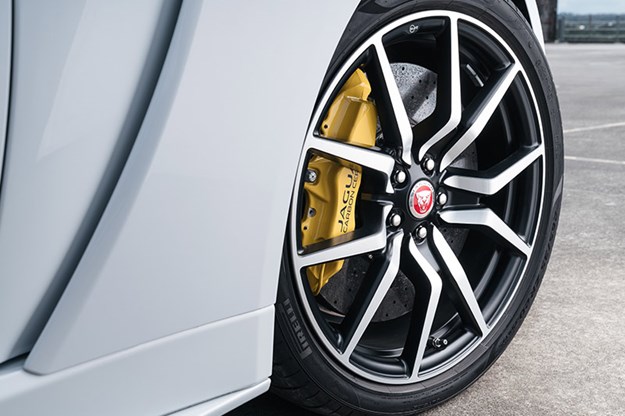 Carbon-ceramic brakes are a perfect match for the F-Type's performance
Adaptive configurable dynamics, an electronic active differential with torque vectoring, a titanium and inconel exhaust, carbon-fibre rear wing, infrared reflective windscreen, LED headlights and tail-lights, 12-way quilted leather electric sports seats, a heated steering wheel, configurable interior lighting, an 8.0-inch infotainment touchscreen with navigation, Bluetooth connectivity and audio streaming, (but missing Apple CarPlay and Android Auto), 5.0-inch central TFT display and an armory of safety and driver assist tech all come standard.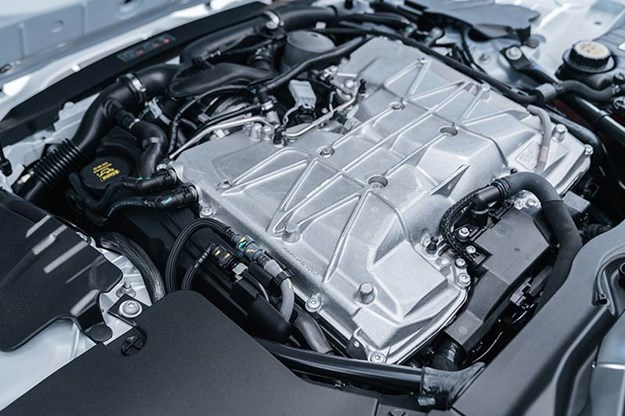 The 5.0-litre V8 features supercharging and fully independent variable valve-timing
One really cool feature is the GoPro ReRun, that allows owners to share their driving experiences online with real-time video from the camera overlaid with speed, throttle position, gear selection, braking, G-forces and steering wheel angle all displayed on the screen and run through a smartphone. Also fitted to the test car was a smorgasbord of options from massive carbon-ceramic brakes and carbon-fibre roof to a Meridian 770W surround-sound system, a suede-wrap steering wheel and heated/cooled seats, plus much more –  taking the price to $349,405 plus on road charges.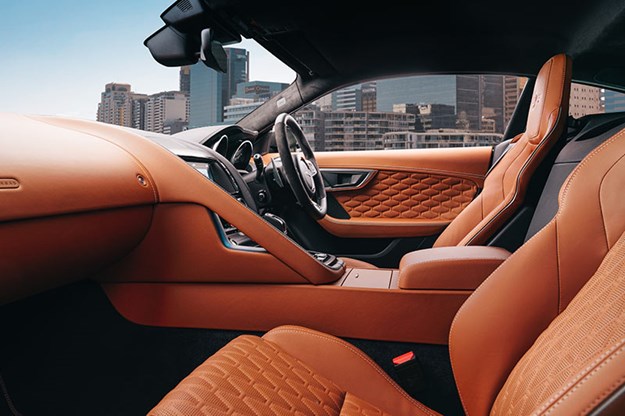 The luxury leather aroma almost wafts from the page. And the 12-way quilted-leather electric sports seats – say no more
After traipsing through the burbs and frightening shoppers each time I gave the throttle a glance, within 10 minutes I was on the freeway, adaptive cruise control set and trying to take it all in. It was a sensory overload. Cruising on the freeway attracted plenty of lookers and photos from other motorists and after an hour I arrived at some quieter back roads. So far the Jaguar SVR navigated Sunday shoppers and sports goers with aplomb and the freeway run was a breeze and unpredictably quiet despite the wide wheels and fat low profile tyres it was wearing.
So what makes the SVR the standout of the F-Type litter?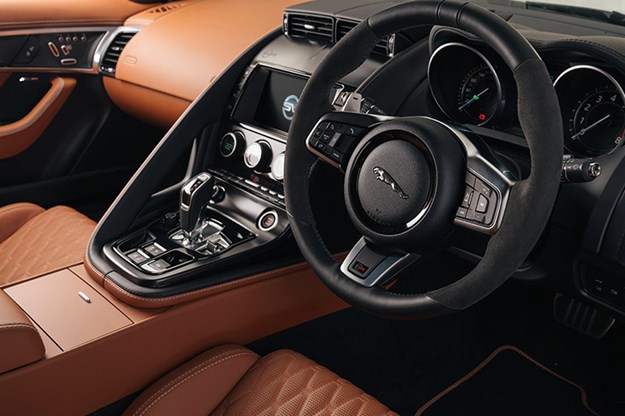 Apart from that ferocious engine Jaguar's boffins started with new anti roll bars and dampers at each corner and stiffened the rear suspension knuckles reducing flex, improving rear stability and grip. The electric power steering has been tweaked, more torque is fed to the rear wheels and the stability control system was given a tickle. 
A new aero package with an active rear wing, rear diffuser, front spoiler and flat under floor (sounds like an F1 car) improves airflow over, around and under the SVR minimising lift and drag. Finally its thunderous note is courtesy of a specially tuned exhaust with four titanium tips that change colour like a chrome system after a lot of heat has gone through it.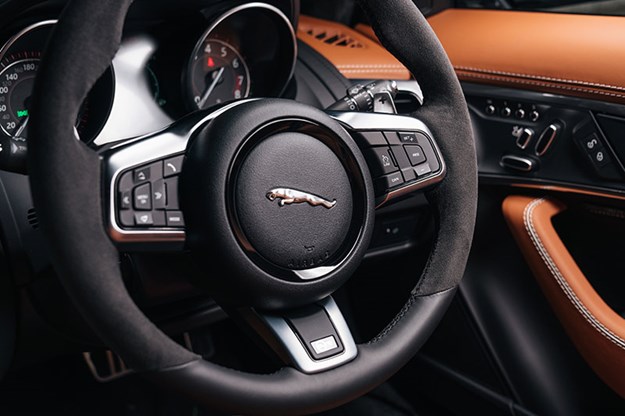 The SVR does take a bit of getting used to as the acceleration and deceleration are almost overwhelming at first and the steering is very direct. But would you want it any other way?
For a sports car the ride is pliant and does a good job of soaking up bumps though it is still predictably firm. But that translates to excellent body control and remarkable agility that hides its 1705kg heft. The SVR feels so wonderfully settled giving you immense faith to tackle corners and bends at mind warping speeds. The level of lateral grip generated by the massive tyres and all-wheel drive is astonishing and you actually feel your innards pressing against your ribs when cornering hard. The carbon ceramic brakes are so powerful you brake for corners long after your brain tells you to, such is their incredible stopping power that combines with its pin-sharp steering.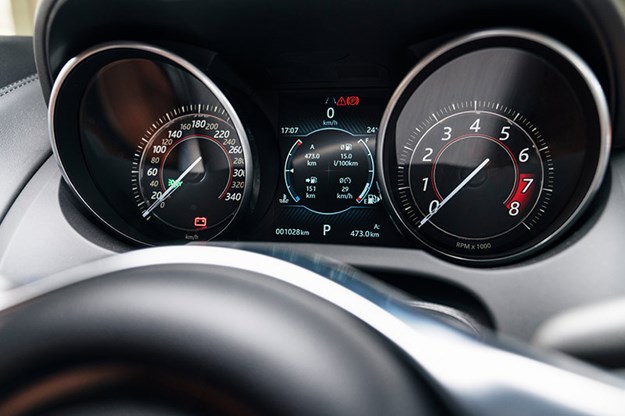 And that is what makes the Jaguar F-Type SVR so hugely involving and utterly fulfilling to drive and I can only imagine those same characteristics were responsible for giving the E-Type its legendary status.
It may have taken 56 years, but I believe Jaguar can now pass the baton onto the genuine successor to the E-Type, the F-Type SVR.
2018 Jaguar F-Type SVR
BODY 2-door Coupe
ENGINE 5.0lt Supercharged V8
POWER & TORQUE 423kW/600Nm
PERFORMANCE 0-100km/h 3.7 seconds
TOP SPEED  322 km/h
TRANSMISSION 8-speed automatic
BRAKES  Discs all round
PRICE From $290,800; as tested $349,405 + orc
Unique Cars magazine Value Guides
Sell your car for free right here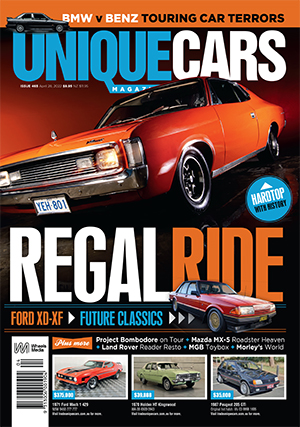 SUBSCRIBE TO UNIQUE CARS MAGAZINE
Get your monthly fix of news, reviews and stories on the greatest cars and minds in the automotive world.
Subscribe