1979 Holden Kingswood + 2018 Commodore: Old vs new
---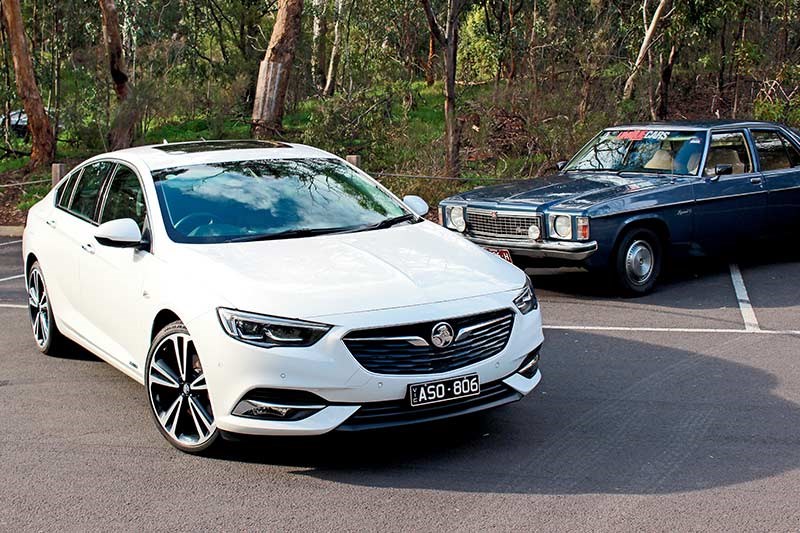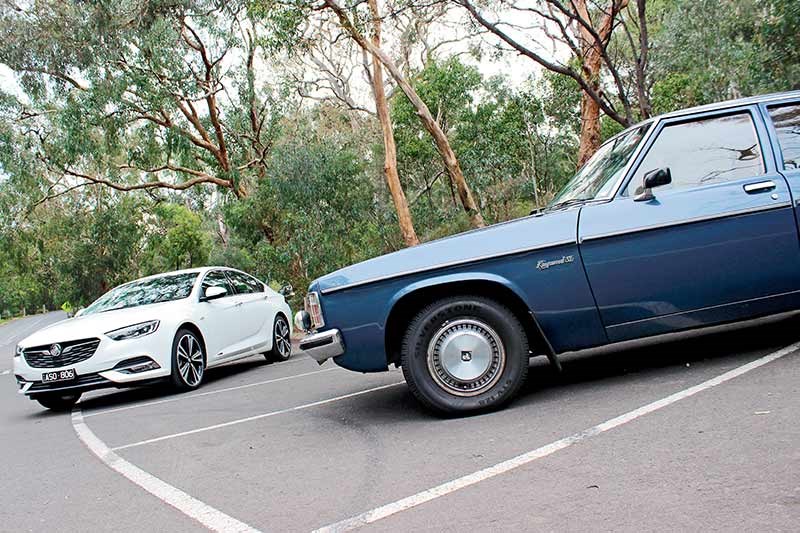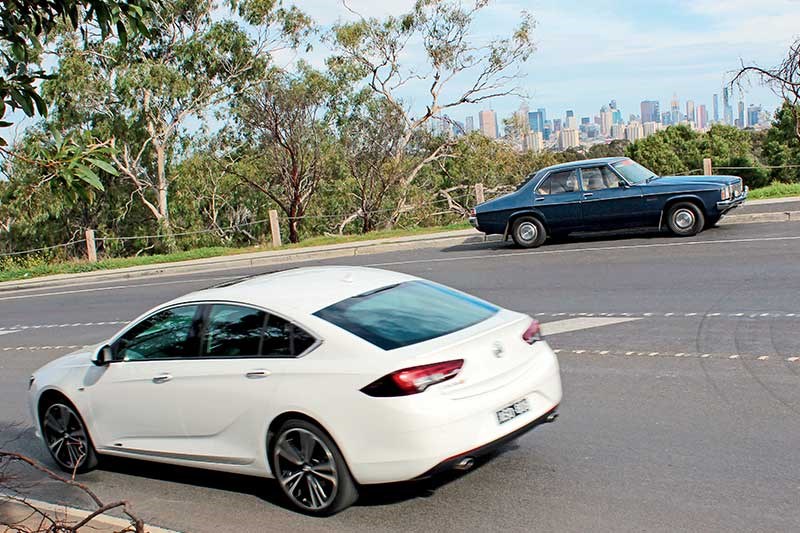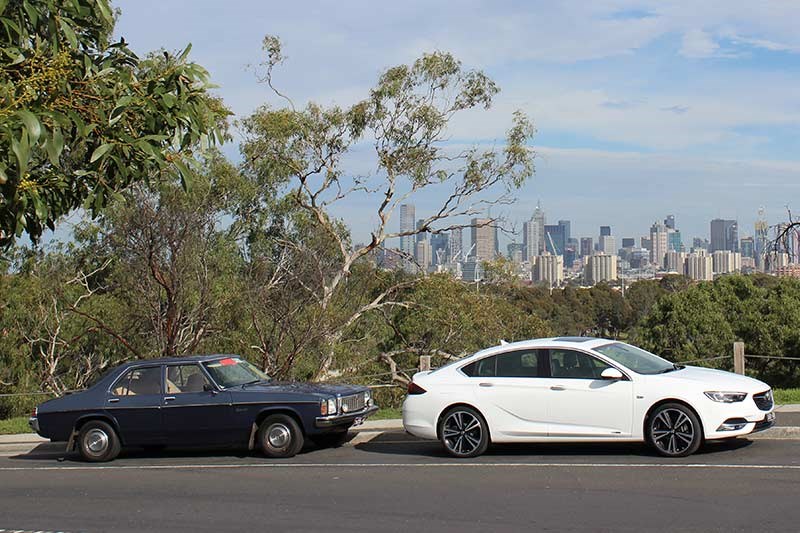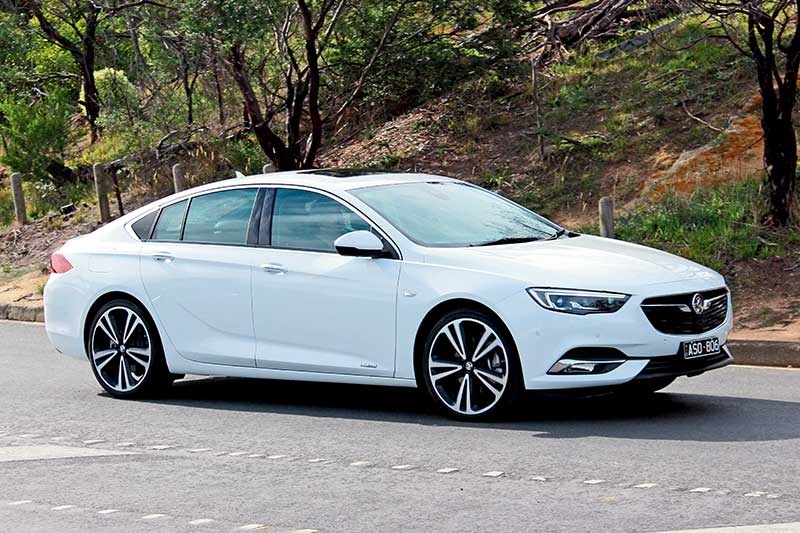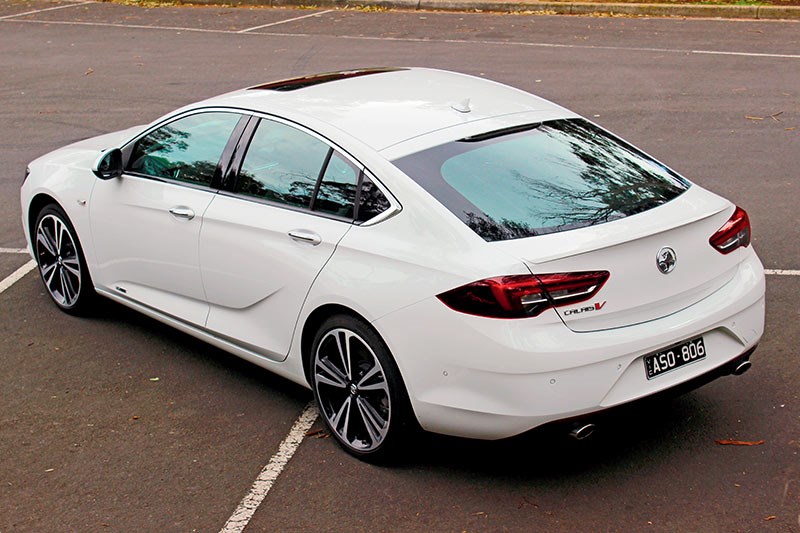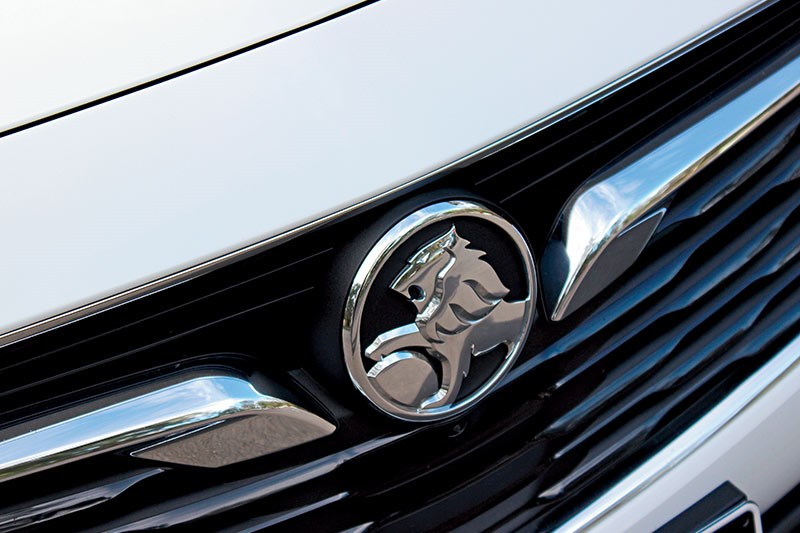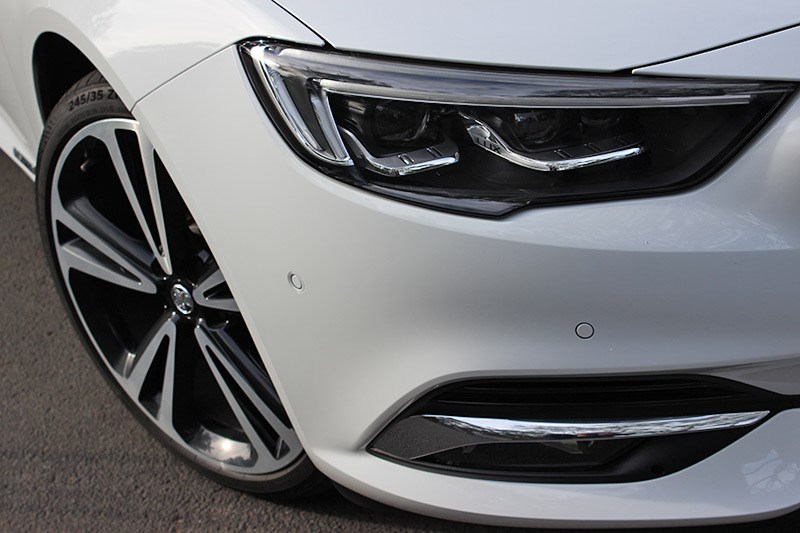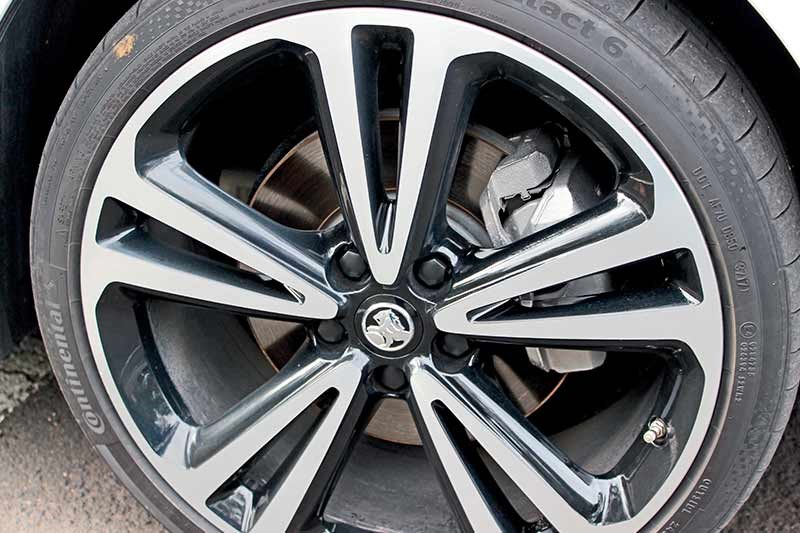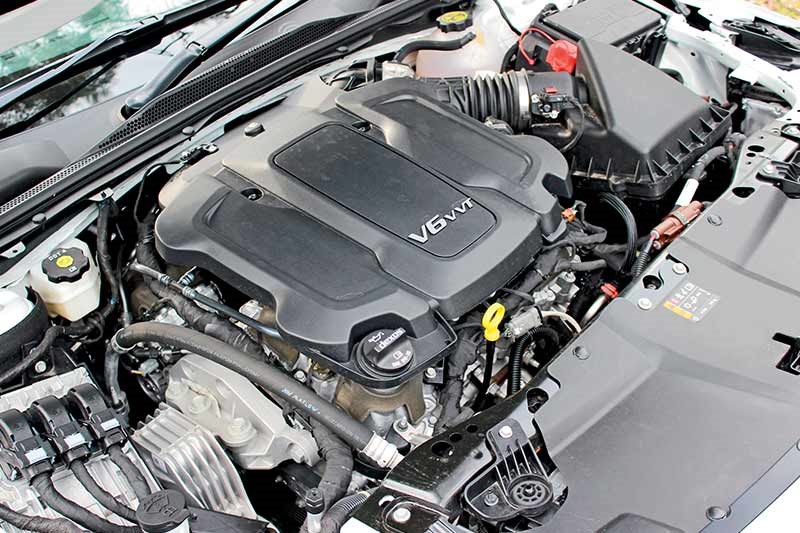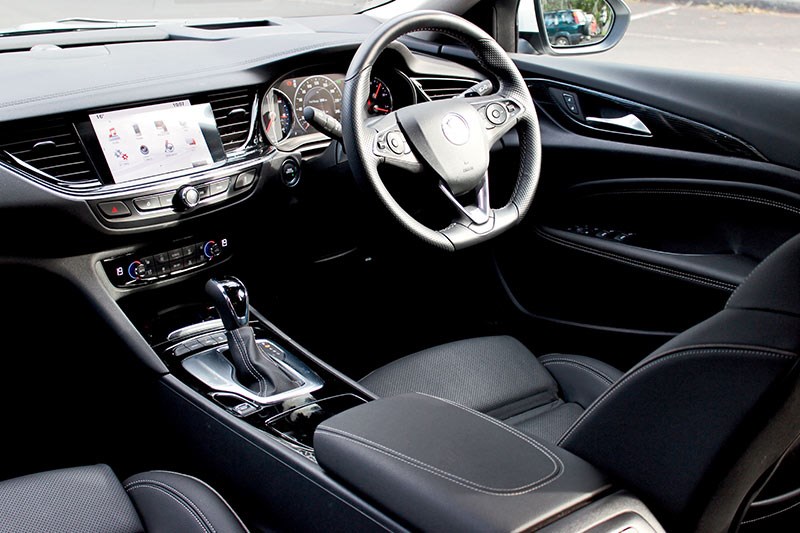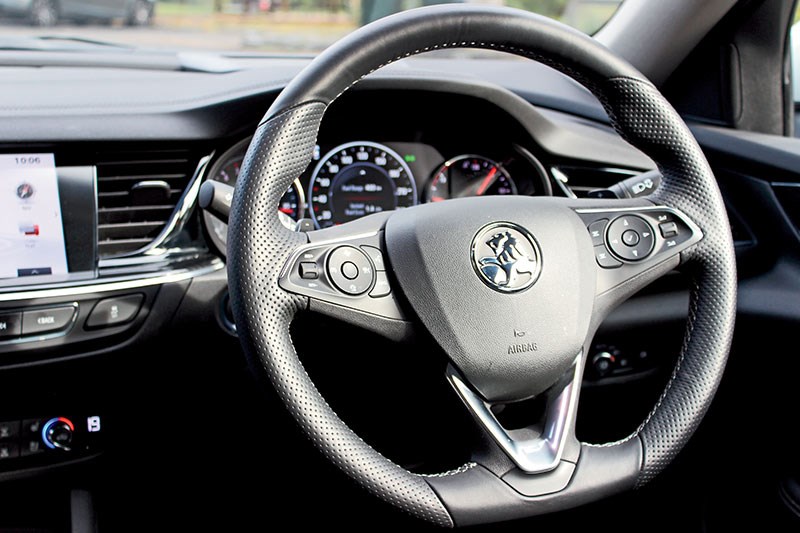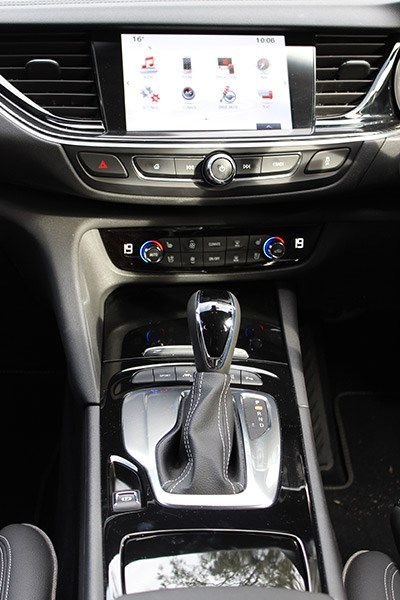 Holden family rigs now and then...
1979 Kingswood vs 2018 Commodore
When assembling the Family Values issue, (#417) of Unique Cars there was plenty of chat about Holden dumping the Kingswood for the Commodore in 1978 and the equally difficult transition to imported Commodores in early 2018.
The Aussieness of football, meat pies, kangaroos and Holden cars helped the General sell bucket loads of Kingswoods, Statesmans Toranas and Geminis in the 70s.
The Kingswood was so ingrained in our lives it got its own TV show – Kingswood Country – on the Seven Network from 1980-1984. It starred Ross Higgins as Ted Bullpit and his quips like "You're not taking the Kingswood" and "I've got to polish the Kingswood's dipstick" and "Leave your money on the fridge" and many others became part of our everyday vernacular.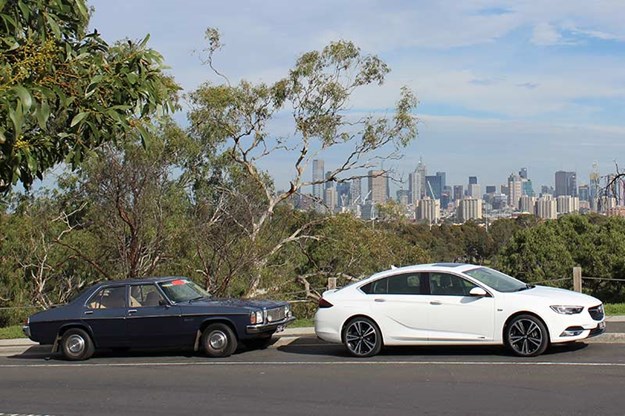 Holden family transporters now and then
I can only imagine how Holden's senior ranks turned Plumdinger purple with rage when the show debuted, because they'd killed the much-loved Kingswood six months earlier. Oops!
In late 1978 Holden dished up a re-engineered, repackaged and rebranded Opel from Germany and tried to convince us this new breed of smaller, lighter and more fuel efficient family car was the way of the future in the face of rapidly rising oil prices.
The Kingswood remained in the General's model mix until mid 1979 when it was given the last rights. RIP.
Now the Commodore had very big shoes to fill.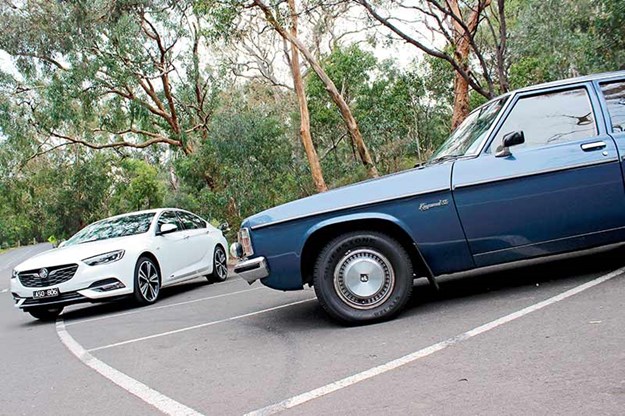 "You're not taking the Kingswood"
And buyers turned up their noses at this newcomer. It wasn't a true Aussie family capable of carting the tribe, their gear and tow a boat or caravan on the annual Christmas hols, was it?
'Bigger is better' announced Ford at the launch of the XD Falcon in March 1979. Families and fleets will love it they claimed, and they did. It was a body blow for the General and their gamble on the Commodore was looking shaky.
The turnaround came in August 1979 when the Holden Dealer Team Commodores, led by Peter Brock, finished 1-2-3 in the Repco Reliability Trial, a two-week 20,000km torture test of man and machine that captured the nation. It was the shot in the arm that Holden needed. Although it was still a 'small' family car it had proven itself in Australia and buyers cautiously returned to Holden showrooms.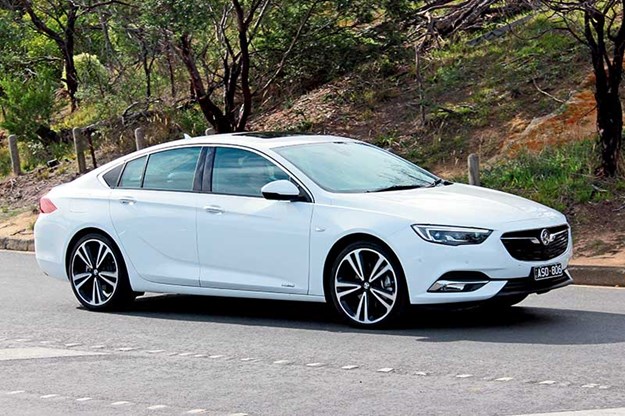 Five door liftback. It's a Calais, but not as we know it
From there the rest is history, with the locally-made Commodore becoming the General's most successful model its 39-year span, until local car making ceased in October 2017.

Fast forward to 2018 and history is repeating itself with an imported Opel replacing the local Commodore, but this time the badge has been kept. Just like 1978, buyers are thin on the ground and sales are worryingly slow. What's the problem?
Sure SUVs are gobbling up passenger cars in the sales race but that still doesn't explain the massive buyer resistance to the new Commodore.
Out of curiosity we grabbed Guido's much-loved Aussie-made deep blue 253 V8 Kingswood and the latest imported Calais-V to discover how Aussie family motoring has evolved over 40-odd years.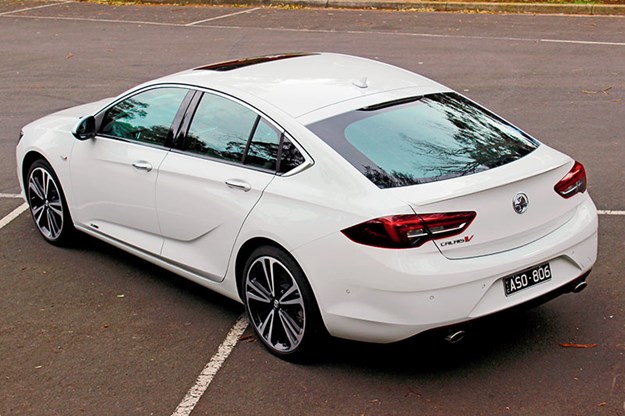 Sweeping Calais roofline is very different to the Kingswood lid
The 1979 four-door HZ Kingswood sedan sports Radial Tune Suspension, the optional 120kW/325Nm 4.2-litre V8 and Tri-Matic auto. The five-door liftback Calais-V is all-wheel drive and powered by a naturally aspirated 3.6-litre 235kW/381Nm V6 bolted to a nine-speed auto.
The only similarity is the badge on the grille, just.
The first thing you notice is the vastly different styling. While the Kingswood is square and upright, the Calais-V is sleeker with wheels that fill the guards and heavily raked front and back windscreens. Despite their contrasting shapes the Calais-V is longer, but surprisingly it is the Kingswood that's wider (1880mm v 1863mm) and lower (1370 v 1455mm) while just 29mm separates their wheelbases with the Calais-V the winner (2800 v 2829mm). All round visibility is much better in the Kingswood with its larger glass area and slimmer pillars.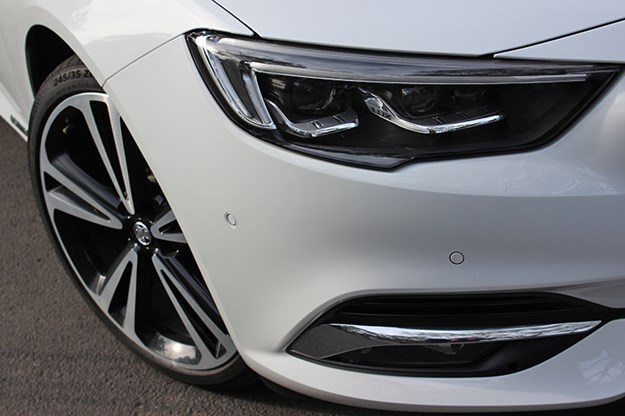 The newcomer is a dramatic shift for the Commodore/Calais name and much like a rookie player wearing a club legend's jumper, it's taking a lot of getting used to. But these things usually, but not always work out in the end. Holden is certainly hoping so.
The Calais-V's turbine-like V6 engine is more polished than its predecessor and loves to rev, with its own distinct bark and the nine gears in the auto gearbox keep you deep in the torque band, so you are in the right gear for every occasion.
Countless laps of the 192 corner Nurburgring Nordschleife is where Opel engineers hooned around, I mean honed the chassis, before sending it to Oz for a further 200,000 kilometres of torture on our 'unique' roads, resulting in a chassis and suspension setup that delivers a limousine ride with a dollop of sporty handling.
Under the plastic cover lurks an engine. A V6 according to the badge
Though the Calais can be hustled confidently through corners the light steering lacks the feedback and feel of its immediate locally-made predecessor, despite it being all-wheel drive as opposed to rear drive.
Putting power to the road is achieved through the adaptive Twinster all-wheel-drive system with torque vectoring and a twin-clutch diff. Its clever software feeds power to whichever wheels can best use it.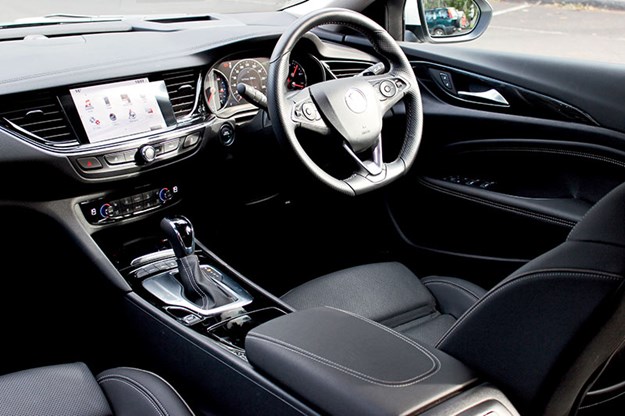 The Calais interior is a very comfy place to be
Visual highlights of the Calais-V are 20-inch alloy wheels, a discreet rear lip spoiler, adaptive LED headlights and an electric sunroof.
Inside are ventilated black leather seats, the driver's seat copping adjustable side bolsters and a massage function and the rear a heating function.
Throughout the cabin are soft-touch surfaces and polished black trim.
There is also a colour head-up display and an 8.0-inch infotainment touch-screen with satnav, Bluetooth Apple CarPlay and Android Auto connectivity and a swag of apps.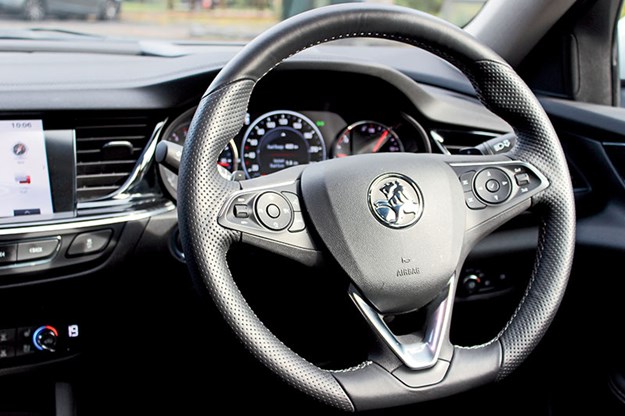 Standard on the Calais- V are adaptive cruise control, a 360-degree camera, wireless phone charging, digital radio, auto high beam and a powerful BOSE sound system.
Occupant safety is where the massive advances have been made with the Calais-V having anti-lock brakes, traction and stability controls plus a raft of driver assist technologies.
STEERING THE KINGSWOOD
Now for the Kingswood and the first thing you notice behind the wheel is how upright and high you sit. In the Calais-V you sit low and look along the bonnet. In the Kingswood I felt like cocky on his perch looking down on the bonnet that is about the size of a garage roof.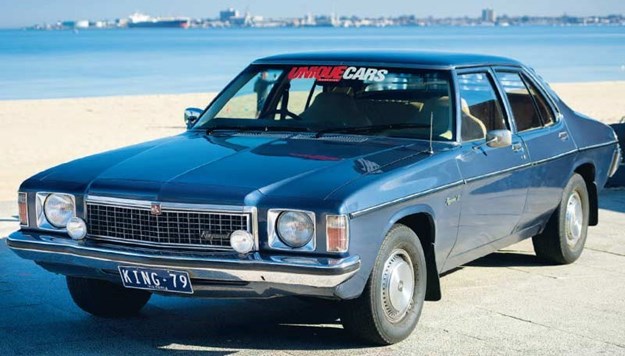 As I said earlier visibility is excellent, but not so much the steering with plenty of free play. Some can be put down to age, some to just how it was back then, teetering around on 14-inch wheels. Guido didn't mention it wasn't power assisted and it was bloody heavy. Not sure if my mum could have wrestled one into a parking spot back in the day.. Driving meant constant minor corrections to keep it pointed where you wanted to go.
The 253 still had a deal of grunt and the brakes worked well; they just needed a hefty shove to get them to bite. It leaned through corners with not a lot of feedback from the wheel and I can only imagine what they must have been like before Radial Tuned Suspension.
Inside there was plenty of room and comfort for all with entertainment provided by an AM/FM radio.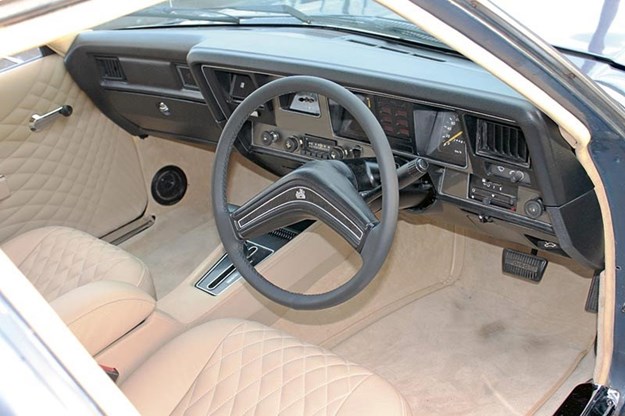 The mighty Kingswood was treated to its second retrim a few years ago
I thoroughly enjoyed my short drive in the Kingswood, the operative word being 'drive', completely unadulterated by electronics, sensors and gizmos. On the safety front there wasn't a great deal, apart from seatbelts but that's how it was in 1979.
These two are very different cars for very different eras designed to do the same thing, take families on journeys and experiences. For many the Kingswood became a bit like the family pet, going everywhere with them. In time, the Calais-V might just become the same for a new generation.
2018 Holden Calais-V
Engine 3.6-litre V6
Power 235kW @ 6800rpm
Torque 381Nm @ 5200rpm
Gearbox 9 speed automatic
Brakes Disc brakes F & R
Suspension HiperStrut (f) Five-link independent (r)
1979 Holden HZ Kingswood
Engine 4.2-litre V8
Power 120kW @ 4550rpm
Torque 325Nm @ 2600rpm
Gearbox 3-speed automatic
Brakes Disc (f) drum (r)
Suspension Independent coil springs (f) live axle (r)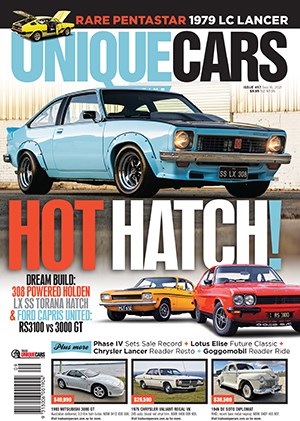 Subscribe to Unique Cars Magazine and save up to 42%
Australia's classic and muscle car bible. With stunning features, advice, market intelligence and hundreds of cars for sale.
Subscribe