1955 Saab 92B + Sonett III
---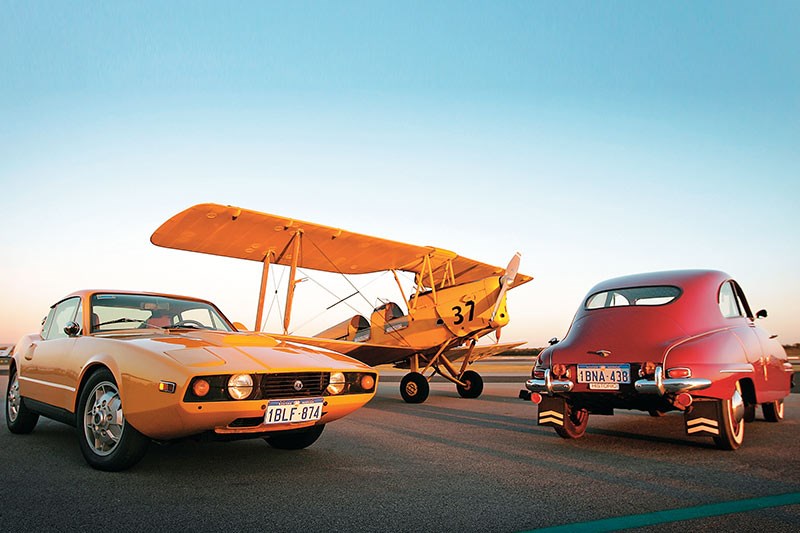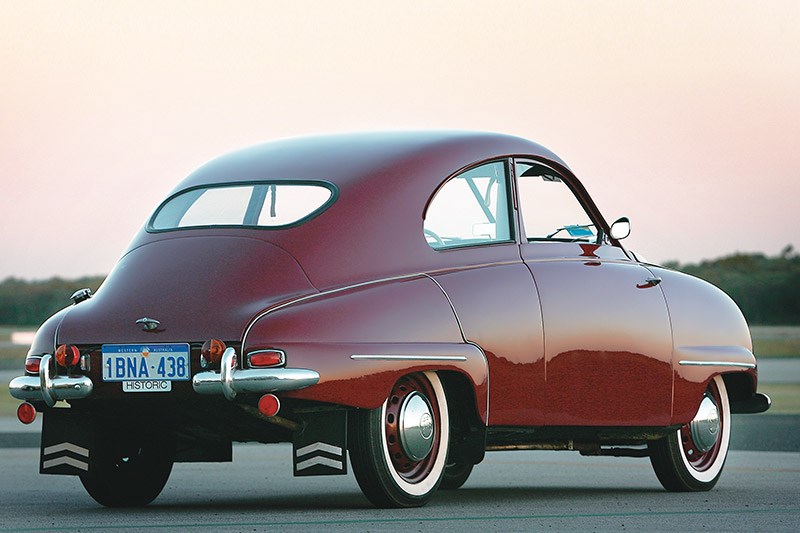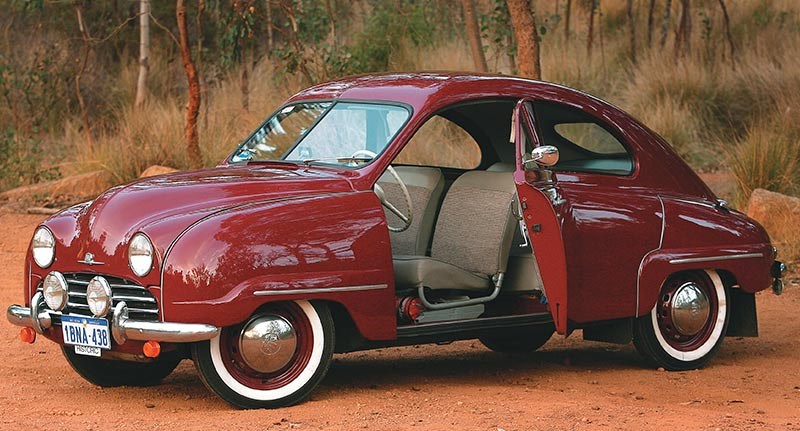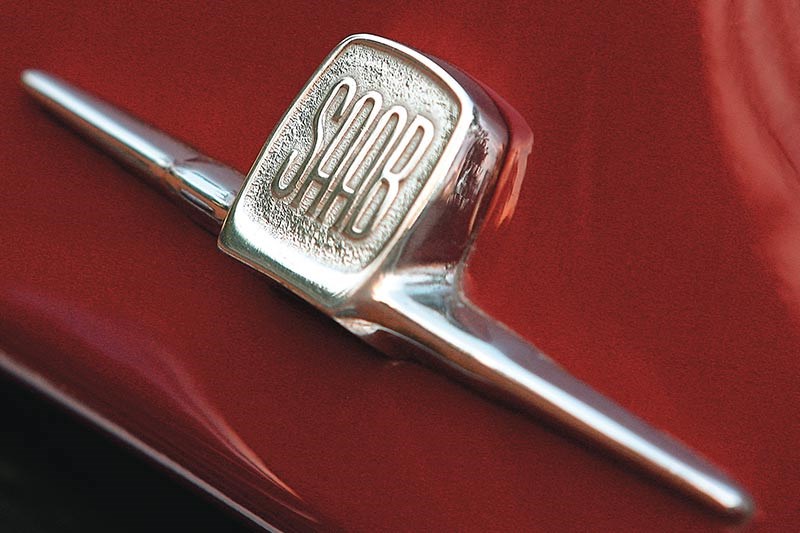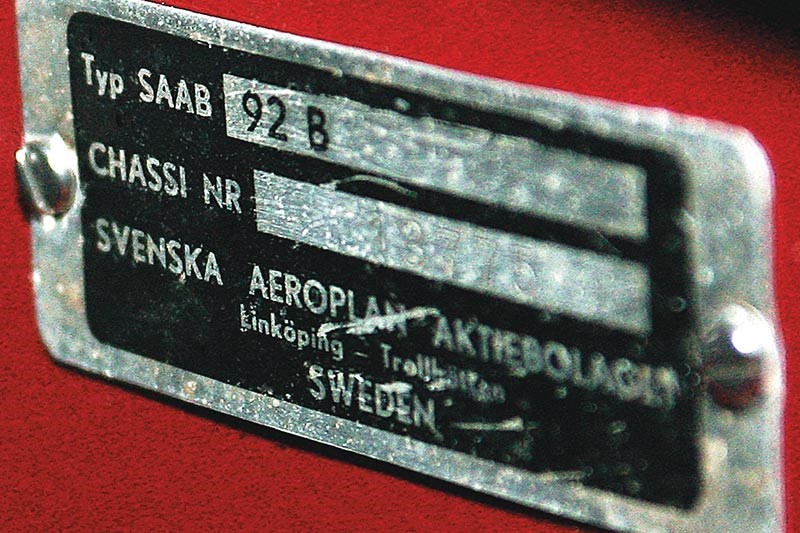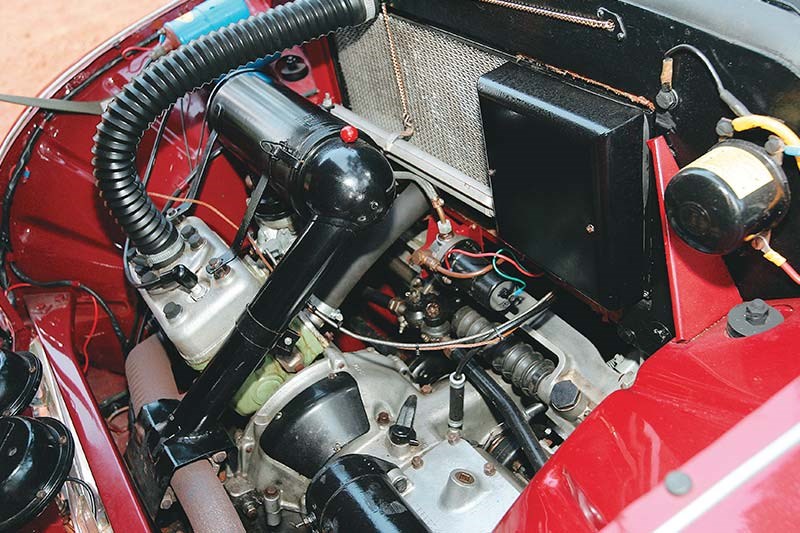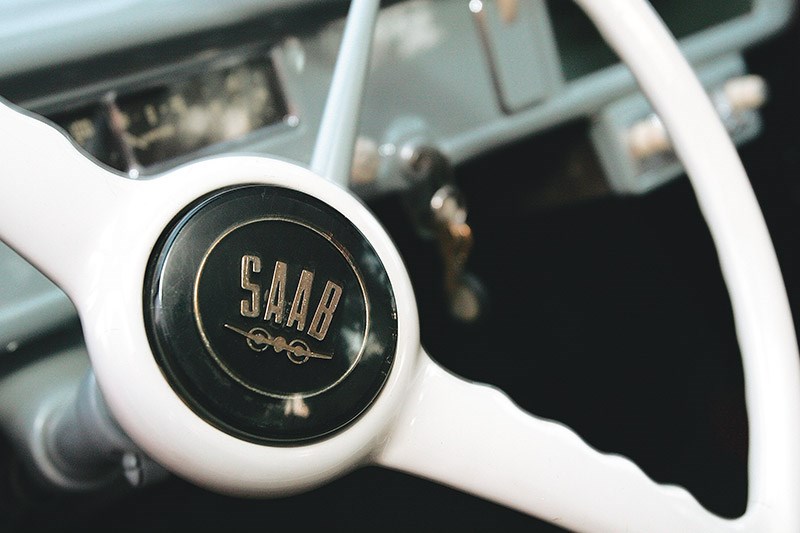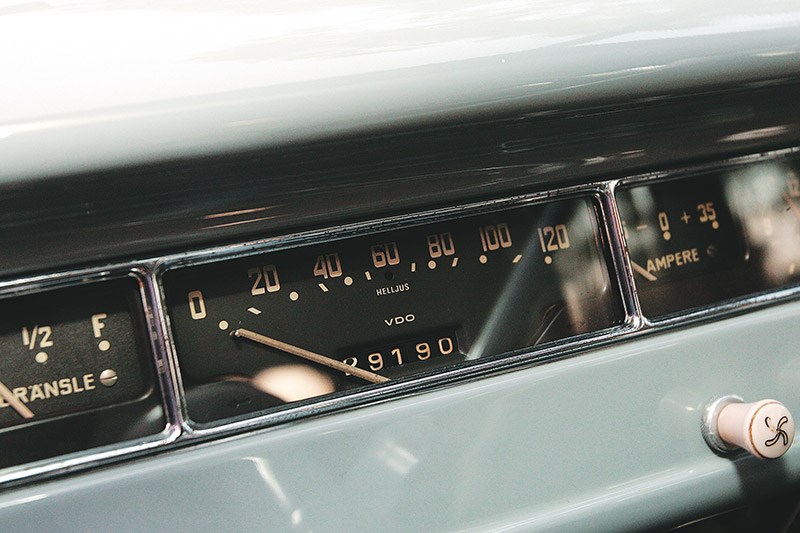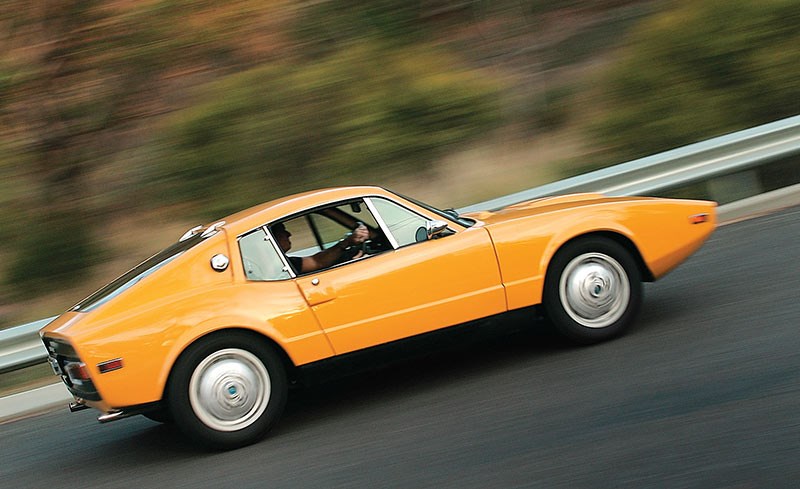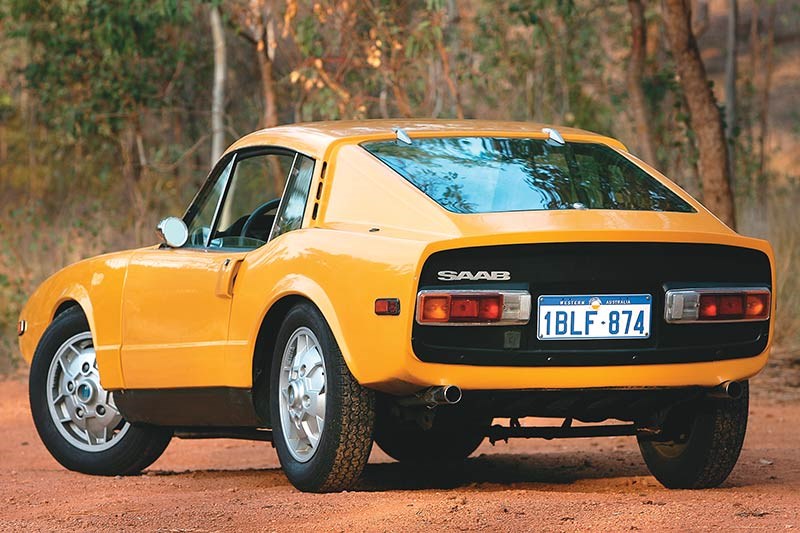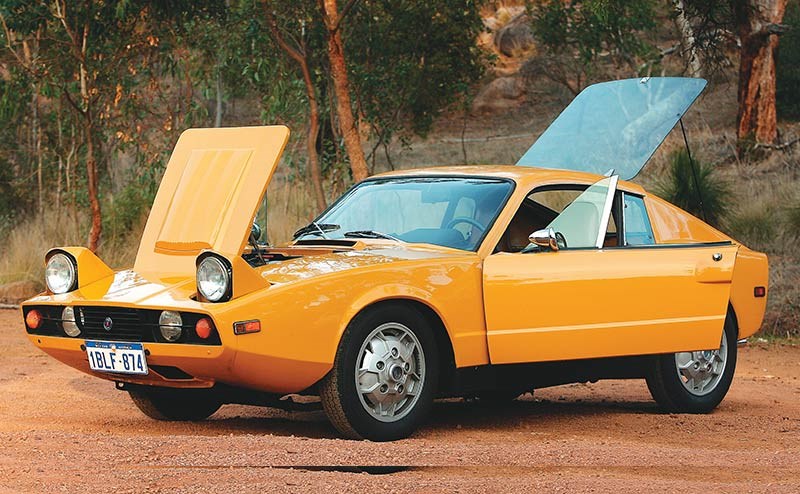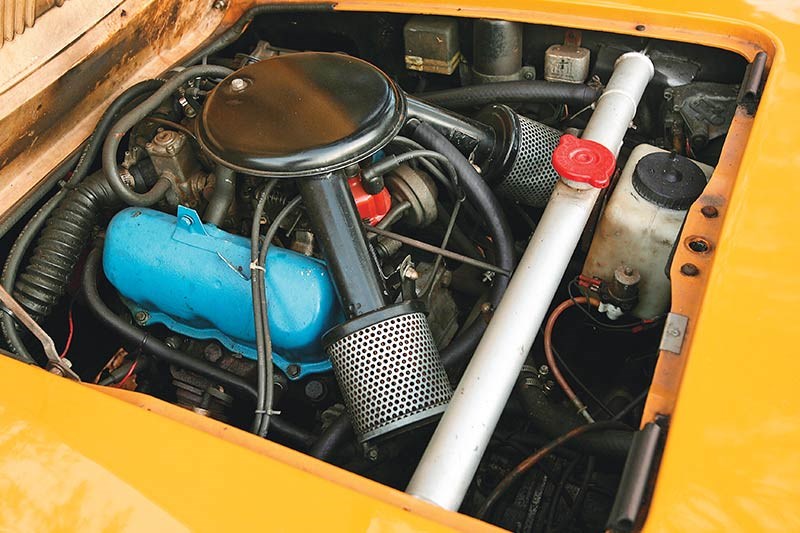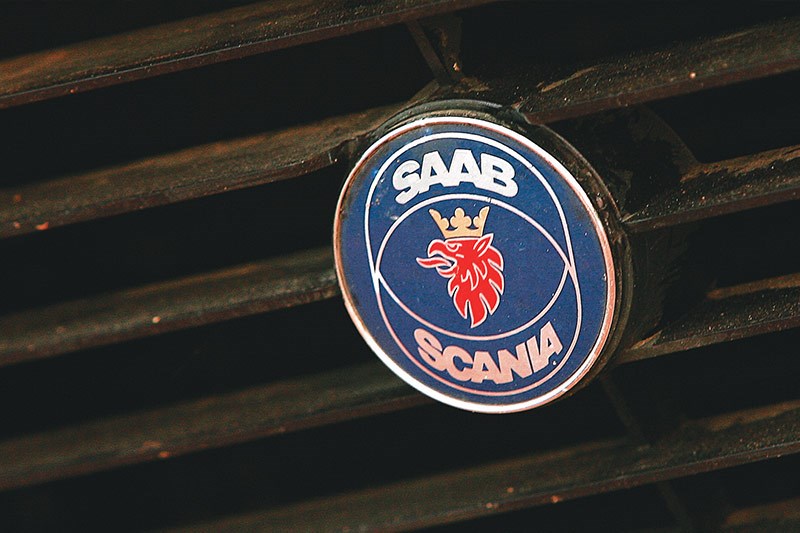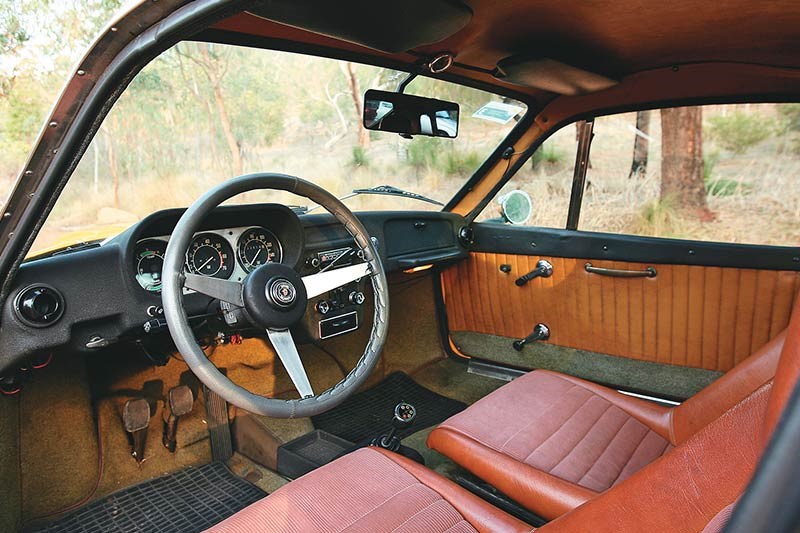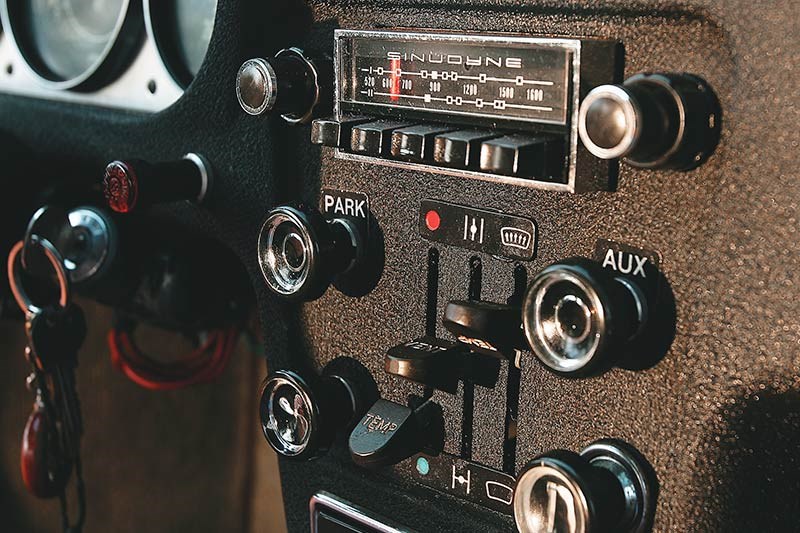 Before GM got its mits on it, Swedish aviation experts Saab built some of the most stylish and technologically advanced cars. Here are two of them...
From Unique Cars #261, Jun/Jul 2006
The name Svenska Aeroplan Aktiebolaget really didn't mean a great deal to a lot of people much beyond the amusingly named Swedish town of Trollhättan in the late 1940s.
But the SAAB name eventually grew to great heights, the brand becoming renowned for advanced designs and rally success. Unfortunately after being taken over by GM in recent times many of the company's traditional strengths became eroded.
Back when WWII was looming the need was seen by Swedish authorities and industrialists for assembly of aircraft and SAAB was set up to do this. By war's end demand for military aircraft was drying up and the company began developing civilian models – but realising sales would be very limited they cast around for alternative products to suit their factories.
Consideration was given to prefabricated houses and whitegoods but ultimately the company decided to keep within the world of transport and decided to develop a SAAB car.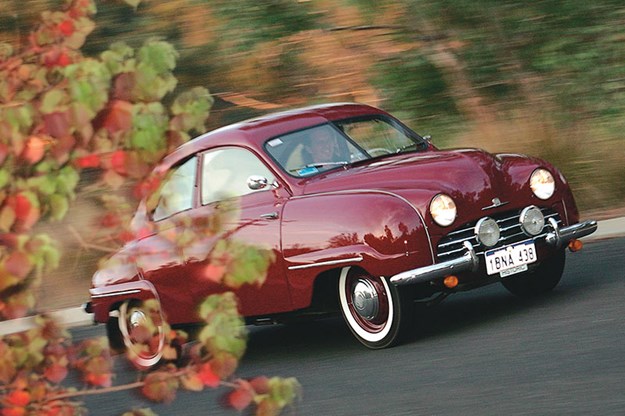 The team of designers had expertise in aeronautics, but not motor cars, so their viewpoint was somewhat radical – especially when compared to Sweden's established car maker Volvo, which produced very staid, conventional designs.
In pre-war Sweden the German-made DKW was a very popular car. The small front-wheel drive DKW had a two-stroke engine, low-slung bodywork and very good handling.
SAAB's design team used the DKW as the inspiration for their new car but added its own specialist areas of expertise – and its access to a wind-tunnel. The team enlisted the help of Swedish Industrial Designer Sixten Sason whose clients had included Swedish icons Husqvarna, Hasselblad and Electrolux. Sason developed styling along aerodynamic lines which morphed into the first prototypes.
With enclosed wheels, teardrop shape and fared-in lights, the prototypes were as radical as the innovation beneath the sleek skin. Today a transverse engine and front-wheel drive are commonplace, but in the late 1940s this was most unusual. The cars also featured rack and pinion steering, hydraulic brakes and independent suspension by torsion bars.
Support was given by Sweden's biggest car importer, with a very confident pre-paid order for 8000 cars, enabling SAAB to go full steam ahead with production.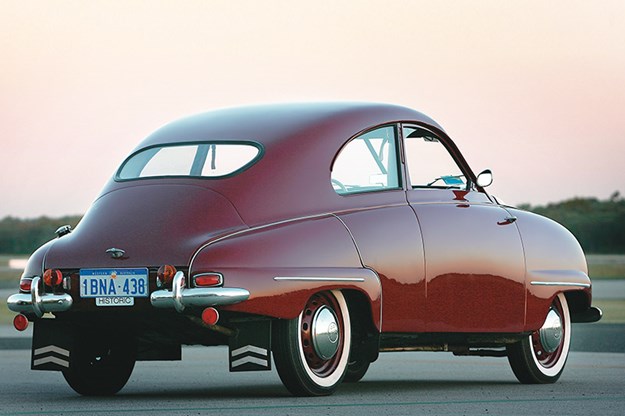 1955 SAAB 92B featured suicide doors and Art Deco styling 
The car was named 92 – the first 91 SAAB designs having been aircraft. Production began in 1947 with over 20,000 made by the time production ceased in 1956.
These early SAABs were never sold in Australia and even knowledge of their existence was sparse here. As later models gained sales and success overseas, so interest in the marque here eventually grew. The later Saab (the name changed to upper and lower case) 93 became a rally star, winning European championships, first with two-stroke, then Ford V4 engines.
Then in 1967 the all-new 99 series came out, with Triumph-derived four-cylinder in-line engines. While it retained the high level of advanced engineering, the new model was far more normal looking and became successful around the world, including Australia.
| Read next: Saab 99 - smart classics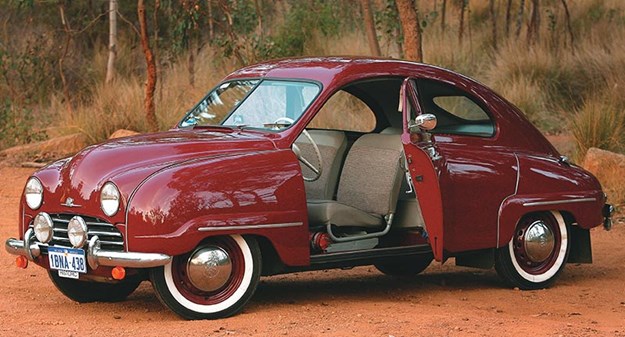 In the meantime a handful of early models had trickled into Australia in the hands of private owners – and they continue to arrive in tiny numbers with people who appreciate their unique designs.
Prime candidate for owner of the rarest Saabs in Australia is Henk Ossendrijver. After visiting Australia several times in his capacity as an expert in plastic insulating tubing for electronics, a casual remark saw him offered work in Perth and moving from The Netherlands three years ago.
Henk brought two Saabs with him – a 1955 92B and a 1971 Sonett. We'll get to those two shortly. But first, what makes someone bring two such unusual cars around the world?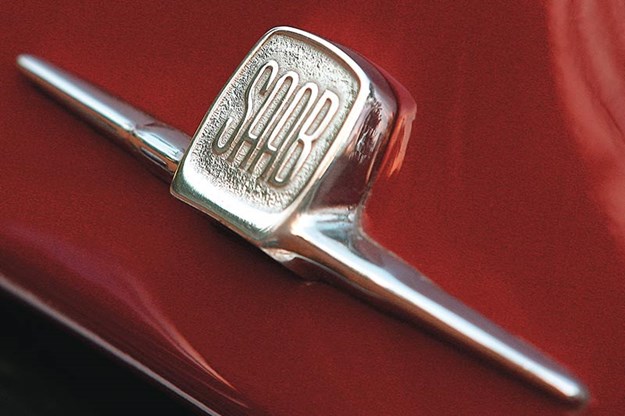 Henk and his wife Ellen have been Saab enthusiasts for 25 years. While they've owned other makes as well, Henk's long standing passion for the Swedish marque stems from his admiration of the shape of the early models – 'the droplet shape' as he describes it being called in Europe.
A couple of decades ago Henk bought a V4-engined 96 as a project car. He restored it and used it as an everyday car for the following 16 years. Henk explains: "In the winters, salt causes a lot of damage if you don't maintain cars. I restored that car twice." Salt helps defeat snow covered roads but turns sound metal rusty.
Their kids were growing up and something more spacious was needed, so the family progressed through a series of 99 and 900 models, including some special edition versions.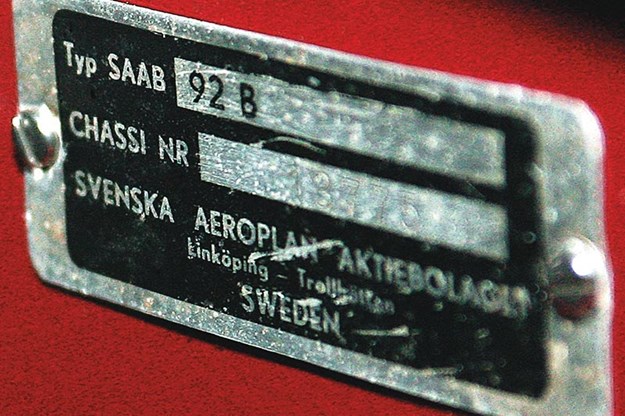 Rarest of these was a Red Arrow 900 Turbo, a handful of which were sold in Australia as the Enduro featuring big blister wheel-arches, a whale-tail and wide wheels.
Not long before leaving for Australia, Henk found a very early model – a '55 92B which had been restored some years before and spent time as a museum piece. This was a model he'd longed to own, being the original Saab, and the car in its purest form.
The B differed from the 92 in a few minor, but practical ways. It had a larger rear window, a little more power, bigger tail-lights and a bootlid – previously access to the boot was via the inside of the car only.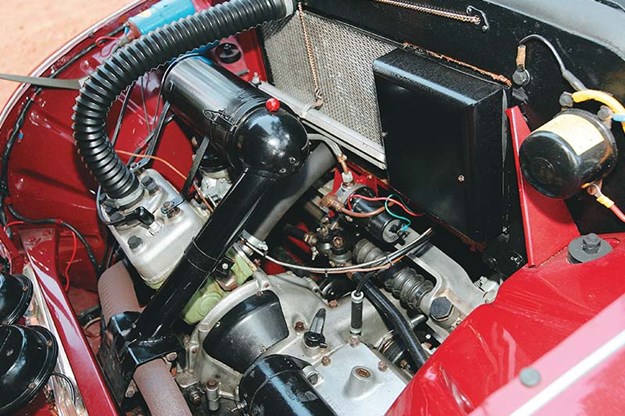 92B powered by 764cc water-cooled two-stroke engine
However, the beautiful shape and exquisite detailing remained unsullied on the B model. The very rounded front, enclosed front wheels (necessitating a narrow front track), raked windscreen and sweeping roofline really made this car stand out at a time when few car makers gave any credit to the benefits of aerodynamics.
It's not just sleek, but in some areas, quite beautiful – the side windows for example echo the curvaceous shapes of some of the wonderful exclusive coachbuilt coupes of the late 1930s, especially with the canted-forward B-pillar ensuring the front and rear windows are of equally balanced area.
Henk tells that the deep burgundy colour was the first colour available other than the green that all 92s were painted. It certainly suits the car well, and is complemented by the grey interior. A close look shows that this car was very well restored.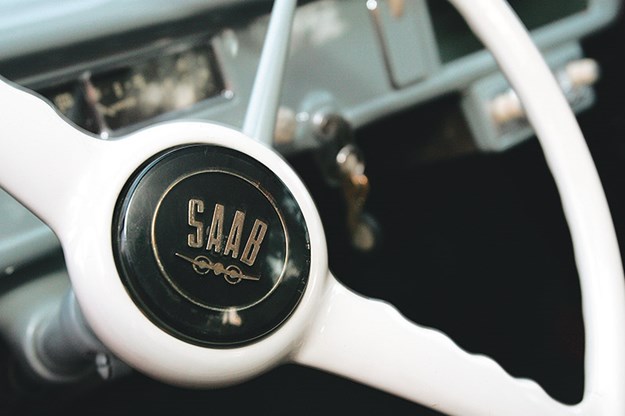 Quirky interior was very 'modern' by mid-'50s standards
Open the rear-hinged door and you're greeted by an interior as quirky, but practical as the exterior. There's a plaited rope grab-handle each side. The headlight switch has a beautiful diagram showing an aerial view of the car's front with the light beam shining forward.
The interior is finished in several grey tones, with some of the lustrous burgundy exterior colour showing too. It's clear this wasn't a cheap car of its era, with comprehensive instruments and a high quality finish.
Sit in the car, pull the solid door shut and things feel more normal again – open suicide doors always give an uneasy feeling…
After turning the ignition on, you pull a curved T-handle under the dash to activate the starter. The old 92 starts easily and the 764cc, water-cooled two-stroke twin quickly settles into a thrummy beat. It's got a richer, deeper note than most two-strokes.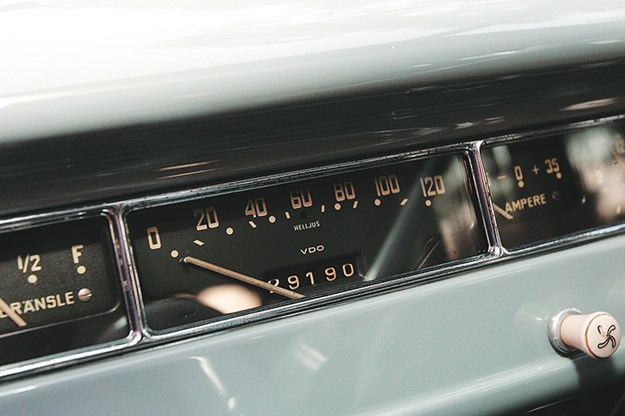 The seat is hard and the pedals noticeably offset to the centre. Release the handbrake which sits way down on the flat floor, switch on the semaphore indicators and you're away. The three-speed column gearchange is light and creamy, quite a pleasure.
Remembering to keep the revs up, when you might be trying to be cautious with a rare car is the only real challenge. The brakes require a solid push and the steering weight builds up on turning, but the car lopes along with a comfy ride and stable feel.
The car has freewheeling, which allows it to coast on the downhill and re-engage the clutch automatically (and smoothly) when the accelerator is reapplied. This is both an economy measure and to benefit engine longevity.
Even with the enlarged rear window, vision to the rear corners is very limited, though the front and side pillars are very slim for a 1950s car.
You feel some of the engine vibration through your derierre and there's not really a great deal of performance, but it is nonetheless an enjoyable drive – remembering that many 50-plus year-old cars aren't really that much fun to drive.
A look under the front-hinged bonnet (pretty unusual for the era) shows how unorthodox the Saab is. The transverse engine sits to one side, dwarfed by the gearbox alongside it. The radiator sits up high behind.
After a look around and a drive, it's not hard to see how Henk became besotted by this car and sold his 900 Convertible for it.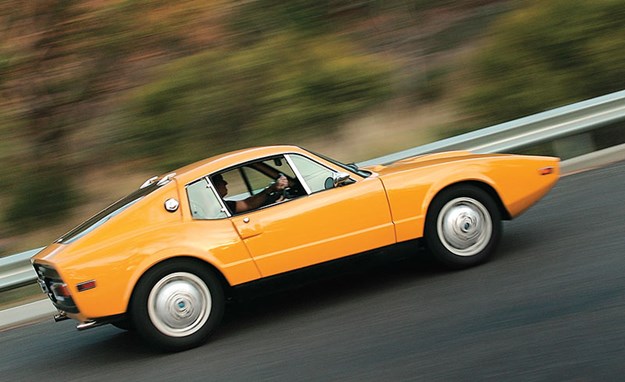 How Swede it is... Saab Sonett III thought to be sole example in Australia 
A few years before, Henk came across a rare Saab sports car languishing in the back of a workshop. It was one of the Sonett III coupes Saab built between 1970 and 1974. In need of revitalisation, Henk bought the fibreglass coupe, brought it back to life and presented it to his wife for her birthday.
"Driving it was a lot of pleasure for six or seven years before we left. It's a lot of fun to drive and quite quick."
The engine has been rebuilt, a stainless steel exhaust system fitted and the front section repainted "otherwise it's completely original," Henk enthuses.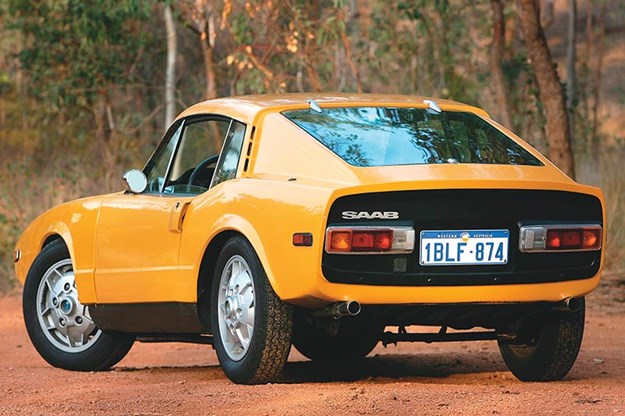 The Sonett attracts attention wherever it goes. "People drive up next to it, brake to see the back, and speed up to look for a badge on the car to see what it is. It is a very rare car, with only 21 known in the Dutch club before we took this one away."
This car interestingly, was sold new in the US, the main target market for the Sonett. Like many cars made by non-mainstream European makers for the lucrative American market, it failed to excite the US buyer.
The first Sonett was a mere blip on the screen, but the Sonett II was a serious attempt at a sports model. The pretty two-seater body sat on a 96 floorpan and used the same two-stroke engine and running gear. The American dealers demanded a restyle, which Italian stylist Sergio Goggiola performed – not altogether successfully.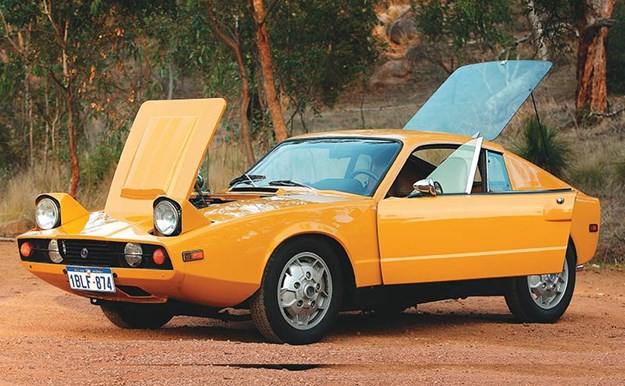 There are a few incongruous lumps and bumps in the styling but this car was spared the ugly impact absorbing bumpers of the later examples.
Henk's car looks very '70s, especially in egg yellow with the matte-black tail panel. It wears the same attractive Saab alloy wheels of locally-sold EMS and GLE 99s.
Along with the restyle came an engine upgrade. The elongated nose housed a short Ford V4 engine, similar to the one we saw in the Transit van here.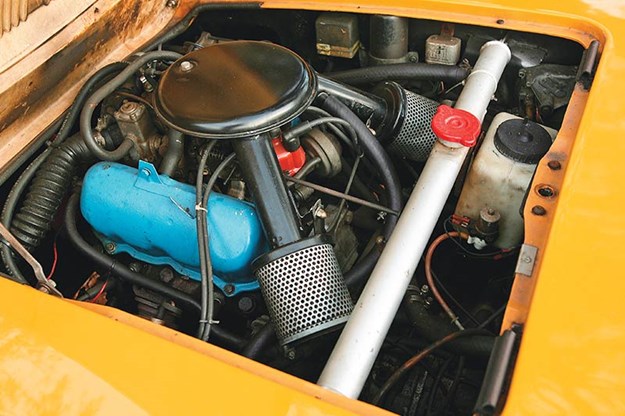 Tiny bonnet reveals Ford V4 engine – good for 170km/h performance
At 1700cc it produces power enough to propel the little car to 170km/h. A weight of just 820kg helps.
The engine is accessed by a very small bonnet, which reveals an interesting feature of a hollow transverse strut brace also acting as a radiator fluid reservoir.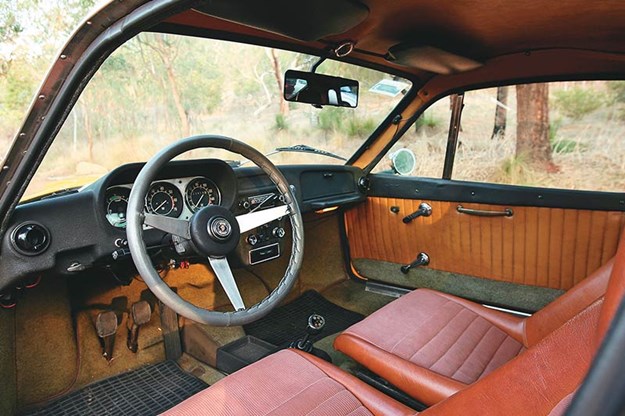 Aircraft-inspired interior testament to Saab's aviation background
Inside, the car is relatively straight-forward – other than being left-hand drive, as all Sonetts were. Like the 92, the pedals are offset towards the centre as is the steering column. The bucket seats are aligned straight but provide a good driving position allowing the controls to fall easily to hand as you sit low to the ground.
Unlike the Sonett II, this later car has a floor shift gearchange – and it's quite pleasant to use. It's a doddle to drive and feels quite spritely. The Sonett is also fitted with the freewheeling feature. The twin exhausts accentuates the odd beat of the V4 engine though it's not obtrusive.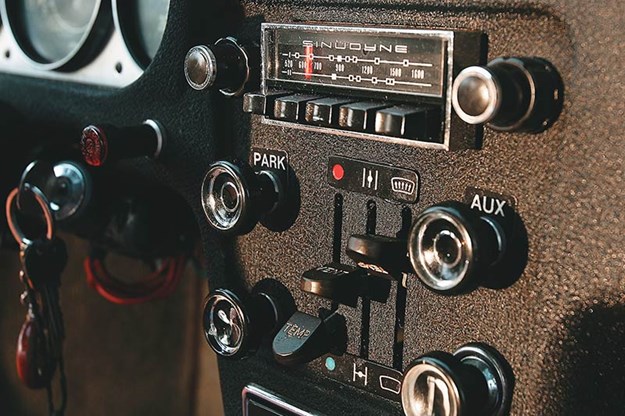 A roll-over bar sits behind the seat headrests, testament to Saab's early commitment to safety.
In 1971 the Sonett sold for $3795 in America. This compared to a Mustang at $2385 or Porsche's mid-engine 914 at $3769. Certainly with its lively but modest performance the little Saab was facing an uphill battle in its intended market. Nevertheless over 8300 of them found homes, though this car is thought to be the sole example in Australia.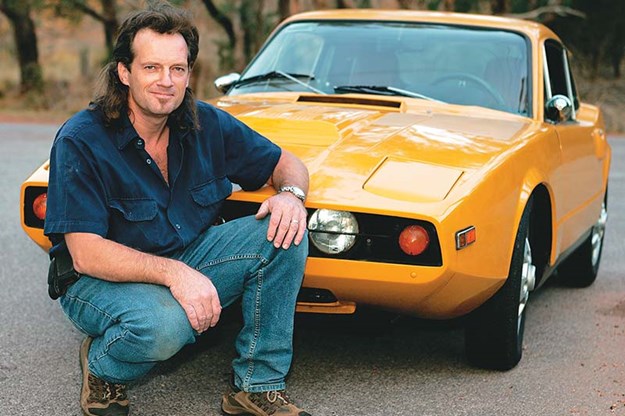 Rare Saab collector, Henk Ossendrijver 
The Sonett III was the last design from the old Saab family of small economical cars. The 99 of 1967 ushered Saab into a new era of grown-up-sized cars which has seen the company through to this day – even if today's products are reskinned Opels with Saab-like design nuances applied. What a shame that technological brilliance is no longer the driving force.
Saab Aero X concept
With styling reminiscent of the 1970s Sonett, Saab's Aero X concept coupe stopped showgoers in their tracks at the 2006 Geneva motor show.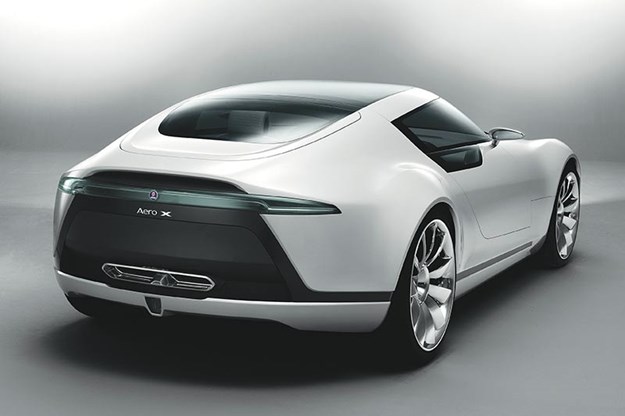 Powered by an alcohol-fuelled 280kW twin-turbo V6 and with all-wheel drive and an aircraft style canopy the low-slung coupe is a far cry from Saab's current range of stolid, super safe offerings.
Saab says the concept offers styling cues to future Saab models, but whether the marque is about to throw off its GM cardigan and create a 21st century Sonett – the company's only real sports coupe in its almost 60 years of car making – remains to be seen.
And while harking back to the company's aircraft origins, the forward-thinking concept at least suggests the company has a more positive future than some other struggling GM brands.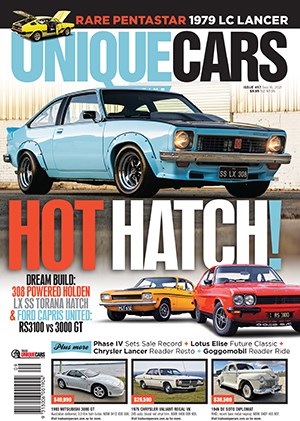 Subscribe to Unique Cars Magazine and save up to 42%
Australia's classic and muscle car bible. With stunning features, advice, market intelligence and hundreds of cars for sale.
Subscribe