1926 Bugatti Royale Review
---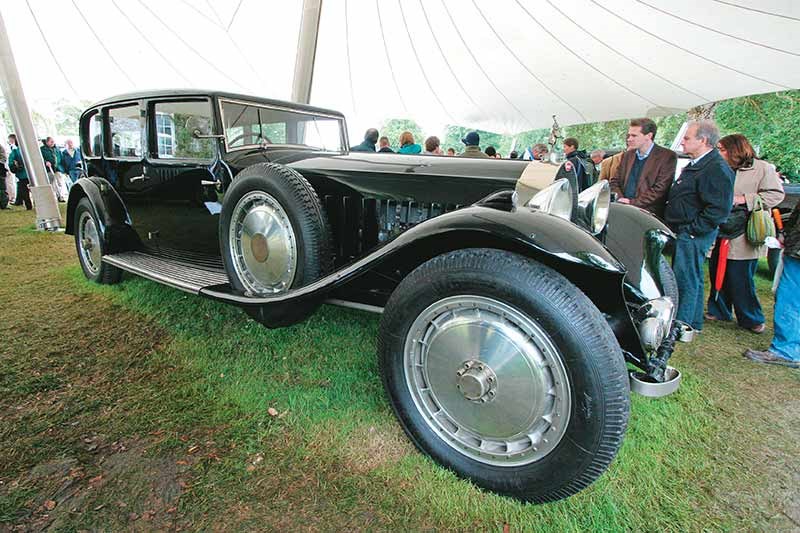 Bugatti went to extremes with the larger-than-life Royale
From the archives: Unique Cars issue #279, Oct/Nov 2007
No sooner had Karl Benz's trike left its three-line track over 19th century roads, the car became a badge of wealth and status. As the centre-line between transport and self-adornment became blurred, it was only a matter of time before someone completely crossed it and built a male codpiece on four wheels. There has been no car in history to cross that line more convincingly than the Bugatti Type 41 Royale.
Regardless of culture, humanity has been remarkably tolerant of those who have expressed themselves through their cars, in most cases, even drawing admiration. The fact that only three of the six Royales produced found buyers worldwide when new, suggests that the big Bugatti overshot the line even for the most vain and extravagant.
| Related: Bugatti Type 57 review
It was not as if it arrived in 1926 to a world unreceptive to lavish cars. This Art Deco era so succinctly captured in The Great Gatsby by F. Scott Fitzgerald was open season as new money funded by racketeering and bootlegging was spending up big to impress old money.
It was, after all, the era of the great Cadillacs, Duesenbergs, Marmons, Hispano-Suizas, Isotta-Fraschinis, Mercedes-Benzes, Daimlers and Rolls-Royces with bodies as diverse as those who bought them.
Yet even in this company the Royale added another dimension to excess with an asking price three times that of the most extravagant Rolls-Royce.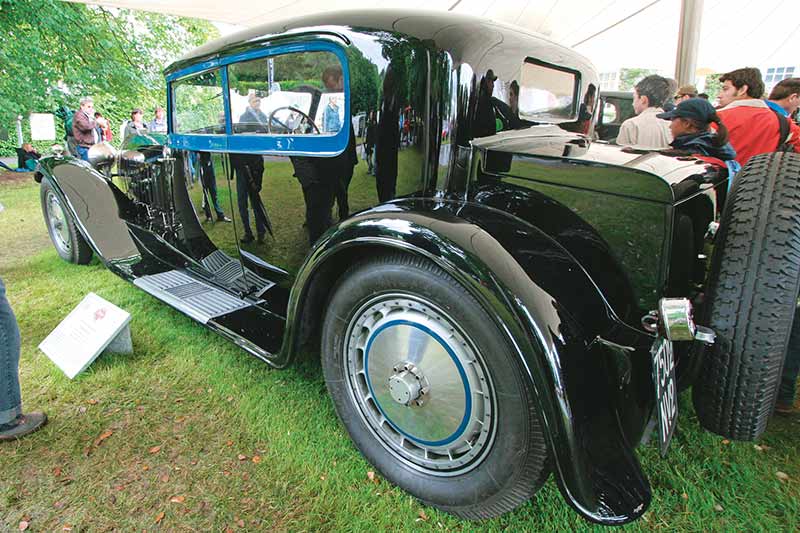 The Royale was 4.6m in the wheelbase (a current Falcon is 2.8m). The prototype engine was 14.75 litres in capacity, later reduced to 12.8 litres, under a bonnet that could support a Mini or baby Fiat in length. If a driver of a modern sedan looked across at a Royale at the lights, the sidewall of the front tyre would be at eye level.
And despite Bugatti's usual three-valves-per-cylinder and overhead camshaft plus nine main bearings and each of the eight cylinders accounting for 1.84 litres, it delivered just 205kW to haul a weight of at least 3200kg.
| Related: 1913 Rolls-Royce Silver Ghost review
Not surprisingly, it had to be fed 47 litres of fuel for every 100km. The engine's dry-sump lubrication needed 23 litres of oil; the fuel tank swallowed 191 litres and 68 litres of water kept it cool.
Despite some neat touches like a three-speed rear-mounted transaxle fed by a tailshaft split by a centre clutch, alloy wheels, tubular front axle with integrated leaf springs and four-wheel brakes, it struggled to top 160km/h. You could say it added new meaning to 'size isn't everything'.
Given that less than a third of the Royale's length was devoted to occupants and luggage in most body styles and it didn't perform any better for it, the true purpose of the Royale is quickly exposed. The man with the biggest donk wins – pun intended in every sense! From an anthropological perspective, the Royale had more in common with a New Guinea 'big man's' appendage extension that was so long he could no longer bend his chin.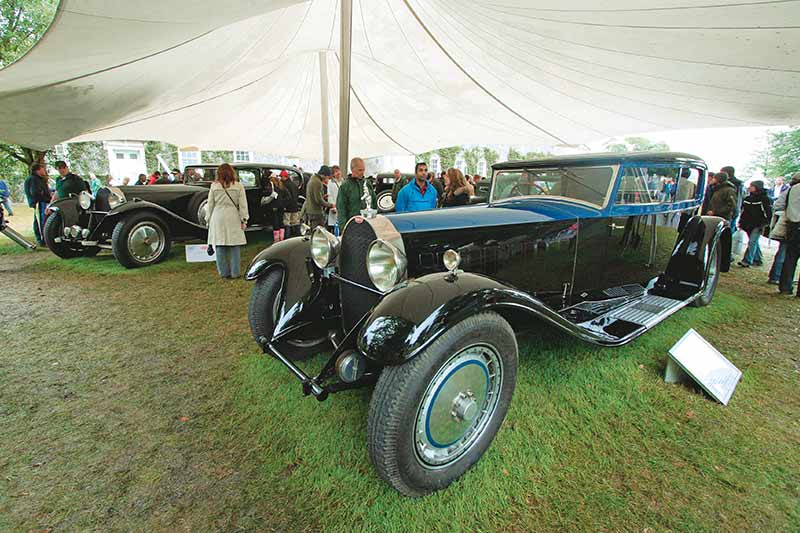 With a bonnet that stretched into the next suburb the Royale was and still is the ultimate status symbol on four wheels. Balancing elephant mascot (above) gave the Bugatti a comic quality
Nothing appeared later in the 20th century that came close. The 1959 Cadillac, the height of '50s US exhibitionism, divided its priorities equally between bonnet, cabin and boot. The Mercedes-Benz 600 Pullman from the '60s, which rivalled the Bugatti in size, dedicated most of its length to pampering its occupants and their luggage, not stroking its driver's ego. The everyday Mercedes-Benz styling upscaled to limousine proportions was more about function than appendage.
Perhaps the closest is today's Rolls-Royce Phantom that towers over other cars from the windscreen forward yet as it passes, presents a rump of a car only half its size.
It's significant that after Ettore Bugatti locked in the Royale's long bonnet proportions and style, he bodied it with an ordinary rag-topped phaeton body lifted off a Packard, probably from the local scrapyard. What the Royale supported behind the windscreen was inconsequential to what was in front.
This prototype was rebodied no less than four times, until Bugatti smashed it up after falling asleep behind the wheel. Bugatti's son, Jean then rebodied it, for the fifth time, as a sleek Duesenberg-style Coupe de Ville after which it remained his father's personal transport until he died.
This car along with a 1929 Royale which featured a quaint coach and horses-style sedan body for family holidays and a third 1932 London Motor Show car with a sleek coupe body, all stayed in the Bugatti family unsold until after WWII.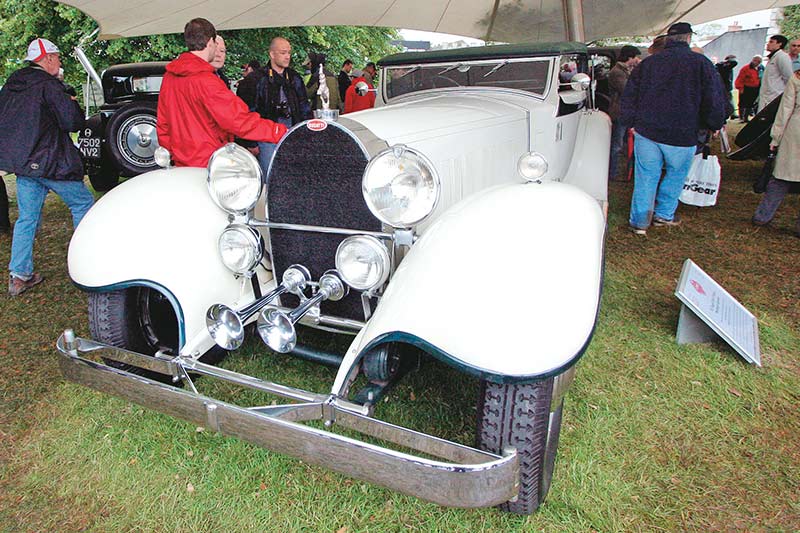 Outlandish in every sense, just three of the six Royales built could find owners when new. Incredibly, five of the six cars were on display at this year's Goodwood Festival of Speed, with an estimated combined value of $70million!
One of the first customer cars was a 1932 Jean Bugatti-styled roadster built for a wealthy clothing manufacturer but its sweeping open lines were later swapped for a Coupe de Ville style after it was bombed by the Germans.
The next customer car was purchased by a German doctor who commissioned a Munich coachworks to build a high-waisted but classic low- profile cabriolet.
The last car was built in 1933 for British businessman Captain Foster, who had Park Ward replicate the saloon body of his Rolls-Royce for a curious combination of sleek Bugatti and British top hat. Apart from the Bugatti family hack, Captain Foster's was the only Royale customer car with more than two doors and exploited its huge size for the benefit of passengers with its four-door, seven-seat limousine body.
Although Bugatti worked feverishly to make his giant Royale "turn like a bicycle" and succeeded, it never captured the royal customers who were Bugatti's target. After The Great Depression hit with a vengeance, not even the despots were willing to risk brandishing such grandiosity under the noses of the starving tinderbox masses and give them the slightest spark to revolt.
Perhaps the most telling feature of the Royale was its magnificent balancing elephant mascot sculptured by Rembrandt Bugatti, Ettore's brother. It gave the Royale's overwhelming presence a comic quality – after all, it was something of a circus saved only by the credibility of Bugatti's race engineering.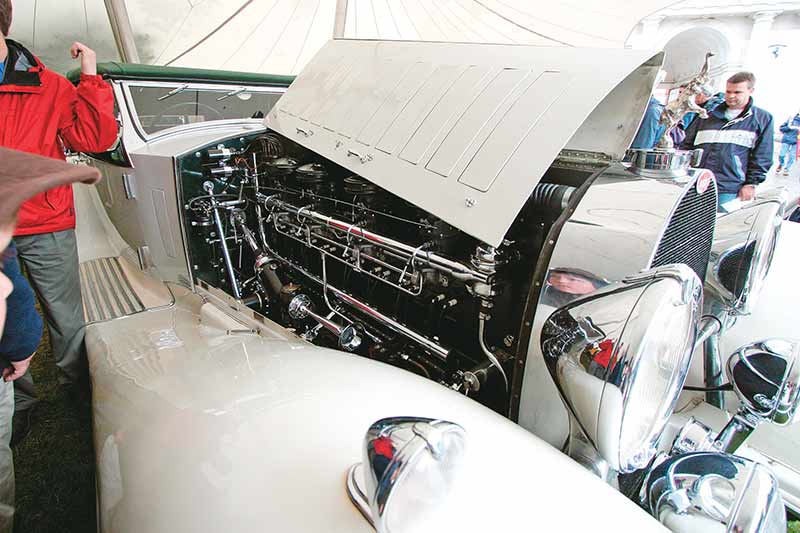 $14 MILLION EACH!
Don't mention the war when it comes to the Royale. So determined were the French to keep their Royales from falling into German hands, they were bricked over or in one case, lowered into a sewer. Post-war austerity was not so kind after fuel rationing made them a liability with most ending up in the US. Fast forward to 1986 and they all met up for the first time at Pebble Beach. For 2007, the Goodwood Festival of Speed team dreamt of the first ever European gathering.
Two had been hoarded by the brothers Schlumpf in France, one left to the Henry Ford museum and another purchased by the VW group, all of which appeared. An anonymous owner released the fifth while the sixth remained in the US, not unexpectedly when there are enough fringe dwellers in 2007 to view the complete destruction of such a potent symbol of consumption as an achievement. After they were insured for $70million, they became the centrepiece of Cartier's 'Style et Luxe' for an unprecedented Festival display.

PULLING POWER
Even if the Royale could never be a sales success, it was a commercial winner in every other sense when it helped position Bugatti as the king of road and track, and not just the race track. Picture a Royale with a raised box cabin at the rear and it could be a sleek forebear of today's diesel locomotives. And that is exactly where the Royale was headed. Although its giant engine seemed best suited for a luxury motor launch application, it was the railways that kept its spirit alive. The Royale fostered the French pre-occupation with fast rail after the 14.75-litre version of the Type 41 engine was commissioned to power a series of fast and streamlined rail cars, in banks of two and four engines.
The Bugatti Autorail featured a unique wheel design which exploited a rubber insert between each wheel and its outer steel rim to cruise silently at over 110km/h. The notion of French rail patrons listening to four Bugatti straight eights being opened up at each station could make you green with envy. Ettore Bugatti had sold the French rail authorities on the idea after he had maintained a cruising speed of 196km/h for over 70km. The Royale's legacy was not only a series of smaller and commercially successful passenger cars but a series of rail contracts that kept the factory ticking over profitably from 1933 to 1954.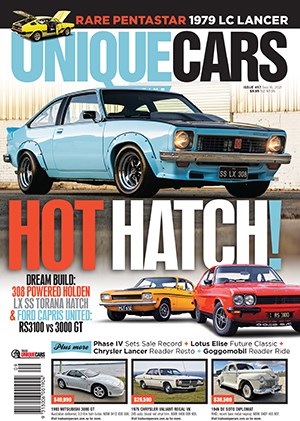 Subscribe to Unique Cars Magazine and save up to 42%
Australia's classic and muscle car bible. With stunning features, advice, market intelligence and hundreds of cars for sale.
Subscribe