1913 Rolls-Royce Silver Ghost Review
---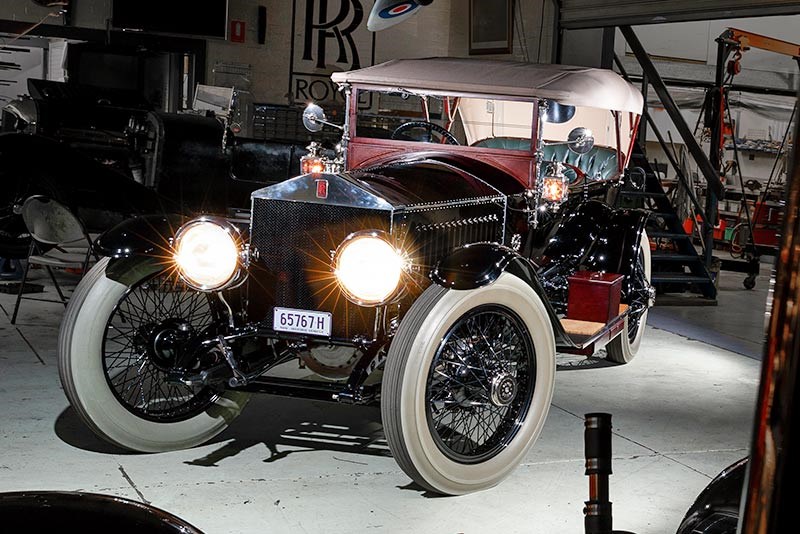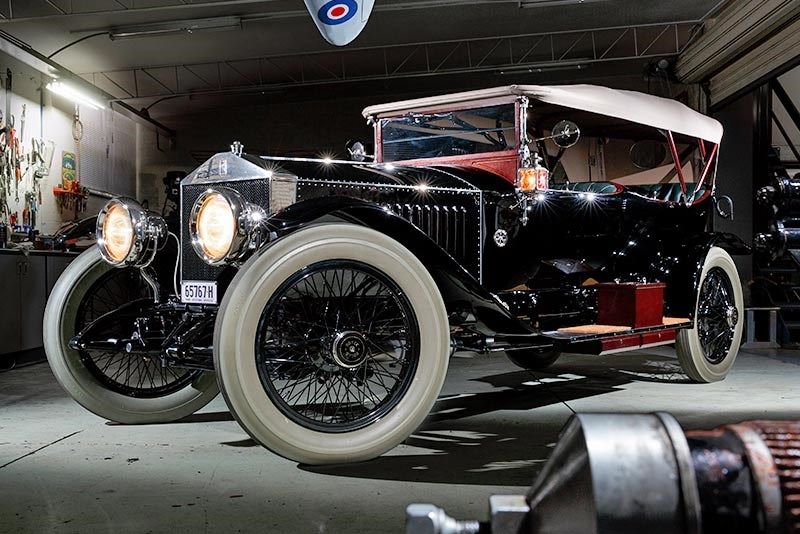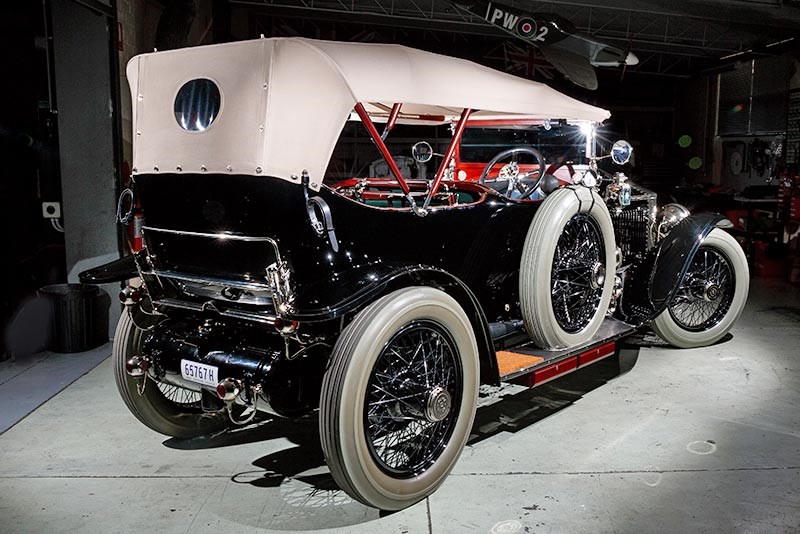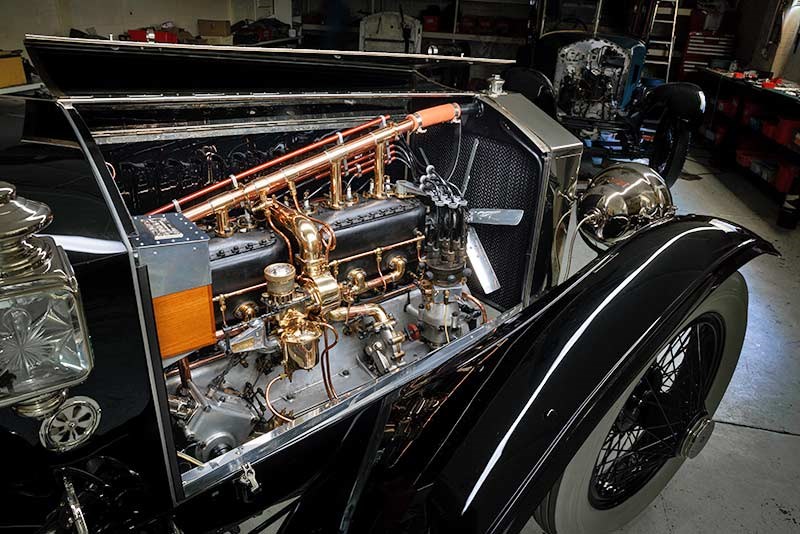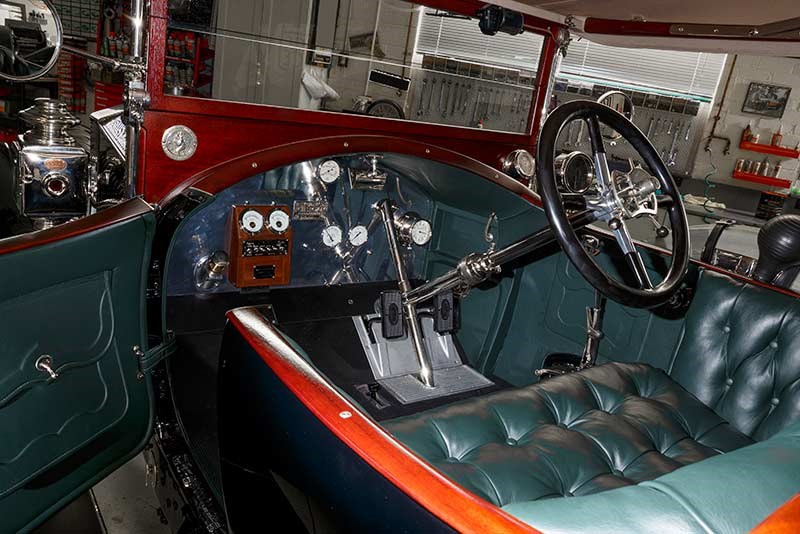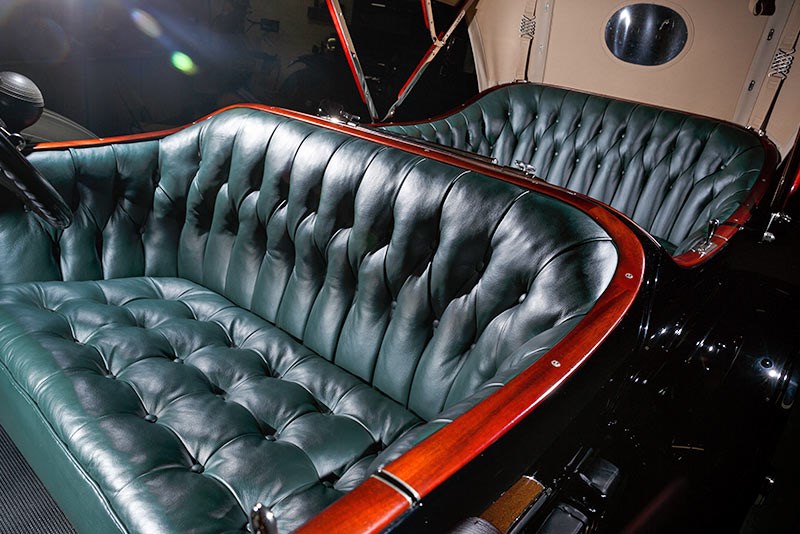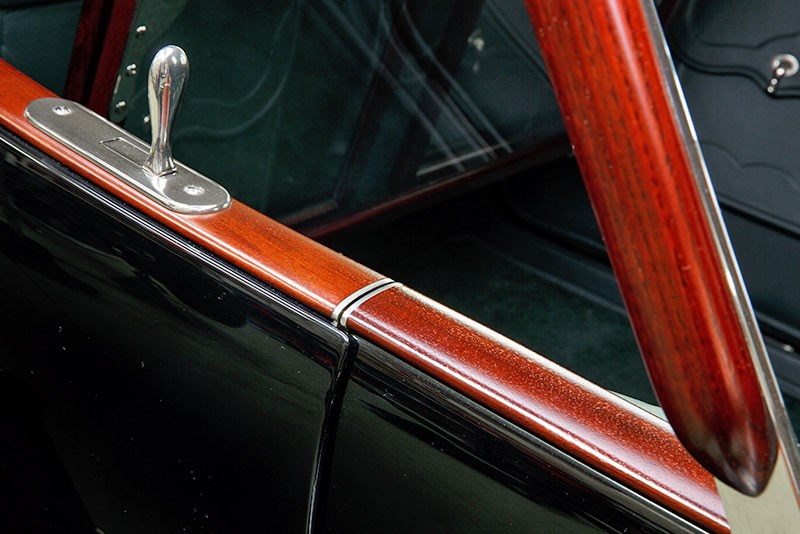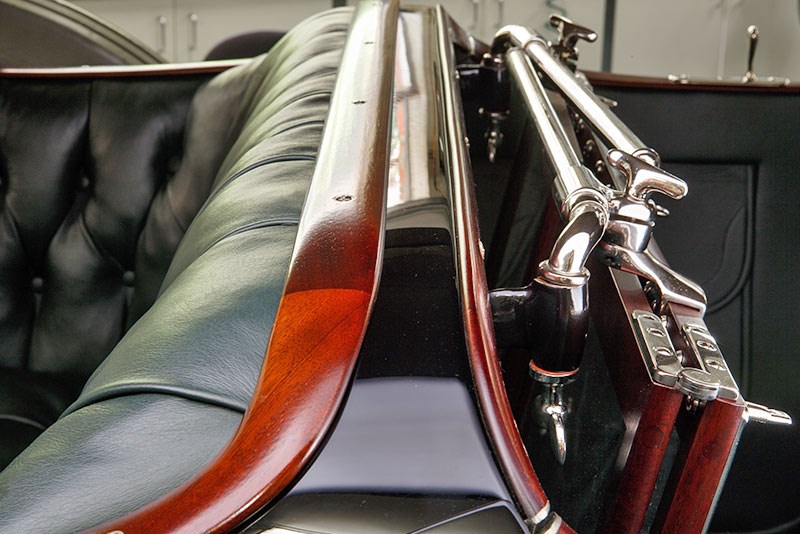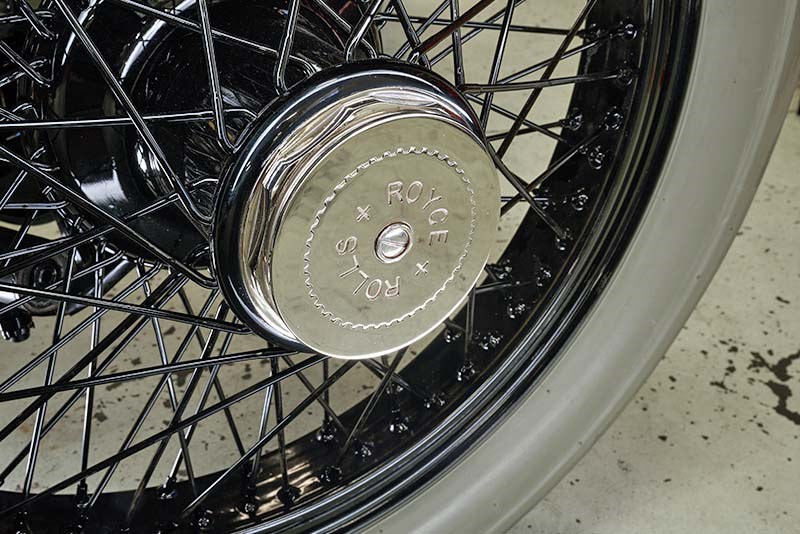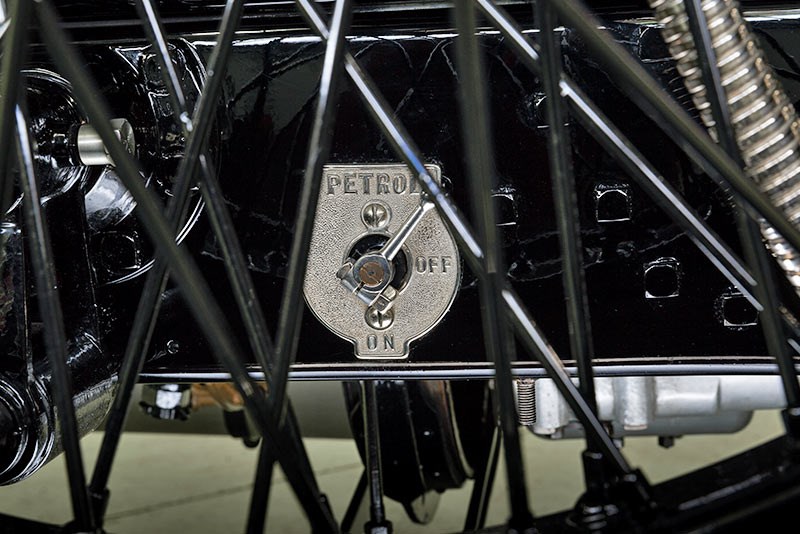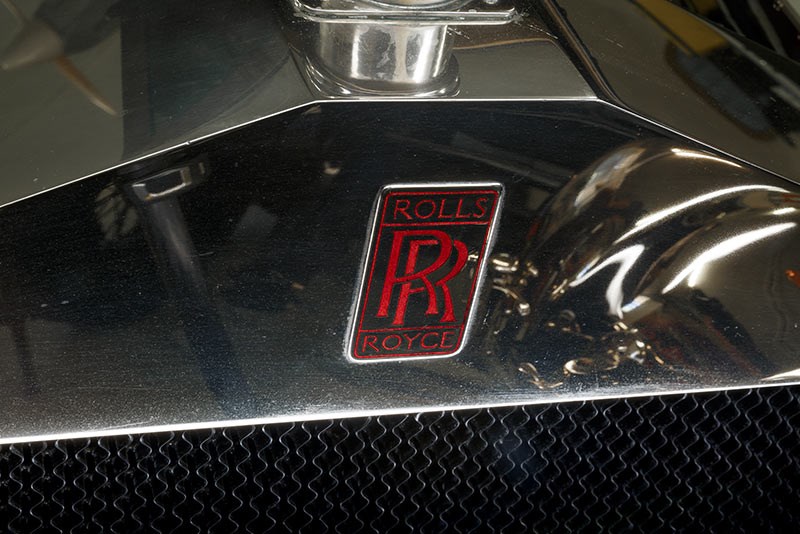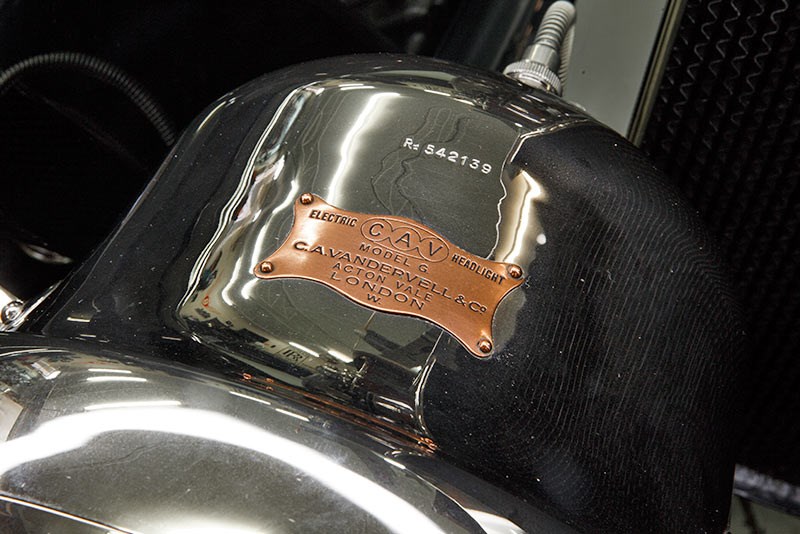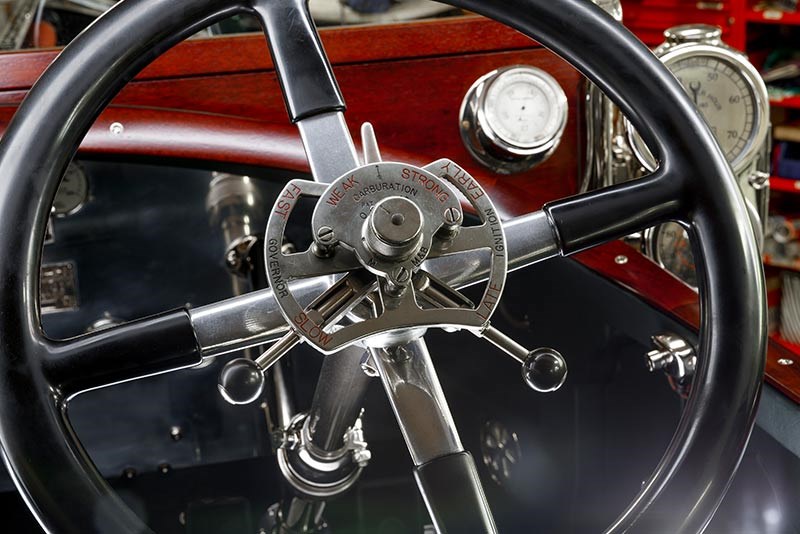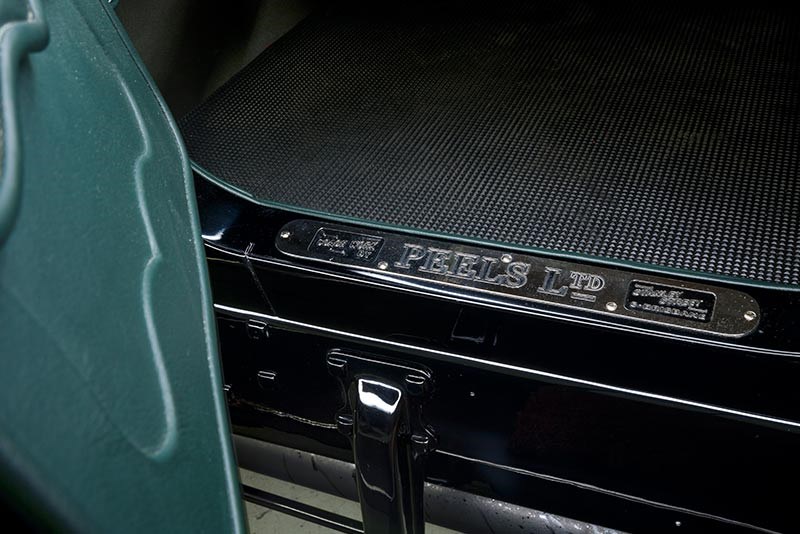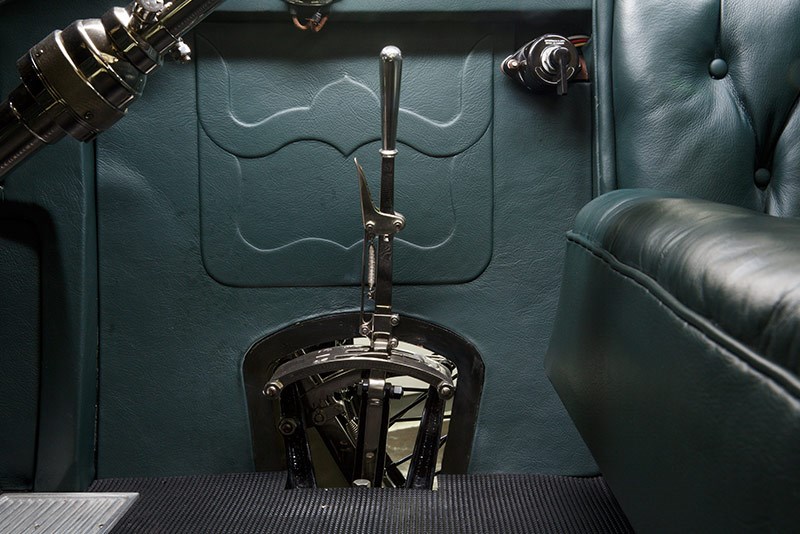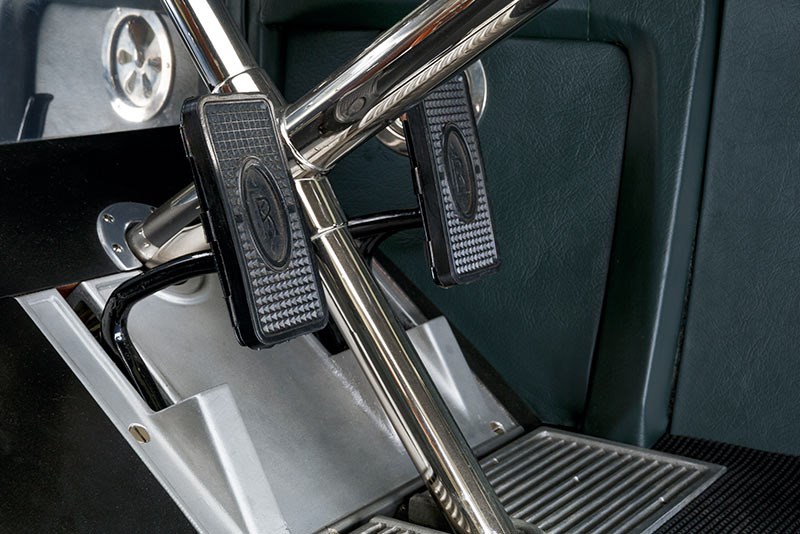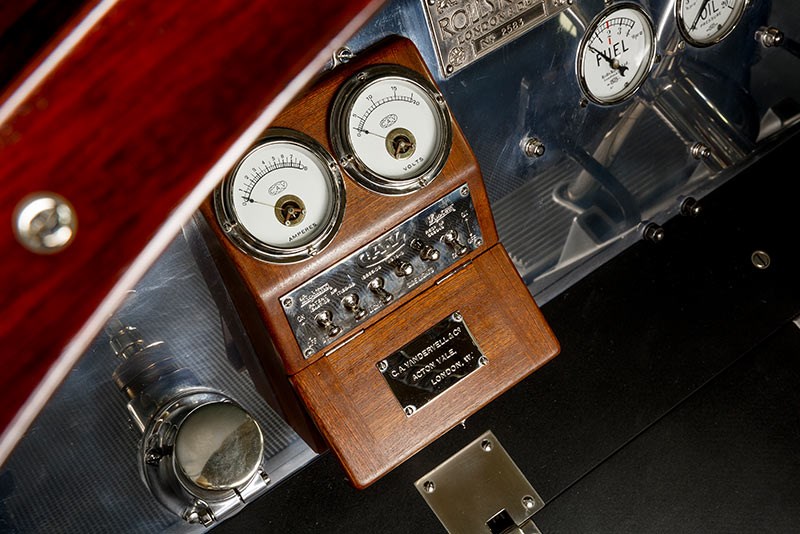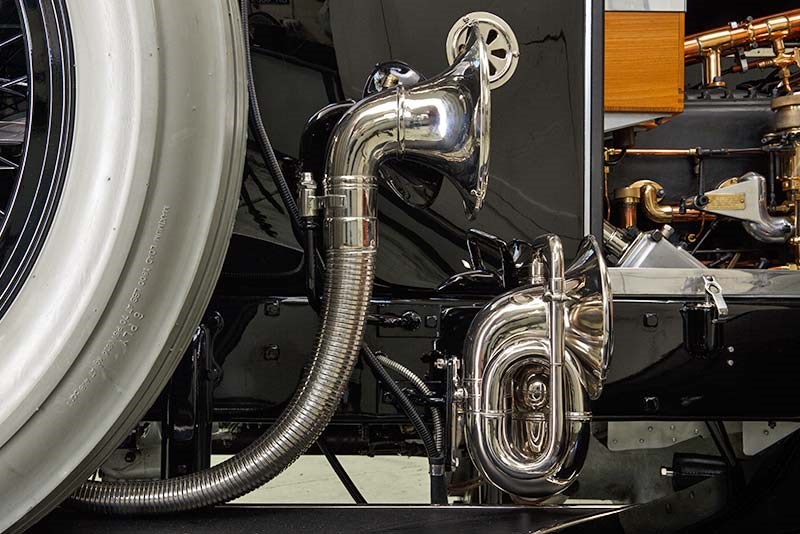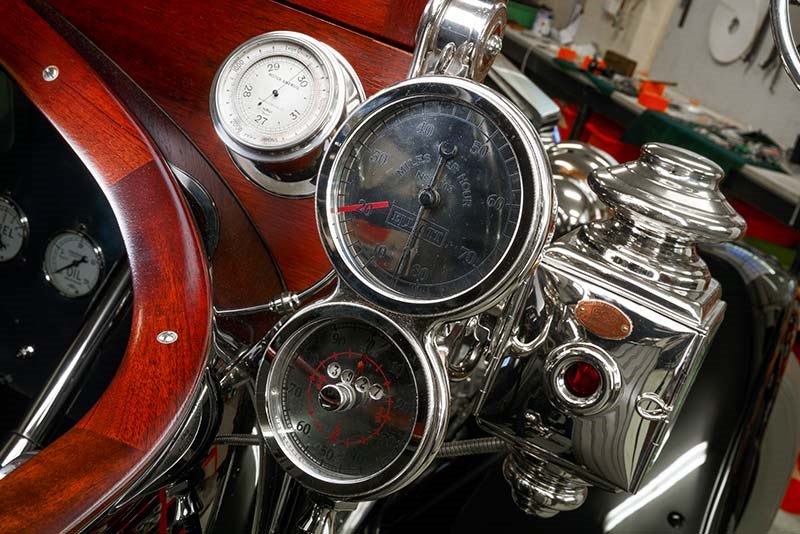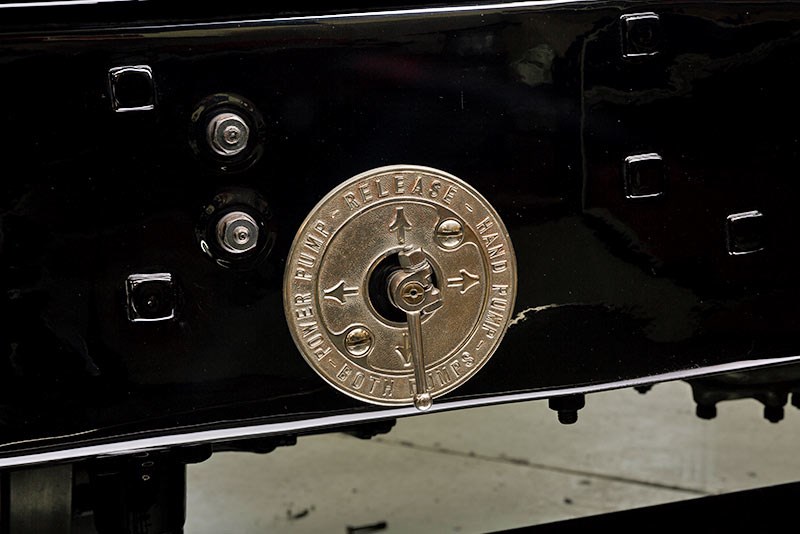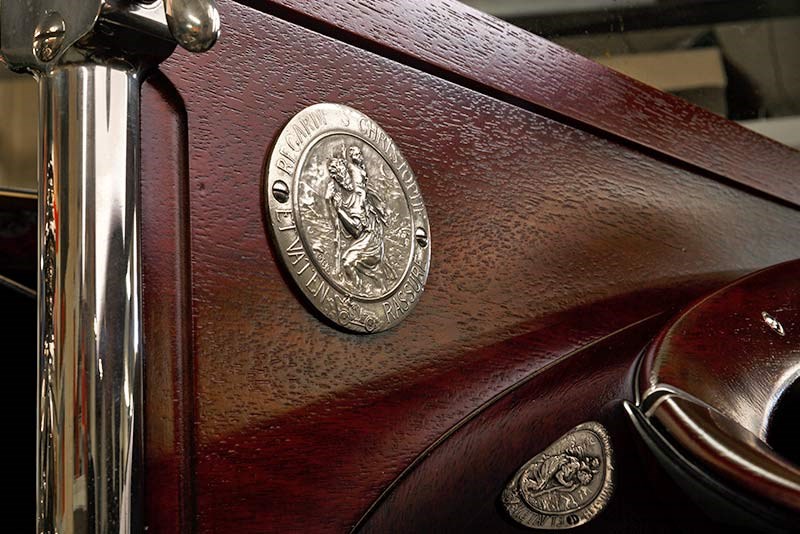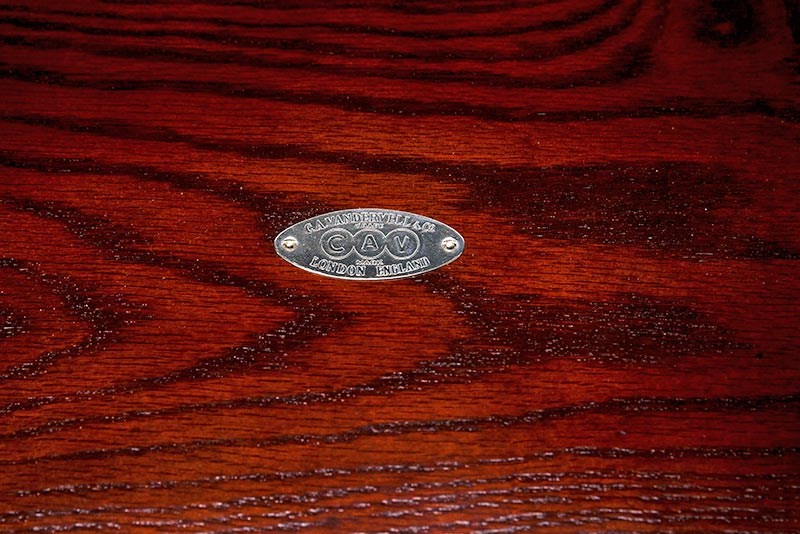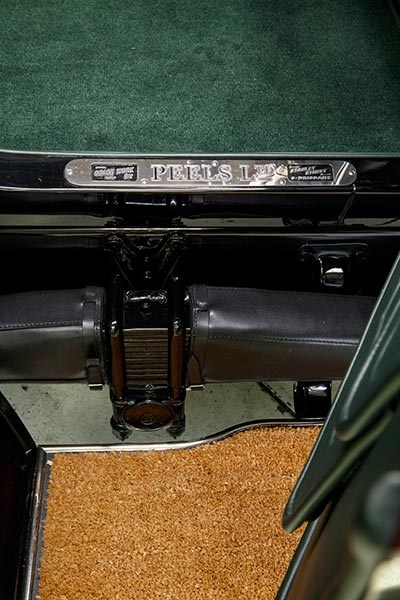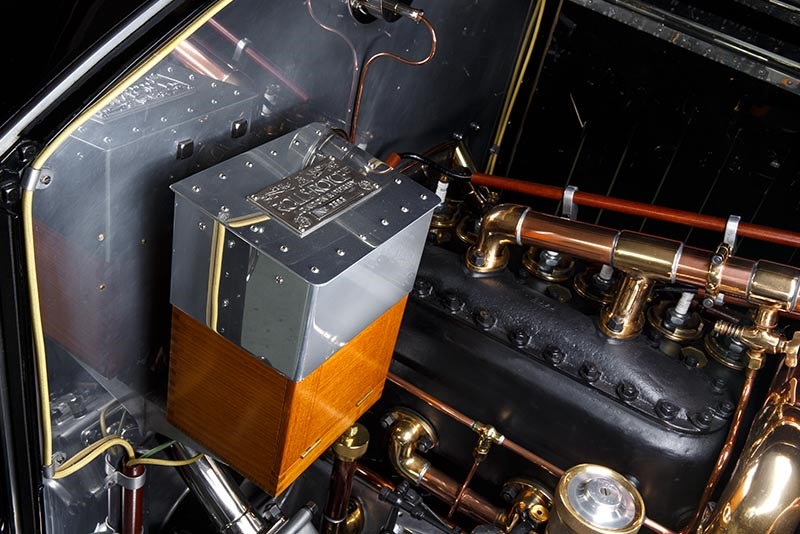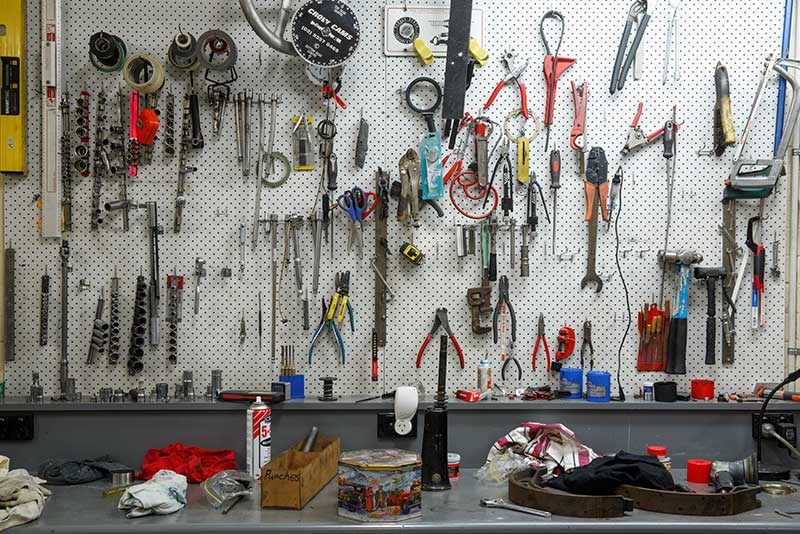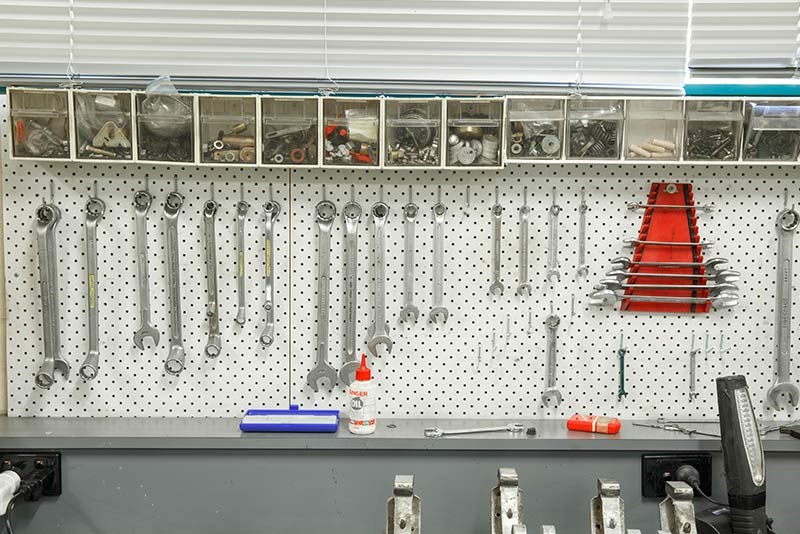 12 years of passion and obsession wins Motorclassica's 'Best in Show'
1913 Rolls-Royce Silver Ghost 
Ever since I learnt to drive on a 1910 Rolls-Royce Silver Ghost I've been obsessed with this celebrated collector car. Okay, so that was nearly 57 years ago but my enthusiasm for Henry Royce's masterpiece is still as strong today as it was back then.
Having just completed a lengthy 12-year restoration on a 1913 Silver Ghost and taken it for its first test runs I'm more than convinced its "Best Car" title back then was most deserved.
I'd owned two vintage Silver Ghosts, a 1920 Cunard-bodied open-drive Limousine and a late-series 1924 Hooper-bodied Landaulet, but had always hankered for one of the lighter pre-WW1 sports models that really established the model in competition and the marketplace.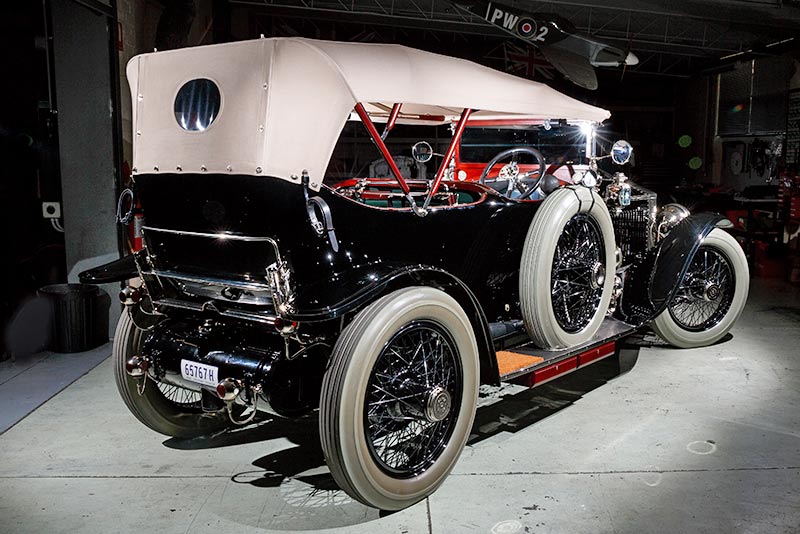 In my opinion few cars came close to the sporty London to Edinburgh Silver Ghost pre-war model. Rolls-Royce would of course have significant success with them in the Austrian Alpine Trial of 1913 and later that same year take 1st and 3rd place in the Spanish Grand Prix, the only Grand Prix ever undertaken by the luxury car maker.
In 2001 I was told the last two unrestored London to Edinburgh models in Australia owned by a Melbourne doctor were available for sale. Both 1913 models, one chassis was a three-speed, the other a rare four-speed. Just 188 of the sportier London to Edinburgh models were built featuring high-compression engines, a larger carburetor, two-inch taller radiators, louvred bonnets, a larger capacity fuel tank and generally sportier torpedo style coachwork.
| Related: 1930 Rolls-Royce Phantom II review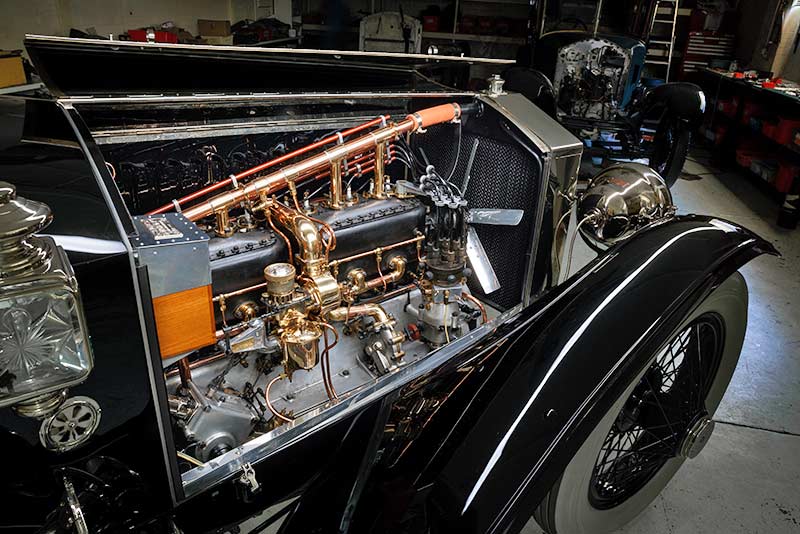 Dual ignition, 7428cc inline-six produces massive torque
Most came with three-speed gearboxes however around 30 were fitted with four-speed gearboxes mainly out of the need for the works team cars in the 1913 Alpine Trial to have better hill climbing ratios. These four-speed L to E's gained the added title of Colonial or Continental.
By selling my 1920 Ghost and trading the 1924 model I secured the four-speed, chassis 2583, which had been fitted in 1966 with a torpedo tourer body by Peels of Brisbane from a large 1913 6-litre sporting Sunbeam.
| Related: 1924 Minerva 30hp Type AC review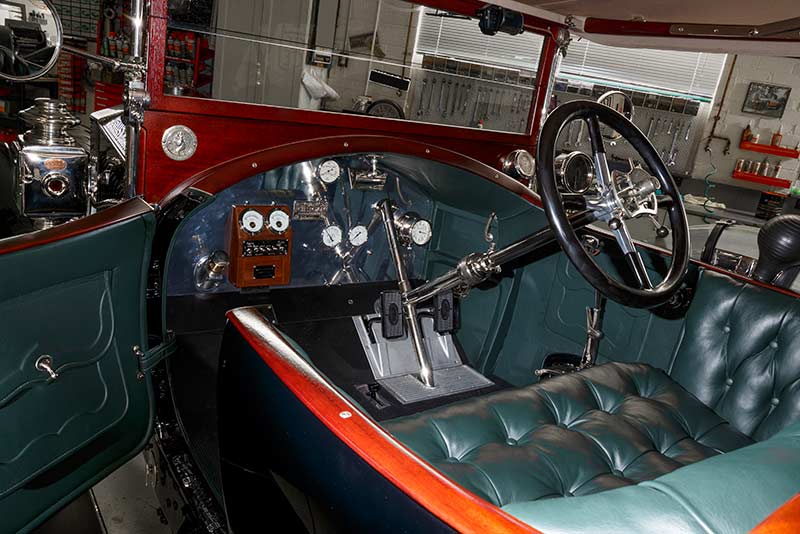 Interestingly, while the large Sunbeam had been delivered in Brisbane in August 1913 the Ghost had been off-test at Rolls-Royce in Derby the same month, and then sent to British coachbuilder Connaught for a torpedo tourer body. With war pending its new London owner quickly made the car available to the British War office for use by the armed forces.
One wonders where it actually saw service but at one stage during the campaign its service records indicate it was in Berlin. If you provided such a vehicle for the war effort you didn't get it back after the war; 2583 was auctioned by the War Ministry at Earl's Court on the 12 November 1919, and purchased by a doctor from Chester for 1880 pounds.
By 1928 it had been imported to Sydney, the new owner commissioning a local coachbuilder, Propert's Body Works, to build a more modern tourer body.
| Related: 1928 Ford Model A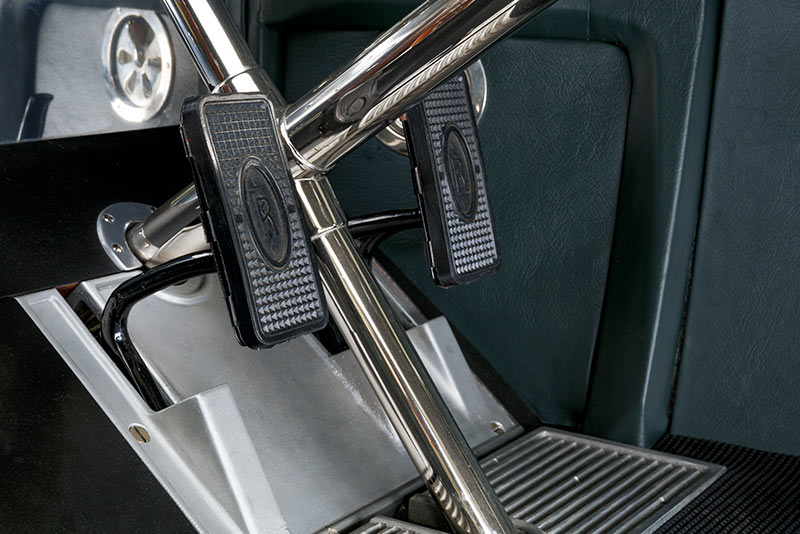 Records indicate that during the 1930s and 40s it would gain a number of bodies – from tourer, to saloon, then modified for use as a tow truck, then as a shooting brake, finally becoming a mourning coach for a Funeral home, gaining a late-20s Cadillac body. Its most documented journey with this body was in 1951 when it participated in a parade in Sydney celebrating the 50th anniversary of the Federation of Parliament.
After this somewhat chequered career by the early 1960s it had ended up in a rather dilapidated condition in a Western Sydney backyard close to a railway crossing. It was soon spotted by an enthusiast who made an offer to buy it that was quickly rejected.
Some months later the same enthusiast noticed a story in the Sydney Morning Herald about a man with the owner's name being hit and killed by a train whilst walking across the railway crossing. Some time passed before he was able to negotiate the purchase of the Ghost from the man's widow.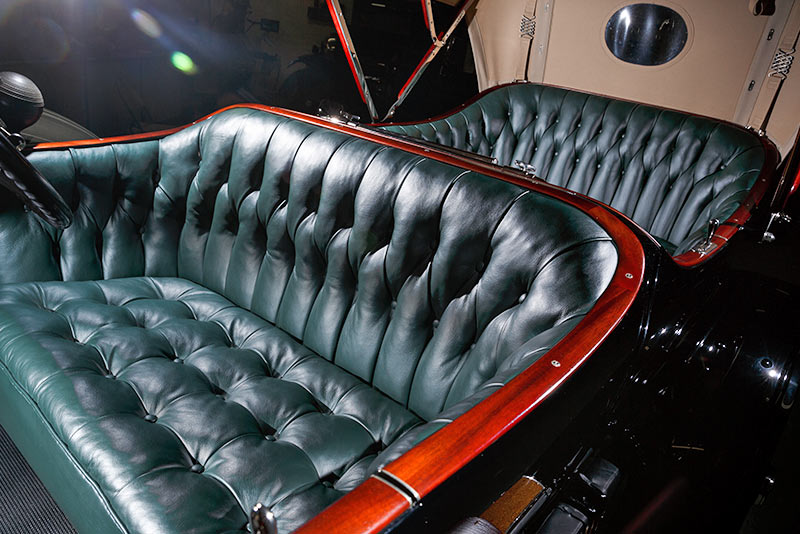 Dying art – deep buttoned leather over horsehair base by Robert Casha
Ironically, at this time I was garaging the same enthusiast's 4½–litre Bentley and he took me to look at the bare Ghost chassis after he had chopped off the old Cadillac body at the local tip. Little did I think that some 40 years later I would become the owner of this rare and very complete Silver Ghost chassis?
By the mid-1960s the car had been purchased by Faris Palfreyman, a Canberra-based collector who had amassed around 18 Silver Ghosts, some complete, others in chassis form, in a wide range of condition.
Palfreyman had also acquired a large and complete 6-litre sporting Sunbeam and in 1966 transferred its body onto 2583. On his passing the car was left to his grandson who subsequently sold it on to a Melbourne doctor during the 1990s.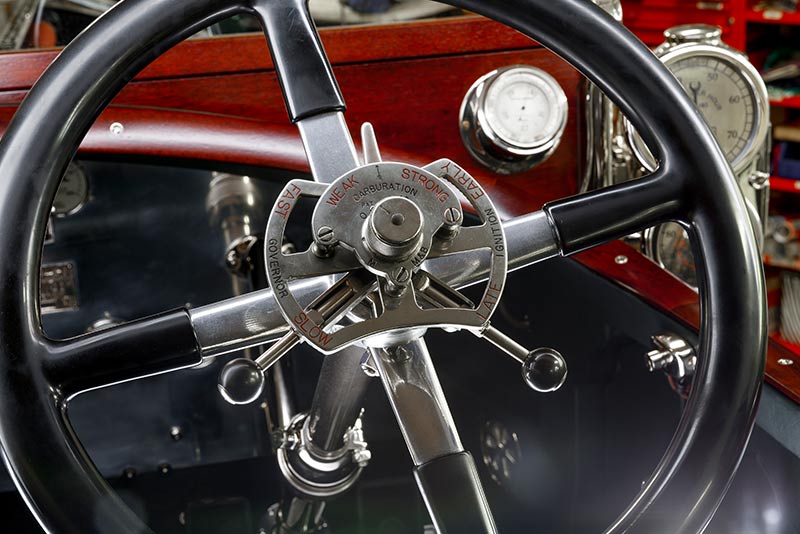 Ignition switch, mixture control, governor lever and ignition timing – all at driver's fingertips
I felt the only way to treat the Ghost was a complete body-off restoration – the chassis was in generally complete condition but, like many Silver Ghosts, had some smaller detail items either modified or updated over the years. It also sported a later 20s bonnet and makeshift mudguards.
Despite its rather chequered history the chassis proved to be true and straight and undamaged, however an attempt by the previous owner to start it by towing prior to my purchase had resulted in a seized engine and damaged conrods.
Melbourne Ghost specialist Robert McDermott subsequently reconditioned the engine with high-compression alloy pistons, a new camshaft and a new valve train. All other mechanical components were fully restored.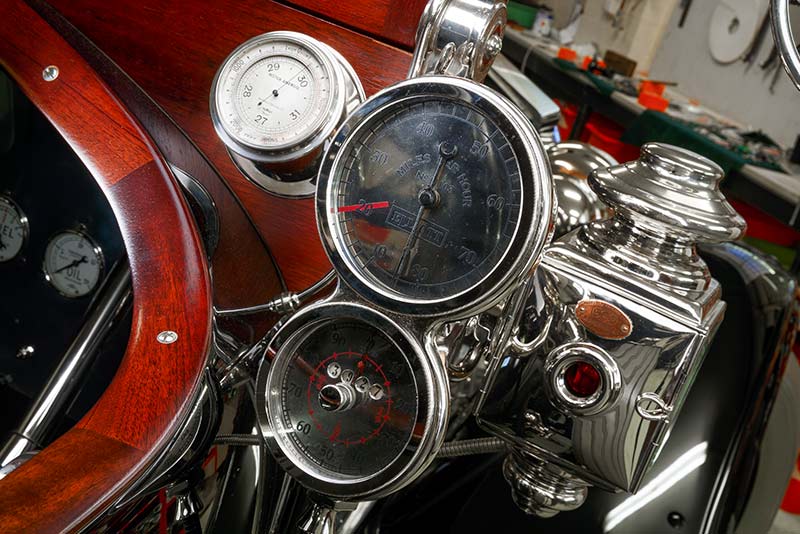 Much work was carried out by specialists in Melbourne to a very high standard – Jeff Edwards at Artisan Coachworks restored the body with timber replacement where necessary including a new windscreen, new door cappings and hardware and a new hood frame. He also fully restored the radiator and built a period-style luggage rack.
Jamie Downie at Kustom Garage worked his magic on the body panels, also producing a new petrol tank and bonnet, new under-trays and a set of period-style mudguards.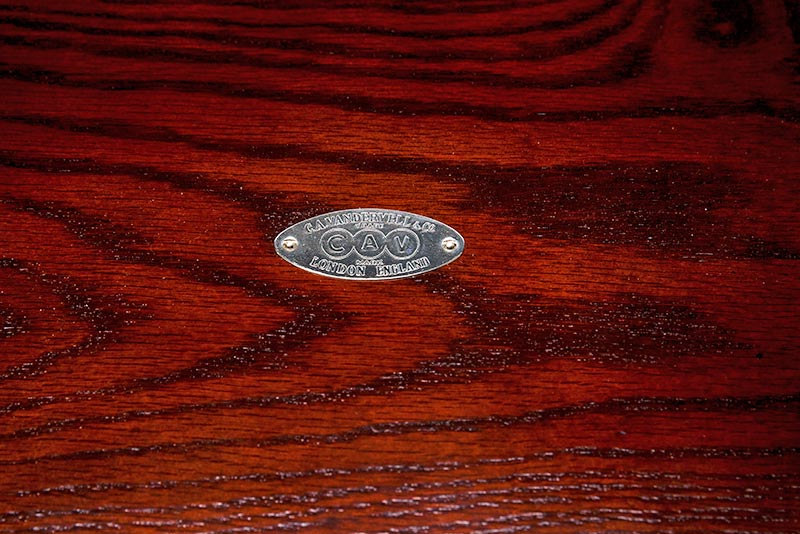 CAV battery box badge – perhaps the smallest and most difficult item to source
Well-known Rolls-Royce and Bentley restorer Simon Elliott at the Derby Works was the project manager ensuring the restoration's authenticity and completing much of the fine mechanical and detail work.
Given the rarity of the chassis I was determined to ensure it was as authentic as I could make it and was fortunate in 2010 to fly to India and view the 1913 Spanish Grand Prix winner, a very complete and unmolested L to E Continental chassis.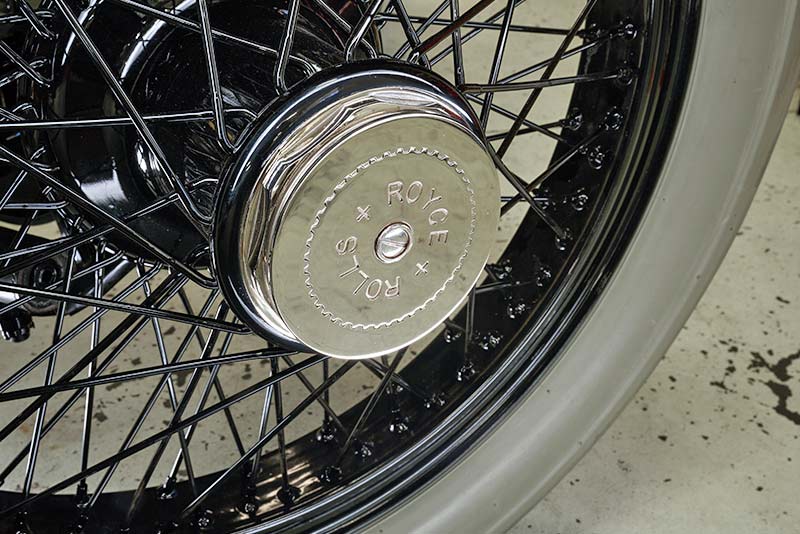 Just another six of this rare Silver Ghost series are known worldwide and I'm fortunate to have had access to all of them over the years to verify detail.
My only regret perhaps is the time taken to restore 2583 but the exercise nevertheless has been enormously rewarding.
However, once behind the wheel the time taken was soon forgotten – the L to E Continental is a simply exhilarating veteran car to drive with the period sports performance I was hoping for.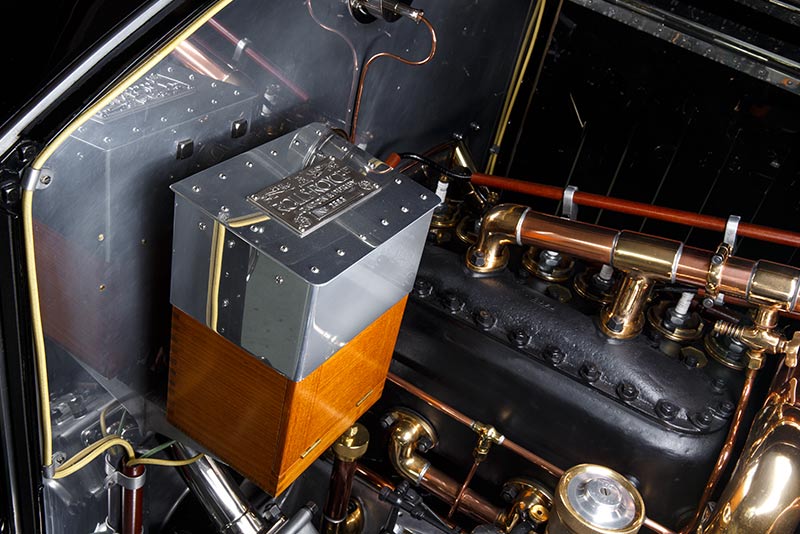 High tension trembler coil feeds starting ignition
Without doubt few if any cars in 1913 came close to matching the all-round excellence of Henry Royce's London to Edinburgh Continental Silver Ghost.
THE RESTORATION: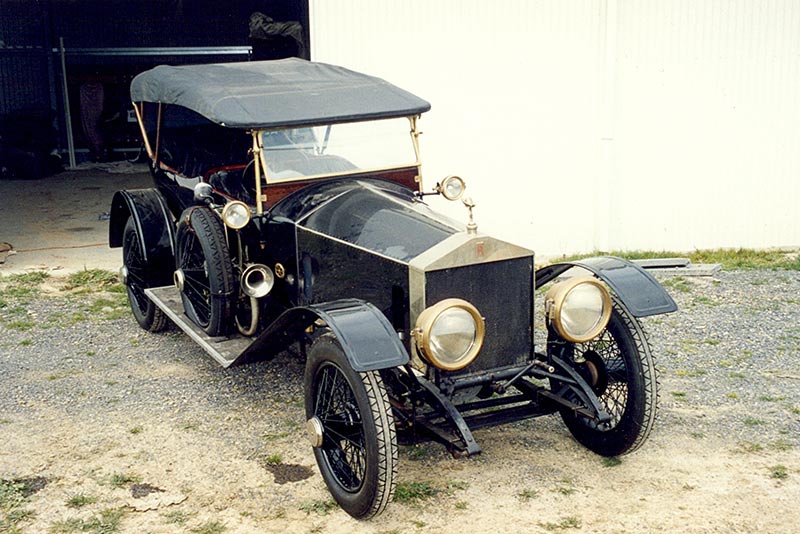 1. As found in Victoria's Yarra Valley.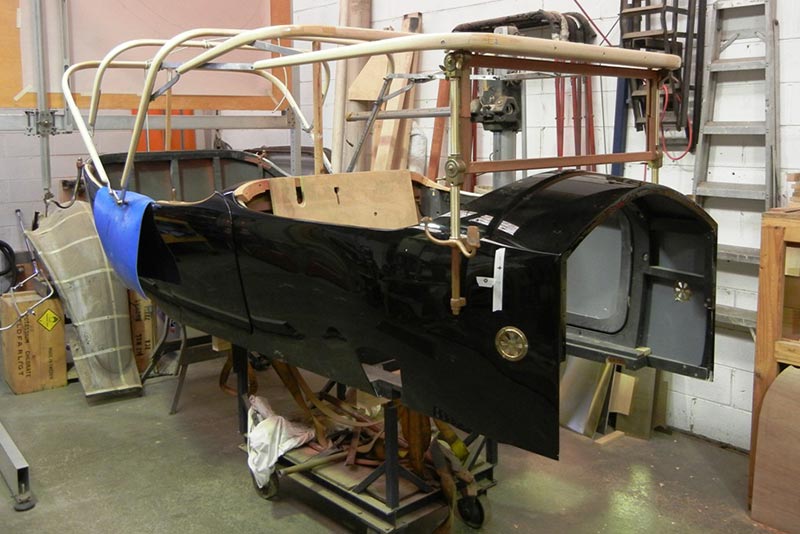 2. Hood and windscreen took many hours of work.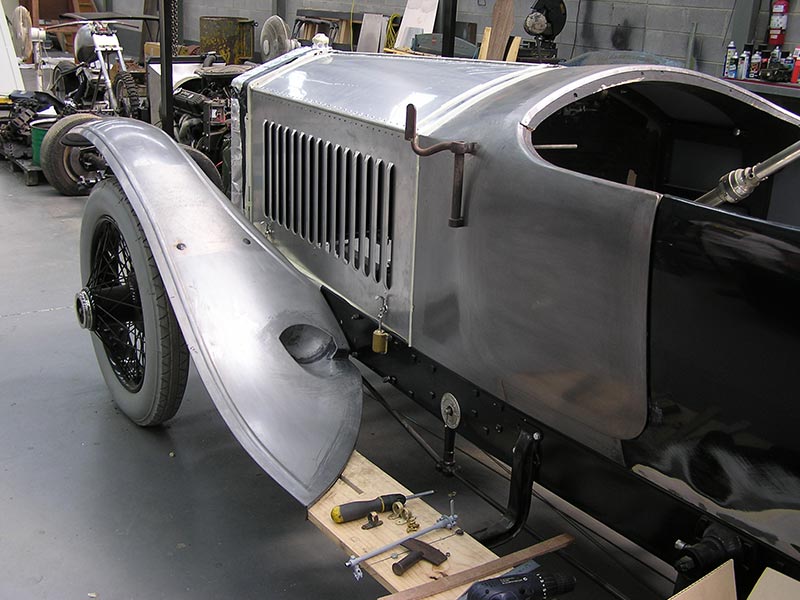 3. New bonnet, guards and scuttle panels.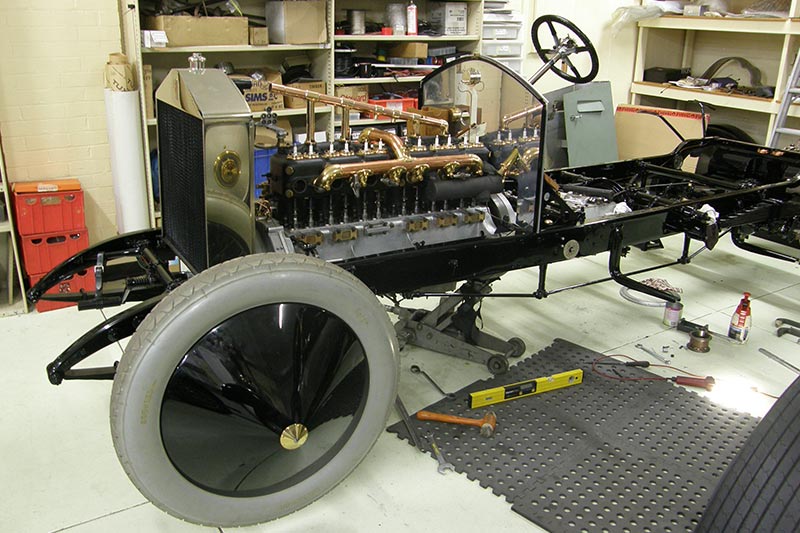 4. Chassis resto required much research.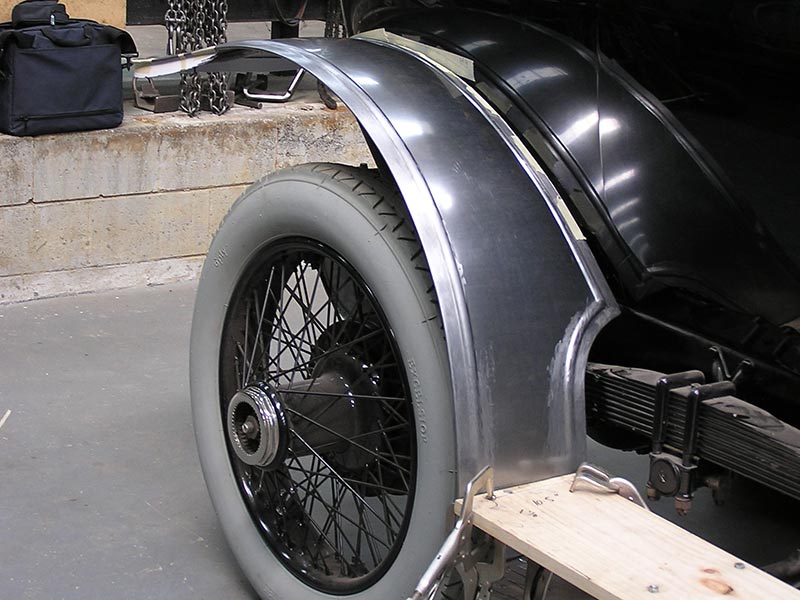 5. High mudguards to suit long spring travel.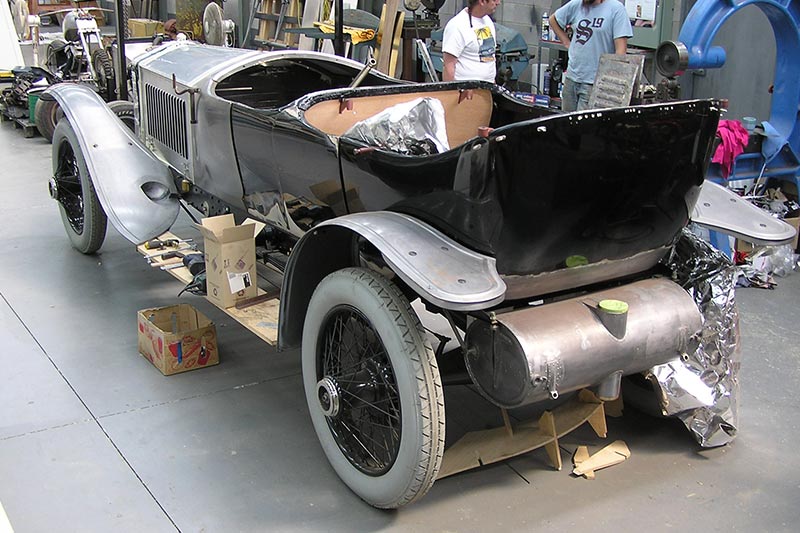 6. Sunbeam Torpedo body was a perfect fit.
1913 Rolls-Royce Silver Ghost
Engine 7428cc inline six
Power 36.2kW @ 1200rpm
Gearbox Four-speed manual with cone clutch
Brakes Pedal –300mm transmission brake; Lever – 300mm rear drums Suspension Semi-elliptic leaf springs (f), cantilever leaf springs (r). Peugeot patent friction dampers (f & r)
Performance Top Speed – 120km/h
Unique Cars magazine Value Guides
Sell your car for free right here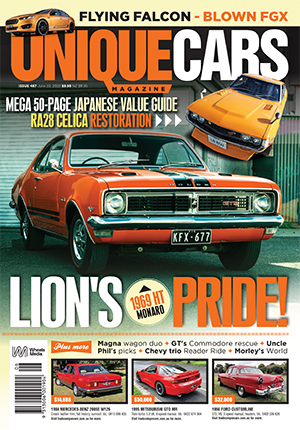 SUBSCRIBE TO UNIQUE CARS MAGAZINE
Get your monthly fix of news, reviews and stories on the greatest cars and minds in the automotive world.
Subscribe