Greenwood Corvette Station Wagon Review
---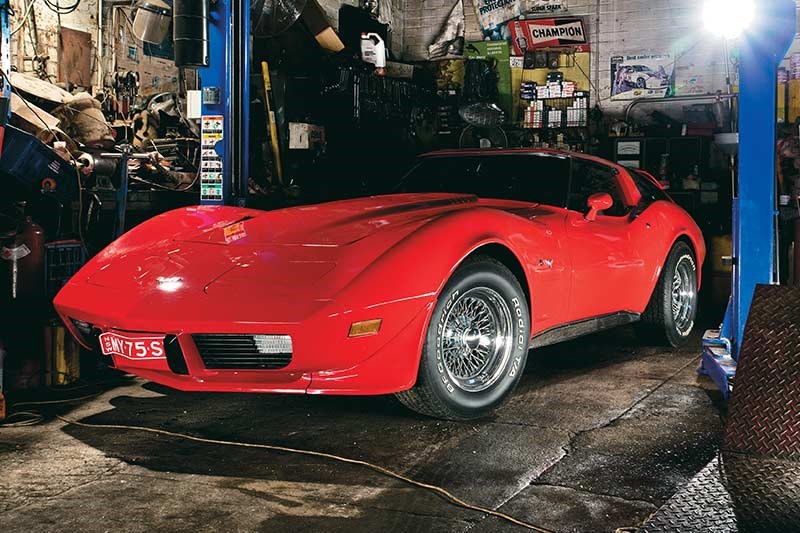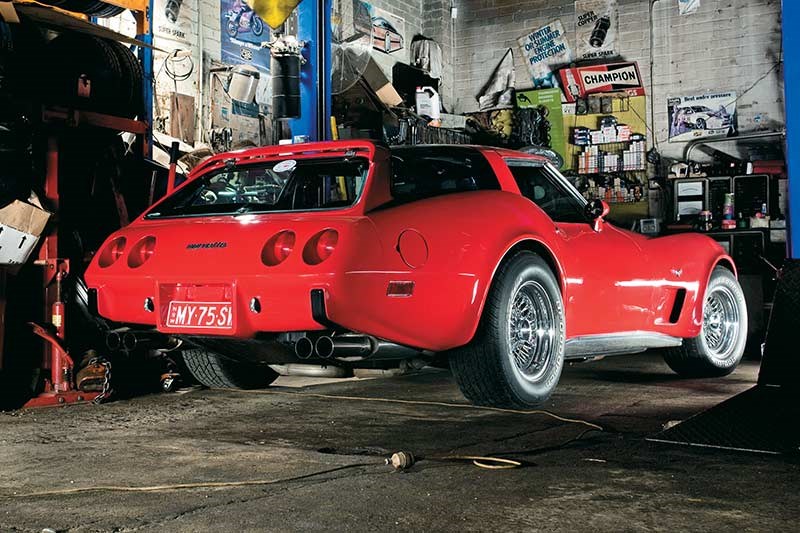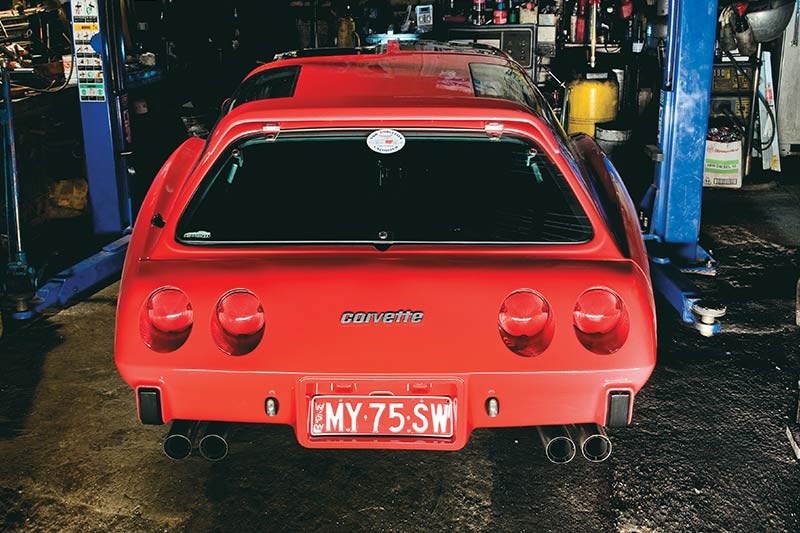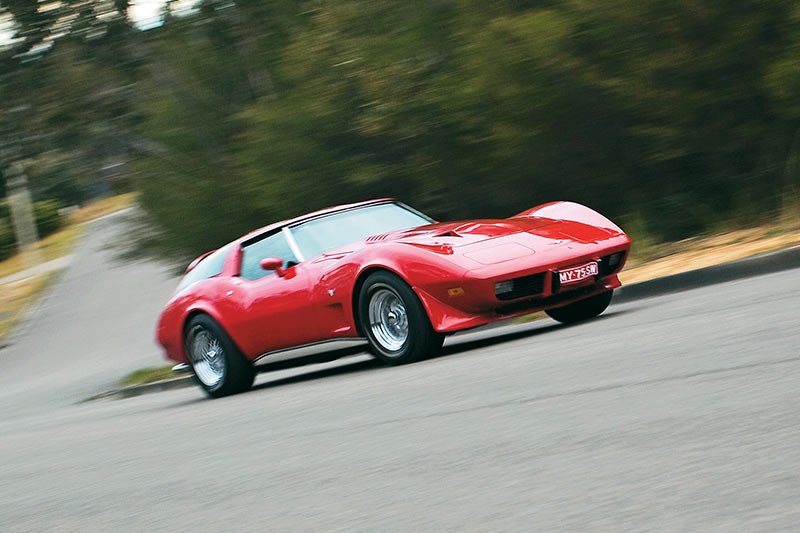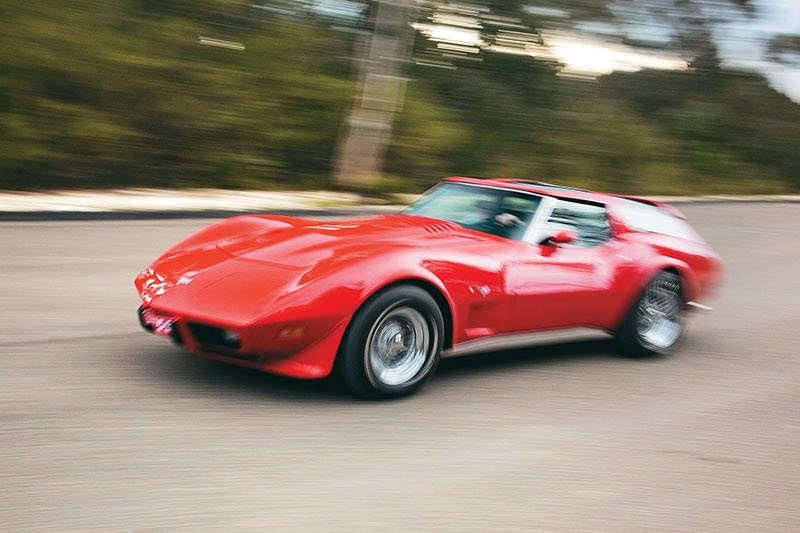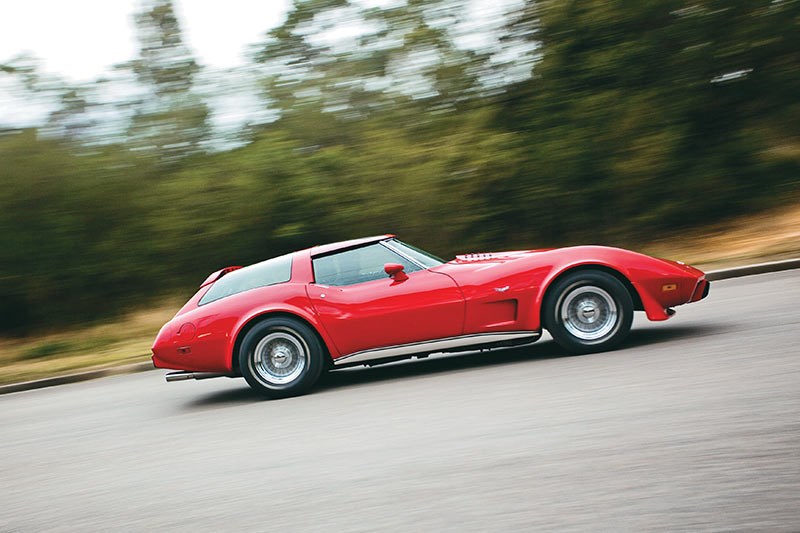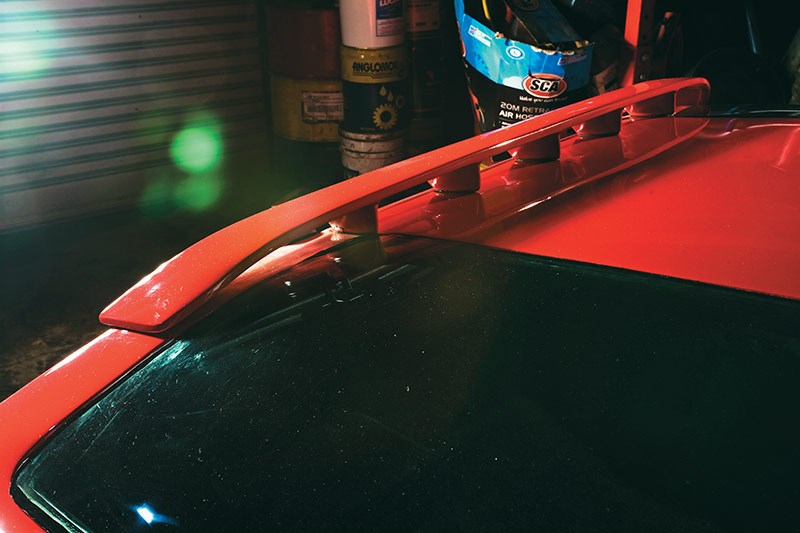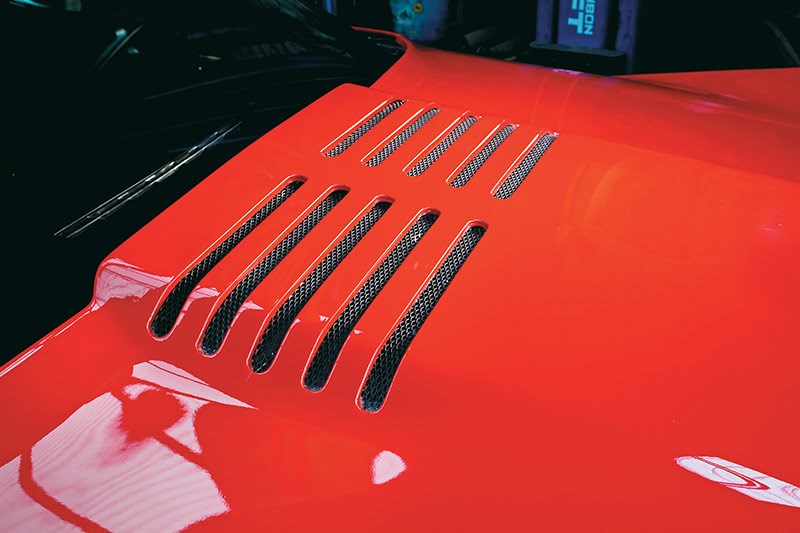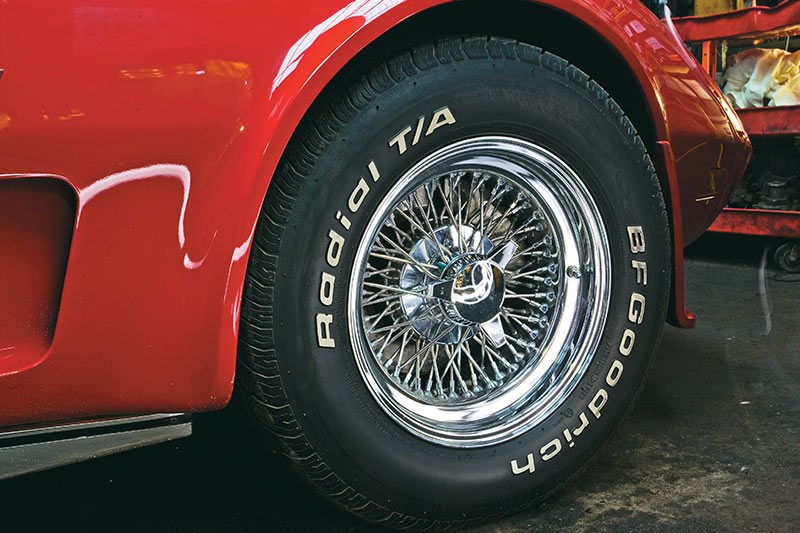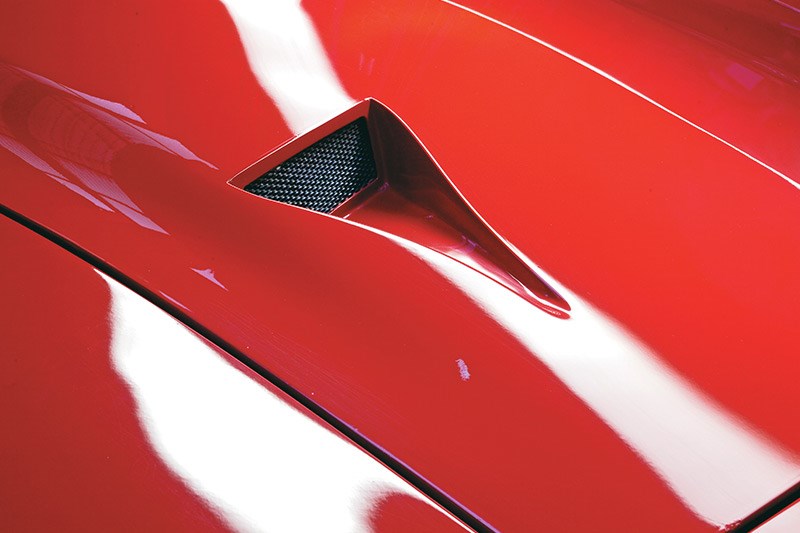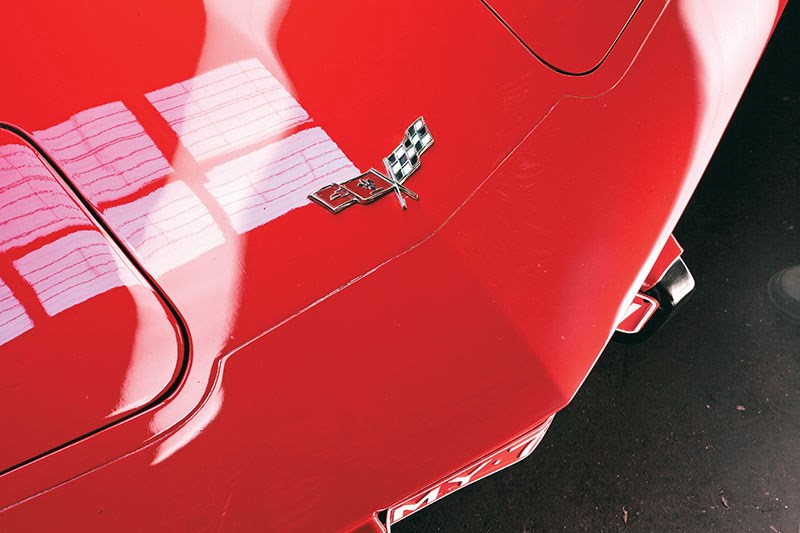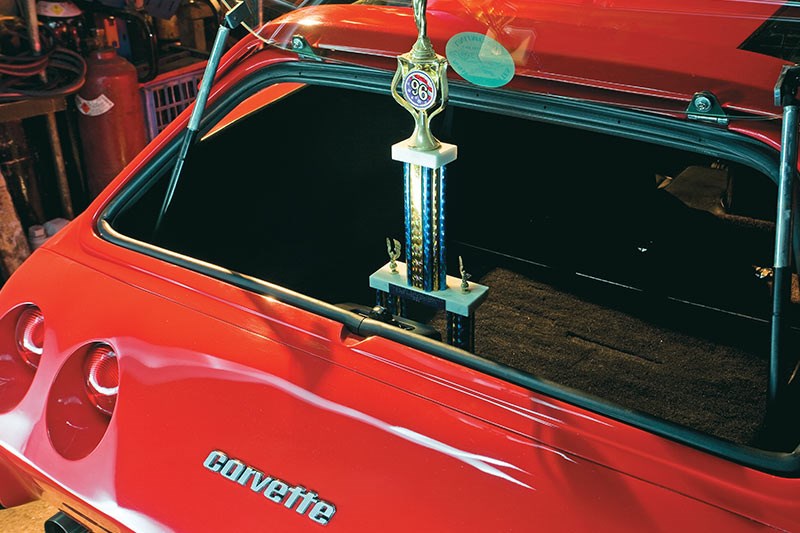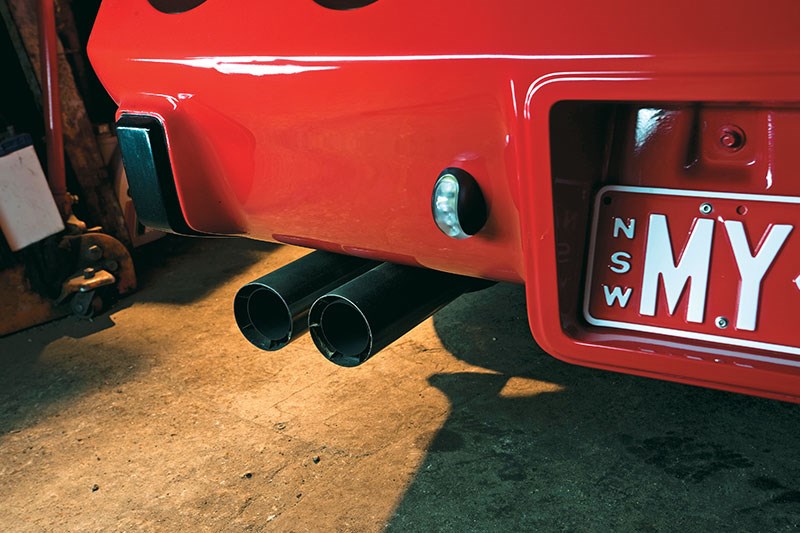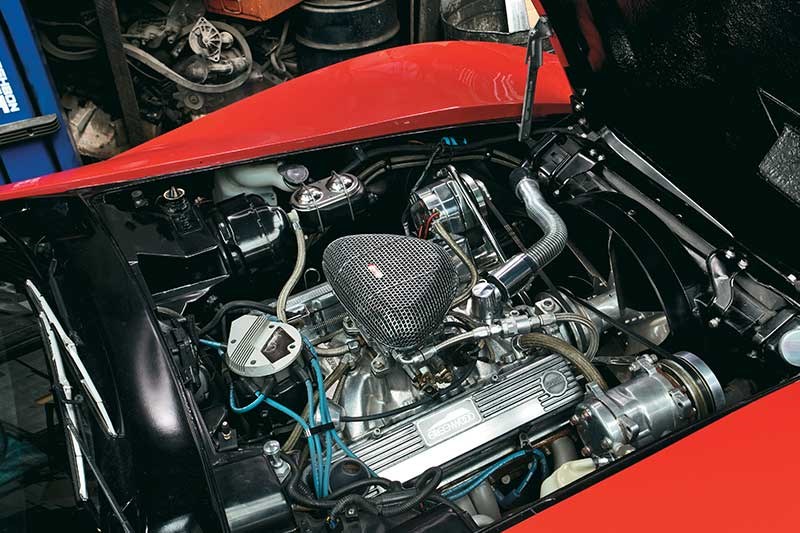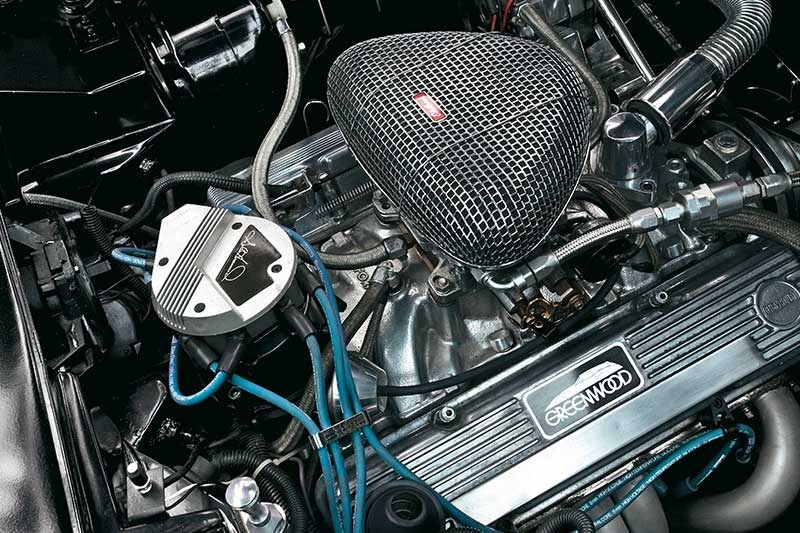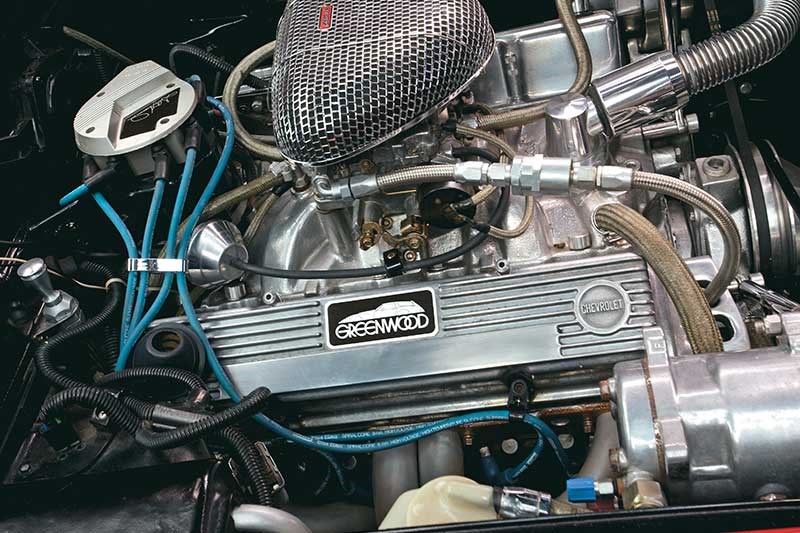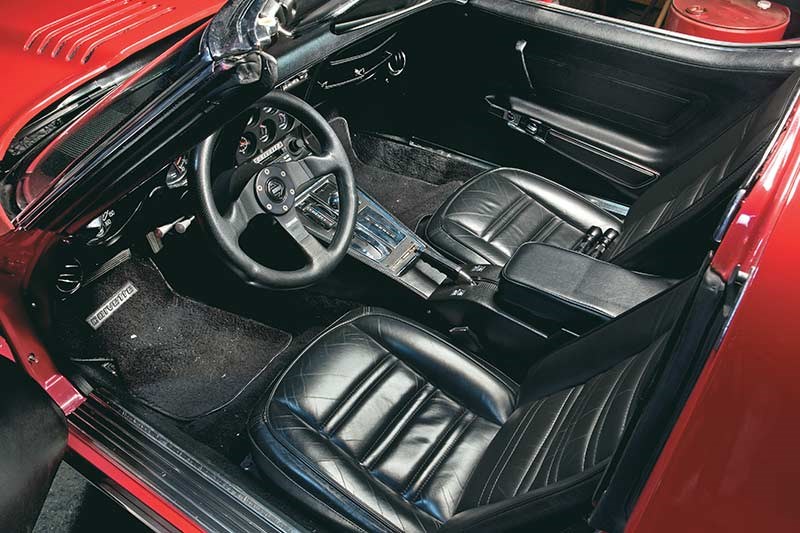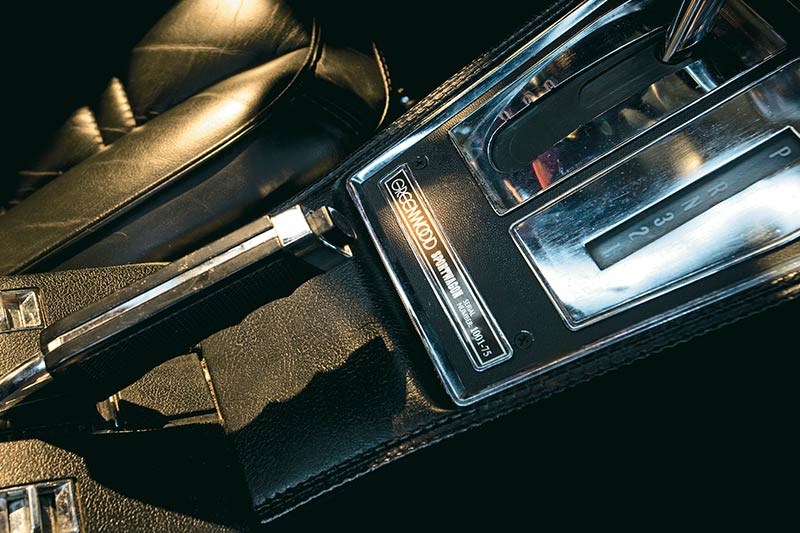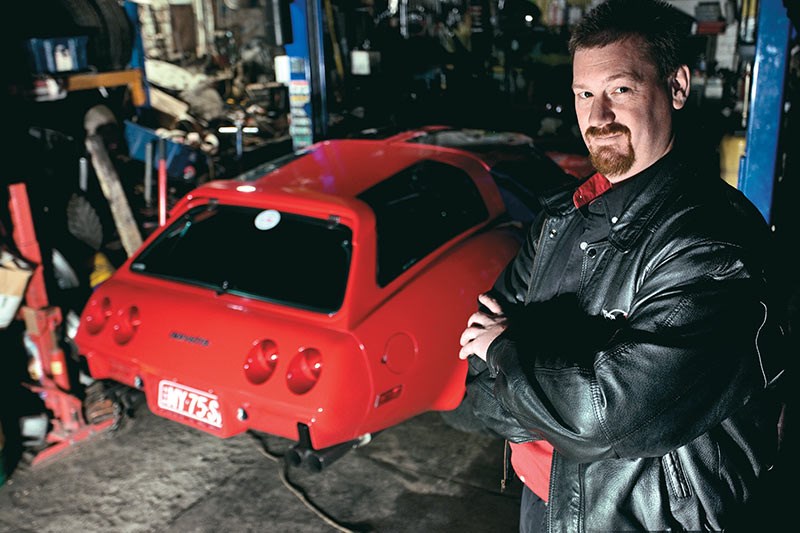 From the archives: World's sportiest station wagon
From Unique Cars #306, Jan 2010 
Greenwood Corvette Sportwagon
This is a car that might leave some GM purists aghast but there is little doubt that Andrew Angus's 1975 Greenwood Corvette Sportwagon is at the very least, one very unique Vette. In fact, it's the original prototype Greenwood hatchback, as it's sometimes referred to, but you couldn't find a car further removed from your average Corolla or Civic runabout.
John Greenwood was a successful American Trans Am and IMSA driver in the early to mid-'70s who raced wide-bodied Corvettes and built a profitable business making wild fibreglass spoilers, wings, outlandish body kits and race-inspired mechanical mods for Corvettes. Think massive flares, extended noses and rear-ends, à la Porsche 935s; big block engines and stars 'n' stripes paint schemes, and you start to get the idea.
| Review: 1967 Corvette Sting Ray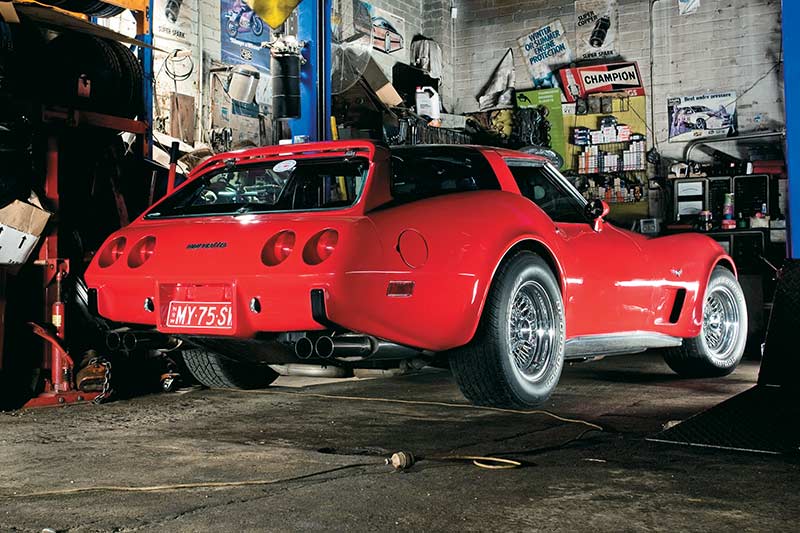 Angus, 37, originally hails from Taranaki in New Zealand, and first fell in love with the sensuous curves of the early Stingrays when he was wearing short pants.
"When I was eight, I saw a '73 Corvette in New Zealand and decided I wanted one and ever since then I dreamt about owning one," says Angus, who grew up going to speedway and hillclimbs with his father who "raced everything he owned".
"I came to Australia 13 years ago and when I met my wife Judy, I mentioned that I wanted a '73 Stingray and a few weeks later she found me a car and I bought it for $30,000."
| Review: Plymouth Superbird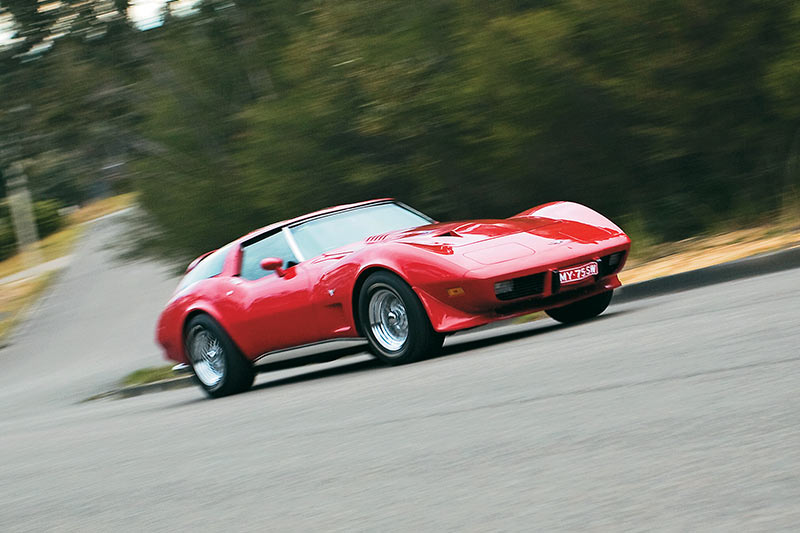 In the right light you'd never pick this Corvette as a station wagon
The story might have happily ended there if Angus hadn't seen a picture of a quirky looking Corvette with a station wagon body. Intrigued, he started researching this strange car and found out that GM had actually considered building a hatchback version of its iconic sports car but had shelved the idea after the marketing department warned that the brand risked losing its sporty image if it made a 'shopping' version.
That didn't stop Greenwood, though, and he built this car for his girlfriend who, evidently, wanted a Corvette she could take on picnics. Angus says that apart from Greenwood, there were other crude attempts at making panel van ('Panel Wagon') and station wagon versions and recounts a story about a rock drummer who had a Vette van built so he could get his drums to gigs in record time (pardon the pun). But it didn't have an opening hatch so the 'skins' had to be loaded through the doors.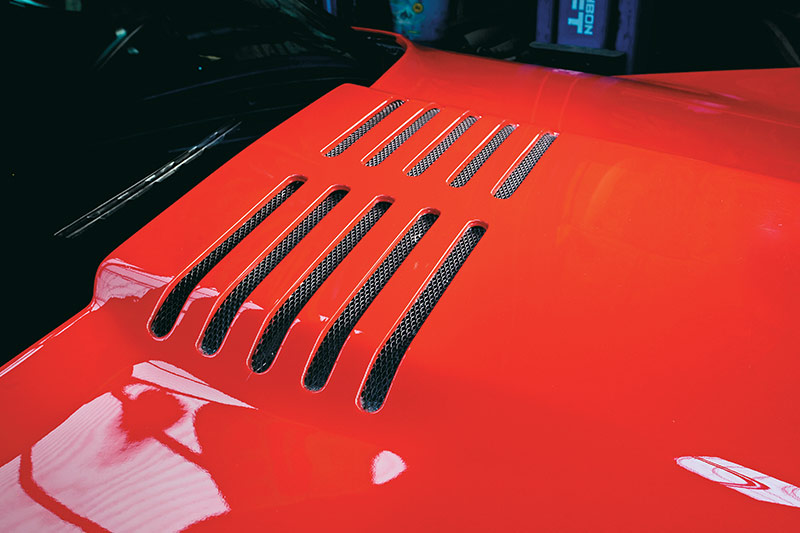 Bonnet louvres are for show only
"Greenwood made this hatchback-style one, which suited the contours of the car so much better," Angus says.
With his faithful '73 still in his garage, Angus became intent on committing Corvette adultery by finding a wagon or one of the fibreglass kits flopped off the Greenwood prototype to give his '73 the equivalent of a Stingray boob job. So it was off to the US and the biggest Corvette love-in on the planet.
"I knew these cars existed; a mate had downloaded a picture of one from the web before we went to the States and I knew Greenwood had made hatchback kits," he explains. "I was going to search for a kit, pair of side pipes and a set of wire spoke mags and do up my '73. We went to Corvettes At Carlisle in Pennsylvania in August last year where there were 6500 Corvettes on display but we couldn't find a car or a kit.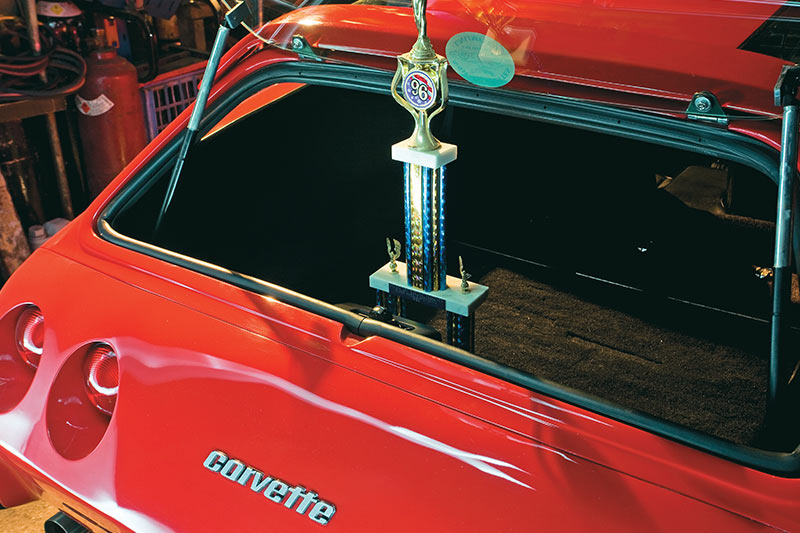 Vette wins trophies hands down
"I eventually found a rough-looking Corvette panel van set up as a hearse towing a coffin and the owner of that car introduced me to my car's former owner, Mike Guyette. I told him what I was looking for and he explained that he owned the original Greenwood car (it wasn't on show) and that it was used as the mould for 24 kit sets.
"When Mike said the car was for sale I thought, 'Great!' and when he told me the price I thought, 'This is incredible, it'll be worth three times that by the time I get it back to Australia!'"
But here's the spooky part.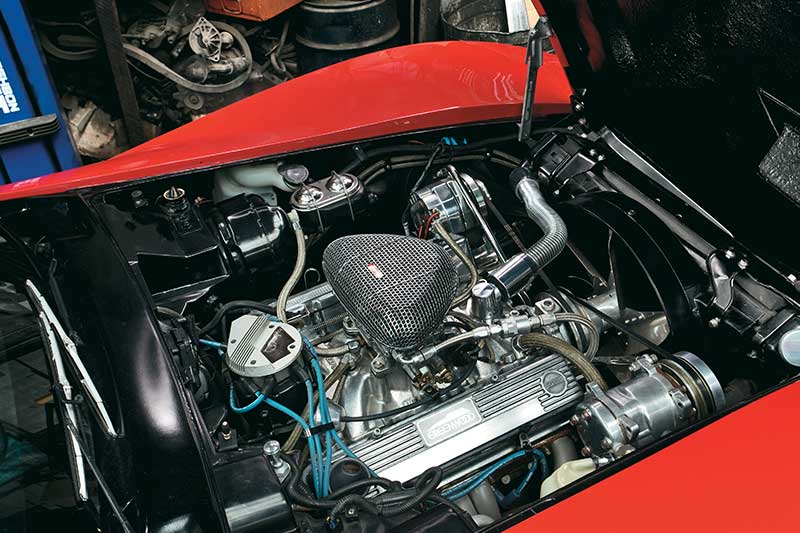 Hot 355 stroker good for almost 400 ponies
"It wasn't 'til a few days after meeting Mike that we got to a motel with web access and I looked up the website on the car and realised that the photo I'd had for a year was of his car!
"And another thing; the lady that owned it prior to Mike lived at 51 Greenwood Avenue. Pretty freaky! This car seems to draw its owners to it."
And so Angus was also hopelessly drawn to the unusual Corvette but, like the rest of the world he had no idea how bad the global economic crash would be and by the time he got home his bargain Corvette was looking a lot more expensive. Luckily, he had a friendly bank manager who liked cars.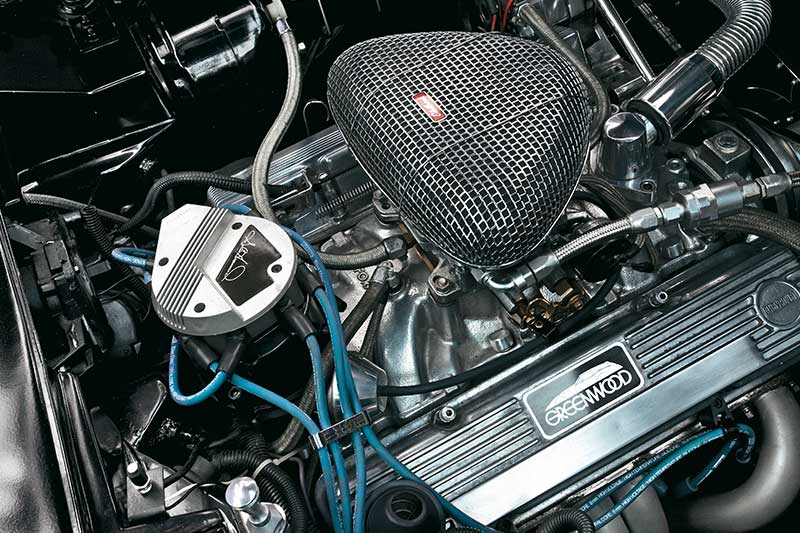 "I asked him what was happening with the market because I really wanted the car," he says. "I showed him pictures and he liked it and just told me to bite the bullet and buy it." What a guy!
Corvette club members Murray and Wendy Foreman helped him sort logistics like import licences and shipping and in September last year the deal was done and the Corvette loaded into its own container; Angus didn't want to risk it being damaged in transit.
He's a trusting soul, though, because he forked over the greenbacks for a prototype he'd only ever seen a picture of. He had a nervous three-month wait while the ship dawdled to Australia via Taiwan then had to wait three more days after it docked in Sydney for customs to give it the all clear, but the wait was worth it.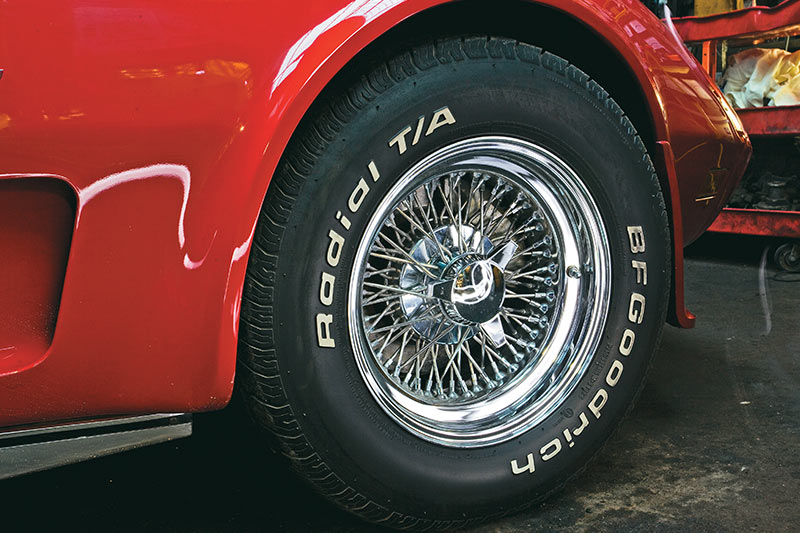 Dayton wires and fat BFG tyres scream '70s
"It looked absolutely amazing, I was gobsmacked," he smiles at the memory. After a jump start the car turned over easily and Angus drove it onto a trailer bound for a little pre-rego TLC.
"We had to do a few little things to get an engineer's report done so we could get a 'blue slip' but it passed easily." That's because it was in brilliant nick.
Fifteen years ago, Guyette had gone to town on the Vette and commissioned a complete body-off rebuild. By the way, the rear section is one-piece of fibreglass and the louvred bonnet is a one-off. The chassis was re-welded, sandblasted and repainted in glossy black then Guyette updated the suspension with 1990-spec Corvette dampers and springs and bigger disc brakes.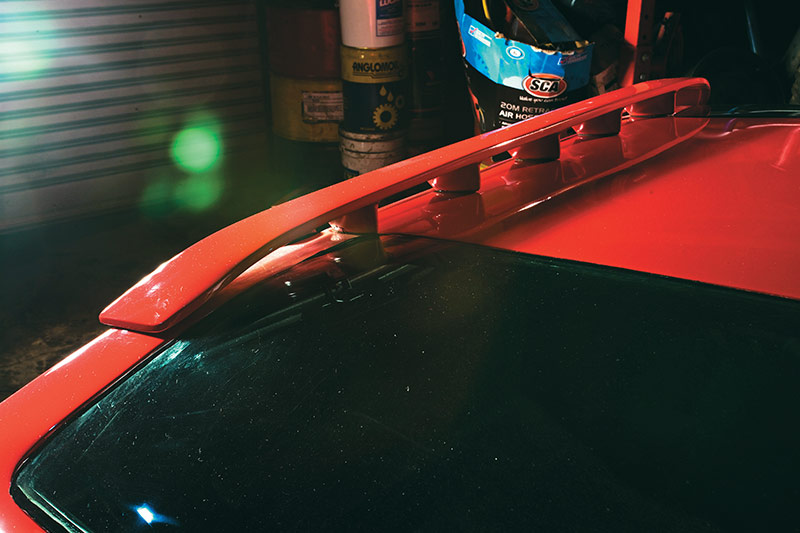 When the wagon was released its 350 Chev was strangled by pollution gear and it made a measly 138kW (186hp) – hot hatches make more today. So, off came the power-sapping eco gear and off to Bardwell Racing engines went the Chev.
It was stroked to 355 cubes, balanced, blueprinted and fitted with a Holley 750 carby and when the dyno stopped she was making 290 killer watts (389hp) and 570Nm of torque.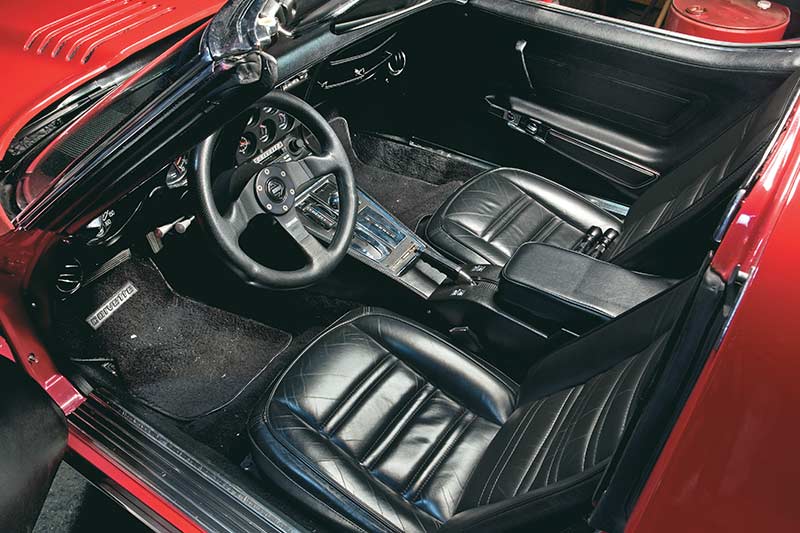 Interior in as-new nick and Momo wheel adds a touch of Euro sophistication to America's sports car
As well, the three-speed auto was beefed up and a 2500rpm stall convertor fitted along with a heavy duty diff to handle the extra ponies.
After its resto, Guyette only put another 4000 miles on the odo, which still only totals 63,000 miles but Angus, who used to race speedway in NZ like his dad, is gradually adding to the tally.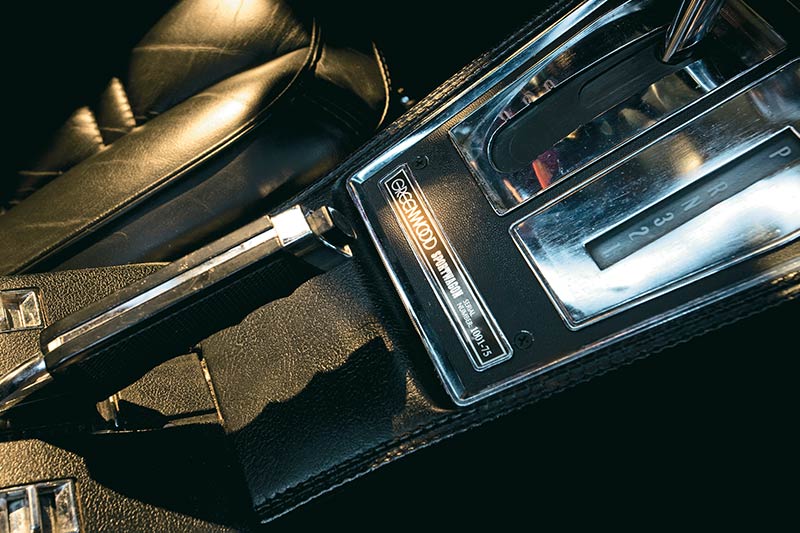 Coveted serial number 001 (above) means this car is highly desirable, particularly in the US, and Angus has knocked back big money to send it home
"The car drives exceptionally well," he says. "The '73 was very wishy-washy but this car drives a lot tighter; the suspension set up is very good. It handles and rides really well. It'll pull 170mph (274km/h) without any trouble and it gets there quite quickly."
But how do people react to the car? Do they see it as a Frankenstein Vette or as a unique take on America's sports car?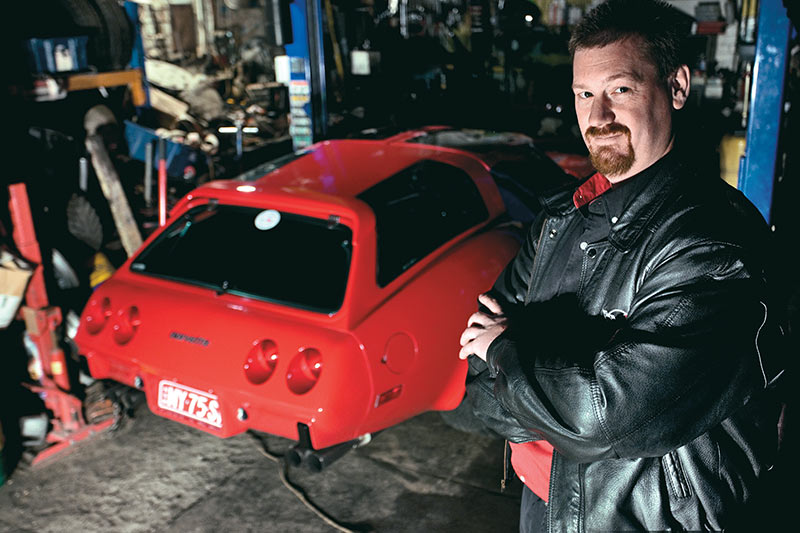 Proud owner Andrew Angus (above) had unwittingly been carrying around a photo of his car for a year before he bumped into the previous owner in the US and bought the Vette sight unseen
"People are really interested and those that know about Corvettes know that wagons and panel vans existed," he says. "A lot of the Corvette club members were a little concerned about how it would look but the way the lines mould into the body is really good.
"One of the judges from the NCRS (National Corvette Restoration Society) said the car should be in America; they were quite surprised that it was sold and went to Australia. I've been offered $150,000 to send it straight back to the US but it's not going back."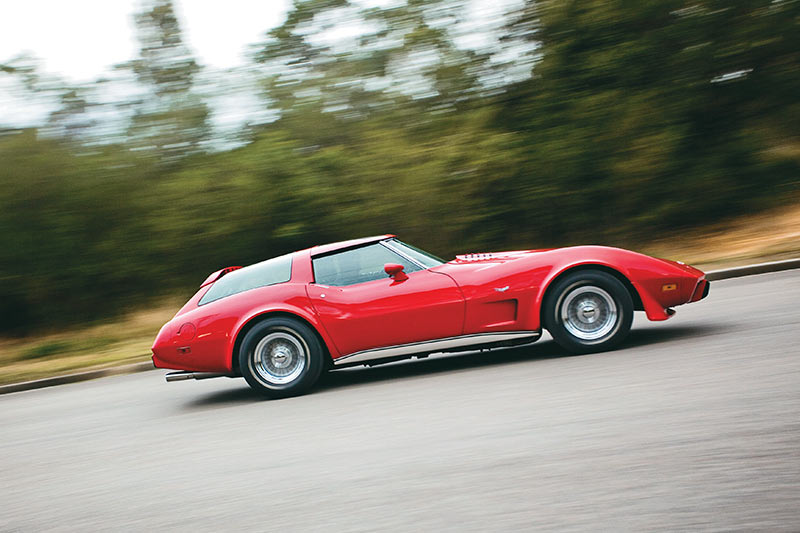 1975 Greenwood Corvette specs
Body: three-door station wagon
Weight: 1580kg
Engine: 355ci V8
Transmission: Three-speed TH 350 auto
Drivetrain: Front-engine, RWD
Power/torque: 290kW/570Nm
Brakes: Four-wheel discs
Performance: 270km/h-plus top speed
Unique Cars magazine Value Guides
Sell your car for free right here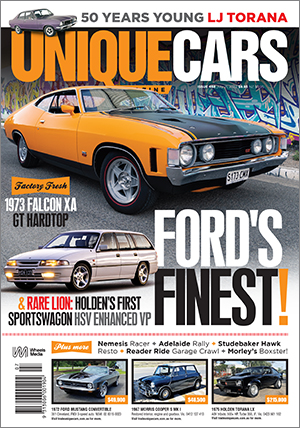 SUBSCRIBE TO UNIQUE CARS MAGAZINE
Get your monthly fix of news, reviews and stories on the greatest cars and minds in the automotive world.
Subscribe