Mercedes-Benz 600 Pullman Six-Door Limousine
---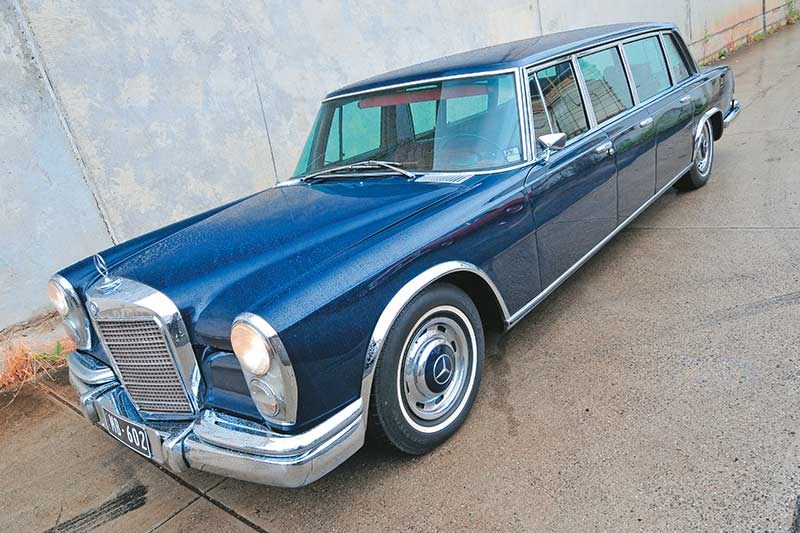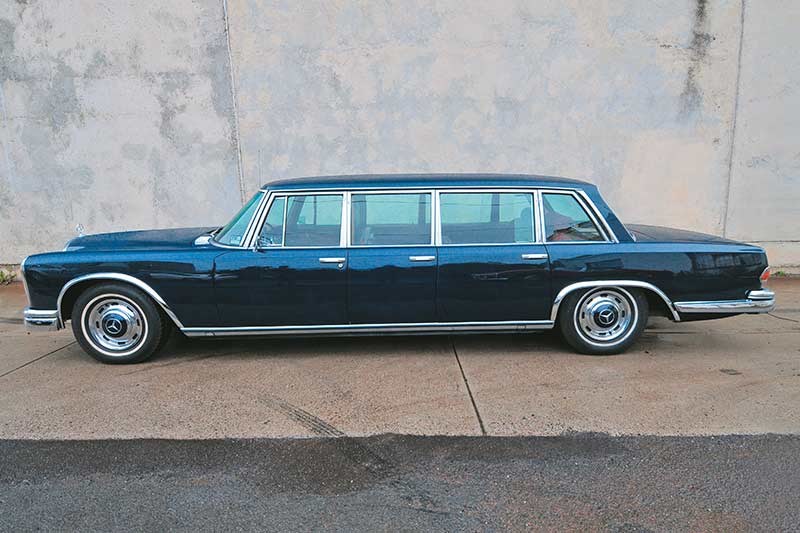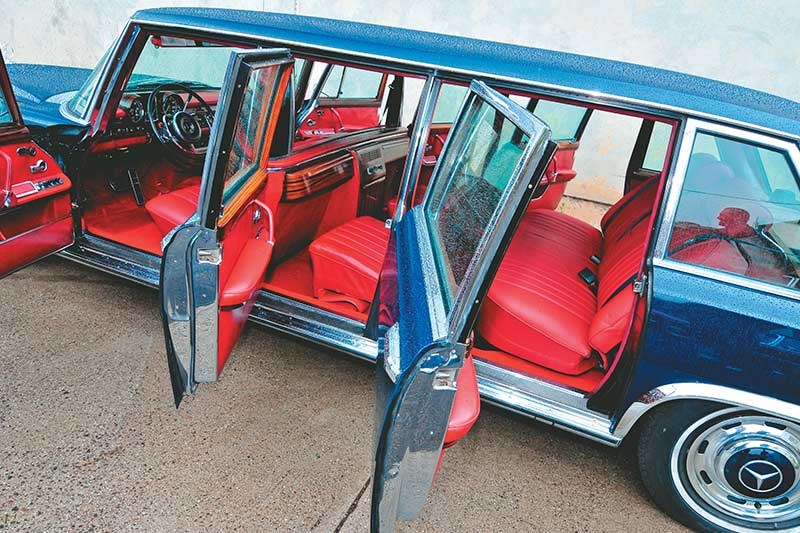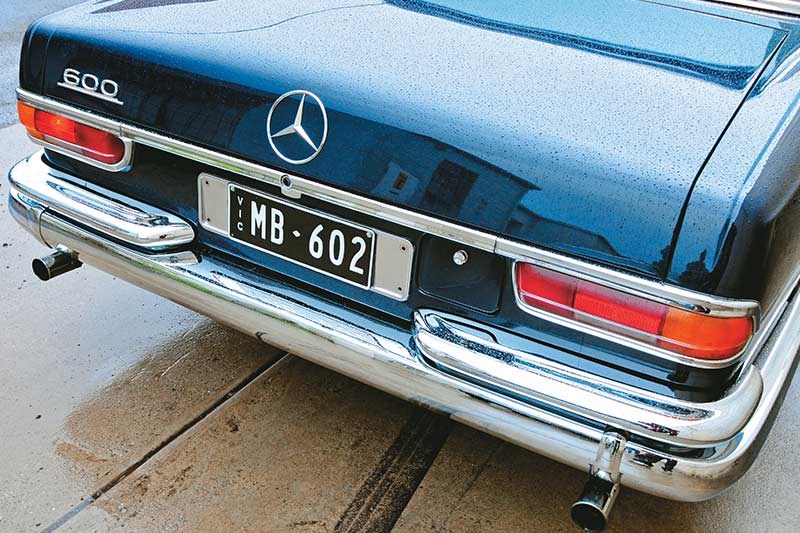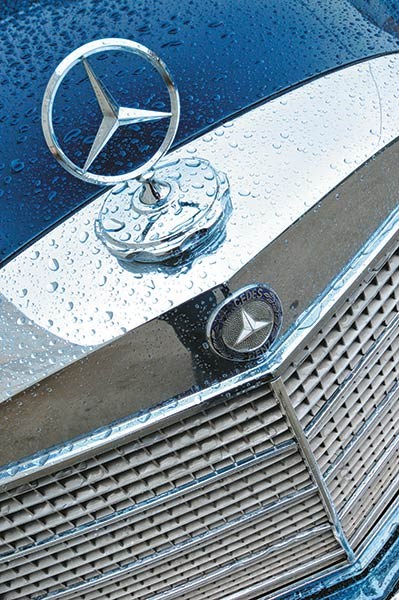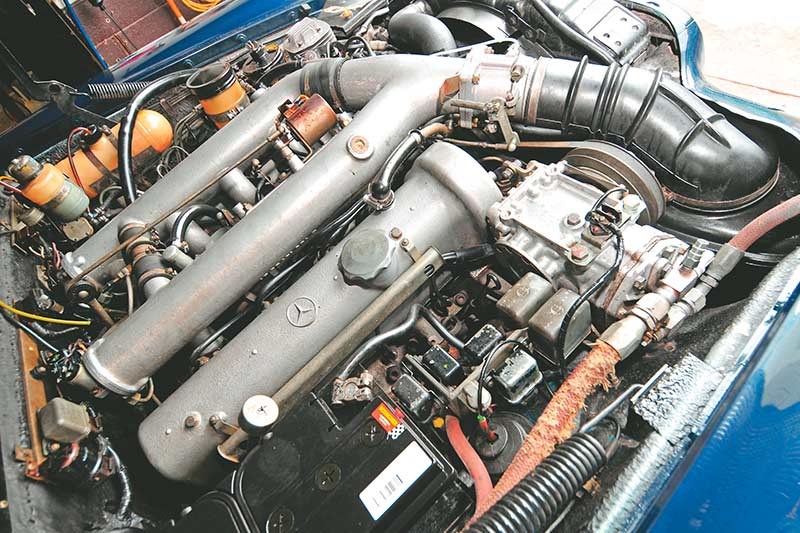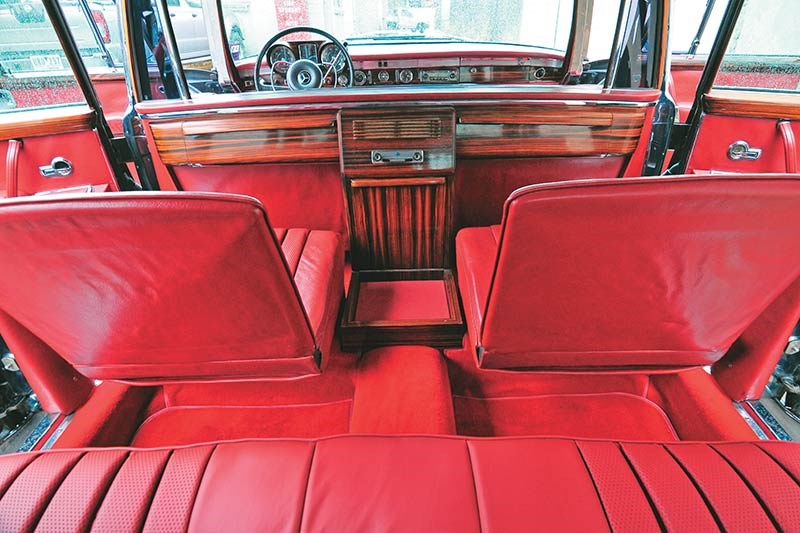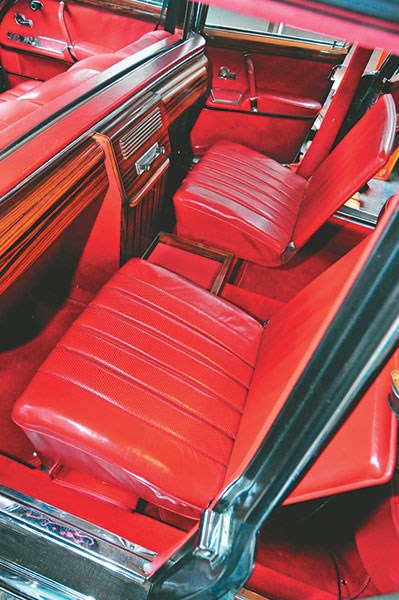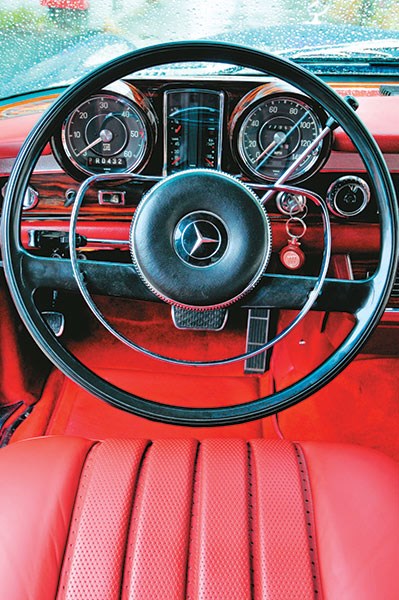 Rare six-door sensation - Monster Mercedes-Benz 600 Pullman
From the archives: First published in Unique Cars #295, Feb/Mar 2009
Mercedes-Benz 600 Pullman Six-Door Limo
There was a time when six-door cars were sole purview of the rich, the powerful and the famous. Think "limo" and images of rock stars and presidents diving into stretched Cadillacs spring to mind. Or maybe old newsreel footage of some tin-pot dictator sneering disdainfully at his grubby subjects from the back of an air-conditioned Mercedes.
Not any more.
These days, it seems that just about any nut job with a set of tin snips and a big idea can fashion themselves a stretched limo. Even the most cursory Google search will unearth a treasure trove of trash, including everything from six-door Ladas to the obligatory stretched Hummer and everything in-between. One enterprising loon in Canada even went to the bother of making himself a six-door Prius, though what that did to its much-vaunted fuel economy is anyone's guess.
Although there have been countless companies over the years that have performed conversions, Armbruster & Co of Fort Smith, Arkansas, is widely credited as being the first to produce a stretched limo during the early 1920s. Using Chevrolet, Buick, Cadillac, Checker and Chrysler chassis, Armbruster went on to build a range of four, six and even eight-door limos for various clients over the years. Although the company was bought out in 1989, the core of the outfit can still be found in Fort Smith producing limos under a new name.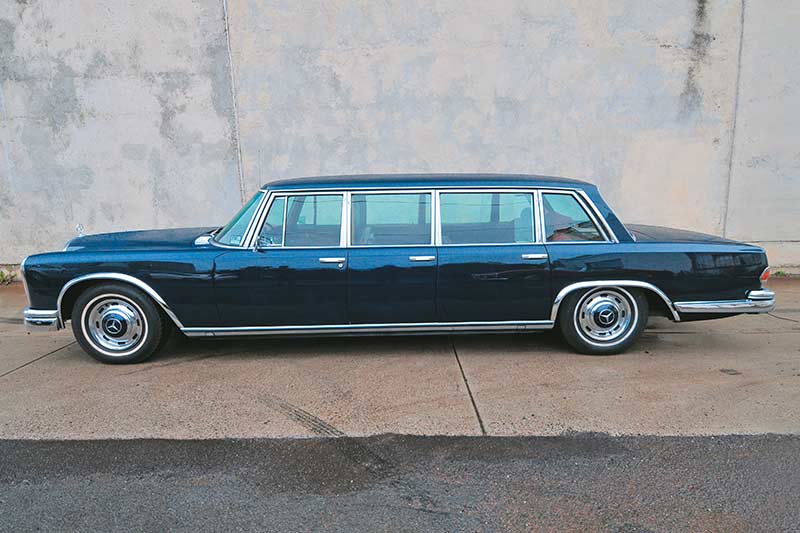 Monster 600 Pullman was an international status symbol in its day and the distinctive lines meant there was no chance of being mistaken for something else 
Despite the popularity of six-door limos, there have been few manufacturers that have actually offered them as part of their regular line up. There are numerous examples of stretched Bentleys and Rolls-Royces kicking around but, while some were marketed by the factories, none were actually produced there, with the work being left to coachbuilders like Robert Jankel and his London-based Le Marquis operation which did much of its work in the later years.
Of course, of all six-door limousines that have cropped up over the years, there is one that stands head and shoulders above the rest – the incomparable Mercedes-Benz 600 Pullman. The epitome of effortless grace and luxury, the epic Pullman is still the daddy of them all today.
Open and shut case
Even now, decades after it debuted, the Mercedes-Benz 600 remains the ultimate expression of automotive opulence. Lavishly appointed and staggeringly sophisticated, the 600 was a car so advanced that it instantly made the competition look hopelessly obsolete.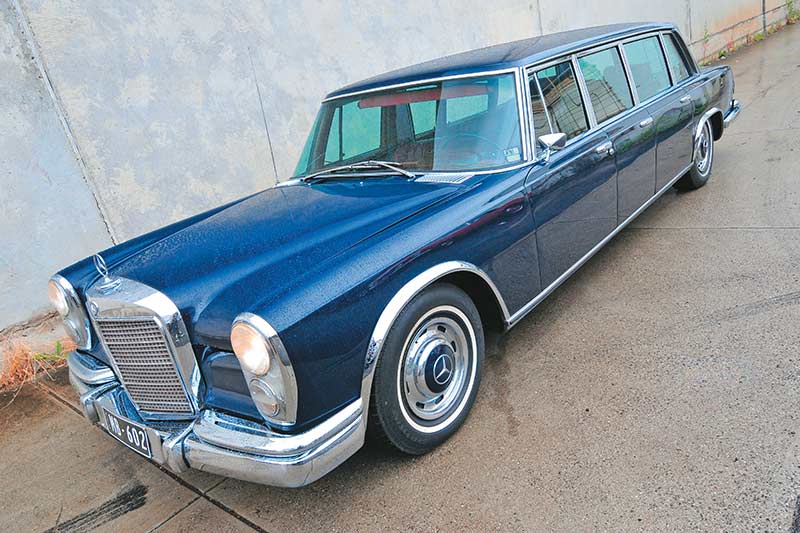 Launched at the Frankfurt Motor Show in September 1963, Mercedes' new luxo-barge wasn't a product of the "blue-sky" marketing bollocks that seems to drive most of the manufacturer's built-to-budget halo models these days. Nope, back in the day, all Mercedes wanted to do was build the most sophisticated and luxurious car it could, while setting unparalleled standards of comfort, safety and performance along the way. Cost simply wasn't an issue.
Every component, every panel on the 600 was designed and built from scratch – usually at horrendous expense. It's said that Mercedes made little, if anything, on all the 600s it sold. But then, making a profit from the car wasn't the point. The Grand Mercedes was simply a publicity tool, a big stick with which Stuttgart could bludgeon its rivals into submission.
Mercedes had officially built the best car in the world; its reward would come with the kudos it would garner by making the 600 the car to be seen in among society's richest and most famous.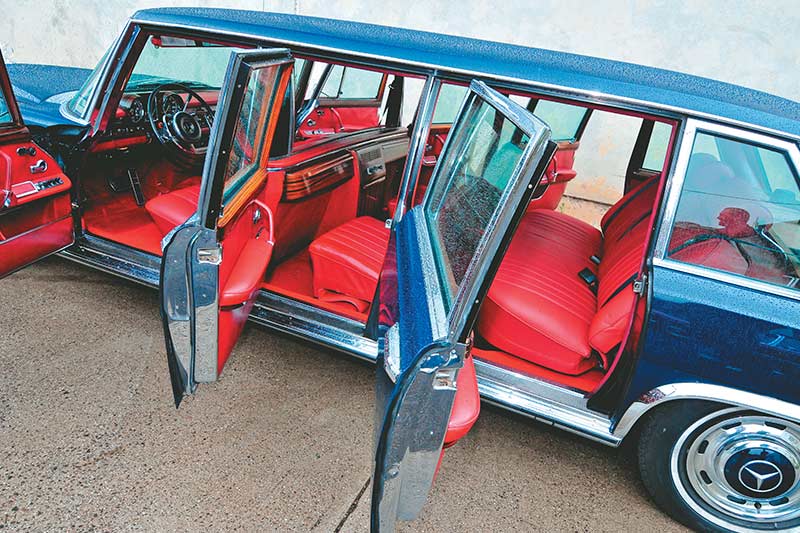 Pitching the car unashamedly at royalty, heads of state and captains of industry, Mercedes even went as far as predicting that, "Many of the decisions affecting peoples' lives in years to come will be made in the back of 600s" in its rather extravagant sales brochure. As outrageously arrogant as it may have seemed at the time, Mercedes' claim could be seen as being somewhat prophetic these days, especially when you consider just who ended up buying them.
A rollcall of those that bought one pretty much accounted for the good, the bad and the ugly on every Who's Who list between 1963 and 1981. Just about every communist dictator and tin-pot Third World ruler had one, including Castro, Mao Tse-tung, and Saddam Hussein. Naturally, Queen Elizabeth had one, as did John Lennon too, with the King of excess, Elvis Presley, predictably owning several. Pope Paul VI even had a special convertible Landaulet version built for his official Pope-mobile.
To cater for its clients' particular needs, Mercedes supplied the 600 in four basic forms: the short wheelbase limo, the long wheelbase Pullman in both four- and six-door versions, and the Landaulet with its convertible rear quarter roof.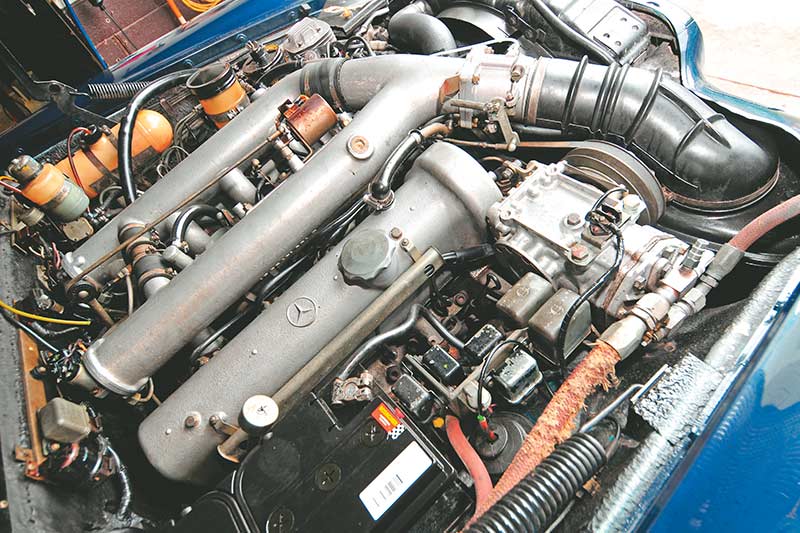 Powering all four versions was the all-new 6330cc V8. Boasting overhead cams and mechanical fuel injection, the silky-smooth bent-eight was capable of producing an effortless 186kW and 500Nm. With the transmission taken care of by Benz's own four-speed auto, the 600 was fairly spritely for such a heavy car. Even the 2698kg, 6.2m long Pullman six-door was capable of hitting 100km/h in just 9.7 seconds before wafting on to a top speed of 200km/h.
To ensure ride quality, Mercedes went all out with the car's suspension. Air bags were employed on all corners to keep the car perfectly level, while the adjustable shocks could be trimmed from soft to firm via a three-setting lever on the steering column. Even the ride-height could be raised by 50mm.
Inside, the level of sophistication was equally impressive. Hand-stitched leather, wool carpets and grain-matched wood furnished the limo's sumptuously appointed cabin. The seats, windows and wing mirrors were all silently operated by hydraulic rams, as was the fuel filler cap and boot lid, along with the drop top on the Landaulettes. Multi-zone climate control was fitted as standard, with the Pullman limos usually fitted with a bar fridge and intercom system too.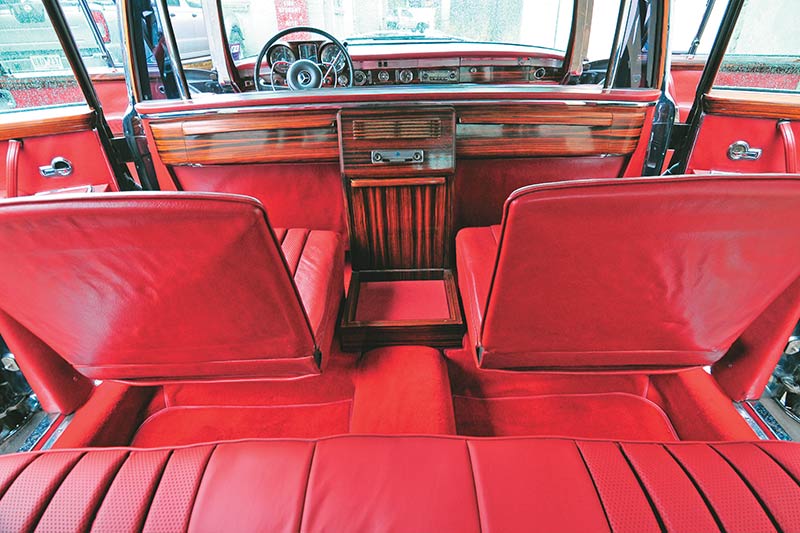 Driver controls included a lever to change the ride quality. Even the ride height could be boosted. Powering the beast was a 6330cc V8 which provided spritely performance
In total, Mercedes would sell 2677 600s during its 18-year lifespan, including 59 Landaulettes and 428 Pullmans. In Australia, a total of 88 600s are believed to have been sold, with only three six-door Pullmans remaining in the country today.
Heinz Schendz has owned quite a few 600s over the years. Indeed, with the addition of the stunning six-door Pullman you see here, he now has four in his collection!
Imported from a dealer in New York, the Pullman landed in Down Under in April last year, where it has since undergone a fairly extensive restoration. "I must admit, the car turned out to be a lot better than I expected considering what I paid for it," laughs Heinz. "The bodywork was actually very good. It needed new paint, but that wasn't a problem. The interior, though, was a different story."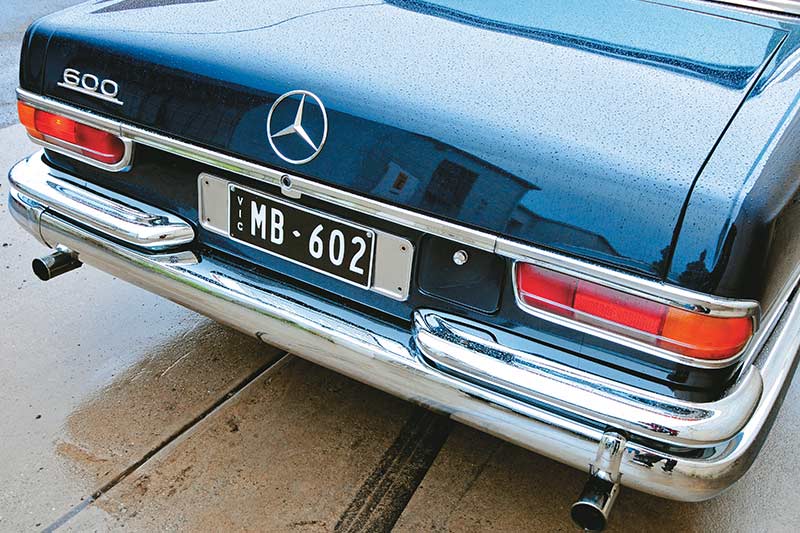 Handily, Heinz's trusted auto upholsterer was able to source a brand new interior kit from the States for a reasonable price, while local Melbourne specialist Craig Tucker was left to tackle the 600's notorious running gear.
"They're nothing like as complex as people make out," says Heinz. "They were a sophisticated car for their day, but many of the systems were actually pretty simple. For such a big car, the handling is amazing. With those air bags, it doesn't bow, or lean or roll. It's amazing to think that they cost around £25,000 in Australia, which was the same money as a mansion in Toorak at the time. They were just very special cars, with no real equivalent today."
1967 Mercedes-Benz 600 Pullman specs
Body: six-door limousine
Engine: 6330cc ohc V8
Transmission: four-speed auto
Suspension: Self-leveling air suspension, adjustable telescopic dampers, with torsion bars front and rear
Brakes: discs all round with power-assisted twin calipers
Wheels and tyres: 9x15 all round
Unique Cars magazine Value Guides
Sell your car for free right here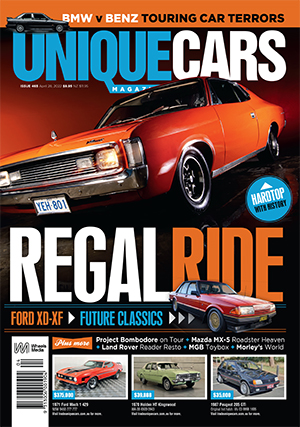 SUBSCRIBE TO UNIQUE CARS MAGAZINE
Get your monthly fix of news, reviews and stories on the greatest cars and minds in the automotive world.
Subscribe