2008 Shelby GT500 Super Snake Review
---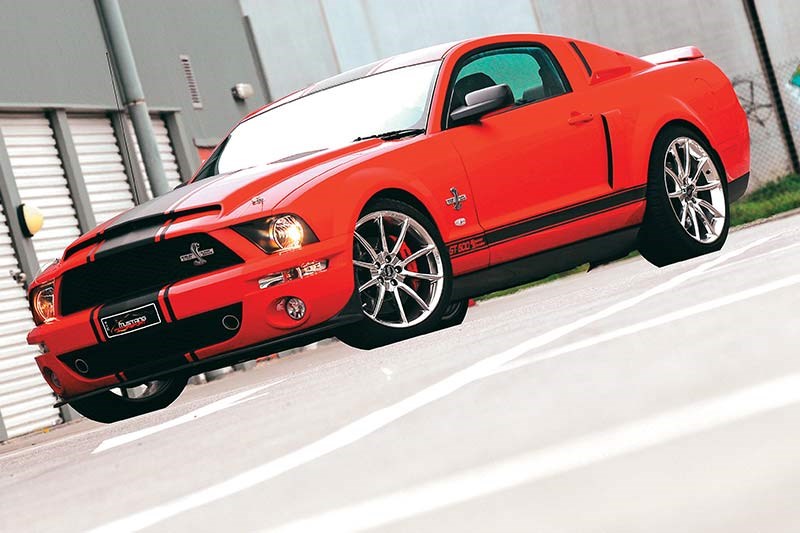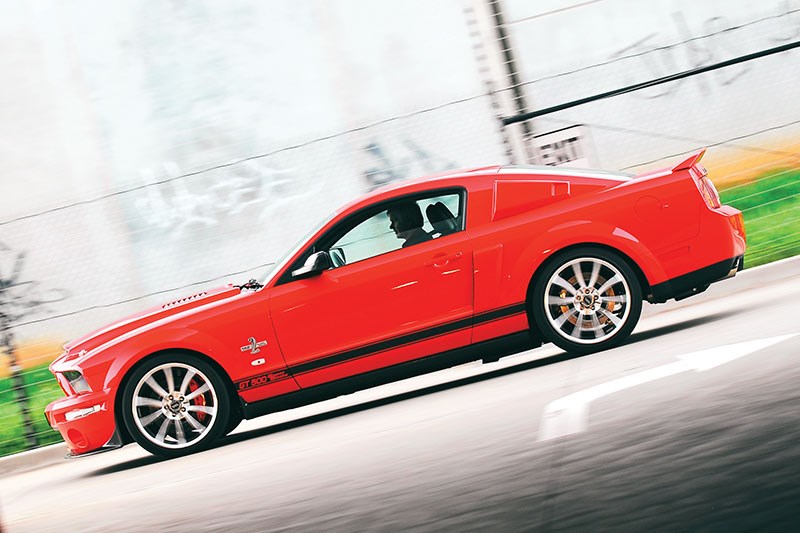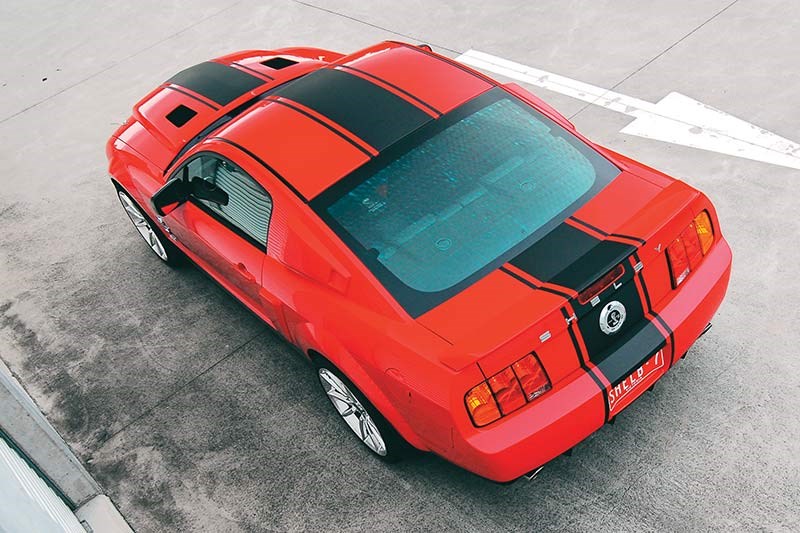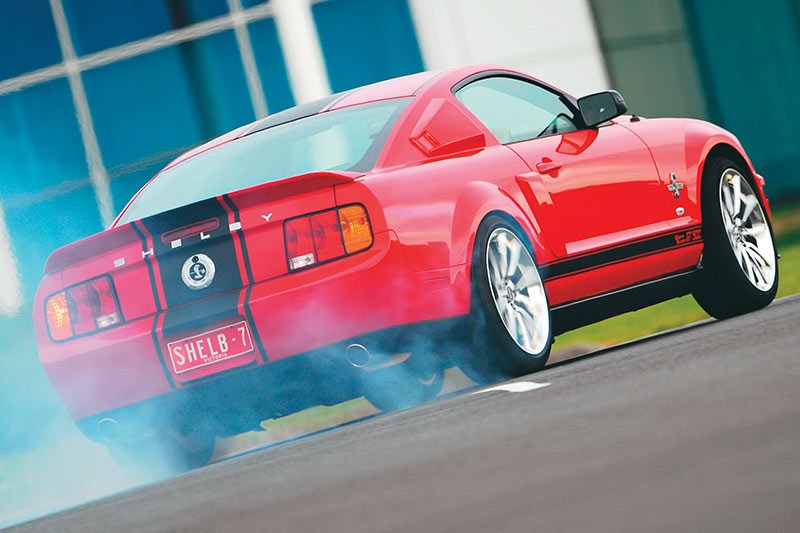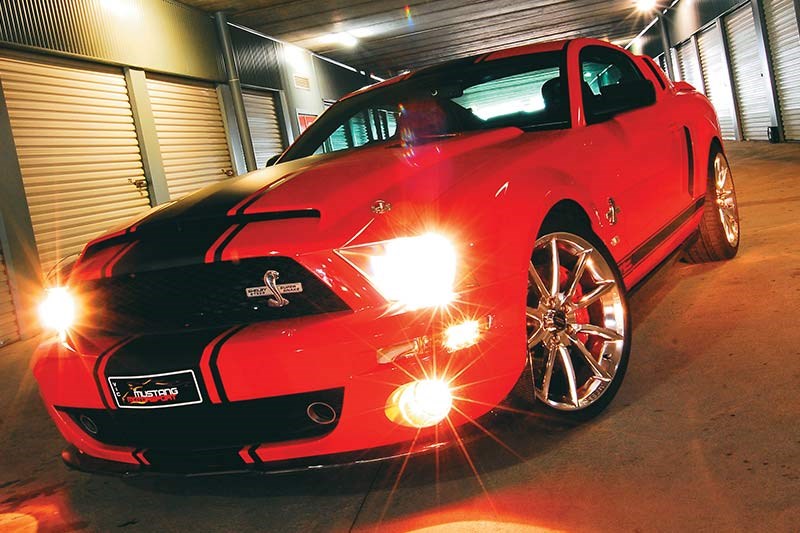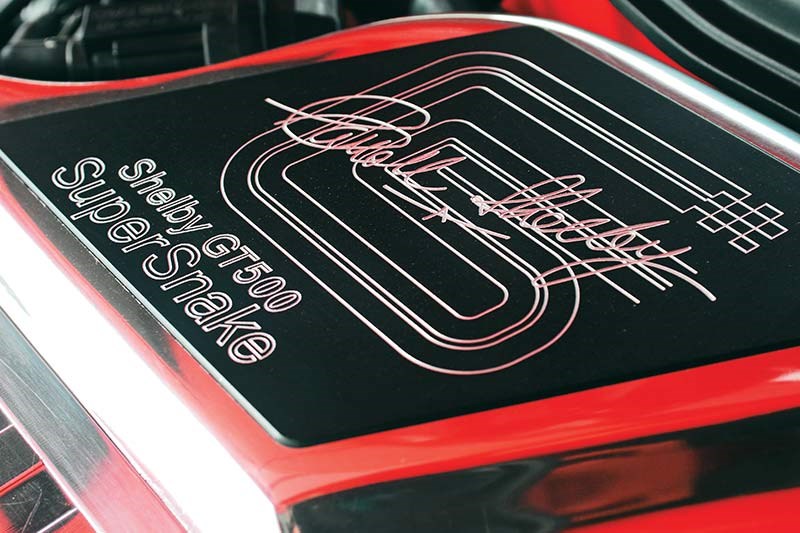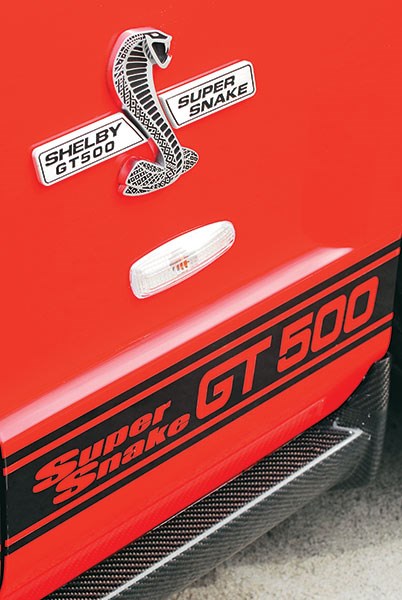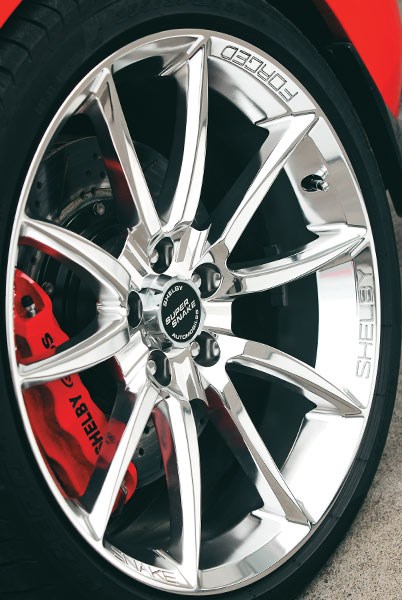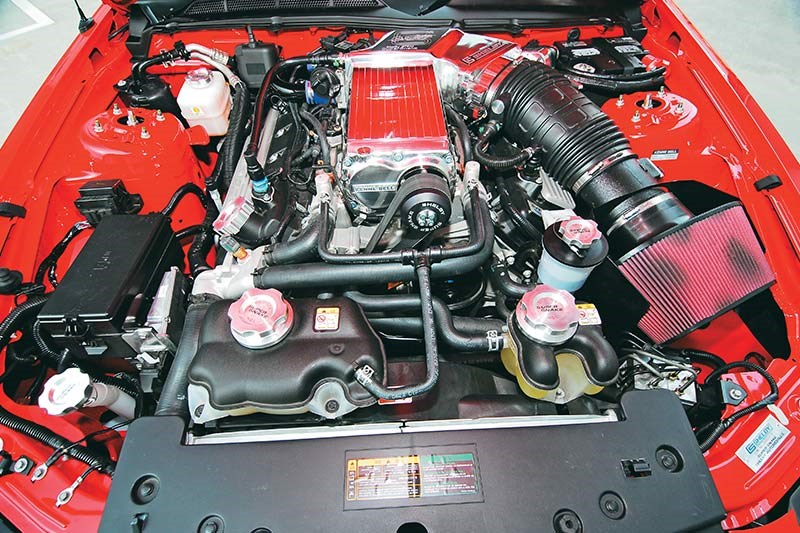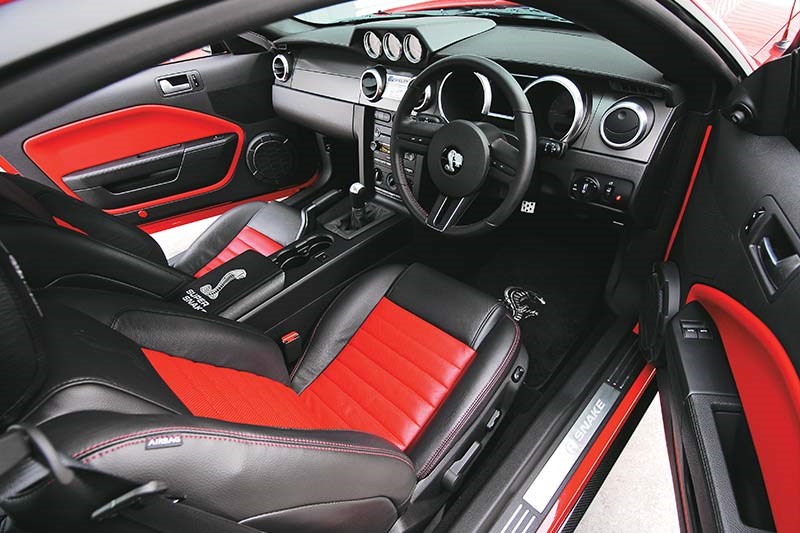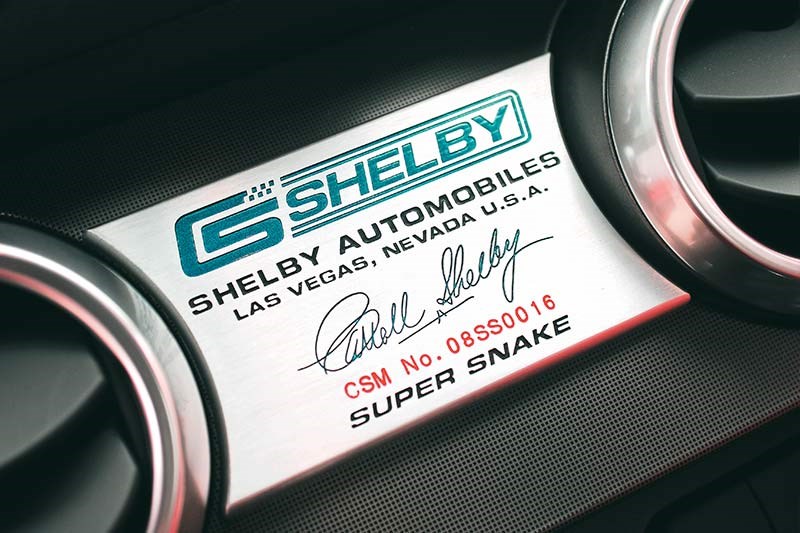 Time has done nothing to tame Shelby's thirst for power - not if this 541kW monster is any indication
From the archives: First published in Unique Cars issue 293, Dec 2008
2008 Shelby GT500 Super Snake
If it's true that you can never have enough horsepower, but also that power corrupts, then I'm the most satisfied rev head in Australia but also heading straight for a prison cell.
I'm sitting behind the wheel of the maddest, baddest, latest-generation Mustang currently available. Freshly converted to right-hand drive by Mustang Motorsport in Melbourne, and one of two in the country, this pumped-up, blinged-out and mega-powered muscle machine has had the magic wand treatment from legendary muscle car magician Carroll Shelby, not unlike what ol' Shel did back in the 1960s with the original tyre-shredding Super Snake Mustang and Cobra.
About 15 minutes ago, owner Craig Dean was smoking up the rears in a normally quiet industrial estate for snapper Stuart Grant, punching the rear out with gay abandon and ripping rubber from the licorice-thin Pirelli P-Zeroes at will. All the while simultaneously snapping my head back repeatedly into the cushioned, Super Snake-monogrammed, headrest of the passenger seat in an almost enjoyable form of reverse whiplash.
| 2014-15 Shelby Mustang review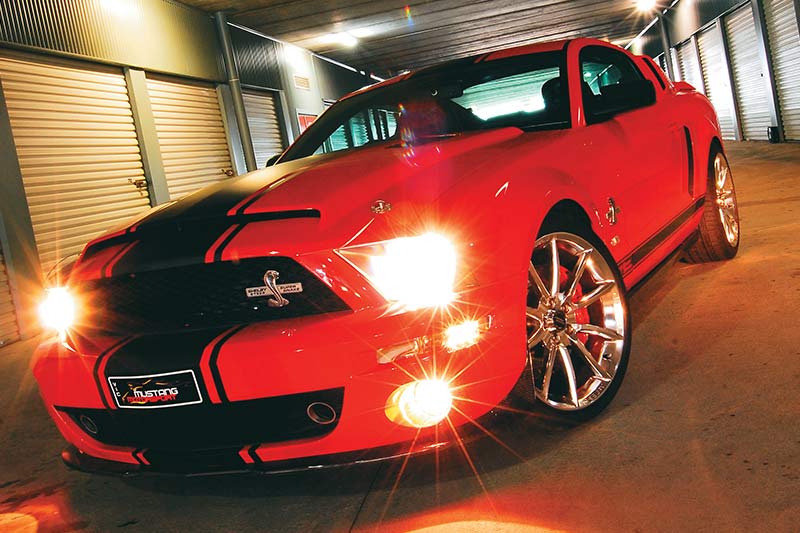 Now I'm sitting in the snug Shelby trimmed driver's seat, gripping the nicely contoured leather steering wheel, and contemplating 541kW (720hp in the old scale) and around 786Nm at my disposal under my right boot.
Slipping out into peak hour traffic, the Mustang is remarkably docile at low speeds, more Shetland pony than snorting stallion. The clutch pedal is light, the throttle smooth, short-shift manual slots easily, and the massive brakes are reassuringly responsive. Just what you'd expect from a modern, fuel-injected coupe.
But squeeze the go-pedal beyond quarter way and all hell breaks loose, the Super Snake accelerating in a violent, F16 Hornet-like rush. When combined with oh-so-stiff, teeth-rattling suspension, and incessant gear whine and supercharger howl like a vacuum cleaner on crack, I'm instantly transported back to the 1960s when bad ass, fuel-guzzling muscle cars ruled the roads.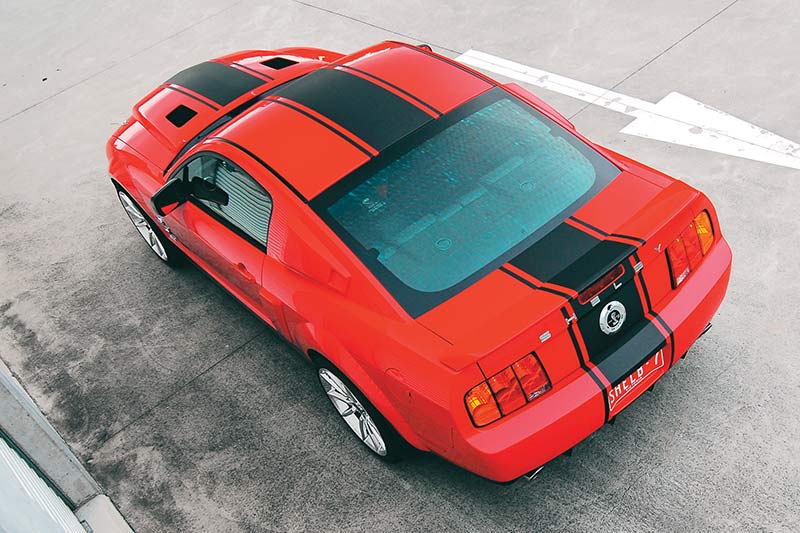 While my short 'test drive' merely hints at its enormous performance potential, and confirms that outright acceleration is limited only by rabid wheelspin, it's clear this red beast gobbles up road space like few cars this side of a Lamborghini or Ferrari.
It also makes the very swift, 310kW FPV F6 sedan I just drove to Mustang Motorsport's workshop, feel like a Corolla running on three cylinders…
Magic touch
Launched in 2004, the retro-styled fifth-generation Mustang heralded a level of excitement and sales flurry almost rivalling that of the original, ground-breaking pony car's at its introduction 40 years earlier.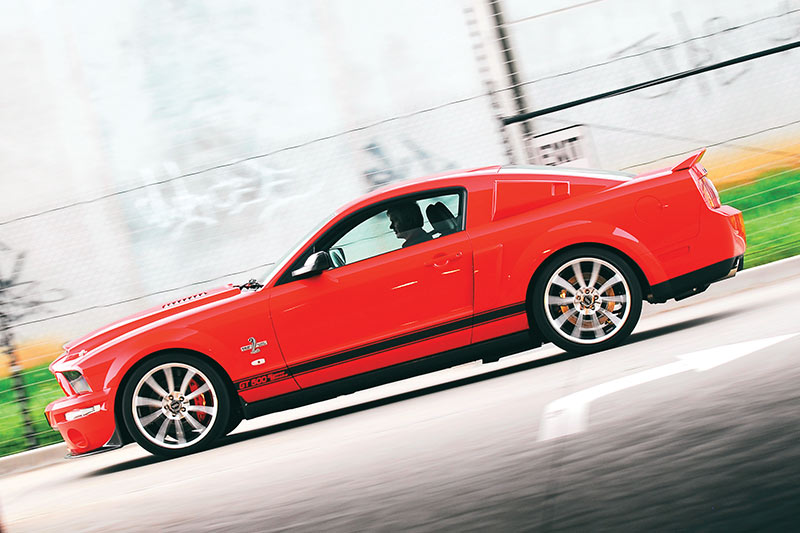 Like the original Mustang which introduced the personal car concept to millions of American buyers, it seems the latest Stang can be ordered to suit almost any taste. As well as countless Ford variations on the theme (Bullitt or Hertz Rent-a-car, anyone?) there are numerous aftermarket hot-shops like Saleen and Roush catering for those who want something a bit different.
But none have gone so far in the modification stakes as Shelby and his Super Snake Mustang. The latest collaboration between Ford and Shelby that goes back to the original Shelby GT350 street racers of the mid-'60s, this steroid-pumped special has more lumps, vents and indentations than a race car; more shiny chrome and bright leather, than an Auto Salon show-stopper; and more neck-snapping appeal than Miss Australia experiencing an on-stage wardrobe malfunction.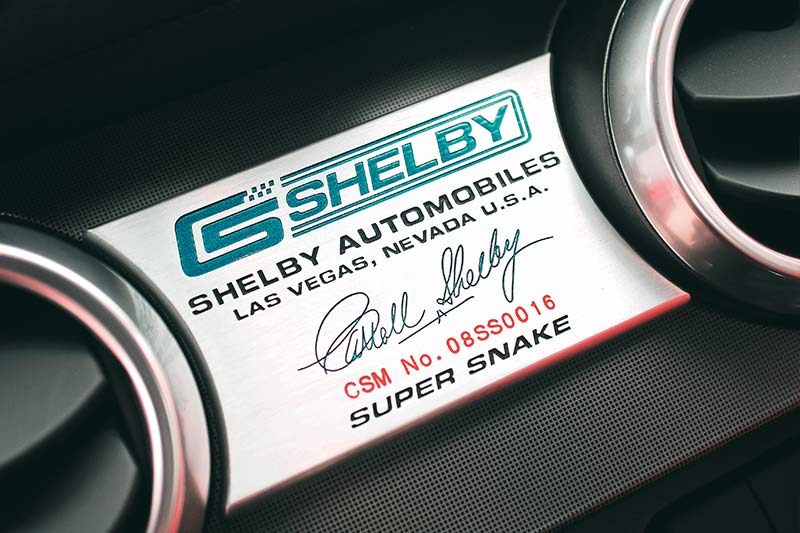 And the best thing is, for collectors at least, that the 85-year-old Shelby has his fingerprints all over the thing, with numerous ID plates and special insignias, including the important serial number and documentation making the car eligible for Shelby club registers.
Like other Super Snakes, Craig Dean's car started life as a 'standard' supercharged GT500, and was built at Shelby Automobiles in Las Vegas. The 16th Super Snake since late-2007, it was a special 'VIP' promotional car supplied by Ford before arriving Down Under.
Priced at an additional US$28,000* over the dealer sticker of $41,930* for the GT500, Dean also made sure just about every option from the Shelby and Ford Racing Parts catalogue available was fitted to the car, from Shaker 1000 stereo to polished Kenne Bell supercharger.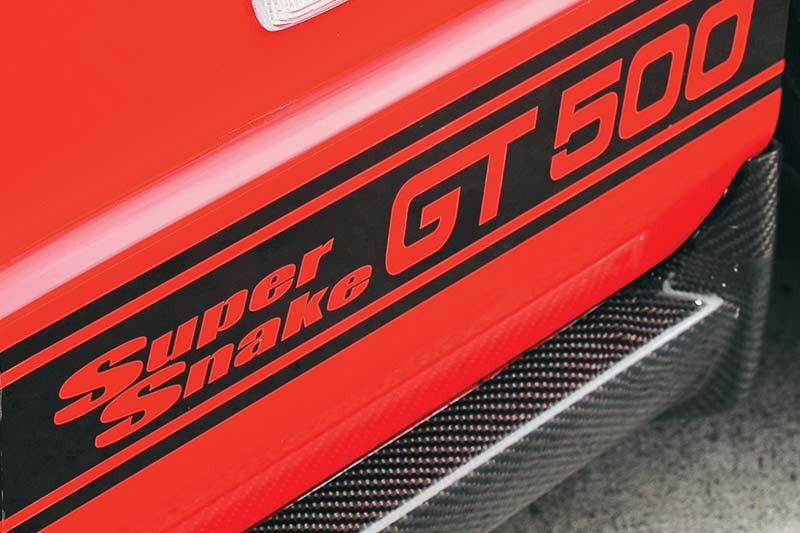 To give it its low, menacing appearance, the Super Snake features a vented fibreglass bonnet, carbon fibre front splitter and side skirts, side scoops, front and rear cooling ducts and black-out stripes and badging.
Filling the huge guards are special, Alcoa forged alloy wheels; 21 x 10-inch with 275/35ZR rubber in the rear, and 21 x 9 with 255/35ZR tyres up front.
The Super Snake also benefits from bigger brakes incorporating Baer six-piston front callipers, aluminium driveshaft and 3:73 rear axle, JBA exhaust system, and six-speed manual transmission with Ford Racing short-throw shifter.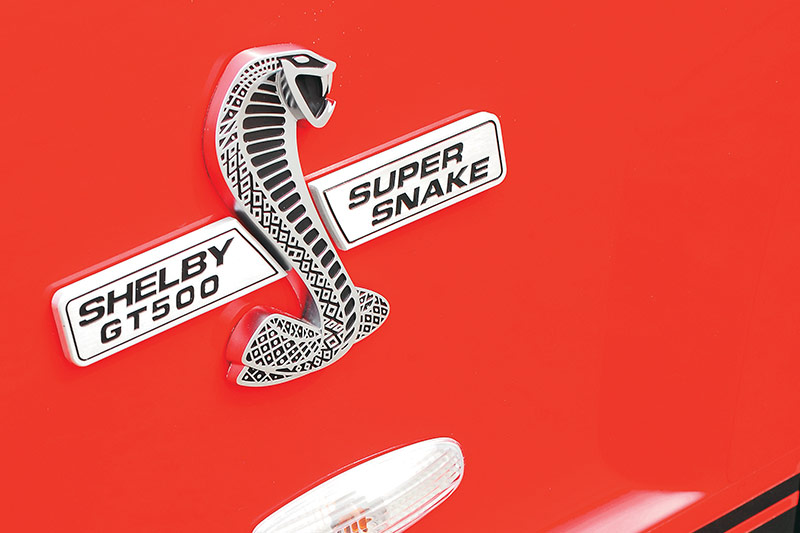 The track-oriented suspension set-up comes courtesy of adjustable shocks, stiffer springs, larger-diameter anti-roll bars and a front strut tower brace.
Inside, there are more snake emblems than a wildlife park, with instruments, head rests, floor mats and sills all 'Super Snaked'. Taking attention away from the sporty red and black leather trim, is a special centre cluster on the dash displaying boost, fuel and oil pressures, plus a dash plaque with unique serial number.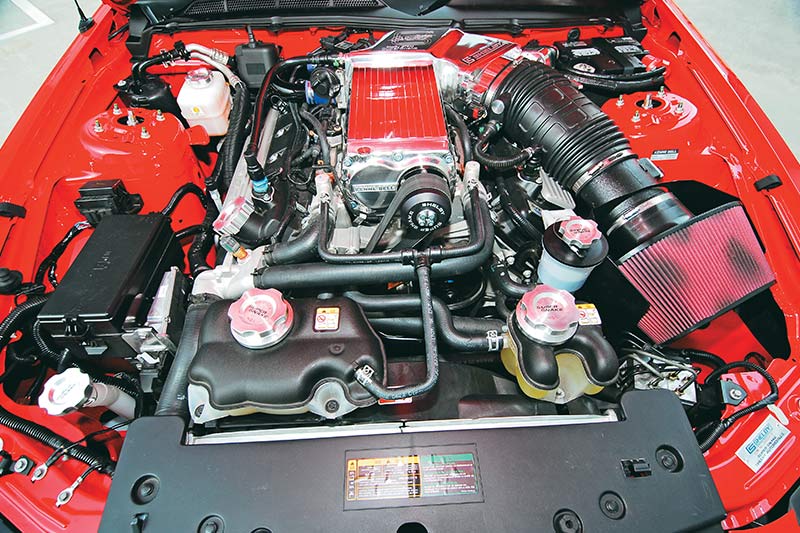 But it's under the bonnet where it really gets silly. Super Snake customers have the choice of two supercharged versions of Ford's 5.4-litre V8: the 447kW comes with a Ford drivetrain warranty, or there's the 'you're on your own' 541kW-plus version complete with Kenne Bell twin-screw supercharger – that's about 140kW more than Ford's new Mustang GT500KR!
Of course, Craig Dean threw caution (and money) to the wind and chose the non-warranty, 541kW option, for the simple reason that "you can never have enough horsepower".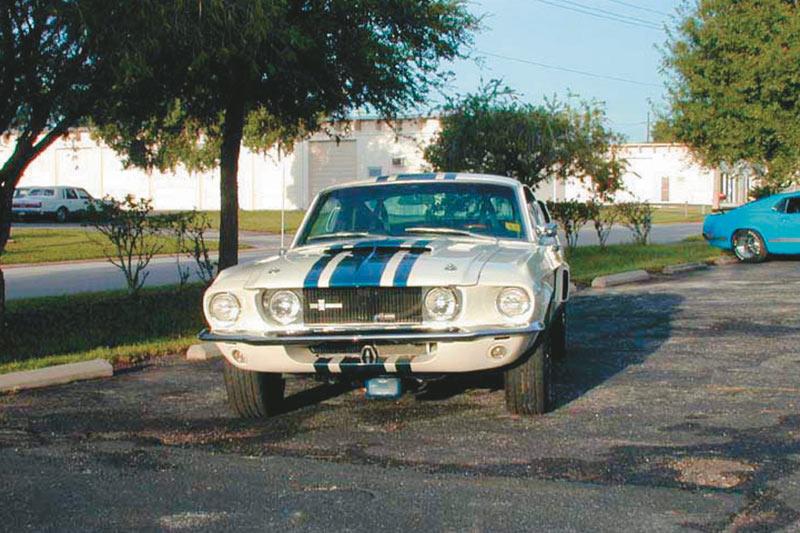 Original Snake
This Super Snake was inspired by the original, one-off Mustang of the same name (above). In 1967, Shelby American built a solitary 427-powered GT500 Super Snake for Mel Burns Ford. Carroll Shelby subsequently drove the beast at the Goodyear test track, clocking speeds of up to 170mph (278km/h) while being filmed for a tire promotion.
The car was intended to be the first of 50 but no other Super Snake was built due to the prohibitive retail price of $7500; a 427 Cobra could be bought for roughly the same amount.
| 1965-66 Shelby Mustang GT350 review
Shelby also built two Super Snake Cobras, one of which was his personal car. Fitted with a twin Paxton supercharged 7.0-litre V8 good for 597kW, the roadster could blast from zero to 100km/h in just over three seconds and reach a top speed of 320km/h.
One of these crazy Cobras sold for US$5.5million at the 2007 Barrett-Jackson auction in Arizona.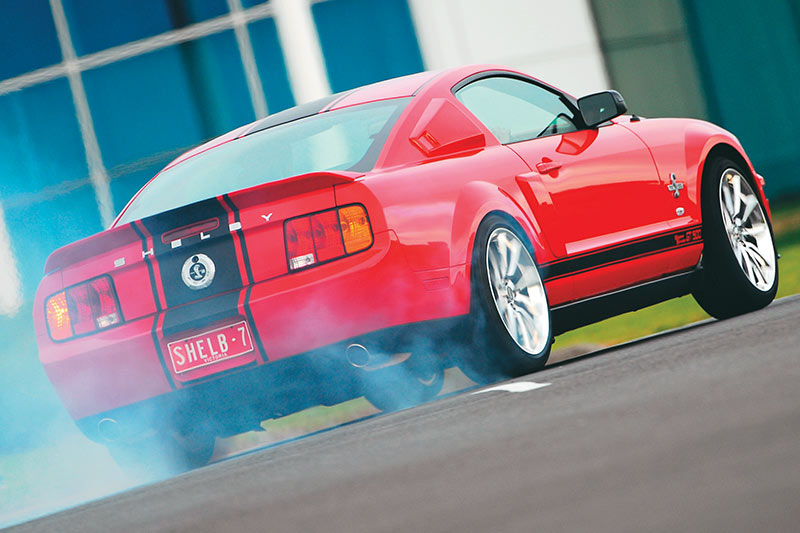 Taming the Beast
Dean has driven a few wild Mustangs in his day, including his Saleen-spec rally car, but admits the Super Snake is something else.
"It's just a wild thing really, as far as its handling and driveability," he explains. "But once you're used to it, it's as sedate as anything else you drive, you just don't use as much throttle position.
"As far as a daily drive car, I reckon it's great. It's just a little bit hard to stick to the speed limit though, because you feel you want to open it up every time you hop into it.
"I took it out to Calder the other week and gave it a run around and it was quite fun. I'm not sure what speed I got it up to; when you're going that quick you're too busy concentrating on what you have to do to take notice of the speedo.
"You certainly have to make sure you can drive to even use it; you have to treat it very carefully, if you're not experienced with it. It's got that much grunt it just wheelspins in first, second and third anyway."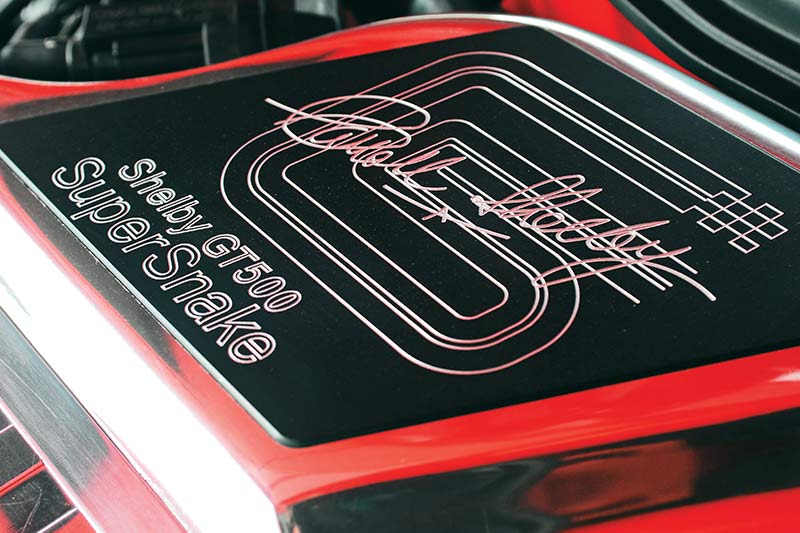 So how does it compare with your competition Mustang, Craig?
"My race car is putting out about 560hp (417kW); they're different cars. You can tell the engine in this is 200kg heavier than my race car's, in the way it drives. The race car has a 4.6-litre, all-alloy block, so of course if you did a rolling run with the two this would leave the race car for dead.
"The race car is also purpose-built and would out-handle this car; with the changing of mass, the lighter you can get your car the better it will go. It still handles great, but the race car would be easier on tyres and brakes."
Dean reckons the Super Snake stops people in their tracks, judging by the reaction whenever he drives it in public.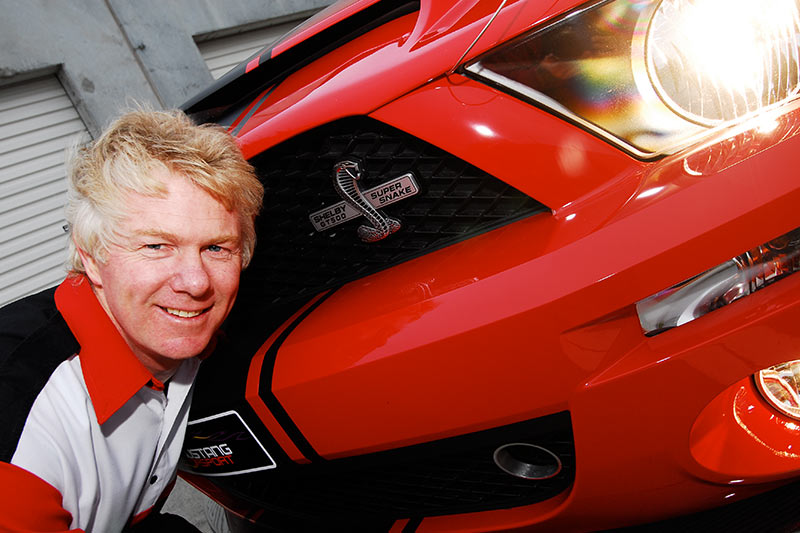 "Everywhere you go people want to photograph it and talk about it. They really appreciate it," he says. "I've driven Mustangs for quite a while now and I don't know any other car like it, except for the Ford GT. People just love to chat about it and say it just looks awesome."
While clearly besotted with his company's flagship vehicle, Dean is more than happy to pass it on, with $300,000 the on-road price for this type of muscle car lunacy. You'll have to wait, though, as the unique right-hooker is currently touring the US, dropping into the SEMA show in Las Vegas.
One thing's for sure. If you've got the readies and the bravado to own the most powerful 'factory' road-registrable car in Australia, the Super Snake should provide as much grunt as you'll ever need, serious bragging rights at the pub, and pretty solid collectible status down the track.
That is, until Shelby and Ford get together and concoct something even more insane…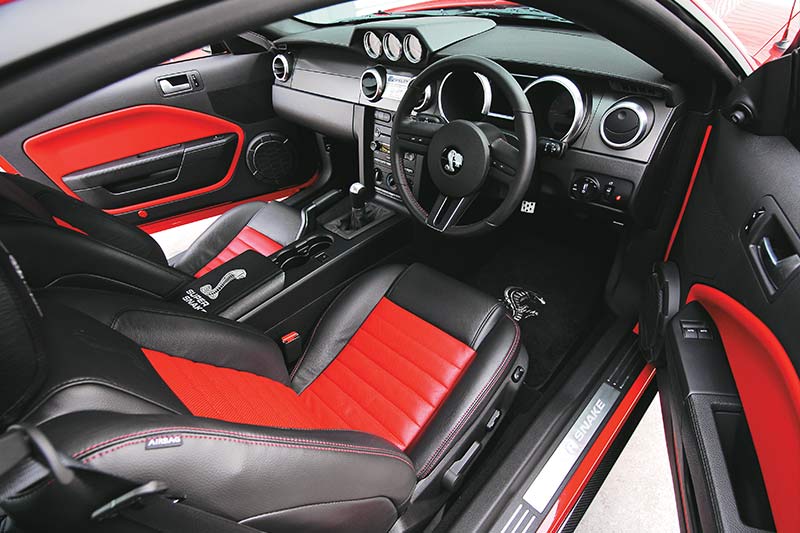 Shelby GT500 Super Snake Specs
Body: two-door fastback
Weight: 1857kg
Drivetrain: front eng, RWD
Engine: 5.4-litre V8, supercharged
Transmission: six-speed manual
Power/torque: 541kW/786Nm
Performance: 0-100km: 4.3secs. 0-400m: 12.5secs (447kW version)
Price: $300,000* (RHD) – contact Mustang Motorsport, (03) 9753 5799.
* Prices quoted as at 2008
Unique Cars magazine Value Guides
Sell your car for free right here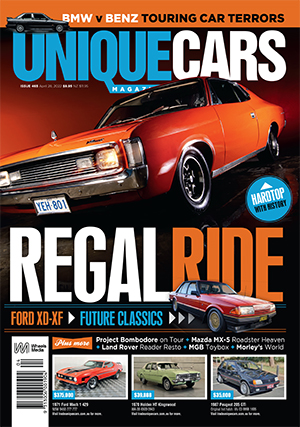 SUBSCRIBE TO UNIQUE CARS MAGAZINE
Get your monthly fix of news, reviews and stories on the greatest cars and minds in the automotive world.
Subscribe