Aston Martin DBSZ Concept
---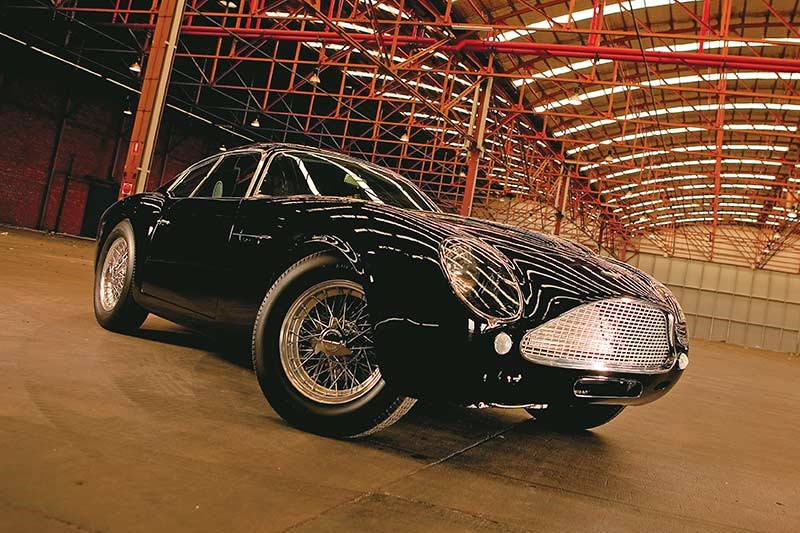 From the archives: A Melbourne enthusiast recreated the most stunning and sought after Aston Martin of them all
First published in Unique Cars issue #270, Feb/Mar 2007
Aston Martin DBSZ Concept
Zagato's interpretation of the DB4GT is consistently voted one of the most beautiful cars of all time. Just look at those lines; it would be hard to describe them as anything but perfect.
The car looks like black Sambuca poured straight out of a bottle, carefully treading the line between sublime sexiness and brute force. John Bolster, doyen of UK motoring journalists described it best: 'Fierce beyond belief' was his summation.
Yet it's ironic that the most desirable road-going Aston Martin ever was a dismal sales disappointment in its day.
Aston Martin simply couldn't sell the expensive coupes when new and while 23 were slated for construction, only 19 were built; the last few being offloaded to London dealership HWM to sell as a 'job lot'.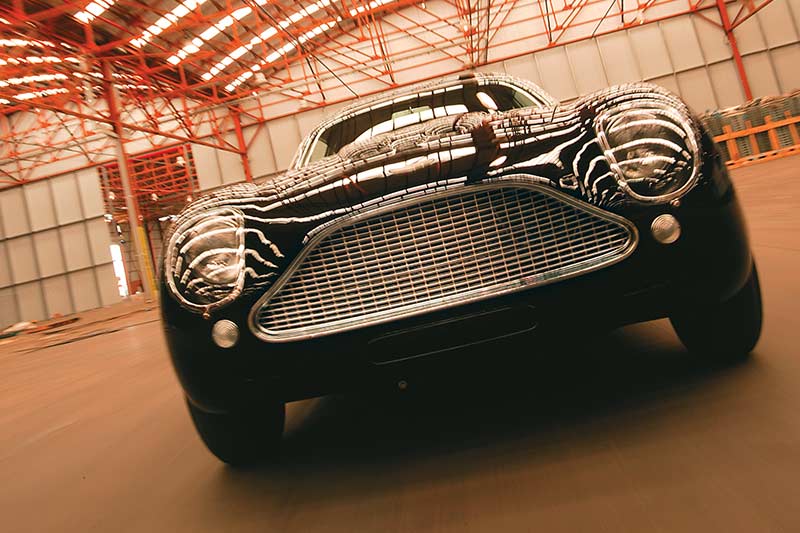 Styled by coachbuilders Touring of Milan the stylish DB4 arrived in 1958 and the short-chassis DB4GT debuted at the London Motor Show the following year. Designed as a production road-racer and shortened by 127mm in both length and wheelbase an intended production run of 100 cars ensured homologation for competition. They were highly sought after, even at £4534 and were raced by the likes of Stirling Moss, Inness Ireland and Jim Clark.
The following October, again at the London Motor Show a special edition DB4GT was shown with lightweight aluminium coachwork styled by the Milanese coachbuilding firm Carrozzeria Zagato. The idea to go with a limited run was a sighting of the Zagato-bodied Bristol by Aston's management.
The work of young stylist Ercole Spada, who joined Zagato in February 1960, it was one of his first designs and probably the one he is best remembered for. He later went on to style the Alfa Romeo Junior Z and Lancia Fulvia and worked for Ford and BMW among others.
The intended run of 23 Zagatos came within the original 100 DB4GT chassis numbers. But the astronomical price tag of £5470 and the much cheaper Jaguar E-Type scuttled that idea and Astons sold what they could, abandoning the rest.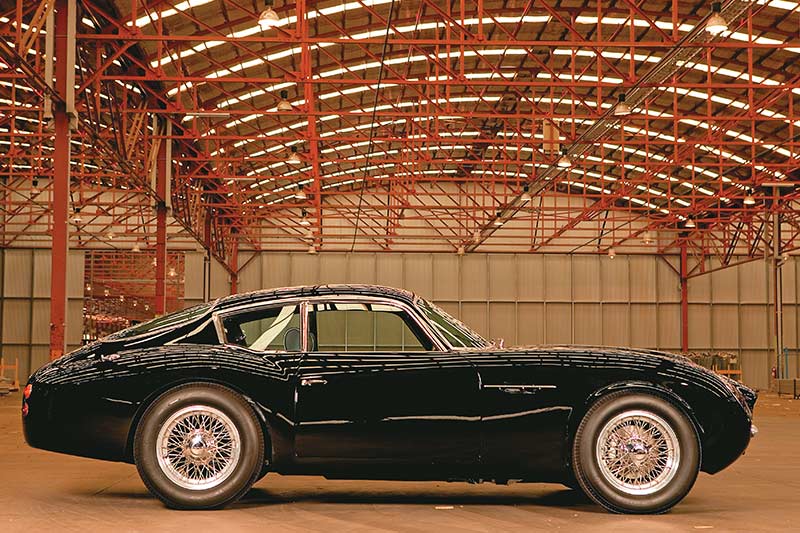 Inspired by the original, DBSZ Concept beautifully mates best of the old and new - aluminium has never looked this good
Part of the car's enormous price tag can be explained by the convoluted manufacturing process. The running chassis was completed by Aston Martin at their factory in Feltham. These were then shipped over to Milan where the bodies were hand beaten onto the lattice framework. Most were then shipped back to Astons to be painted and trimmed; it is thought five were completed by Zagato.
What is intriguing is that of the 19 cars built each was subtly different; at least one was fitted with rear seats and one had exposed headlights. Other differences included subtle changes to grille and air intake shapes; some had longer noses, others higher backs and lower roofs, while some were built with even lighter gauge aluminium.
Originally equipped with a David Brown four-speed manual gearbox and powered by an Aston Martin-designed 3.7-litre straight 'six' engine with a higher compression twin-plug head and triple Weber carburettors the Zagato was said to develop 314bhp (234kW) – in truth it produced 272bhp (202kW) and 339Nm.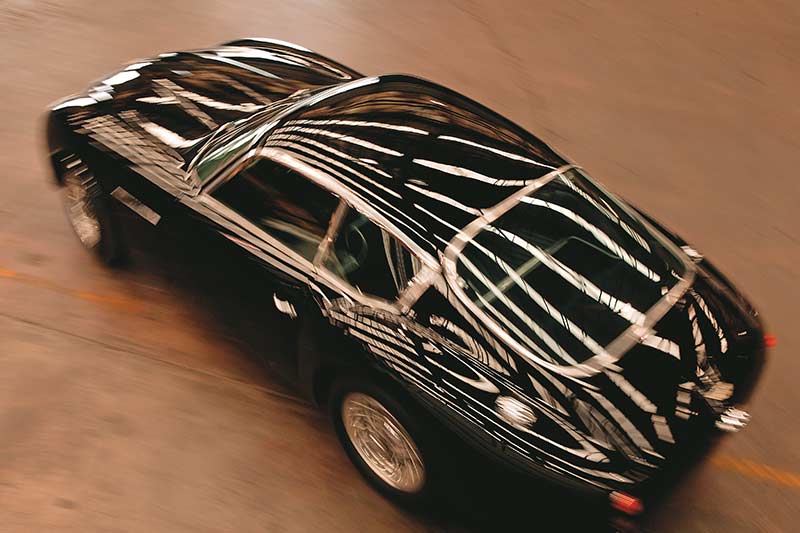 Perfectly proportioned DBSZ Concept looks even better on the move
Nevertheless 0-96km/h came up in only 6.1secs, the quarter mile was accomplished in 14.5secs and the car had a top speed of 153.5mph (247km/h) which was pretty hot shuffling for a road car back in 1961.
It was built upon a steel box-section chassis with a steel superstructure clothed in delicate aluminium coachwork. Borrani 16inch alloy wheels with Avon Turbospeed tyres were used along with Girling disc brakes all-round. The boot contained a gigantic 136-litre fuel tank and a spare wheel with about enough extra room for a chocolate bar.
To save weight fine gauge aluminium was used for the body, a spartan interior incorporated and the rear and side windows were made from perspex. Sadly the car was still far from lightweight though hitting the scales at 1157kg.
The Zagatos were built with racing in mind but with Aston Martin pretty much out of full-time competition by then it was left to privateers to race the exotic cars. They were campaigned at the big ones – Le Mans, Goodwood Tourist Trophy and Monza but up against the mighty Ferrari 250 GTO were largely unsuccessful.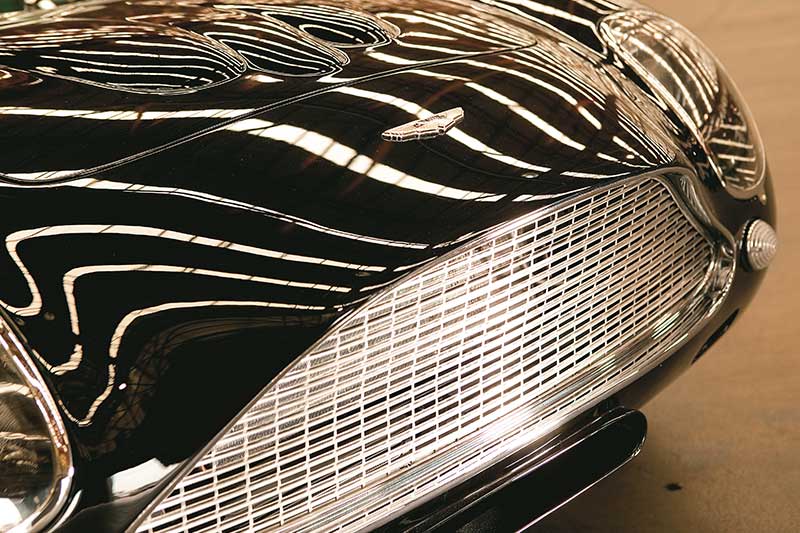 There is an Australian connection here, however. Lex Davison and Bib Stillwell competed in the 1961 Le Mans 24-Hour in a DB4GT Zagato but head gasket problems put them out of the race at around the two-hour mark. It was Davison, however, who gave the Zagato one of its few outright victories of any note when he won a GT race at Aintree.
But the lack of racing success hasn't lessened the appeal of the Zagato. Like all great legends its reputation has grown over time as has its price; it consistently out-sells most of its contemporaries. Around A$3-4million might be enough to acquire one; that's if you can convince the owner to part with it. Oh, and there are none in this country.
But the Zagato story doesn't end there. In one of the auto industry's most extraordinary tales 30 years after going out of production the final chassis numbers were allocated. Conscious that DB4GT Zagatos were fetching up to £1.7million at auction in the late-'80s Aston Martin and Zagato were 'reunited' and the four un-built 'Sanction II' cars were completed in 1991. Cheekily a further two Sanction IIIs were constructed in 2000 – and all with Aston's blessing. But finally, we are told, that's it.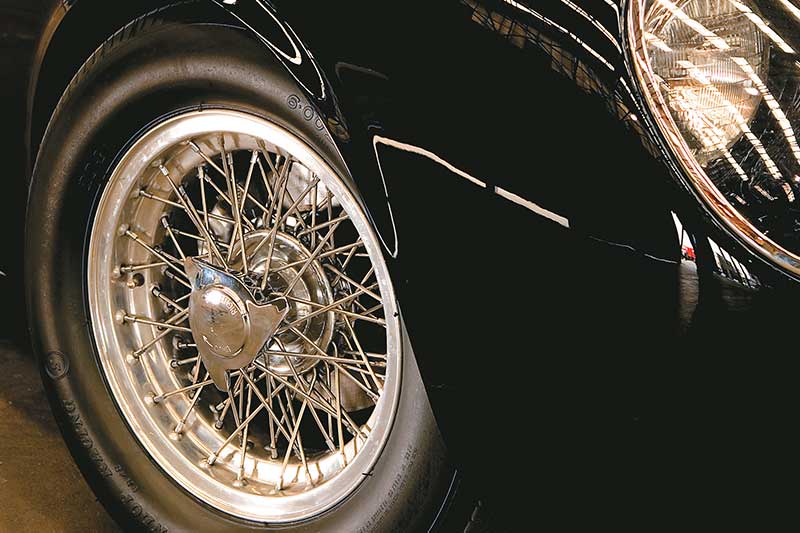 Even with the Sanction II and IIIs included 25 cars is simply not enough to satiate world-wide demand, creating a burgeoning trade in recreations. Businesses, mainly in the UK, will happily chop up your DB4 and, for a price, deliver a Zagato copy. Problem is that even these copies are worth more than $1million.
An original Zagato came to Melbourne new but returned to England in the 1990s and is unlikely ever to return. And therein lies the rub. With only 19 originals available and costing the price of a complete outer suburb the chances of owning one are as slim as Kylie winning an Oscar. So what to do?
Enter Australia's foremost Aston Martin expert Paul Sabine. He'd already built a faithful recreation of a 'standard' DB4GT in the late-'90s and had wanted to produce a Zagato-inspired car for years. But he needed someone with expertise to undertake the complicated bodywork and a few firm orders to help make production of the DBSZ Concept viable.
Back in 2004 he was in discussions with an Aston enthusiast who mentioned that he would like a Zagato copy. So Sabine engaged the services of Van Duin, specialists in aluminium bodywork and owned by Henk Van Duin. His son Paul performed the skilled panel work, whilst his other son Mark did much of the fabrication.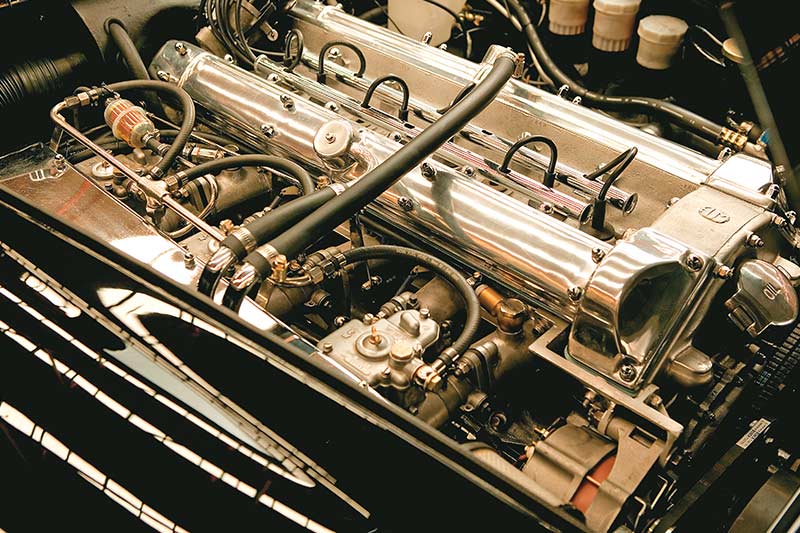 Aston-designed straight 'six' has been 'warmed' over to produce 230kW ensuring outstanding performance
Where the idea had particular appeal was that Sabine could have the job done in-house for less than half the price of his European rivals, and it is in that market that he hopes to have some sales.
One of the easiest ways to keep the cost down was to base the new car on a DBS rather than the earlier DB4. With good DB4s selling for well over $200,000 a neglected DBS for $40K makes much more sense.
Using an altered DBS floorpan prepared to DB4GT specification Sabine can incorporate the later car's superior de Dion rear end and all the original pick-up points endowing the new cars with fine handling. The DBS also had the last development of the DB4's original engine, which was enlarged to 4.0 litres for the DB5, DB6 and DBS so torque would be better than the original.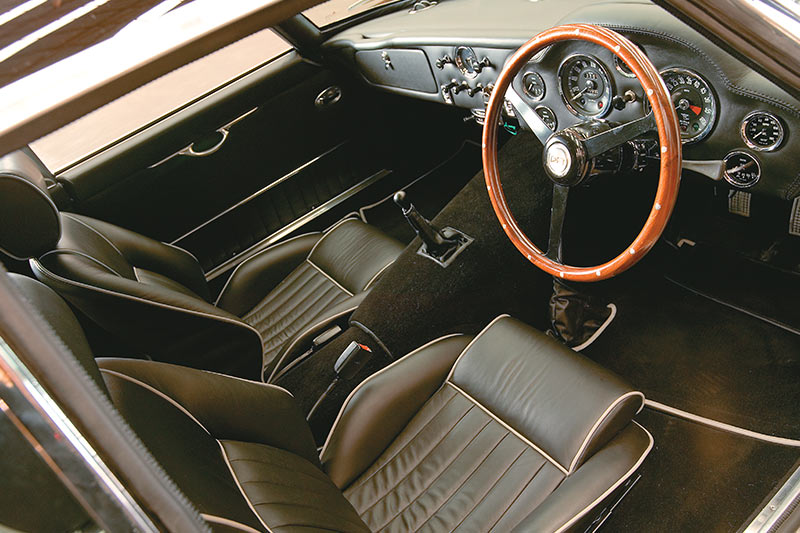 Interior has period ambience yet discreet modern touches ensure greater comfort
"They're not Zagato copies because they are not trying to be exactly like the originals, they're our interpretation of what we would like a car to be," says Sabine. "It's what we think Astons should have done in the first place.
"We researched all the Zagatos and chose two cars that were the most pleasing and through Van Duin were able to produce the desired shape using CAD (Computer Aided Design). We then had made a quarter scale model, made some changes on this and from there had a full-sized buck made in foam. From there we changed a few curves manually to get the shape exactly right. This saved us the expense of building a wooden buck."
The lattice framework was then built up on the floorpan and the aluminium coachwork expertly placed over the top. Although marginally wider than the '60s versions the slightly wider track gives the car a more menacing look and more grip to boot. The complicated glass (perspex, as in the originals, is used for the side and rear windows) was made especially for the project with the guys at Van Duin making sandwich moulds to form the glass.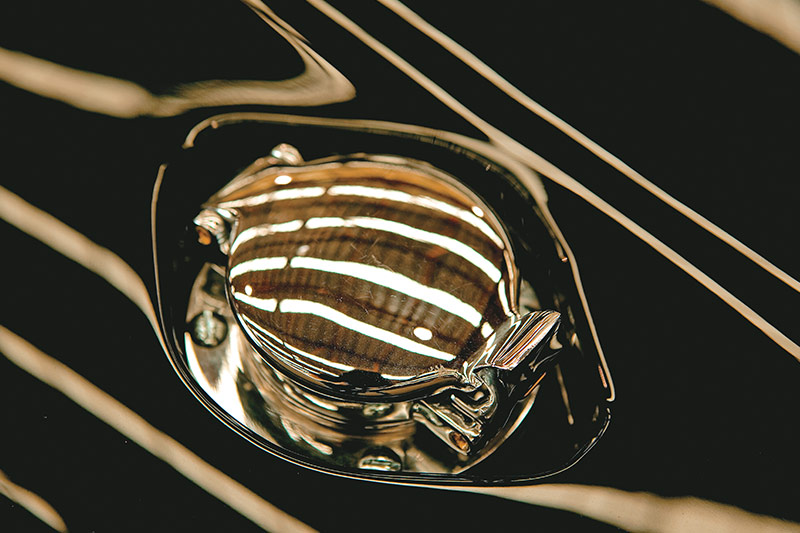 Authentic touches include Le Mans filler caps, period instruments and David Brown badges
A special fuel tank and some of the hardware including the door handles and some interior furnishings are also bespoke, fabricated to sympathetically blend with the period. Our featured car is fitted with Borrani wire wheels but triple lace wires will feature on subsequent cars with Borranis available to order.
The drivetrain is as for the DBS donor car meaning a 4.0-litre 180kW 'six' (203kW in 'Vantage' form) mated to a five-speed all-synchro manual gearbox. Sabine's engines though are fitted with DB4GT pistons and reprofiled camshafts and are ported and polished to produce 230kW. Weight has been kept down to 1420kg ensuring strong performance.
Being built on the DBS platform, which was available with both six-cylinder and V8 engines, the DBSZ Concept can be ordered with either powerplant (the originals had straight sixes).
The V8 produces around 231kW in standard trim and is capable of being developed out to much more so it should power the Zagato to large speeds. One is already being readied for its lucky Sydney owner.
"The V8 versions are going to be the ultimate," says Sabine. "They will have the best body, the best drivetrain; they are going to perform and handle really well."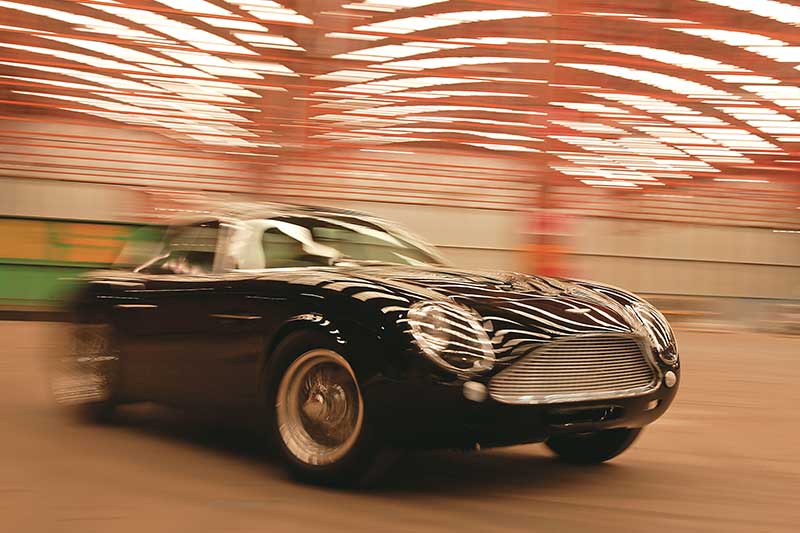 The interior too is not intended as a pastiche of the originals which were pretty spartan to lessen the car's weight. The cosseting seats, which sit low to the ground, were recovered in black leather with contrasting grey piping and the steering wheel is in the traditional style of the DB4, 5 and 6, as are the dashboard instruments. Conveniences such as air-conditioning, electric windows and power steering mean the cars are very usable in modern conditions.
Initially the DBSZ Concept won't be available in turn-key form but will be sold as a chassis with the rebodying work commencing after. Prospective customers can either supply the donor car or Sabine can source one for them.
Asked if there is a market for the cars Sabine says: "We have five sold already and we haven't advertised or even announced the car yet. Plus we think the demand will be largely overseas. Once someone in the UK, Europe or the US converts their currency into Aussie dollars they will see that they can buy these cars for a lot less than they can in their own countries."
Unique Cars magazine Value Guides
Sell your car for free right here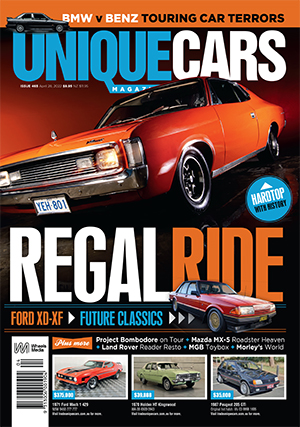 SUBSCRIBE TO UNIQUE CARS MAGAZINE
Get your monthly fix of news, reviews and stories on the greatest cars and minds in the automotive world.
Subscribe