Restomod 1960s Ford Mustang
---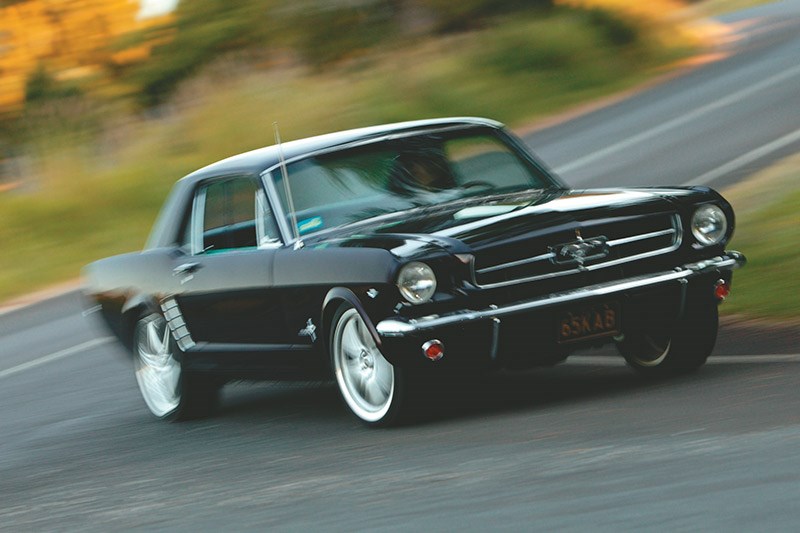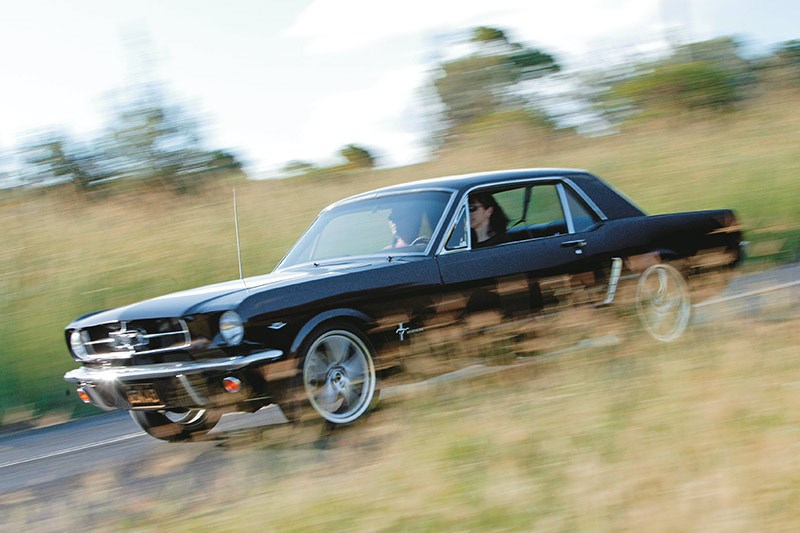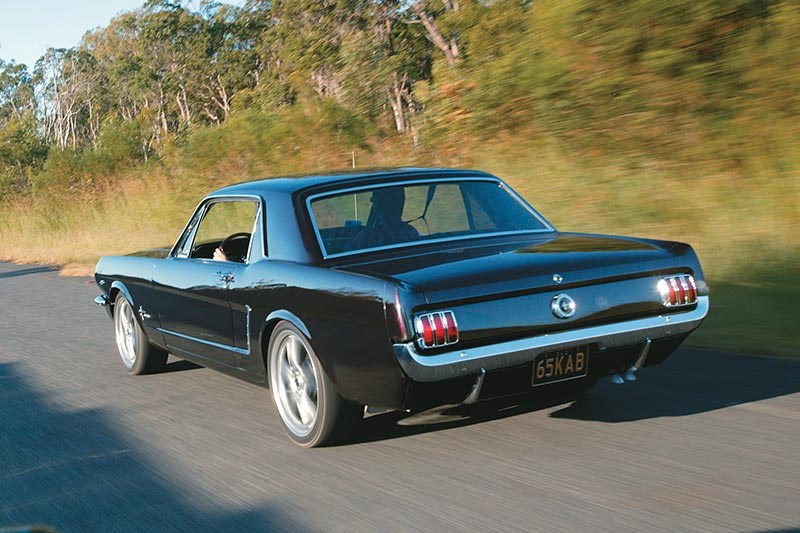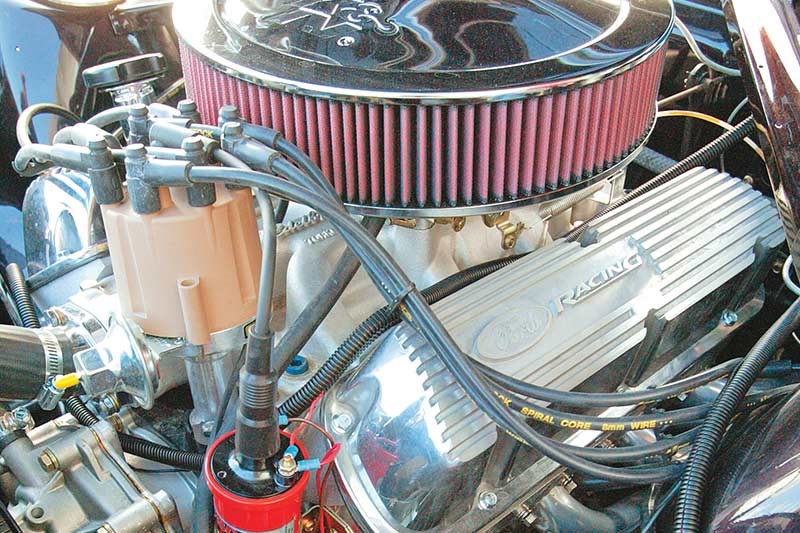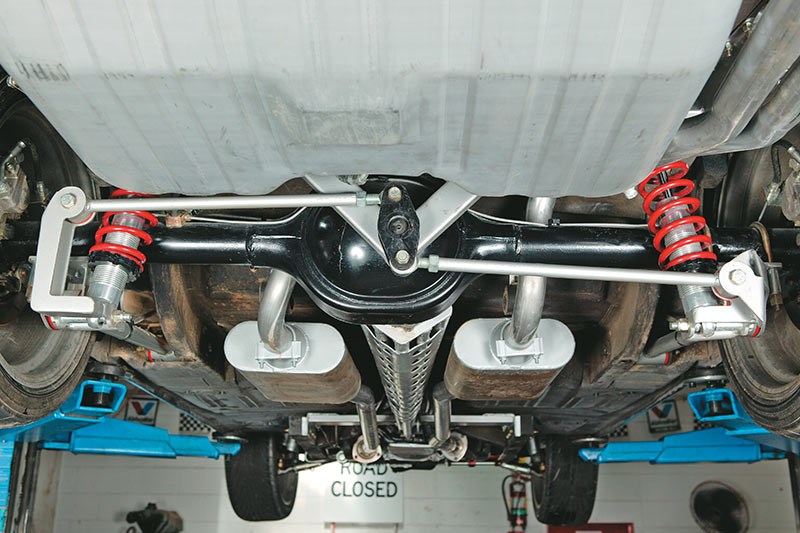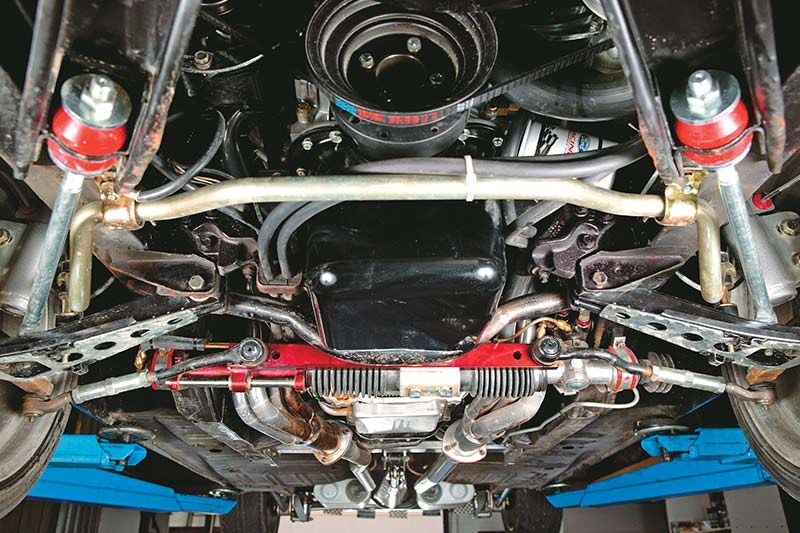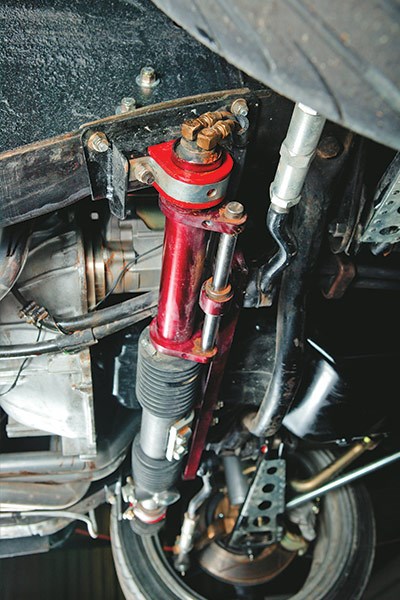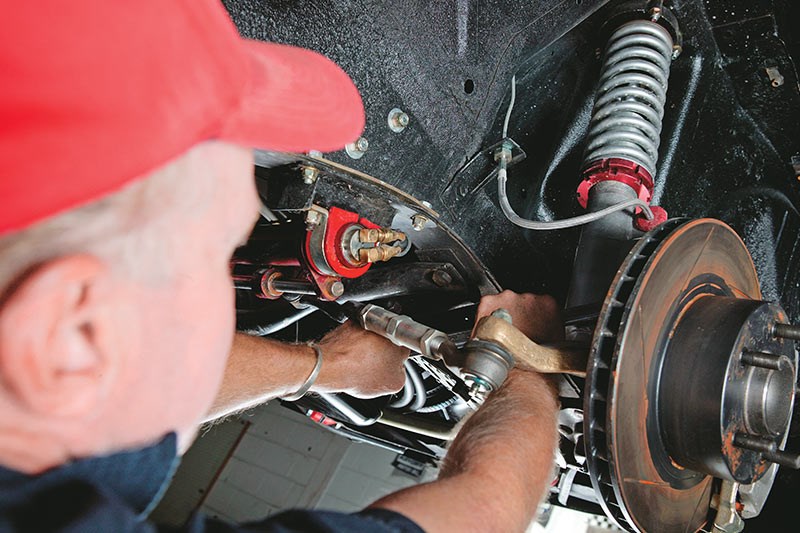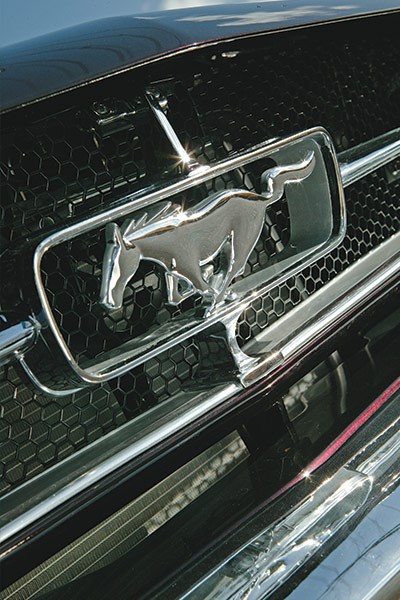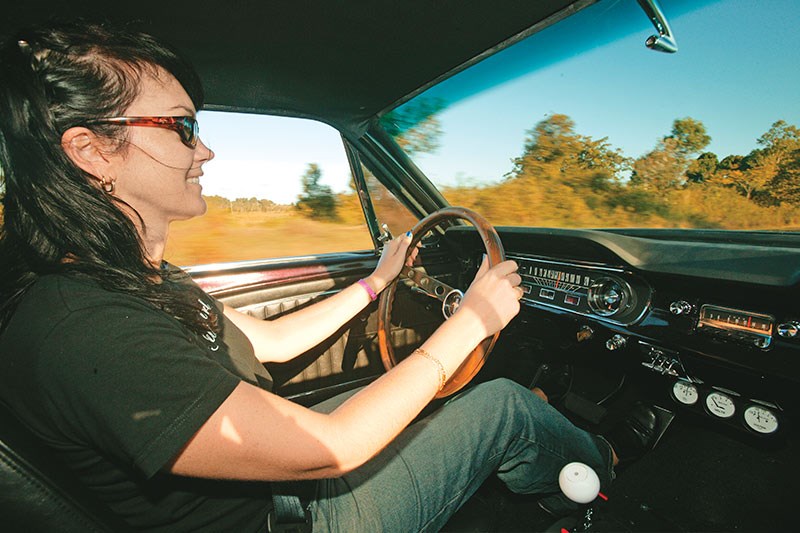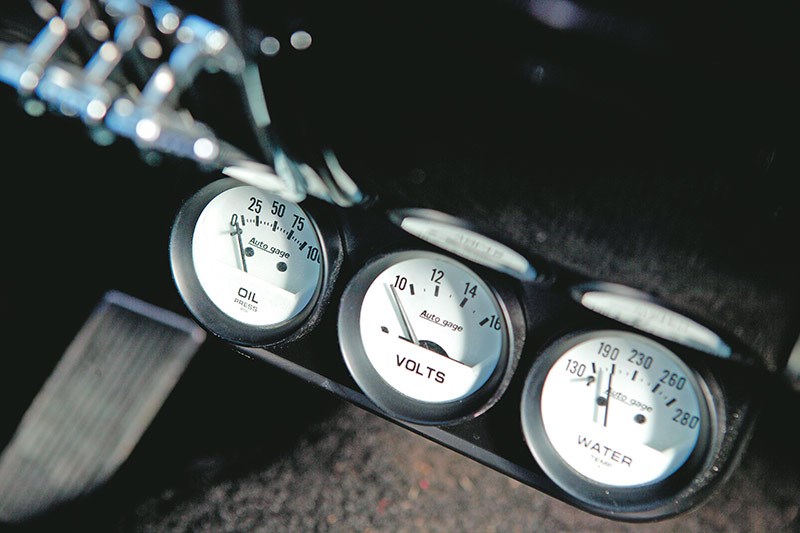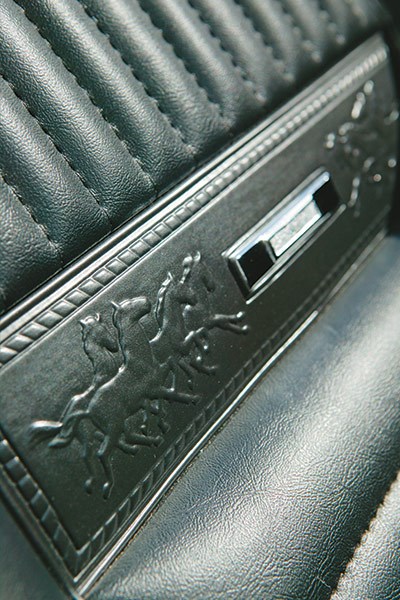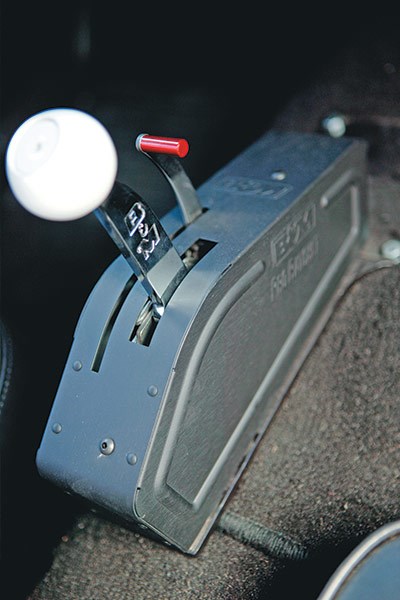 The depth of your wallet is the only thing stopping your classic Pony car galloping into the 21st century
From Unique Cars #271, March 2007 
Modernised 1960s Ford Mustang
Not bad for a secretary's car," said Dale Butel as a perfect Byron Bay sunset washed across the resort town's famous lighthouse and onto a 1965 Mustang that was generating some limelight of its own.
A few metres behind the Mustang stood Kristi-Anne – Dale's wife and owner of the car that had been besieged within minutes of our arrival by a bunch of backpacking admirers.
The obvious attraction is the 'Midnight in Savannah' paintwork which under changing light conditions shifts shade from deep cherry brown through rich purple to almost black. Even Lee Iacocca, who in the early-'60s designed the Mustang as a car that "a secretary might drive to work" would have been impressed.
| Workshop: Digital dashes for US classics
What the onlookers could not know was the engineering transformation hidden beneath the perfect paintwork, ensuring that this Mustang remains viable and usable for decades to come.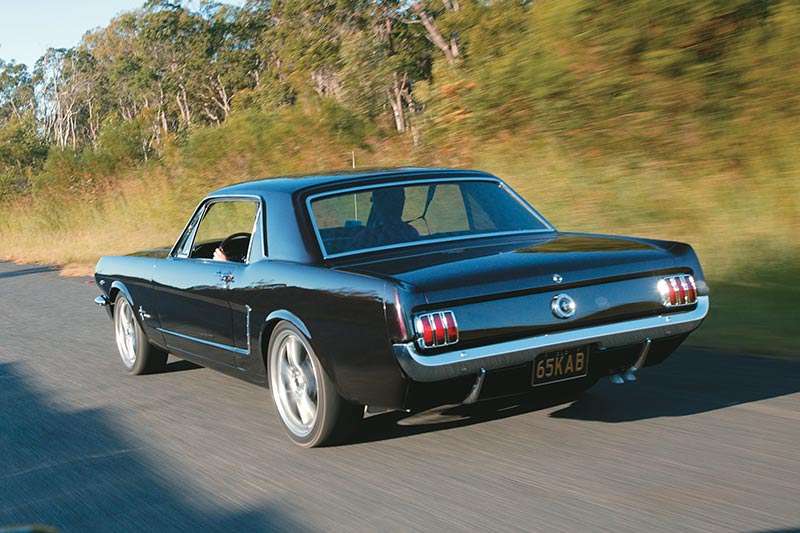 "It was our honeymoon car and her name is 'Savannah'," Kristi-Anne said. "I had always wanted one so we bought it on eBay and a friend picked it up and registered it for us."
Two days after the couple's wedding on the beach at Byron Bay they were in Riverside, California where they took possession of Kristi-Anne's "dream car" before heading off on a tour that took them into Death Valley, to the Grand Canyon at dawn and spend 12 days following remnants of the famous Route 66. Along with the heat, scenery and isolation came first-hand experience of the Mustang's inherent appetite for hard work.
| Workshop tips: Car interior restoration
"We didn't know when we started that the radiator was 75 percent blocked but it took us everywhere and except for some fuel vaporisation when it got really hot it didn't let us down at all," Kristi-Anne recounted.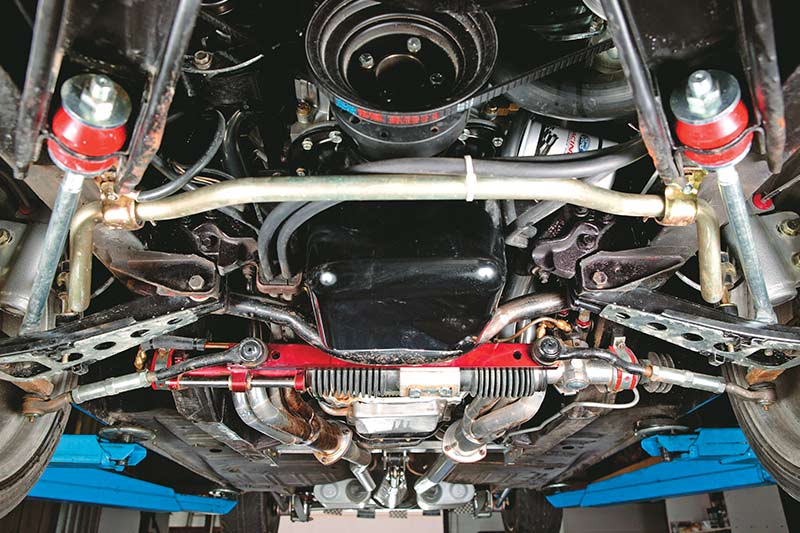 Back in Australia, the Mustang was used daily for 14 months before the time came to undertake a complete restoration and make some changes that would enhance its comfort and safety.
"We live in a semi-rural area and the road is pretty rough," Kristi-Anne explained. "The car with the standard suspension used to jump around over the bumps, the steering was pretty awful and the drum brakes were worse. To stop it in a hurry you needed to stand on the pedal with two feet, so that had to change."
Before even beginning their offshore search for a car, the Butels had been in contact with Shane Imeson, whose Byron Mustang has recently been appointed a distributor for the RRS range of upgraded suspension and braking packages for late-'60s US Fords.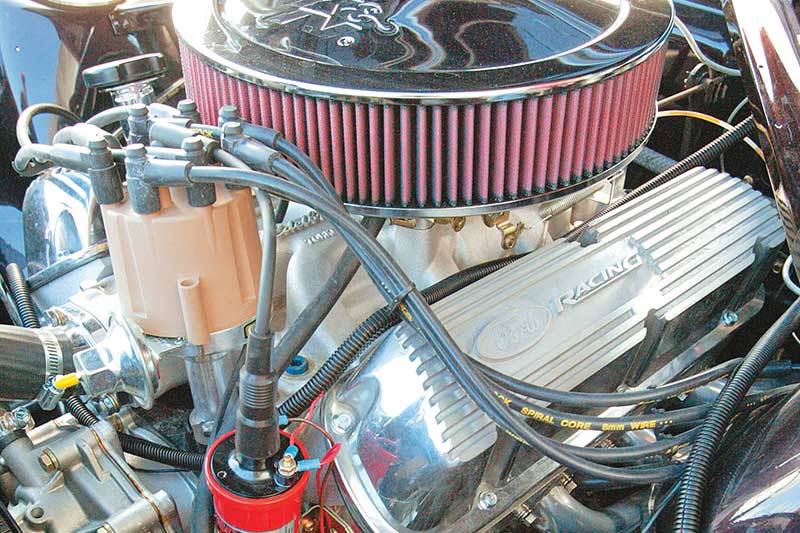 Greater performance is usually the first place to start - a crate 302 is a hassle-free option
"We had seen Shane's work and the quality of the cars he produced and decided that we wanted him to do our restoration," Dale said. "Then when we found he could supply the components we needed to dramatically improve the braking and handling as well we decided to go all the way".
During the past eight years, Imeson has restored and rebuilt seven Mustangs. He previously worked in the building trade but converted his hobby into a business, working in conjunction with Byron Classic Paint and Panel to produce cars of exceptional presence.
"I've used RRS components on cars I've restored since their early days and always been a fan of their stuff," Imeson said. "Recently I've been appointed Northern Rivers distributor for RRS and this is the first customer car I've done.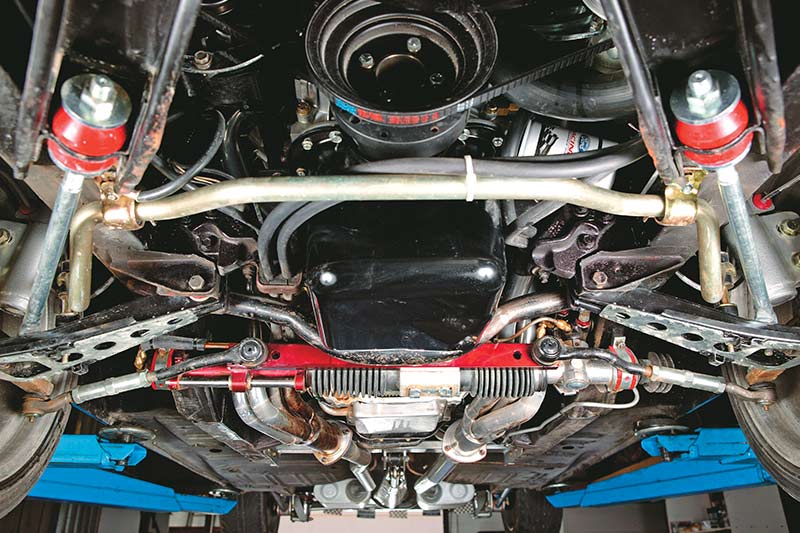 Handling and ride can be improved dramatically with modern technology; think about the whole package - wheels, tyres, suspension
"It's got the full treatment – coil-over shocks and springs, power rack and pinion steering, four-wheel disc brakes and the rear suspension upgrade which will completely transform the way the car steers, stops and handles."
Practicality played a role in other aspects of the Mustang restoration as well. The engine is a 'crate' 5.0-litre V8 supplied new from the US with ULP-compatible cylinder heads and a 650CFM carburettor. The radiator is out of a Commodore while the RRS-supplied brake rotors are the same as specified for current BA Falcon XR8s.
"The clients wanted a car that was durable and reliable, so we used parts that were easily found and easy to replace," Imeson said.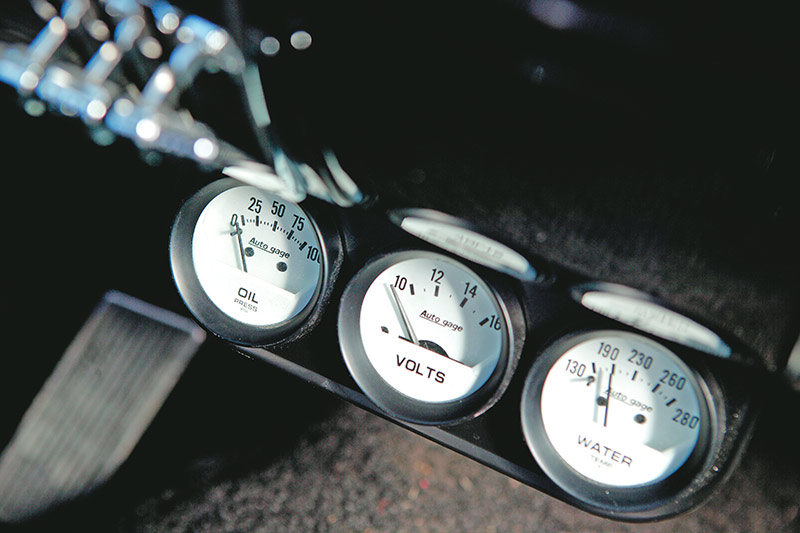 Modern gauges - even digital dashboard readouts - are fairly easy to incorporate
"About the only thing difficult to find was the money," Dale Butel quipped.
RRS is based in Brookvale, NSW and produces a range of suspension and braking system upgrades to suit Ford Mustangs, Torinos, Fairlanes and Falcons.
The company's website rrs-online.com, which provides detailed information on cost and applications, makes the frequently-overlooked point that 1960s suspension systems were designed to work in conjunction with soft and flexible crossply tyres. Using radials without substantial modification to original suspension settings exacerbates bump-steer and generates higher levels of component stress due to the tyres' greater grip.
Addressing radial compatibility demanded some significant variations on the original Ford suspension design, coupled to flexibility within the packages to incorporate a range of spring/shock combinations. These can be further tailored to owner requirements via a range of optional components that include caster adjustment rods and a front tower notching kit that provides additional clearance around 'big block' engines.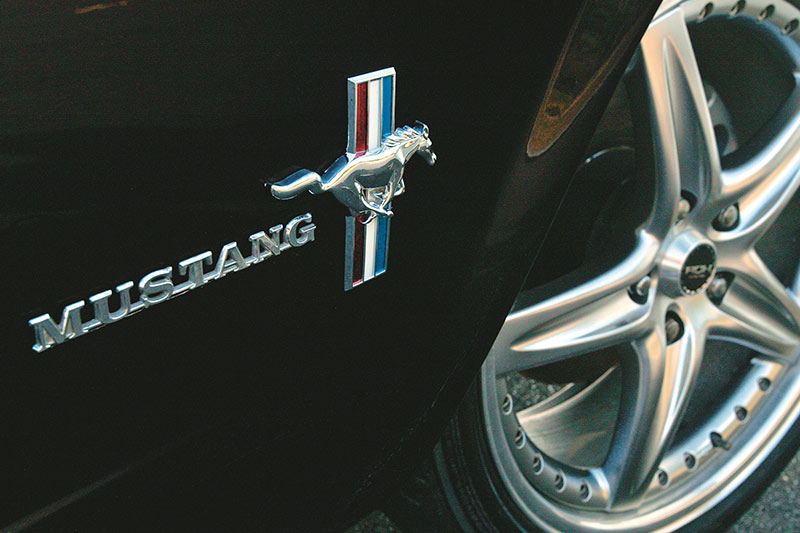 Large aftermarket wheels can freshen up a Mustang - and allows for bigger brakes - but watch that low profile tyres don't ruin the ride
RRS front suspension upgrade kits reduce weight by 3kg per side when compared with the original Ford components and are available with camber pins that extend the period between wheel alignments. Owners can specify KYB with replaceable cartridges or the more expensive but rebuildable Koni shock absorbers.
Rack and pinion steering conversions are available in right or left-hand drive applications, with or without power assistance. Tie-rods attach directly to the rack mounting plate, which incorporates bump-steer adjustment. In ultimate Phase 4 specification, the RRS shock and disc brake package includes Brembo four-piston calipers and immense 345mm front brake rotors.
For anyone familiar with front-disc Mustangs – let alone the terrifying prospect of an all-drum car – the four-wheel disc brake conversion will be a revelation. After exploiting the engine's purposeful response in pursuit of Shane Imeson's very black and very fast '65 Fastback, slowing down presented no problems at all. Pedal pressure is light without being at all touchy and the car came to a halt without any hint of directional deviation or wheel locking. Who needs ABS?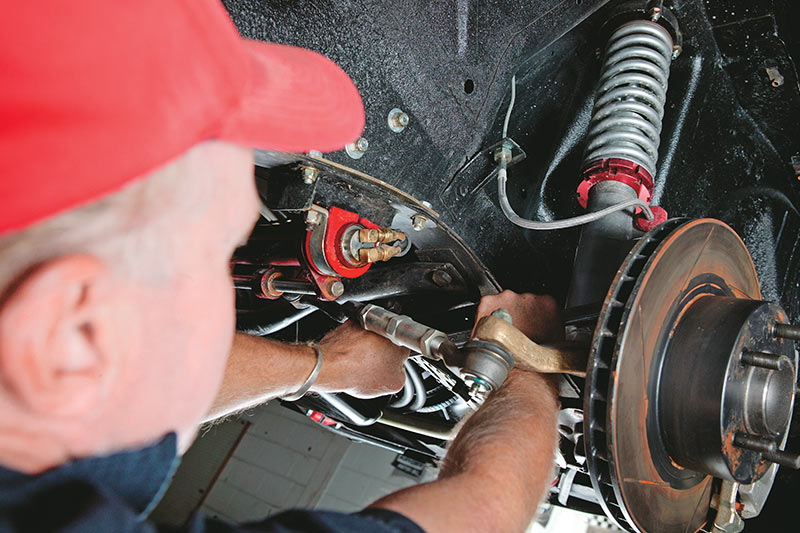 Initial impressions of the steering were less favourable. At straight ahead the wheel twitched and squirmed while turn-in brought little indication that the rack had conveyed its message to any other member of the directional change team. Discussing my impressions with Shane Imeson brought confirmation that I wasn't alone in my disappointment.
"I thought exactly the same thing when I drove that car and it's the tyres," he said. "That car is running 18inch wheels and 40 Series tyres because those are what the owner wanted. That's fair enough but it's important that owners understand the role of the tyres as part of the steering and suspension system and how different tyres are going to affect the ride and steering.
"For a car that's going to see mostly road use I'd recommend nothing lower than a 55 Series," he advised.
At $4200 plus installation, the three-link RRS rear-suspension conversion is an expensive solution to a problem that doesn't really demand such extreme measures. The leaf-sprung rear suspension used in first-generation Mustangs can be upgraded or even eliminated in numerous ways – among the most complex the fully-independent Jaguar rear end fitted to his convertible by former Northern Territory Chief Minister, Marshall Peron.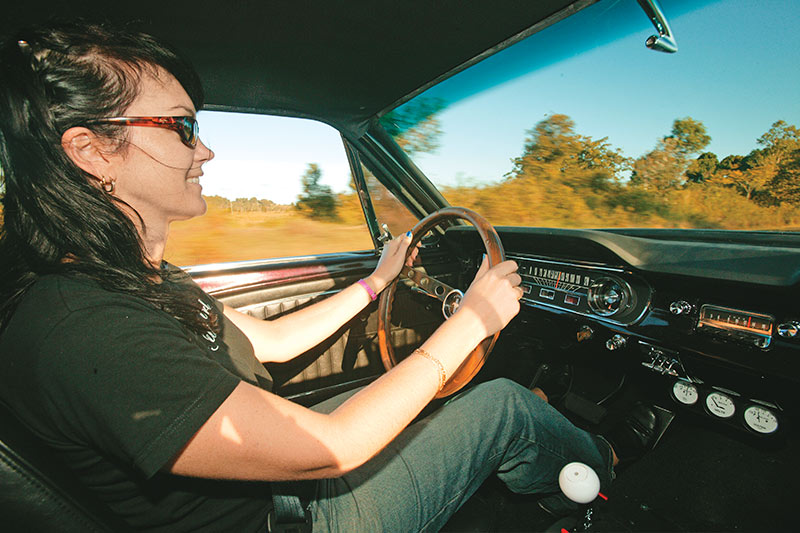 The RRS approach is via a Watts Link system of rear axle location, supplemented by bracing that runs from the gearbox mounting to diff housing. Coil-over shock absorbers completely replace the original leaf springs and the components are bolted to existing mounting points so there's no need to cut or otherwise modify the car's underbody.
Without a limited-slip differential, the back end of the Butel car wasn't noticeably different in its behaviour to other modified Mustangs I've driven. Smooth bitumen is its preferred surface so unleashing some of the engine's 280kW on a bumpy surface was sufficient to unsettle the rear of the car. On the plus side, the suspension is exceptionally quiet and virtually eliminates the rattles and vibration that characterise early Mustangs.
Subsequent contact with Dale and Kristi-Anne Butel after they had spent a weekend with their reborn Pony before returning it to Imeson for installation of the limited-slip diff swap confirmed that the results had exceeded all of their expectations.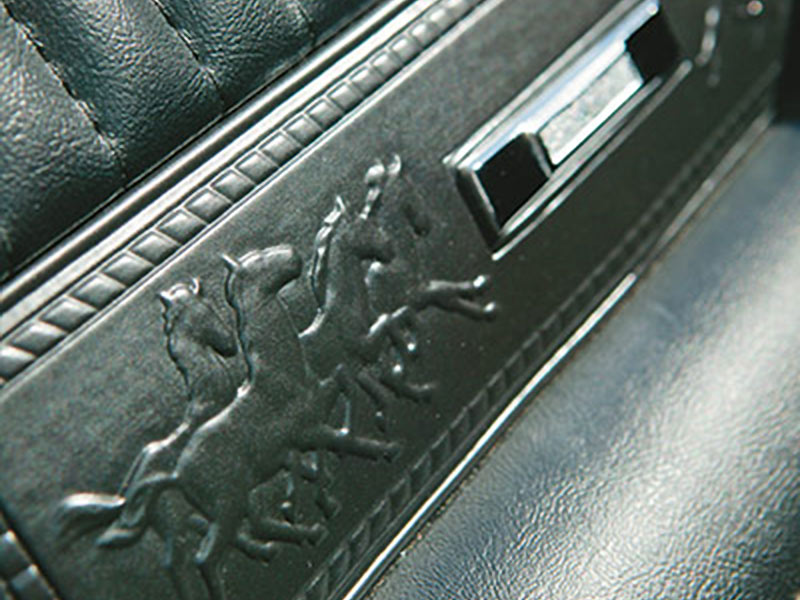 "It was absolutely awesome," Dale enthused. "The power of that engine was just immense and with the new steering and front suspension we could turn into a bend with confidence we never had with the standard front end. By the end of that first weekend, Kristi-Anne was just about worn out from driving it and didn't really mind when the old diff started to whine and we agreed to send it back to Shane for a limited-slip."
He agreed that the rear suspension settings needed some fine tuning to control the rear axle hop and to rectify a clearance problem that manifested when rear-seat passengers were being carried. Firming the rear shock absorber settings by one notch on a scale of six produced a noticeable improvement and Butel expects a further transformation once the new differential is fitted.
"Changing the settings made the ride a little harder than I would have liked but making so many alterations to a mass produced car will always involve compromises. Overall, though we are very, very happy with the way the car now drives and handles so it was certainly worthwhile."
PIMPING YOUR PONY
Finding ways to improve your Mustang is just slightly easier than getting arrested for streaking across the MCG. The business of upgrading and improving 'Pony cars' is enormous and worldwide, with the greatest proliferation of suppliers existing, not unexpectedly, in the US.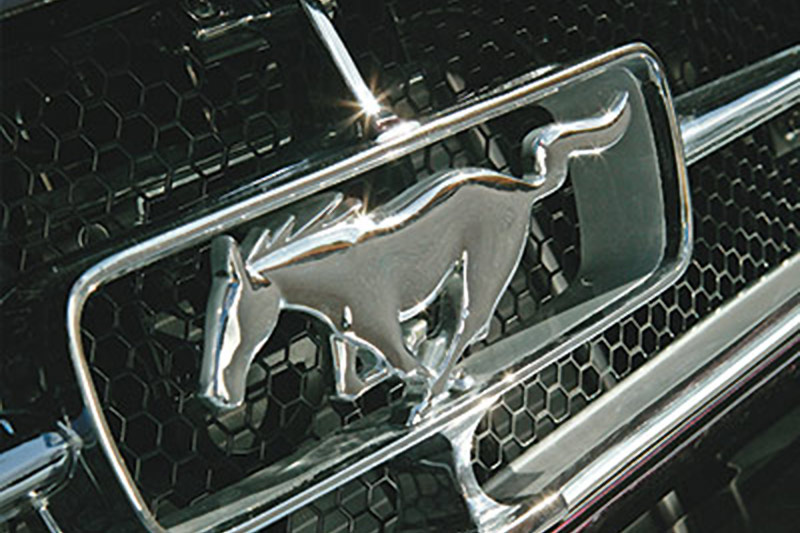 Change anything you want but don't play with the iconic Pony badge
Local Mustang specialists some of which advertise in Unique Cars are able to supply many of the parts available offshore and, most importantly, provide guidance on the suitability and legality of different modifications.
Here are a few samples from the literally hundreds of available Mustang upgrades...
ENGINE SWAPS:
Plenty of choice here, with limitations centred around the thickness of the owner's wallet. Alloy-head 5.0-litre carburettor V8s are available from Ford specialists in the US at $4300 but land here at around double that figure. Installing a second-hand 4.6 or 5.0-litre EFI engine may appear cheaper due to the lower initial cost, but engineer certification, matching late-model electronics to existing wiring, switching exhausts and other factors could easily push the later engine well beyond the cost of a 'crate' 302.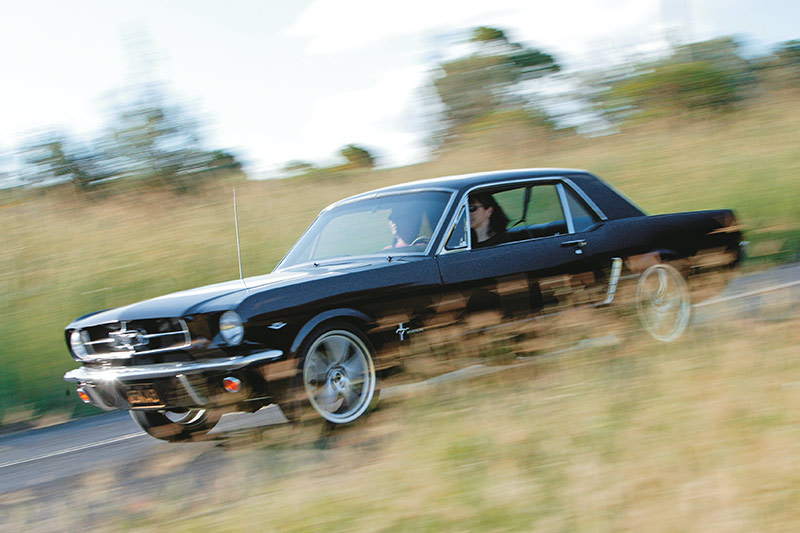 FORCED INDUCTION:
Only five supercharged Shelby 350GT Mustangs were made and their current value is inestimable. However, for a little over US$3500 plus associated fittings and installation you can boost 4.7-litre V8 power output by at least 30 percent. The gear-driven blower is patterned on the Shelby's Paxton unit and can be fitted to left-hand drive cars with minimal effort. Turbochargers – you need a pair – have been successfully fitted to small-block Ford V8s but costs are dramatically higher and fitting more difficult.
FIVE-SPEED GEARBOX CONVERSION:
Tremec transmissions are renowned for the ability to handle abundant torque and a T-5 with 810Nm capacity will gobble the output of most street-legal engines. Close-ratio five-speed Tremecs are easily adapted to pre-1971 model Mustangs and now available with a sensibly-low 0.86:1 top gear. The fitted cost using a purpose-made adaptor should be around $7000.
CHASSIS REINFORCING:
If you've seen photos of racing Mustangs with 15cm of daylight under dangling front wheels you'll understand the benefits and deficiencies of reinforcing your Mustang shell. Plating to prevent chassis rail flex, bracing the shock absorber towers and adding strengthening plates to the sill panels will improve structural integrity to what proponents call 'modern car standards' but at the cost of harshness and less forgiving ride on rougher roads. Costs vary according to the amount of work specified but – apart from the easily-installed tower brace – will normally require removal of the engine/transmission and interior. Worthwhile only if you intend using your car for competition.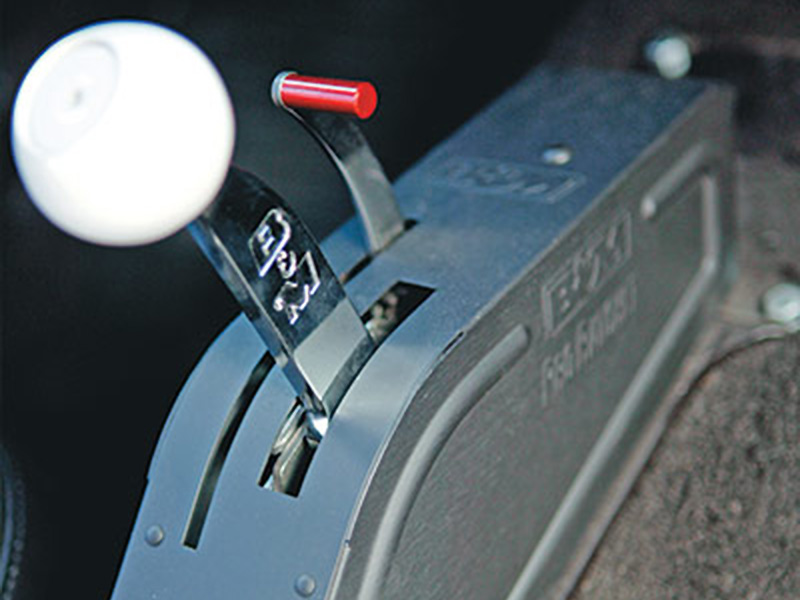 BODY KITTING:
From a simple air-dam to full-on 'Eleanor' kits, fibreglass body additions can make your early-series Mustang look very different indeed. Basic front air-dams cost US$300, with a variety of scoop-enhanced bonnets at $500. The 11-piece set of 'Eleanor' panels will land here at close to A$8000 but remember that professional installation and repainting the replaced panels can cost twice the price of the parts.
MODERNISING THE DASH:
We saw when inspecting Marshall Peron's '66 convertible the neat but time-consuming installation of XR8 Falcon dash components into his right-hand drive car. Left-hand drive owners have an easier time, with post-2002 Mustang interiors dimensionally compatible with pre-1971 models and all the switches and dials in roughly the correct positions. If you have an aversion to old-fashioned dials, a business by the name of Dakota Digital produces replacement 1964-66 instrument clusters with digital readouts.
Have you made improvements to your '60s Mustang or other American classic? Would you like to share your experiences with other readers? Email unqiuecars@bauertrader.com.au or write to Unique Cars, Locked Bag 12, Oakleigh, Vic, 3166.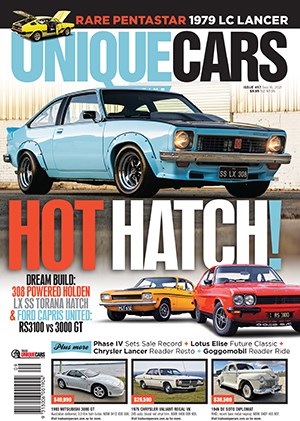 Subscribe to Unique Cars Magazine and save up to 42%
Australia's classic and muscle car bible. With stunning features, advice, market intelligence and hundreds of cars for sale.
Subscribe