Holden Commodore VB-VL: Farewell Holden
---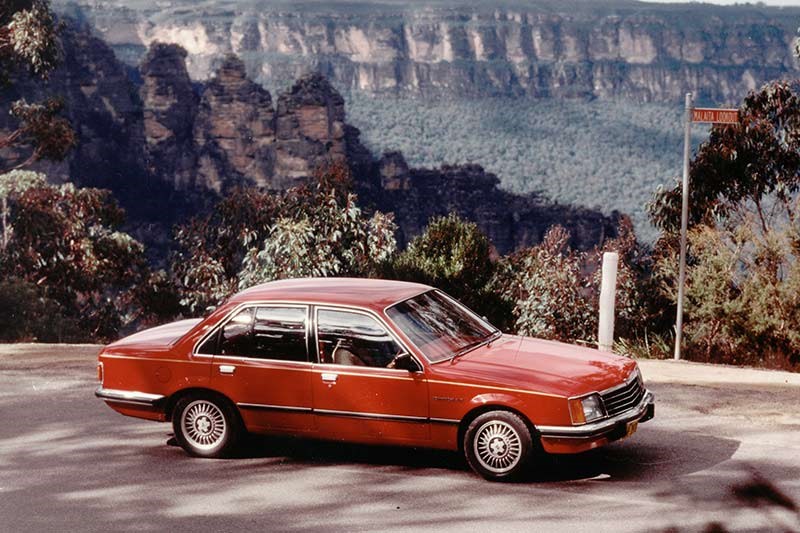 For nearly four decades Commodore has been the badge on the bum of one of the most popular and versatile cars ever created. Glenn Torrens traces how it happened
Holden Commodore VB-VL
On October 26, 1978, Holden launched its new-for-the-1980s model, the Commodore. No-one knew it then, but that spring Thursday was the first day of one of the longest-running nameplates in automotive history. Over near-as dammit 39 years and four distinct generations Commodore was to be an Australian family favourite – and for more than half of Holden's local car-making history it showed off the talents and innovation of Australian engineers.
At first, the new model shared Holden showrooms (and behind its aerodynamic flush-fit headlights, its major mechanical parts) with the HZ-series Kingswood/Premier, the family-sized, six-seater capable model that could directly trace its heritage back to the original 48-215 Holden of 1948. Commodore also sat beside the mid-sized UC Torana (sedan and hatch) and the smaller four-cylinder Gemini. All were locally built; the Kingswood and Torana were both as Aussie as cold beers, meat pies and Sund'y at the beach.
| Video: Holden Commodore family tree
It's no secret that Commodore was originally sketched-out in Germany. Holden was involved with the car's design almost from the ground-up with Aussie engineers and stylists involved as early as late-1974, and later German and Aussie engineers worked side-by-side on prototypes. The car was designed in response to the world fuel crises of the early 1970s in which sales of large cars suffered against smaller, lighter Japanese models: The resulting Opel Rekord was to be a little larger than Torana but smaller than Kingswood.
For Europe, the four-cylinder Opel Rekord was available as a two-and four-door sedan and wagon; the up-market Senator sedan – with the same centre body – had a longer nose (bonnet and guards) over its six-cylinder engine, extra windows in the C pillars and a more formal boot and tail-lights. There was also a good-looking V-car hatchback, badged Monza. To specify the version for Australia – and accept Holden's in-line six-cylinder and V8 engines – Holden chose the Senator nose on the Rekord body. Several years of development and testing (in areas like the Flinders Ranges) made sure Commodore could survive the rougher-than-Europe conditions of Australia, in an era when there was less bitumen on our roads and fewer affordable 4WD vehicles.
Tech-wise, there was a new-to-Holden strut-type front suspension (with rack and pinion steering) and fully integrated Harrison air-conditioning. All these systems took time and bucks to develop to cope with Aussie conditions. Some were never resolved: The performance of the cabin ventilation and air-con systems – important in Aussie summer heat – was restricted by the size of the bonnet and plenum chamber air intakes and its controls (and the handbrake) remained on the passenger's side. The body was metric and the engine and driveline was imperial which meant two sets of spanners/tools were required. It doesn't sound like a big deal, unless you've tried to restore one!
For the propeller-heads among us, the first Commodore introduced some new production techniques with more reliance on outside suppliers (rather than in-house Holden manufacture) for components such as the dash shells and instrument binnacles. There was some clever manufacturing technology: the interior plastics were low volatility that didn't result in a foggy, translucent film build-up on the interior glass… a problem in Australia's summer heat and with the increasing use of plastics during the 1970s. Betcha didn't know that!
Read more:
Unique Cars magazine Value Guides
Sell your car for free right here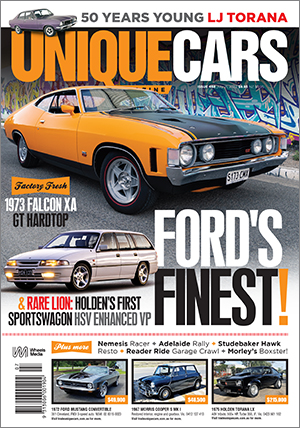 SUBSCRIBE TO UNIQUE CARS MAGAZINE
Get your monthly fix of news, reviews and stories on the greatest cars and minds in the automotive world.
Subscribe