Aussie-Themed 1941 Willys Custom Coupe
---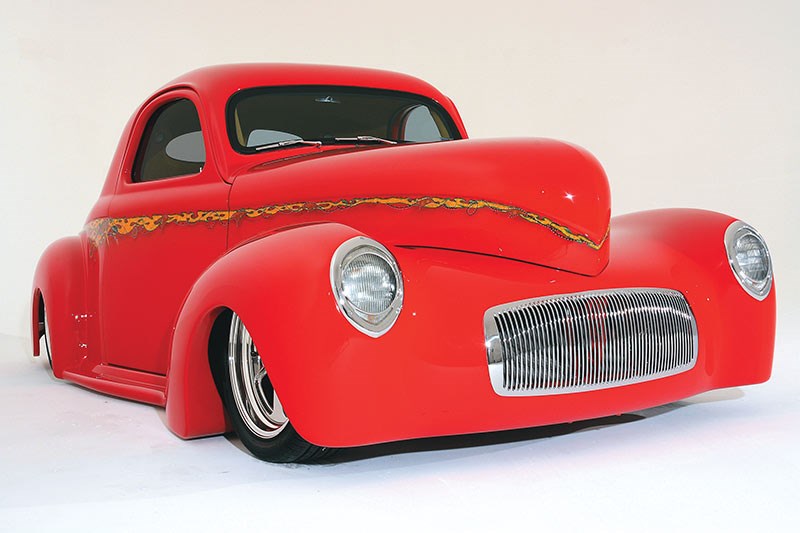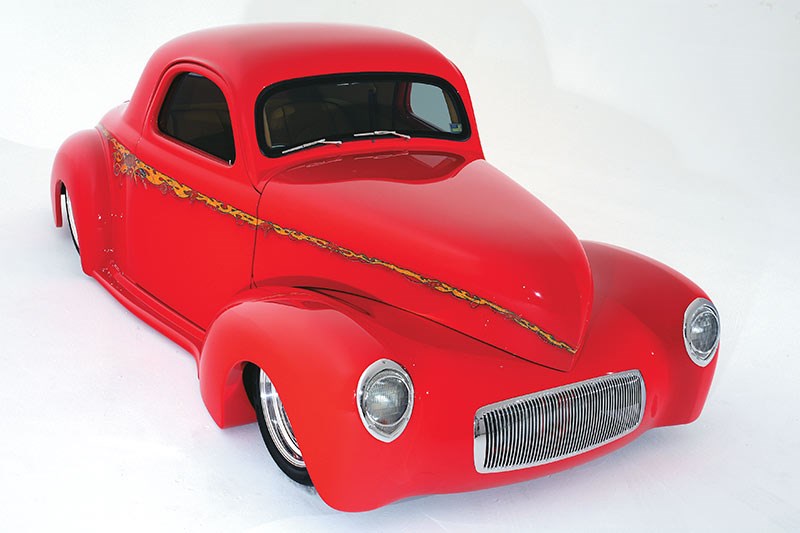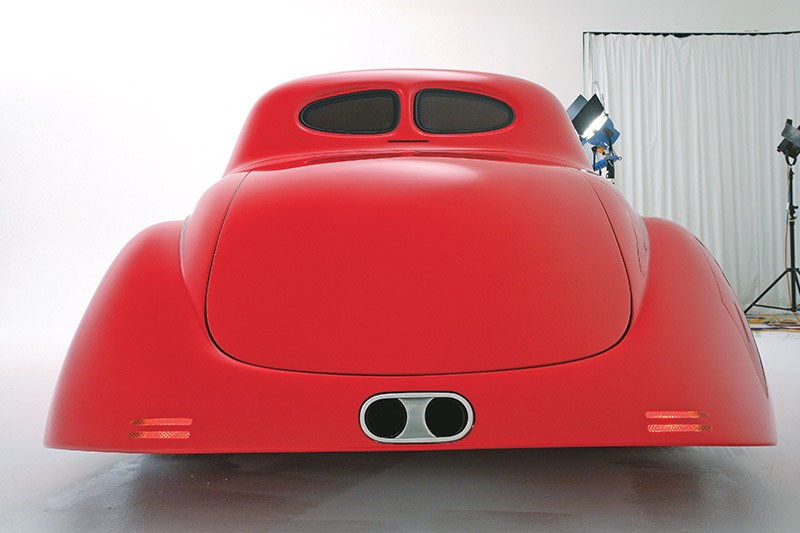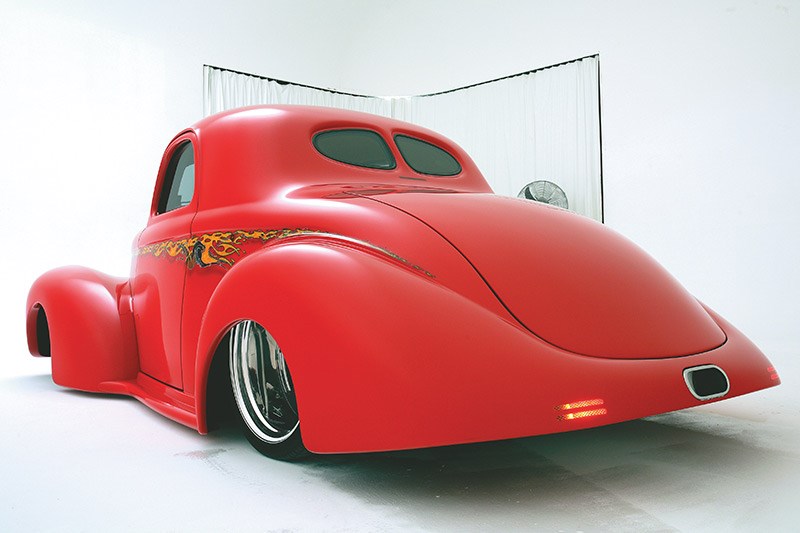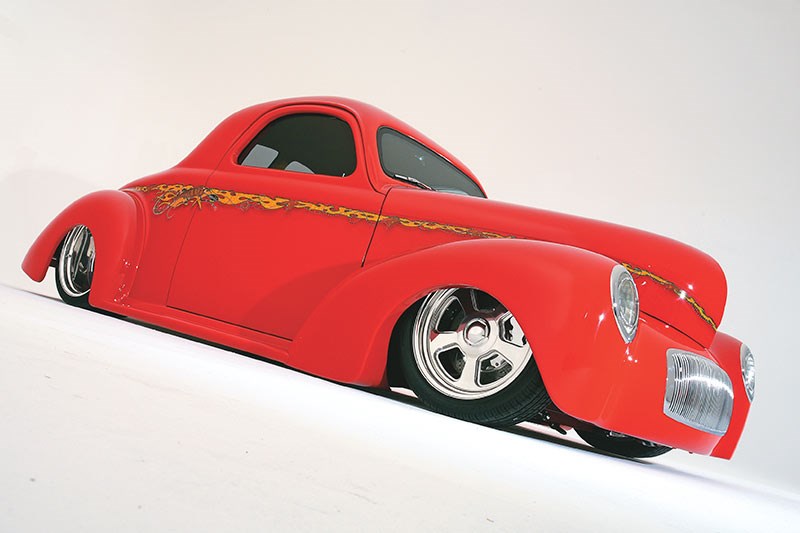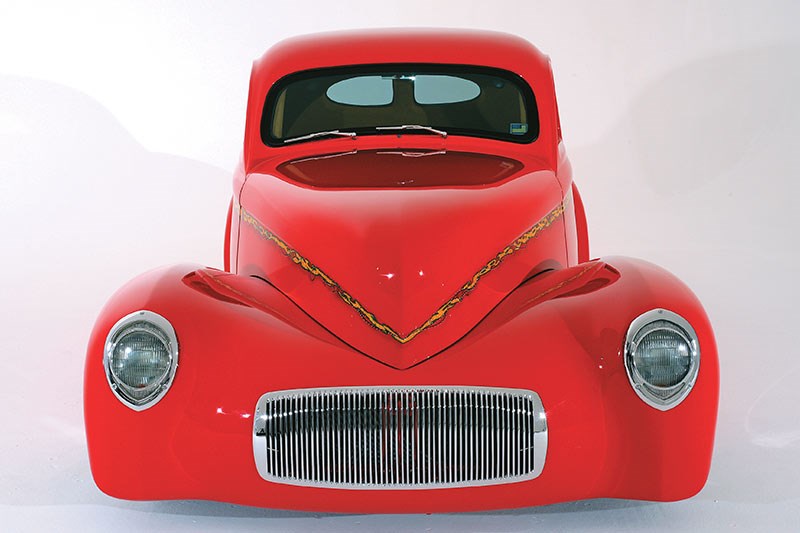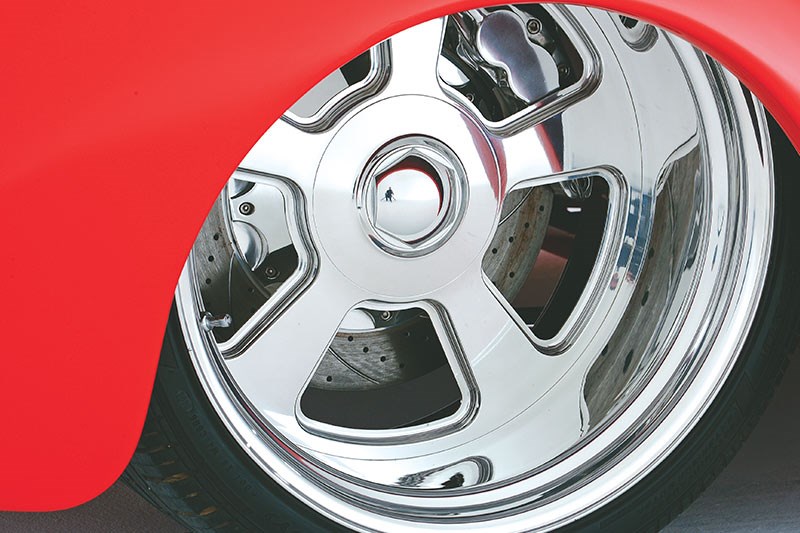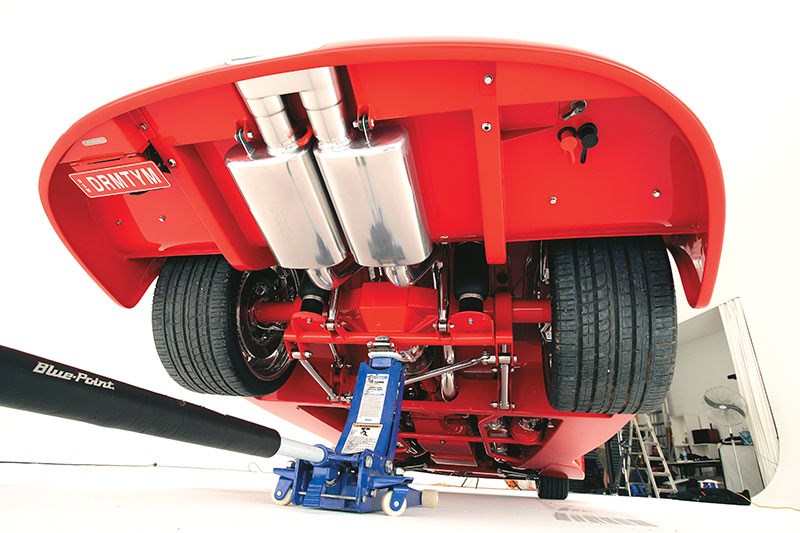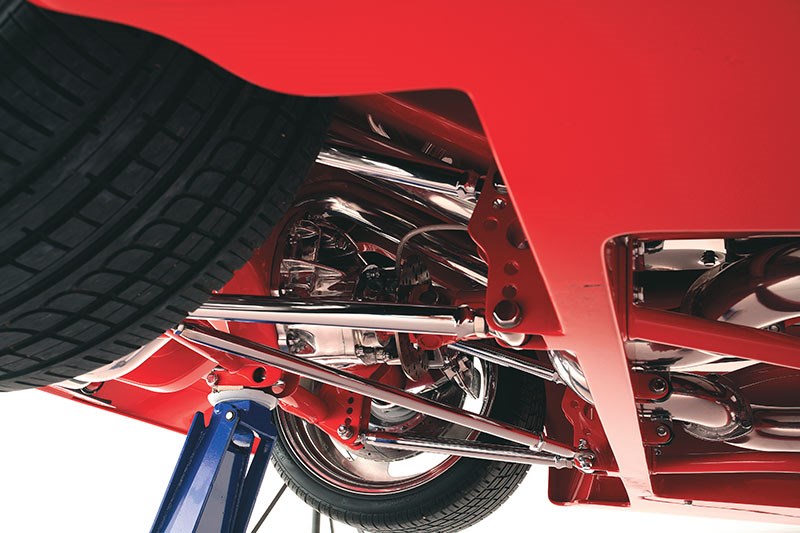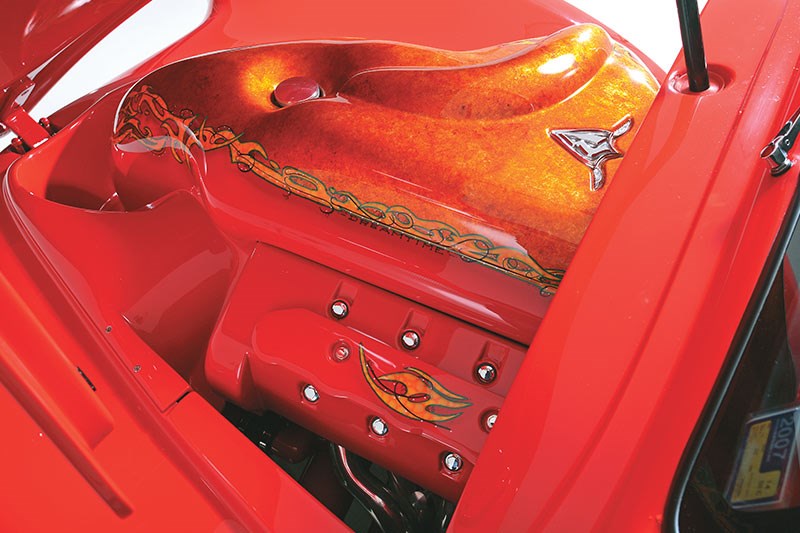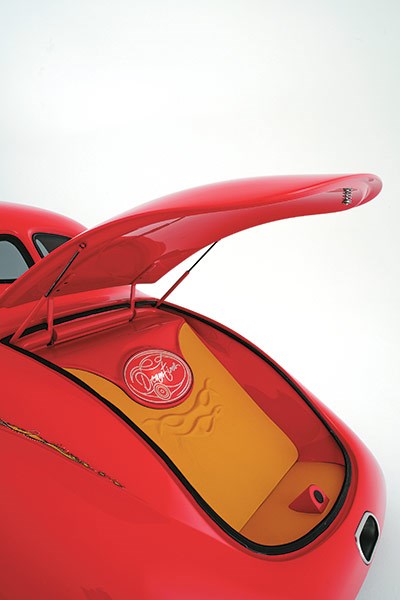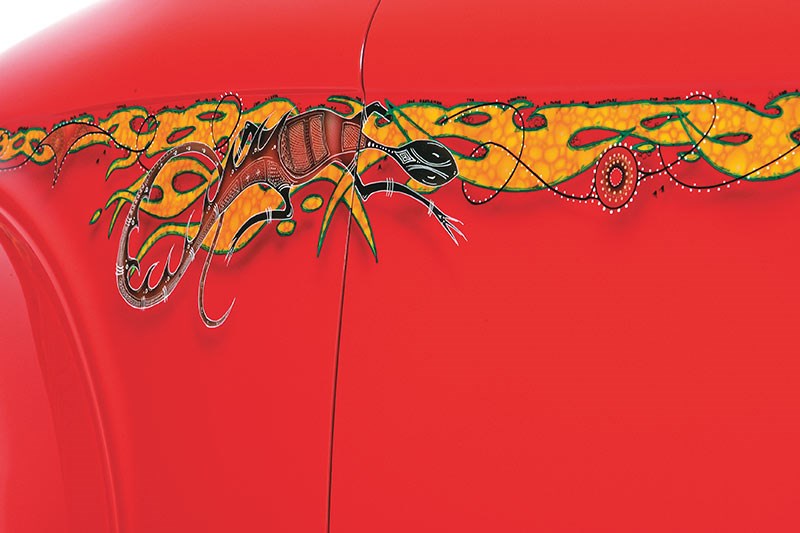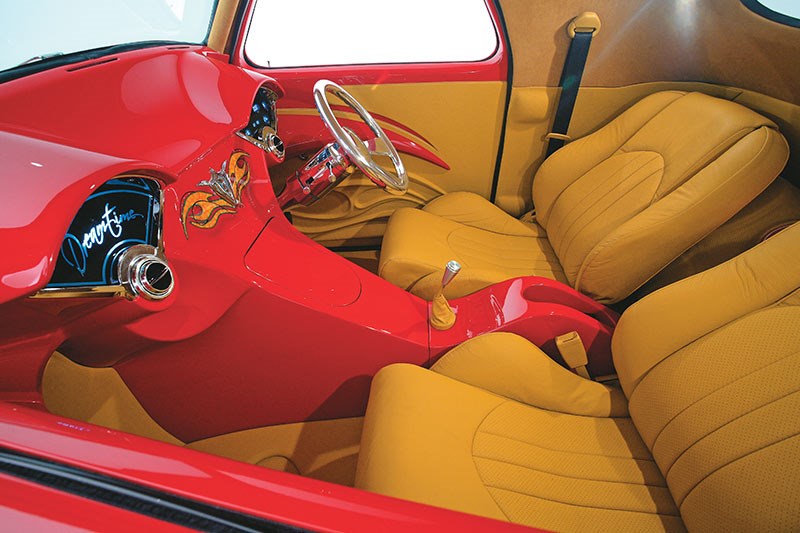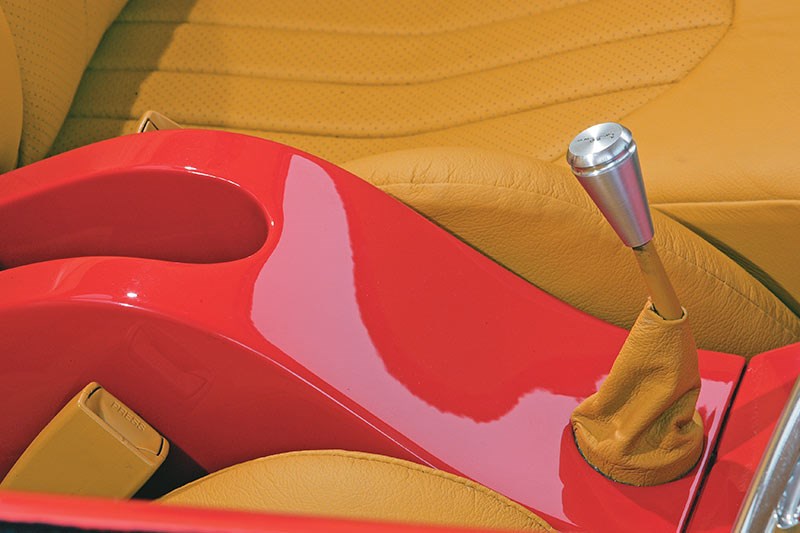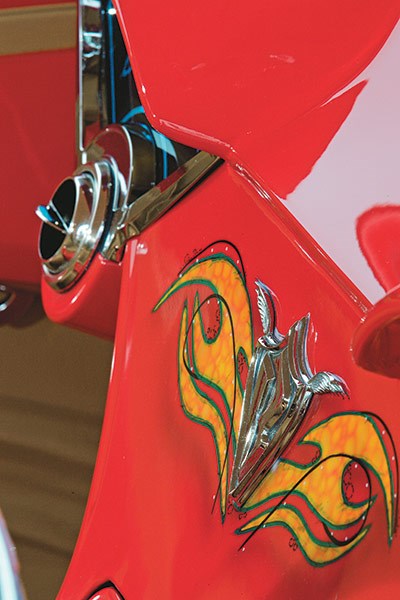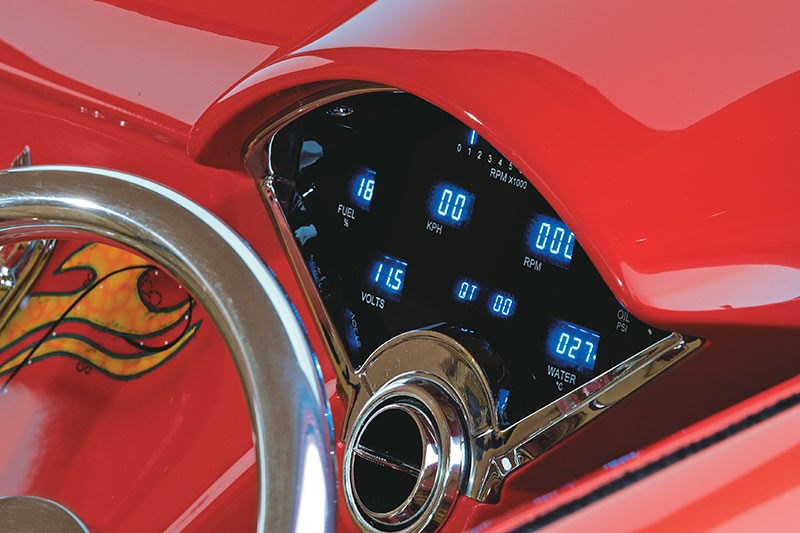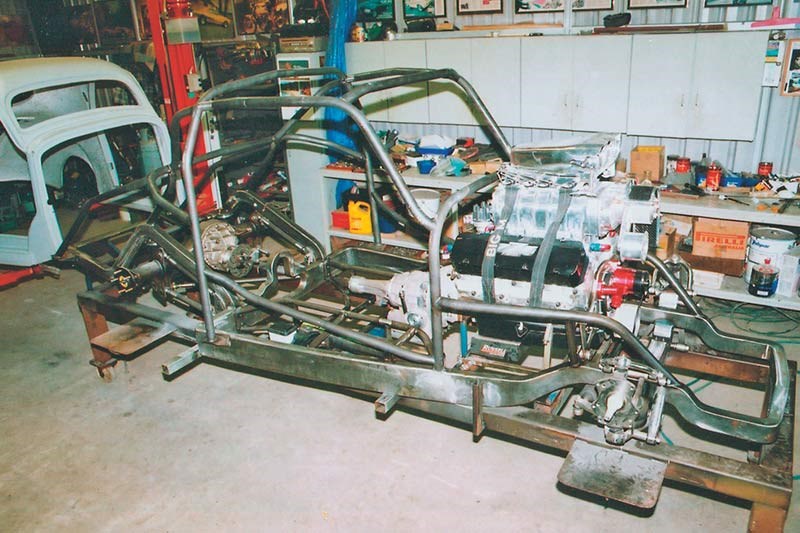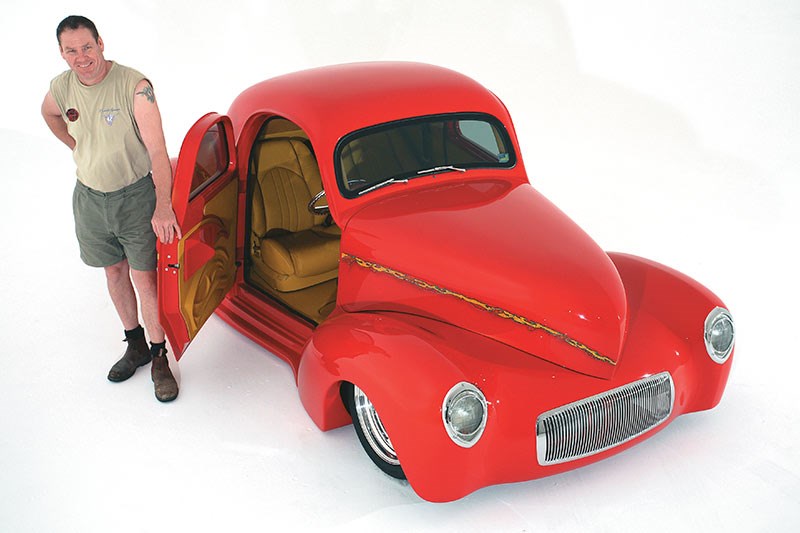 Paul Bennett's sublime '41 Willys is the perfect tribute to his father and adopted country
First published in Unique Cars #271, 2007 
1941 Willys Custom
How do you create automotive perfection? A lot of guys build good cars, some build show winners, but 2007 Summernats Master Craftsman winner Paul Bennett builds 'four-wheeled philosophies' that just happen to be cars. Not only that, he has to love what he's creating; he doesn't just construct a car because this or that model is the latest fad, or because billet wheels or pastel paint colours are in vogue.
Bennett's Summernats show-stopping 1941 Willys coupe started off as someone else's dream and would have been quite different to what you see here had the previous owner not run out of 'folding' mid-way through the build.
If you read the Summernats wrap in last month's Unique Cars, you'll know that the Willys is Bennett's all-time fave rod, so it wasn't a big stretch for him to takeover the stalled project and turn what was to be a monster Willys into something altogether more sophisticated and revolutionary. Bennett takes up the story.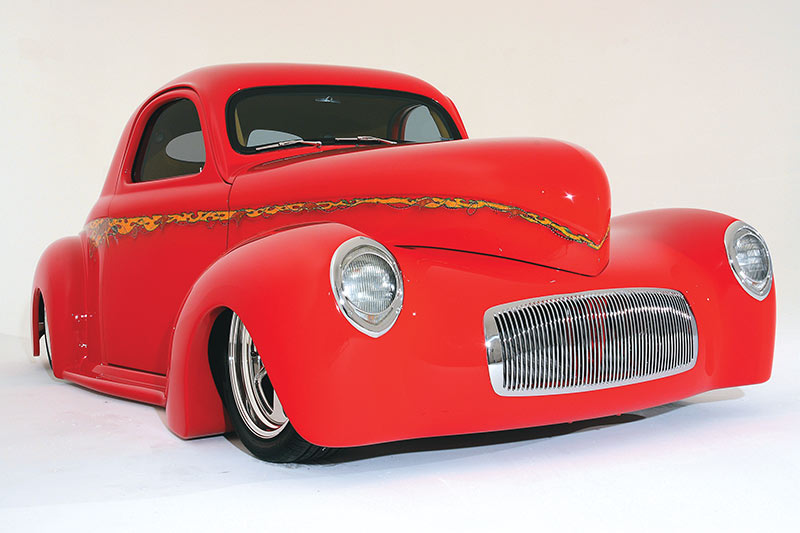 "Initially I built the car as a complete roller for a guy but he gave up on it," Bennett recalls. "It was to be a drag racing oriented street rod with a blown injected 572 cube big block, which is why it has a full chromemoly chassis, 10-point rollcage, and bullet-proof Mark Williams rear-end with 40-spline axles; it had to handle 1500hp (1118kW)!
"It had the best of everything to make it go fast, stop and drive. It also had to be super light (1490kg) and super strong, so basically everything from the doors to the front guards hang off the rollcage.
It was basically a racecar."
When the ambitious former owner absconded with his big block, Bennett stood back and had a think and it didn't take him long to figure out which way to go with the unpainted rolling chassis.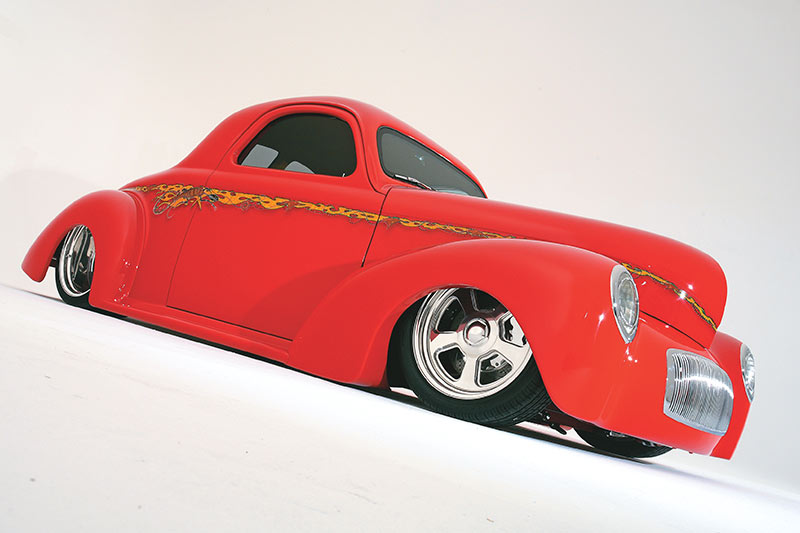 "It had to be a high-tech street rod," he deduced. "It had fabulous foundations, everything I needed was there. I knew if I went in a different direction it would be a much more useable car at the end. The car was designed to be a race/show car from day one, and had to be pretty standing still, it had to sit right and look right and the concept didn't change from there".
But let's step back a few months to when there was just a pile of chromemoly, a jig, and a welding torch.
After buying the fibreglass body, Bennett mounted it on his jig and measured it to find out how the undercarriage would fit under the swoopy Willys silhouette. He started with chromemoly chassis rails, which were plasma cut then rolled and formed to match the internal shape of the body panels. All the rails are contoured; there are no mitred joints.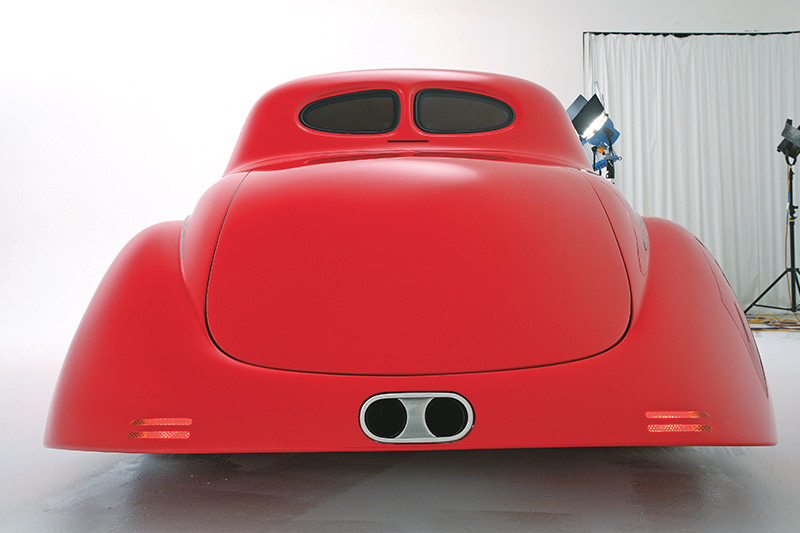 About the only part that Bennett didn't fabricate was the front-end, so he got a complete unit (cross member, control arms, shocks, springs etc) straight off the shelves of Ididit in Shepparton, northern Victoria. He fitted a set of wheels then worked out the track and wheelbase measurements to suit and fabricated everything around it. In classic hot rodding style, he first made cardboard cut outs then MDF bucks to check mounting points and measurements. He used the same procedure on the airbag-supported four-link rear.
"Think about it 10 times, cut once and build once," is Bennett's credo. "It's gotta work in your head first then, if it works on paper it'll work on the car, basically. I don't build unless it's right on paper; car owners are not going to pay you to do something twice."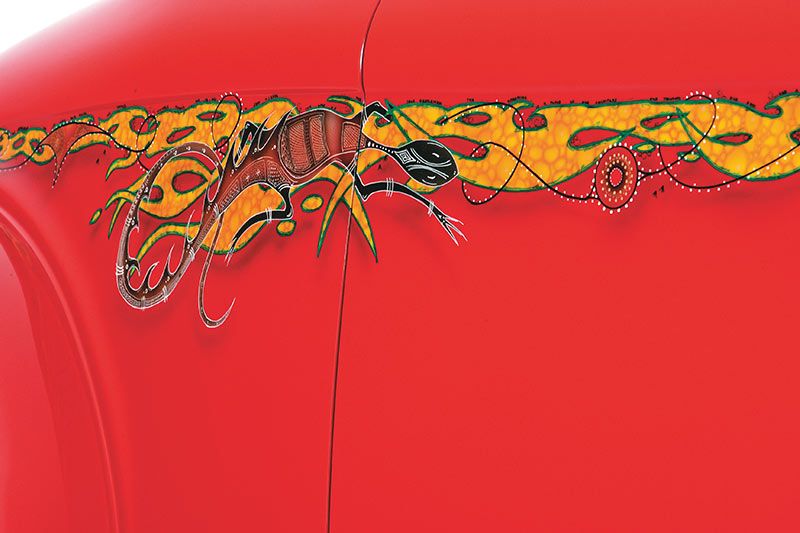 If you think 40-spline axles to handle a measly 220-odd kilowatt 4.6-litre Mustang engine is a little bit of overkill, check out the brakes. Because the rear wheels are bigger in diameter than the fronts, Bennett has reversed the normal brake rotor size equation. The rear rotors are 430mm diameter monsters with 'small' 390mm rotors up front and all are vented, drilled and slotted and clamped by huge six-piston Alcon calipers. They are bolted to custom aluminium hats and carriers and there is also a Wilwood adjustable proportioning valve, a seven-inch power booster and one-inch dual master cylinders. Total value, 12 grand.
To house mega brakes you need mega wheels and the Willys runs custom Colorado Paradox alloys, 20 x 12-inch at the rear and 18 x 7-inch at the front with fat Pirelli P Zeros all around.
With the Mustang engine (with less than one fifth of the big block's power) now under the bonnet it's safe to say that the Willys chassis is also massively over engineered, particularly the $10,000-plus rear-end assembly.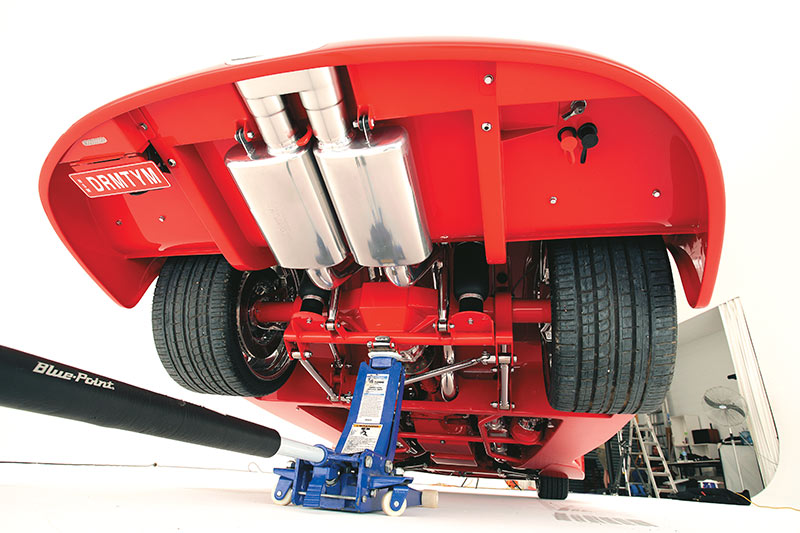 Bennett chose the wedgy Mustang donk more for looks than grunt and he spent over 100 hours detailing, de-burring, and metal filling gaps and holes to create a baby's butt smooth alloy lump. He also reshaped the valve covers and repositioned the oil filler. The 4.6 is one of only 150 hand-assembled Signature Series 'crate' engines and even comes with a 12 months warranty.
"It's such a big engine, with massive rocker covers, and it reminds me of a '50s hemi-gasser. I chose it more for aesthetics, plus its overall reliability; you can plug it in at any Ford dealership and analyse any problems."
However, there was no exhaust system in the crate and none available off the shelf here so, naturally, Bennett built one. The headers are 1 7/8s inch diameter flowing to a dual mandrel-bent three-inch system with dual catalytic converters and stainless steel mufflers.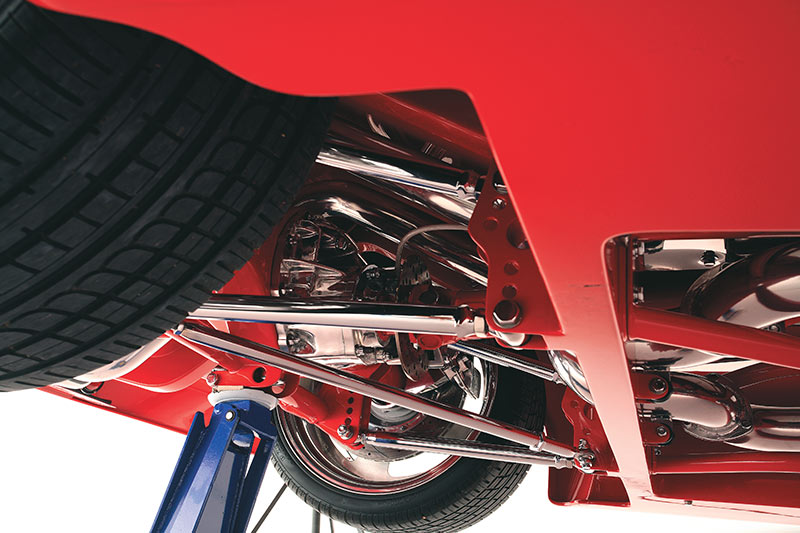 The relatively short Mustang engine allowed Bennett to set it back in the engine bay to arrive at an approximate 60/40-weight distribution split. "We pushed the engine back about 10 inches so it's about three inches behind the front cross member; it's going to handle very well," Bennett says.
One of the most original concepts under the bonnet is the Uluru–styled inlet manifold cover, which Bennett mocked up firstly in MDF and plaster of Paris then shaped it and painted it. A mould was taken from it and covered in epoxy resin. It actually works more as a ducting system for the radiator, Bennett says.
Behind the engine is a fully-electronic Ford R4100 four-speed/overdrive transmission but getting it to work with the engine was a "nightmare".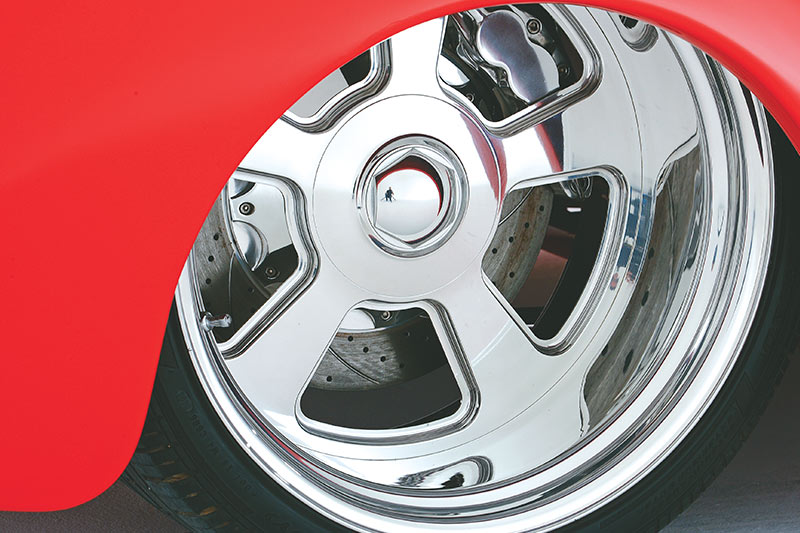 "The engine didn't come with that transmission so the engine management system couldn't 'talk' to the transmission management to get it to shift correctly."
Superior Custom Classics in Florida, which does R & D for Ford Motorsport in the US, created a loom and a black box to connect engine to trannie and it fired straight up. Throw in a modified Genie shifter (and handbrake) and the Willys was away. Sideshow Performance Wiring in Sydney neatened it up to show standard and adapted the wiring harness to suit the Dakota Digital dash.
But that's not where the electronics end; the Willys has every electrical mod-con that you'd find in a modern luxury car.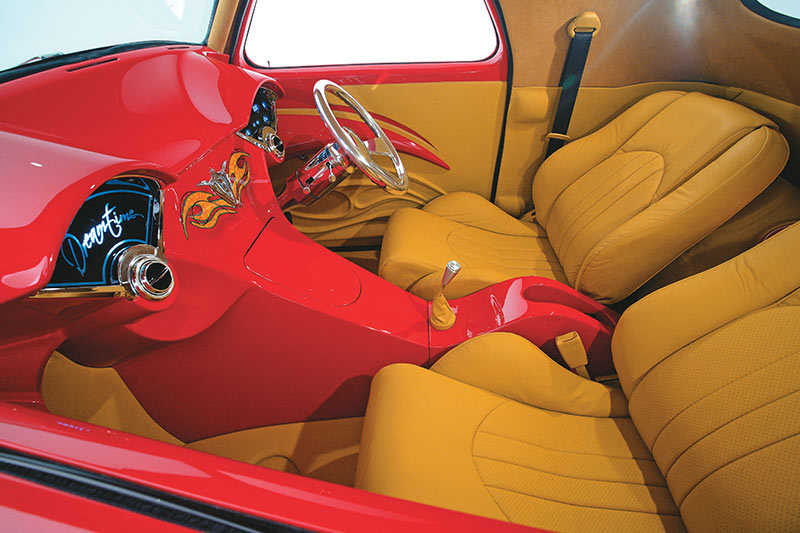 "I'd describe it as a gentleman's user-friendly hot rod, it's got every conceivable luxury that a Mercedes would have," Bennett says, like air-con, variable speed wipers, cruise control, four-way self-levelling adjustable air ride suspension, remote start, Kenwood sound system, theft deterrent system, 90-litre fuel cell, central locking, solenoid doors, tinted glass, etc.
By the way, and this is very cool; the car is ambidextrous, to use Bennett's description, and can easily be converted from RHD to LHD. "The car has a second set of pedals and steering rack and can be easily swapped and the dash is mirrored and you only have to cut one hole in the firewall and everything bolts easily into place."
The billet steering wheel is mounted on a tilt column with a collapsible mid-shaft. Pedals are fabricated and floor mounted and the handbrake operates a disc brake on the front of the pinion.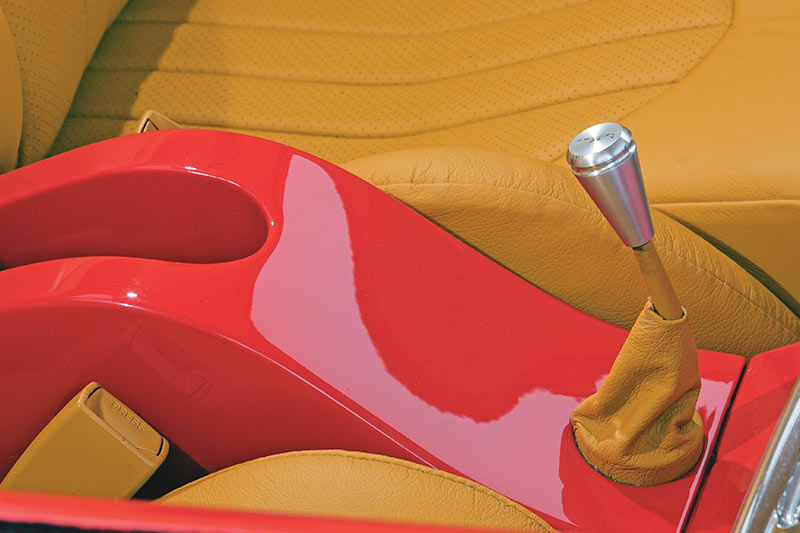 At this time it might be interesting to note how Bennett, who trained to be a commercial artist, acquired his engineering skills. He thanks his father, who was a machinist.
"He didn't buy us bicycles, he gave us a workshop and materials and said 'Build a bicycle' and that's how it was from day one," he laughs. "If it had a motor on it, we were mucking around with it and we went from bicycles to dirt bikes and go-karts then street bikes and racecars; it was an evolution from there."
The Willys was always going to be red, despite Bennett's aversion to the colour.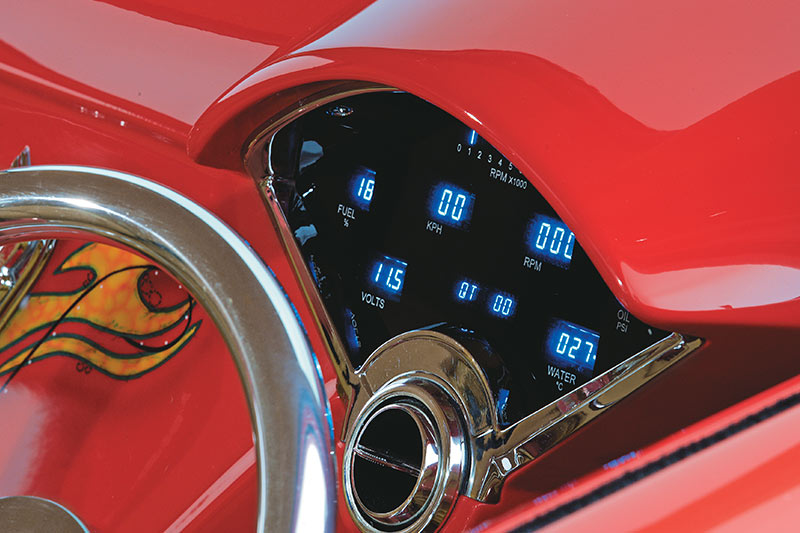 "I've been in this industry for 28 years and I despise red," he says. "But a '41 Willys is like a Ferrari: if you see one in yellow it doesn't look right. A Willys only looks right in red."
For years Bennett had wanted to paint a car with an Aussie theme as a tribute to his adopted country (he was born in Canada but has lived here for most of his life) but had always been talked out of it. But the death of his father, just as he was about to fire up the spray gun, gave him the motivation to follow his muse and memorialise his father.
"I had painted it red and was laying out the artwork, which was going to be more mainstream, on the side of the car. My father passed away that night and I said, 'Man, I'm going to do what I want, something that I have a passion for' and that's why I did the Aboriginal/Australiana theme and dedicated the car to my father and Australia."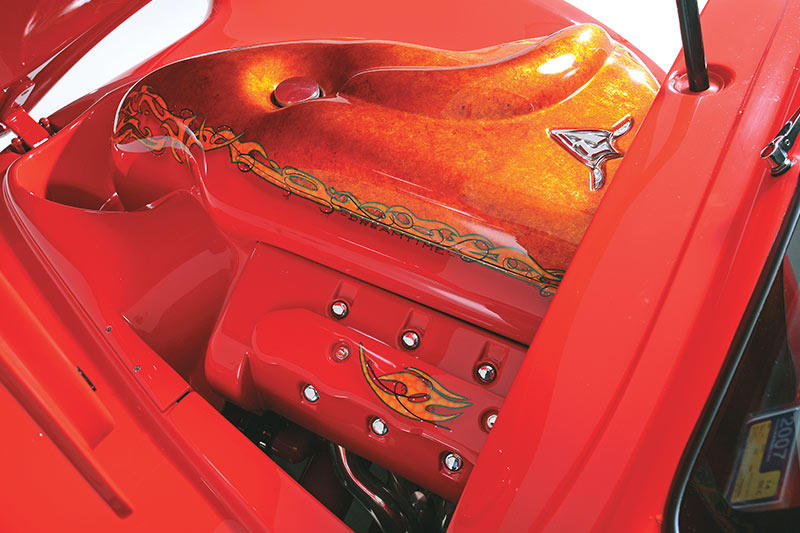 Painting a car to this standard requires patience and precision. The car was put on a rotisserie and stripped and then the underside detailed. Every component was painted and detailed individually then the undercarriage reassembled and the car 'loaded up' so that the panel gaps remain consistent when it's finished. The car was test-driven then the exterior painted but not before the body was modified extensively.
The door and bonnet openings weren't big enough to fit rubber seals so they had to be modified in fibreglass. The doors were also 'suicided', the bonnet converted to front tilting, the nose "de-beaked", guards and bonnet peaked, boot and bonnet corners rounded, and the running boards modified.
"It was a very involved process; there was probably 1000 hours in body preparation and paint," says Bennett, who did all the painting himself, including the intricate airbrushed Aboriginal-style murals on the car. "I'm an expert at nothing. I trained to be a commercial artist and started off airbrushing vans in the '70s and I thought I could make a living out of that for the rest of my life.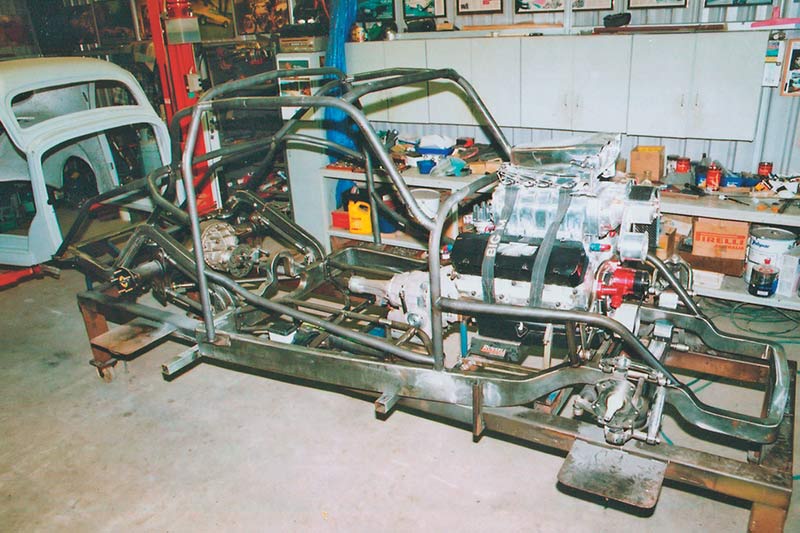 "But these blokes' cars weren't straight and I didn't want to put my work on bent bodies so I became a panel beater/spray painter by trade with a background in art. What I'm proud of is the car never left my workshop. Everything in this car, from conception to the very end, other than trimming and auto electrics, was done in-house."
Bennett is not backwards in coming forward about the quality of his car and he believes it's one of the best, if not the best '41 Willys in the world right now.
"I've seen two world's best '41 Willys in the US and they couldn't hold a candle to mine; it's just so innovative and finished perfectly. You can pull any single item off the car and it would be perfect on its own. It's a very original concept, it doesn't follow anyone else's themes; it's a one-off, it's a Picasso of a hot rod and I don't think it will date quickly. And it's very useable.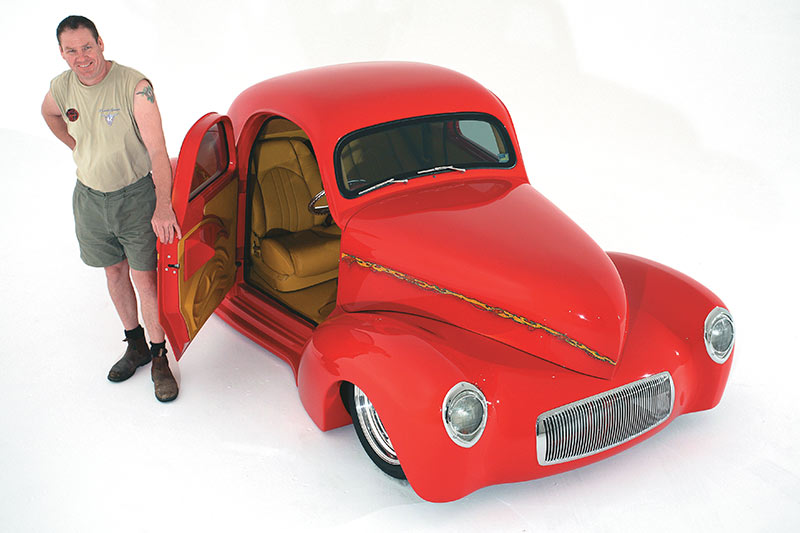 "I gave up building what I call 'coffee table cars' years ago, you know, nice to look at but you can't use it. I've got one myself, a Camaro, and it costs me $35 in fuel to go to the pub on a Sunday and then it overheats in traffic. It's tough as nails, looks good and drives well but I can't use the bastard."
That said the Willys only had 12 kays on it when Unique Cars spoke to Bennett who says that when it finishes its short show life he will probably put it on the market. So what's next? A Goliath. A what?
"I've been working on it for several years, it's a little 1958 Goliath station wagon made in Russia. It's a two-door that had a 1100cc air-cooled motorcycle engine in it. It's a very tiny ugly little wagon but it's so unusual. It's going to be very light with a matching teardrop trailer. It'll have a Toyota hemi in and a five-speed and will be very driveable. I want to show it then do the Targa Tasmania in it. It's the direction I want my customers to go, 100 per cent useable."
Unique Cars magazine Value Guides
Sell your car for free right here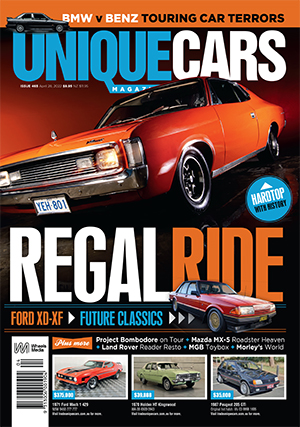 SUBSCRIBE TO UNIQUE CARS MAGAZINE
Get your monthly fix of news, reviews and stories on the greatest cars and minds in the automotive world.
Subscribe