Ford GT-HO Phase III 2-Door: Secret Squirrel
---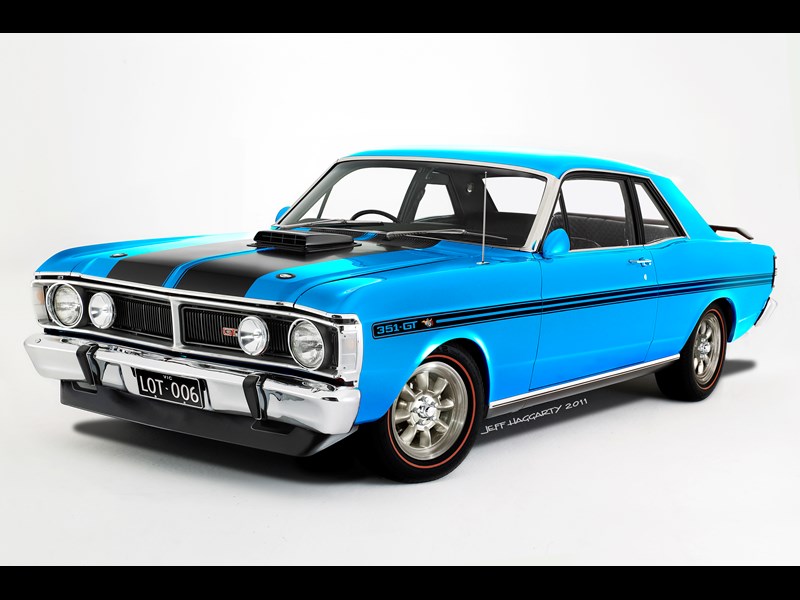 Why didn't they make it?!
The problem with milestones is that the vital stopovers along the way can be forgotten.
Allan Moffat's 1969 Mustang Boss 302 and the 1971 XY Falcon GT-HO Phase III will always be the ultimate markers for the golden era of local Mustang race cars and Falcon GT road cars. Yet there were others that had far greater impact for their time.
Racing boss Al Turner's 1968-69 plans for Ford Australia to build and race a GT-HO, based on the US Falcon Club Coupe body, had more merit than meets the eye. A special local XW-XY Falcon Coupe was part of Turner's strategy to cast off Ford's thrifty, older working man's image, excite the exploding youth market and win more races.
Unlike other hardtops and coupes from this era, Turner's Falcon Coupe was not the whim of a sentimental American longing for home. Holden's new Monaro was accounting for one-in-five HK buyers, most new to Holden. With sales only just recovering from the Falcon's early woes, surrendering these buyers without a fight was not an option for Ford. But an effective response was far from obvious in 1968.

The '65 Mustang Fastback 2+2 might have been a defining moment for anyone hungry for more of a good thing, yet it was not quite the top-of-the-pops that hindsight would suggest – even in the US. Priced almost the same as a Mustang convertible and minus a useful rear seat, it sold 77,000 in its first year versus 102,000 convertibles and half a million hardtops.
The gritty hard-ball played out on Aussie racetracks involved home-grown Mustang Hardtops, not the specialist Mustang Fastbacks in the US. Even if this was originally defined by local touring car regulations, those rules reflected local priorities. The Mustang Hardtop sold here as a road car. Watching examples achieve speeds that defied imagination on the track in the hands of Norm Beechey, Bob Jane or 'Pete' Geoghegan had Aussie crowds constantly on their feet.
This dual role defined Australian motor racing (and still does). How far this connection could diverge had yet to be established. Holden unexpectedly tested the boundaries in 1968 with a local Monaro GTS 327. Was there enough of its mainstream HK origins for family car buyers to make the connection?
Turner was already cautioning Ford Australia against relying on the US Mustang against the locals, even in the touring car category. If a Mustang won, it was too easily dismissed as an import with an unfair global development advantage. If a Mustang lost, it would add to the bragging rights of any local car that knocked it off.
Yet the huge local following for these Mustang Hardtops could not be ignored. Turner's idea of an XW-XY Falcon GT-HO Coupe, reproducing the Mustang's track presence and profile in production- and touring-car racing, while offering a more practical two-door alternative to the Monaro, was a no-brainer in 1968-69.
The '66 US Falcon Coupe
Badged as a Ford, it was an entry Falcon Club Coupe or classy Futura Sports Coupe, and the Mercury Comet 202 version a poverty two-door sedan. That it could be both made it more relevant to the Australian application. Ford Australia managing director, Bill Bourke, first showed an imported example with XR details here before Turner revamped it in 1969 as the wild Super Roo concept. It evolved like this:
• After the US Falcon was created as a cheap US alternative to imports such as the VW Beetle, the Mustang achieved the same with such spectacular success that it had made the US Falcon redundant in this role by 1966. There was no need for another expensively-reinforced and heavier Falcon convertible or pillarless hardtop if Mustang did the same with more panache and style.
• The 1962-63 Mercury Meteor was as big a failure as the compact Fairlane, on which it was based, was a success. As an interim measure, the Falcon-based Mercury Comet was up-sized to take its place. After the 1965 Fairlane bombed, Ford started from scratch with a new '66 Fairlane/Comet on a shared Fairlane wheelbase. Positioned above the Mustang, these Fairlane/Comet convertibles and pillarless hardtops took precedence over Falcon versions.
• Because original Falcon buyers were ready for a Fairlane, it was a successful strategy that left the 1966 US Falcon as a niche, cut-price, short-wheelbase version of the Fairlane. The Falcon Club Coupe was a cheaper, lighter, two-door centre-post alternative to the four-door sedan.
• US Falcon styling for '66 was more rounded and droopier, with short overhangs to create the illusion of a compact because its chopped Fairlane wheelbase was still much longer than rivals. This forced Ford Australia to progressively bolster its appearance for the local version to be seen as a substantial family car.
• The '66 Fairlane's sleek pillarless hardtop roofline could not be applied to the Falcon as it required the Fairlane's extra wheelbase to resolve its faster rear pillars and longer side glass. This would have created extra weight and stiffness issues for no track gain over the local Falcon sedan.
• A special 7.0-litre Mercury Comet 202 using the Falcon Coupe's centre post roofline and wheelbase had demonstrated the potential of this bodyshell over the pillarless Comet Hardtop, with a 45kg weight loss as a bonus.
Because of his recent and successful experience racing Mercury Comets based on these 1966 Fords, Turner knew better than anyone that this Falcon Club Coupe had the best track potential with its Fairlane big-block engine bay and tougher, lighter, and slightly slipperier two-door shell.
It was also the direct and more stylish rival to the similar Chevrolet Nova II model that Norm Beechey had identified as his Mustang replacement. Turner was obviously not alone in this thinking.
Dismissing the Myths
It's still widely believed that the US Falcon Coupe never surfaced because it polled badly during 'evaluation' displays in Australia against the pillarless Monaro. Ford did nothing to discredit this view after the decision was made not to release this body style, but history records this wasn't true.
Australian Motor Sports and Automobiles, May 1969, edited by Peter Robinson, pinpointed how Australians viewed Turner's wild Super Roo Coupe show car at the time: "while the Holden Hurricane was hitting the headlines, the Falcon 'Super Roo' two-door sedan was attracting almost as much attention… " he wrote.
"Pillarless styling certainly has advantages from an appearance point of view, but the doors tend to drop and rattle after a few thousand miles. Fastback bodies also let the occupants suffer for the sake of styling. They look more sporty and are usually sleeker, but visibility is poor through the rear window and head and legroom in the back are measurably less than on four-door sedans. Often the seats are reduced in size to give an impression of roominess that normal-sized humans find just isn't there.
"Regardless of whether you think the show car was a preview of something you will be seeing on the roads in six months time, or just another red-herring, there will be a two-door Falcon some time this year [1969]… powered by a 351 cubic-inch V8."
So widespread was local concern about dust entry, rattles and loss of durability with a pillarless design on rough local roads, Ford did not even offer a pillarless Galaxie.
Ford Australia also knew how hard it was to sell a sleek pillarless coupe after so many XM-XP Falcon Hardtop buyers left showrooms in sedans; a big Aussie and his hat wouldn't fit under the chopped roofline. The above assessment better explains the sales and manufacturing grief that came with the XA-XC Falcon Hardtops. By comparison, the US Falcon Club Coupe's more practical cabin and perceived centre-pillar toughness left few compromises and would have quickly highlighted the Monaro's shortfalls. Australians clearly understood this in 1969.
By the end of '69, Holden's own centre-post, two-door Torana GTR coupe – remarkably similar to the US Falcon two door's half-coupe, half-sedan approach – was immediately accepted as a valid and tough all-'round sports model. Look at what it became! A similar XW-XY Falcon GT-HO Coupe would have been welcomed as more of the same – Ford's equally common-sense response to tough local conditions.
Why Didn't The Bird Fly?
After Turner arrived in Australia, his Falcon coupe proposal faced new hurdles:
• Because the US Falcon was dropped in '69, Ford Australia was forced to squeeze another three years out of 1966 US Falcon styling before its all-Australian replacement would be ready.
• The XW-XY facelifts were far more extensive than realised. Although the front panels were easily swapped with the US models, the rear wasn't interchangeable.
• The 1966 US Falcon Coupe roofline featured a thicker C-pillar with a slightly faster rear screen angle, flush concave rear glass, and a subtle increase in rearwards slope in the roofline over the sedan. Along with much longer doors, none of this would be shared with XW-XY past the windscreen.
• The Aussie Falcon was about to have its C-pillars and roofline extended with buttresses to give the XW-XY sedan a four-door hardtop look similar to the US Coupe in profile. These also created a recessed effect for the rear screen not easily replicated for the US Coupe.
• The tulip panel or sloping blank between the base of the rear screen and the bootlid of US Falcons was eliminated on the XW-XY. The extended XW-XY bootlid, with its unique Australian rear profile, now ended at the base of the rear screen and no longer fitted the US Coupe's boot aperture.
• The US Coupe's waistline crease ended only part-way into the rear quarters. Coupled with the XW-XY's squarer and higher rear profile, which extended into the taillight area and gave the local car a more substantial look, it would have necessitated a specific set of XW-XY rear quarters to mate up with the US Coupe's C-pillars and longer front door apertures. This would have meant a new bright trim moulding around the rear glass and beltline.
• The US Coupe's specific rear seat, inner quarter trim, and rear window hardware had to be trimmed or matched to the local range; the headlining could still be used.
• Even if the US Coupe roofline, doors, side glass and mouldings could still have been easily mated to the local car's lower structure, extensive tooling changes rear of the longer front doors and below the C-pillars would have required volumes well beyond a typical 300 homologation build.
If the squarer rear styling of the 1968-69 US Falcon was retained, the wraparound XW-XY taillights would not have fitted without extensive reworking of the rear quarters and created a mismatch with the US bootlid profile.
The Chrysler solution of mating the entire rear Hardtop section of a different US model to a local VF-VG Valiant front was not an option for Ford. The US Falcon's rear looked way too soft against local XW-XY sedans. US Coupe parts that could be used were also about to leave production for a nightmare forward-planning scenario.
Even if the full body-matching process was undertaken, an XW-XY Coupe's styling differentiation over the sedan would have been far less obvious than for the XR-XT series, when the XW-XY sedan's fatter C-pillar generated almost the same profile as the US Coupe.
Al Turner's explanation why his Falcon GT-HO Coupe was dropped at the 11th hour is as blunt as it is realistic. It had nothing to do with what Australians may or may not have thought about it, compared to the Monaro. His boss, Bill Bourke, simply declared that they were in the business of selling locally-built, four-door sedans and the focus had to stay on that until they were building something else.
You could imagine Bourke assessing the above complications as scarce local resources were stretched between Australia and Detroit in his race against time to deliver seven all-new body styles for the first local range of Falcons, Fairlanes and LTDs based on the XA Falcon platform. Inviting complications with a two-door Coupe this late in the outgoing series would have been corporate suicide, especially when the extensive XW-XY facelifts had a good chance of attracting new buyers anyway.
Turner credits Bourke's inspired decision with creating the GT-HO legend as we Australians know it today. After the Monaro had deviated from an everyday family car, Bourke restored the direct link between the race cars and the production cars that Australians craved.
Coupled with Turner's Super Roo strategy on all Fords and GS packs at all Falcon levels, Ford found there were more cost-effective ways to get a young buck to drive a car the same as his parents'.
The Real Deal
As the GT-HO program evolved using the tough, rally-proven local sedan shell, Turner could focus his efforts on drivetrain, suspension and brakes. The legend grew overnight and memories of the Coupe proposal faded equally as quickly.
Turner maintains that if the Coupe did surface, the XY version would have raced pretty much as the Phase III appeared. As our ground-breaking illustrations reveal, a GT-HO Coupe would have been perfect for those who wanted to make a clear statement that they were not in the family way while retaining the same full-sized seating for their mates and the structural integrity of the four-door versions.
Marketed as a GT, Fairmont with vinyl roof, and a GS entry-level sports coupe with a GT-HO hero model, Turner would have soon achieved the volumes he needed. It might also have forced Ford to reconsider whether the XA Hardtop was the right car for its time.
In an ideal world, the XY GT-HO Coupe was to have emerged with 15-inch Minilites and NASCAR wheel studs before the local Globes came on stream, a slightly different front spoiler with brake ducts, and Turner's special four-into-one exhaust headers feeding jumbo three-inch exhaust tubing all the way through.
The final feature was signed-off for the Phase III but dropped at the last minute after it was found there was no easy way of installing it on the road cars within the Ford assembly-line processes...
Unique Cars magazine Value Guides
Sell your car for free right here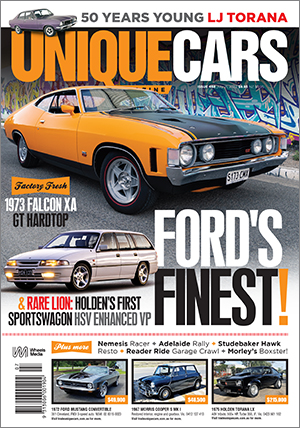 SUBSCRIBE TO UNIQUE CARS MAGAZINE
Get your monthly fix of news, reviews and stories on the greatest cars and minds in the automotive world.
Subscribe