Ford 427 R-code Fairlane - Born To Race!
---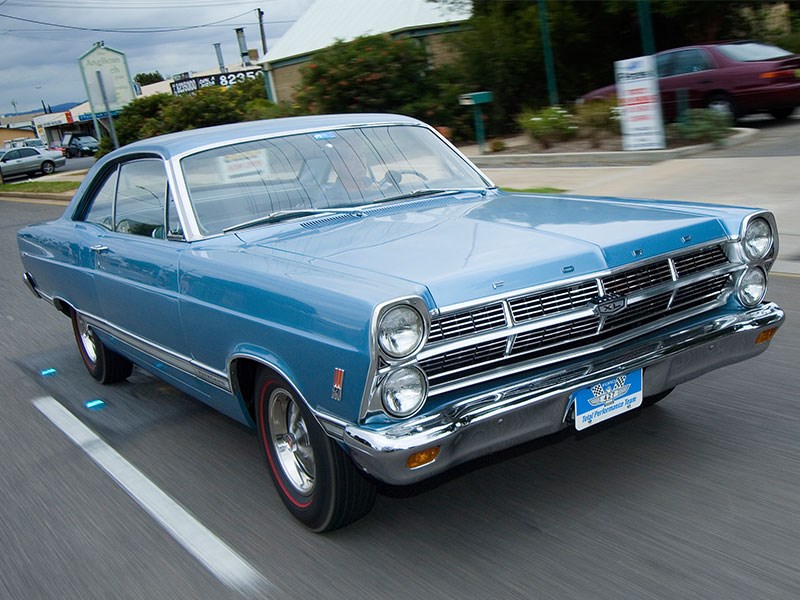 If you had a serious need for speed, Ford had you covered with this big-block factory two-door
Ford's 1966 advertisements for its premium-spec mid-range model left no doubt about its performance agenda: 'The 427 Fairlane is also available without numbers", it boasted.
It was far from a throw-away line.
Descended from the legendary Thunderbolt drag cars of 1964, which first used a powerful big-block V8 stuffed into the compact Fairlane engine bay for drag racing, the Blue Oval brand continued to offer high performance options on its mainstream model for several years thereafter.
While base '66 Fairlanes came with a 390ci V8 as standard, Ford mid-year produced 60 special Fairlane 500 two-door hardtops with an 'R-code' 427ci engine and equipped with Ford's 'Top-Loader' four-speed manual transmission to qualify the engine/transmission combination for NHRA and IHRA Super Stock racing.
All were finished in white and were born to race against the Chrysler Hemis and big block Chevs of their day with fibreglass bonnets with large scoops, stronger shocker towers and stiffer front springs, power front disc brakes and heavy-duty rear suspension, while bias-belted tyres were fitted to cope with the extra grunt.
Rated at 425hp (317kW), the 427 engine was the same cast iron powerhorse found in Shelby's legendary Cobra and the GT40 sports cars that raced at Le Mans and it endowed the otherwise average Ford with impressive performance.
In standard trim, a 427 Fairlane could do the standing quarter mile in less than 13 seconds and sprint from 0-100km/h in around six seconds flat. Not bad for the late-'60s!
A year on, the facelifted '67 Fairlane – which now included a convertible as well as a two-door hardtop and station wagon models in its range – was available with the same street cred.
While lightweight panels were off the '67 agenda, the fire-breathing 427 'side oiler' V8 was again at the top of the Fairlane's option list for two-door hardtop and sedan models.
Even then there were more choices. The base 427 employed a single four-barrel carburetor (W-Code) to produce 410hp (306kW), but enthusiasts could also choose the more powerful 425hp (317kW) 'R-Code' variant, fed by twin four-barrel Holleys.
Racing versions used an eight-barrel induction system to produce an additional 30hp and a version of the same engine was available as an over-the-counter kit, with a tunnel-port intake on special cylinder heads and a special intake manifold.
So if you wanted a high performance Fairlane, your FoMoCo dealer had all the hardware you needed to create a street racer or a weekend dragster. Buy on Saturday; race on Sunday!
Hot V8 on the side
Although precise figures aren't available, it's believed fewer than 200 Fairlanes were sold with the 427ci R-Code option in 1967, making this one of the rarest muscle cars around.
But the car featured here, which currently resides in Adelaide as the centrepiece of one enthusiast's private muscle car collection, is even rarer.
Built at Ford's Lorain, Ohio plant in February 1967, this Brittany Blue metallic 500XL two-door Hardtop with blue vinyl bucket seats was the fifth of only 72 factory-built Fairlanes equipped that year with the combination of the 427ci R-Code 'Side Oiler' V8 and four-speed manual transmission.
As sold by Feussners Ford of Freeland, Pennsylvania just five weeks later in March, it was also fitted with F70-14 Wide Oval tyres, an AM radio and a white paint stripe.
The left-hand drive car arrived in Australia early last year in very original condition, other than a respray that removed the stripe, and went on the auction block at Shannons Melbourne Motor Show Auction in March this year, where it was passed in on the hammer against a guiding range of $100,000-$120,000.
However, after subsequent negotiations, the Fairlane sold to the Adelaide enthusiast, where it currently shares warehouse space with a pristine Bronze Wine 1970 Ford Falcon XY GT, a black '67 Plymouth Satellite Hardtop coupe fitted with a 426ci Hemi engine in place of its original 361ci V8; a huge red '63 Ford Galaxie 500 Fastback fitted with a 427 V8 in place of its former 390ci powerplant and a '68 Camaro Convertible.
But the Fairlane now takes pride of place in this impressive company for
two very good reasons: it's the rarest of the lot and the only big-block car in the collection built with an original monster powerplant.
Sleeping giant
Viewed objectively, it's a real 'sleeper'. Big, blue, brash and ballsy maybe, but miss the subtle '427' badges on the lower leading edges of the front mudguards and you'll be none the wiser about the beast that lurks within.
Even the twin chromed exhaust tips are tucked under the rear bumper and down-turned at their extremities to make them all but invisible.
But open the bonnet, stand back and enjoy the view. Commanding the engine bay is Ford's awesome 427, unmistakable with its blue cast-iron side-oiler block, 2 x 4 branch medium-riser manifolds and twin four-barrel Holley carburettors – it's the star of the show.
Slip behind the wheel and the 427 R-Code is totally underwhelming. The dashboard comes straight from the cheapest models in the Fairlane range and is stark and understated by any standards.
Only the tiny 8000rpm tachometer atop the crash pad and the imitation wood sports steering wheel suggest that there's anything more than a 'cooking' variety V8 ahead.
The 120mph speedometer shows 14,789 miles covered and by the condition of the car it could believably be genuine, but unlikely after 42 years.
Yet when the big engine fires, its deep rumbling presence tells you instantly that this is no ordinary Fairlane.
When we saw it, the car had done very little running since arriving in Adelaide and its new owner was yet to really sample its performance – a real pleasure in store.
Yet simply trundling through suburban Adelaide at traffic speeds was an enormous buzz, with the imposing two-door hardtop turning heads wherever we travelled,
Ford intended the 427 to win races. Now, it just wins hearts.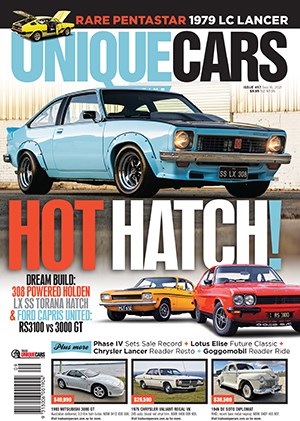 Subscribe to Unique Cars Magazine and save up to 42%
Australia's classic and muscle car bible. With stunning features, advice, market intelligence and hundreds of cars for sale.
Subscribe