2003 TVR T350T Review
---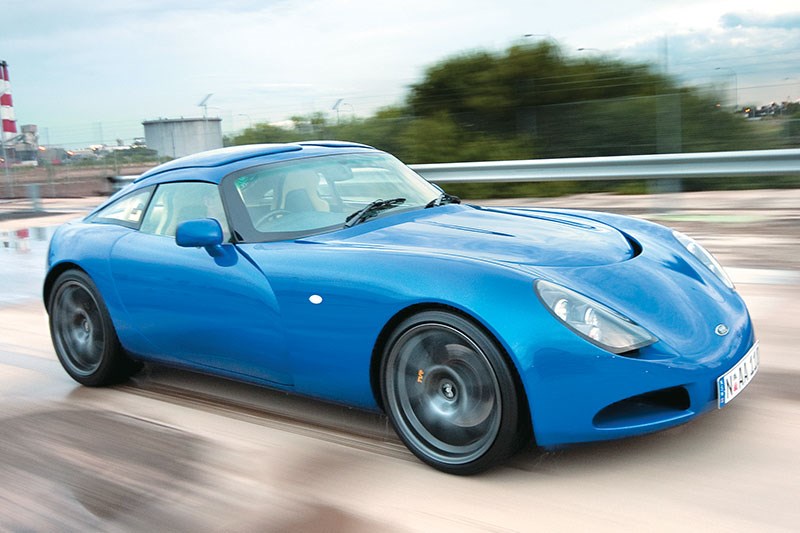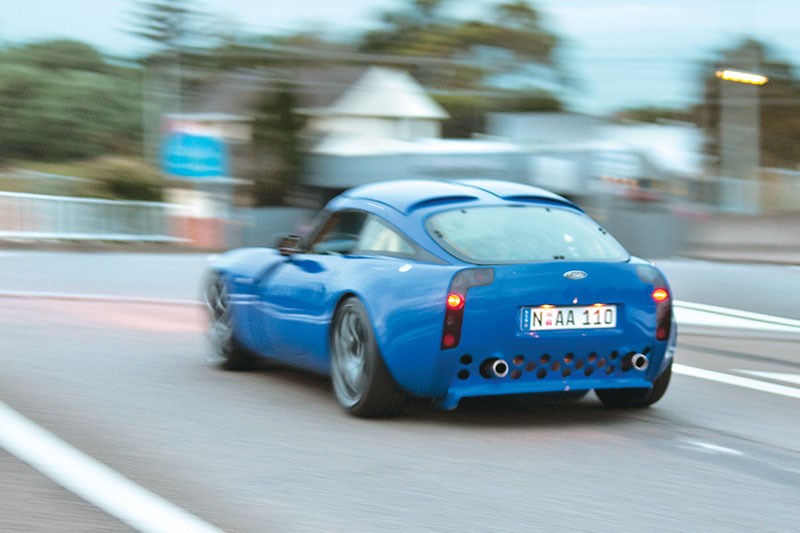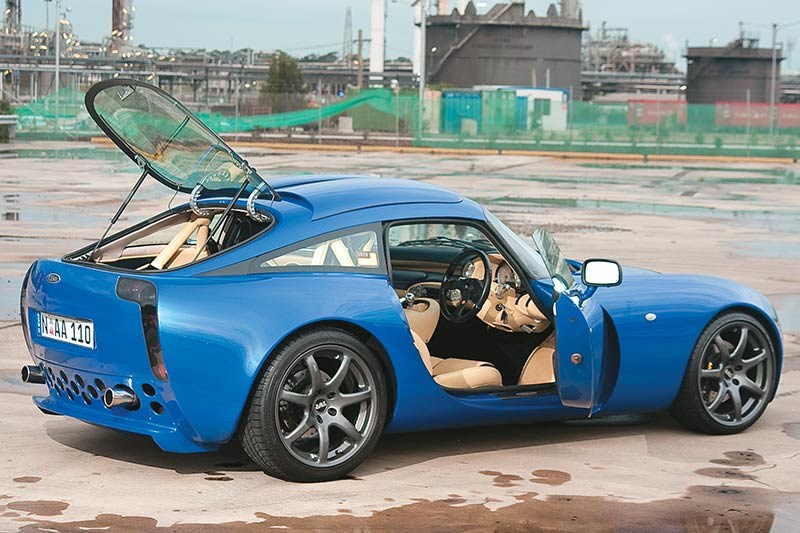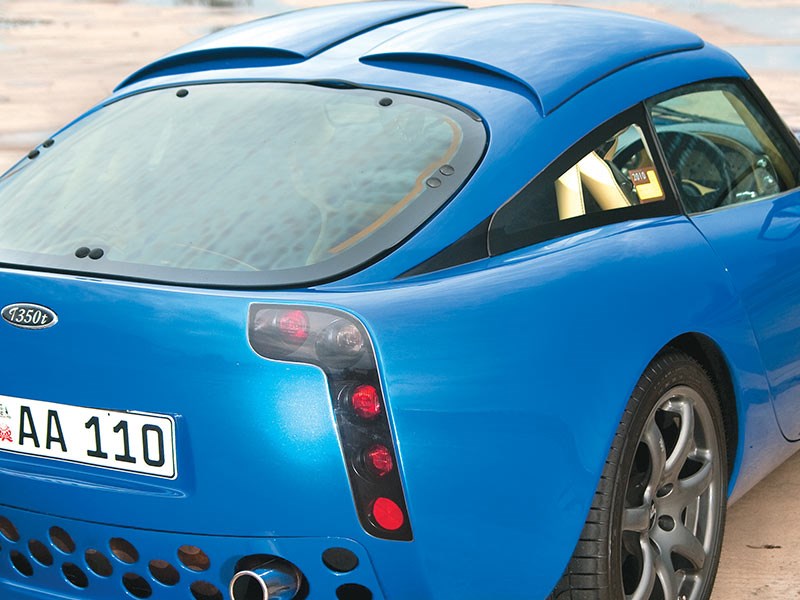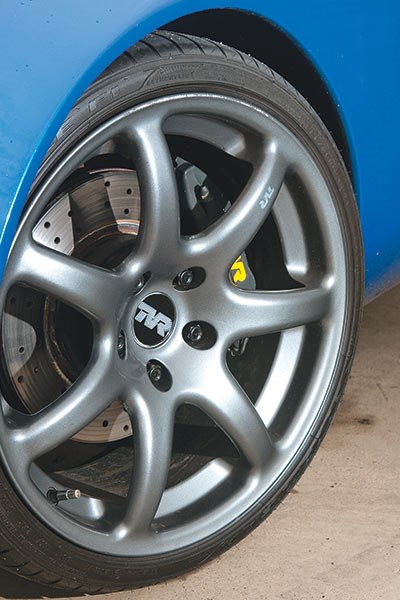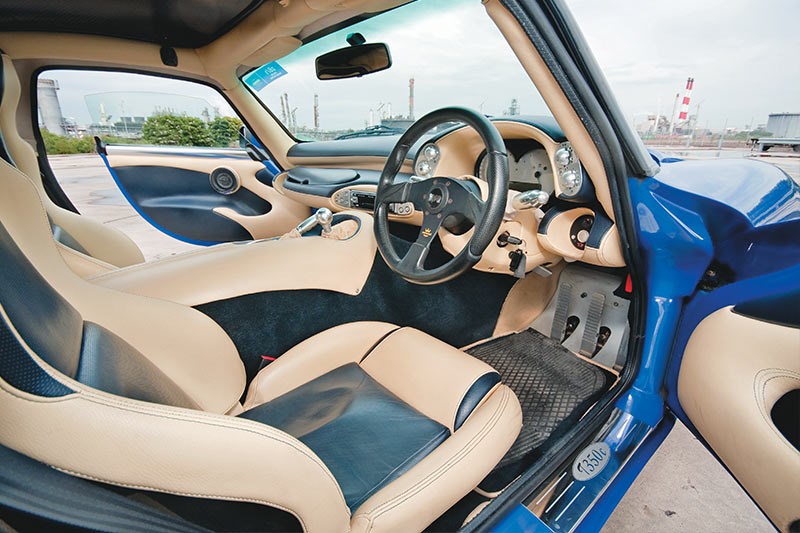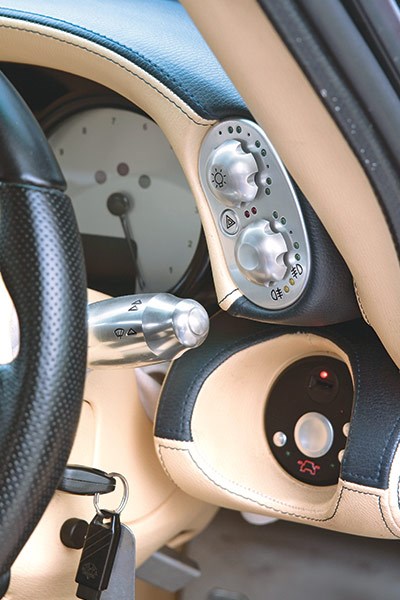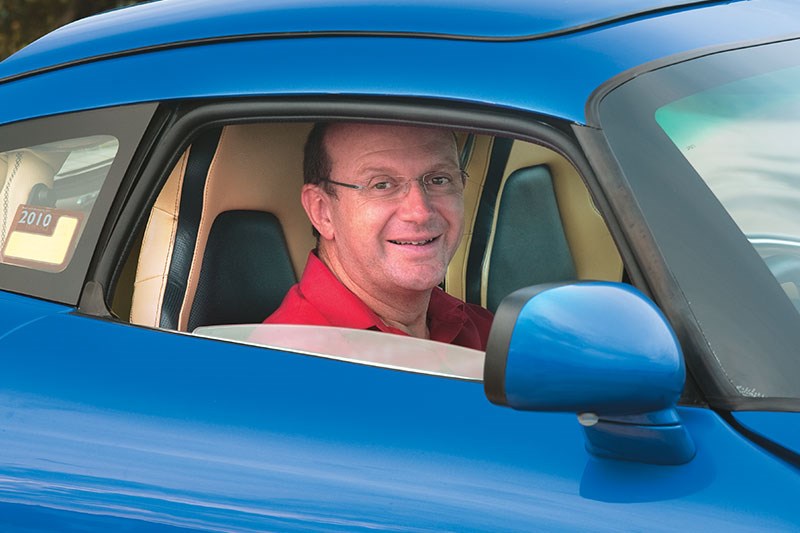 Looking back on a rare TVR T350T
From the archives: Unique Cars issue 310, April/May 2010 
One of the big appeals – not the only appeal, of course! – of owning a special car such as a Ferrari or Lamborghini is the smug feeling of one-upmanship it gives many owners. You can read it on their faces as they carve through traffic with that 'Look at me! I've got one and you don't' expression.
Well, Scott McKay can blow all those nefarious fast-car characters right into next week with his TVR T350T. Unless Scott – and we – are very much mistaken, this is the only one of its kind in Oz. That uniqueness makes your typical sports car pilot look like they're driving something bought in a K-Mart sale.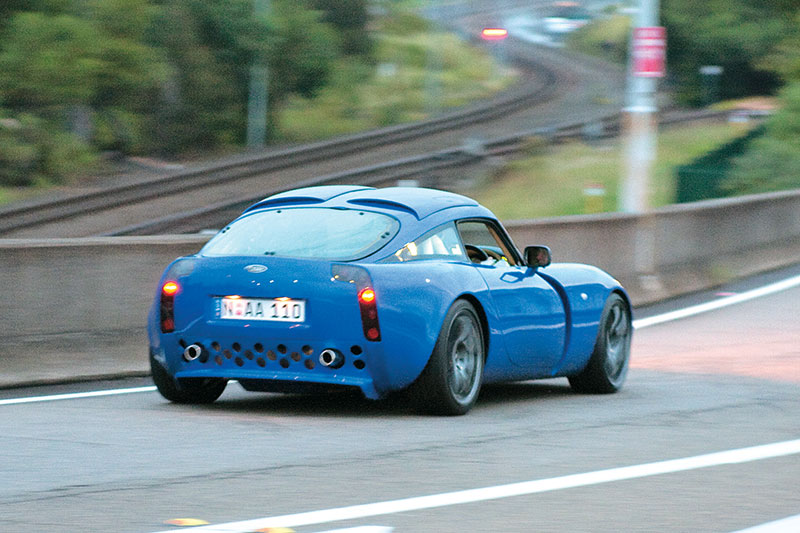 T350T cuts a purposeful pose from any angle. Drilled rear bumper and exposed exhausts hint at race heritage
But don't get us wrong: Scott is definitely not smart-arsed about owning this very special car. Proud, yes. Smug, no. Just moments after introductions at our Sydney photo shoot location we've speared straight into conversations about cars. He confirms his car nuttiness by asking a simple question:"You've got a list haven't you?" he queries.
Sadly, I know exactly what he means… The 'bucket' list of cars we must own before we die. "Yep!" I reply, counting cars on my fingers. "Boxster. I've already got the Kombi and some Beetles.
Another Commodore V8 would be nice, but I'd like a Torana first. And a LandCruiser…" I realise I'm hogging the conversation; we're here to talk about him, not me. "Well mate, this car was on my list…" Scott confirms.
TVR isn't a marque that would feature on too many enthusiasts' bucket lists and the T350T is even less well recognised away from Europe. Founded in the late 1940s, TVR was a respected manufacturer of low-volume sporting cars in a similar vein to Lotus or Morgan. The company is in limbo at the moment, having run into difficulties a couple of years ago so, for now, the T350T (the last letter stands for Targa – there was also a C coupe) is the last of the line.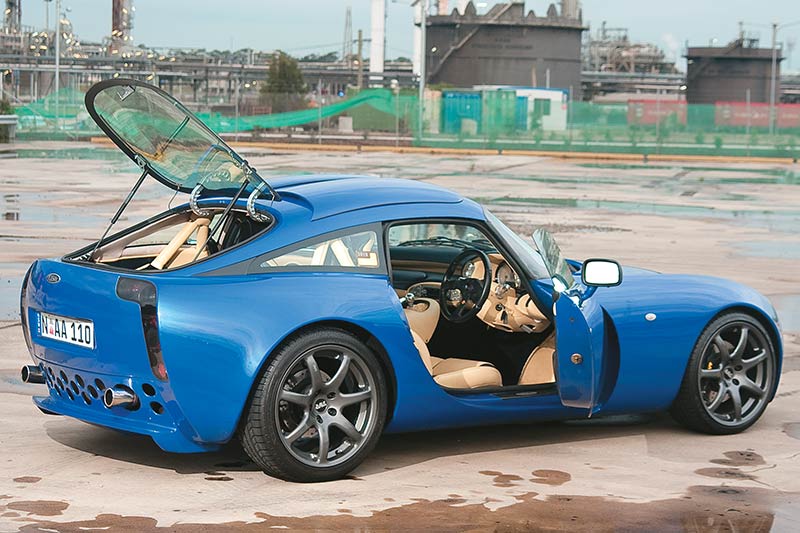 Styling is a mixture of elegance and pugnaciousness. With 260kW, lightweight TVR has prodigous performance with bags of grip; just don't oversetp the limit, its owner warns
Scott bought his TVR in March 2009 after chasing it for around six months – and a few other TVRs for a little longer than that. "After I heard this car existed (in Australia) I absolutely had to find it!" he enthuses.
"I think it's been here about three years and was obviously imported by someone who loved it enough to own it for a year in the UK before bringing it back. It's a 2003 model and this model was produced 2002 to 2006. I came close to buying a Temora, then I heard of this 350T."
Style-wise, the T350T is a pleasing mix of "aggression and elegance," reckons Scott. It's not difficult to agree. Many low-volume cars lack consistency and maturity in their styling; there are always funny angles or compromises bestowed on the finished product by either the lack of 3D or clay modelling during design, or the need to use off-the shelf parts such as lights, screens or handles.
TVR weaseled its way around potential problems by creating just about everything itself. That 'it's all-TVR' philosophy goes deeper than the beautifully applied R1 blue paint, too. Most low-volume manufacturers, from Elfin to Morgan, rely on components and switchgear from mainstream makers such as Vauxhall or Ford.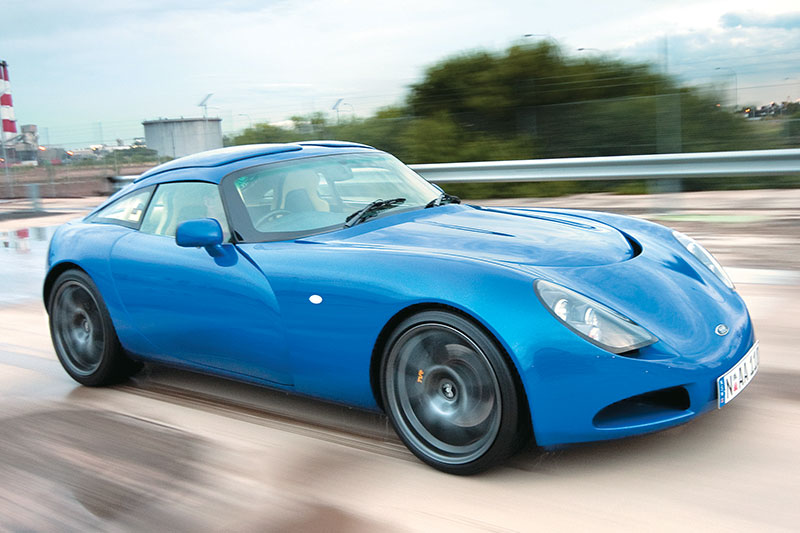 The TVR's are all elegantly machined in aluminium and scattered across a beautiful instrument panel. Surfers will appreciate the dash layout – it resembles a building swell. There are lots of other details too, most exquisite and some of them traps for the unwary.
Getting into the 350T presents just the first of many conundrums that TVR has built into this car. There are no conventional exterior door handles to speak of; nothing hidden in the painted black-out of the B-pillar or glasshouse as there is with the last-of-the-line Mazda RX-7.
I stand there perplexed; I'm buggered if I know how to get into this thing.
"Press the button under the mirror," instructs Scott through the open window. "Now pull on the mirror." Uh huh, right. It's counter-intuitive but the doors swing open easily.
After our run around for the camera, Scott's smile broadens. "Now let's see you get out!" I wonder what he means – the TVR seat is low, but I'm reasonably lithe and it's not like I'm missing my left leg or dressed in a miniskirt.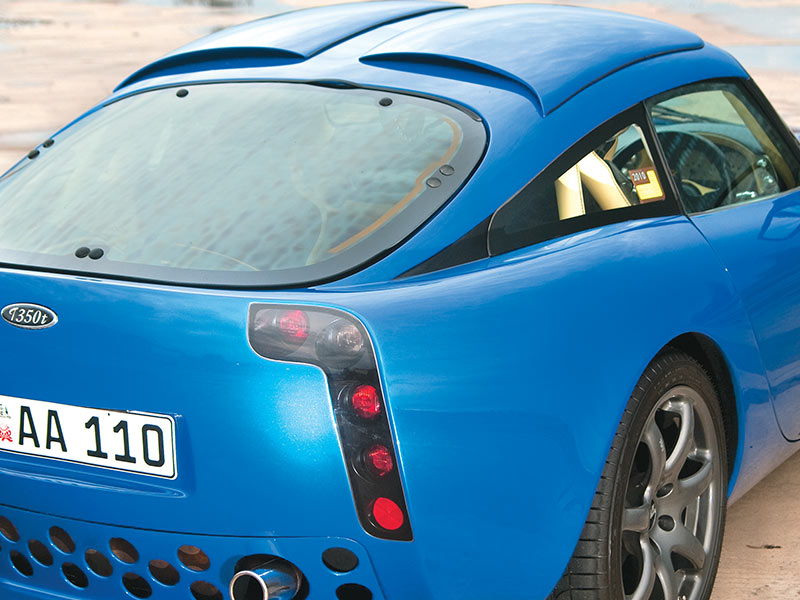 I reach forward then run my arm backwards and down, searching vainly for the interior door handle. Of course, there isn't one. I look hopelessly across at Scott who with a broad grin growing, reaches across and presses an anonymous button to the left of the radio. Click goes the door.
What looks like an oversized aerial bezel on the nearside rump is in fact the fuel filler. It's a clever ball valve operated by a handle inside the luggage area. I play with the handle watching, fascinated, as the filler hole opens and closes like a lizard's eyelid. Like every other piece of TVR alloy jewellery, it's a model of machining excellence.

But the most incredible component of TVR manufacture is the engine. Again, most low-volume sports car creators buy in a third party engine, as did TVR for most of its history. It makes sense: the donks work, in most cases meet international emissions laws, and spare parts are a snack.
TVRs were Rover V8 powered for much of the 1980s and '90s but that ended with the cessation of the Rover V8 production. In the early 2000s, hallowed British marques such as Range Rover, Bentley, Mini and Morgan were all either owned by European companies and/or powered by BMW engines. Not for TVR. "The design is very patriotic; they didn't want anything German in the car," explains Scott of the T350T design.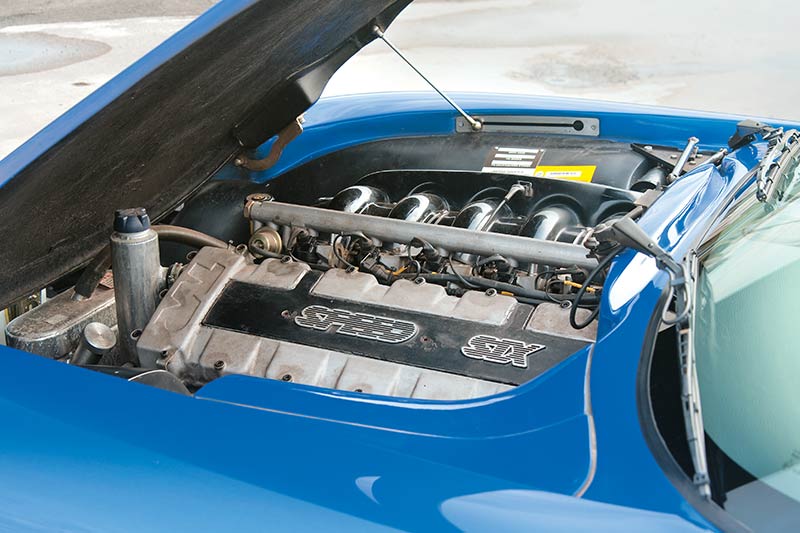 TVR's own 3.6-litre six snubs its nose at the 'Germanisation' of the low-volume British sports car manufacturers. Ironically, a third party engine may have helped save the company
The Speed Six engine displaces 3.6 litres and according to Scott, puts out around 260kW. It's a double-overhead cammer, designed to compete in FIA Sports Car racing in Europe.
From a mumbling idle, the exhaust note rises to one of those addictive sounds you just want to keep hearing, with prods of the throttle. It's three-quarters Porsche 911 with a good splash of modified late-model Commodore V8.
With around 260kW pushing around little more than one tonne, performance is like a hit of both German and Aussie muscle, too. "It's bloody fast but not scary fast," explains Scott. "It has quite high levels of mechanical grip. But I tell you what, I'd hate to unstick it…"
The chassis is sensible road/race car technology, with a welded steel-tube frame riding on all-independent suspension located by upper and lower wishbones and fabricated uprights. The steering is rack and pinion.
The engine sits behind the front axle centreline (it's a front-mid-engine car) and the radiator is mounted horizontal for reasons of both packaging (inside the low, low nose) and weight distribution. The engine is dry-sumped, placing the crankshaft only inches above the road, keeping weight down.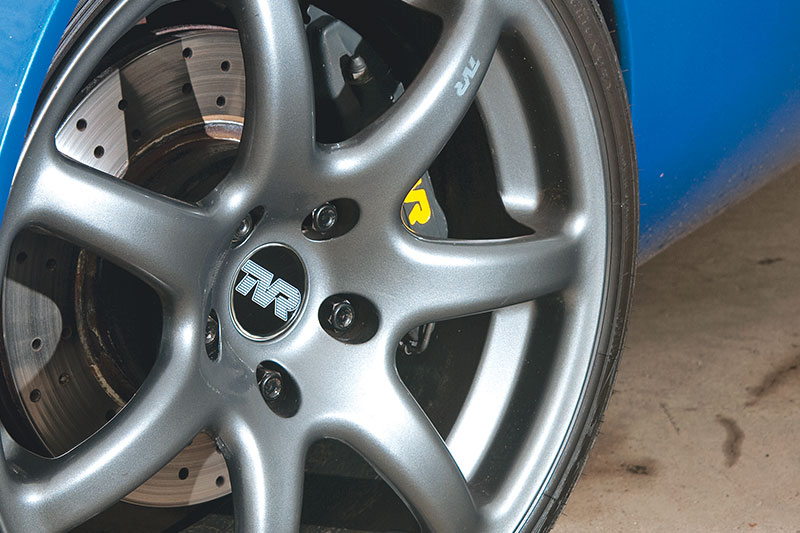 Big brakes behind 18-inch alloys
Its beautiful exhaust note is, in fact, a blend of sound from out back and induction noise through the Piper-panelled airbox feeding six individual throttle bodies. It's a glorious noise but accompanied by a few growly driveline harmonics as Scott climbs through the cogs.
On-road, the TVR is impressive but it doesn't quite live up to the standards promised by its wild appearance and Porsche-ish price tag. Scott admits he wants to play with damper rates and after a short run in the passenger seat, I reckon the TVR needs to come up an inch or two to keep the car off its bumpstops but I'm not sure what that will do to geometry or its visual menace.
Braking-wise, the vented and slotted discs are endowed with chunky four-pot calipers up front and smaller single-squeezers on the rear. The anthracite-hued 18-inch alloys are strapped in 225/35 and 235/40 Goodyear Eagle F1s.
I'm impressed by the fact this car was handcrafted from lumps of aluminium by a bunch of enthusiasts for whom the car is everything. I've never experienced a car like this before and it's a shame there may be no more. But Scott like other enthusiasts of this vastly impressive marque is confident that TVR will return in the near future.
"It's not trying to be like anybody else," Scott says of his rare and spectacular looking Brit. "It really is its own thing. I think time will treat this car well."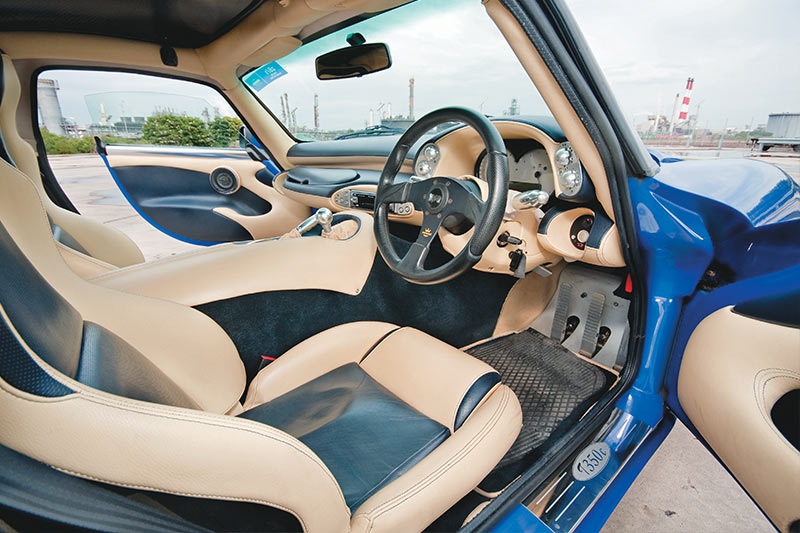 Luxurious cabin with lashings of handmade alloy - figuring out how to open the doors is another thing!
TVR WHAT?
The TVR marque is hardly a household name Down Under, but the English company has existed since the 1940s.
Like several other low-volume manufacturers, it began life as a manufacturer of kit cars using engines (mostly fours) and mechanical brands such as Ford and BMC. By the '80s, with Ford Granada/Capri V6 power, TVRs had become quite muscular. Power outputs grew with the adaption of Rover V8 engines (from the SD1 and later Land Rover) but in the late-'90s, TVR began developing its own engines.
The AJP8 was a light alloy V8 and its name was derived from those of its designers, Al Melling, John Ravenscraft and Peter Wheeler. The Speed Six came later and became the brand's mainstay.
THE HOLDEN CONNECTION
In 1988, TVR built a stubby and angular prototype two-door coupe dubbed the White Elephant. So what?, you may say. Well, under the bonnet was a 5.0-litre fuel-injected V8 from none other than HSV.
Seeing a sales opportunity, Tom Walkinshaw (the Scot who established HSV) supplied TVR with an example of the then-new VL Commodore SS Group A engine. This was, of course, the first fuel-injected Holden V8 and featured the iconic dual throttle bodies. Walkinshaw could see potential in supplying TVR with race-bred engines as an alternative to the more docile Rover V8s but, unfortunately, the deal didn't proceed.
Thankfully, though, TVR went down a more attractive styling path and wedgy DeLorean-like lines were old hat by 1988.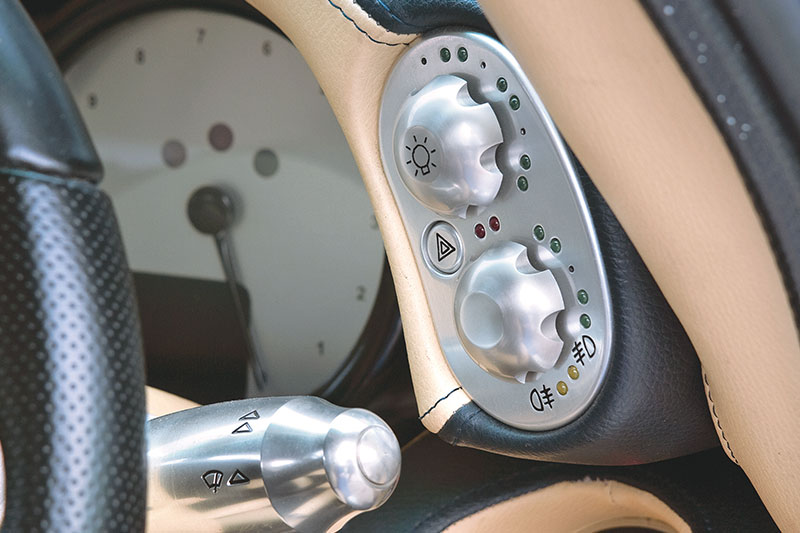 2003 TVR T350T SPECS
Body: two-door, two-seat coupe
Weight: 1060kg
Engine: 3.6-litre six-cylinder 24 valve
Power/torque: 260kW/393Nm
Transmission: five-speed manual
Drivetrain: front engine, rear wheel drive
Performance: 0-60mph – 4.4 secs. top speed – 282km/h (claimed)
Unique Cars magazine Value Guides
Sell your car for free right here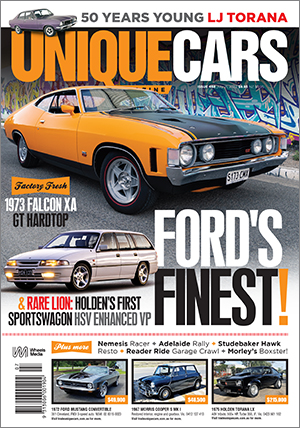 SUBSCRIBE TO UNIQUE CARS MAGAZINE
Get your monthly fix of news, reviews and stories on the greatest cars and minds in the automotive world.
Subscribe