1971 Ford Falcon XY 500 - GT-HO Phase III Sleeper Cop Car
---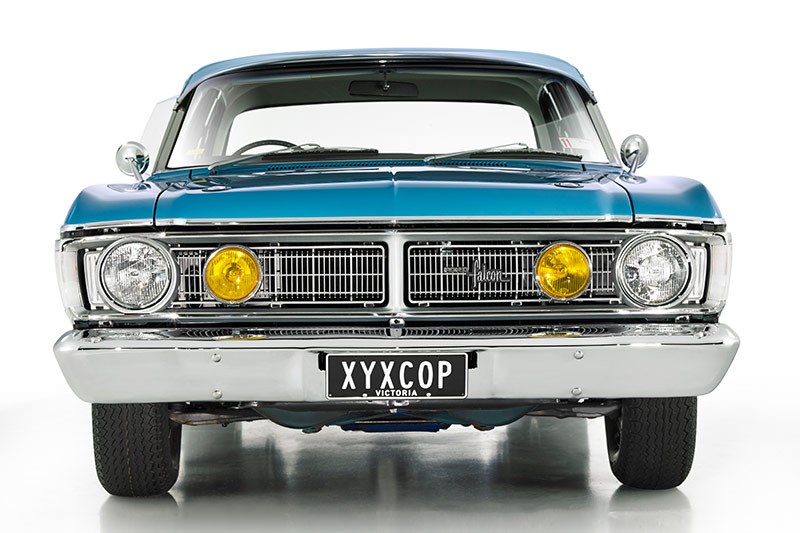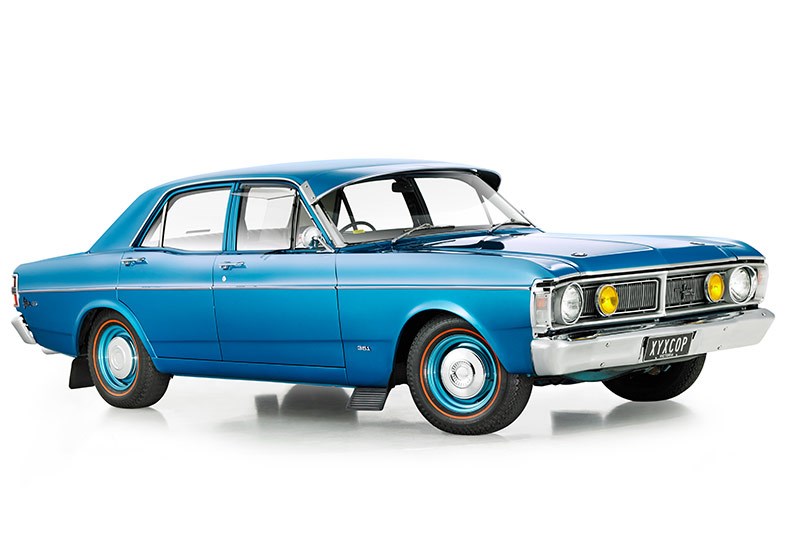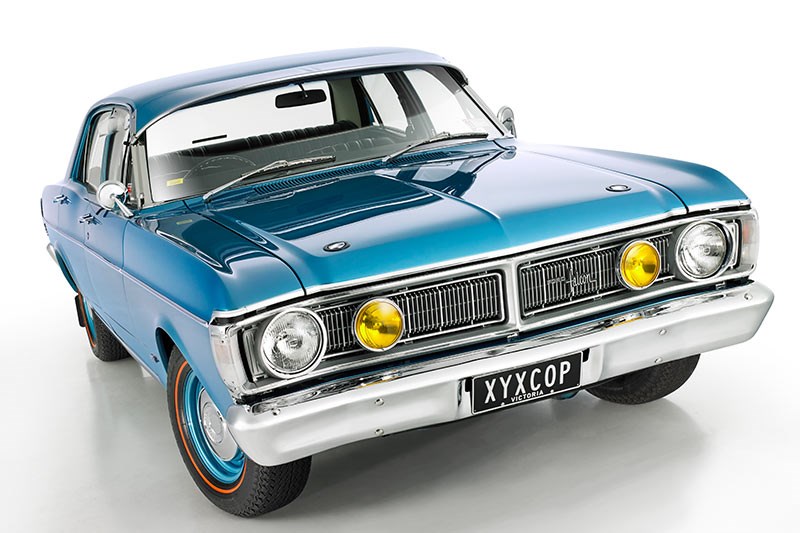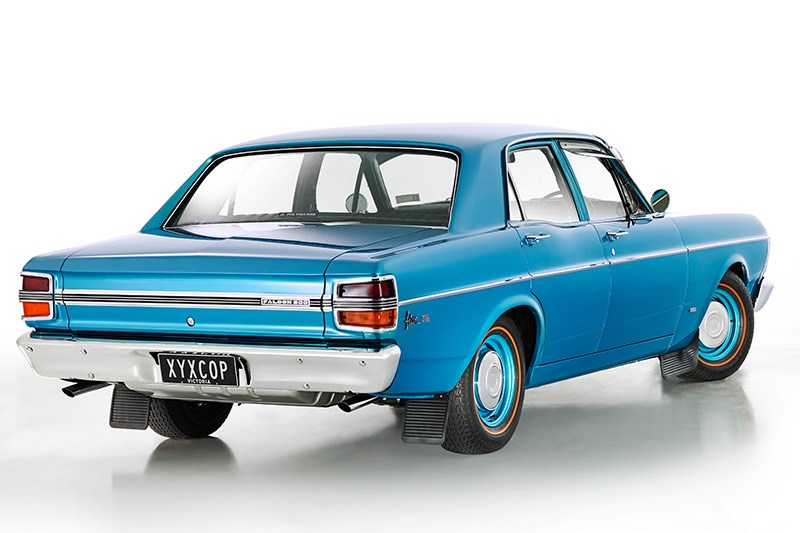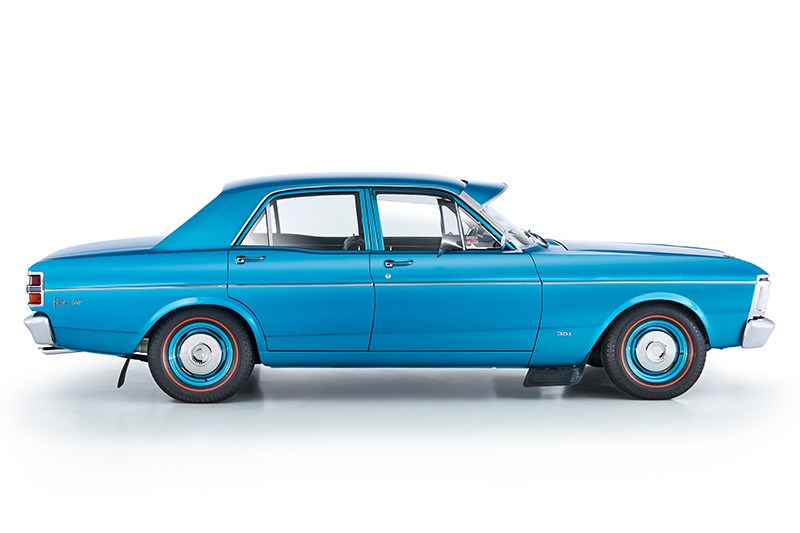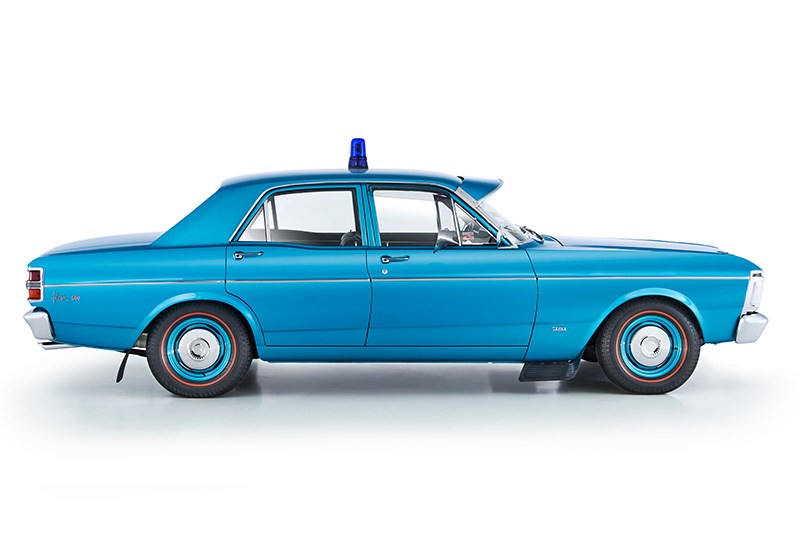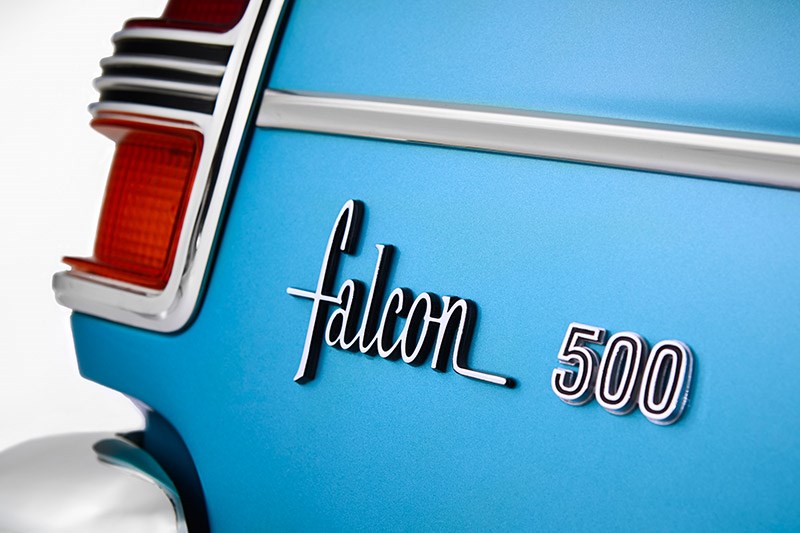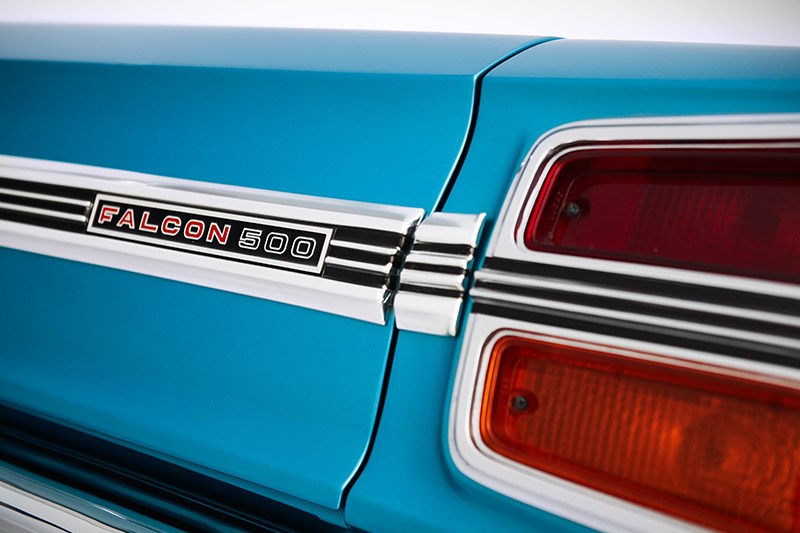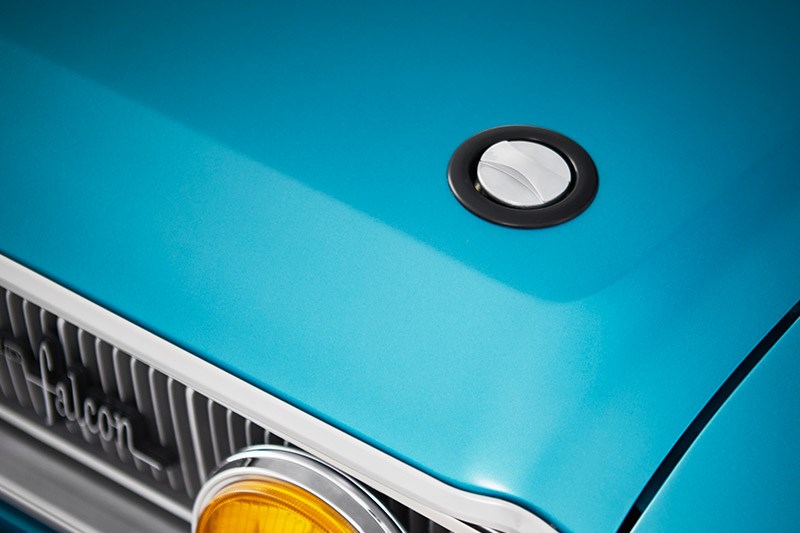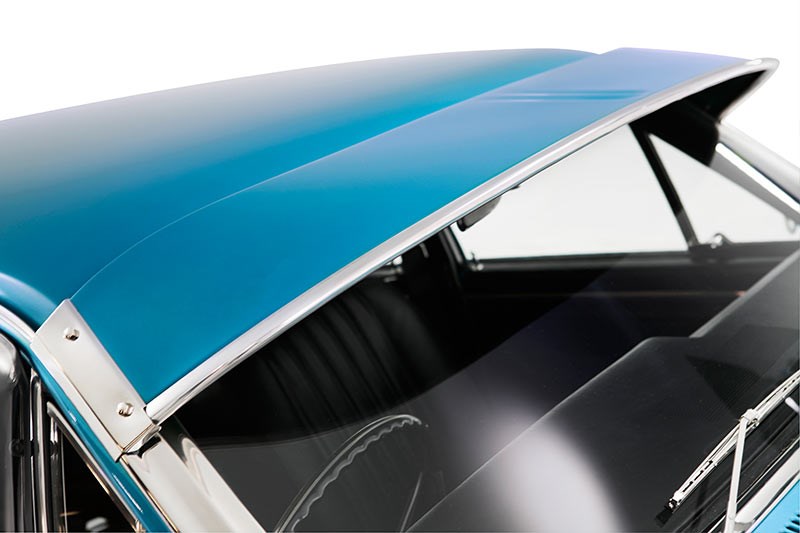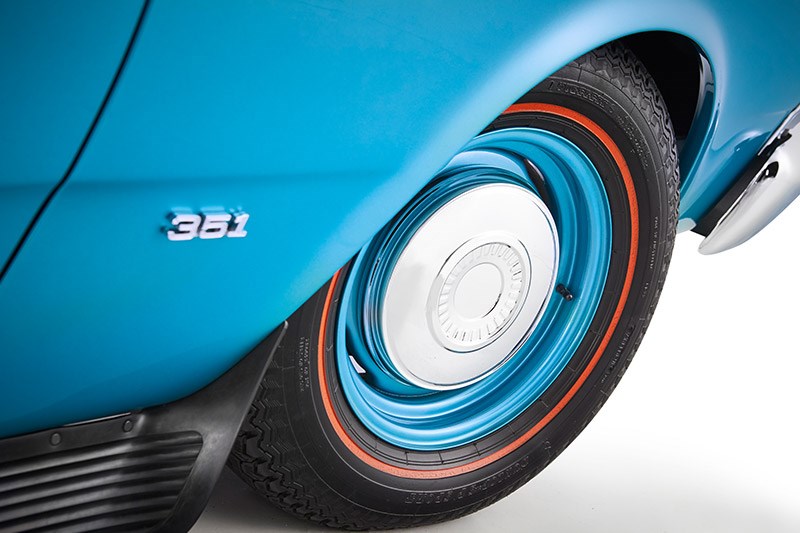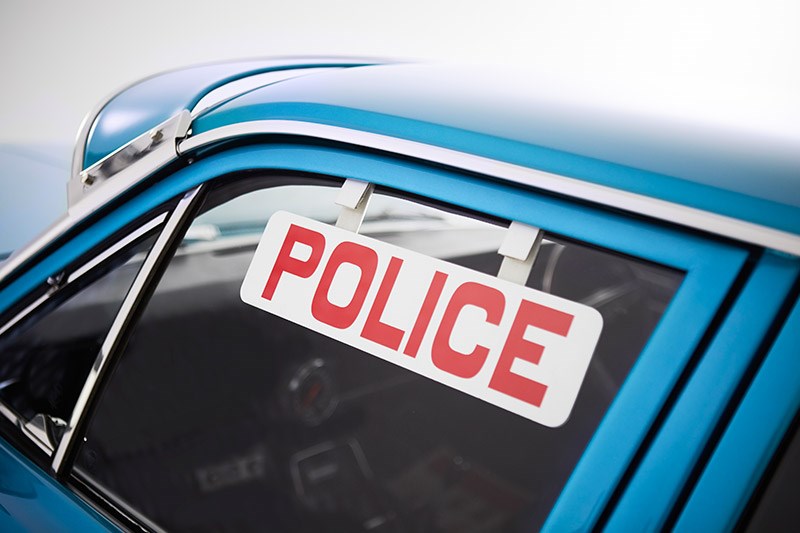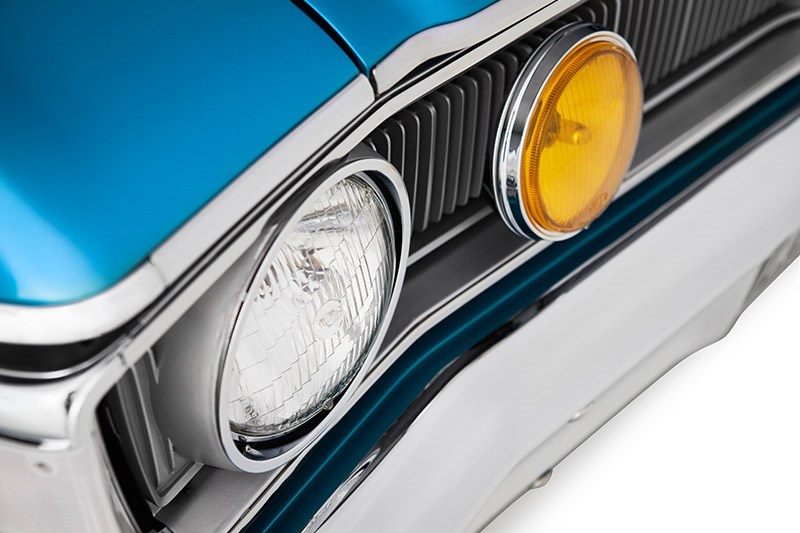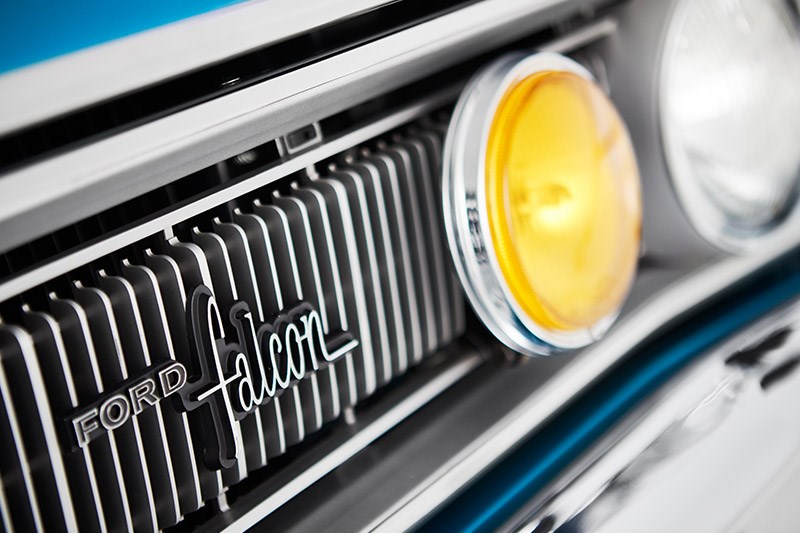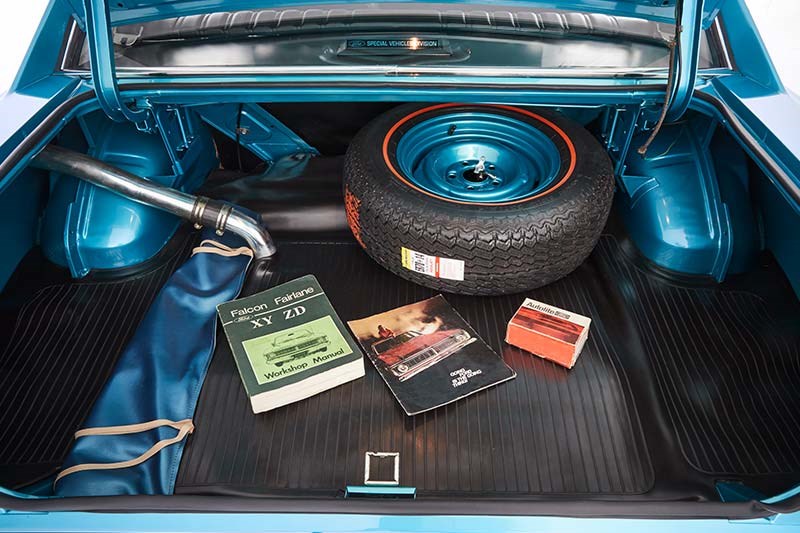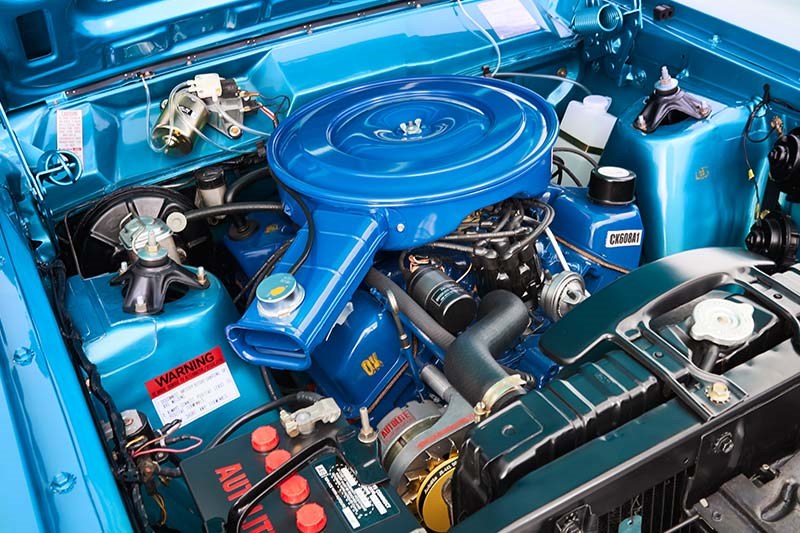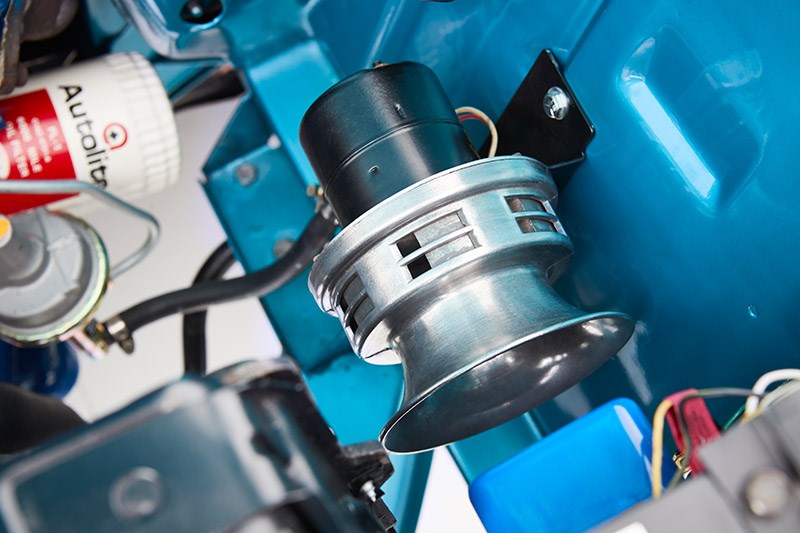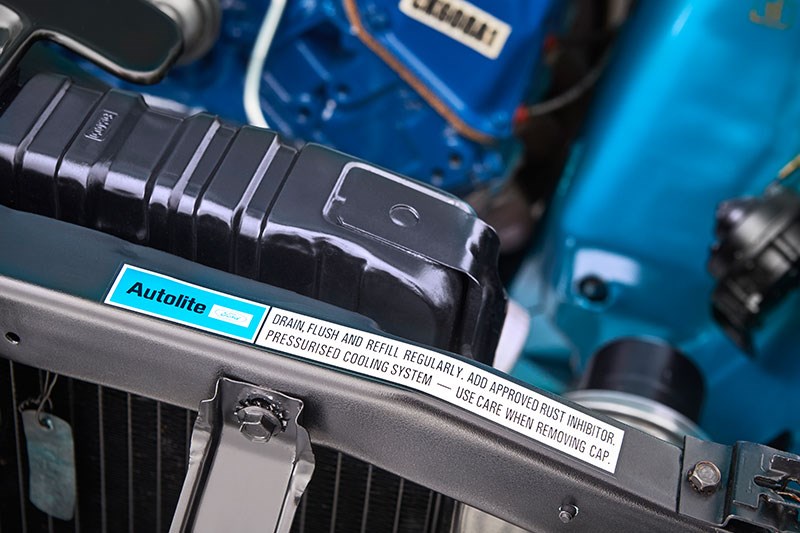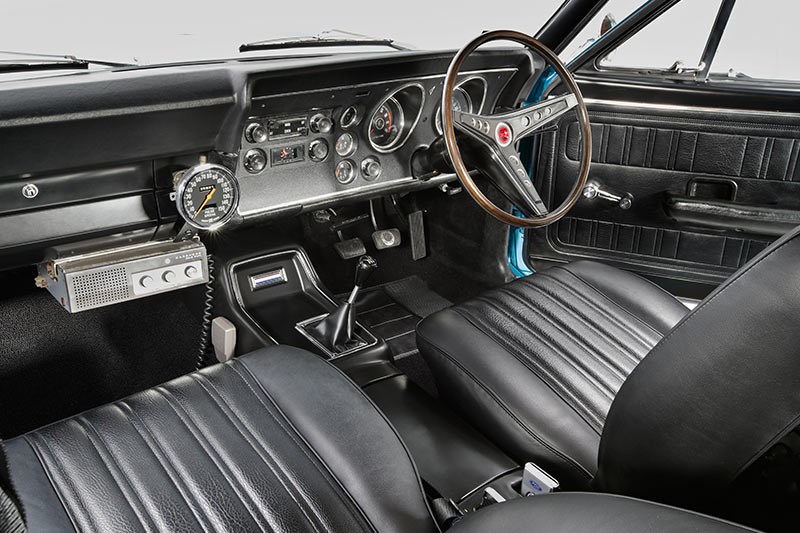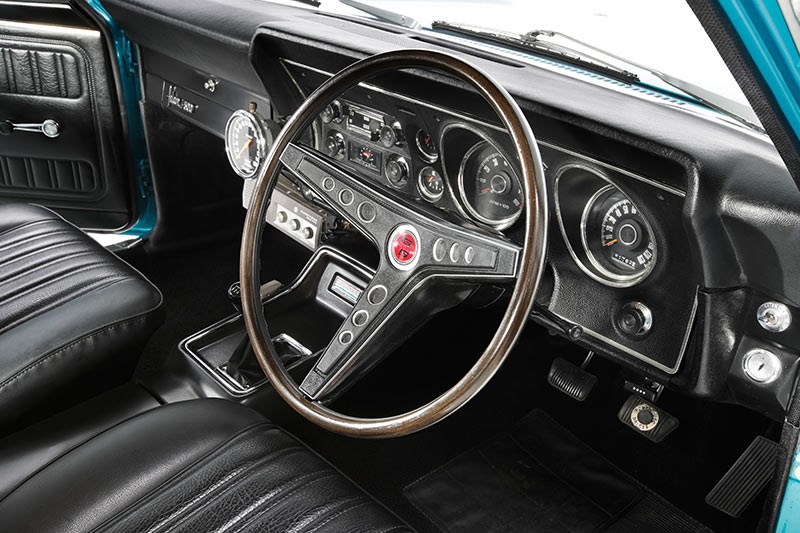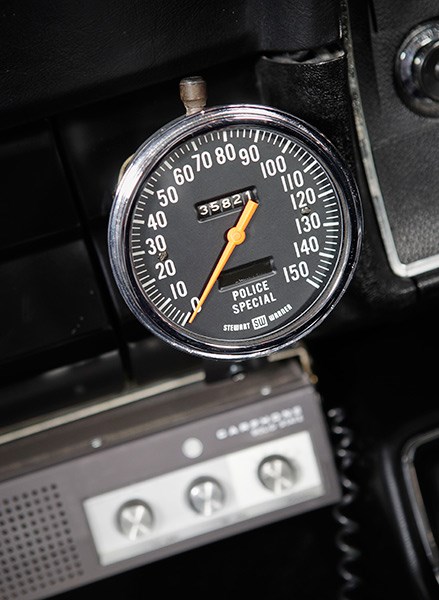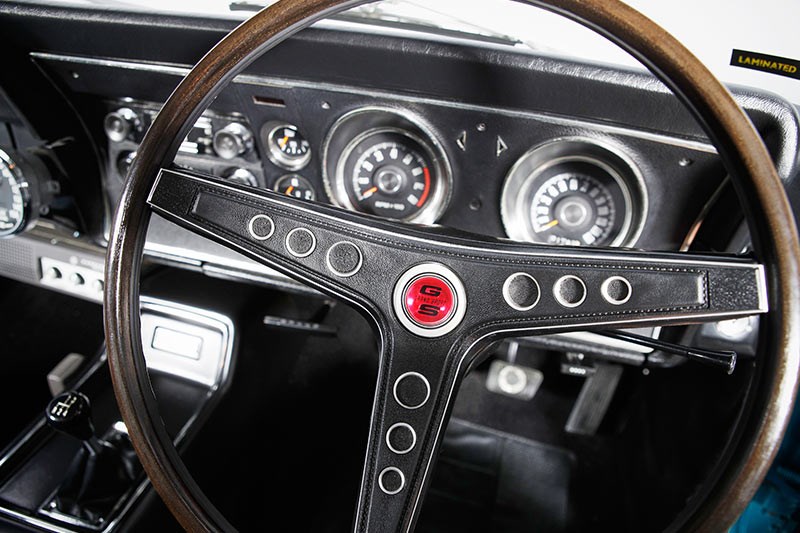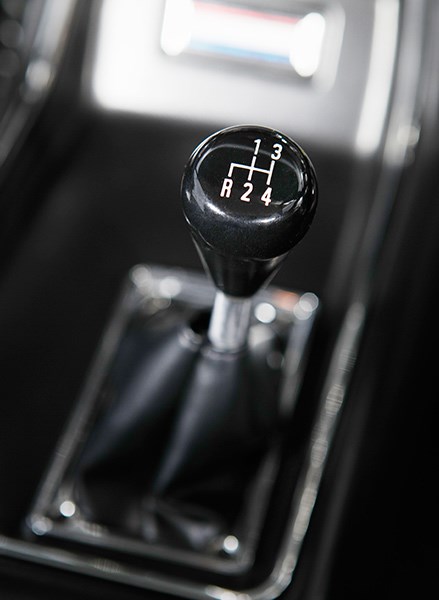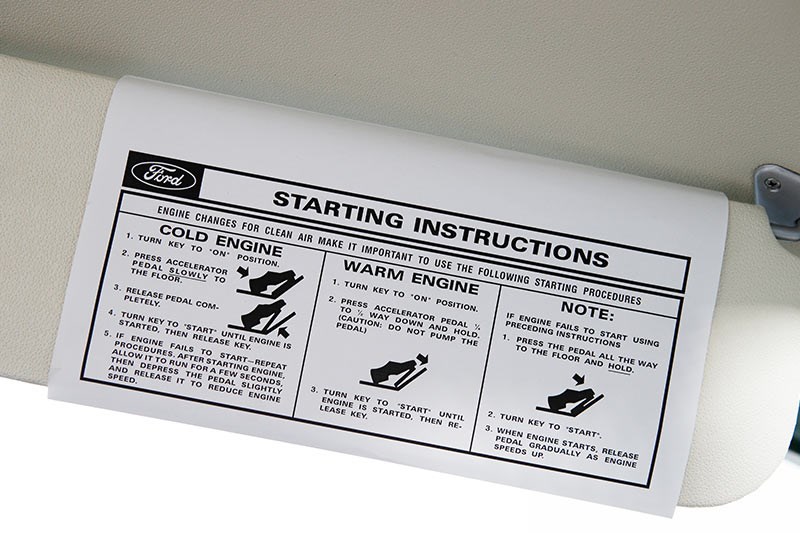 GT-HO wolves in sheep's clothing - great for the enthusiast but totally unfair in the hands of the highway patrol!
1971 FALCON XY 500
With the numbers of XY Phase III GTHOs locked in at 300 and with around a third to half of that number still in existence, there seems to be a burgeoning market for other high performance variations that snuck out of the factory in various guises. And they're adding an interesting addendum to the whole GT-HO phenomenon.
One such variant was a police special, basically a disguised Phase III. Actually a Falcon 500 with all the running gear of a Phase III. There was plenty of precedence, with high performance police Falcons being custom built even before the XR GT. The XY builds lacked the bling of the GT, but none of the go – in fact possessing probably more in that department, because they hit the scales at a somewhat lighter weight, due to no power steering, air conditioning (optional anyhow) or radio, and just your bog stock Falcon 500 trim.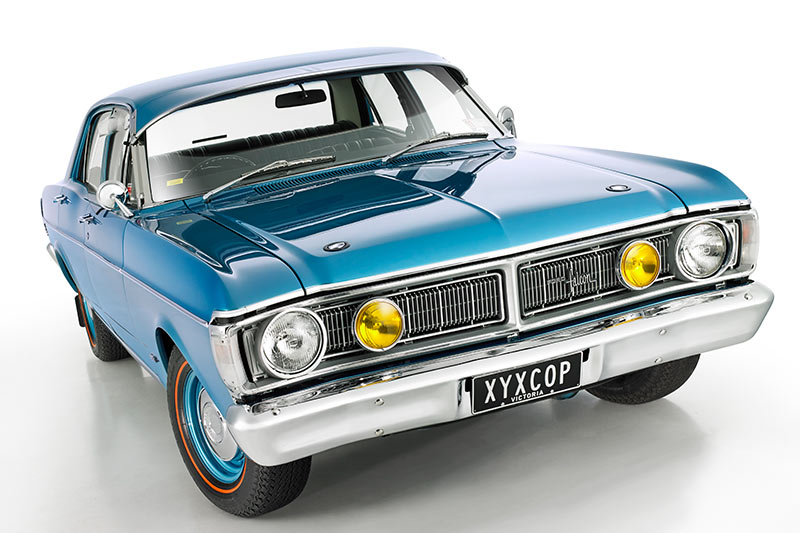 A nation wide phenomenon, the NSW and ACT police at the time were especially having a bit of a problem catching errant drivers, as a stock cop car would have trouble pursuing the ever increasing numbers of fast cars and motorbikes of the era on NSW's extensive highway system. All this ushered in the "160MPH Supercars" scare of the time, firmly nailing down the lid of the Phase IV coffin.
There are many tall tales, and true, of unmarked vehicles surprising the wits out of errant drivers. Like the time a bloke was pulled over by a ute filled to the gunwales with bales of hay, and the supposed farmer turning out to be a burly copper. Popular unmarked vehicles around these times were the Mini Cooper S, XU-1 Toranas, Valiant Chargers and even Mitsubishi Cordia turbos.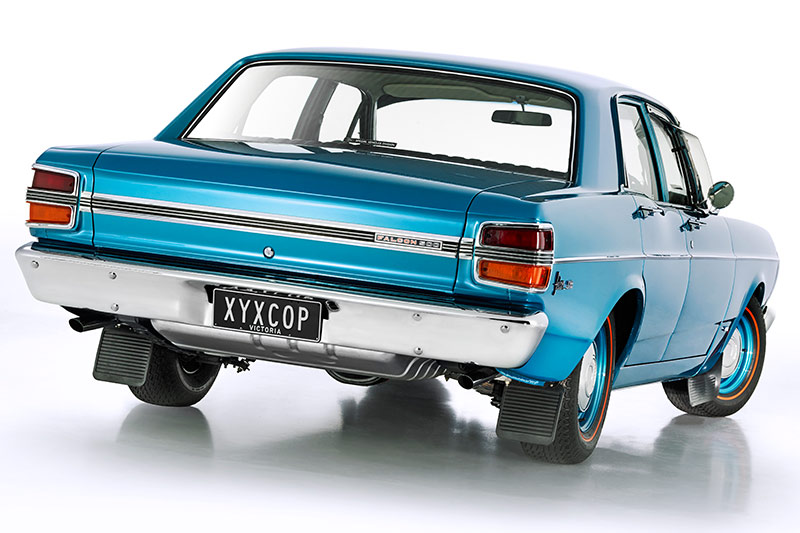 You've possibly already found out first hand – it's a practice that still exists today – witness my recent surprise at the flashing dash and parcel shelf lights of a clandestine WRX that had me break out into a sweat and adrenalin OD. Not as much as the bloke behind me though, who actually paid the price.
So this late 1971 XY Falcon 500 owned by Peter Rujanoski is one of apparently eight special builds for the ACT cops. It seems they patrolled the ACT's highways and main roads, and no doubt were used for sanctioned high-speed ferrying runs around the area as necessary. Peter figures he's about the fourth or fifth owner and can trace its history back to 1982, but the trail stops there. That's a 10 year gap he and his brother Lou are trying to fill, but they've found out one of its custodians seems to have had it for at least 31 of those years.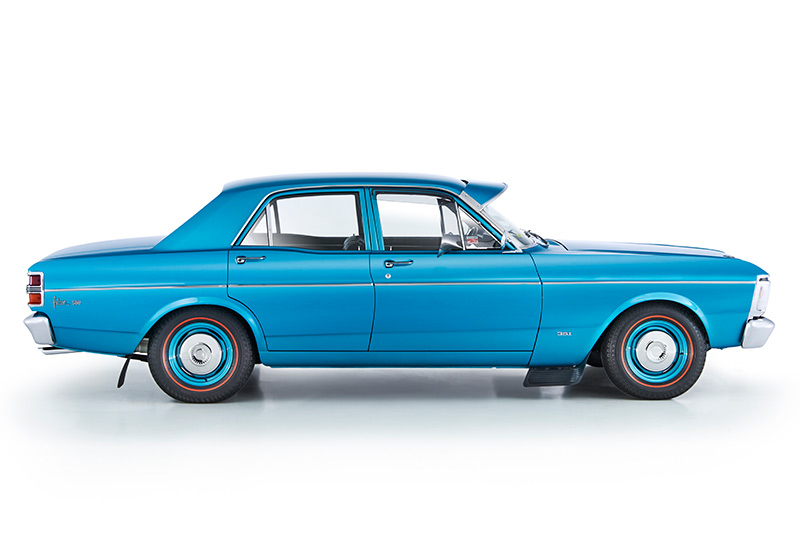 Fords are a passion for Peter. He's owned a number of GTs and HOs over the years, and felt the need to sit down and look for something different. That's where he came across the "T code" cars built for the police and he's got the feeling this is a growth area for the marque.
As you can see it's been brought up to a level probably better than original, especially paint wise. That Teal Glow finish was the job of Re-Creation Automotive. Apparently rust and other gremlins were very minimal, with only part of the left rear doorsill needing renewal. Other than that, he says, it was just a matter of refurbing what was already there. Right down to the interior door locks.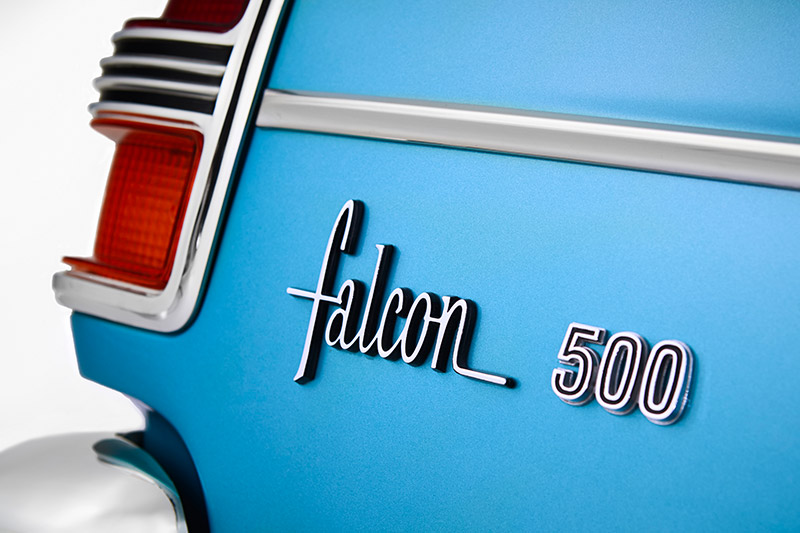 Even the drive train needed bugger all attention, including the brake linings and pads. They're the ones he originally bought it with. None of the bushes, uni joints or even bearings needed attention.
Whatever he's doing, it must be working, because he got the top gong in his class (best XW/XY Falcon) at the All Ford Day in Geelong in February 2017.
Back in the era, anything with around 40,000 miles on it was sent to the auctions, and in this example's 46-year lifetime, the total is still only 90,000. So the fact that the running gear is still serviceable probably isn't all that surprising. But you'd have to think some of the components would have been replaced somewhere in that time. Peter also doesn't put too many miles on it, but feels that the 4V Cleveland will probably get his attention at some stage, along with the clutch he says is nearing its use-by date.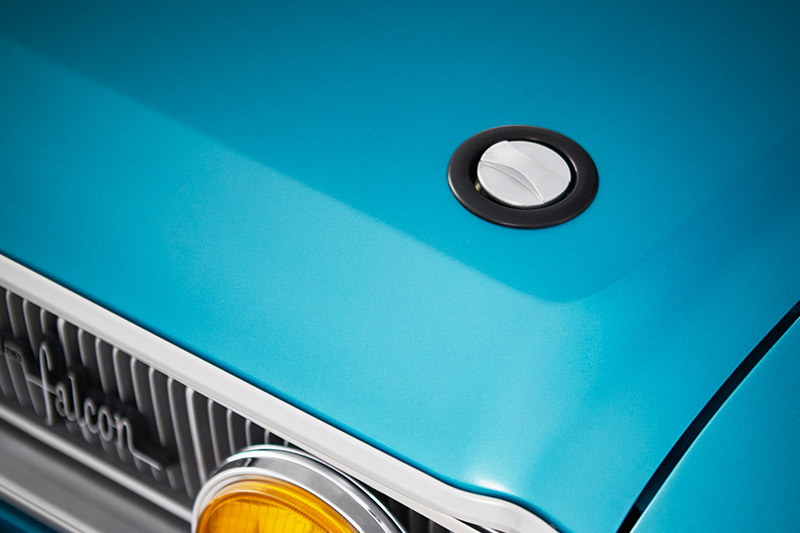 Like most owners of classic vehicles, he gets a lot of attention from the young and the old, with lots of friendly waves and admiring looks. He says driving this, compared to a stock XY Falcon 500, is chalk and cheese. This thing is still good on the road and light-years ahead of its namesake. 'Bucket of bolts' – I'm sure he said.
Being a late '71 build, it got the Bullnose gearbox with the accompanying shorter tail shaft and 31 spline diff, which runs 3.51:1 gears.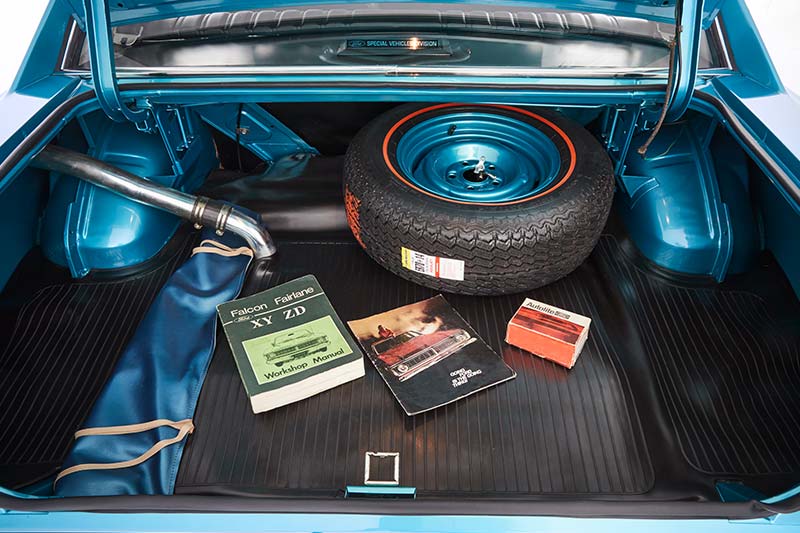 You'll also notice the 'different' instruments in the cabin. The big calibrated speedo, centre-stage, is one item I remember from the era. Once it was sighted by the unfortunate miscreant, there'd be a lowering of their head and a mournful sigh – "Okay, I give in. Where's me ticket?" type of thing. Those things were meant to be accurate to within half a mile an hour, and anyhow, it's a braver man than me who's going to argue with a gunned up copper.
Also, the police radio brings back memories of the cop shows of the time. Fortunately, except for misdemeanors you'd never really see one in action – only when TV's Homicide detective, Leonard Teale, would call back to D24 in glorious snowy black and white. But, cuffed in the back seat, you'd most likely hear the coded speak coming and going, and find yourself wondering if the cell's dunny was in good working order. And the under bonnet siren – another one of those wailing tones you just want to forget.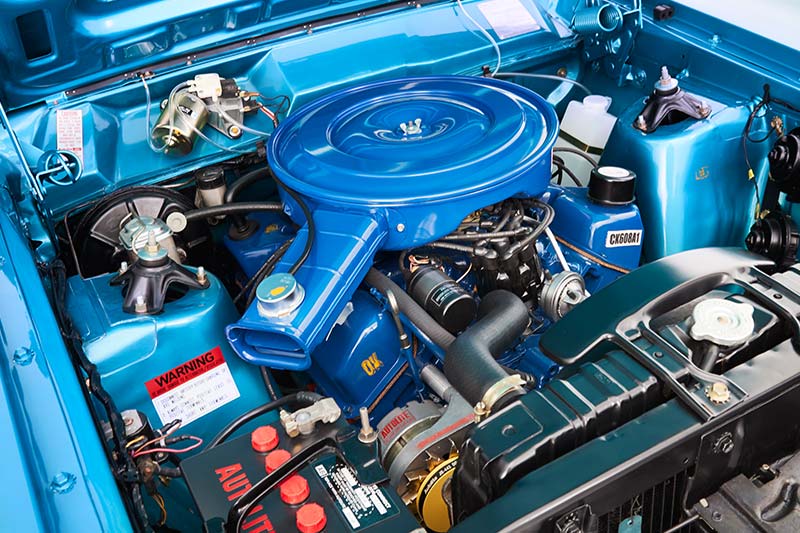 In keeping with this type of resto, Peter is sticking with the reality of what the vehicle was like in the day. Right down to the original supplier of ancillaries like the alternator, filters and battery – even the original tyres. A bit of a burden really, as the Dunlop Aquajets seen here are the real deal, not reproductions, thus basically the same age as the car. And that's definite commitment because a pristine set of 14 inch ER70 Redwalls, in all their crispy hardened glory can set you back the price of one of the last FG Falcons, believe it or forget it. Plus the fact that Aquajets were not highly regarded even in their day, earning the name "Aquaplane" or "Aquaslip" fairly promptly, and in the early days of radial ply tyres, that didn't bode well. Brands like Michelin and Pirelli were the go back then, even if they did cost more than the everyday brands. Peter says these things are more like ice skates and don't have much grip. They squeal and squirm around with very little provocation. That's the price you pay for OEM!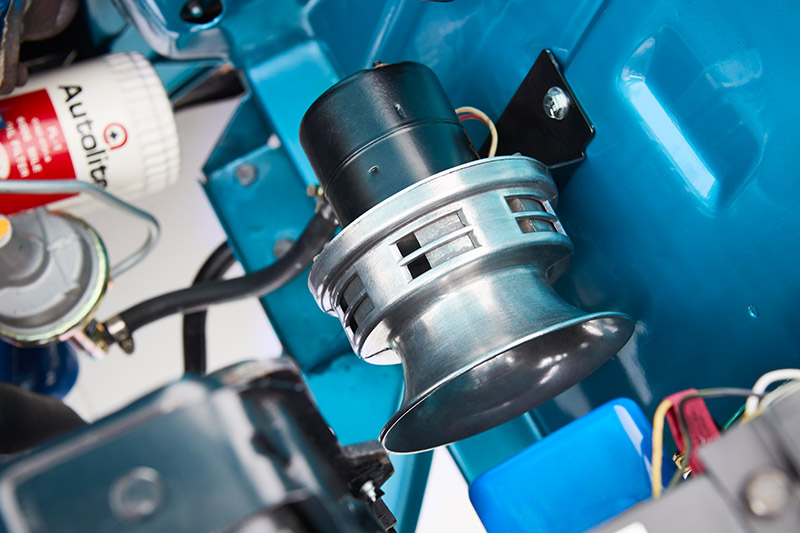 The XY's pedestrian looks are betrayed somewhat by dual exhausts emerging underneath both sides of the rear bumper – basically a dead give away to those in the know, but you were never going to see them with its bonnet suddenly looming in your mirrors, lights flashing and siren wailing, were you? Then there're the subtle bonnet pins. Once again, something noticed only too late. You might have had a better chance if they'd left the shaker there. Possibly you may have spotted the lower ride height. A mod that gives any car a more purposeful look, but takes a little time to compute – time that's going to cost you a wad of hard-earned. The driver's side wind visor was also a bit of a favorite for the cops, along with the body coloured windscreen visor.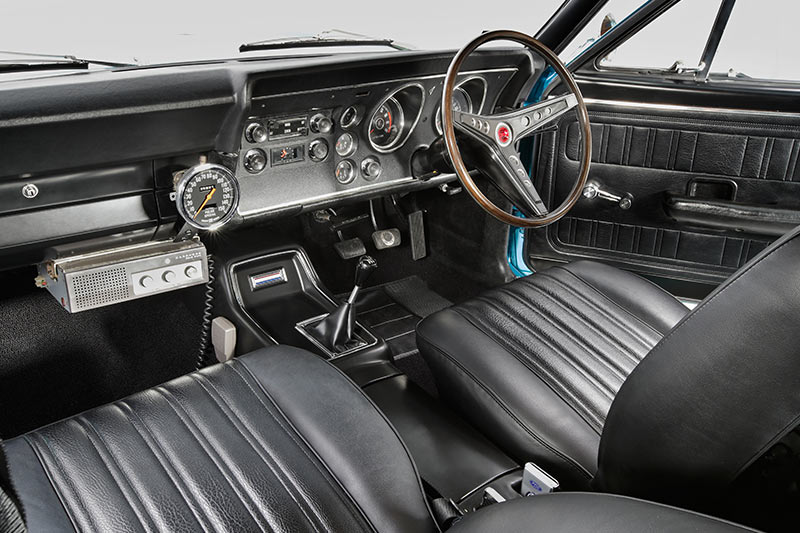 This era essentially saw the end of steel wheels for high performance cars. Even though there was an option here for RPO 52 wheels, with their alloy spokes and centres, but bizarrely attached to steel rims. Tragically, the Phase IV was about to usher in the era of the standard "Mag" wheel. Rear brake drums were also on their way out, yet it seems there weren't too many complaints about the XY GT-HO brakes, even on the track.
The boot's also another pointer. That free standing (well, lying) spare wheel had to vacate its normal spot (nestled into the top of the tank, giving the boot a wide and deep level floor) to allow the extra sized 36 gallon fuel tank, a signature of GTHOs.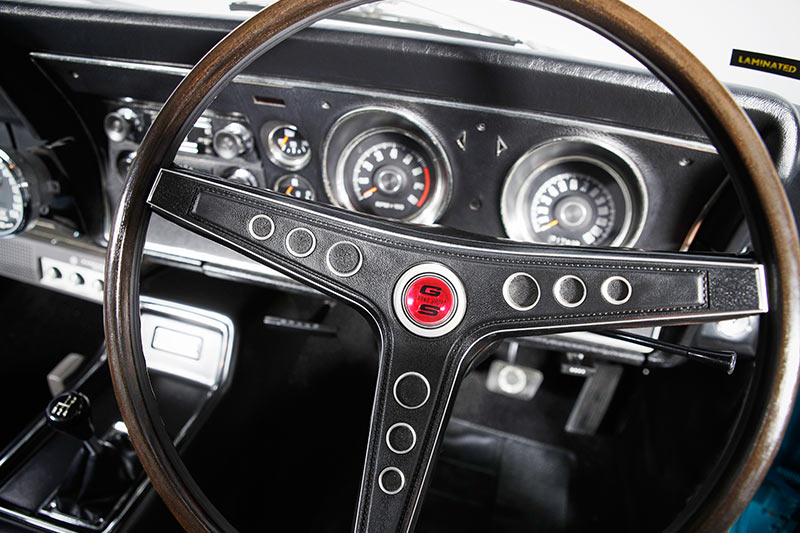 None of this happens in a vacuum, so Peter would like to thank his brother Lou whose been there from the start and conducted a lot of research about the car, Michael Hansen for his general help and parts sourcing, Tim Sargood for all the missing cop pieces and paraphernalia, and finally Dan McAliece, whose restoration skills are second to none.
In the end, you've got to hand it to Peter. This is definitely a special vehicle, in the day what some would call a Q Ship – a doff of the hat to the actual WWII vessel, an otherwise innocent looking civilian craft that could fold down its false superstructure and reveal a set of weaponry normally associated with a destroyer, and summarily blow the unwary enemy out of the water.
Something he can possibly relate to, calling this his "Quiet little street sleeper that doesn't stand out, but has plenty of punch."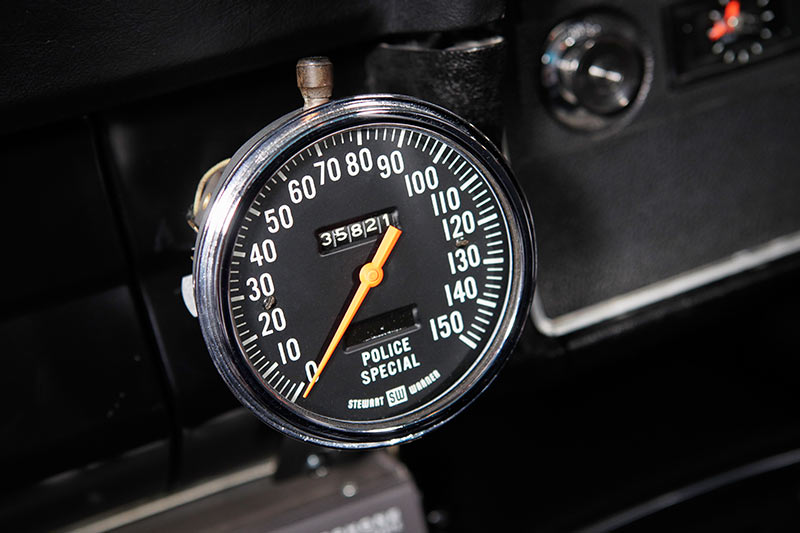 KNOW YOUR GT-HOs
You know they've just totally re-written the rules when a car is released with hitherto taboo fitments. Yep, according to law, anything that stuck out of an otherwise normal bonnet was bound to ingest birds, eviscerate sheep and swallow young kiddies whole, thus relegating it to the realm of the Devil's work.
Getting the iconic shaker of the XY GTHO Phase III through ADRs was a bit of a minor miracle really, and it seems if the powers that be saw it doing its thing at idle, the whole project would need re-drafting.
Certainly, it was all a bit of a storm in a teacup, but an indication of where design rules were rotting on the vine at the time. We all know what happened next.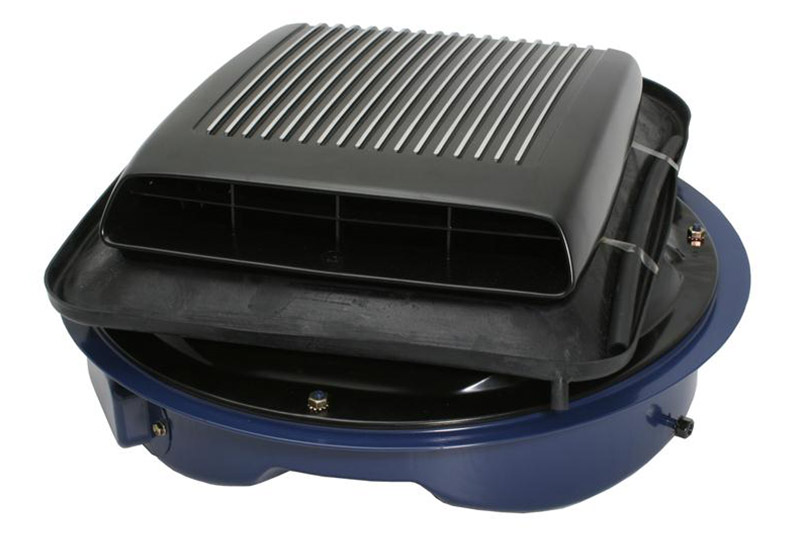 Phase IIIs took a logical step forward from what the XW ran, improving on what was already there. Suspension geometry, rear brakes and drive-line all got the treatment, hard earned from history. And it showed, especially on track, with a shipload of victories through 1971-73.
The Bullnose close ratio gearbox, the shorter tail shaft, and 3-ratio option 31 spline diff all added to its arsenal. The 351 Cleveland carried over a lot of the valve train improvements from the Phase II, plus better breathing with a freer flowing exhaust and a 780cfm 4 barrel Holley.
The Phase III genuinely represents the end of an era, whereafter we were left scratching our chins, until it was realised touring car racing needed changing from homologation specials to a class that eventually spawned dedicated racing cars, based on what the every day punter drives. The legacy? This is the car that became known as the fastest production four-door in the world.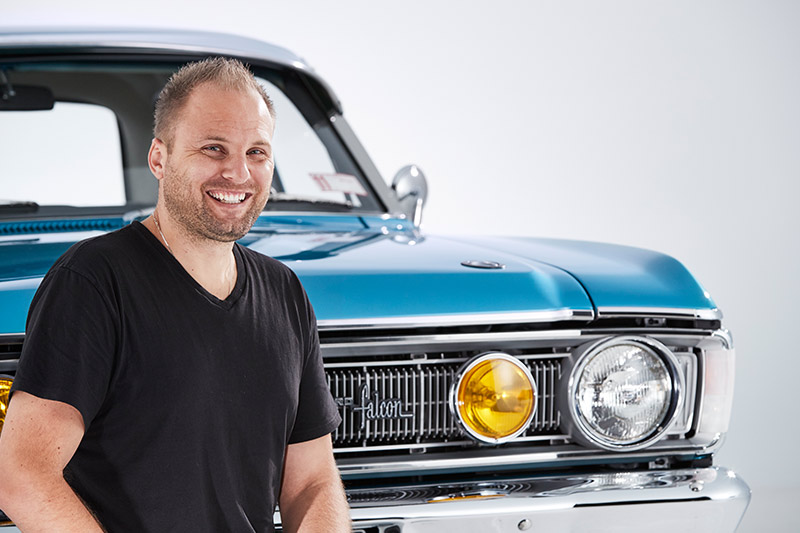 SPECIFICATIONS
1971 FALCON XY 500
Engine: 5766cc (351ci) V8, pushrod, 2-valve
Max power: 224kW (300hp) @ 5400rpm
Max torque: 515Nm (380lb-ft) @ 3400rpm
Transmission: 4-sp manual 
Suspension: HD coils, control arms, tele shocks, HD anti-roll bar (Fr); Semi-elliptic leaves, tele shocks, HD anti-roll bar (Rr)
Kerb weight: 1520kg
0-100km/h: 6.4sec
Unique Cars magazine Value Guides
Sell your car for free right here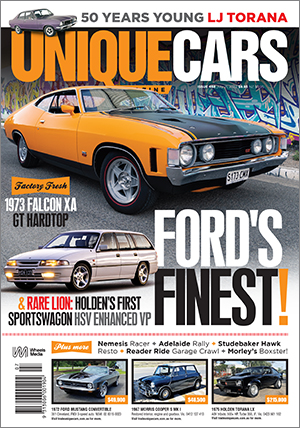 SUBSCRIBE TO UNIQUE CARS MAGAZINE
Get your monthly fix of news, reviews and stories on the greatest cars and minds in the automotive world.
Subscribe